Hey you, loved-up-engaged-planning-my-wedding you, can I have a word please? I hope all your planning is going well and that you are gearing up for the day of your dreams. Me? I'm a wedding photographer and I have been for many years now. And here's a funny thing that after all this time, I've only just realised. Like, it's hit me smack in the face like a wet kipper, realised.
NOBODY TELLS YOU TO SPEND THE DAY TOGETHER
And you know what? Unless you make a concerted effort to, then chances are you simply won't. Think about weddings: Most couples spend the entire morning apart, they come together for the ceremony (you won't actually remember much of this bit) then as soon as the confetti has been chucked, you will be talking to the people you know and your lover will be talking to all the people they know. Then apart from your portrait session, chances are you won't come together again until it's time to sit for dinner.
Take a good look at most of the weddings on Rock n Roll Bride over over and over again the images with the couple actually together are portraits and formal moments. Cake cutting, speeches, first dance.
Now why do I care? Well, because as a wedding photographer this is the conversation I'm probably going to have with you:
"We love your photography, it's really natural looking. We hate being in photos, so don't want to do lots of posing. It would be great if you could just capture us in little moments over the day."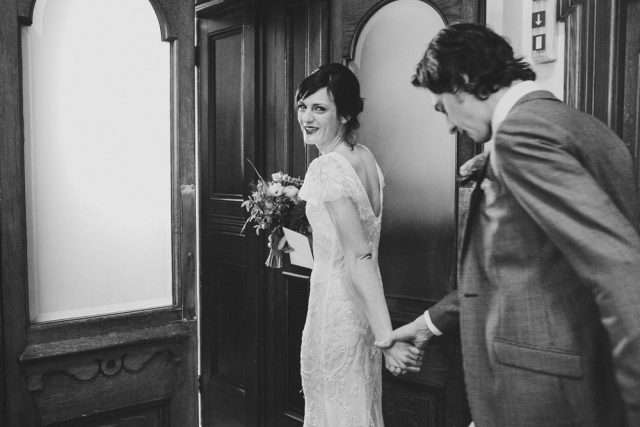 I love a challenge but natural and little moments is pretty tough when your couple are on opposite sides of the room or the only significant time they are together is the obvious 'wedding moments'. I feel like I'm always doing my best to orchestrate 'natural'. In your couple session, I'm actually hoping to catch those little seconds in between when you think you are being shot, when you are lost in a giggle or just finally looking your favourite person in the face without 100 guests trying to congratulate you. I'm thinking I will get natural when we are walking back from the couple session and you are relaxed as you think formal photos are done with. I'm stalking you all day, camera poised ready but more often than not, I won't get another shot with you both in it until you are sat at the dinner table.
Once I really thought about it, I began to wonder, is there anything I can do to make a difference?
I shot a wedding last Saturday and I knew that the couple felt super awkward at their engagement shoot. So in the morning I explained to my very lovely bride that if she wanted lots of natural photos to consciously spend the day together with her husband. I told her to make sure they walked together from the ceremony venue to the reception, that they worked the drinks reception together talking to both of your friends and families, that they didn't just do a first dance together, they did a few. I told them spend the day together to be present through it all.