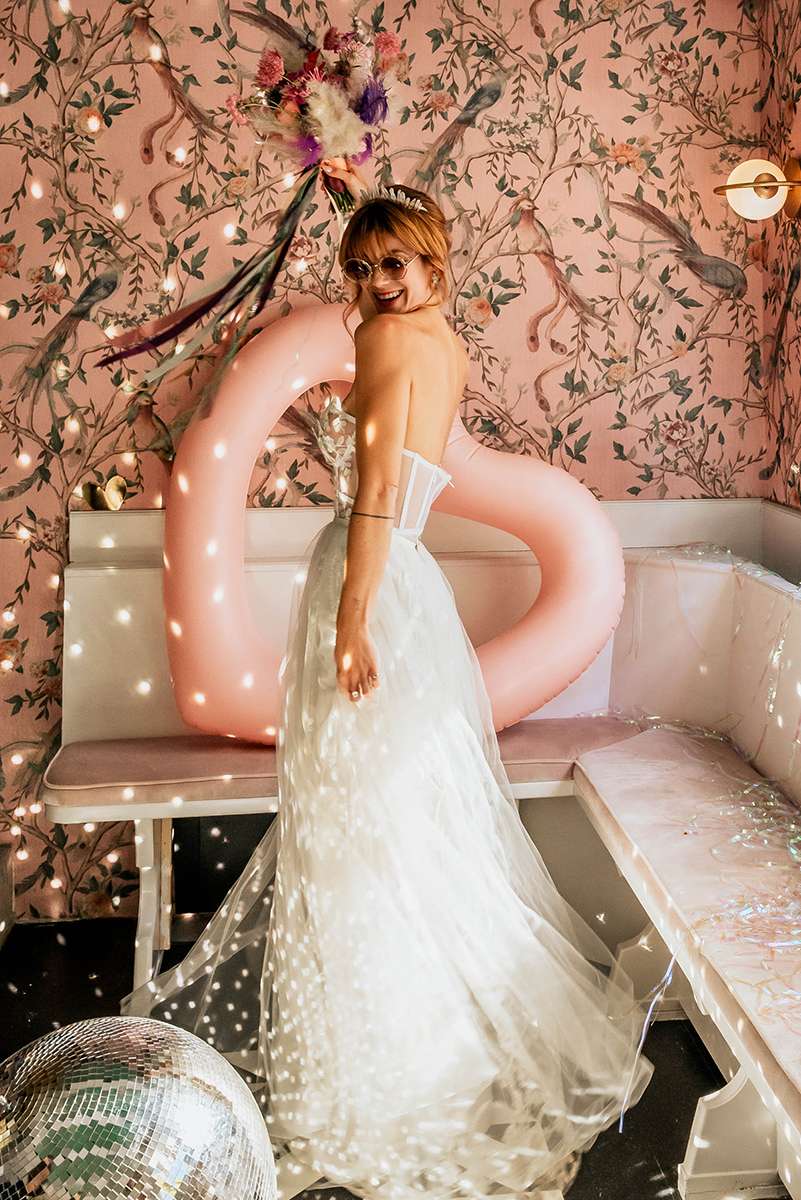 Wanting to have a 'Instagrammable' or magazine-worthy wedding isn't a bad thing, but how do we stop ourselves from getting too swept up in making our wedding 'cool' and forgetting what the day is really about?

I have a confession for you. If I was to plan another wedding today there's quite a lot of things I'd do differently. Don't get me wrong, my wedding was an amazing day and one full of personal creative touches. I was beyond thrilled when it made it onto the Rock n Roll Bride blog (who knew that I'd be writing for Kat all these years later!) but looking back, I totally lost my head to wedding inspo. I stressed myself out unnecessarily because in my heart of hearts, I wanted it to be the coolest, most Instagrammable wedding any of my guests had ever been to and here's another confession, I dreamed it would make it onto a blog.
If I think hard about that, that's kinda wild, right? Why should we care whether or not our guests think our wedding is 'cool' or social media worthy? Why did bust my bridesmaid butts in a homemade pom pom sweatshop simply to create something as good as the professional one I saw on Pinterest?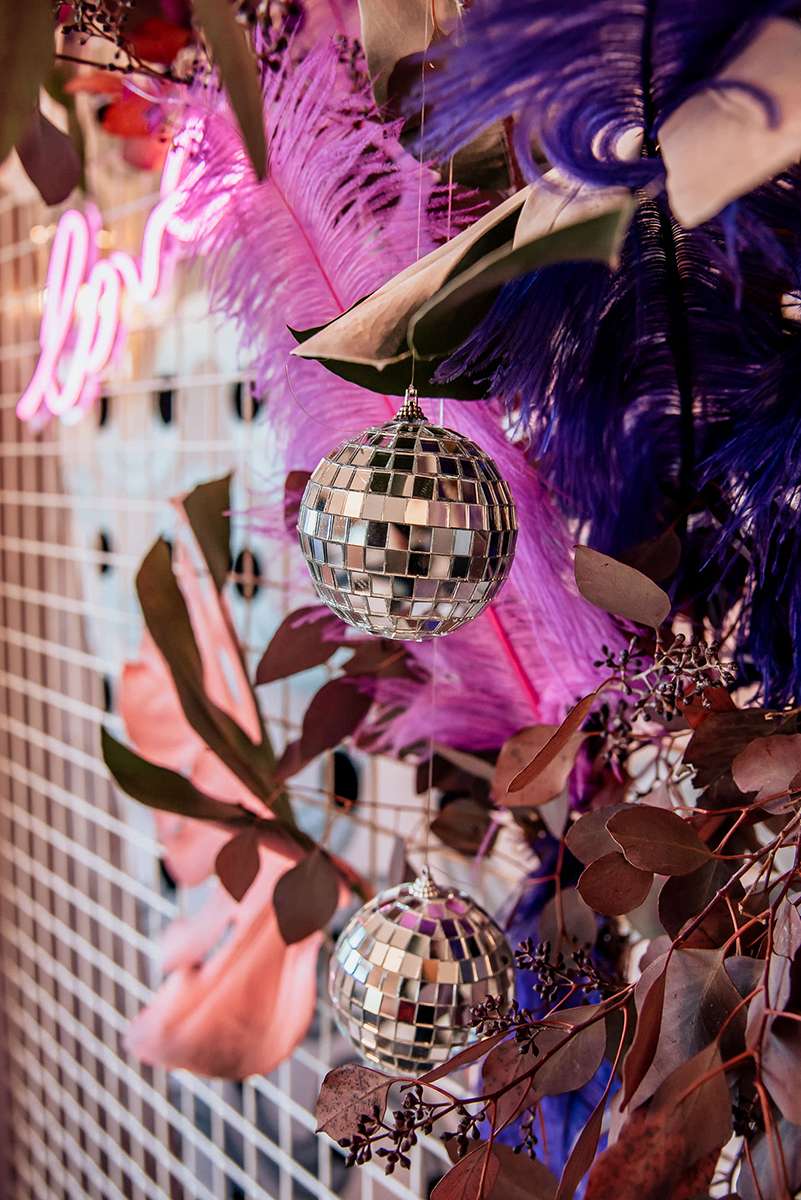 The thing is, I hold my hands up and say I got entirely swept away in the (alternative) wedding circus. Yup, I really wanted to get married and not only that, I really, really wanted a fabulous wedding.
The biggest budget I've ever had for a party? Er, yes please! I wanted the perfect dress that suited my 'quirky' personality, the perfect venue, the perfect wedding favours, the perfect entertainment all topped off with fire dancers (for real, this happened).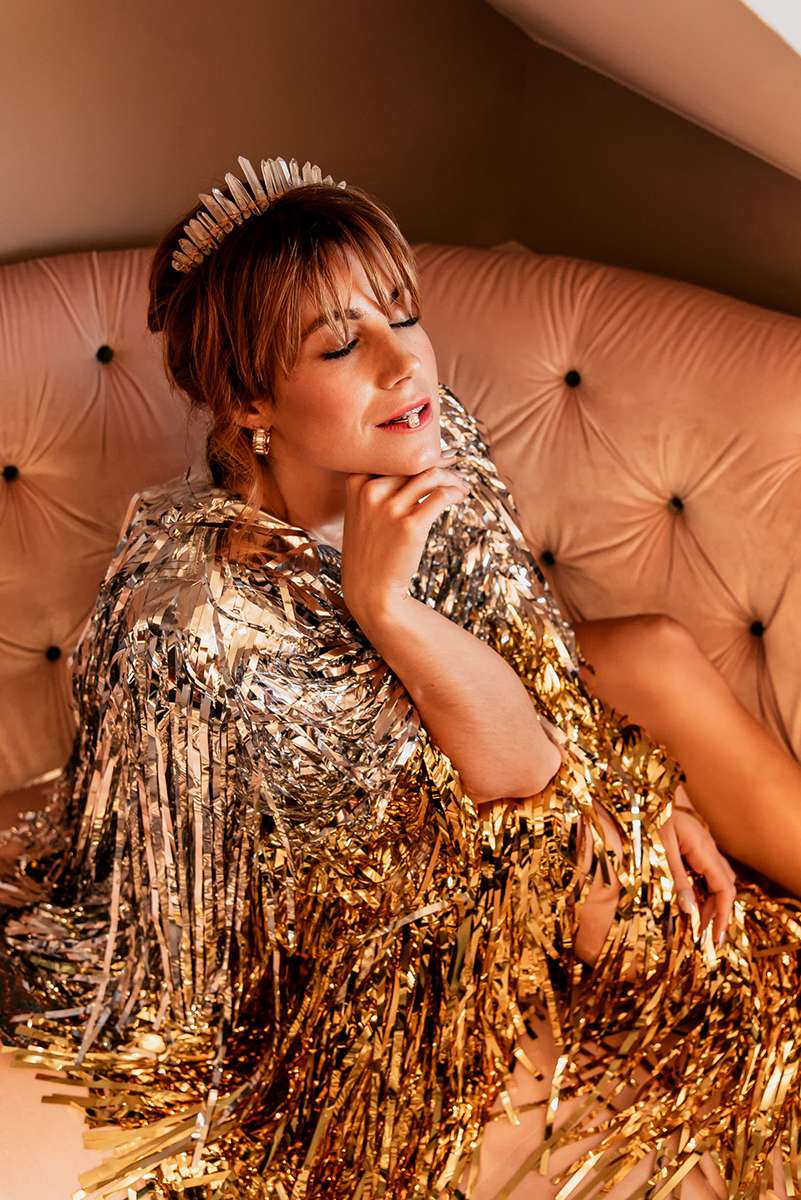 But the problem with anything that's steeped in perfectionism is that 1. It's stressful AF to reach such an unattainable goal because *newsflash* perfect doesn't exist and 2. If (when) something goes wrong, it's all too easy to let it put a negative mark on your day.
Two things went 'wrong' on my wedding day. The first was that we'd arranged a photo booth for three hours in the evening. At 6 o'clock, the photo booth arrived, however it was a gloriously balmy June evening outside and literally no one decided to have their photo taken until the last 60 minutes we'd paid for. Gutted. The second thing that not to go to plan was that I'd hired a portable speaker for the fire performers … and totally forgot to tell them about it *face palm*. When we gathered our guests outside to see the show, no one could hear the music because it was coming from a couple of their tiny mini rigs. Mega gutted.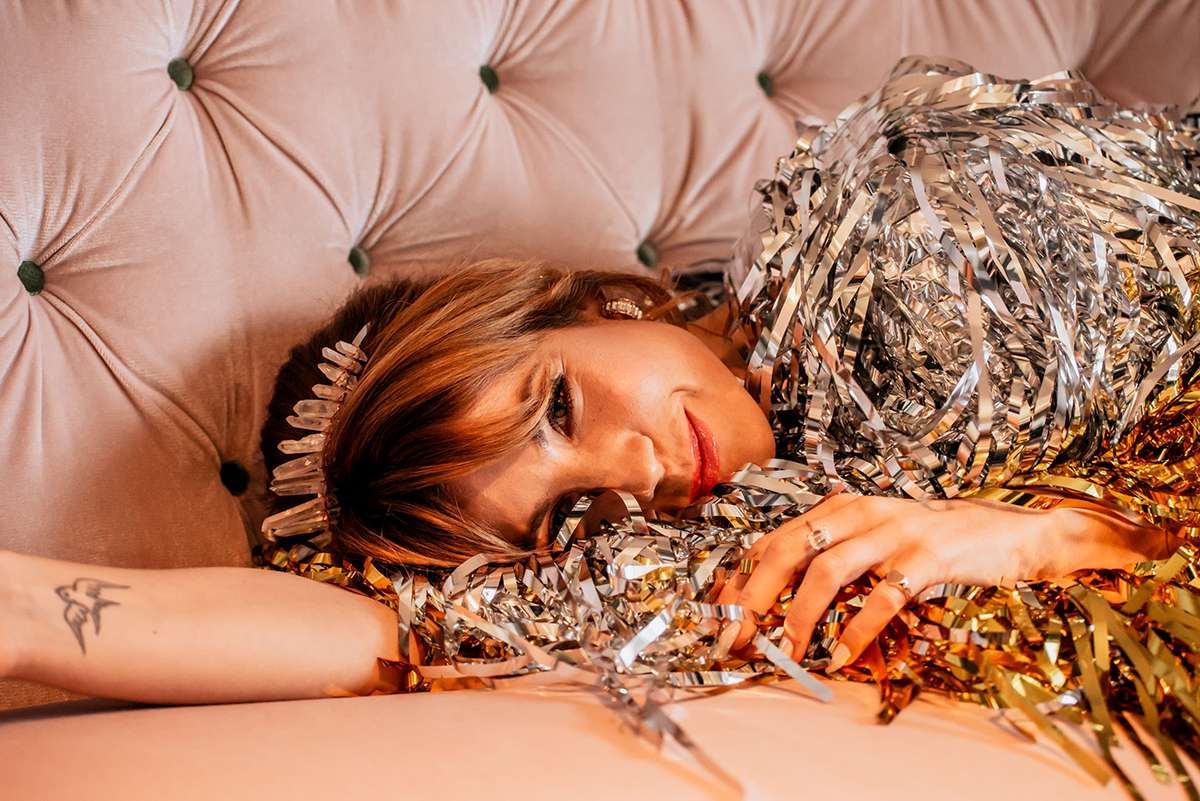 Did these things upset me at the time? 100%. Do either of these things matter all these years later? Nope. Did either of these things really ruin the smooth running of the event? Absolutely not.
I remember giving myself a deadline that should any of the 1000 DIY projects I had planned weren't done in the last two weeks before the big day then I'd leave them. And yet, there I was, the day before the wedding, still spray-painting bits of decoration gold by holding them out of my first floor London flat window like a madwoman while berating myself for the finger print marks you could see from where I was holding them.
Please hear me glorious brides-to-be – learn from my experience – this shit does not matter.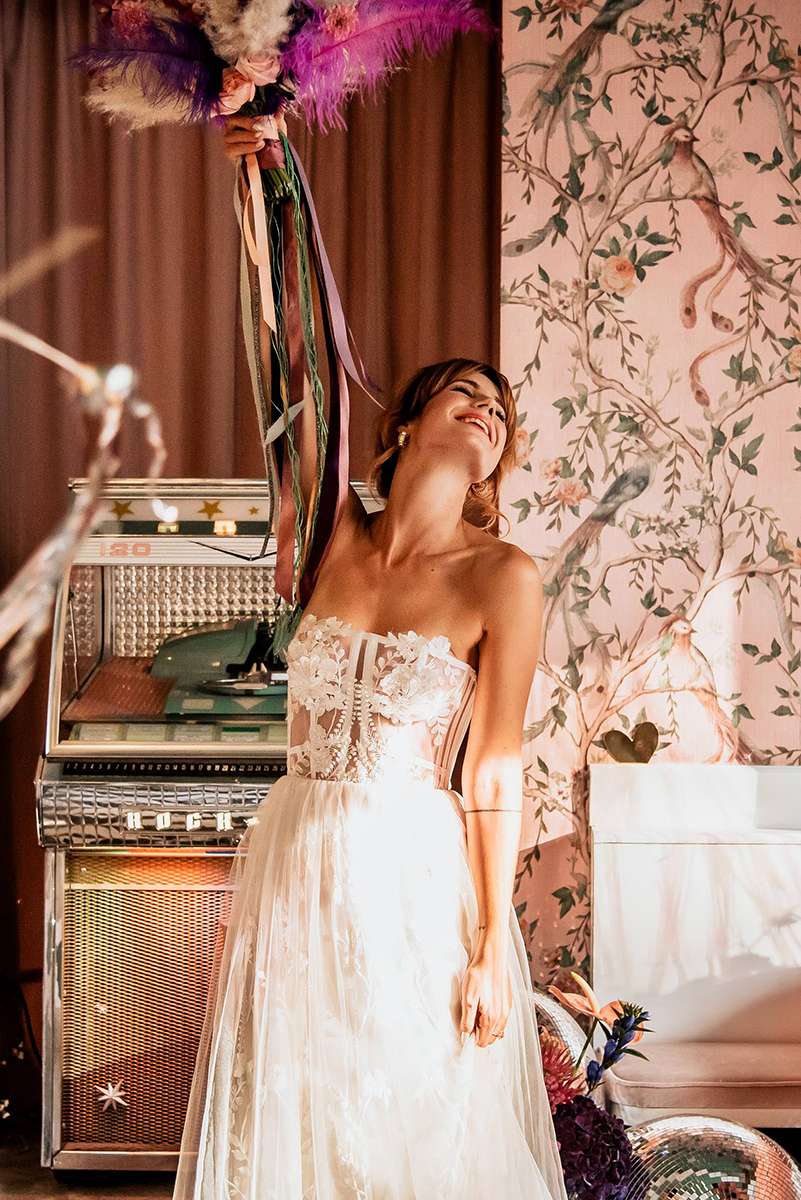 Pinterest, Instagram, blogs and magazines (particularly this one) are incredible sources of inspiration. We should all thank our respective gods / universes that we no longer beholden to traditional wedding stereotypes, yay! But please, do not let your Pinterest wedding dream get the better of you.
Here's five tips to stop inspo overwhelm.
It's not a competition
Women are made to feel like they need to compete with each other in all aspects of life, this is BS. It's particularly BS when it comes to planning a wedding. I know too well that when you're planning your own wedding, being a guest at someone else's is an invitation to notice all the things you like about the day…and things you yourself would do differently. While it might be a fun mental game to rate your pals' weddings in your mind, please remember that getting married is not a competition. Comparison is a natural part of our brain makeup (back in the day it helps us navigate the social hierarchy and relationships within our tribe) but don't plan your wedding hoping to win points (or prizes) for best wedding favours or most Instagrammable rainbow ribbon chair backs. Stay in your lane and create the wedding you want, fuck anyone else!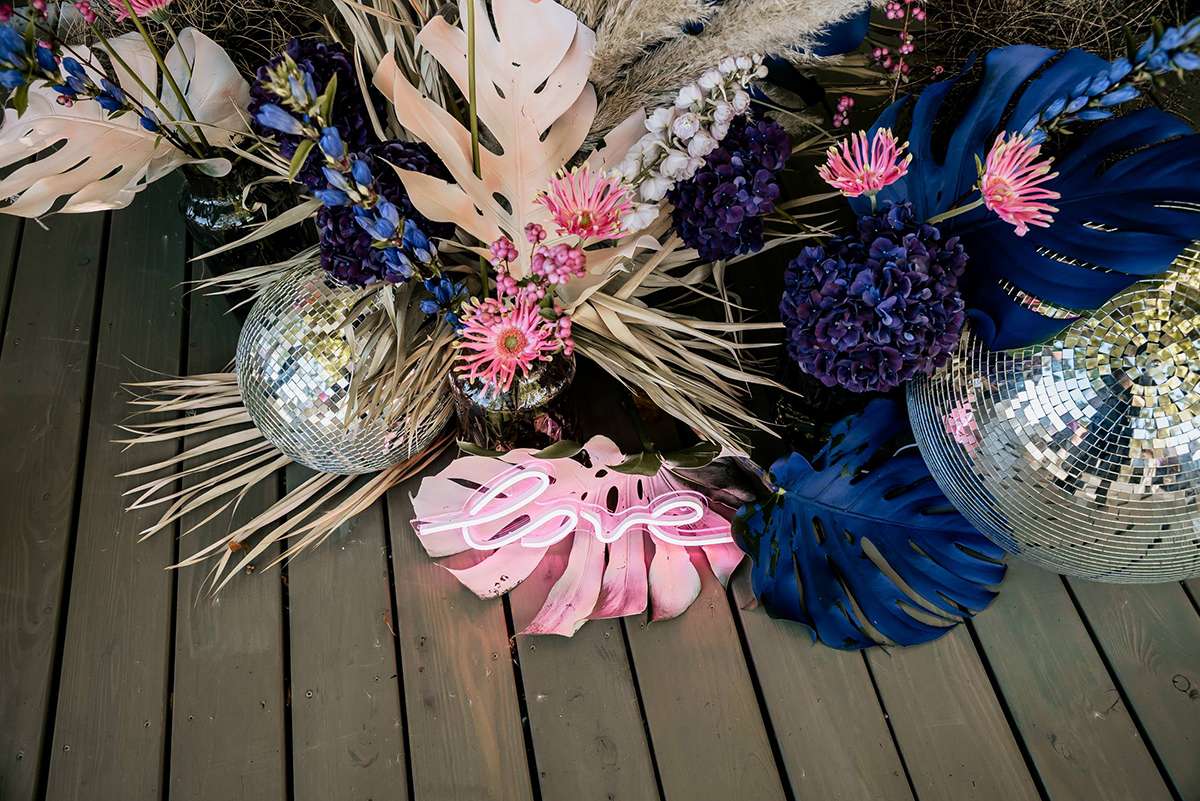 Take what you need then stop
Social media can be a source of joy when it comes to wedding planning. It can open our eyes to possibilities we didn't know existed and give us permission to push aside any pressures of traditional boundaries. If we can see other people embracing fabulously unique themed days, it can give us the confidence to embrace our own version of 'I DO'. But it's easy to feel overwhelmed by the vast list of perceived 'essential' components. The truth is there are no must haves except the words you exchange with your best beloved. Anything else is a bonus.
If you have the budget to express yourself in the creative way that makes you happy, then props to you -but remove any 'shoulds'. Make an inspiration board if you want to but once you've gathered some general ideas – stop. Make a list of any DIY projects you'd like to try then prioritise them. Choose one or two that your heart is set on and put the others into the category of 'nice to haves', meaning that your happiness is not linked to whether or not they get done. Avoid adding more and more ideas into the party pot and be strict with yourself about the amount of time you spend on wedding blogs/accounts). There's really only so much inspo your mojo can handle.
Get back to what's really important
Ask yourself, what's really important? Is it having everyone there you know and love or would you be more chill with just a few? Is it being able to get people sloshed or is splashing the cash on a fancy formal sit down your heart's desire? How important is the cake cut? Do you really want to learn the steps to a dance? Would it make you happiest to have no one there except you, your love and a great photographer?
Spend a bit of time at the start of your planning making a list with your partner about the essential aspects of your dream day. Build everything around this and if you find half way through the timeline that things have gone a bit haywire, visit this list and recalibrate. This is your north star, not Instagram.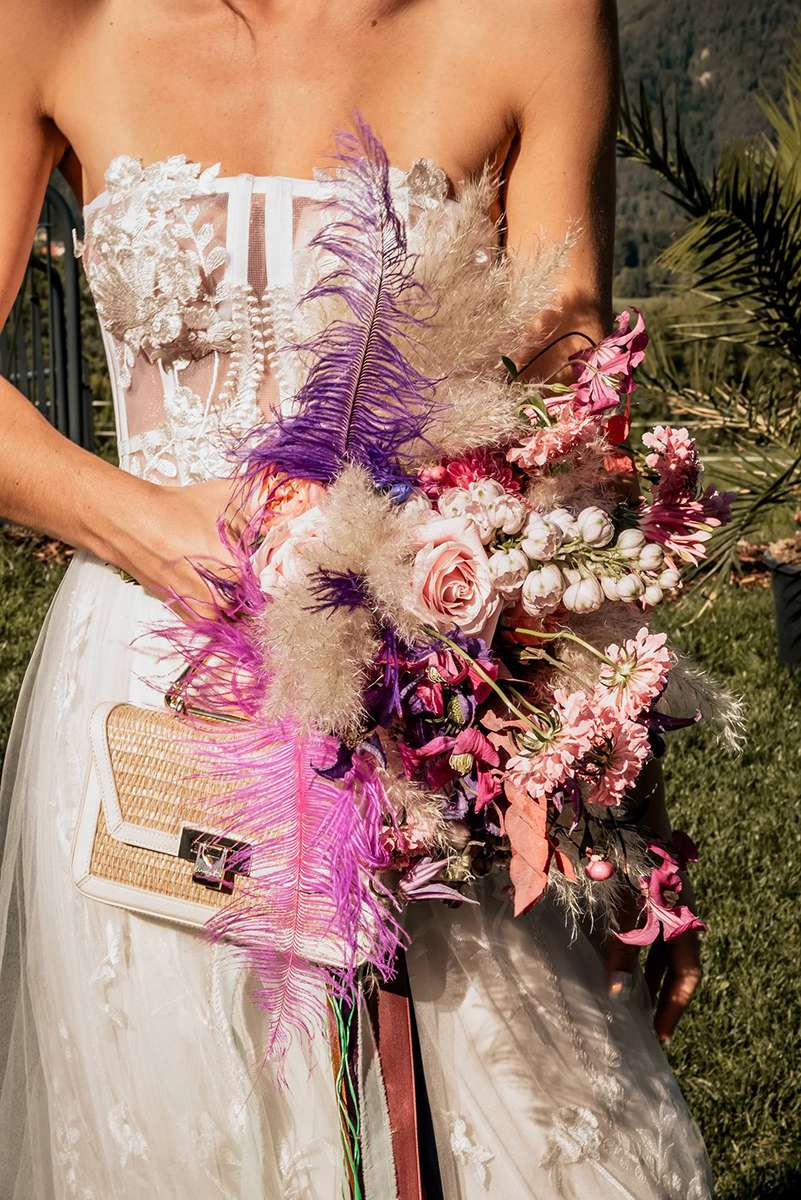 Remember that no one will see what you see
Remember the two things that I recount as 'things that went wrong' at my wedding? Well, I would put money on even the person I got married to not remembering either of these things. Your guests will come, they will look at you with love and they will likely want a photo of your lovely face. They may remember the food, possibly the music but, hunny, the big news is that they're unlikely to remember the hours you put into creating gold sprayed tiny toy animal name place settings to fit your disco circus theme (yup, me again) or be upset at the lack of giant light box letters you were so desperate to have before budget ran out.
We are all our own worst critics and when it comes to your big day, it is particularly important to get tough on Negative Nancy. Don't let that inner bitch steal the joy from this magical life moment by nit-picking the small stuff. No one will see the things you see, so let your worries go.
You do you boo!
There are no rules – which as a Rock n Roll bride-to-be, you know! But don't let the fact that the sky's the limit give you creativity anxiety and overwhelm. 'Coolness', 'quirkiness', 'perfection' – these are all totally subjective and definitely not markers you need to measure yourself against. There's only an imaginary 'to do' list and you can put on, and take off, anything you want.
If you want a fully Pinterestable day then go for it, but know that the only person you need to make happy is you. And really, at the very end of the day, the only thing that genuinely matters, is the love you're putting out into the world with the person who makes you happiest.
ABOUT HARRI
Harri Rose is a certified health coach and author specialising in unapologetic body acceptance. Through her 1:1 coaching, workshops and writing, Harri teaches her clients how to love their bodies, find more self-compassion and discover what wellness looks like for them. Her first book 'You Are Enough' (Octopus Publishing) is out now. Say hi on Instagram @harri_rose_

This article originally appeared in a previous issue of Rock n Roll Bride magazine. The current issue is now available to buy or why not subscribe and never miss an issue.