Your wedding night is for one thing (wink wink nudge nudge) right? Umm, actually…probably wrong. Dr. Caroline West, a lecturer in sexuality studies and host of the Glow West podcast, is here today to talk abut how your wedding night doesn't have to be a night of passion.
Picture this: It's been years in the planning. Your wedding day is finally over and it's wedding night time. You slip out of your beautiful dress, allowing your new spouse to strip you of your silky, special wedding night lingerie, and you consummate your marriage. You slip into exhausted sleep, both happy at such a lovely end to the day.
Well, wake up babe because this is a fairy tale and, as we know, fairy tales don't often match up to reality. According to a 2019 survey conducted by thevow.ie, more than half of 3030 people (52%) said they didn't have sex on their wedding night.
Here's the truth: you'll most likely be drunk, exhausted, cranky, delirious or a combination of all four. You will most likely pass out the minute your head hits the pillow. Even if you do manage to have sex, it'll probably be a quickie that isn't exactly the fireworks you were envisioning. Those cute neck-to-floor buttons on your dress will be a nightmare for your drunken mess of a spouse to undo, and foreplay…? HAHAHA! Forget it.
Let's be realistic – the wedding night fantasy can be overhyped, and wedding night sex is not always guaranteed to happen. More traditionally, it used to be the moment to prove your virginity or perhaps the first time you had sex with your partner. Even if that's still the case for you, it's setting yourself up to fail to place such big expectations on this one night that comes after such a high-pressure day.
You've probably been up since the early hours organising, and you'll be tired from interacting with a hundred or so people all day. My husband and I eloped in the afternoon and I was still tired from getting up early and the sheer emotion of it all!
Your lingerie most likely won't be delicately crafted scraps of lace imported from Italy, either. Let's be honest, it will be Spanx or comfortable granny panties in order to avoid the dreaded VPL. And who's really going to feel sexy in underwear they've probably sweated in all day…
Whether you do or you don't is obviously up to you and, let's face it, you'll have a whole lifetime to make up for it if you decide to sack it off and enjoy a leftover buffet feast in bed together instead (no regrets!)
The most important thing in relationships is intimacy, not full sex, and as a lecturer in sexuality studies, it's something I remind my students of all the time. So, how do you maintain intimacy alongside the often-hectic task of carrying out your dream wedding? Here's a few solutions to see you through from wedding planning to honeymoon.
Press pause on the wedding planning for a few nights
Discuss orgasms, not centrepieces. Put down the hot glue gun and get your fingers busy in a different way instead. Maintaining intimacy will remind you of why you are getting married in the first place and give you some endorphins to counteract the wedding stress. Remember the importance of date nights and taking time for yourselves. You can't sustain 24/7 excitement for the wedding, so remember to focus on the here and now too. Orgasms are great for stress relief, maintaining general health and helping you sleep better. All of which means you can tackle wedding planning the next day with more energy!
Save the sex for the morning after instead
You may be hungover, so pack some coconut water, Lucozade or whatever usually helps cure your sore head! My partner and I made the fatal error of only booking the wedding night itself in the hotel so we could spend the next day tidying up all the décor and checking out, so morning sex was out for us. Don't be like us. Carve some time out in your schedule for yourselves.
Honeymoons straight after a wedding can also be stressful
You will have experienced a huge build up to the wedding, followed by the stress of travelling straight away. Now is the time to relax and enjoy each other's company, so don't feel guilty if every minute of your honeymoon isn't filled with sexy time. It's an opportunity to release all the stress, put money worries behind you and unwind after the time-consuming experience of planning a wedding. You might have some post-wedding blues, so don't add extra pressure to yourself by forcing yourself to be in the mood when you're not.
Having a delayed honeymoon might be a better option for financial reasons, but also might give you more space to relax and make the most of it. Plus, it will give you time to create a Pinterest board full of hot honeymoon outfit ideas!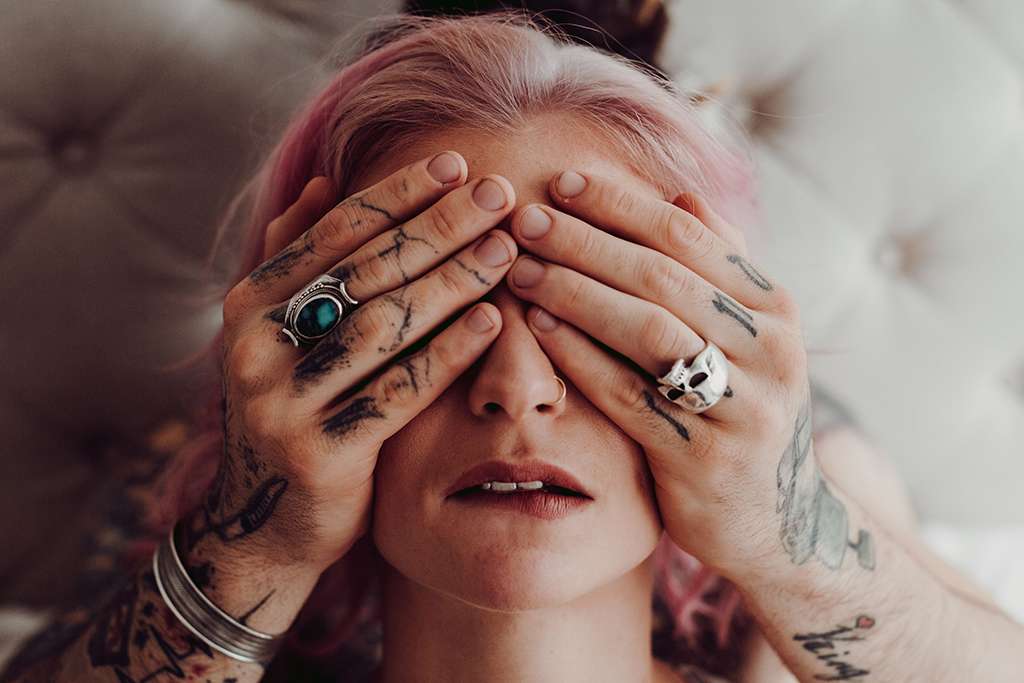 You're not cursed to have bad sex for life if you don't manage to have sex on your wedding night, or on your honeymoon. It's okay not to have sex on culturally expected occasions. Sex is all about communication and kindness, both of which will be built on throughout a marriage. While it might be unrealistic to achieve mutually satisfying sex on your wedding night, make some time during the week after the wedding to get down and dirty. You'll be feeling more relaxed, refreshed and maybe less drunk. You can take more time, which usually results in better sex, and you won't have to get each other out of overly complicated outfits. Plus, you won't have spent the day catering to Auntie Margaret's exhausting demands! You've got the rest of your existence to turn each other on and to explore your sex lives together. Treat yourselves with kindness and the orgasms will follow.
About Caroline
Dr. Caroline West is a lecturer in sexuality studies and host of the Glow West podcast, which looks at sex, sexuality and the body. Find her at iamcarolinewest.com.
This article was original featured in issue 33 of Rock n Roll Bride magazine, which has now sold out. Issue 36 is currently on sale, or you can subscribe here.