Before I say anything else lets get the formalities out of the way: CONGRATULATIONS! Getting engaged changed my life. Not only did a gain a husband and a new surname, but a brand new career as well! I'm Kat by the way, and I started Rock n Roll Bride in 2007 (yes, I'm a dinosaur) just after we got engaged. I was 24.
Over a decade later and this blog has not only become a full time passion for myself and my husband, Gareth, but it sporned a print magazine, which we launched in 2015. If you haven't already, the first thing you should do is go ahead and subscribe to that baby. It'll be your bible, I promise.
But enough about me, this time is all about YOU! Everyone you speak to over the next few months will probably have a lot of unsolicited advice about how you should spend your engagement and exactly what you should, and should not, do for your wedding. You'll also likely start feeling that inevitable wave of panic too. It's perfectly normal to be a little bit scared and overwhelmed at this stage. I mean, how the hell do you even start to plan a wedding!? This is where Rock n Roll Bride comes in! We're here to help you, every step of the way.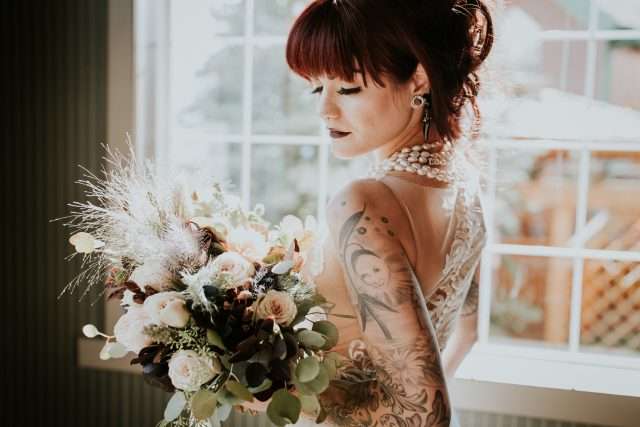 Remember that it's just one day
The most important thing to remember is that this is just one day and, in essence, you're really just planning a party. The best, most exciting, important party of your life – but a party none-the-less. If you boil things down and take the drama out of it, the whole thing will feel a lot less stressful.
Your wedding will also not define the rest of your life. It will be a lovely celebration and a jumping off point for your marriage, it will not impact anything about your life afterwards. But I know how it feels, and once the happy glow of getting engaged starts to wear off, it's all too easy to fall into the trap of hyperventilating over seating arrangements and finding that one perfect dress (the pressure!)
So relax. Try not to think about everything you have to do right away, instead break your tasks up into manageable chunks and tackle them one at a time. The wedding industry is notorious for scaring you about time frames and budgets etc. But often they're more worried about their own bottom line than actually helping brides and grooms navigate the muddy waters of planning 'the biggest day of their lives' (cynical but true).
On this blog we've featured weddings that were planned in a matter of weeks and weddings that cost under £500. So whatever your time frame and budget, it can be done.
Get organised
However what you do have to do, is get yourself organised. I'd highly recommend grabbing yourself a Rock n Roll Bride Wedding Planner too – it's like a modern day FiloFax for alternative brides! Not only will it be the perfect place for you to keep all your ideas, notes and inspiration but it's packed full of useful advice and tips (written by yours truly) as well as a year's worth of week-to-view calendar pages, a budget calculator, time frames to follow and oodles of different sections to keep you on top of things. There's even fun distractions like stickers and postcards to play with.
I'm a huge fan of lists and breaking things down so they're less intimidating. My only advice other than that would be to make sure you have your priorities in mind and try to book the big things first. These are the things that either take the longest, get booked up the soonest or set the tone for the rest of the wedding. They are usually the venue, your photographer and your outfit. Get those three sorted first and everything else will fall into place around them.
However, before you can start any of that you need to make some decisions. Set some time aside, just the two of you, to sit down and have 'the talk'. You need to decide what kind of day you want, when and where you're going to hold it and how you're going to make it all happen.