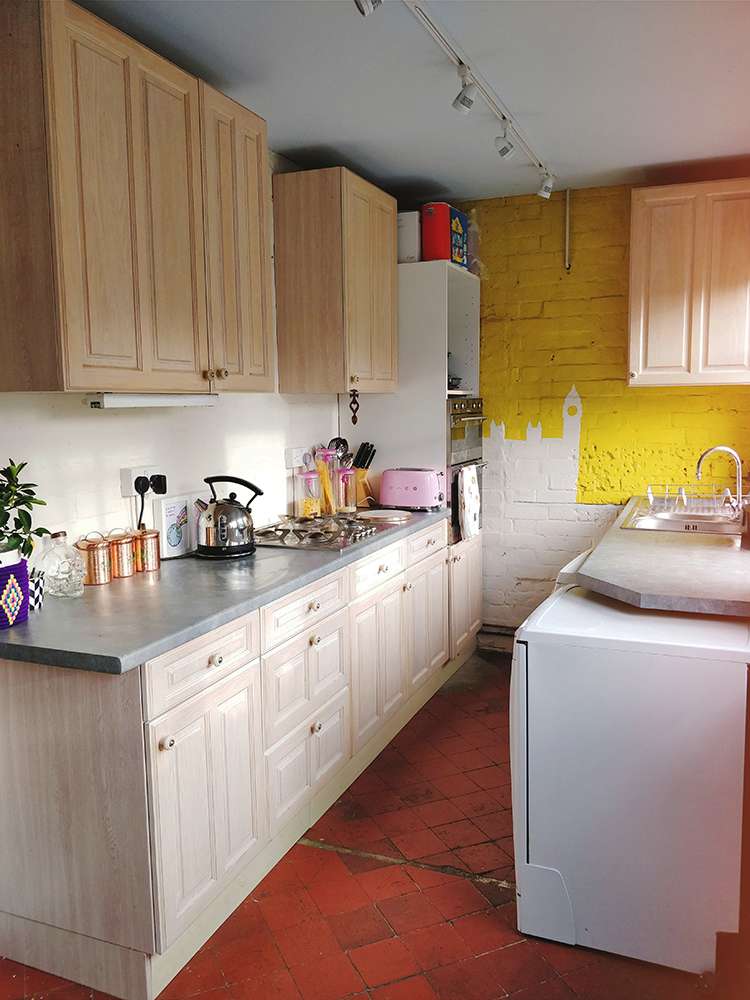 'Before' – no we had absolutely nothing to do with that awful yellow mural!
Wow that's a lot of words beginning with R right there. I am so very VERY excited about this project though so all that alliteration is worth it to share the news!
Revamp, Restyle, Reveal is an interiors challenge which I was asked to take part in by interior designer Lisa Dawson (I mentioned her in my favourite interiors Instagram accounts a few months ago, isn't it funny how these things always come full circle!?) and blogger extraordinaire Bianca Hall of French for Pineapples.
The concept is simple: 10 bloggers, 9 brands, 1 room, 4 weeks. It's kind of like Changing Rooms meets 60 Minute Makeover but without Lawrence Llewelyn-Bowen, Linda Barker or Peter Andre (didn't he present 60 Minute Makeover for a hot minute? It's probably quite shameful that I know that…)
Now because Gareth and I are suckers for punishment, and also because one of the sponsors is one our all-time favourite appliances websites (seriously, we've bought every appliance we've ever owned from ao.com – their service is quite frankly brilliant) we decided to bite the bullet, dive in head first (and a million other clichés) and do our kitchen. Yes, in a month!
And we have a door that needs bricking up and turning into a window…
And the entire room needs plastering…
AND we're doing as much of it as we can ourselves…
What could possibly go wrong!?