Newlywed Kelly Heath talks to us about planning a wedding with muscular dystrophy and has some brilliant advice for other disabled brides.
Crystal chandeliers, plush carpets, huge white dresses, intimidating staff… I was standing in their bridal boutique with my raccoon print dress, pom-pom covered handbag and my bright purple walking stick and I have never felt more uncomfortable in my life!
At that time I was on bridesmaid duties and I was not even a bride-to-be but I remember distinctly thinking "I do NOT want to come somewhere like this if I ever need to look for a wedding dress". Fast forward a few years and I was a bride-to-be (hurrah!) but I was DREADING dress shopping. I am disabled, I have muscular dystrophy which is a bit rubbish but I do not let this hold me back nor do I let it define me. I have a wonderfully wonky body with a curved back, weak legs and arms that cannot be raised easily.
I am ashamed to admit that when it was my turn to be the bride I agonised over the models I saw advertising wedding dresses. I knew I wouldn't even be able to get half of them on and that even if I did they'd probably look ridiculous on me.
When you're disabled, planning a wedding can feel even more daunting than usual. As I'm now a full-fledged Rock n Roll wife (!) I want to share some of the things I learnt along the way with you all.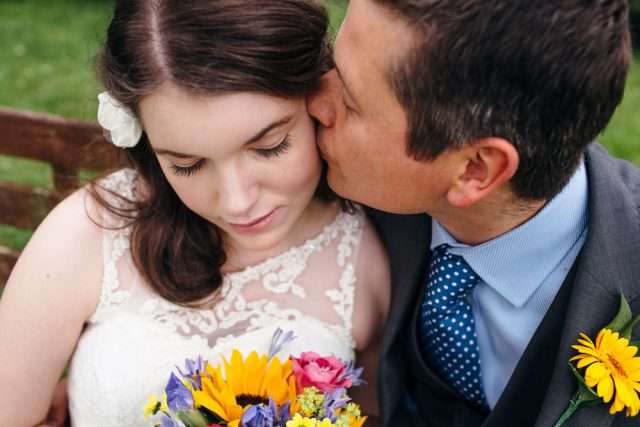 The venue search
The internet is definitely your best friend when it comes to choosing a venue. You do not want to be physically visiting countless venues if they are completely unsuitable for your requirements. I had a long list of things we needed and at times I wasn't sure we'd ever find somewhere suitable. Do not get disheartened if you are ruling out a lot of them, your ideal venue is out there! If your questions aren't answered on the venue's website, email or call them to check before you schedule a visit.
Our venue, Roadford Lake in Devon, was perfect for us because it was all on one level, had wheelchair access down to the lake for photos and the staff there were excellent. I also requested chairs to be dotted around everywhere so when I went round to speak to all our guests, I could sit down if I got tired.
Dress shopping
I was looking for a non-terrifying wedding dress shop that had patient staff that wouldn't mind me potentially getting stuck in their dresses or falling into their beautifully set up displays. Luckily I found it in Eleanor Florence in Yeovil who were amazing.
If you mobility is limited, you need to make sure you'll have easy access into the shop. It's also good to give the staff a heads up about your specific needs so they can accommodate. Maybe they can give you a longer appointment or a larger changing room. I can walk and stand for a small amount of time but my legs become tired and weak quickly so I told the staff the styles of dresses I liked and whilst I sat, they brought them to me which was just brilliant.
I asked for only dresses that I could step into, as I knew I would not be able to get on any that went over my head. I also asked for a chair in the dressing room so I could sit down and manoeuvre my legs into the dress before standing up.