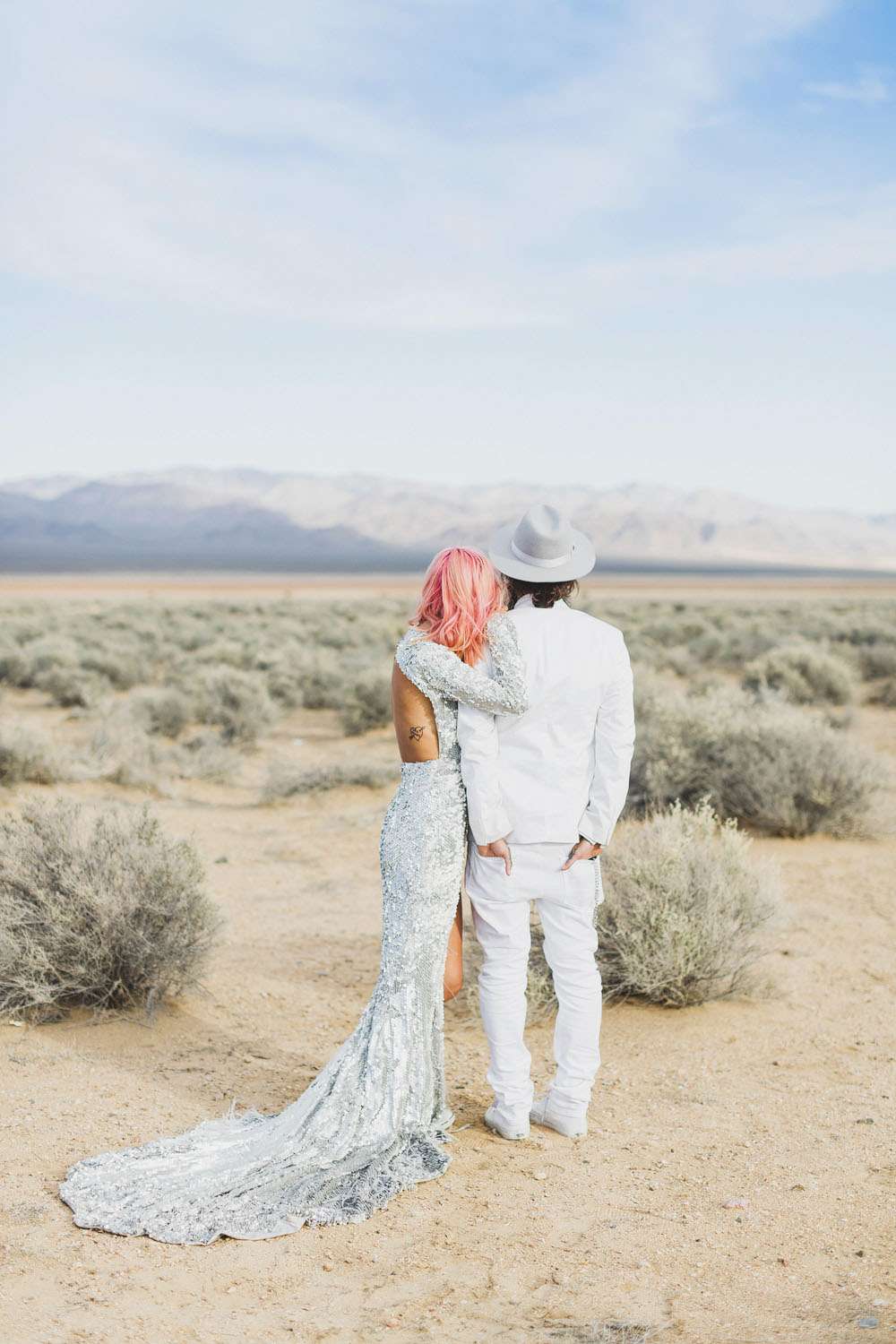 There are always a lot of questions in the Rock n Roll Bride Facebook group about getting married in Vegas – how to do it, if its legal when you're not from the US, recommendations for suppliers that will do a good job… So I thought a post going through all the ins and outs of the process would be helpful.
In the interests of keeping things simple, I'm going to write this in a Q&A format. If you still have questions after reading this article, or you have any of your own advice or recommendations, feel free to pop them in the comments!
Do you have to be a US resident to get married in Vegas?
No, and other than book your chapel there really isn't anything else you have to do in advance either. You can go and get your marriage licence as soon as you step off the plane and then get married straight away if you want to! Your marriage will be recognised back home in the UK (and pretty much everywhere else in the world).
As a tourist, you will also need to apply for an ESTA to enter the USA. Make sure you are aware of the requirements of the ESTA before you apply and do so in plenty of time. ESTA applications are usually processed very quickly, but can take up to a few weeks and you will not be allowed on the plane without one. Your ETSA will be valid for two years from the time of purchase and you can take multiple trips on the same visa.
How do I get a marriage licence?
When you arrive, you and your partner will need to go to the Marriage Bureau of Las Vegas (located at 201 E. Clark Ave. Las Vegas, NV 89101). You can fill in an application form online to save time once you get to there. The office is open from 8am to midnight 365 days of the year and a license costs $77.
You will need to bring your passports as proof of identity (at least one form of ID is required but I'd suggest bringing two just in case, a drivers license or birth certificate would be fine). If you are divorced, you will also need to know the exact date and city of the divorce. A copy of the divorce decree is not required.
You must be 18 to be married in Vegas however if you are 16 or 17 you can get married if a parent or guardian gives consent in person at the time of application.
There is no waiting period for the license to be granted so as soon as you have it in hand you can head to a chapel and get hitched! The licence is valid for 60 days.
How do I know where to get married?
There are so many chapels in Vegas and a spot of Googling should set you right. You can also see all the Vegas weddings we've featured on Rock n Roll Bride here! I've listed some of the most fun chapels at the end of this post.
I'd suggest booking your chapel before you leave the UK to make sure you get the date and time you want.
How long does the wedding ceremony last?
Usually around 15-30 minutes but it depends on the chapel.
Do we have to get married in a chapel?
No! The great thing about getting married in the US is that unlike the UK it's the minister that's licensed to perform the ceremony, not the physical location (in the UK both need to be) In America you can legally be married ANYWHERE you like! Some popular Vegas spots are the Neon Graveyard, Nelson Ghost Town and random spots in the desert..! You can really use your imagination – fun!
Will my marriage be legal in the UK?
Yes! You won't need to go to the register office when you get back to the UK. The marriage certificate that you're issued in Vegas will be all the proof you need to show that you are married.
When do I get my marriage certificate?
The minister has up to ten days to register your marriage. You can then get a copy of your marriage certificate for $10 from the Clark County Recorder. You can either pick it up in person, or have it sent by post if you're heading home.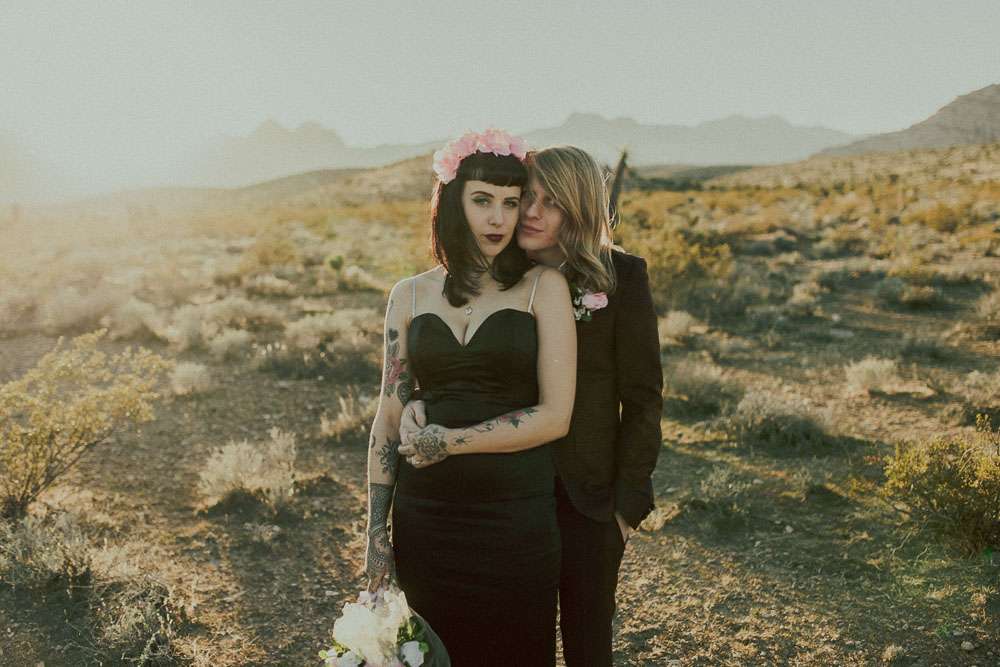 Is there anything else we need to do when we get back to the UK?
This only really applies if you're changing your name (either by taking your partner's, double-barrelling or making up a brand new surname). You are legally entitled to change your surname to the one that appears on the marriage certificate. There are no extra fees like there would be if you decided to change your name by deed poll.
You will need to send your marriage certificate along with a cover letter to any organisation who has an interest in your identity, explaining that you now want to be referred to by your new name. Some places will accept a photocopy of the certificate, but the ones that need the real thing (Passport office and DVLA) should send it back to you if you include a stamped and addressed envelope. I'd suggest checking with them before you send it off though! If you are worried about sending off an original, you can pay extra for multiple marriage certificates.
The people that will need to know of any name change include:
Your employer
HMRC
Your bank
Your landlord or mortgage company
Any credit card companies
Utility services such as gas, water, electricity
Your local authority (for council tax and register of electors)
The police (if you have any criminal actions against you)
Passport Office (if you choose to apply for a new passport right away)
DVLA
Any breakdown organisations
Telephone/ Internet provider
Doctor
Dentist
Vets
TV license office
School/college/university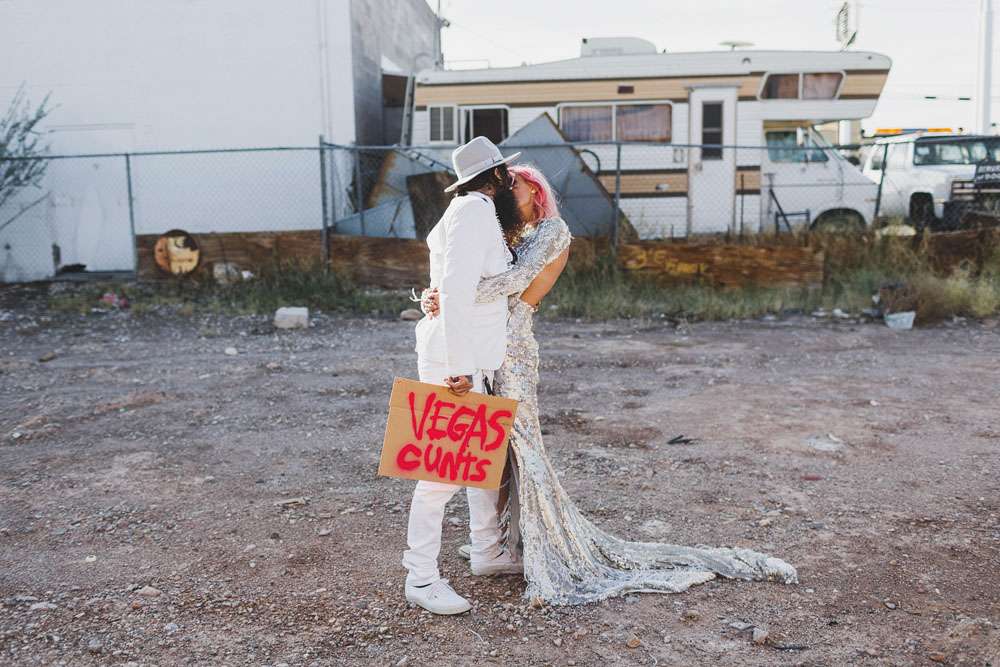 If I'm changing my name, how do I fly home? Will my name legally now be different to the one on my passport?
Even if you plan to change your name, you can continue using your passport in your maiden name until it expires. You just need to make sure your flights are booked in the same name as the one that appear on your passport. I got married in 2008 and I travelled under my maiden name until my passport expired this year (to save the fees involved in getting issued a new one!)
If we are already married can we renew our vows in Vegas?
Yes but it will be a renewal of vows service. You will not need a marriage licence or be issued with a marriage certificate for this. You may be asked for a copy of your marriage certificate by some chapels before they will carry out a renewal of vows service so check with them before you fly out.
Is gay marriage legal in Vegas?
Yes! Same sex marriage has been legally recognised in the state of Nevada since 9th October 2014. Woohoo!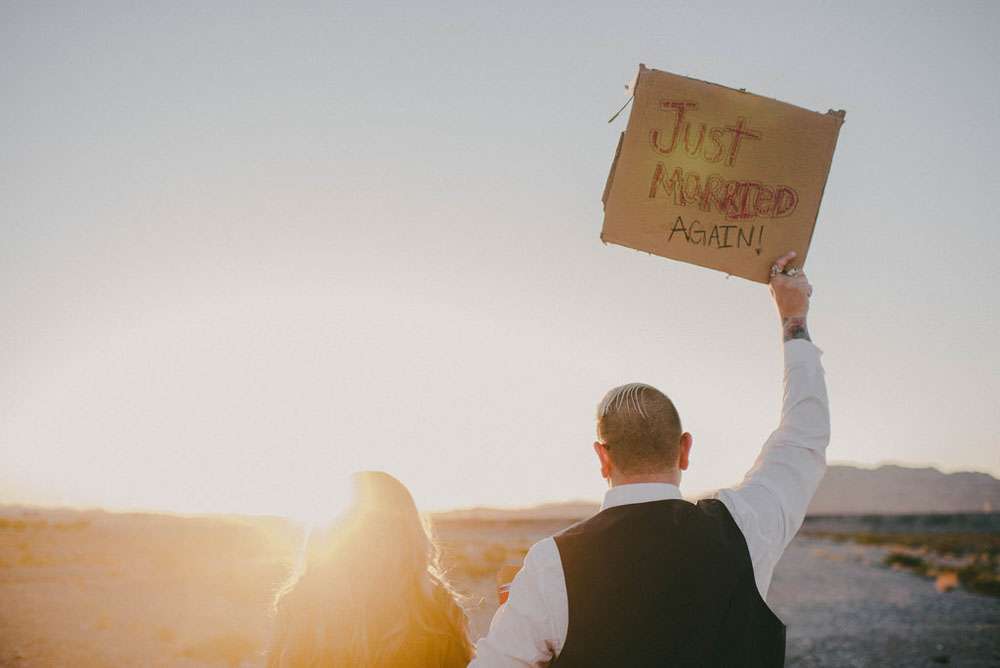 Are their any Vegas suppliers you recommend?
Here's a list of some of the wedding suppliers we've previously featured on Rock n Roll Bride:
CHAPELS
There are chapels everywhere (and all the big hotels have them too) but these are some of my favourites!
KISS Hotter Than Hell Wedding Chapel
Chapel of the Flowers
The Little White Wedding Chapel
Little Church of the West
Graceland Wedding Chapel
Viva Las Vegas Wedding Chapel
PHOTOGRAPHERS
These guys are based in Vegas but remember most photographers, wherever they are located, will happily travel for weddings!
Gaby J Photography
Ashley Marie Myers
Deidra Wilson
Jamie Y
HAIR AND MAKE UP
Sophora  – you can book a custom makeover at any Sephora for just £60 (which is then redeemable against purchases!)
Your Beauty Call
FLOWERS
Enchanted Florist
Rose Shack
If you're planning a Vegas wedding, elopement or vow renewal, I hope you have the most amazing time!
Further reading:
Las Vegas: What to Pack, Where to Stay & Things to Do
My sin city recommendations
Previously featured Las Vegas real weddings