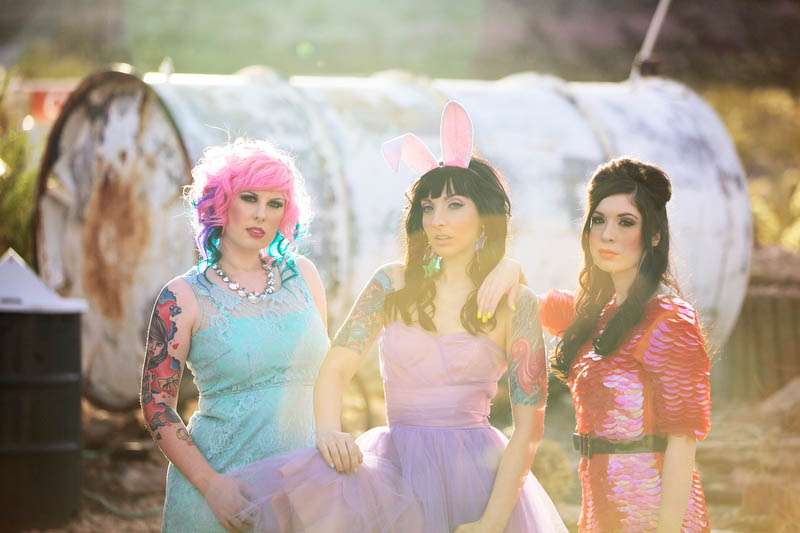 After the fun we had frolicking around the RV Park, Gala, Nubby & I were super excited to see the second location that David had found – an abandoned ghost town! Located in Nelson, just under an hours drive from The Strip, we were keen to get there late afternoon to make the most of the incredible early evening light…and boy did we!
As we drove into the town we could hardly contain ourselves, letting out giddy squeals. I kid you not, this place was so incredibly cool. It almost looked like a movie set. There are abandoned or burnt out cars everywhere and even the old fire engine still sitting proudly by the the unused fueling station. The gold mines surrounding the town haven't been ventured into since 1845!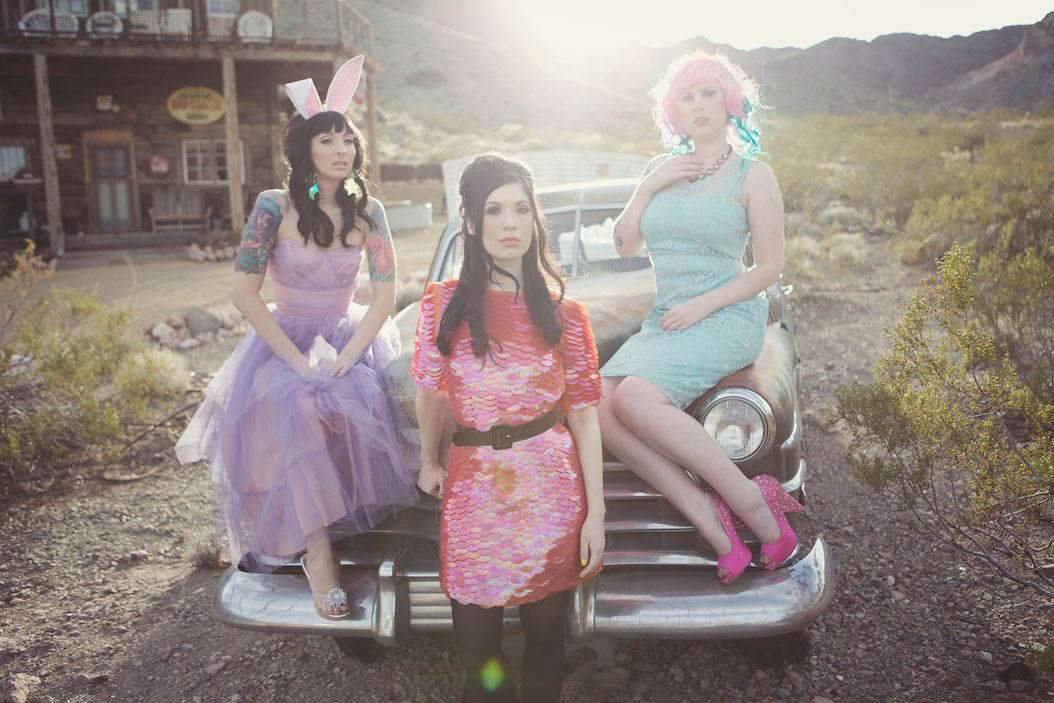 The original buildings all still stand. It's actually quite a spooky feeling walking around, especially when you see all the 'things' that have just been left behind.
With mountains all around the light was fading fast and so a quick change with no time for modesty was in order (I'll never forget trying to help Nubby wriggle into her sequins whilst a half undressed Gala looked on in fits of giggles…)
I wore
♥ 1940s mint green vintage dress from Frock and Roll Vintage
♥ Aurora Borealis necklace from Topshop
♥ Custom pink Swarovski Crystal Benjamin Adams 'Rhiana' shoes
♥ 'Vivien' headpiece by DC Bouquets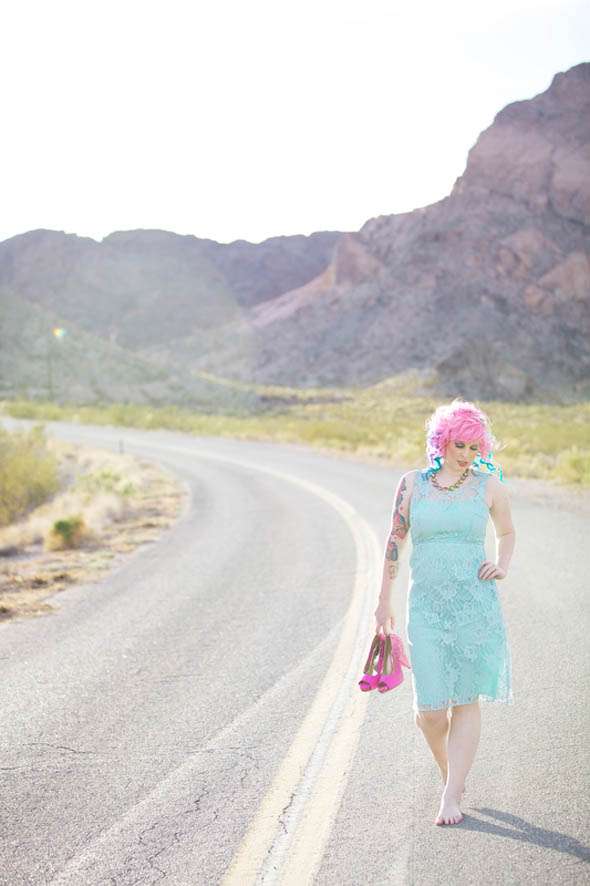 Gala wore
♥ 1950s purple vintage prom dress
♥ Sparkly bunny ears by by Janine Basil on etsy
♥ Star Earrings by Im Your Present on etsy
♥ Betsey Johnson starburst 'Polly' shoes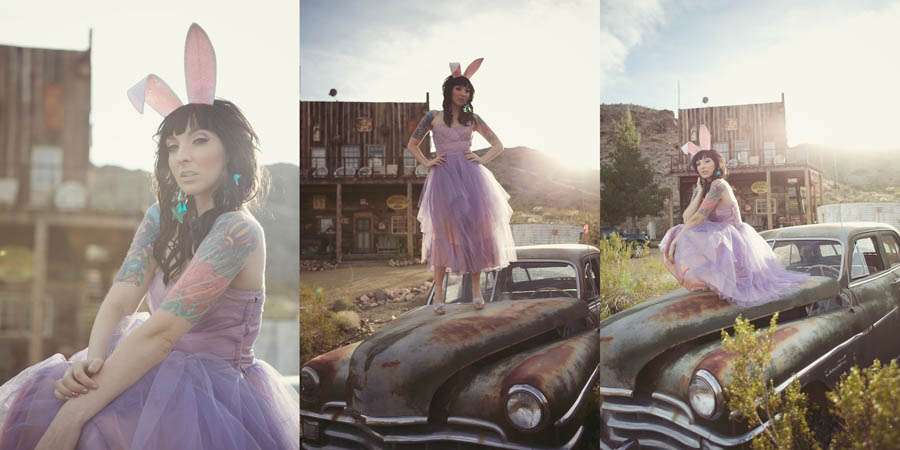 Nubby wore
♥ Dress from ASOS
♥ Tights from H&M
♥ 'Romeo & Juliet' clutch bag from Kate Spade
♥ Heels from Dries van Noten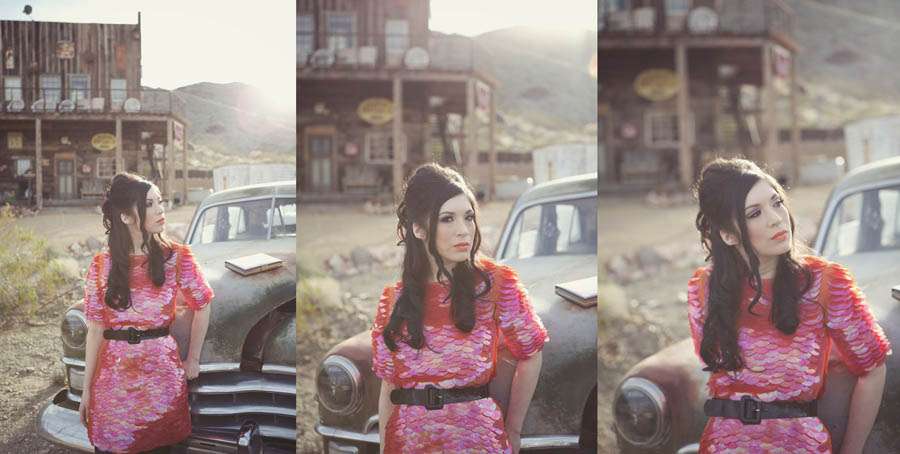 I love how the colours of each of our outfits compliment each other so well – what a cool gaggle of bridesmaids we would be! If you're getting married in Vegas I would 100% recommend going to Nelson for some portraits. The place just blew. me. away.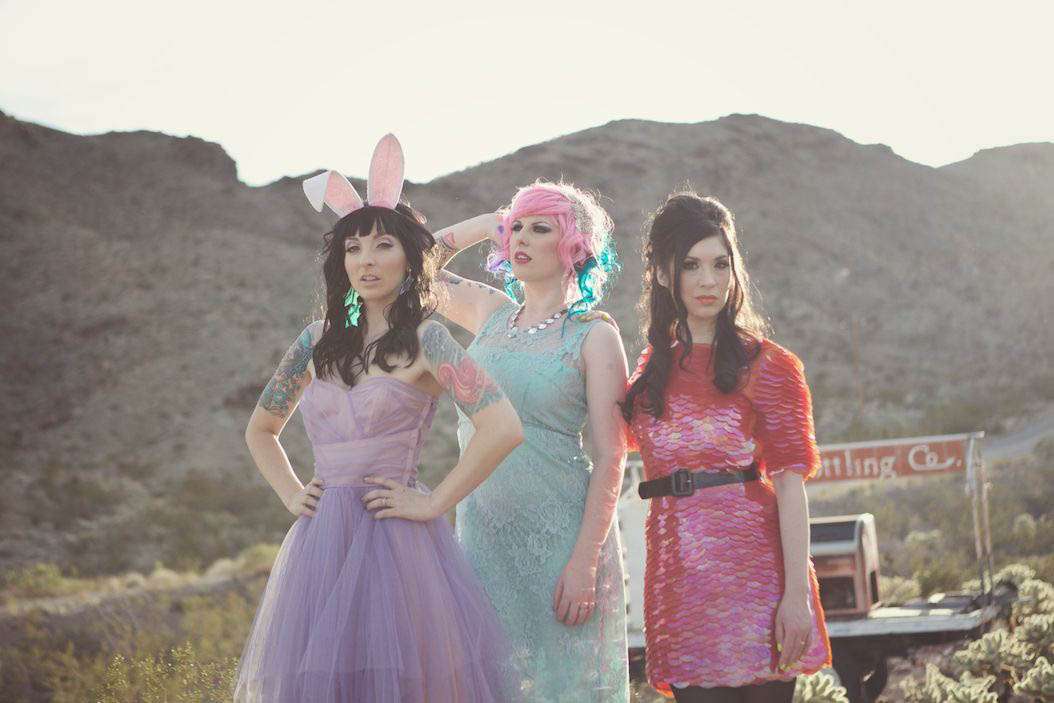 The third and final installment of our shoot will be hitting the blog next Monday…and just you wait and see what we did next!

Supporting Cast:
Photography: David McNeil Photography & Devlin Photos
Photography Assistant: Amy Bartlam
Hair & Make Up: Your Beauty Call
Flowers: Enchanted Florist
Location: Nelson Ghost town, Nevada