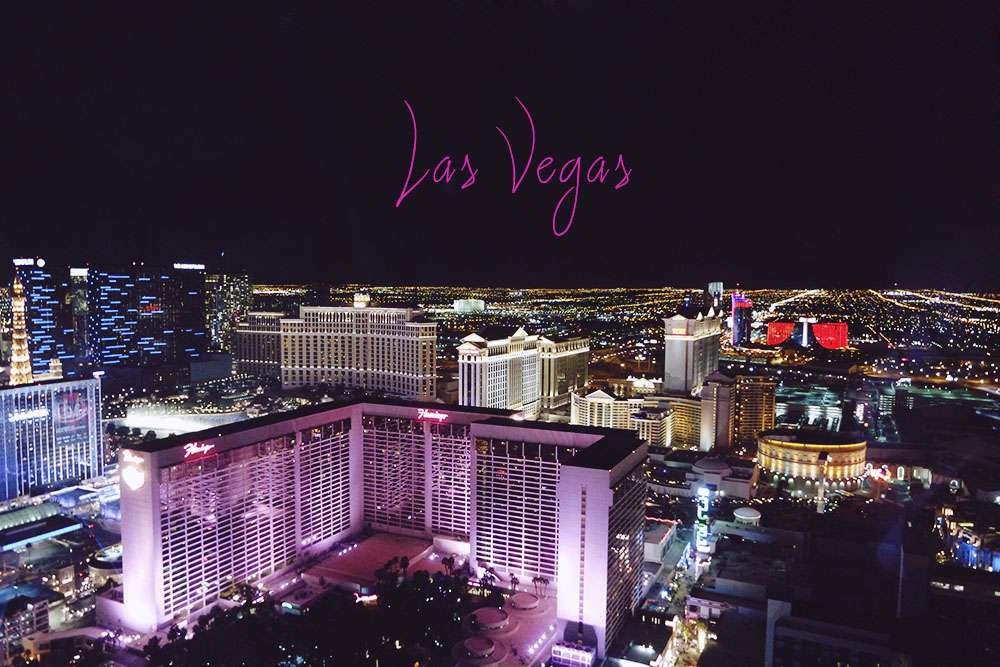 I first visited Vegas in February 2012 for a wedding photography conference. I kinda knew I'd love it before I even got there. It's basically like a giant theme park for adults after all! Also, living vicariously through all the hundreds of epic Vegas weddings I've featured over the years meant I was SO READY to experience it for myself.
What I didn't expect was that I'd leave that trip with not only a new favourite place, but with two new best friends and a brand new business venture! It was on that holiday that I first met Gala and Shauna in-person and we came up with the idea for a little blogging workshop called The Blogcademy!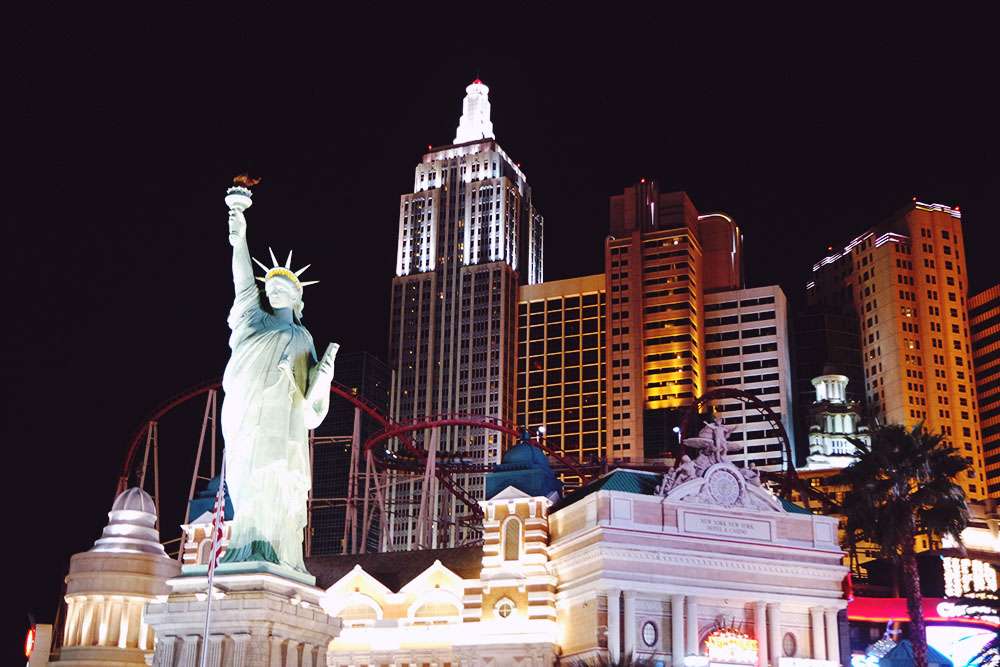 Needless to say, ever since I've been GAGGING to go back, and once we'd decided to do a workshop in Los Angeles, which is only a one hour flight away, I begged and pleaded with them to do a quick detour on the way home. They didn't take much convincing, mind..!
Now I know plenty of you reading this will be hopping over to LV for either your wedding or the honeymoon of a lifetime in the near future so I wanted to take this opportunity to share some of my top recommendations. This is just the tip of the iceberg of course (we didn't even get the chance to explore off the main strip) so even if you're not particularly into drinking or gambling there is so much to keep you occupied.
Pick your hotel wisely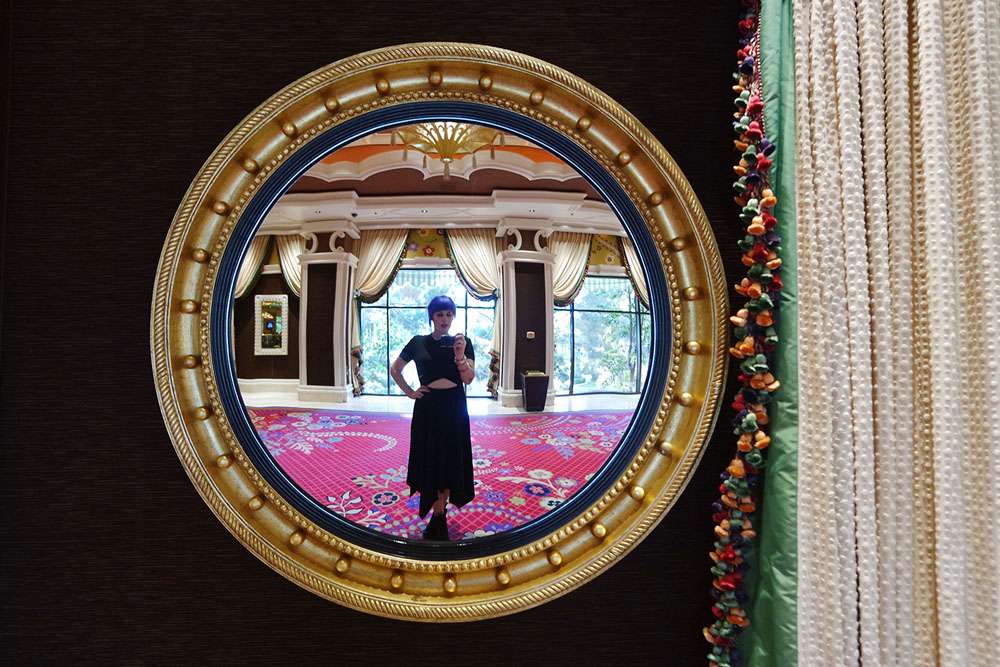 There are so many hotels in Vegas it can be quite intimidating knowing which is the best choice. One of the most important things you need to consider is location. While the main strip itself is only around four miles long, it takes forever to walk from one place to another thanks to the clever maze of bridges, roadblocks and diversions designed to get you inside as many casinos as possible!
Crossing the street is no simple matter. You often need to walk half a mile down to the next bridge (because only someone with a death wish would attempt to run across Las Vegas Boulevard and it's 12 lanes of traffic!) which leads directly into a casino and then weave your way back into the daylight! It's a mission and a half, believe me, and comfortable shoes are a must!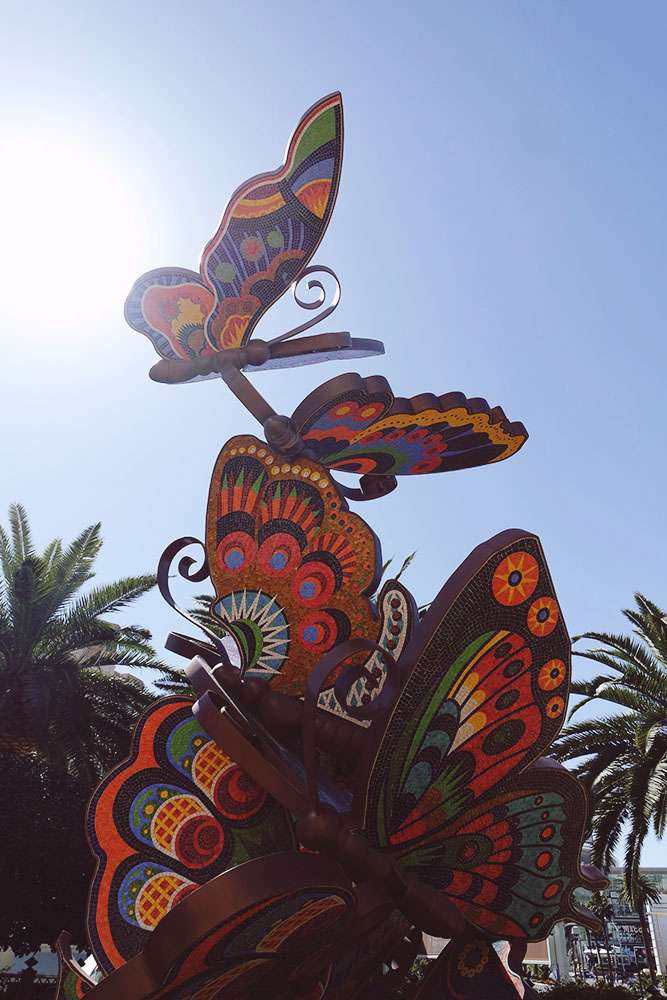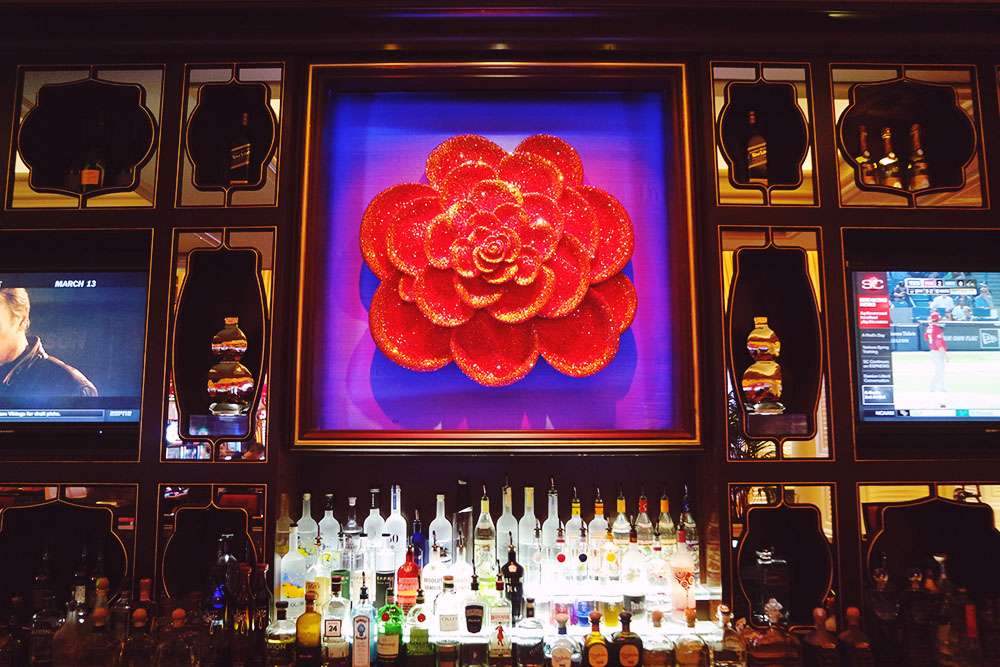 Anyway, back to hotels: While a really cheap hotel right down the end of, or even off The Strip might seem like a bargain, if you have to walk an age or drop $25 on a cab every time you need to go back, it will start to become a real drag.
We stayed at The Encore, the sister hotel right next door to The Wynn. While it isn't as centrally located as somewhere like Caesars, Planet Hollywood or The Cosmo, we chose it because the décor inside looked amazing and it was very affordable when compared to other hotels with similar looking suites.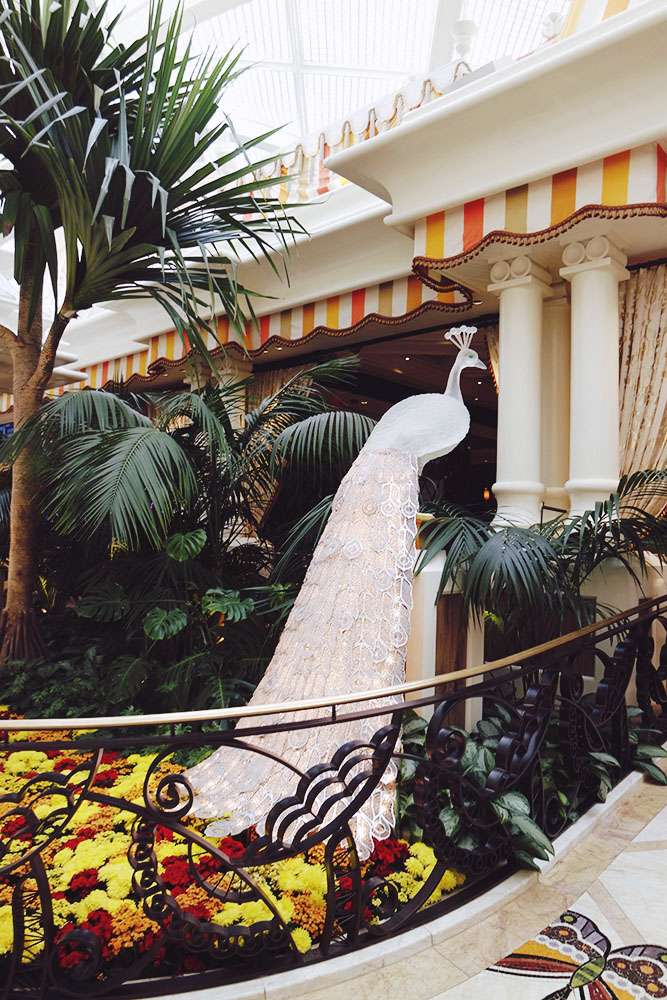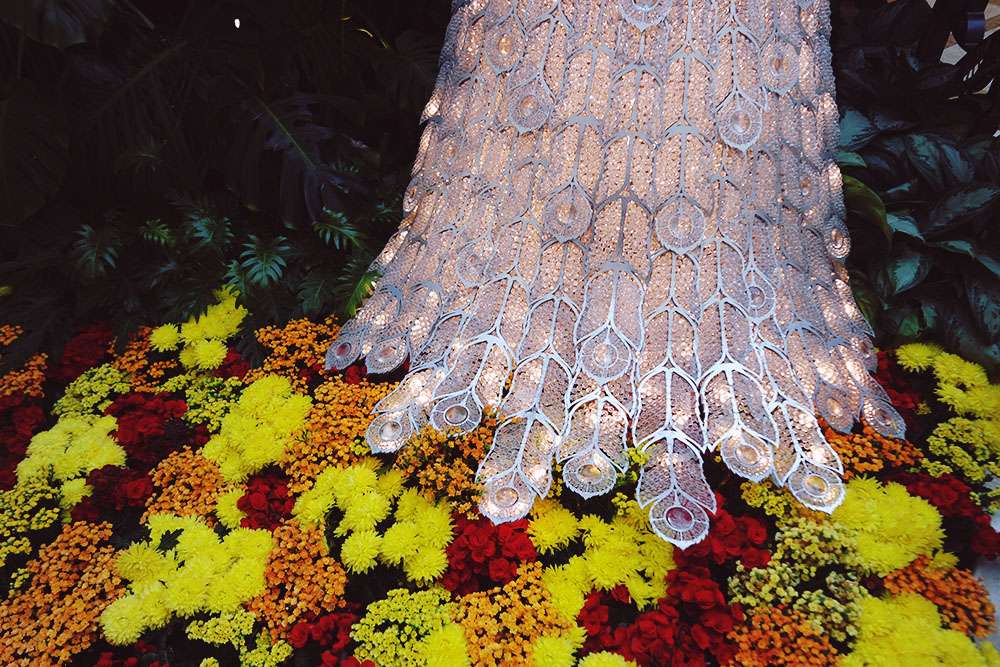 I was so happy with our choice! While a lot of the hotel casinos can seem dark, dated, kinda grungy and smoke-filled, The Encore was a surprising oasis. The predominately red décor was pretty and Asian inspired, with fresh flowers and foliage a-plenty, crystal chandeliers, floaty drapes, butterfly emblazoned red carpet and – crucially – lots of natural light!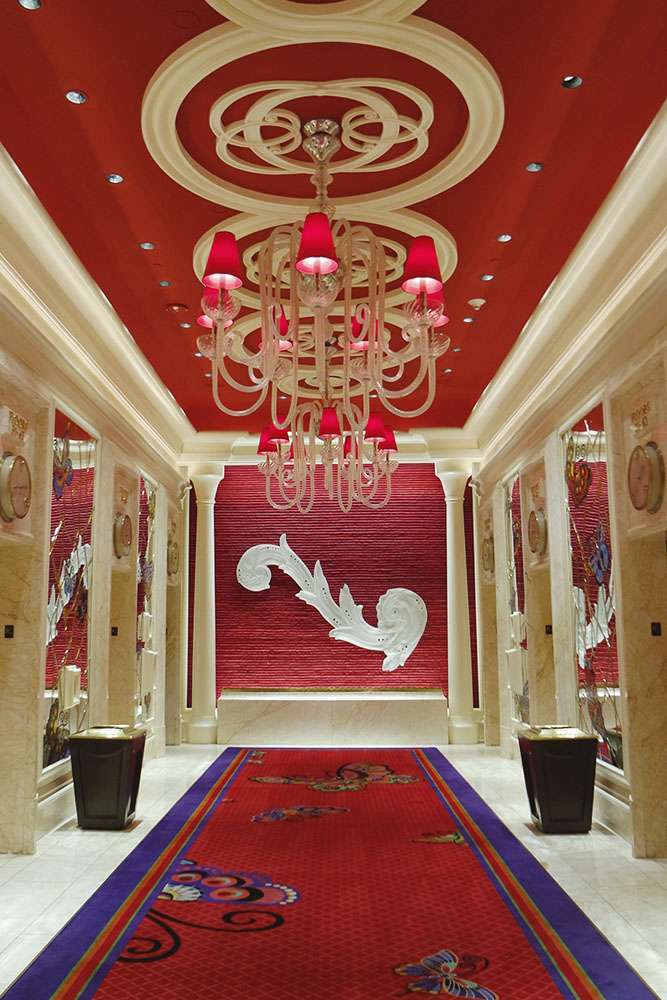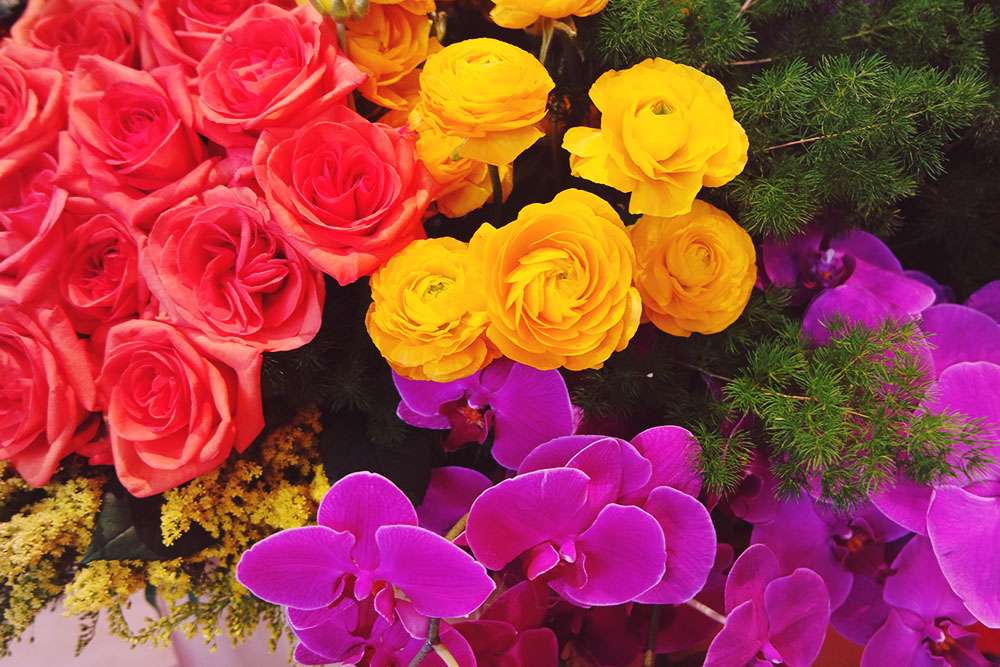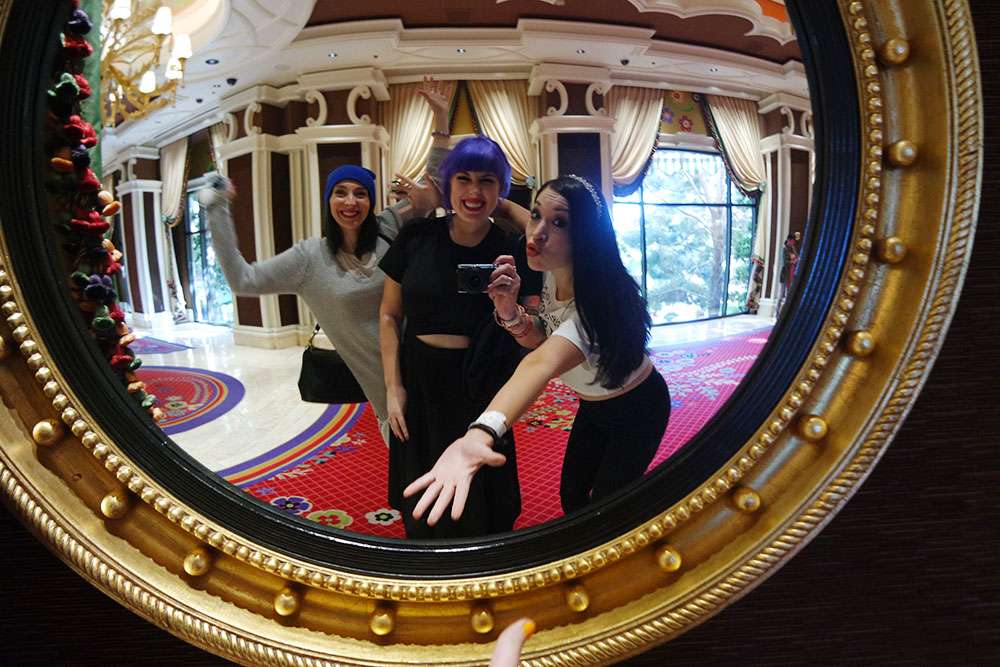 There are also three large pool areas, great restaurants and a couple of nightclubs. The casino itself was also much less busy and smoky than any other we went into too. We stayed in a standard resort room (with two queen sized beds) and although it wasn't anything special in terms of design, but it was big and comfortable. The room cost us between $240 – $380 per night + resort fees and I would totally recommend staying here.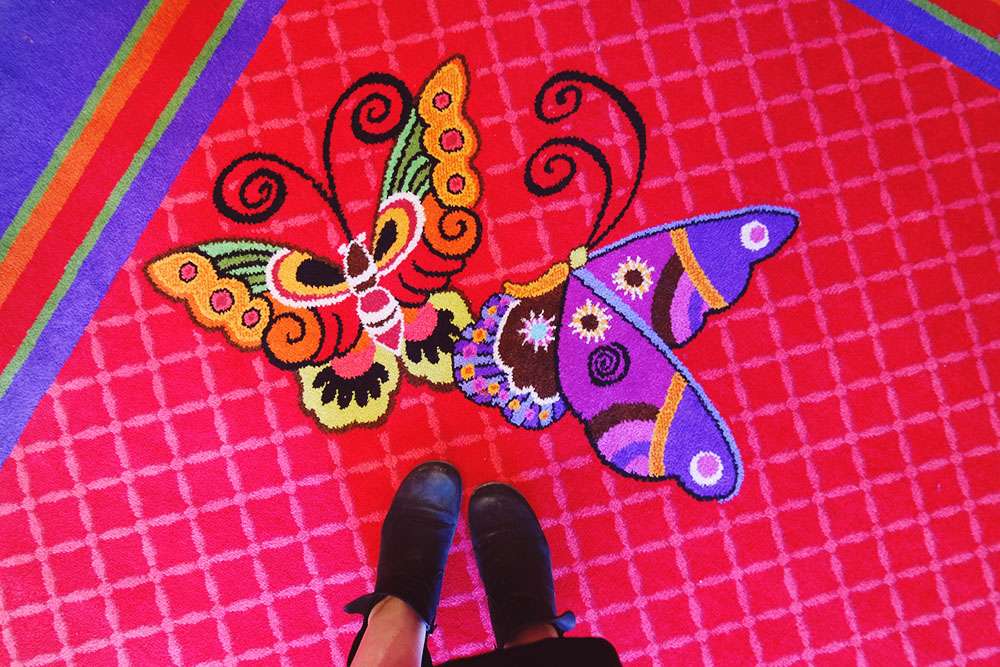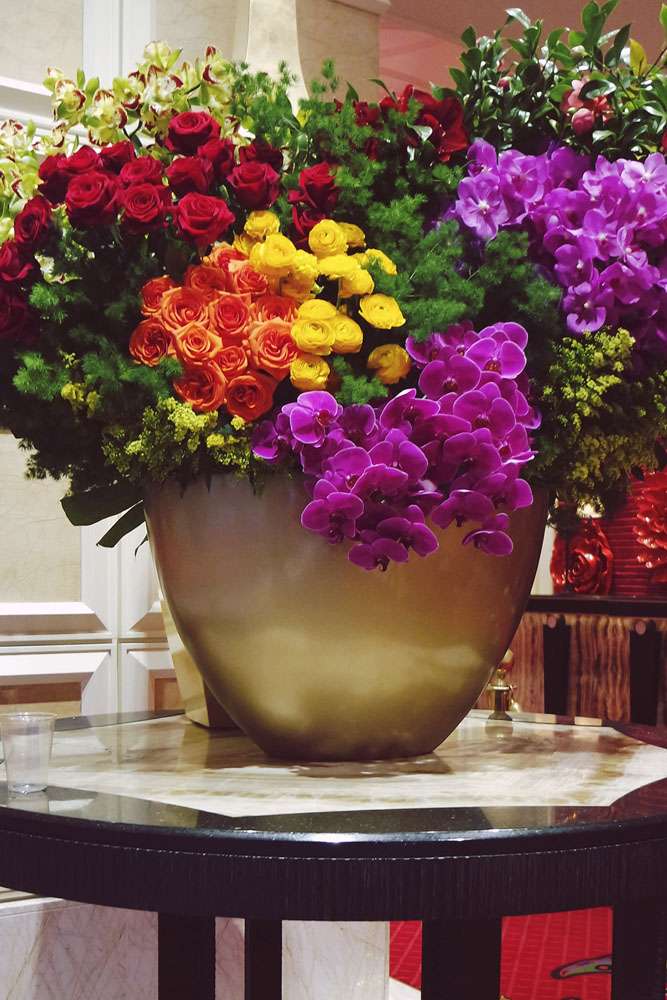 Indulge in an all-you-can-eat buffet… once!
Las Vegas is known as a city of excess and nowhere else does this so obviously materialise than in it's infamous all-you-can-eat buffets! We heard the one at The Wynn was amazing so one morning, we were first in line for the breakfast offering.
Not to mention the setting was rather incredible!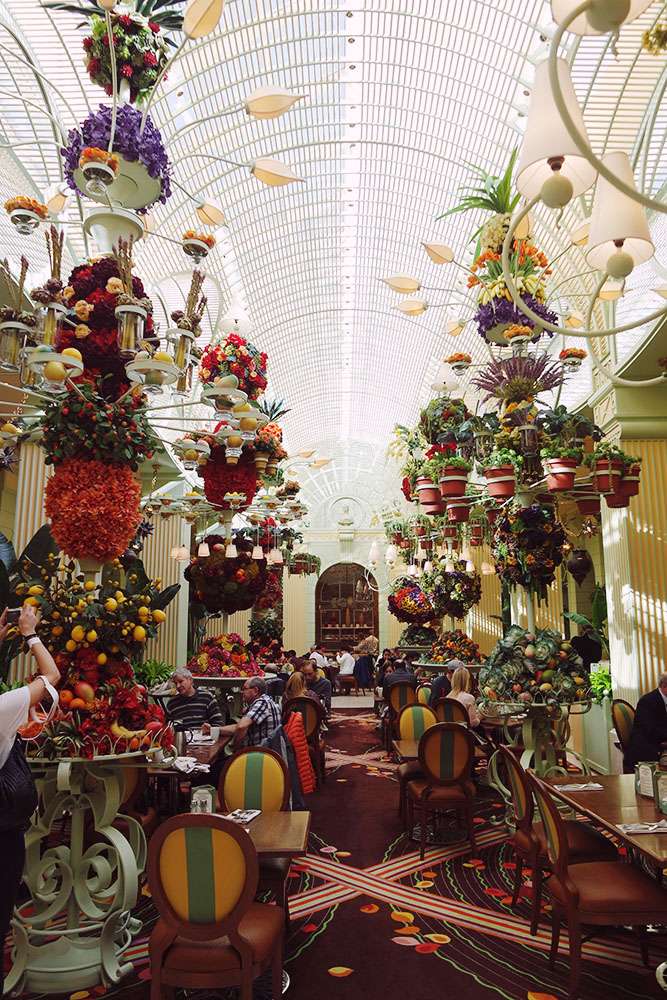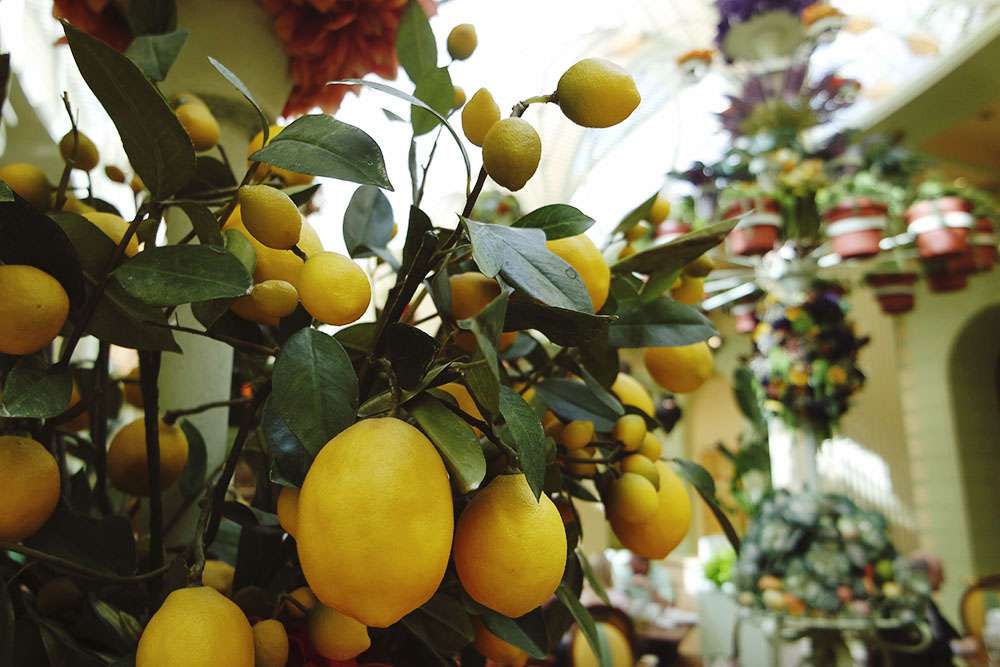 And oh boy people hadn't lied about the food! Every single kind of breakfast food you could possibly imagine was available and don't even get me started on the beautifully presented and totally tempting dessert and cake selection. Also on offer were less traditional breakfast fare such as pizza, Chinese and Mexican food, fish of the day and burgers and chips… well, when in Vegas!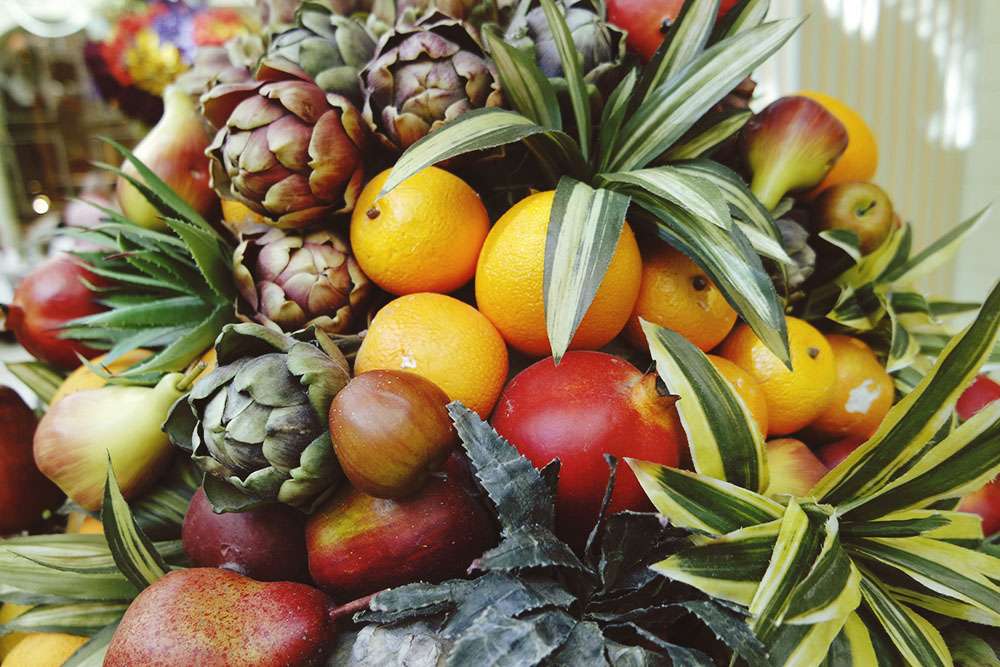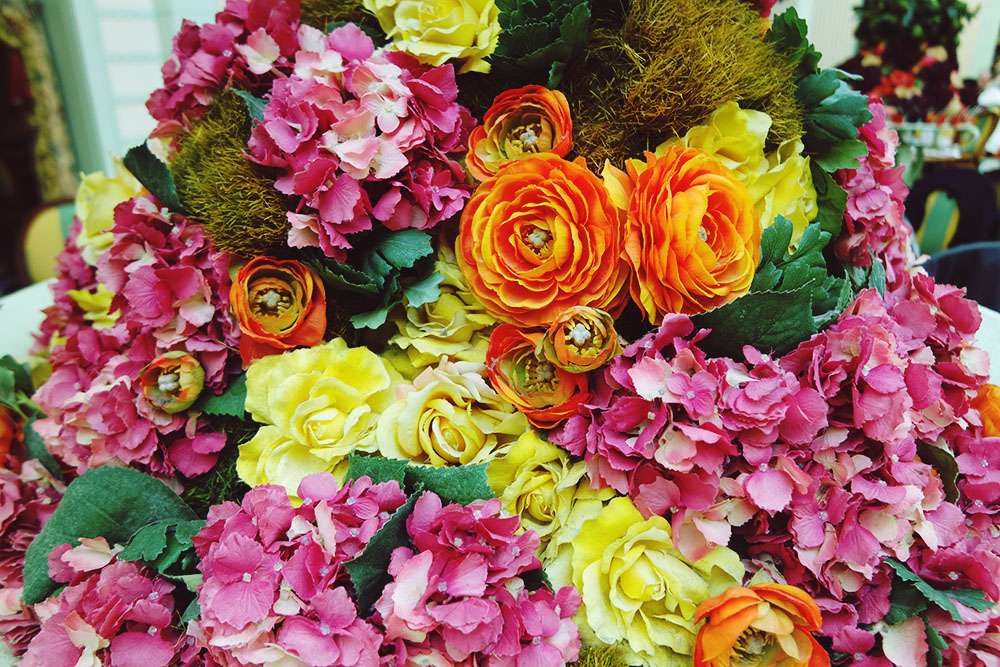 The only downside for me was that they didn't have English Breakfast tea… never fear though, whenever I'm travelling I always carry a stash of PG Tips in my handbag in case I'm presented with such an emergency!
Embrace being a tourist!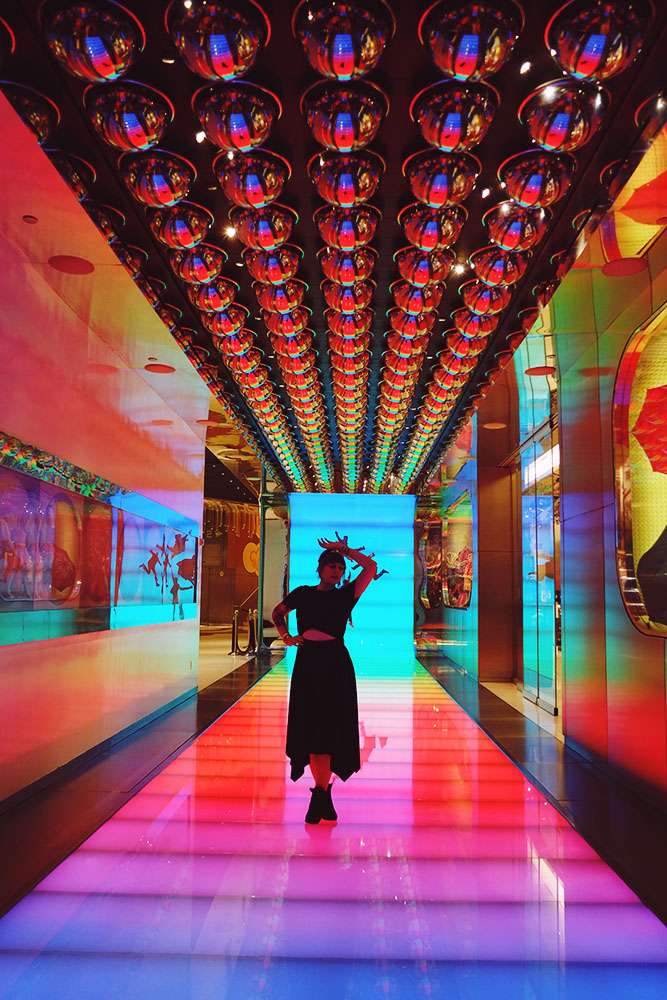 The thing about Vegas is that 99% of people there are tourists. Therefore this is not the time to be "too cool" or to get embarrassed about getting all silly on a gondola! I'll be honest, during our 2012 visit we were a little more reserved when it came to letting the vacation kitsch into our lives, but we sure made up for it this time around!
We loved doing our cheesy indoor gondola ride at The Venetian. The guy steering our boat even sang to us in Italian! It was kinda awkward and weird but also kinda amazing.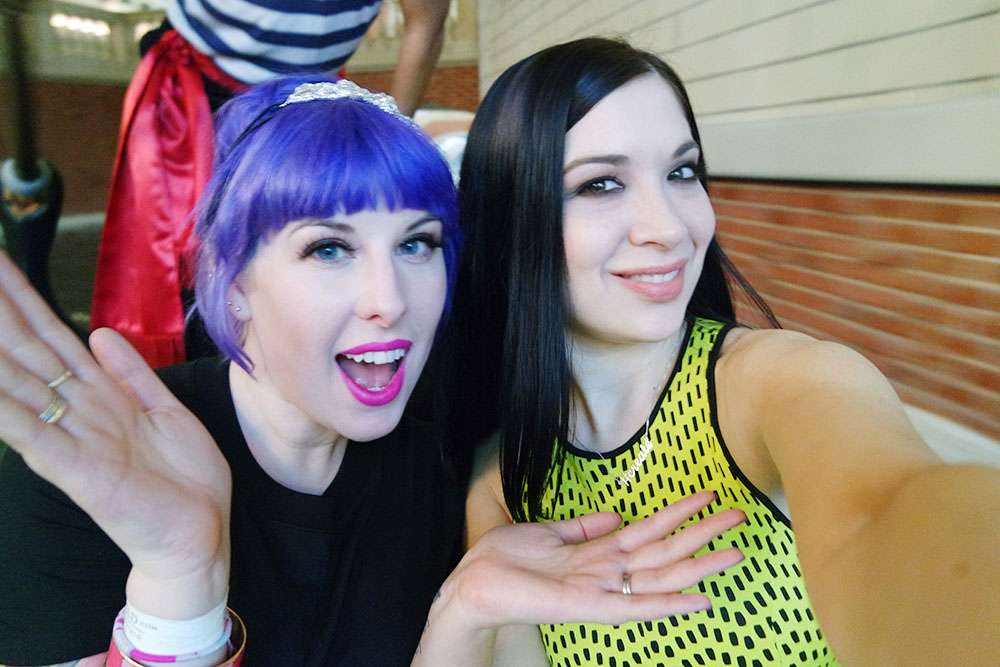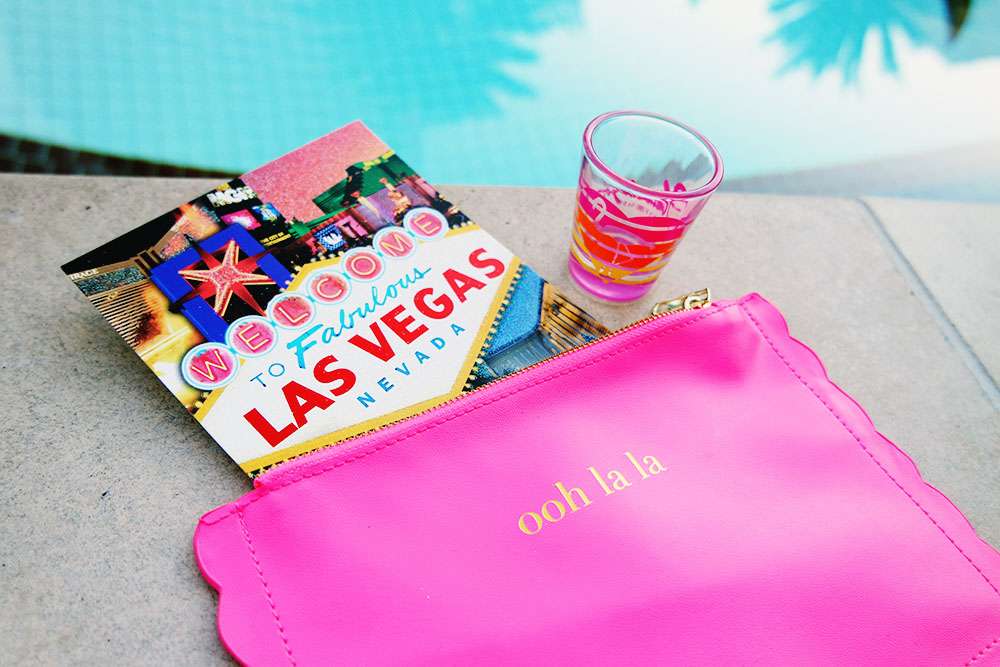 Vegas is the place for tacky souvenirs and we went all out! Gala bought possibly the best bottle opener on the planet and an Elton John tee-shirt and lighter. I grabbed a wine bottle stopper with a sparkly pink shoe on top, a mug with a flamingo on it and a very questionable bedazzled baseball cap. Shauna went a little bit nuts and ended up carting home a Siegfried and Roy white plastic tiger ornament, a key chain and a book (yes she has a bit of an obsession!) a Donny and Marie necklace and a 15 inch Flamingo statue!!!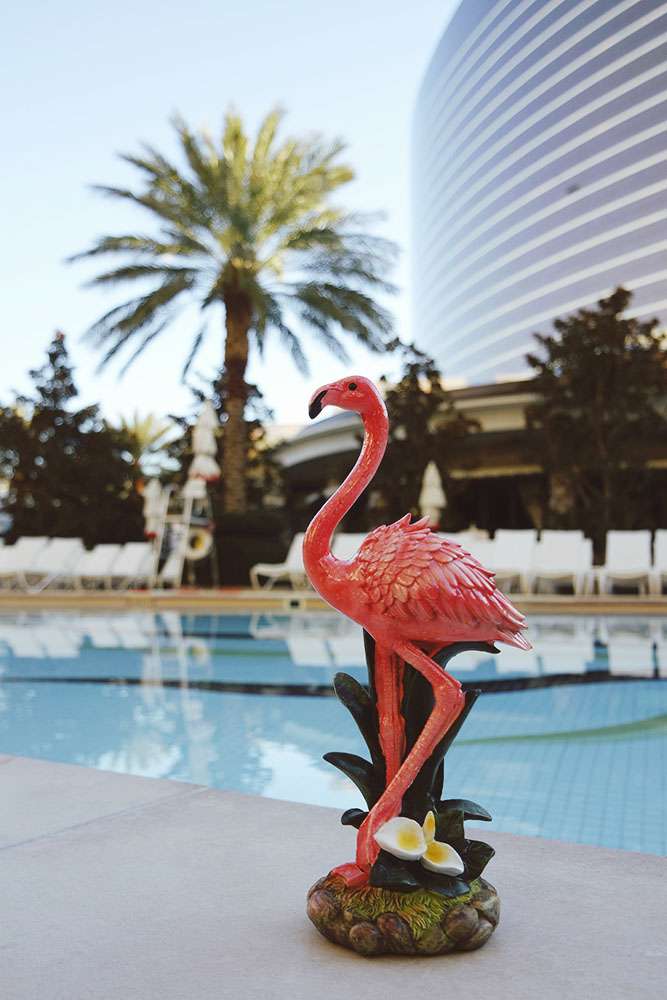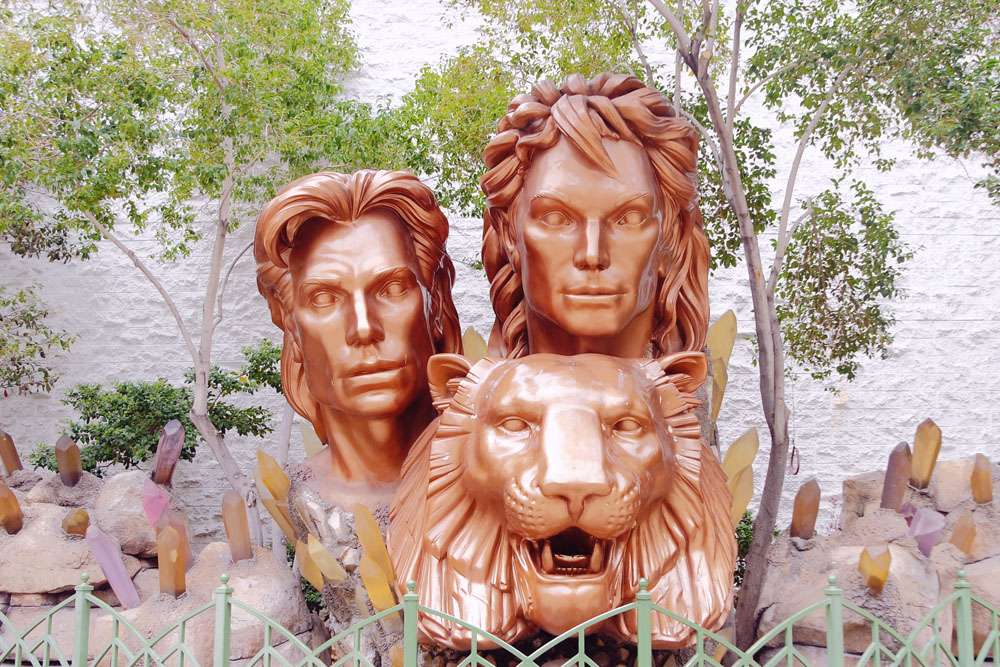 One of the funniest moments was as we were leaving our hotel at the end of the trip. We checked our luggage with the Bell Desk as we still had a few hours to kill, and when Shauna handed the guy her bag she said "Be careful with that, my flamingo statue is inside". You should have seen the look on his face!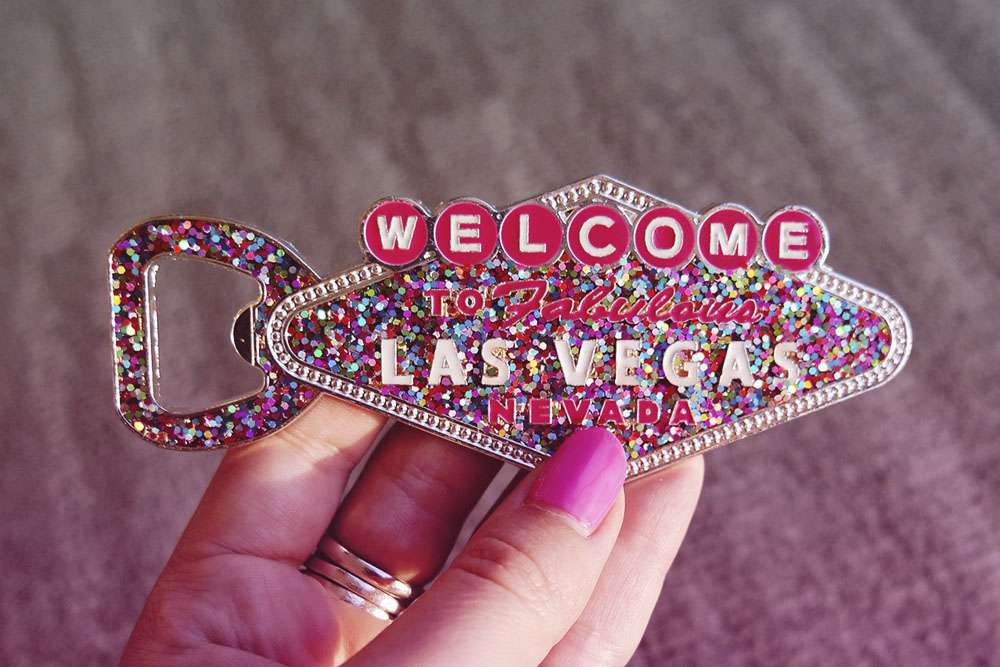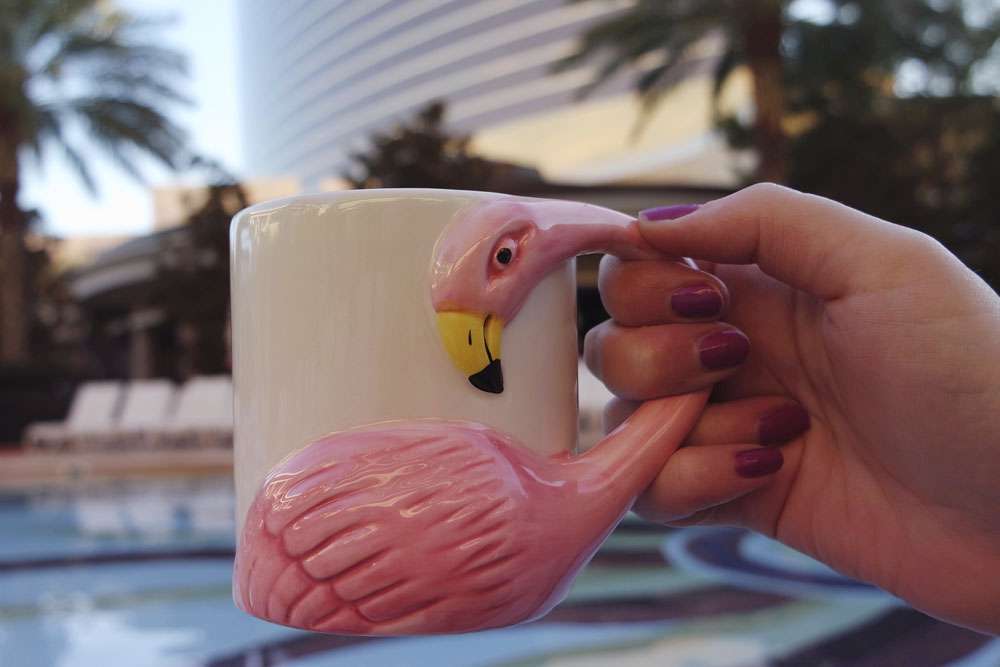 Be sure to hit up the gift shops. For me, the one at The Flamingo (for obvious reasons) was the best but The Mirage came in a close second.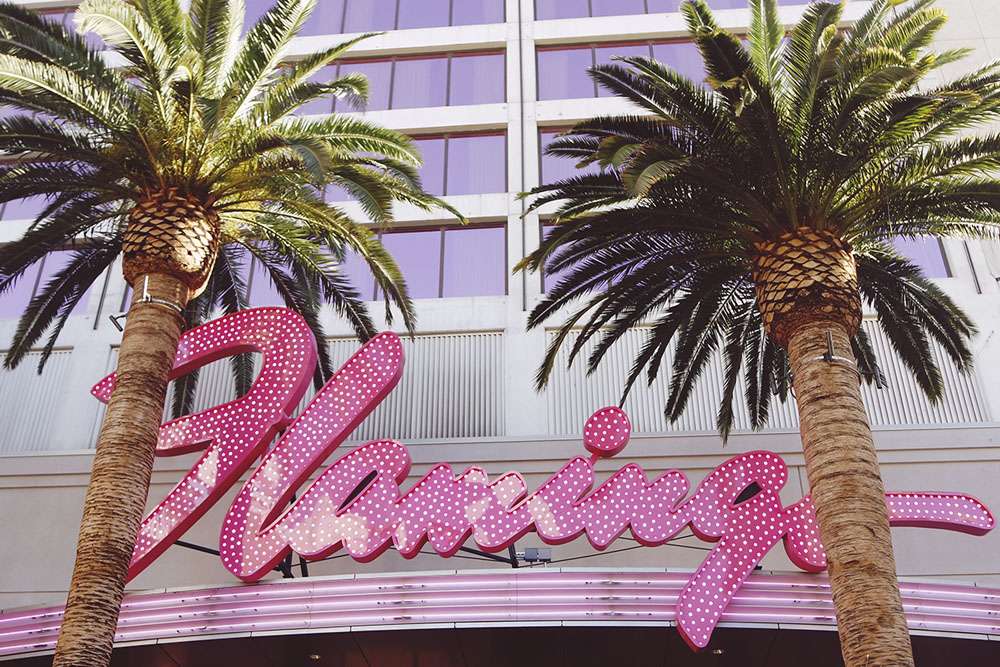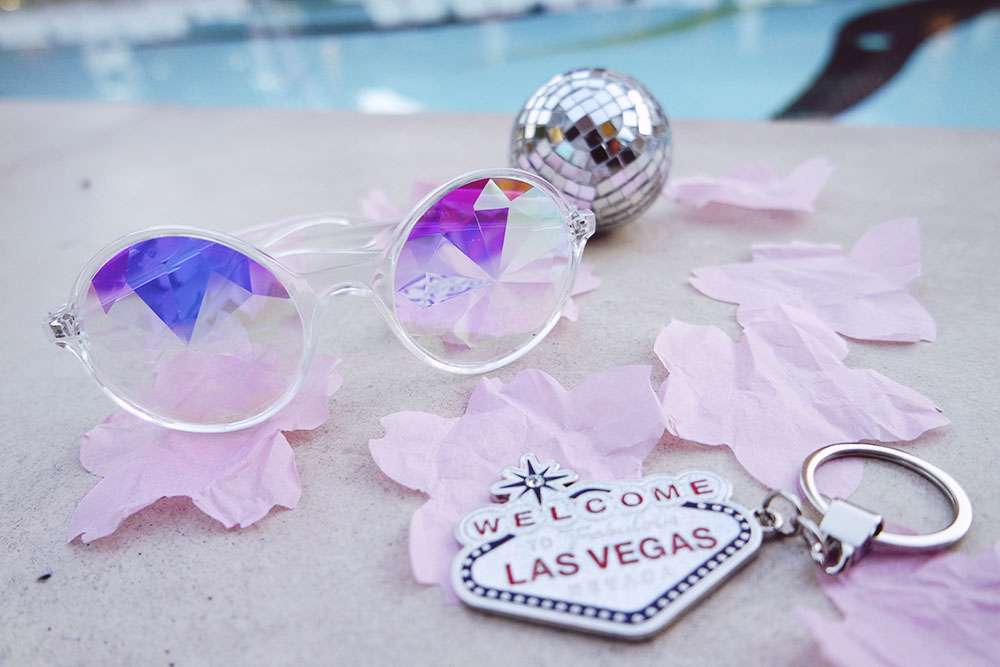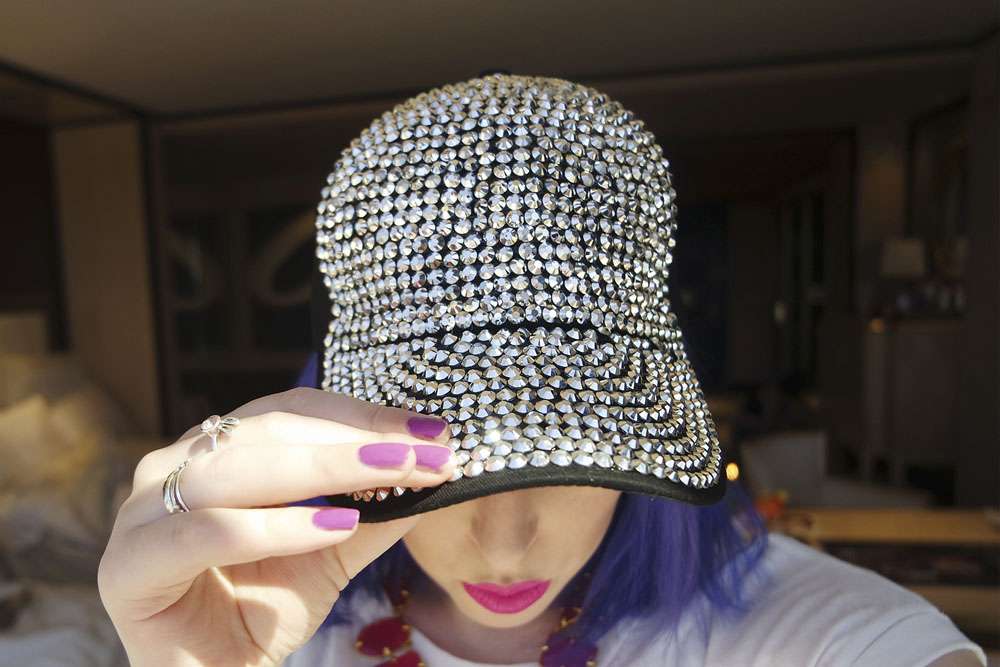 Another thing you have to do is go on the High Roller. It's basically a big London Eye type wheel (although 107 feet taller at 550 feet!) that takes 30 minutes to do a full rotation. It costs $34.95 at night ($24.95 during the day) and for an extra $10 per person you can go in a pod with an all-you-can-drink bar! Oh lord! We actually didn't do this as I'm kiiiinda glad we didn't. The bar pod was PACKED whereas we only had to share ours with four others, meaning there was no fighting for the best spot to snap our panoramic photos!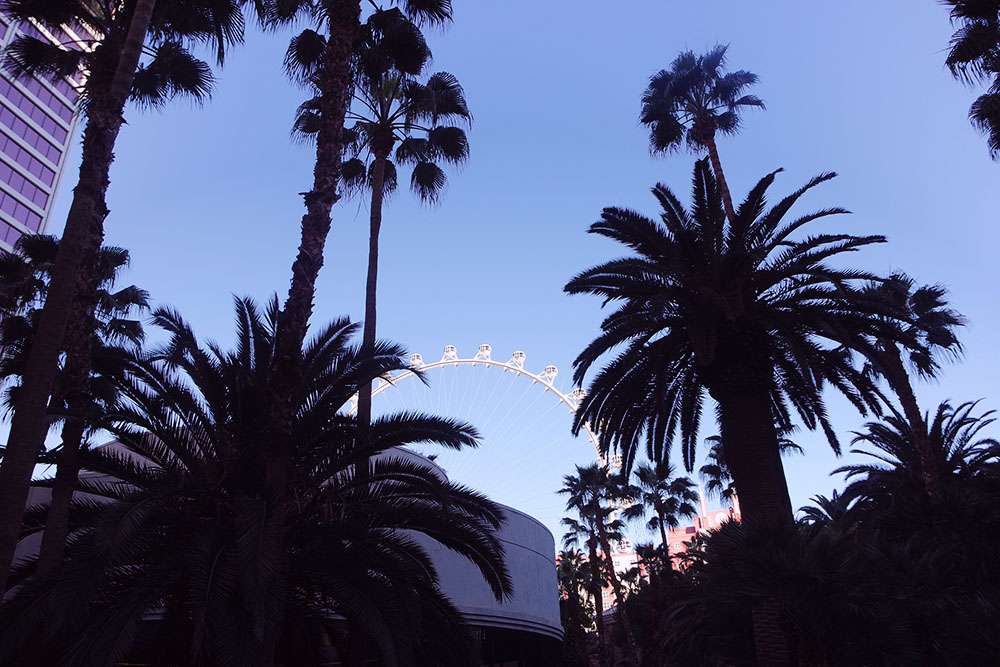 Plan your eating… and drinking!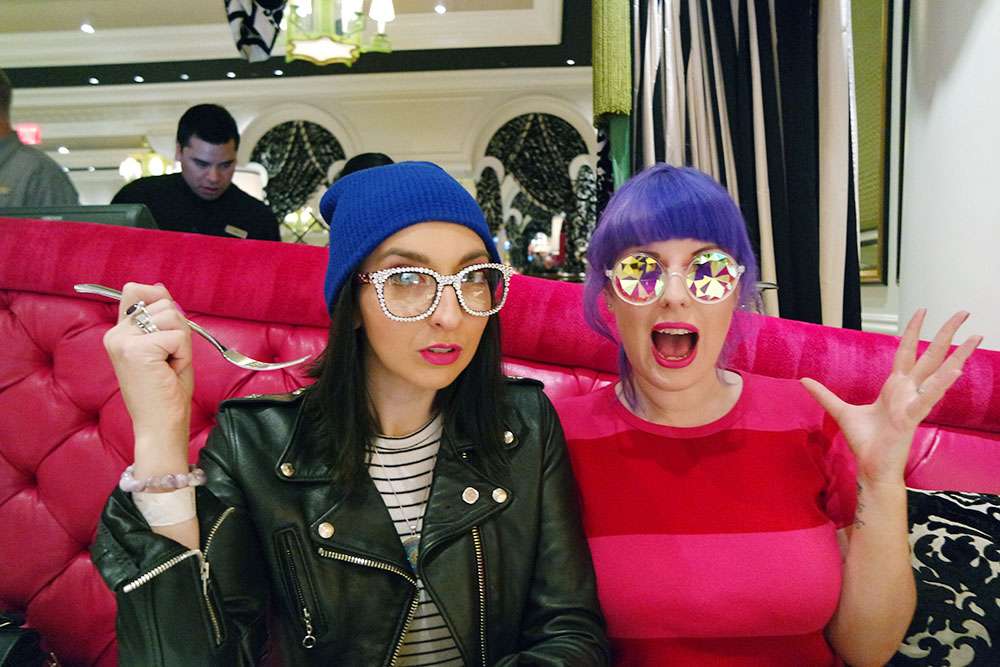 There are so many great restaurants and bars in Vegas it can be a little overwhelming. They also vary a lot in price and quality.
Some of the best places we ate and drank were Spago in Caesars Palace (the Italian food was amazing but the service was a little shitty), Society (with its pink couches!) for happy hour and Wazuzu for amazing Thai, Chinese and Japanese food, both in The Encore. The latter even has a 27 foot crystal dragon worth a million dollars on the wall!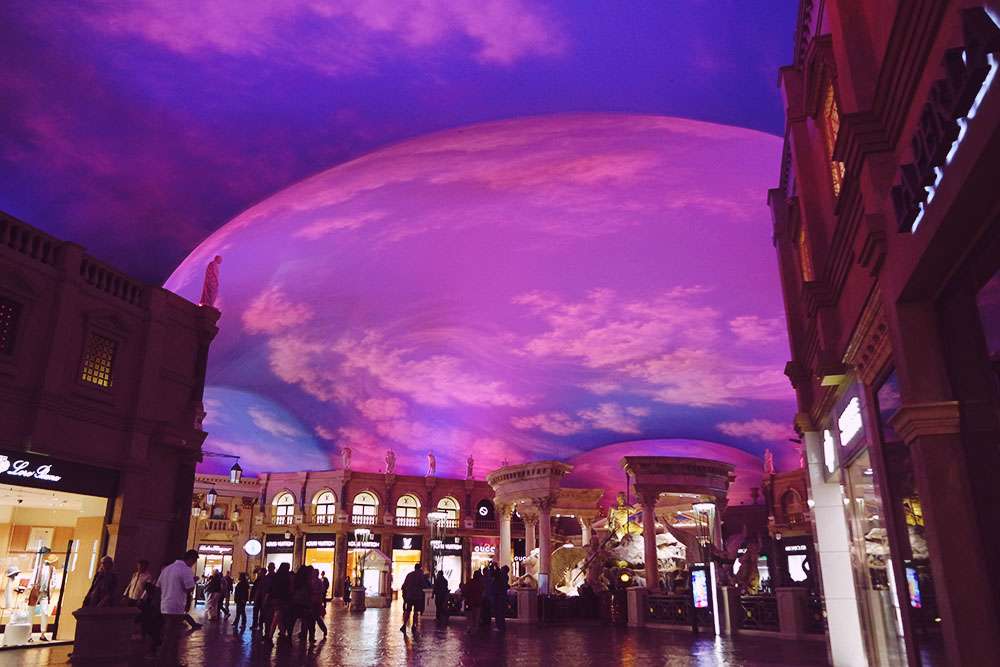 However one of my favourite restaurants in the city is Mon Ami Gabi in Paris. The food is AMAZING and its right opposite the Bellagio Fountains so if you sit outside you can watch the show as you eat.
The brand new 24 hour Pantry restaurant in The Mirage served excellent wholesome favourites and when the sun is shining make sure you pop down to Parasol Down at The Wynn for cocktails. Be sure to stop by the carousel and hot air balloon made of real flowers on your way too!!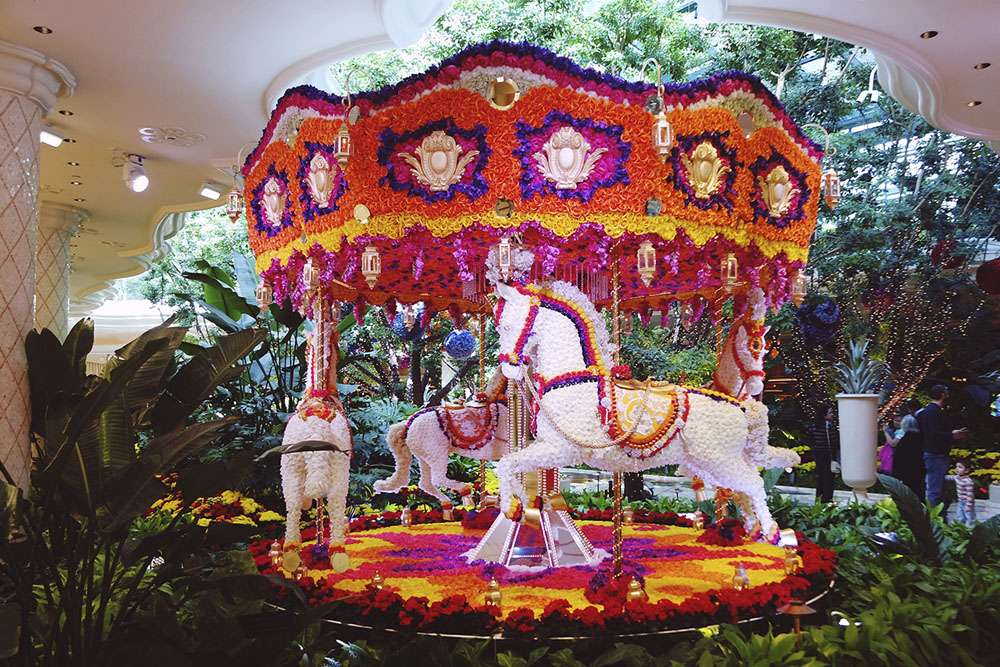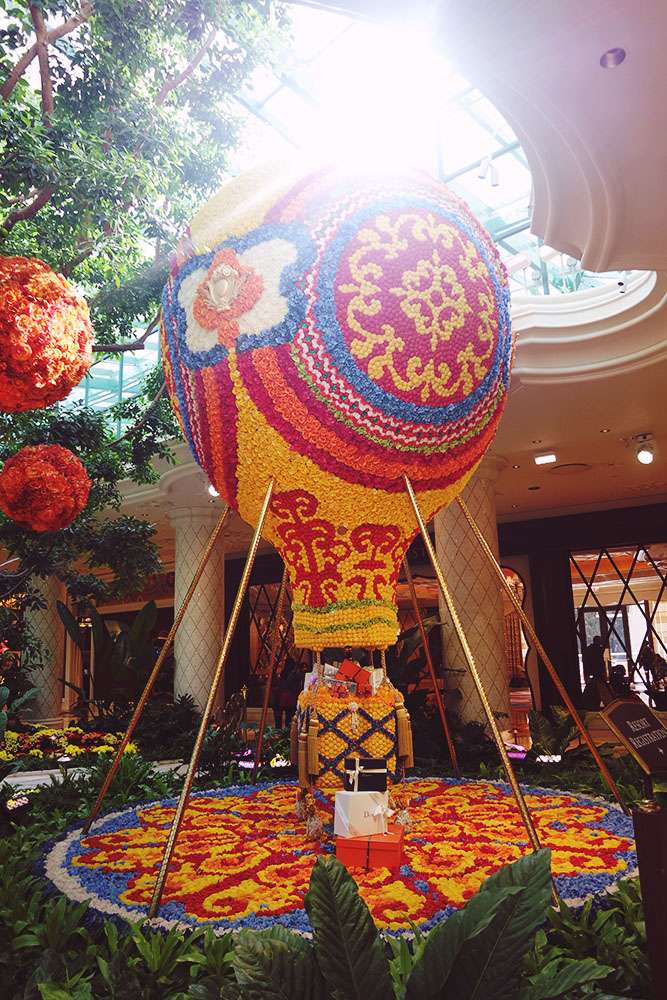 However maybe my favourite bar was Margaritaville in The Flamingo! Totally cheesy, totally themed and serving totally strong margaritas. It's a must visit!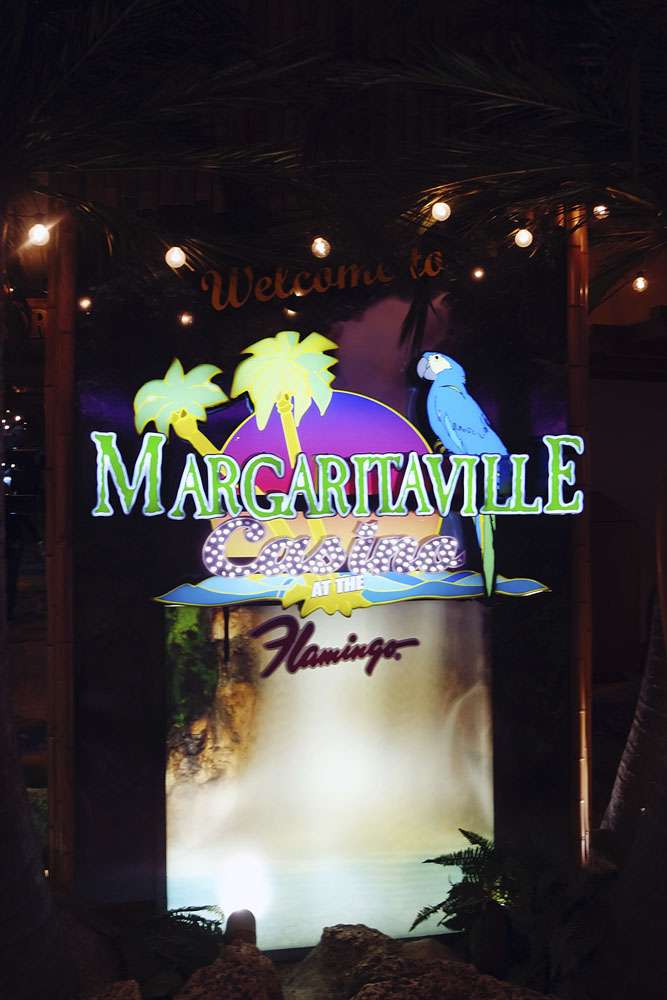 Shop 'til you drop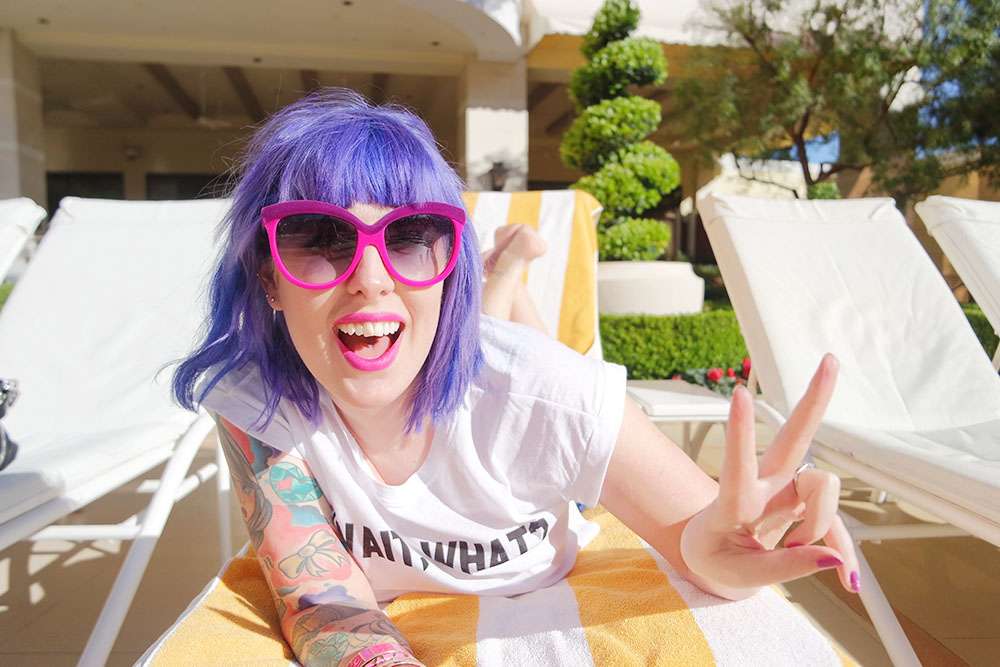 Vegas has some of the best shopping going, hence why I spent a LOT (sorry Gareth!) My favourite spots to max out my credit card are The Forum Shops at Caesars and The Fashion Show Mall which boasts a HUGE department store sized Forever 21! I'm wearing all new purchases in the photo above. My velvet (!!) sunglasses are by Italia Independent and my Wait, what? tee is from Forever 21.
Also worth visit is the new LINQ Promenade situated at the base of the High Roller. There are some little hidden gems down there including Kitson, the Polaroid Fotobar, a bowling alley and a pink cupcake ATM at Sprinkles Cupcakes!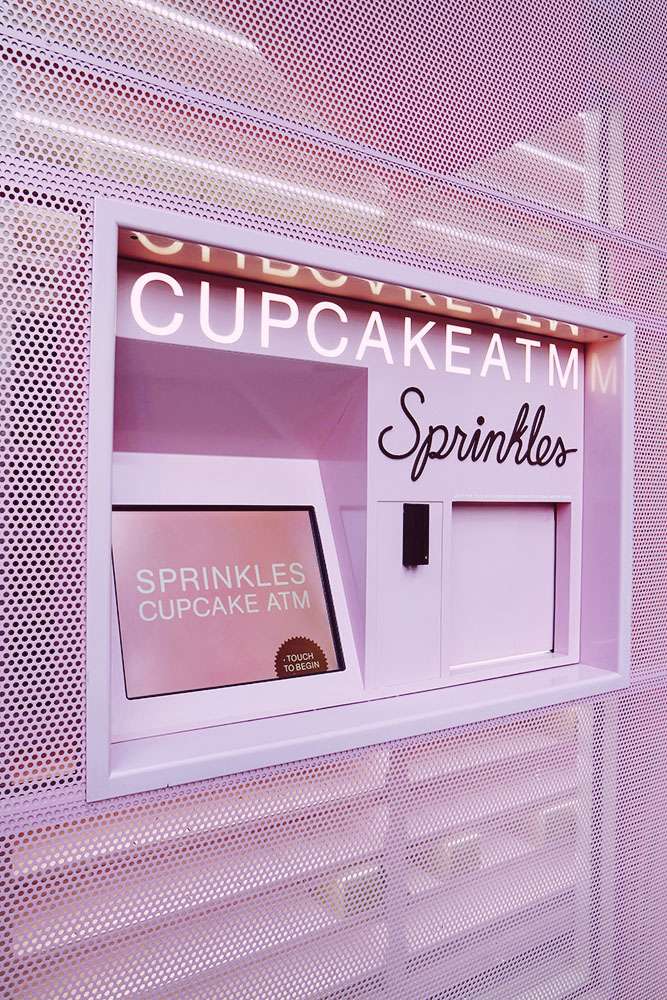 See some shows
On our 2012 trip we missed out BIG TIME by not realising the amazingness of going to shows in Vegas, again, we thought we were just too damn cool for it. Oh how wrong we were!
As soon as Britney Spear's residency was announced in June 2013 I knew, somehow, I had to make it there. I'm not ashamed to admit that I love me a bit of a Britney, so when Gala had to leave a few days before us, I dragged Shauna to the show. She definitely has better music taste than I do but she loved it too!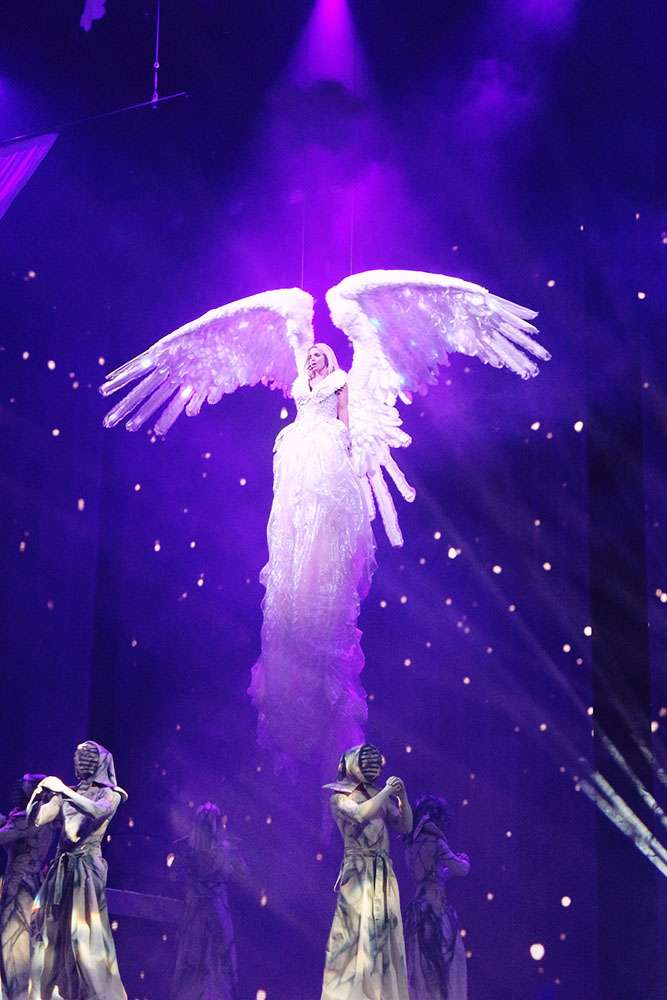 Being right in the front row was preettttty amazing!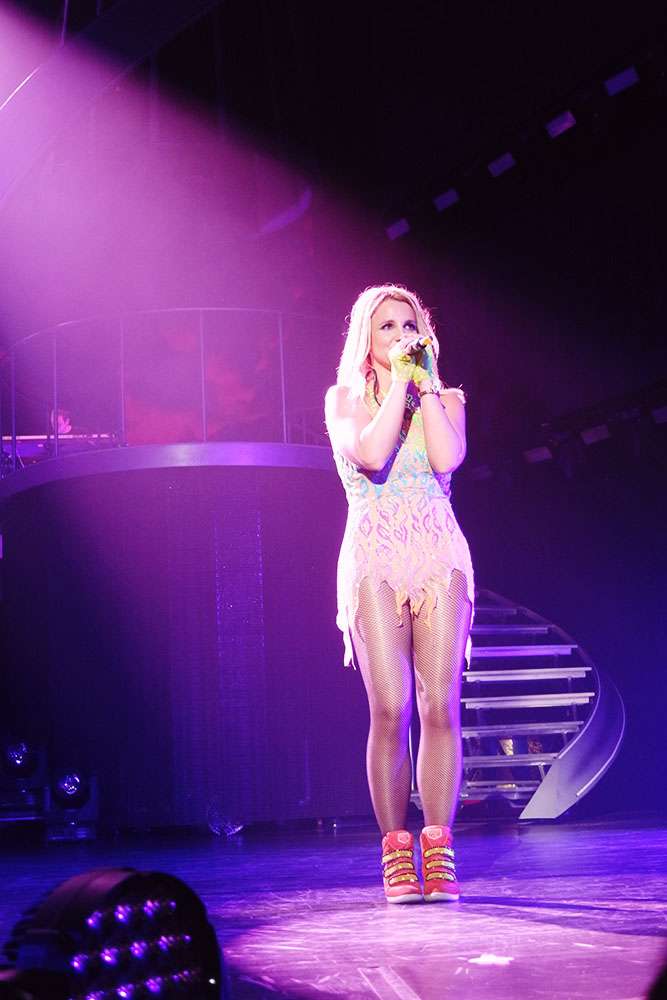 The purpose built 5000 capacity theatre in Planet Hollywood has apparently it's been packed out nearly every night. The rumours are that her stay is being extended until 2017 because of it's success too. Damn!
And I can see why it's been so popular. We were in the general admission (standing) area and I wouldn't have been anywhere else. Sure, she might have lip-synched the whole thing. but her dancing was amazing and the set design was quite the spectacular.
Sheer sequin catsuits for the win!
I mean you really can't beat seeing the lady herself coming down from the ceiling dressed as an angel (light up wings and all) during Everytime…
Or doing a rain-soaked launch off a 30 foot tree during Toxic…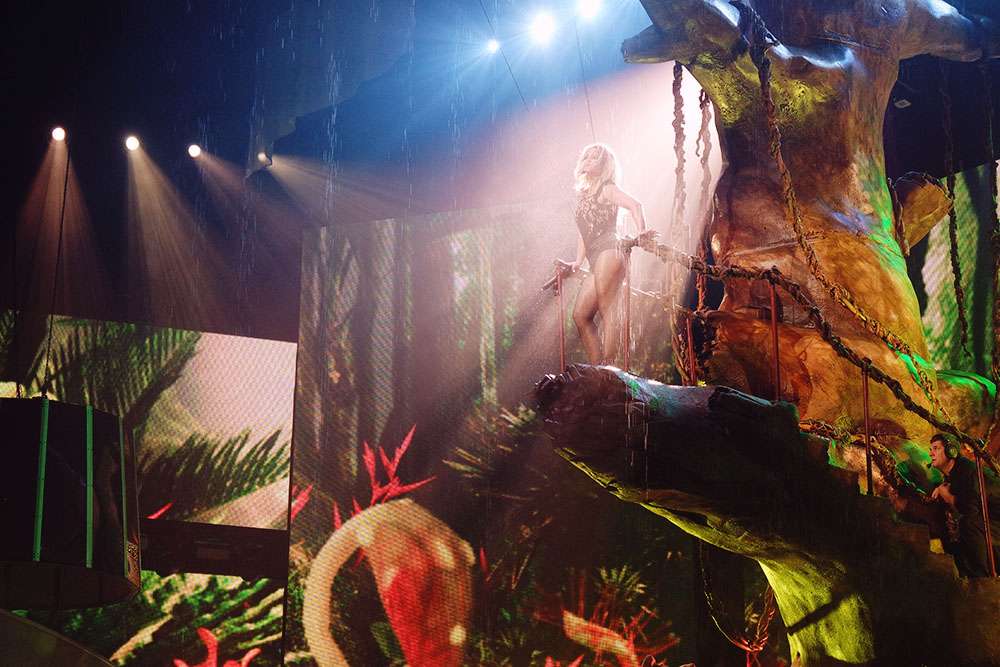 We also witnessed her enthusiastically dancing inside a ring of fire as she belted out Circus and we cringed a little as she dressed up and walked an audience member around the stage in bondage gear during Freakshow.
Yep, totally worth it!
It wasn't just Britney that entertained us though, we also went to see David Copperfield at the MGM on our first night! Again, he has his own theatre, aptly named The David Copperfield Theatre, and again we were right at the front!
Here we are post-David. We had to go all out with our Crown and Glory headwear of course. He definitely smirked at us a couple of times, I mean we're pretty hard to miss!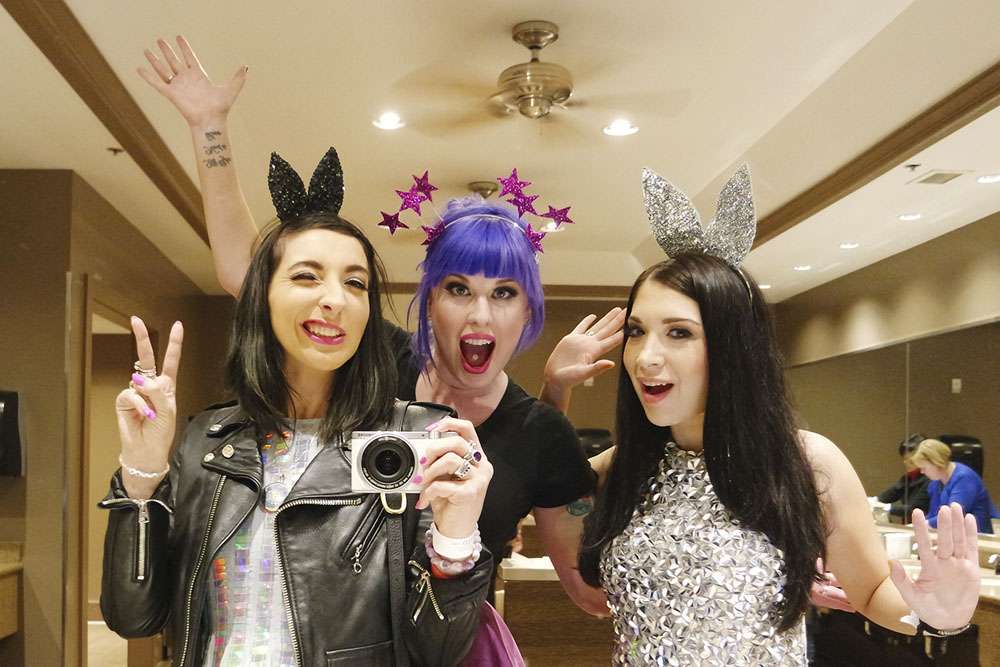 I wasn't really sure what to expect and we weren't allowed to take photos (lest we give away all his magical secrets!) and while it was certainly a little cheesy, the magic was actually amazing! David was quite the showman, not that you'd expect anything less from a billionaire magician who owns a couple of islands and has sold more tickets (over 40 MILLION) than any other solo performer in history! Yes, more than Elton John, more than Michael Jackson and more than Elvis!
Get your face done at Sephora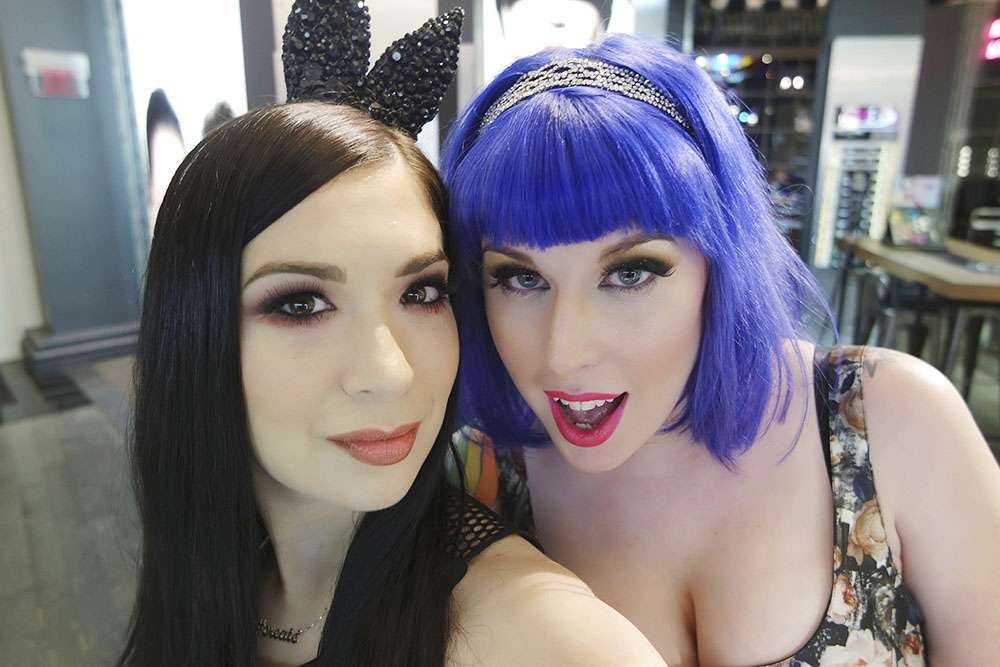 If you have an event (like, I dunno, a wedding!) planned you should definitely go and get your make up done at the Sephora at The Venetian.
We did this twice actually, once for our visit to David and then again for Britney because if you go for a Make Up Forever make over it costs just $60 and that $60 is then redeemable against any purchases… So if you're going to buy some new make up anyway you can effectively get your face done for free!
If you do this ask for Steven. He did my make up both times and he was a wizard with a blusher brush. Tell him Kat, the blue haired British chick from Rock n Roll Bride sent you! Although the people that did Shauna and Gala's faces were equally amazing too of course!
Rent your dream designer dress!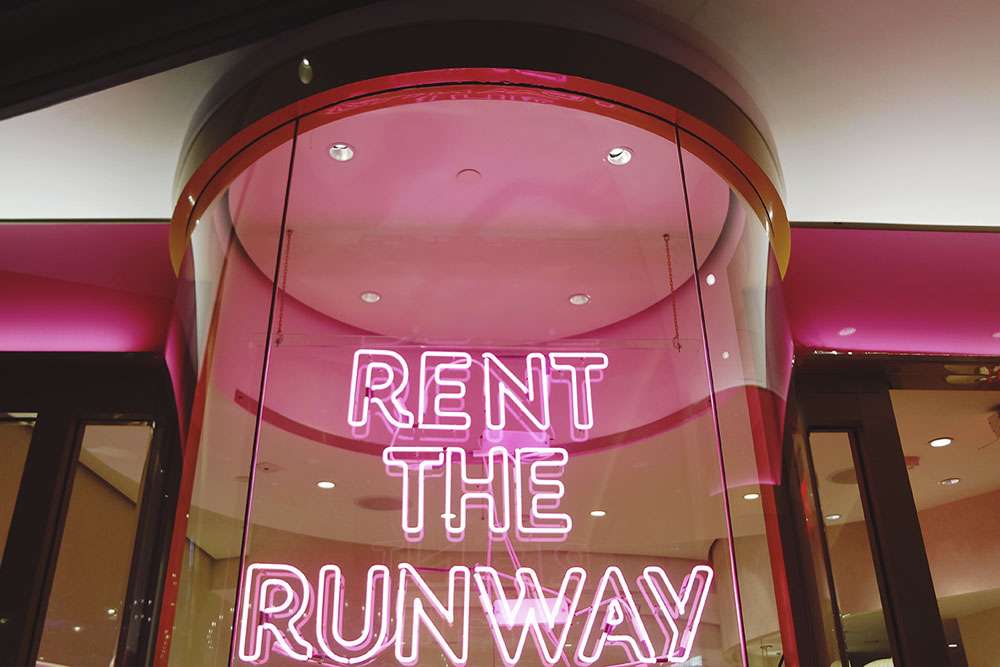 You may well have heard of Rent the Runway before, but did you know they have a bricks and mortar store in The Cosmopolitan?!
If you're not aware of the concept, it's basically a way for you to rent the designer dress of your dreams for a couple of nights. With most rentals costing between $50 and $150, it's the perfect way to shop (almost) guilt-free. Especially if like me, your suitcase is already bulging when you arrive so getting all your new purchases home is a bit of a concern!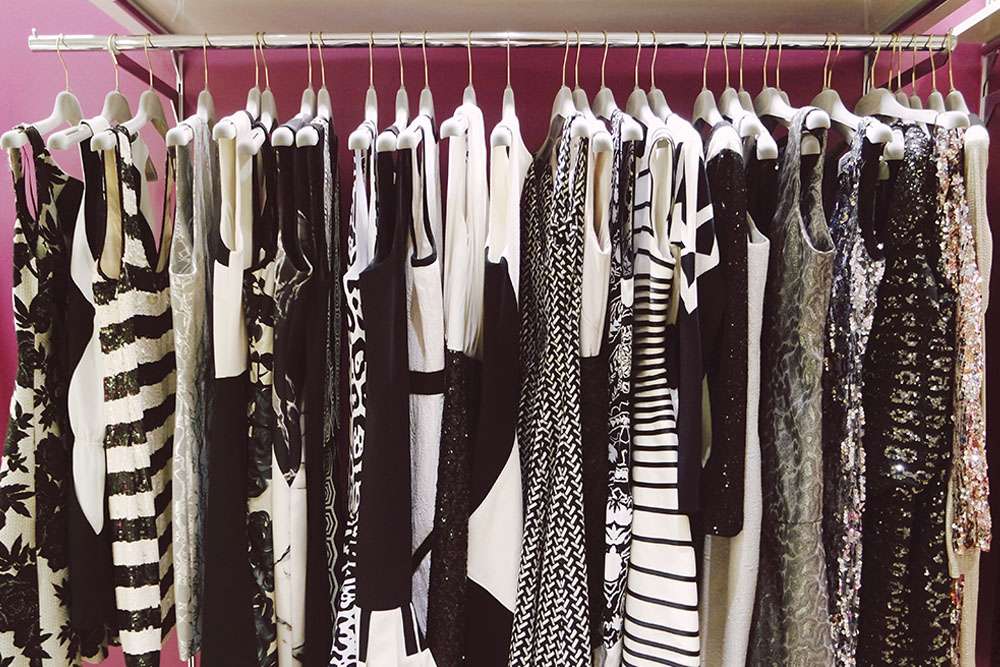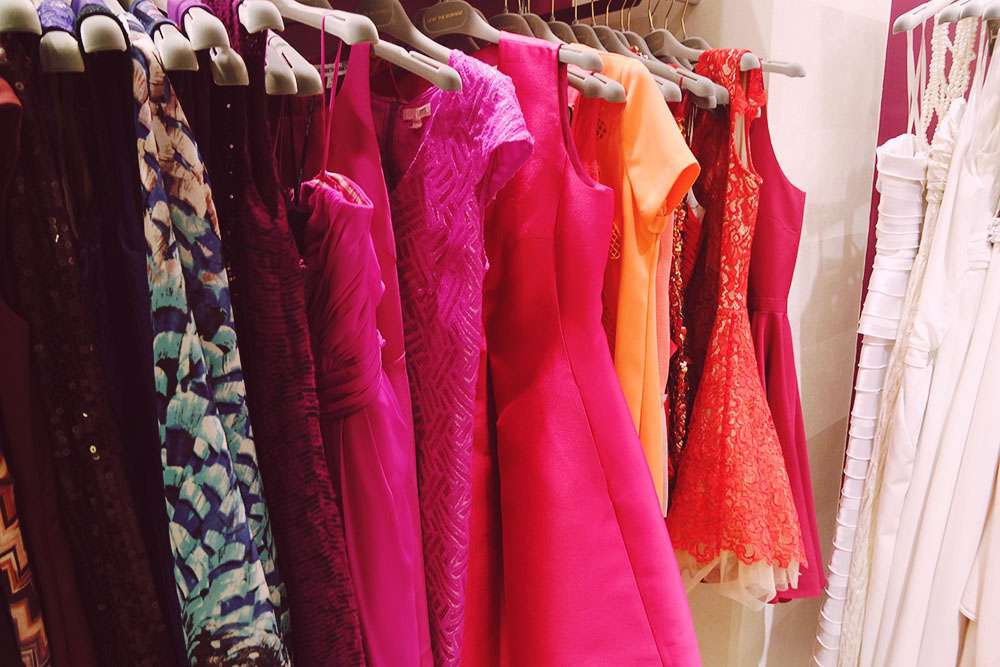 I fell in love with two dresses – this coppery floral one by Sachin and Babi and this incredible sparkly nude and pink one from Valentino. Although I loved the Valentino SO MUCH at $150 to rent I felt it was just a biiiit too much for a 'just because'. However I bagsy-ed the Sachin and Babi dress for our night out with Ms Spears and got lots of compliments on it. One woman even asked me if she could stroke it… and then my tattoo… and then my hair. Only in Vegas!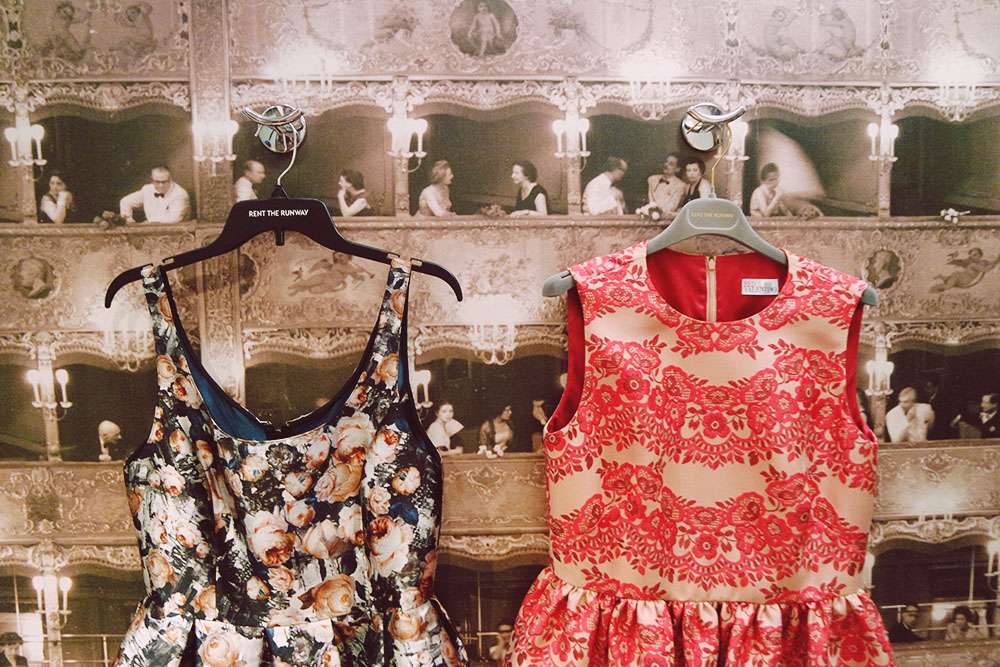 I think this is just the perfect way for you to wear the designer dress of your dreams when you say "I do" without having to drop a couple of grand for the privilege! Totally genius concept.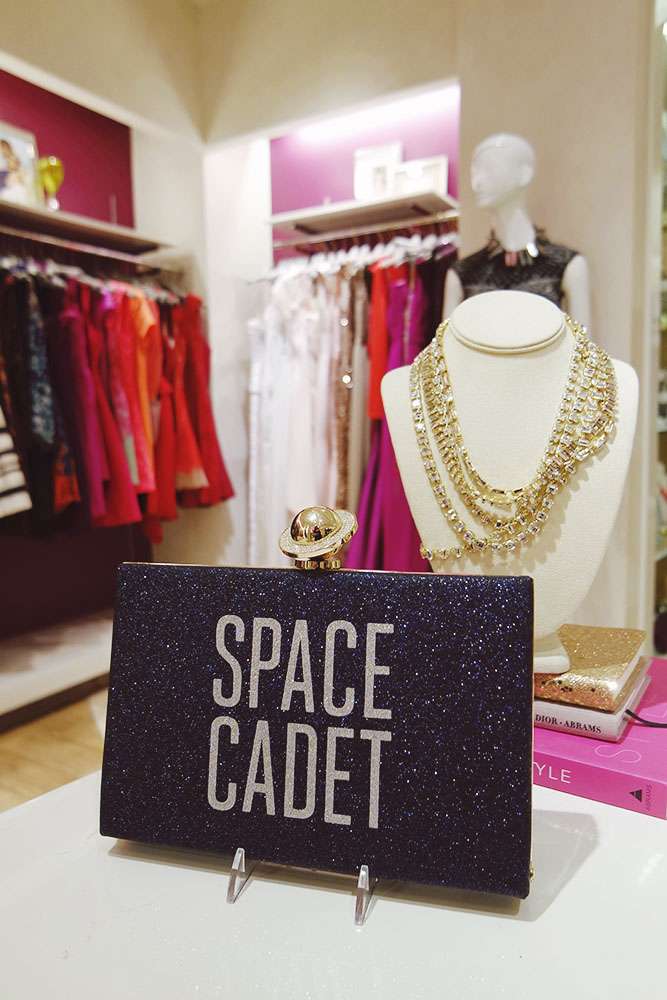 Ahh Las Vegas, you sure did show us a damn good time. I'm already counting down the days until I have an excuse to go back.
Vegas can chew you up and spit you back out if you let it, but if you plan your time, and adventure away from the gambling tables and their alluring free drinks (!) once in a while, there is so much else to see and do.
I mean, where else on the planet can you see Britney Spears on one side of the street and ride a rollercoaster around New York on the other? Where else does a fake volcano errupt every 30 minutes while a fountain synchronised to Michael Jackson goes off a couple of hundred yards away?
And where else is is perfectly acceptable to wear false eyelashes and sequins at 9am?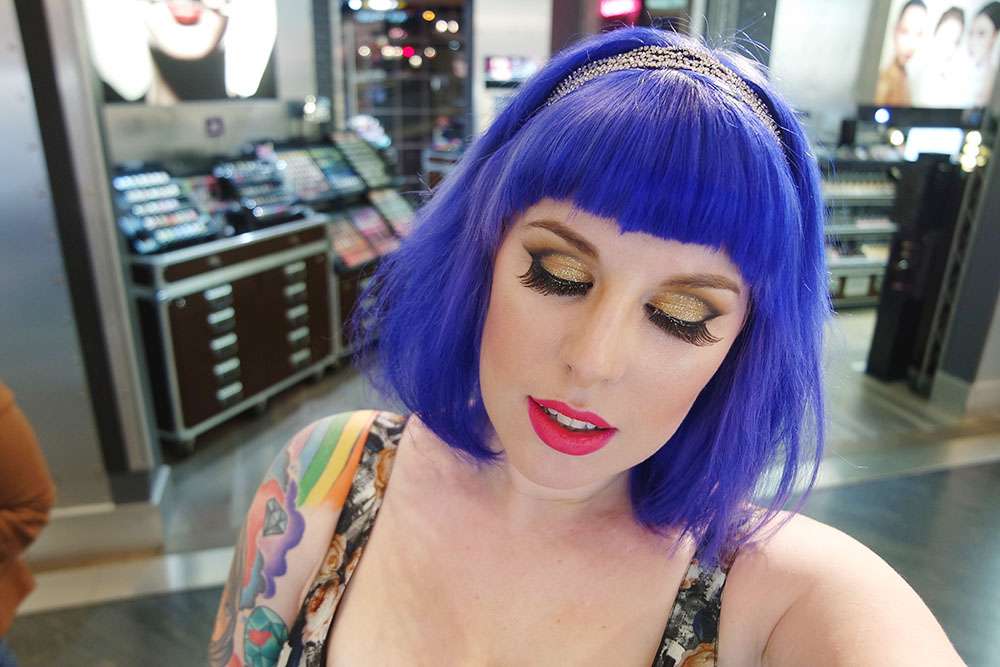 The answer is nowhere! And that, dear Vegas, is why I love you so much. Never change.