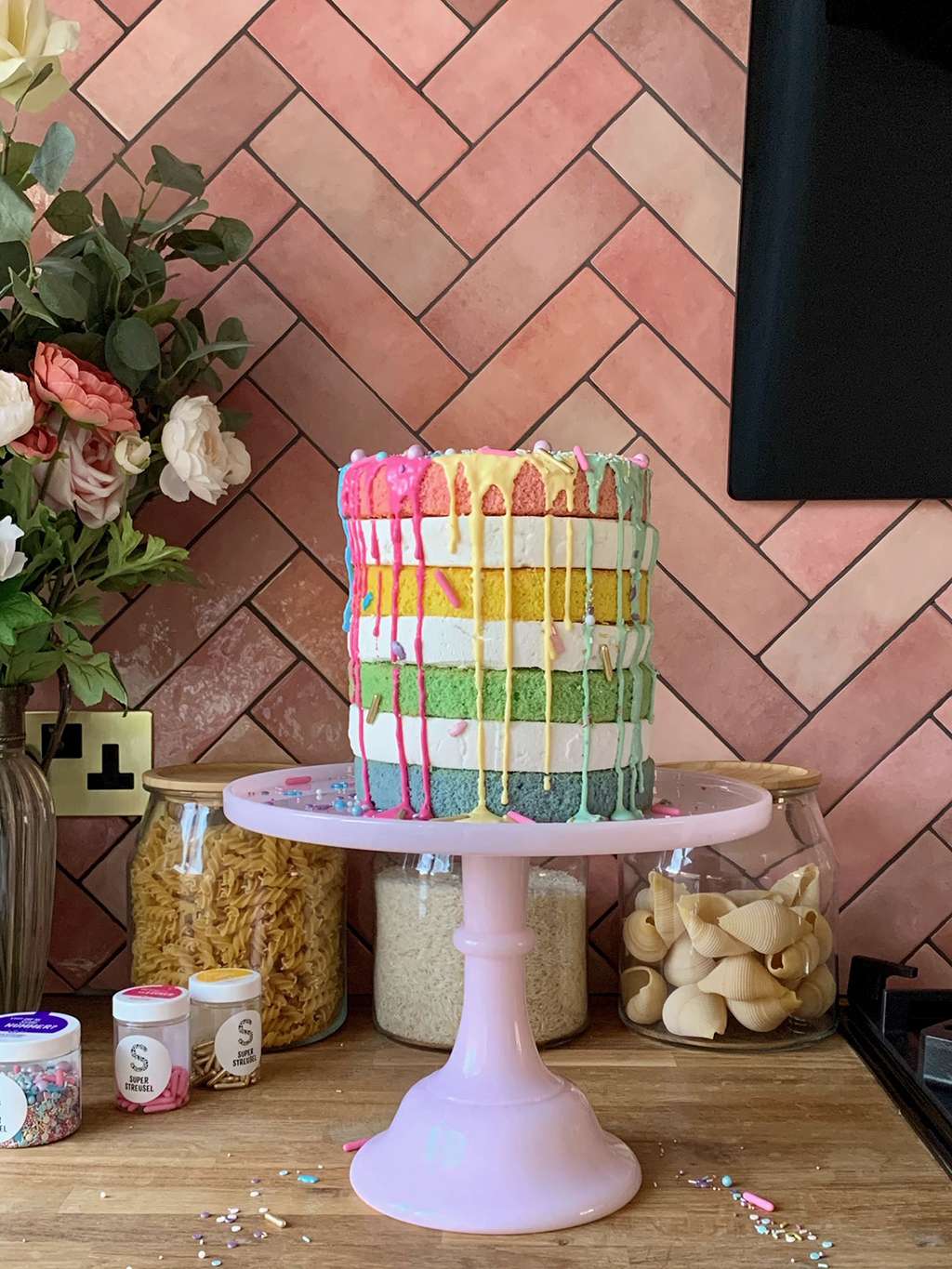 The funny thing with weddings is that there is so much said about what you 'should have' (many of them untrue!) and definitely not enough information on how to have exactly what you want. This often leads to not getting the full experience when choosing your suppliers, theme, venue or cake. Baker Autumn Rabbitts of Plumb and Rabbitts Cake Studio is here today with her top tips for getting the creative wedding cake of your dreams.
As a cake designer, here are the five things I think you need to pay attention to ensure that you get exactly what you want and the help if you don't really know what that is!
Give your cake maker the right information
The main things every cake maker wants to know straight off the bat are:What your chosen date is
♥ Where the venue is
♥ How many people you are feeding
♥ And last but not least, do you have any ideas about what colours, style or flavour of cake you might like?
You will notice I haven't added the dreaded 'what is your budget?' question because this can change once you realise how much choice you have and how important the cake is to you. Often, cake makers already know how much it is going to cost roughly based on the answers above so do ask for a rough quote for a basic cake if you want to get an idea before you commit.
Also, I really recommend sending some images of other cakes that you like. Don't worry if they're not exactly what you want; a rough idea of the style you're after will help us create a more accurate quote for you.
At this point you may also want to ask if they can cater for allergies/dietary requirements if needed and if they charge extra for delivery and set up.
Ask for the cake flavours you really want and find out if you can taste some
I think the cake tasting is the best bit of wedding planning! Your caker maker may do in-person consultations or post cake sample to you directly. I often get asked if fruit cake is the only option and hell no! In fact, I've only made four fruit cakes in the seven years I've been doing this! Everyone orders sponge flavours these days and I haven't had many clients ask about the tradition of freezing the top layer for a future anniversary either.
As you're reading Rock n Roll Bride magazine, you probably already know that you want to make your wedding a reflection of the two of you, so you don't need to do any traditions that you don't want to.
Hire a baker who reflects your personal style
Think very carefully about who you are hiring. If their Instagram feed is all pastels/white and you want a galaxy themed cake with Sesame Street characters on it, they are probably not for you! Bakers quite often choose which work they take on, assessing the design asked for and figuring out if it's something they can do. Asking for something to be designed for you using your Pinterest boards or ideas for your wedding styling is always a brilliant idea, but make sure you are choosing someone who can deliver!
Allowing your cake maker to play and create something in their own style will guarantee you get something incredible; I have been known to add complimentary extra top tiers and details just because in am so in love with the design! Just like any other designer, we know our strengths and stick to them, hence why it's so important to have a good look at someone's website and social media to make sure they would be on board with your wildest cake dreams.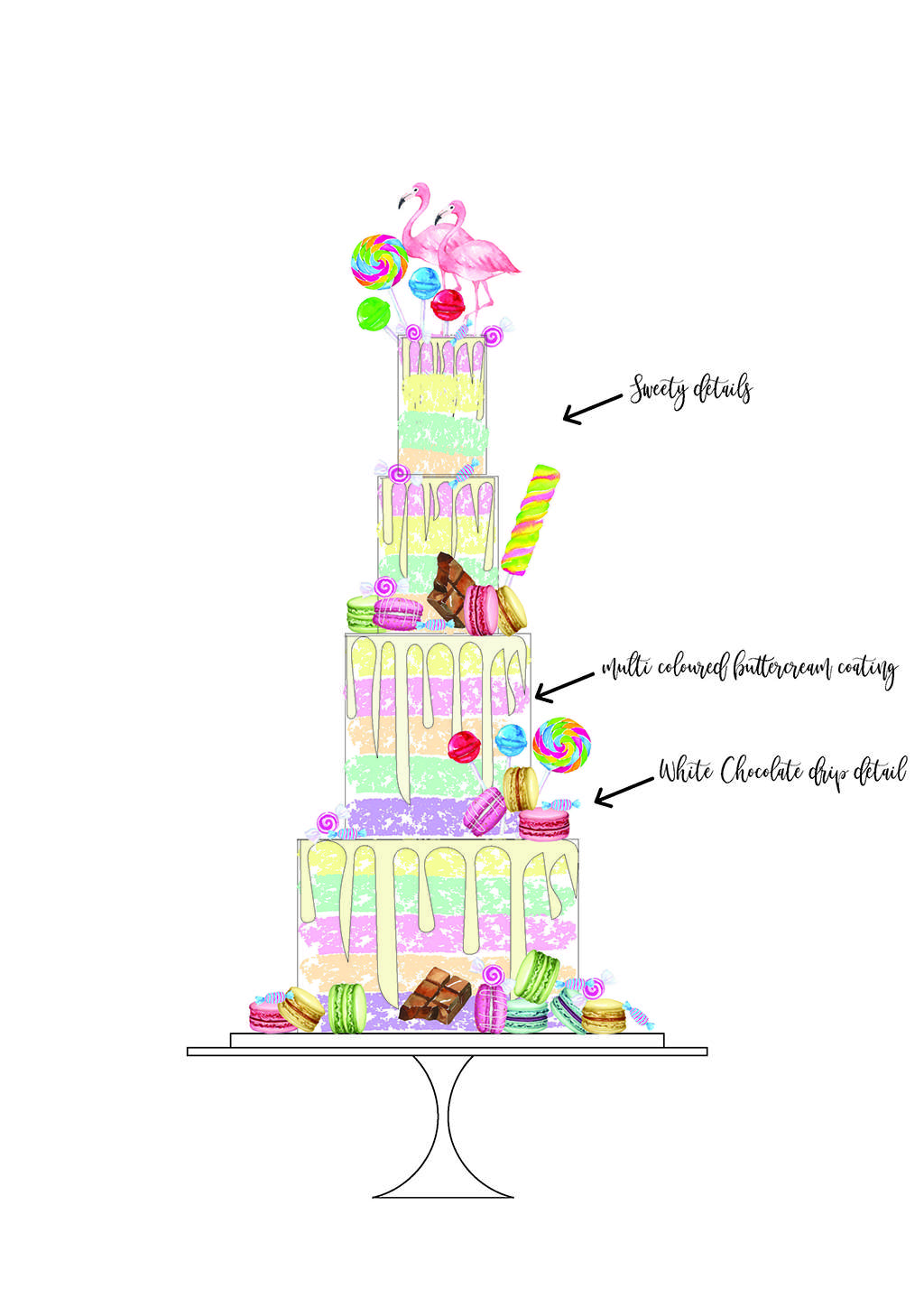 Don't hold back with your ideas to personalise
There are no limits to what you can have and usually the more personal, the more fun it will be for the baker. If you love your cat or dog why not have them on the cake in sugar form, as a topper or a painted portrait! I once did a deep red marble cake with doggy paws delicately tailing up one side. No flowers, just the paw prints and a topper of them with their dog. SO CUTE!
However, you also don't have to have tons of detail if you don't want to. Go with your gut about what feels like 'you'.
Only have a big cake if it is important to you
The ultimate rule for being a rock 'n roll bride (or groom!) is that there are no rules, and that it's your day you so you should do it your way! Do not worry about other people's tastes or options. If you like it, have it! But similarly, if you're not really fussed about a traditional tiered cake, there are so many other options.
As a cake maker, I feel that if you want an epic showstopper cake, then that is worth paying for. Asking a friend or family member to bake and stack a tiered cake is a big responsibility if it's a really important element of the day to you, so only do this if you know they are up to the challenge! It takes years of practice to get wedding cakes right and I don't advise throwing it out there for a family member to do unless you know for SURE they can deliver on the day. Nothing worse than having a cake collapse as you try and cut it or worse the sponge is too soft and crumbles into a billion pieces when the kitchen at your venue try and cut it into finger portions! Cake making is a science. You definitely get what you pay for.
If you have smaller budget, or you really aren't fussed about a traditional looking cake, then they are plenty of other options – cupcakes, doughnuts, cake pops, a profiterole tower, wheels of cheese!? The world is your delicious oyster.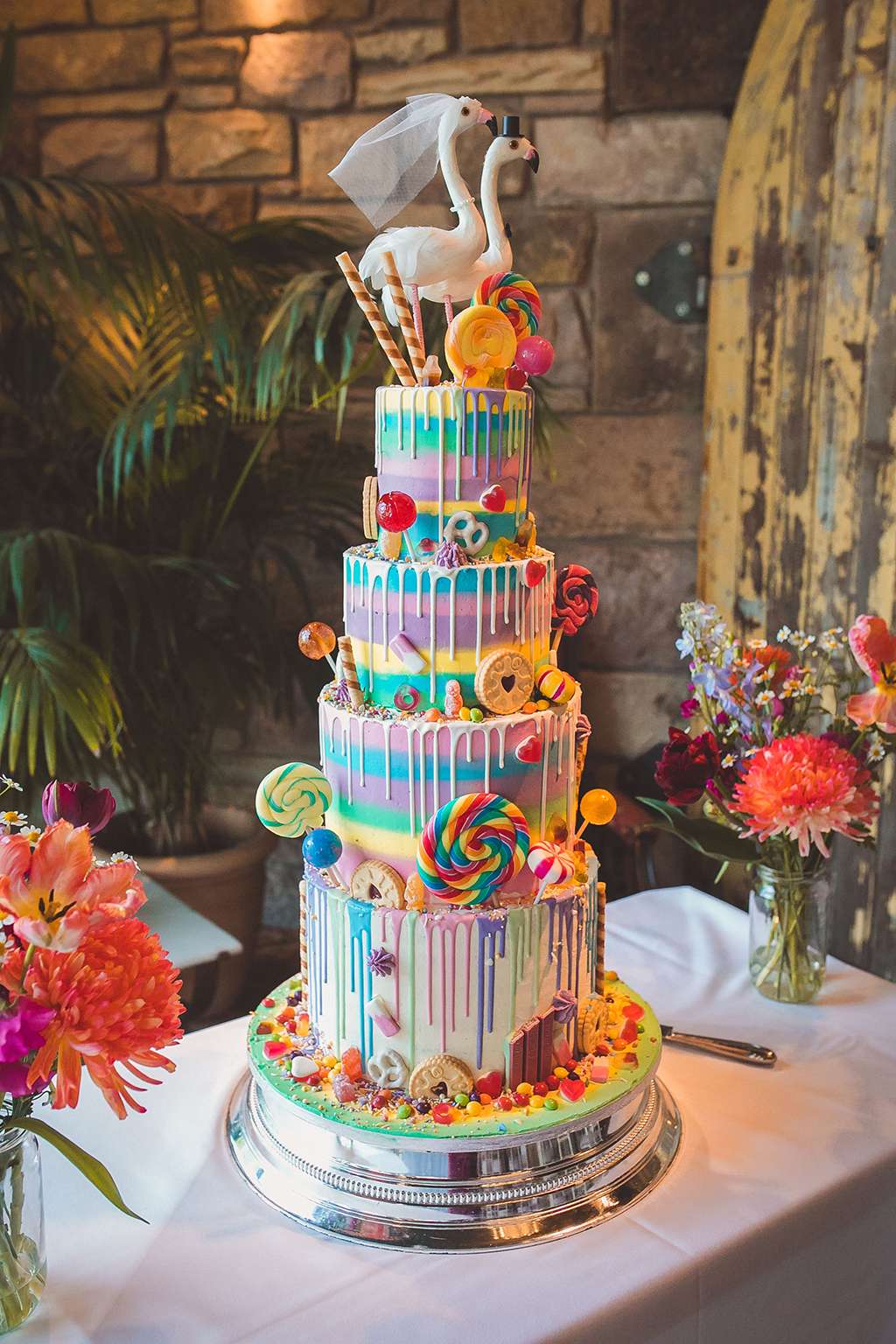 Whatever cake or cake designer you choose, I hope my words have helped you allow them to create something magical and personal for you. There is nothing like looking back on the day and feeling like every aspect, even the cake, reflects the two of you perfectly.
ABOUT AUTUMN
Autumn Rabbitts is a black business woman, a graduate of Central Saint Martins and The Royal College of Art, and has been running her own wedding cake company – Plumb and Rabbitts – for the past seven years in the North East of England. She enjoys feeding people (and herself), spending time with husband and her five daughters, and has a deep love of illustration, calligraphy and fashion.
This article originally appeared in issue 36 of Rock n Roll Bride magazine. You can purchase the latest copy here, or why not subscribe to never miss an issue?