With COVID-related restrictions still very much up in the air and the weather finally getting warmer, many 2021 couples are choosing to elope outside. Today, photographers Jo and Patrick of Enchanted Bride have some top tips and things for you to think about if you'd like to follow suit!
An outdoor intimate wedding or elopement is the perfect choice right now because it is safe, sustainable, eco-friendly and kind to our planet. All you need is love, a sense of adventure, and maybe some good hiking boots. As well as keeping the planet smiling, your bank balance will thank you too as there won't be expensive venue hire costs to contend with AND your pictures will be incredible – I mean, what's not to love?
Since the pandemic, couples are realising there are many more options available to them and are focusing more on what is important. The great thing about having an outdoor wedding is it is easy to be flexible, it's COVID safe andis much easier to reschedule.
WHAT EXACTLY IS AN ELOPEMENT?
An elopement is a small, intimate, meaningful, intentional wedding experience that is a
true reflection of your relationship as a couple, with the focus on the two of you. It is the day you choose to say your vows, using your own words, to each other, on your own in front of your celebrant or occasionally with a few close friends and family included.
ECO-FRIENDLY AND LOW IMPACT
Big weddings create a huge amount of waste. By having a small guest list, not sending out paper invites or using huge amounts of flowers and decorations, you reduce your carbon footprint. You won't need to spend money decorating your outdoor ceremony location, nature is always the best backdrop. It also saves you time setting up and packing away, and you're not buying anything that will only be used once.
BUDGET
Outdoor, celebrant-led elopements are cost effective. You will be able to save thousands by not hiring a licensed venue with the licensed ceremony room and their Registrar. This will allow you to spend money on what's important for you.
DO WE NEED AN CELEBRANT OR OFFICIANT?
In England and Wales, an outdoor ceremony is not (yet!) legal so you will still need to go to the Register office to sign the paperwork. Therefore you do not HAVE to have a celebrant for your outdoor elopement, but having one is something we always encourage. A celebrant will be able to work with you to create and conduct your wedding ceremony for you, and make it really personal and special.
OTHER THINGS TO CONSIDER
LOCATION
Considering things like the time of year and if you are having any guests with you can
make a huge difference. Some locations are off the beaten track. If you want privacy and quiet then you may need to walk a little to get away from crowds. Parking is also a very important consideration as car parks fill up early in the summer, often before 10am at popular beaches and locations. We recommend sunrise or sunset ceremonies for this reason during the peak seasons or choosing a lesser known spot.
TIDES, TIMES, MOON PHASES AND SEASONS
If relevant, check the times of the tides (beach wedding), the phases of the moon (night wedding) and sunrise or sunset times (depending on the season). In my opinion, the best light is two hours before sunset.
if you are getting married on a beach, invest in a tide book and choose a date where there is sunset and low tide at the same time. Check to see if you can see the sunset from your chosen beach as the sun can disappear behind cliffs an hour before the actual sunset. We use apps such as PhotoPills to check exactly when the sun rises and sets. Some couples are happy to embrace the weather, but if you want to make sure you have the best day, working with local suppliers is recommended because they may be able to book a few days around the planned ceremony, so if the weather deteriorates you can do it another day.
DRESS FOR THE WEATHER
Obviously, you want to choose lighter fabrics for your dress/suit in spring/summer and something warmer for autumn/ winter. Also think about sleeves, shawls, hats, jackets and thicker suits if it's going to be cold.
Choose a style that's comfy and allows you to climb over boulders and down slippery
slopes if necessary. Choose practical footwear for the season/ location/ safety. You might want to carry your outfits in a backpack and then change when you arrive at your location, especially if you plan to use one that you need to hike to.
WHY WE LOVE CORNISH CEREMONIES!
We are lucky to live in a beautiful part of the world where we are blessed with dramatic
coastlines, long white sandy beaches, hidden rocky coves and amazing cliff top views
over our wild ocean. Our favourite part of Cornwall is West Penwith which is covered in
crumbling cliff castles, the remains of old tin mines, ancient sites and secret beaches
with tidal pools.
We love helping with planning romantic wedding proposals here in Cornwall, too. We work closely with Wild Blessing Ceremonies. Jacki is a Cornwall wedding celebrant, who creates and conducts our celebrant-led ceremonies. We are both flexible and local so we can work with couples to choose the best days regarding the weather and locations.
SOME OF OUR FAVOURITE LOCATIONS IN CORNWALL
The most popular places where our adventurous couples are booking are listed below.
Cliff Castles, Mines and Ruins
All around our Cornish coastline, we have many amazing cliff tops scattered with the old remains of a lost past with incredible views, giving you amazing locations where you can have your wedding ceremony.
The cliff tops also make for a perfect spot for a post ceremony picnic to watch the sunset and celebrate your first night as newly-weds. Rich in history, the Cornwall coastline has mines crumbling into the wild sea, old chapel ruins overlooking hidden bays that hold secrets of pirates and buried treasure, along with many old forts, burrows and the remains of cliff castles.
Ancient Sites
If you want to have your elopement at a sacred stone circle, you have lots of options as Cornwall has the highest percentage of ancient sites in the whole of Europe. You can
experience your wedding ceremony amongst quoits, standing stones, barrows,
fogous, hill forts and old sacred wells. Many of these sites have been dated to be
older than 4000 years old.
Beach & Sea Caves
If you prefer a beach wedding, in Cornwall you have a choice of over 300 beaches. Some are wild and windy, some sheltered and calm, some scenic and accessible and
others requiring a climb down slippery cliff paths but they are all stunning in their own
way.
Our celebrant-led weddings in a sea-cave are magical, unique and unlike anything else.
The sea-cave can be lit up with candles, fire torches or lanterns, creating a warm glow reflecting off the rocks. Our unusual secret sea-cave ceremonies are ideal for adventurous couples who want to avoid the crowds.
Sea Pool & Mermaid Ceremonies
Have you ever thought about having your wedding ceremony in one of Cornwall's hidden tidal pools? We have a few secret ones, accessible at low tide which during the summer months provide a cool spot for a dip after you've said your vows. These ceremonies are unique and unconventional and will appeal to all nature-loving couples who embrace the mermaid or merman in themselves.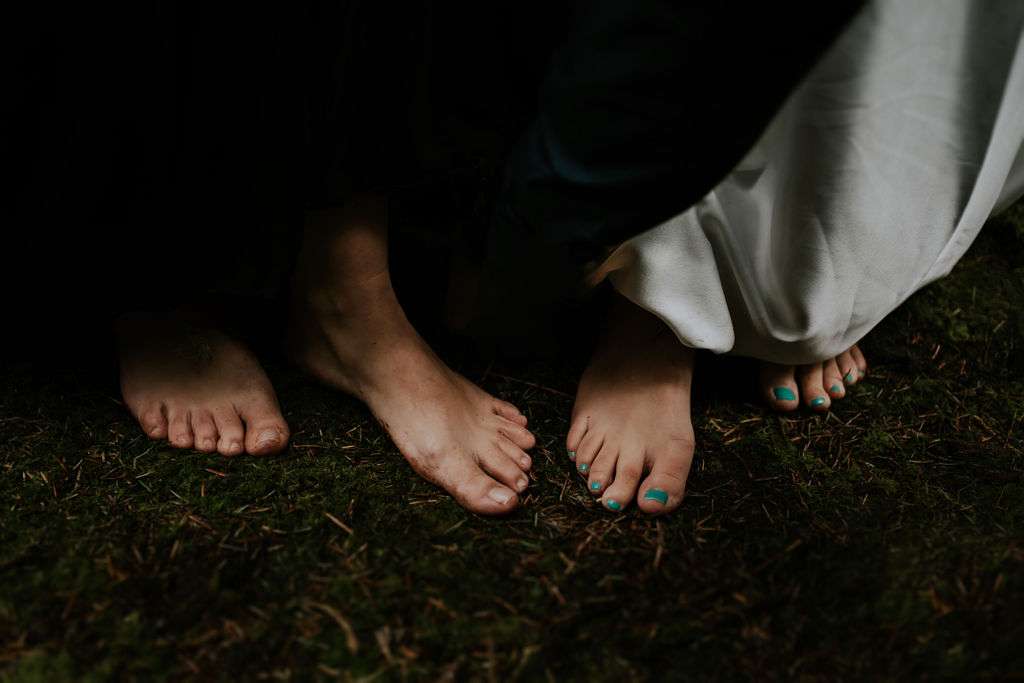 Milky Way Elopements & Full Moon Ceremonies
A couple embracing under the stars and moon represents our ethos of wild romance
and outdoor adventures. By eloping after dark, you will have something truly
enchanting, magical and incredibly unique.
Woodland & Forest Elopements
For those of you looking for something rustic and beautiful, a forest or woodland
elopement may be the perfect solution for you. If you would like something a bit more
private, calm and relaxing for your special day, why not celebrate it somewhere as idyllic and magical as a hidden forest in Cornwall. At sundown, candles and lanterns transform your forest into a magical setting, creating truly enchanting images for you.
ABOUT JO & PATRICK
Jo and Patrick of Enchanted Brides specialise in beautiful, wild elopements and micro weddings in Cornwall. Part artists and part mermaids, the mystical Cornish coast motivates their work and inspires their outlook and creativity. Their mission is to document a couples' true selves while fostering a connection that allows them to be relaxed and trusting. They love nothing more than connecting with like-minded couples who would like to throw away outdated traditions and elope with them to stunning natural locations around the globe.