It can be extremely difficult to plan a wedding if you struggle with depression or anxiety. With all the potential for extra stress its important, now more than ever, for you to pay attention to being good to yourself. Lauren McMillan, who writes about life, the universe and mental health on her blog lifebrew.co.uk is here to talk to us about how you can get through it and still plan the wedding of your dreams.
Whenever anyone talks about self-love, the 13-year-old that governs my sense of humour guffaws. Images of funky smelling bedrooms and sticky tissues. Yes, that type of self-love is encouraged and encompassed by the term, but there are far more wholesome aspects too.
Before a wedding was even on the horizon, you may well have found me at intervals throughout the year having fallen arse first from the self-love wagon, dazed and crying in my pyjamas at midday. If you ordinarily struggle with depression or anxiety, a wedding can be just the thing to heighten the effects. Weddings and the planning of them can be fucking stressful and, in turn, stress can cause you to self-neglect.
As a child, I did not really dream of that special day, the one all little girls are supposedly born to prepare for. I would dream of being interviewed by Oprah Winfrey and having a boyfriend with a motorcycle instead.
In my early relationships, I longed for commitment, love and partnership but my expectations were about as high as 'don't cheat on me', 'call me your girlfriend' and 'buy me a present at least once a year that isn't stolen, illegal or lube'. If someone achieved one or more of these things, part of me would freak out. I always yearned for commitment when it was an unattainable goal but when it was in my grip, the weight of it felt burdensome.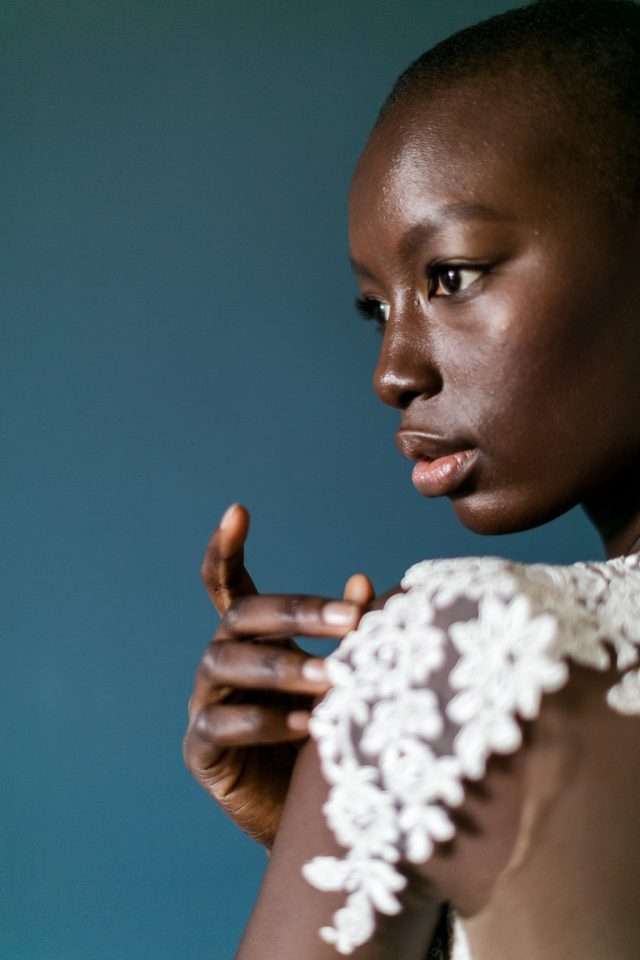 Just before I met Mike, my future plans were 'be single forever', 'rent a nice flat with a pink and mint colour palette' and 'have a pug named Shelby'. We were both at a place in which our previous relationships had diminished our desire to settle down and we were learning to be single again. Rather inconveniently, we fell in love.
We talked about marriage fairly early on and we knew we would do it at some point but both felt it wasn't necessarily a huge deal to us – our ongoing relationship was what felt important. Not giving too much of a shit was a relief. Then, a year ago, he proposed.
I had no idea, literally no idea. In fact, he was down on one knee on Brighton beach with a ring and I still didn't suss it out. I was too busy trying to light a cigarette in windy conditions and moaning about pebbles in my shoe. Then, I noticed shiny diamonds and loudly shouted, 'WHAT?!'
To those around us, it must have seemed like it wasn't going well, but it was. We wanted to be married – that was the easy part. I said 'yes'. I then walked around for three days in a confused state of bliss, shock and what I can only describe as paralysing fear.
Marriage doesn't scare me. Our relationship has stood strong through both mental and physical illness and all the other curve balls life can throw at you (not to mention all the bloody marvellous times). I know exactly who he is, even in his darkest hours. I have no doubt he is the one I want to grow old with. I can't wait be his wife. I feel like we already have the marriage, we just haven't had the wedding yet.