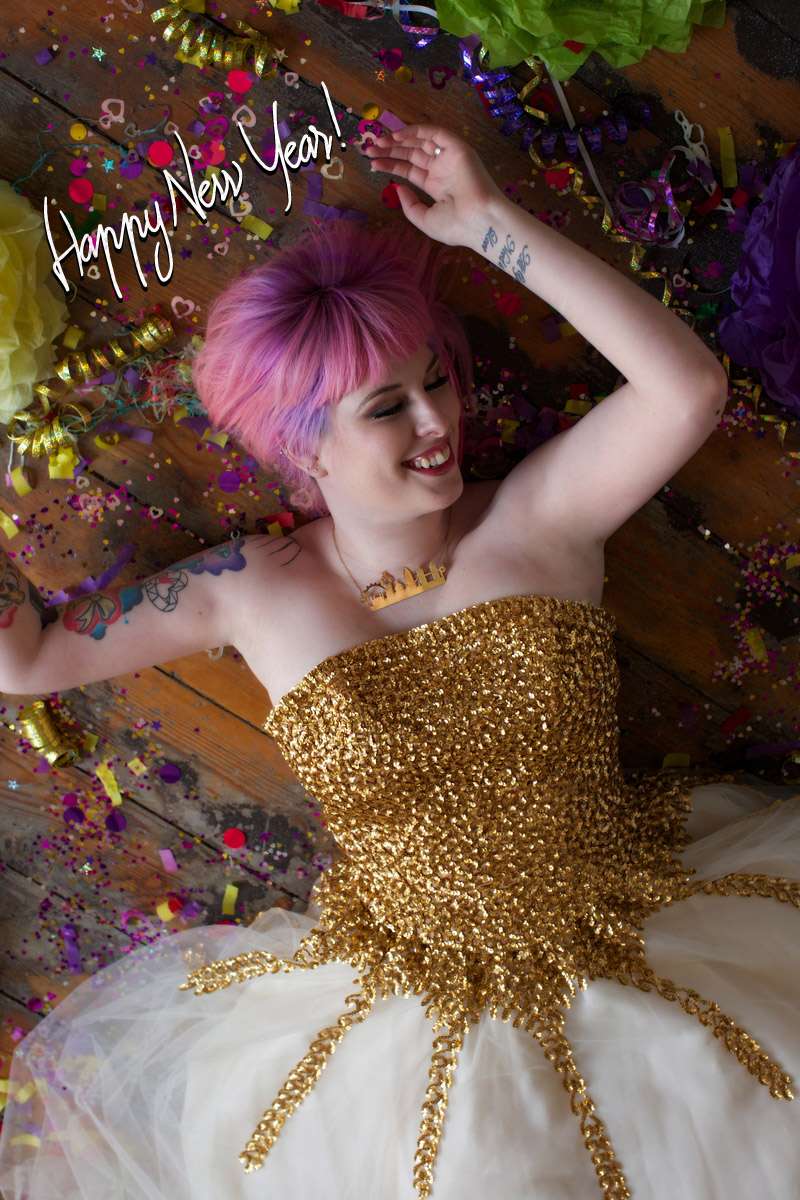 This is an update of a similar post that I published on January 1st 2013. If you're newly engaged or a brand new visitor, this is the idiot's guide to Rock n Roll Bride!
Congratulations you're engaged! If you're new around these parts I'd like to say HAPPY NEW YEAR and a big fat hello. I am so excited to meet you. This is going to be one of the most awesome / stressful / exciting / fulfilling / hair-tearing (delete as appropriate) rides of your life and I for one can't wait for you to get started.
I loved planning my wedding so much that I made it into my career. Gareth & I were married in April 2008. I started this blog to document the journey and I haven't stopped since. That's me at the top by the way, doing what I do best, lying around in glitter and confetti!
Right now you're probably feeling a little overwhelmed and still quite shell-shocked about the whole 'crap I've got to plan an actual wedding' thing. I'd also imagine that you probably have no idea where to start. Well the very fabulous Veronica Dearly (she makes awesome wedding stationery) created this extra-ordinarily helpful introduction to planning a wedding a few years ago and she's kindly let me share it with you all…

If I was you I'd pin that bad boy ASAP!
So here's where Rock n Roll Bride comes in. If you're feeling stuck for inspiration, well that's my speciality! This blog is chock full of ideas and inspiration for girls and boys planning alternative weddings. I promise there is not a chair cover, a scatter crystal or a fish bowl on a tiny mirror with random flowers and pebbles shoved inside (VOM!) in sight. As my 'about me' page states:
Rock n Roll Bride promotes individuality and general awesomeness within a cookie cutter, pastel and often puke-worthy wedding world. Don't let the wedding industry define your day – let you define your day.
My aim with Rock n Roll Bride is to provide a little haven of kick ass weddingness. If you've ever picked up a bridal magazine and felt queasy, or trawled the internet and felt disheartened by what you didn't find, well my friend you are in the right place!
The weddings I blog are awesome because my readers are awesome – and diverse. Vintage, steampunk, boho, raver, gothic, geeky, kawaii and everything in between… I've got them all covered and so much more!
Here's the drill:
I update the blog twice daily during the week and usually once or twice at the weekends. Be sure to bookmark me and pop back regularly, subscribe via RSS and like me on Facebook to make sure you never miss an update! You never know what awesome idea might be lurking in my 'to blog' pile.
You can browse all the real weddings or just the UK weddings (I'm based in the UK so I'm a little biased) if you prefer. Your wedding photographer may well offer you an engagement shoot with your package. If so, do it! They're a great way to get to know them and to practice being in front of the camera.
There's a few DIY tutorials dotted about as well as some of my advice for planning your wedding. Wedding inspiration styled shoots are also pretty ace and often showcase some of the more crazy ideas – hell, I've even done some (OK a lot) myself! However the easiest way to follow this blog is to pop back regularly as everything ends up on the front page of the site when I publish it.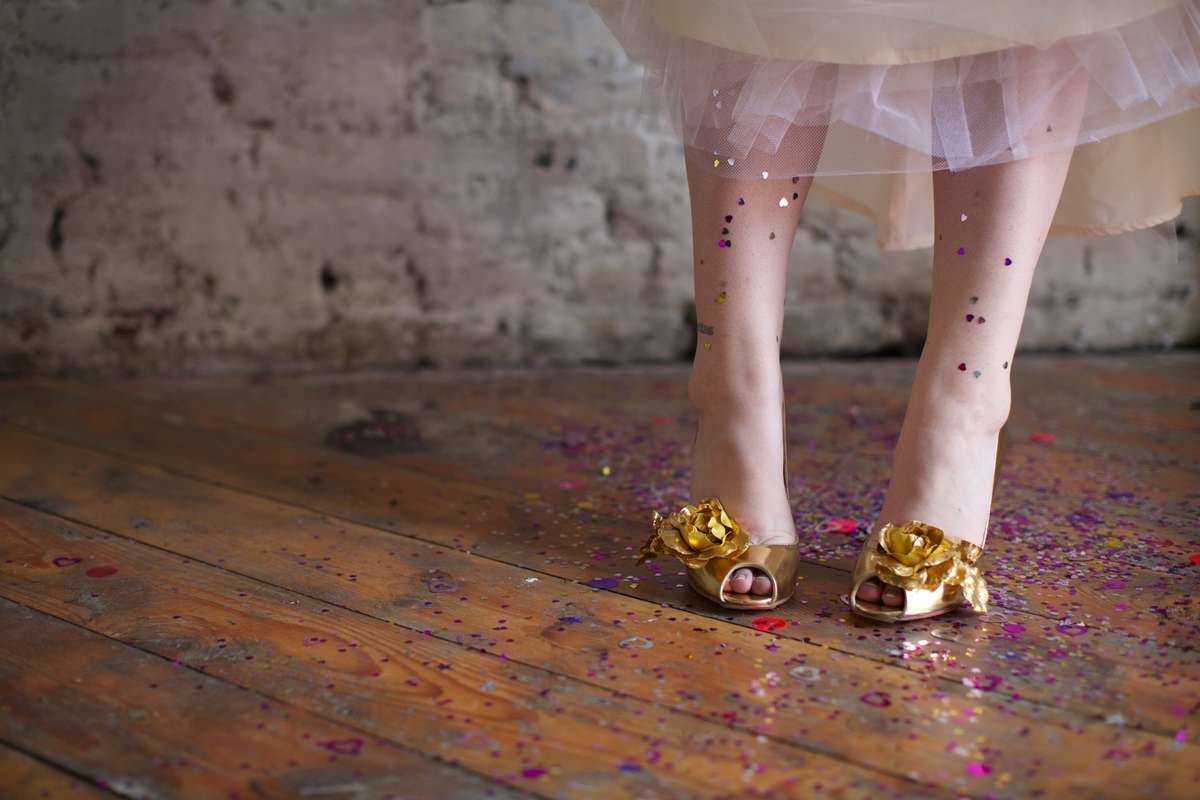 I'm sure you'll be looking for suppliers to rock your wedding, so make sure you check out these guides of some of the most awesome wedding related services, events and products in the world! My advertisers are a very select group (believe me, I'm very picky!) of incredibly awesome people doing amazing things. Clicking through the squares running down the right hand side of the site should be top on your list of priorities!
I'm also always happy to recommend amazing wedding suppliers. If you're after something specific feel free to drop me an email and I'll try my very best to point you in the right direction.
I'm a pretty busy bee and as well as running this blog full-time I also publish a yearly print magazine. It is strictly limited edition and Issues 1 and 2 are completely sold out but you can get your mitts on Issue 3 right here.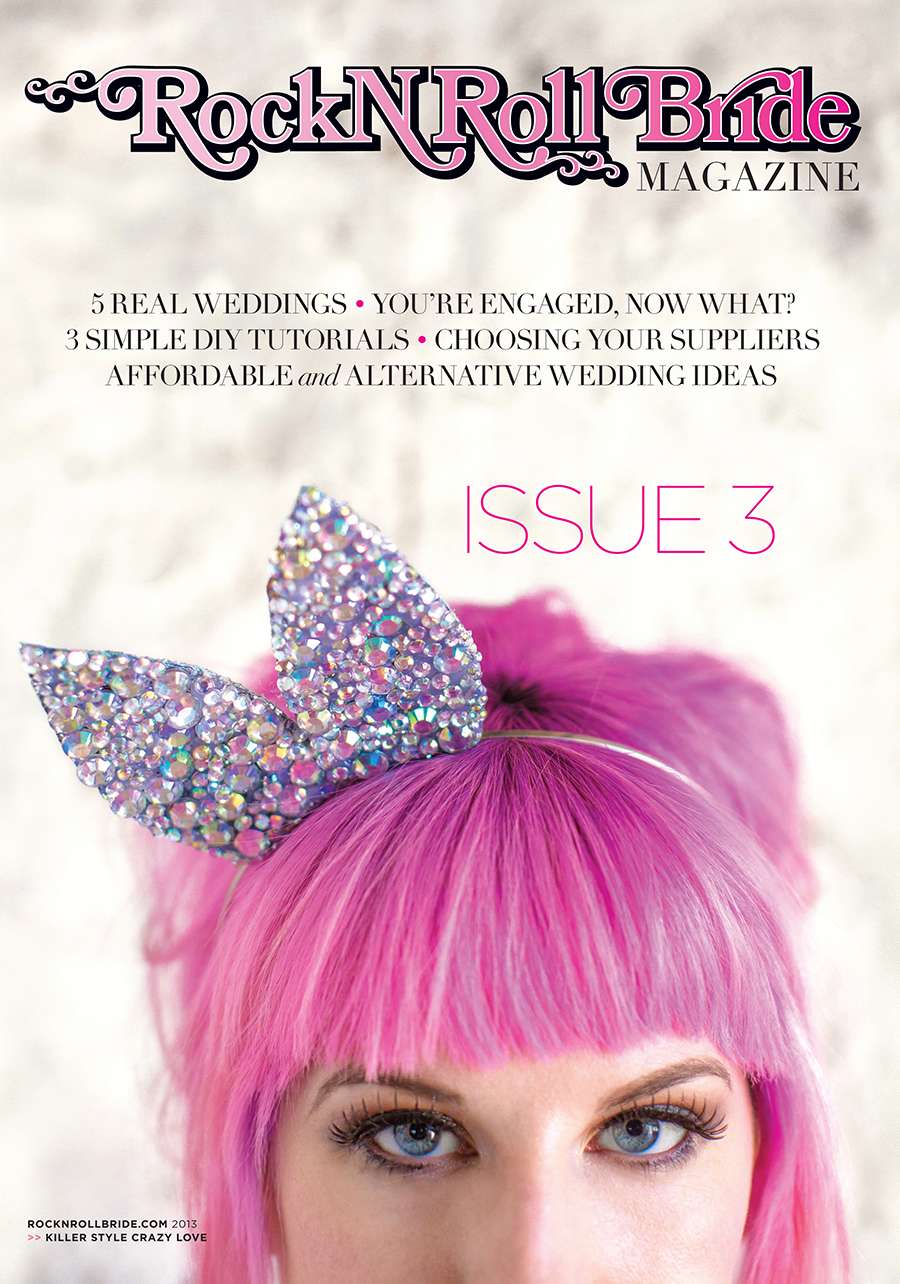 If you like those bling-tastic ears I'm rocking on the cover, then you can nab some of those too! Last year I collaborated with the incredible Crown and Glory and designed two ranges of headpieces with them. If ridiculous head candy is your bag, then be sure to check out both collections here and here!
(We're not quite done yet) I also love to write and talk about running your own small business. If that kind of jazz interests you, then you have to check out the Green Room where I write about all that kind of stuff. It is updated twice weekly, on a Tuesday and Friday afternoon.
The Blogcademy is a two-day blogging and business workshop that I run with my blogging besties and internet superstars Gala Darling and Shauna Haider. We have some super exciting plans in the works for 2014 so watch this space. Oh and I'm currently writing a book. ARGH!
So there we have it. That's Rock n Roll Bride. Welcome. If you are brand new to the site, don't be shy – sit down with a cuppa and a slice of cake and enjoy browsing! And if you want even MORE Rock n Roll Bride in your life you can subscribe via RSS, follow me on Twitter, like me on Facebook or stalk me in Instagram. Fair warning though, I tend to post a lot of photos of my cats…
Finally, when you do get married, be sure to send me a submission afterwards. It is my readers who ultimately make this blog amazing and I can't wait to hear from you.
Happy browsing and happy New Year!!