In four days Gareth and I will celebrate our TEN YEAR wedding anniversary. I can't quite believe it! A DECADE.
With such a momentous milestone coming up, last year I started to think about ways we could celebrate. While moving over the summer, I pulled my wedding dress out of the back of my wardrobe to bring it over to the new house and I realised, bar a few photo shoots at the start of my blogging career (anyone remember these?!) it's pretty much sat there, collecting dust and getting all moth-eaten, since then. It's actually kinda sad when you think about it. You spend such a happy, important day in this dress and then it's either sold on, trashed or, like mine, relegated to the back of a closet.
So, my dress wasn't the most 'out there' wedding gown you will have ever seen and the fact I rocked some Converse was pretty fucking revolutionary (the pink veil photo was a shoot, I wish I'd been brave enough to add some colour to my actual wedding day look!) But when I was looking for a dress in 2007 the wedding industry was such a different place. In fact I don't think I saw ANY dresses that weren't strapless. I mean, I'm sure they existed, but without a resource like Rock n Roll Bride to guide me I had no idea where I'd even look for something more alternative.
My dress was by Sottero and Midgley, and if I'm totally honest, it was the first one I tried on that I didn't absolutely hate. I asked the shop if we could replace the original baby pink sash with a black one which it caused quite a few raised eyebrows! How very edgy. Also, can you believe we had a monochrome themed wedding? Oh how things have changed!
So here I was, almost a decade later, planning for our big anniversary and wondering what we could do to mark the occasion. People ALWAYS ask me what we'd do differently if we were getting married now (hint: E-V-E-R-Y-T-H-I-N-G) and so I thought it would be really amazing if I could rework my dress and turn it into the kind of gown I'd like to wear if I was a 2018 bride!
There was only one lady I wanted to help me with this project: Jo of The Couture Company, based in Birmingham. Now usually The Couture Company don't upcycle other dresses, all their gowns are made to order, totally unique and made exactly to the bride's ideas and specifications, BUT she's a friend and so when I told her my idea she jumped at the chance to be involved! I went up to see her late last year with my dress in tow and we came up with a plan of attack.
It will come as no massive shocker to most of you, but I had to incorporate rainbows. Rainbow is my favourite colour after all. I knew I wanted to get rid of the rouched bits in the skirt and make it shorter and Jo suggested a high/ low cut to show off my shoes and the custom-made rainbow petticoat that she was making for me. She also said we could actually paint the lace at the bottom in different colours too which got me very excited indeed!
As I never really liked the fact that my dress was strapless, we decided to take some of the lace that was removed from the bottom and used it to create sleeves. She also sewed on some sequin rainbow stars (10 of them to mark 10 years). This was actually a last minute addition that she came up with without me but I love how they turned out!
Finally we added a pink lace-up to the corset back and she made a custom '10 year marriversary' patch for the bottom and a 'Rock n Roll' patch to add to a pink belt.
It came out even more beautiful than I ever imagined it could be. I actually can not believe it's the same dress! Gareth loves it too. He was weirdly sentimental about us altering it ("But this is the dress you wore when we got married!") but when he saw me wearing it on our shoot day he got that same adorable look in his eyes that he did when we saw each other at the bottom of the aisle. A look that says "Wow my wife is so beautiful".
So, there we go. It might not be a conventional way to celebrate a decade of marriage, but it was a perfect way for us to do it. In a way this dress kind of signifies just how much we've changed over the past ten years as well. When we got married we were both young, we didn't want to stand out, and our wedding certainly wasn't as alternative or unique as many of yours! But fast-forward 3652 days together and we've done a complete 180. We've grown as people, we've both changed a lot and we've learnt to be more confident in who we are.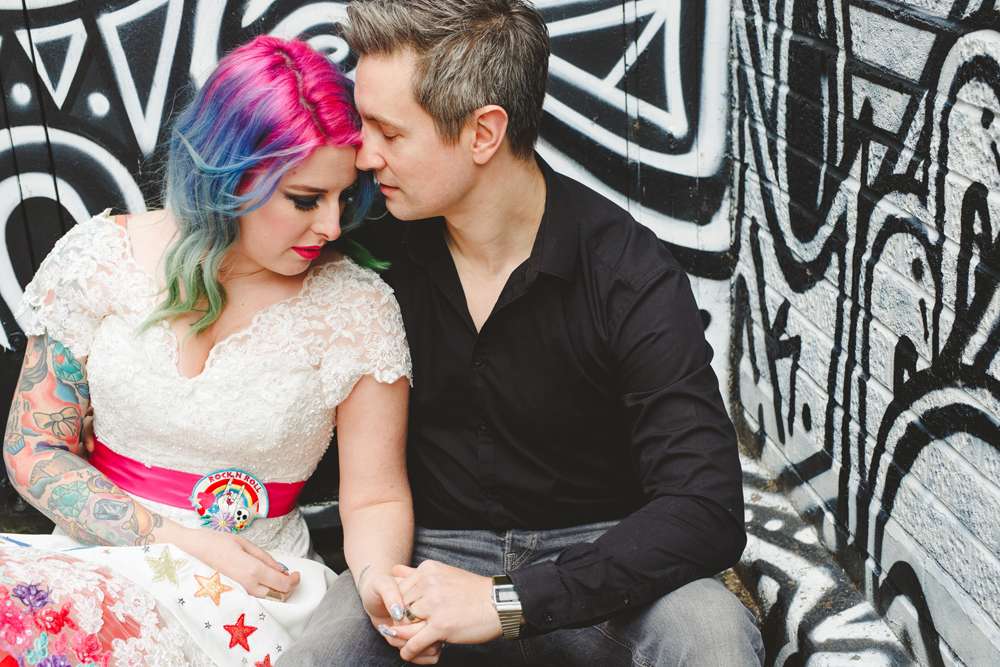 Thank you Jo and the fabulous team at The Couture Company for transforming my dress from something hidden in the shadows to one I want to have on display all the time. Thank you for letting us celebrate this milestone in such a colourful, fun, 'so us' way.
Happy Marriversary Gareth, here's to ten (twenty, thirty, forty) more years together. I can't wait to see how much we both change over the next decade.