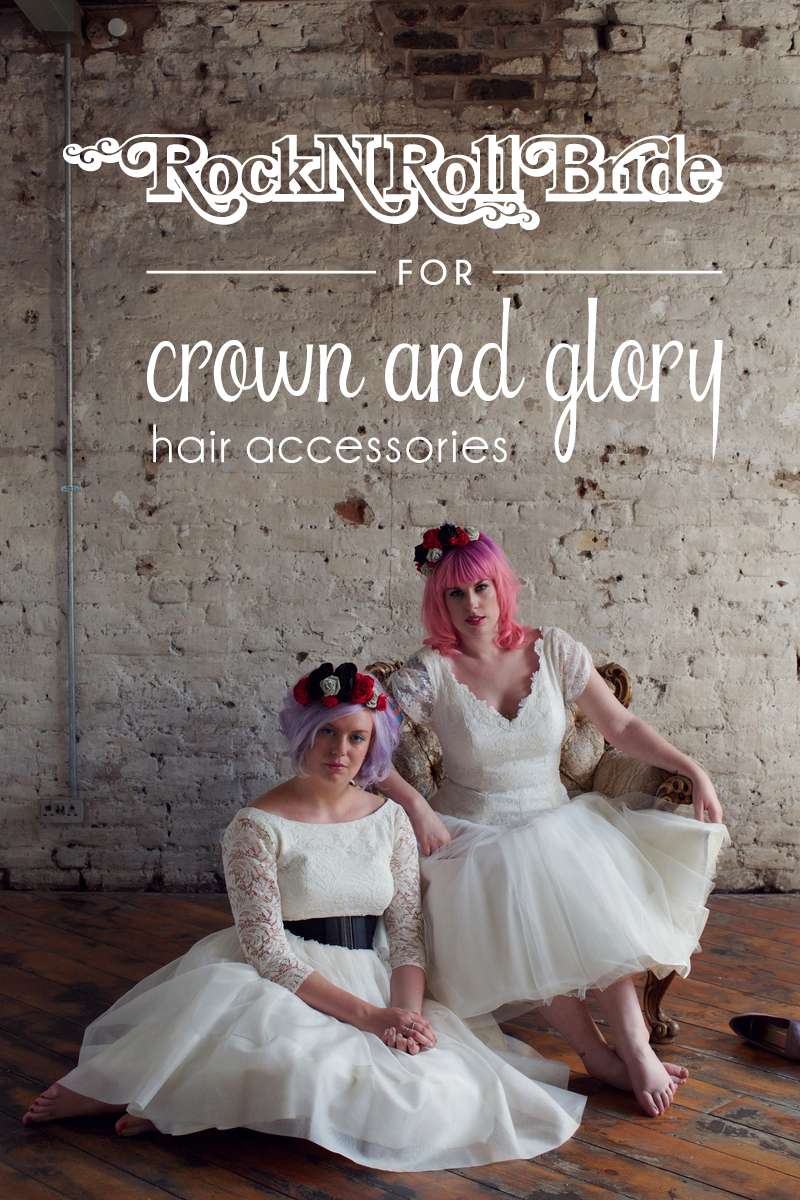 Not content with just doing one collection together, Sophie of Crown and Glory and I decided early on in our collaboration that an Autumn/Winter range would need to be on the cards. Of course I love the rainbow, neon pop insanity of the first collection but I was also really excited to get a little bit deep, dark and moody for this second incarnation.
I am not one of those girls that looks forward to 'Fall'. My neon loving self absolutely hates when the shops start to get full of chunky knits, winter boots, burgundy, forest green and mustard (yuk!) These colours just aren't my bag at all. However I am a bit of a closet goth at heart, and this time of year I pretty much revert back to wearing all black (with a dash of glitter so I don't get too depressed). I am so completely obsessed with this Timeless Plum Maybelline lip stain (see!?)
Black, gold, grey and glitter I can get on board with, so this was the starting point and inspiration for this collection. This is Autumn/Winter fashion for those that hate Autumn/Winter fashion!
Sophie
Sophie is a true original. Her creativity knows no bounds and her only limit is her imagination! Always game for a laugh she's never one to turn down a party invitation… as long as she can wear something big and glittery on her head!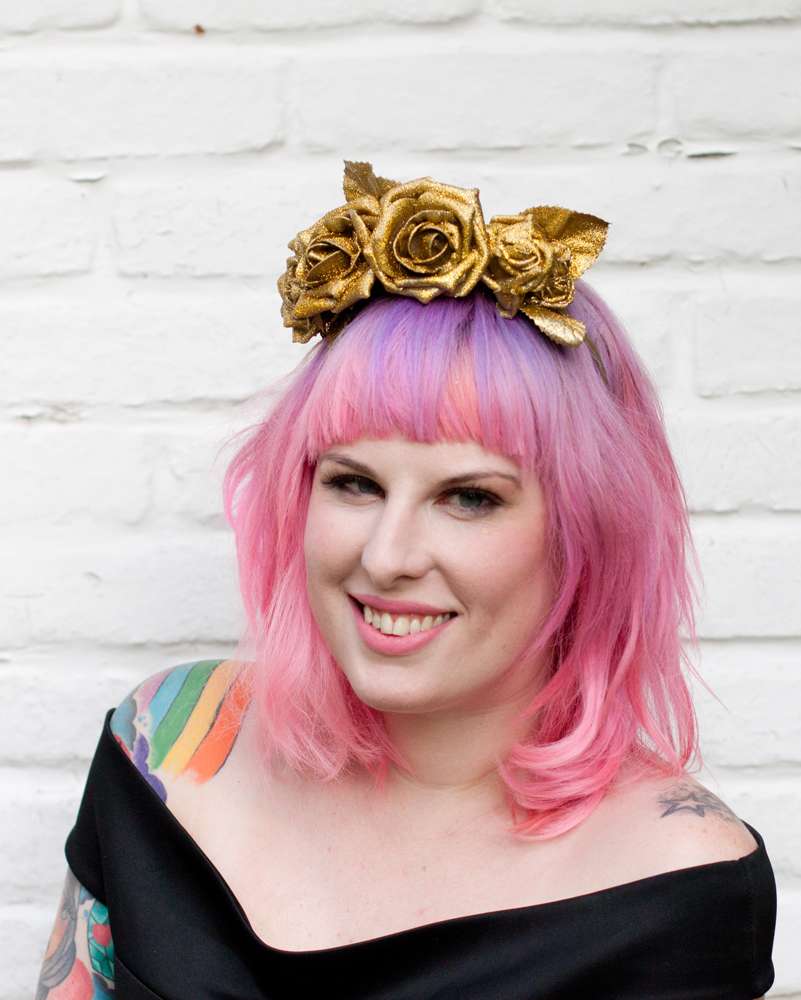 Sophie glitter and gold flower crown – £25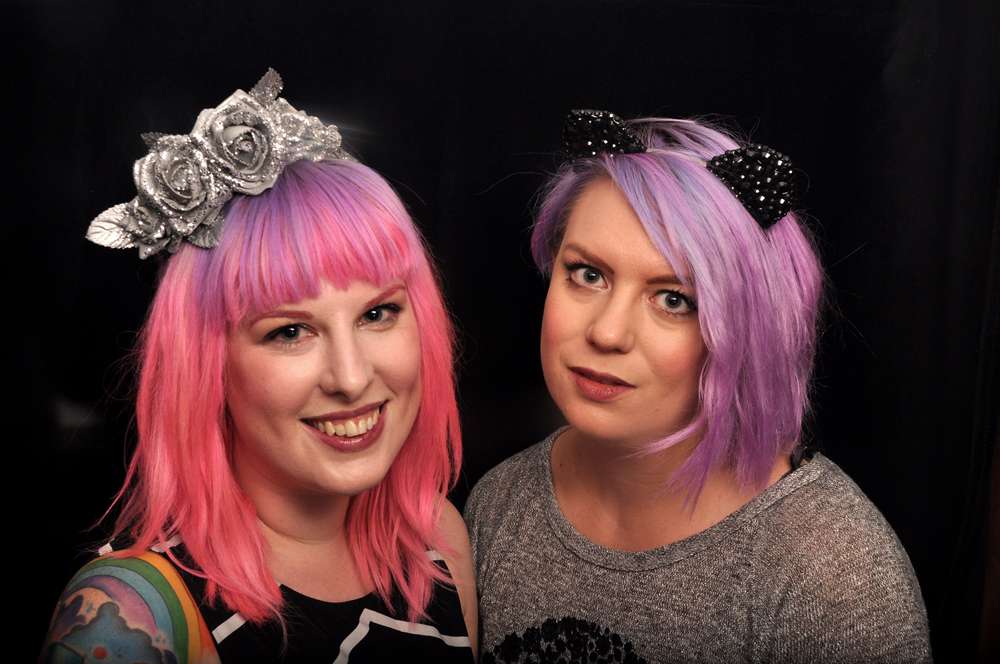 Sophie glitter and silver flower crown – £25 (my new fave, it looks SO AMAZING on!)
Elbie
Elbie is fun, feisty and loves to experiment with fashion and style. Her hair changes colour more often than anyone I know and her make up is anything but conventional. A little bit punk, with a smidge of old school goth, Elbie is a babe that loves to stand out from the in-crowd.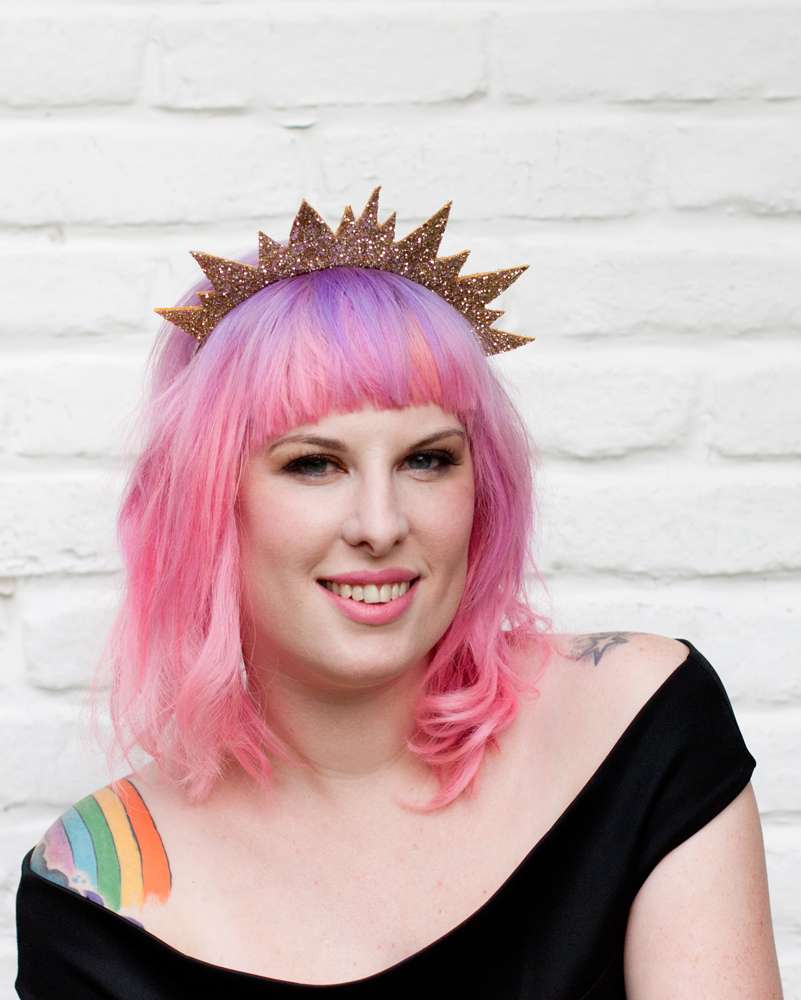 Elbie gold glitter crown – £25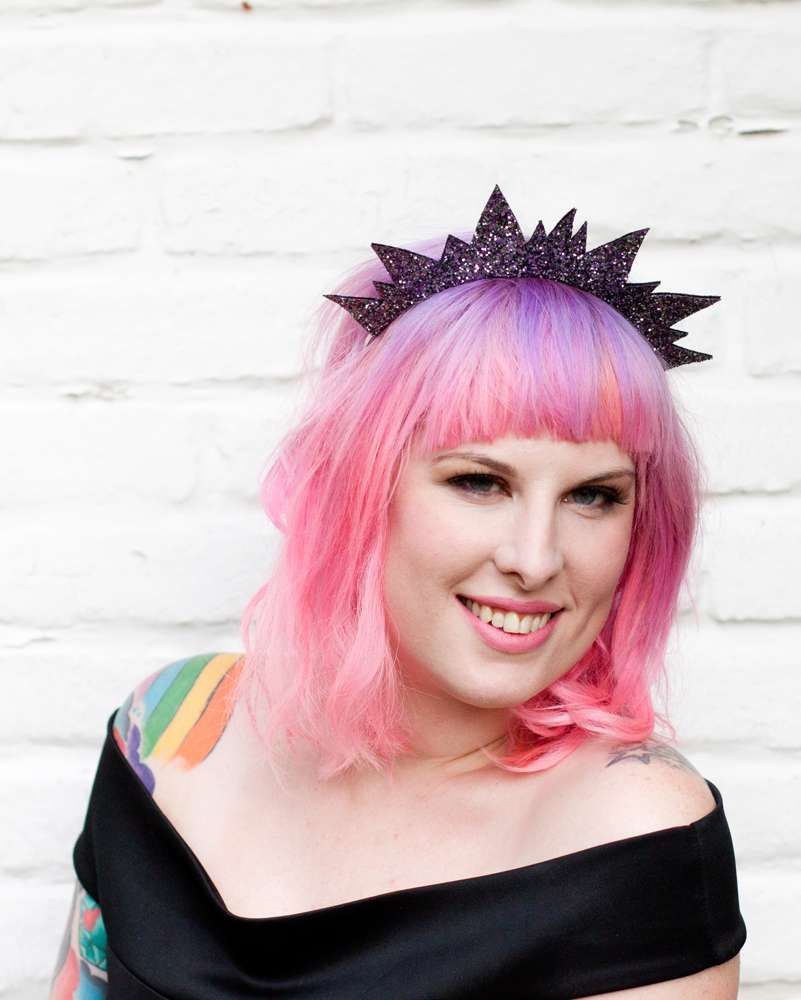 Elbie gunmetal glitter crown – £25
We've also designed some new colour-ways for some of the most in demand designs from last season. You like?
Liberace
The most popular piece in our Spring/Summer collection, we had to reinvent the Liberace ears for the colder months! Deep black gems backed on an ebony glitter base, these are sure to be another best seller.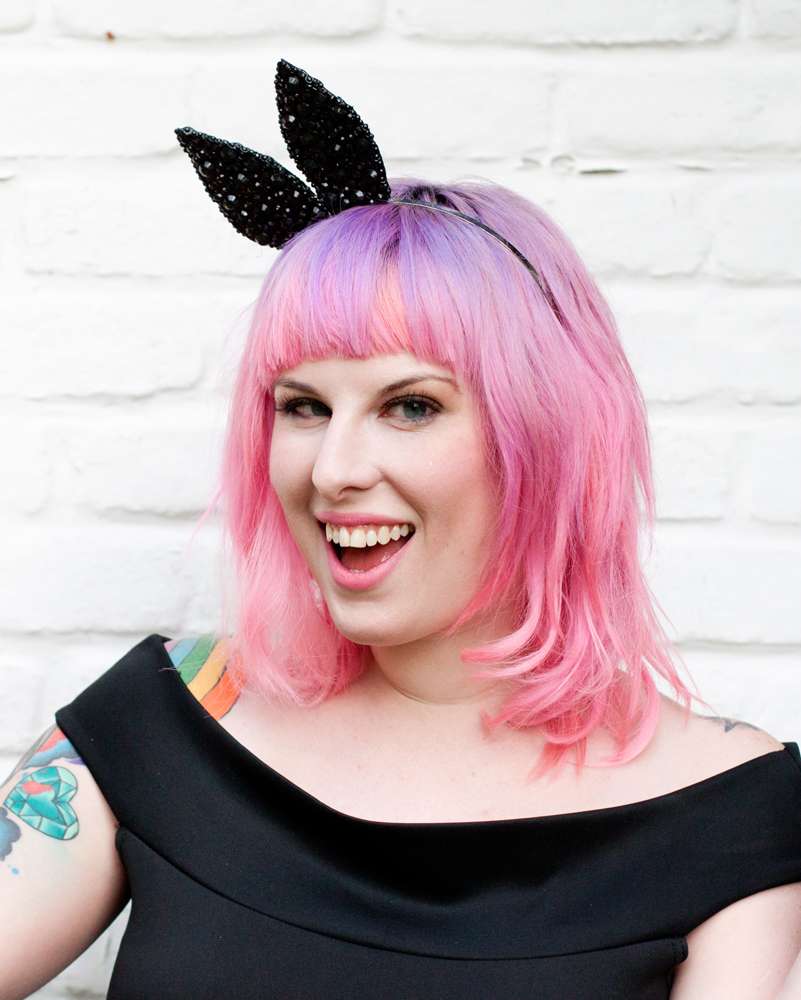 Liberace black gem bunny ears – £20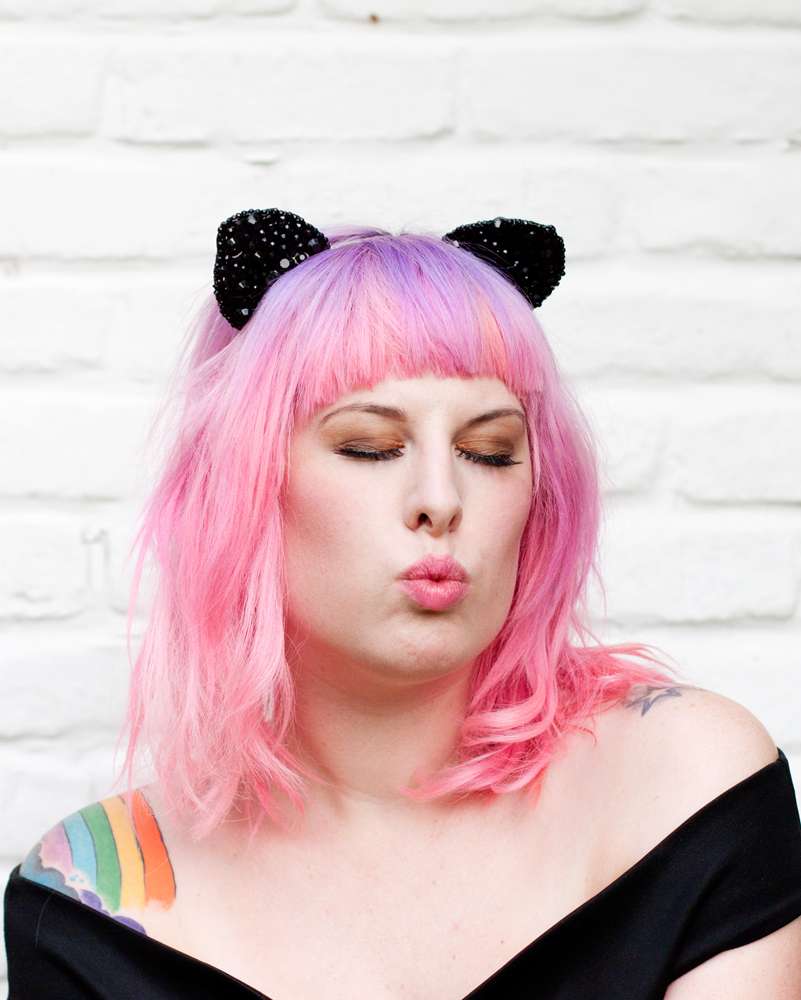 Liberace black gem kitty ears – £20
Sarah
Sarah is a tough cookie but under that hard exterior is a soft centre and a fantastic friend. Her style is conservative by day but invite her to a party and she'll be rocking some ears with the best of 'em!
Gothic brides, I want to see you wearing these down the aisle please!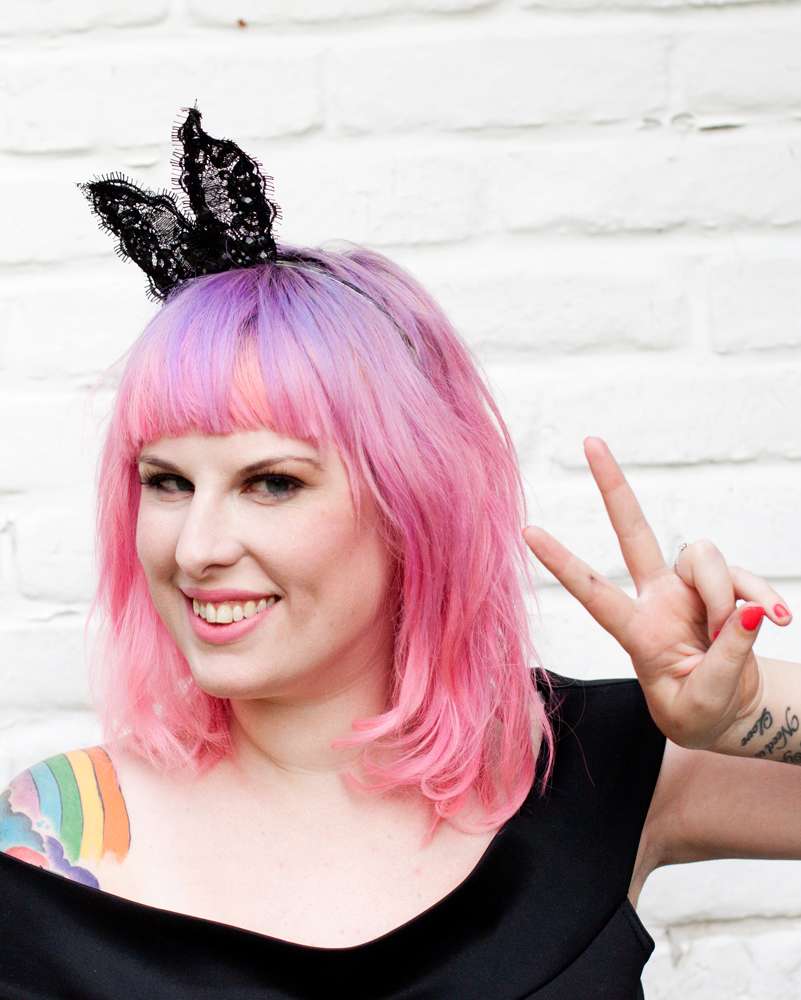 Sarah black lace and gem bunny ears – £25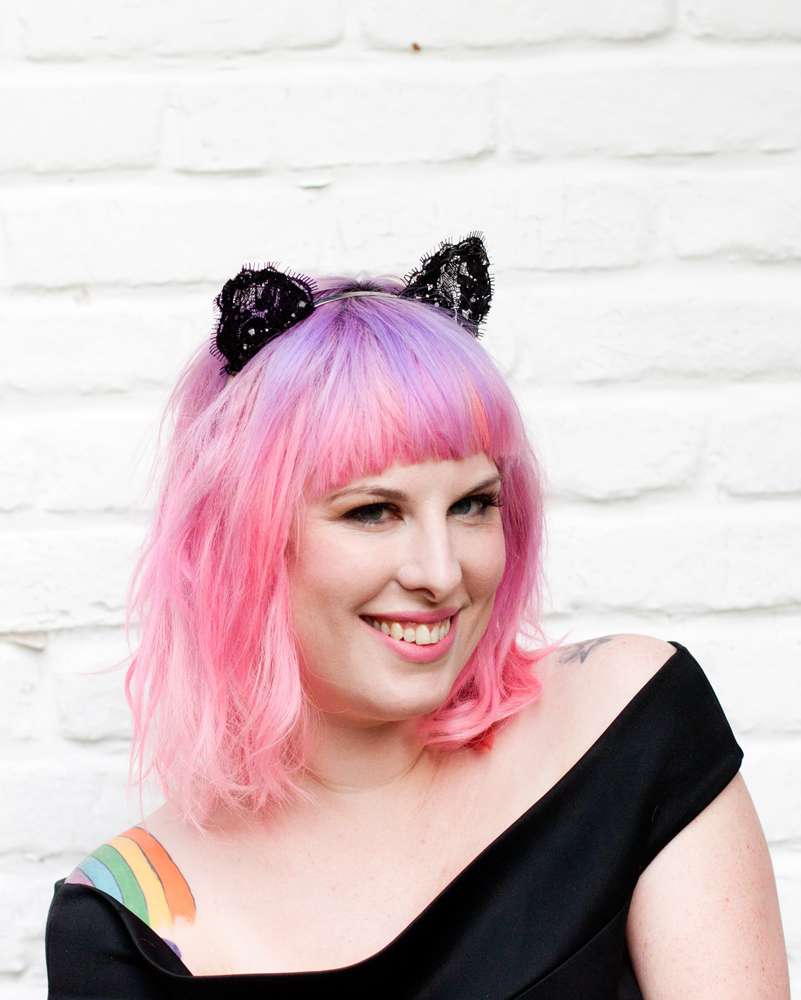 Sarah black lace and gem kitty ears – £25
Emma
Emma is literally the most gracious, welcoming and all-round gorgeous person you'll ever meet. She always thinks of others before herself and she's the best friend you could ever ask for. Flowers are her love language and her home and wardrobe are covered in multi-coloured blooms. She's happiest when hanging out with her besties, laughing until she cries.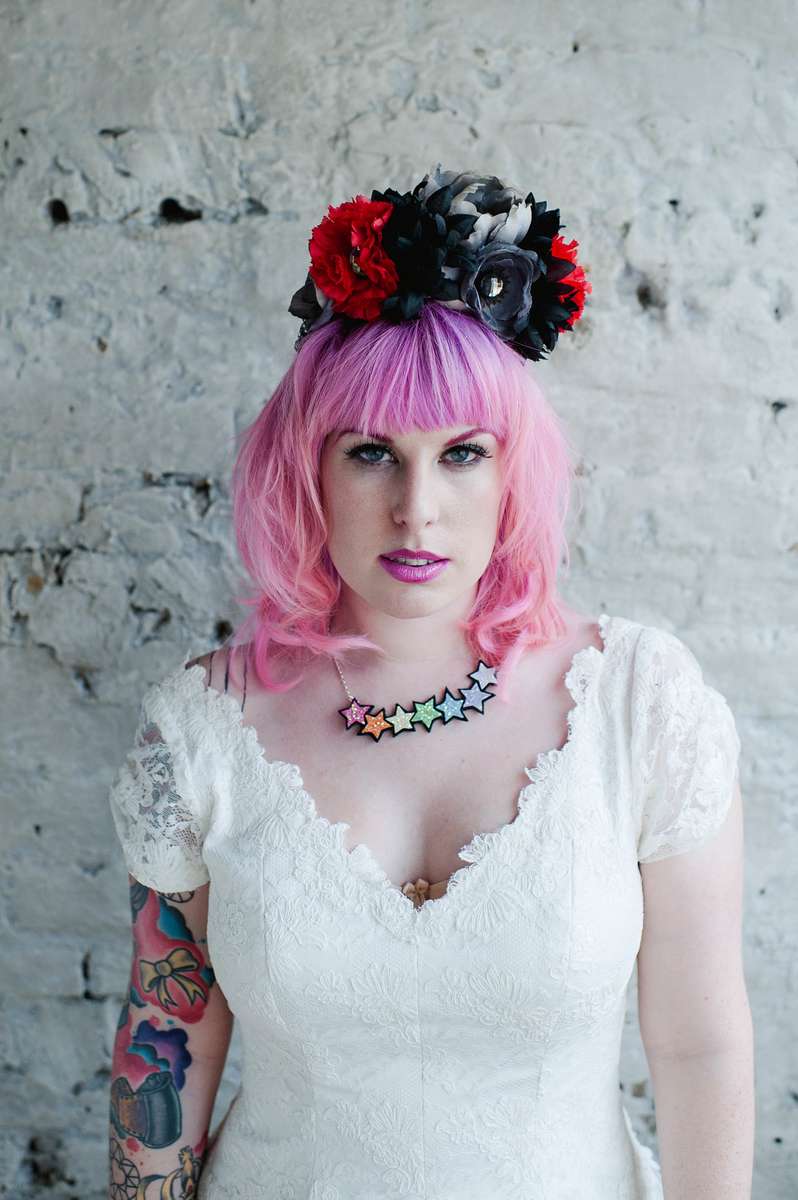 Emma black, red and grey floral and gem ribbon headband – £35
Lisa
Lisa is not afraid to stand out from the crowd and is always the first to agree to a party! Every outfit she owns will be accessorised with one stand-out piece whether it's a sequinned jacket, a statement necklace or a giant flower crown!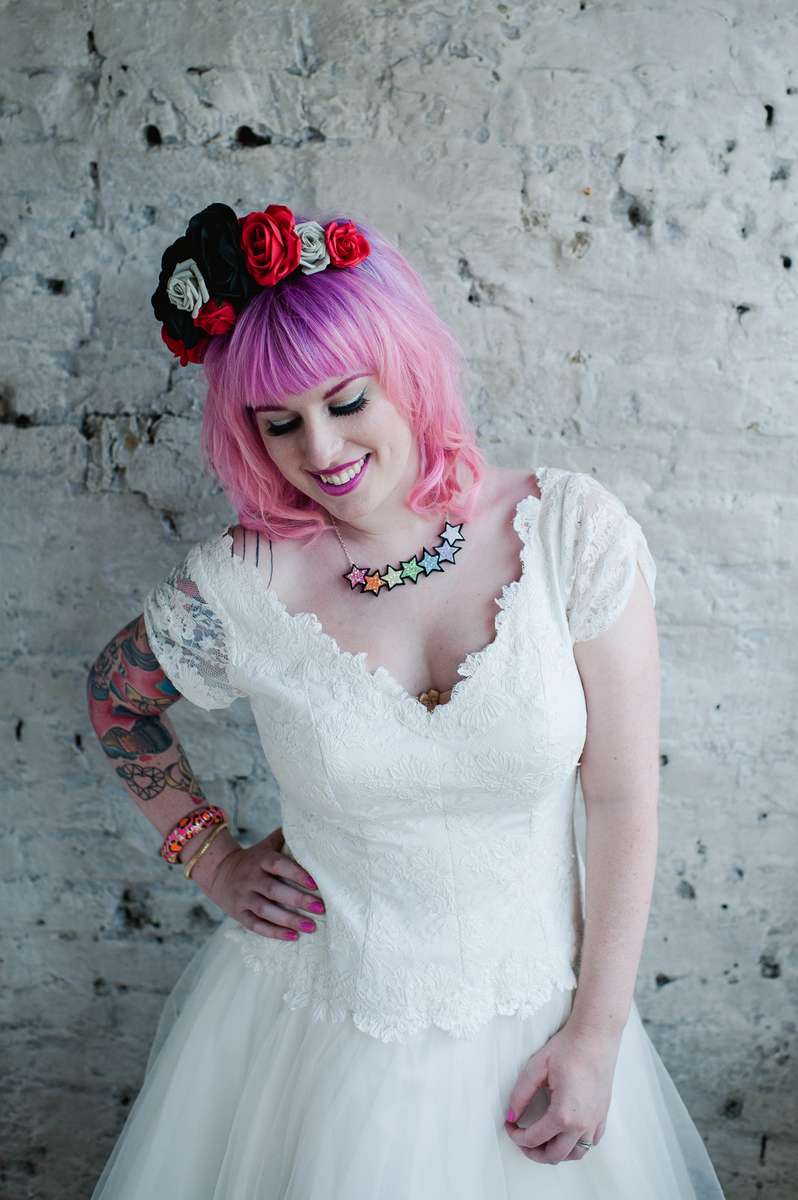 Lisa black, red and grey huge rose headband – £35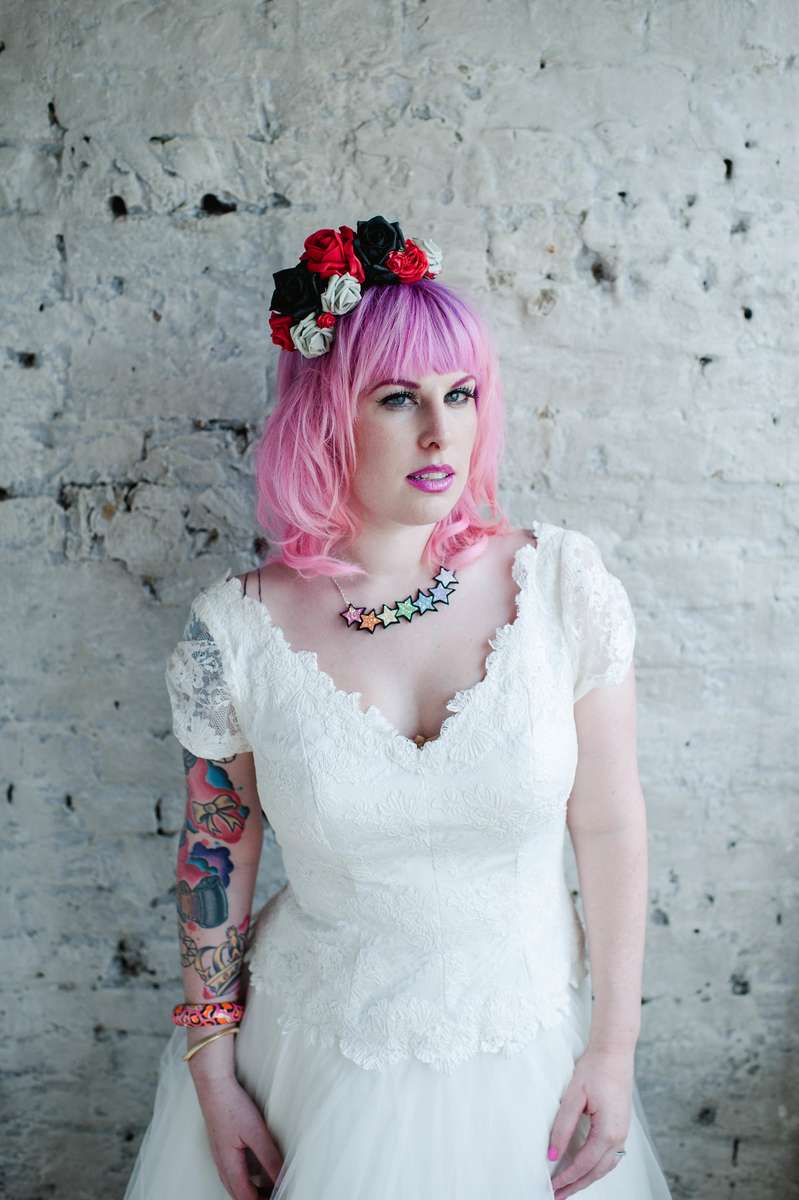 Lisa black, red and grey medium rose headband – £25
Sophie and I were at the One Love Wedding Show this weekend and as you can see we used and abused the Look Look photo booth whilst simultaneously showing off our new pieces!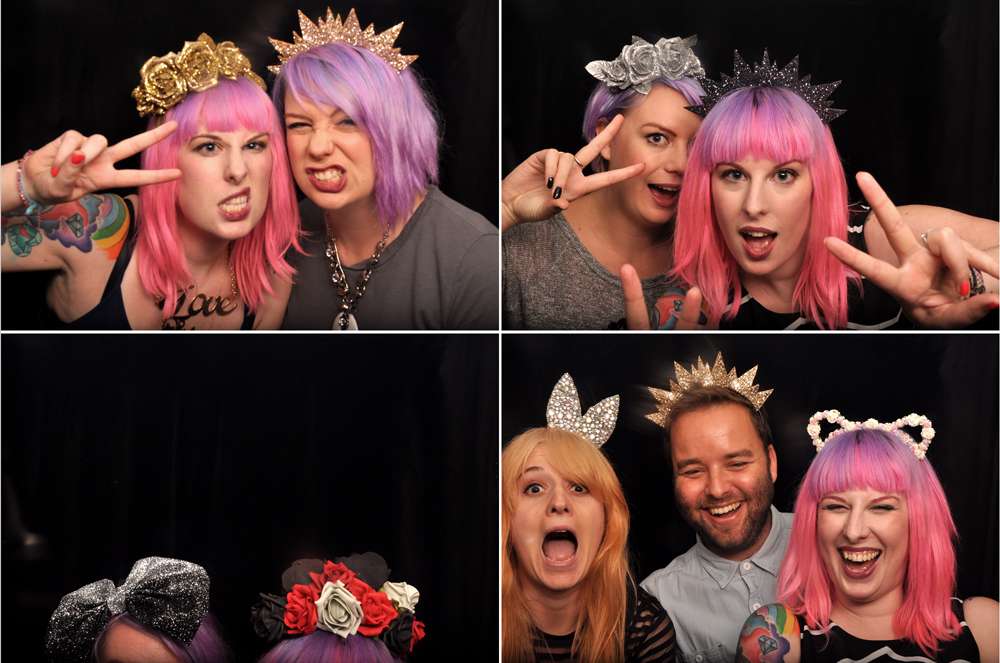 All pieces are also available as custom orders. So, if you'd like the Liberace in pink or the Elbie in green, we can make that happen. To request a custom order, simple drop Sophie an email and let her know all about your headpiece dreams!
All these new pieces have been added to the Shop page of Rock n Roll Bride. To purchase, simply click the item you want to be taken to the Crown and Glory website where you can shop away to your heart's content.
As ever, if you buy anything be sure to Instagram or tweet me a picture of you rocking it and use the hashtag #RockGlory so I can see them all! It's been so amazing to see so many of you babes rocking our creations so far and I don't want that high to stop just yet.
So what's the hold up? Go forth and shop!