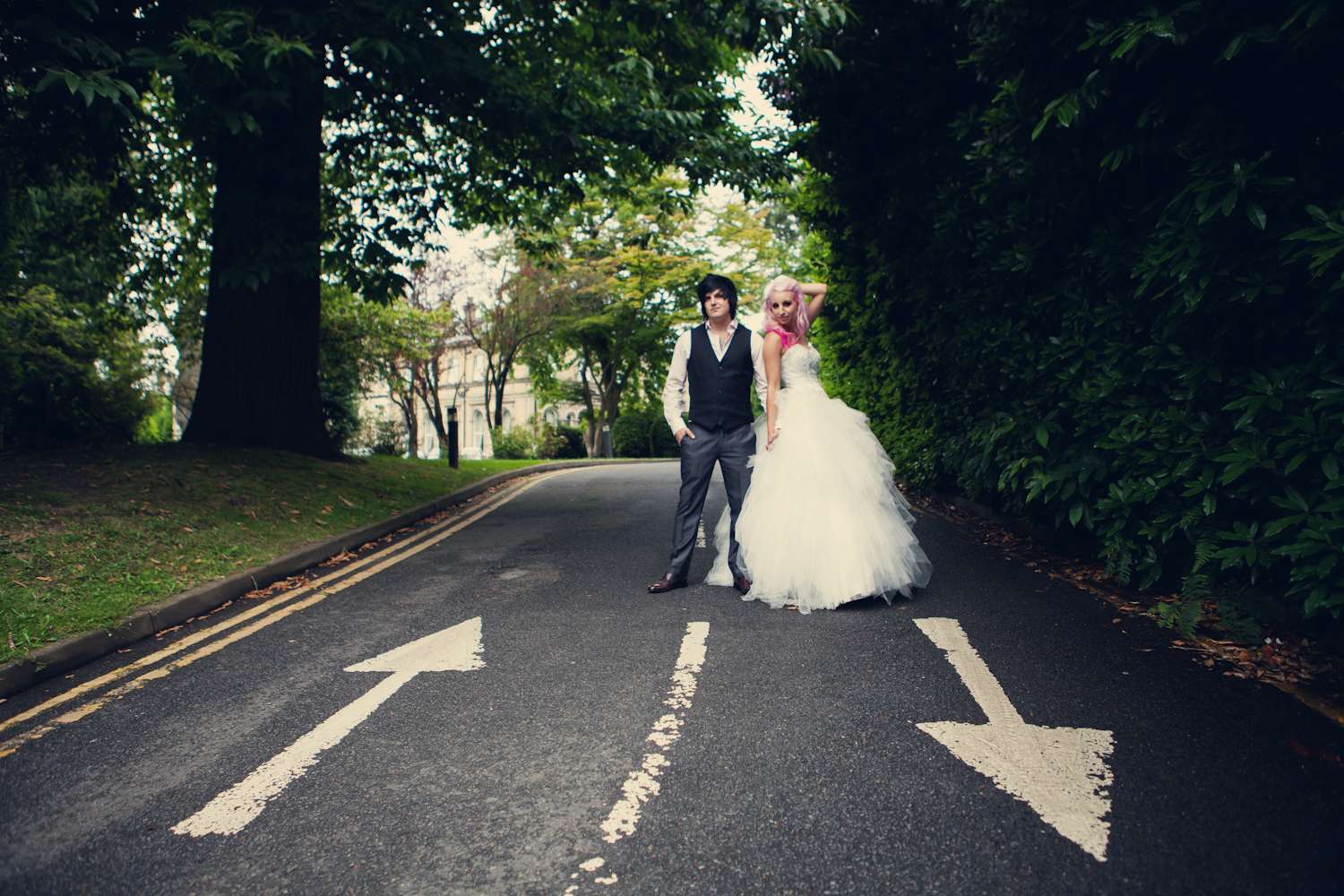 As soon as I saw the sneak peek of Ele & Raph's wedding on their wedding photographer's facebook page, I knew I wanted to feature them… it's not really that difficult to see why is it? Could these guys be any more Rock n Roll if they tried?! The couple booked Rock n Roll Bride favourite Assassynation to capture their amazing day.
"What a great pleasure it was to have Sassy do the photography on our special day! I felt at ease as soon as I met her", began the bride. "Upon speaking to my (camera shy!) husband afterwards, he said exactly the same about Sassy, that she jumped at every opportunity to get that perfect shot and with simple instructions made him feel comfortable and contented. Ecstatic with the sneak peeks that Sassy had uploaded within less than 24 hours (wow!) onto her Facebook page, we both knew that Sassy is one Rock n Roll photographer and it would not have been the same without her!"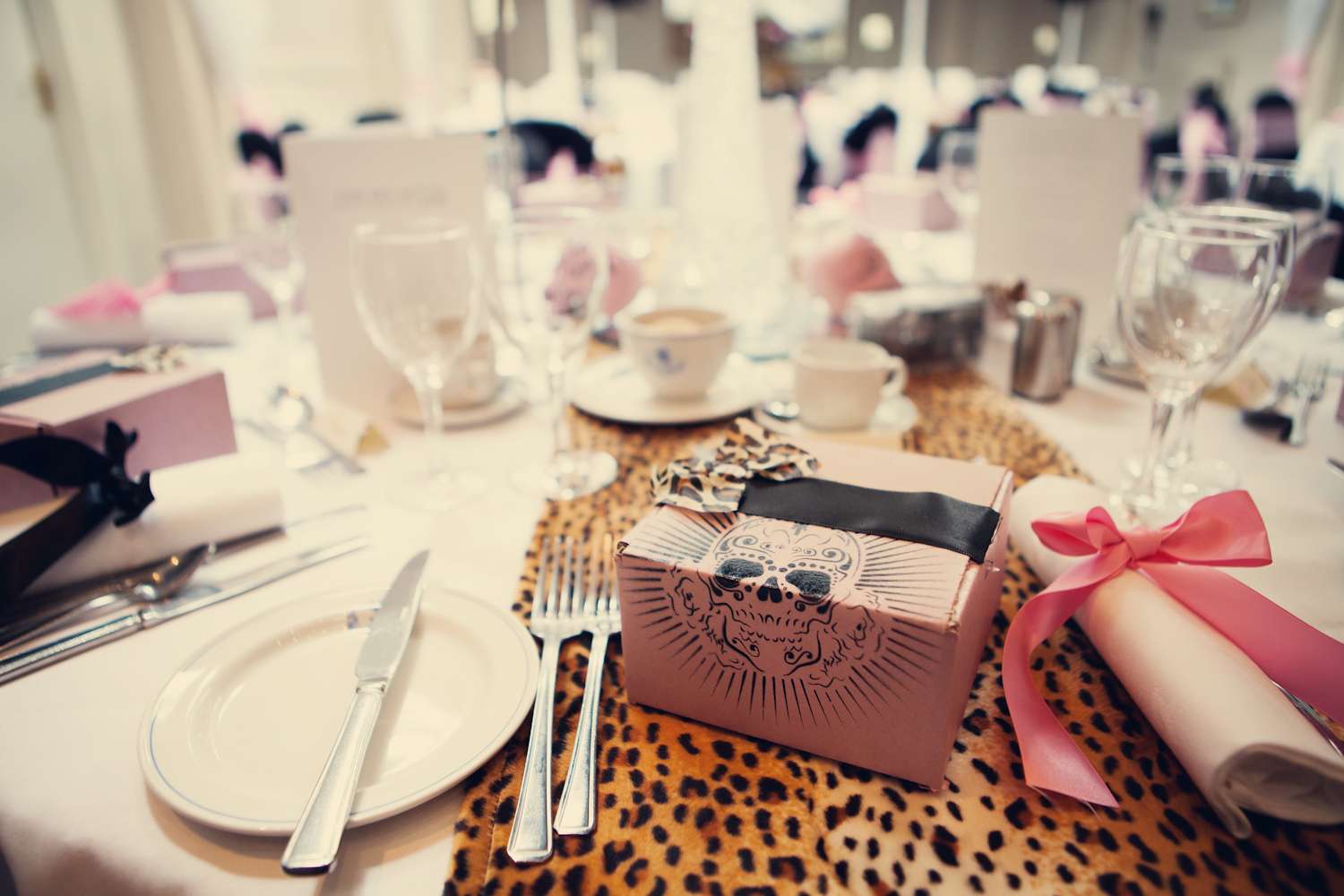 The July wedding took place at The Spa Hotel, Tunbridge Wells. "The staff were outstanding in providing amazing service and ensuring that every small detail was exactly to our expectations," she continued. "The food was to a superb standard and the manager went out of his way throughout the day to make our celebration as awesome as possible."
The couple handmade as much as possible including the table plan, the card boxes, the various skulls dotted around the place and their stationery. "One phrase that sums up the run up to our wedding… 'if you want something done properly, do it yourself!'" Ele laughed. "I spray painted each individual favour box in a baby pink for the guests and finished it off with a black skull stencil on each of them. I knew that this was going to be a lot of work, however there was no way I was not going to add these important touches to this very important day. It could be said that a lot of people find it easy to choose something from a book and then have somebody else make it for them, but where is the fun in that? Adding our own characters to the various aspects of our celebration made it what it was to us – the most beautiful and breathtaking day we have ever experienced. I feel very proud that it's now being featured here for everyone to see!"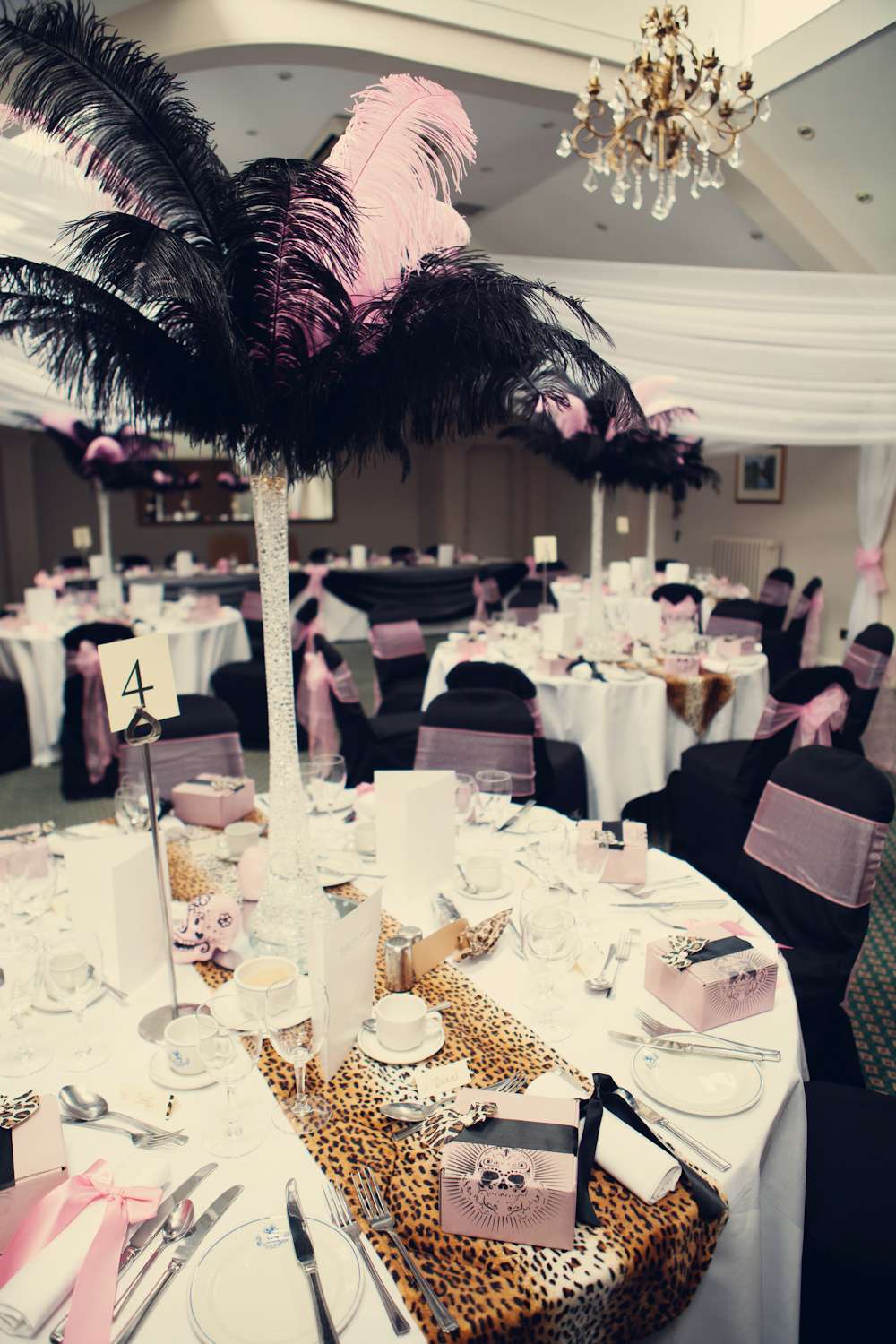 "Even though I did quite a lot of the decor myself, we also had Bow's Hire to bring it all together and ensure that all the different aspects worked together to create one cohesive theme. The feather centerpieces complimented the leopard print used throughout the room, and together with the mood lighting and draping made our wedding as perfect as could be."
"Both Raph and I have grown up listening to rock music and loving piercings and tattoos", Ele responded when I asked her about their overall theme ideas, "therefore it was obvious to us that our wedding should reflect that. We saw our wedding as an opportunity to say to people 'this is who we are!' I am also deeply intrigued by the Mexican Día de los Muertos (The Day of The Dead) art, so we wanted to adapt the usual connotation of the skulls and mix it with the 'tackiness' of leopard print and baby pink."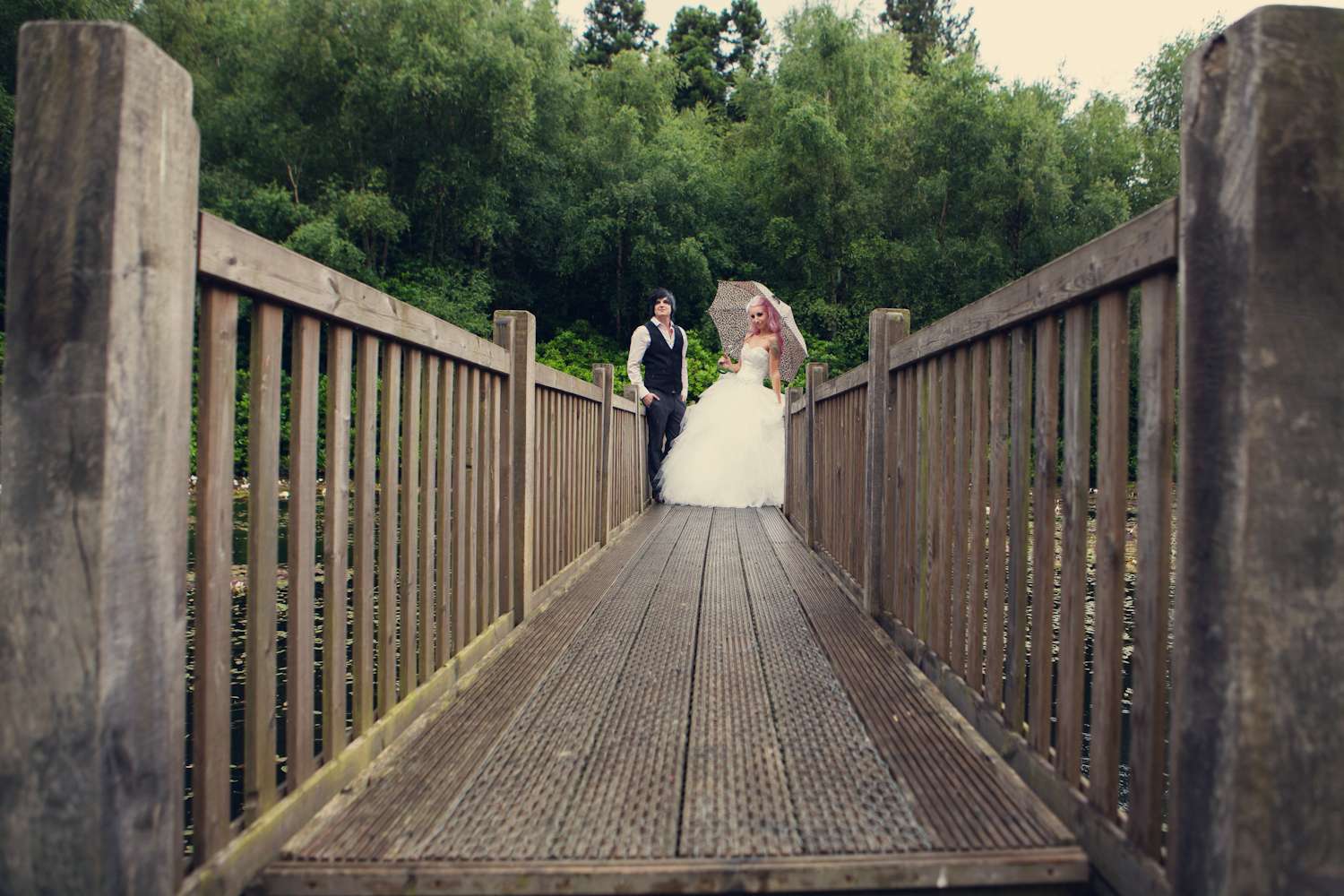 "A little bit advice for couples wanting to express their uniqueness and style within their special day – go for it. If it feels right, it will most likely look great and you will feel over the moon knowing you are the creator of your own personal wedding day and of something so beautiful!"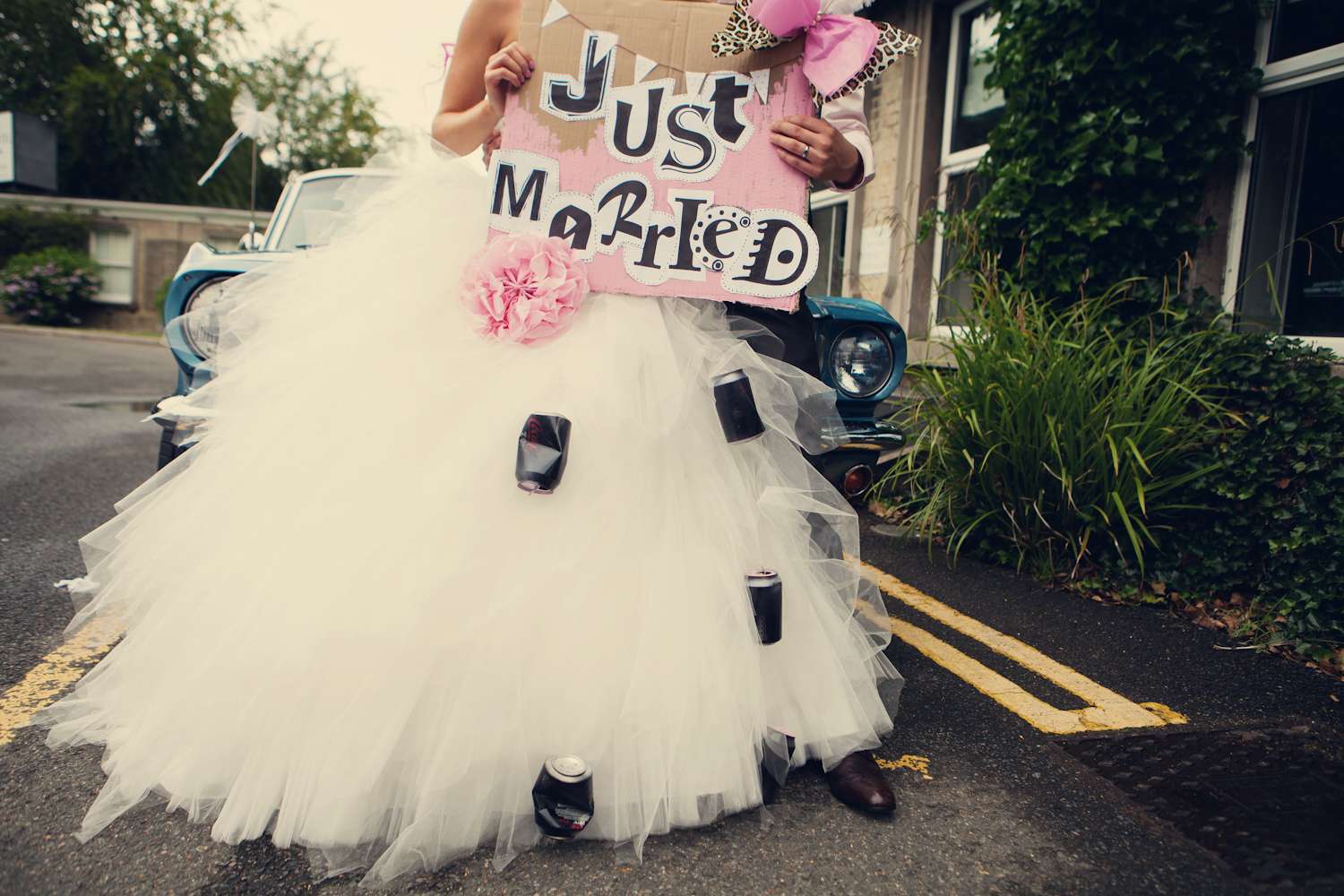 Utterly awesome! Thank you to Ele & Raph and of course he fabulous Sassy of Assassynation for sharing today!
Supporting Cast:
Photography Credit: Assassynation
Coordinator: Bow's Hire
Venue:  The Spa Hotel, Tunbridge Wells
Bride's Dress: Mia Solano from Couture Bride and Groom, Essex
Bride's Shoes: Yes Style
Bride's Headpiece: Hair Bows Wonderworld on etsy
Bride's Bouquet: DIY
Groom's Suit: A Suit that Fits
Bridesmaid's Dresses: The Pinup Heaven on eBay
Cake: Classic Cakes 
Flowers: Sweetpea & Olive 
Hair: Miss T's Mobile Hairdressing
DJ: Bee Dee Productions