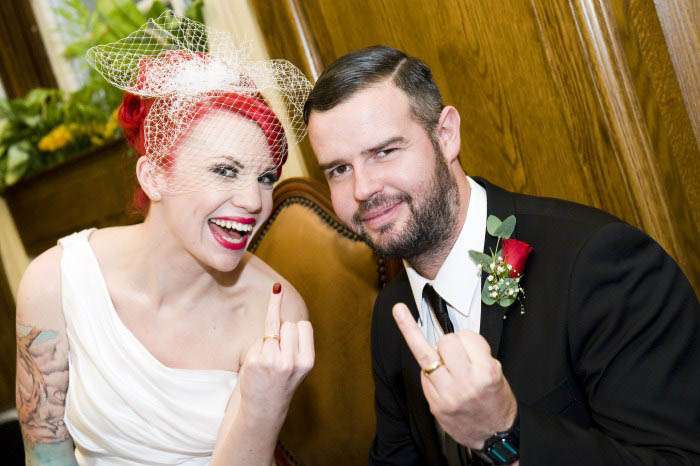 Oh Debbie & Jamie how I heart thee! This Belfast couple had their very own rockabilly wedding at Belfast City Hall, followed by a suitability rockin' reception at The Printers Café.
"My name is Debbie and I run a vintage nail salon in Belfast called Dazzle Me With Your Tips," the bride emailed me.  "In my spare time I sell vintage clothes, accessories and homewares at vintage fairs and arts and crafts markets and also work as a stylist with several photographers. Jamie my now husband is a Maintenance Manager for a cleaning services company and his passions outside of the 9 to 5 are Skating, and BMX and Metal Sculpture. We both love getting inked going to rockabilly nights and festivals and most of all touring around Ireland in our beloved  VW camper van Burt with our daughter Ellie." I loved them already.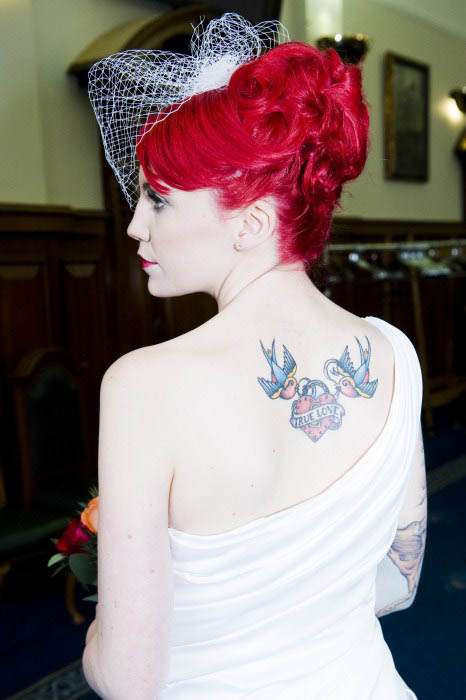 "The ceremony had a very intimate feel: each wedding guest received a handmade order of service, acoustic versions of our favourite songs were played throughout," Debbie continued. "After the vows we revealed surprise tattoos we had gotten for each other!  I got a Volkswagen symbol as a private joke and the groom got 'Always and Forever' in an old skool sailor-style on his heart."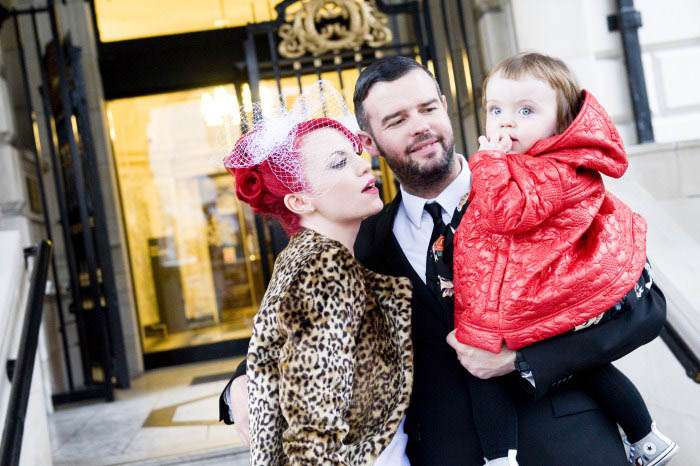 "Our bridesmaid, Milene Fegan, and our daughter both wore rockabilly-style dresses made from tattoo print material and carried smaller versions of the my bouquet.  The guests dressed in their vintage finest. The reception had a cosy rockabilly theme with handmade gingham bunting, fairy lights, candle jars decorated with mismatched ribbon, antiqued paper flowers, and hand-written menus on vintage paper, all made by the myself.  The homemade decorations were matched with classic Cath Kidson napkins and big bundles of kitsch balloons."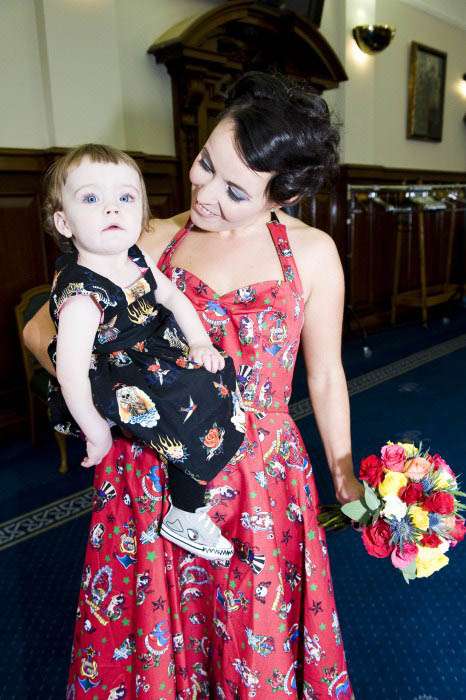 "There was a tattoo-yourself station and a dress-up box, which both went down a storm.  You could get your picture taken with a cardboard cut-out of Elvis when you signed in the guest book!  The food served consisted of homemade Irish beef burgers with hand cut chips and salad, with a selection of relishes, followed by cakes and cream with tea.  A local band, The Stetz, played some classic rock tunes, which was followed by an ipod disco of the bride and groom's favourite tracks."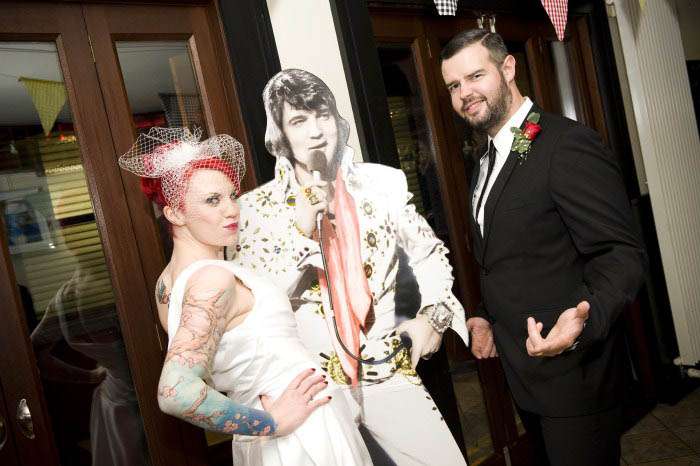 "My dress was designed by myself and my friend Rose helped me put it all together….we aren't dress makers we just winged it with her sewing machine! I made my veil as well! My shoes were by a northern irish designer called Minette. My leopard print coat was from Next."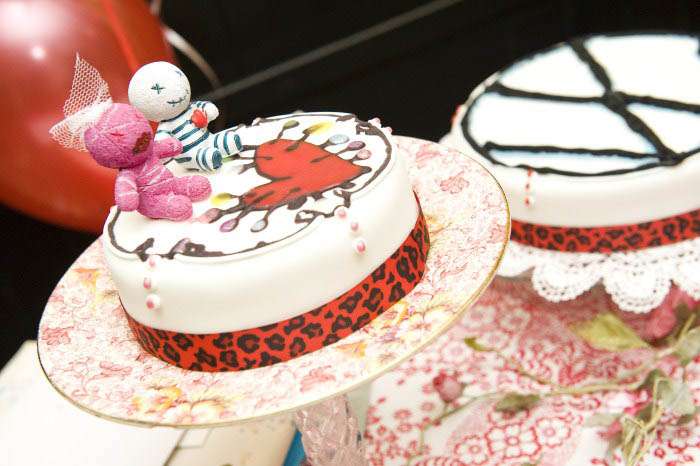 Big love to Debbie & Jamie for sharing their gorgeous day with us today.
Photography Credit: Carrie Davenport
Ceremony Venue: Belfast City Hall
Reception Venue: The Printers Café
Bride's Dress: DIY
Bride's Shoes: Minette
Bride's Coat: Next
Bride's Veil: DIY
Bridesmaid's Dresses: DIY
Hair: Vintage Rocks
Make Up: Dana Kane
Flowers: DIY
Cake: DIY
Cake Topper: DIY