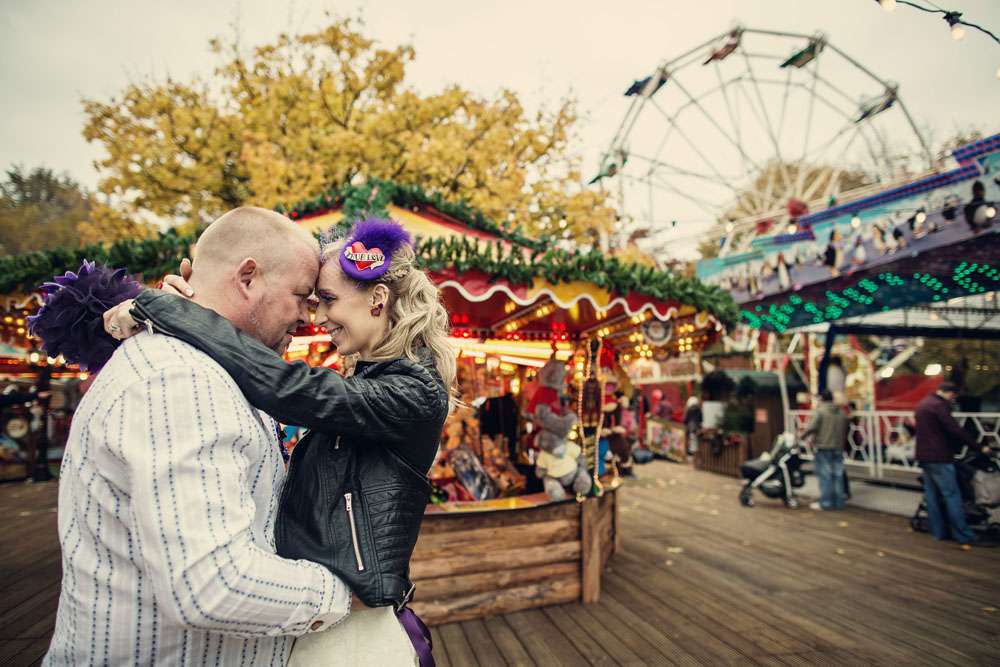 Ange and Glen's wedding day started with an intimate ceremony with just 25 guests at Cardiff City Hall. They then moved on to The Millennium Stadium in Cardiff for a Wales vs Argentina rugby match! The day concluded with a massive party blow out in a marquee in the back garden of the pub where they had their first date.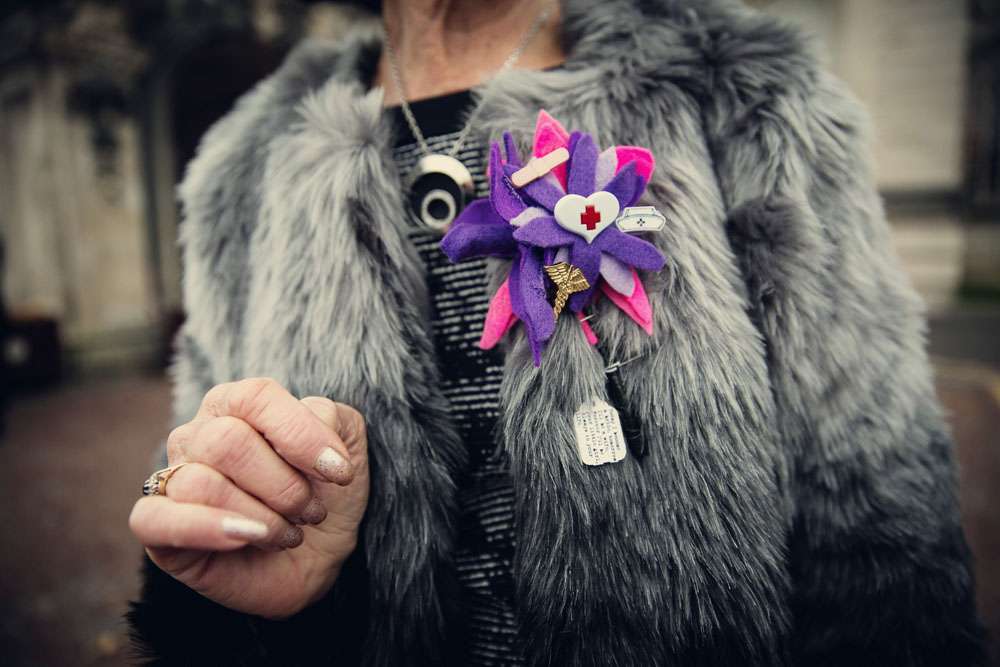 "We are totally and utterly the kind of couple that Rock n Roll Bride is all about", Ange began. "We're not traditional in the slightest, we kind of like to be a bit different, we're both a bit silly and a bit risqué, and we are head over heels in love! We've both been married before and we succumbed to the traditional, hearts and flowers, big white wedding thing then. It was totally wrong for both of us too. We found each other though, and in doing so, we have also found ourselves. Neither of us knew who we were truly until we came together – we've allowed the other to truly grow and become the real us."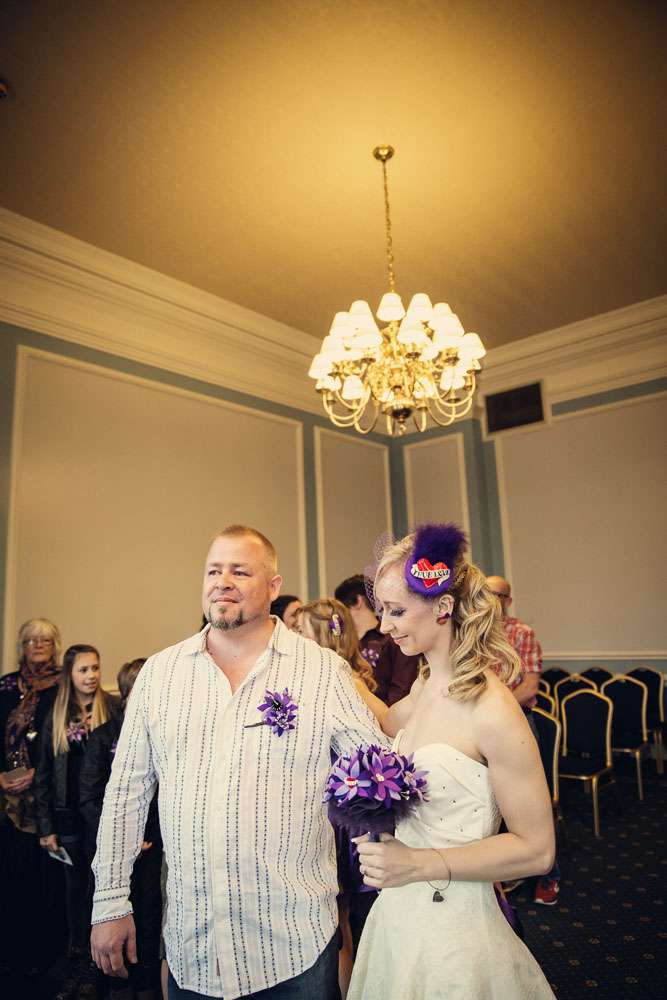 "From the outset, as soon as we talked about getting married, even before we got engaged, we knew that our true loves would have to be combined in our wedding, to make it totally us. We are both passionate Welsh rugby fans, so we knew getting married at a Wales rugby match would be the best wedding we could possibly have! Other than that we just added our passions to that as they came along. We knew we wanted a hog roast and we knew we wanted a marquee in the pub where we had our first date. We wanted tattoo, Rock n Roll and rockabilly themes too. Ultimately, we wanted to make our wedding day everything we could possibly do on one day that we loved and were passionate about, surrounded by the people that we love."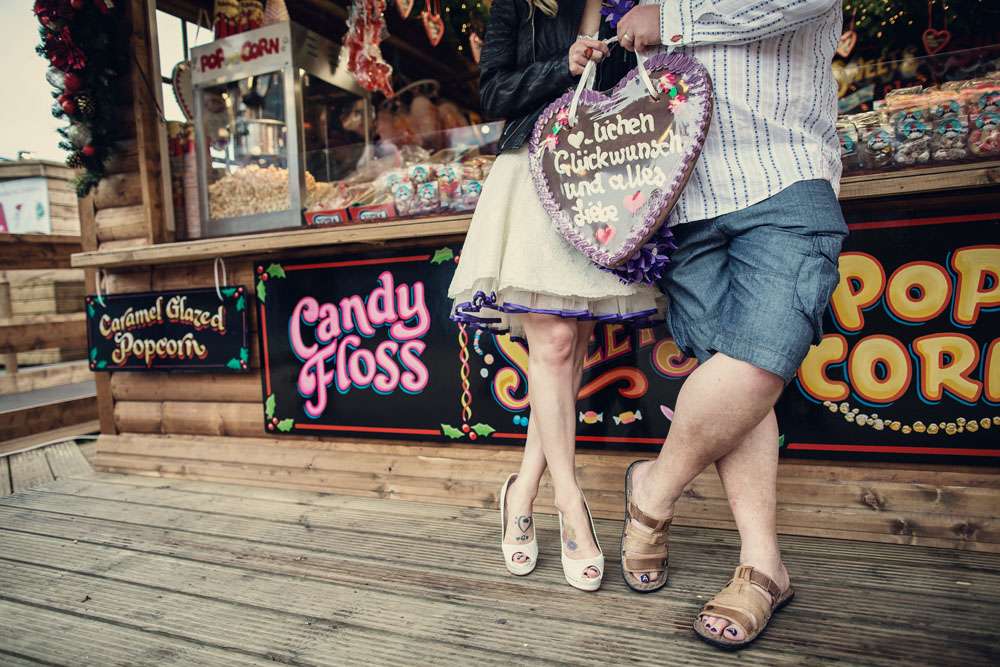 "That is why Rock and Roll Bride, and alternative wedding suppliers make my heart sing and skip a beat", she continued. "I am in love with what you do for the REAL people who want a real wedding that is about them. You're saviours! You allow people to have the weddings that truly reflect them. Rock n Roll Bride became my absolute and utter total inspiration whilst planning our wedding, in fact, I think I became a little addicted! I loved to look at all of the weddings featured, and it became my daily guilty pleasure, taking all of the ideas that I thought were fantastic and individual, and saving them, to take and make our own for our own wedding. "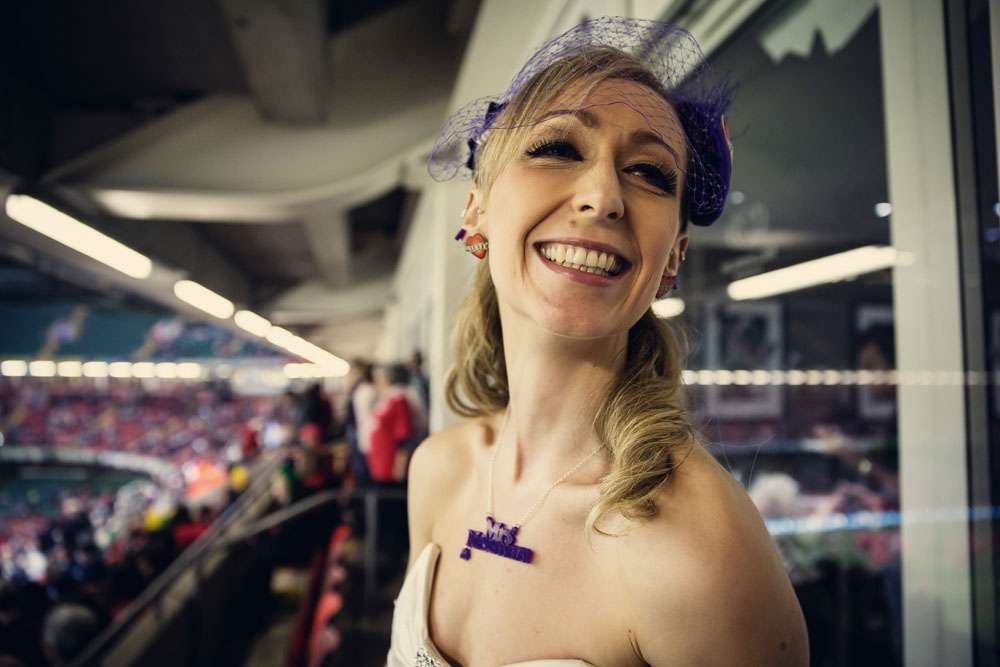 After their intimate ceremony they moved on to The Millennium Stadium to watch their beloved Wales play Argentina at rugby.  "Our reception was at The Millennium Stadium in the afternoon, for the Wales v Argentina Autumn rugby International Match", she explained. "We had an all expenses paid hospitality box where our 25 closest friends and family joined us for pie and a pint. This was pretty much where our entire budget went, which meant that we had to be very careful and DIY most other elements of the day!"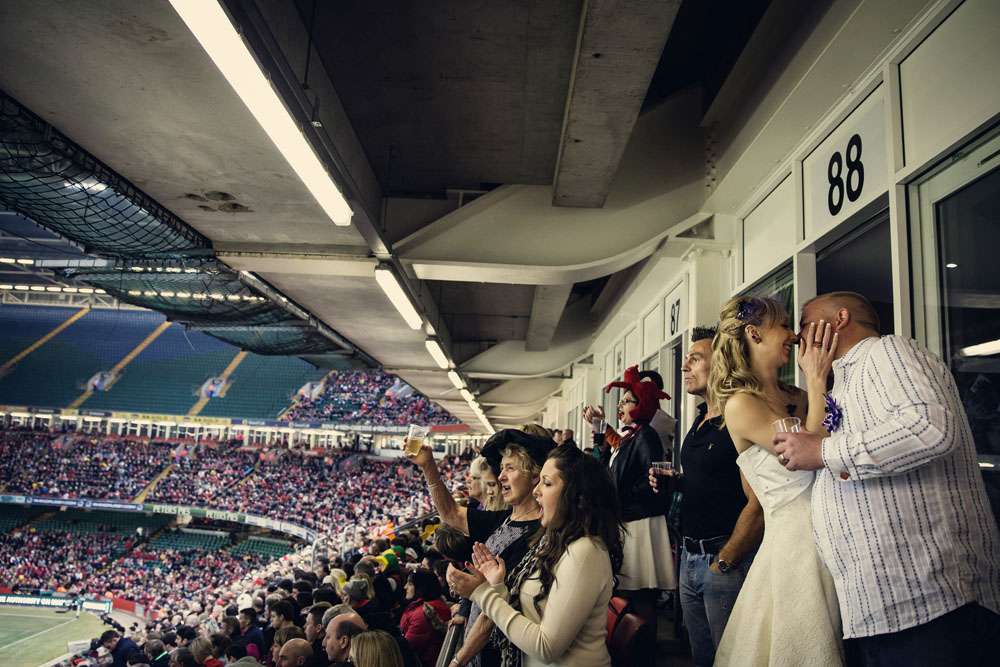 "Then in the evening, we had a huge party in a traditional country pub in the middle of nowhere called The Plough & Harrow, near Monknash, in the Vale of Glamorgan. This was the pub in which we had our first date approximately five years ago, and is a very special place for us. Being very tiny however, meant that we had to put a huge marquee outside the pub in the beer garden, to accommodate our 100 extra guests that came along to party the night away with us!"
Ange wore a short dress with a purple trimmed petticoat and three pairs of shoes! Instead of real flowers, they made had felt ones so they could get them in the same purple colour to match the rest of the wedding.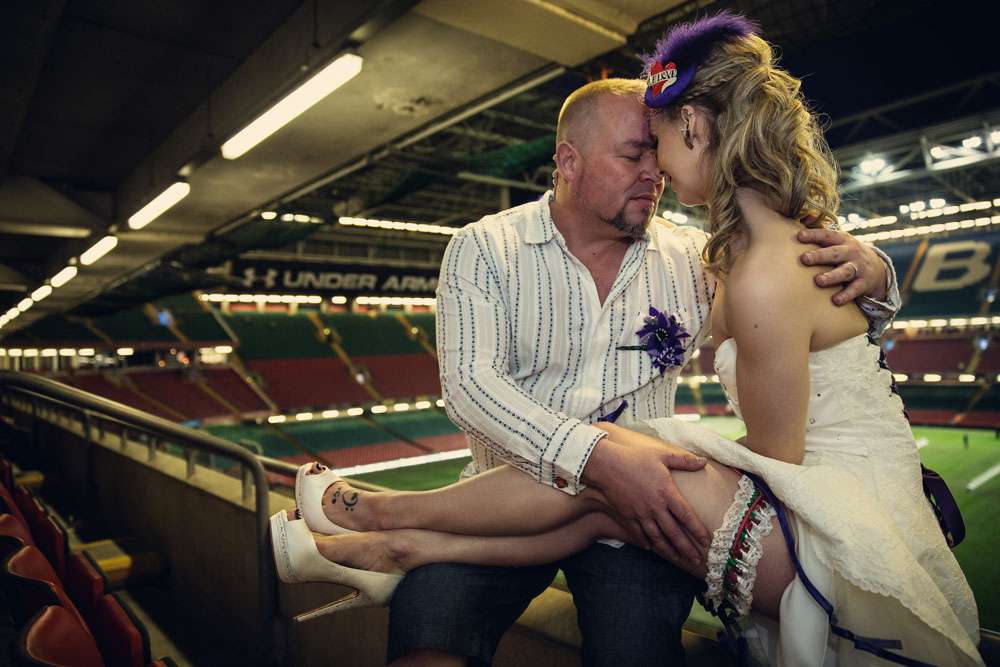 "Having already been married once, and already done the traditional long white dress, I knew, this time around, I wanted a short one. I live in short skirts and high heels, everyone knows my obsession with them, and I totally wanted my wedding dress to reflect that. It was made by a fabulous independent British designer called Kevan Jon. I also had a special Welsh flag garter hand made for me by Rachel at REM Designs and I carried a rockabilly tattoo themed bowling bag from Rock n Rouge. My custom 'true love' fascinator was made by the very lovely and very talented Diablo Jo."

"I'm a huge fan of gerbera flowers, they are my favourite flower ever, but you can't get them in the purple that we wanted. So I started to explore other options, but nothing was right. Then, one day I found Lavender Blue Flowers.  I absolutely loved the vibrant colours of the felt bouquets, and the fact that you could embellish them with sparkles and trinkets to match your theme!  When my bouquet arrived, I adored it so much, that I wanted to have felt flowers everywhere, I was a complete felt convert. The budget just wouldn't stretch that far as to have more felt flowers made for me though, so I decided to embark in my greatest ever DIY challenge, and make my own!  It took many, many hours of dedication and sewing for what seemed like years. It was a complete and utter labour of love, but I managed to make a pink felt bouquet for Jasmine, our bridesmaid, which I was extremely proud of. I also had the idea of making purple felt buttonholes for each and every guest, personalised for them with quirky buttons on them that represented them. I sourced the buttons from eBay and button shops for months, collecting buttons that represented each of our guest's interests and hobbies. It was painstaking but I wanted something personal for everyone that they could keep and remind them of our day."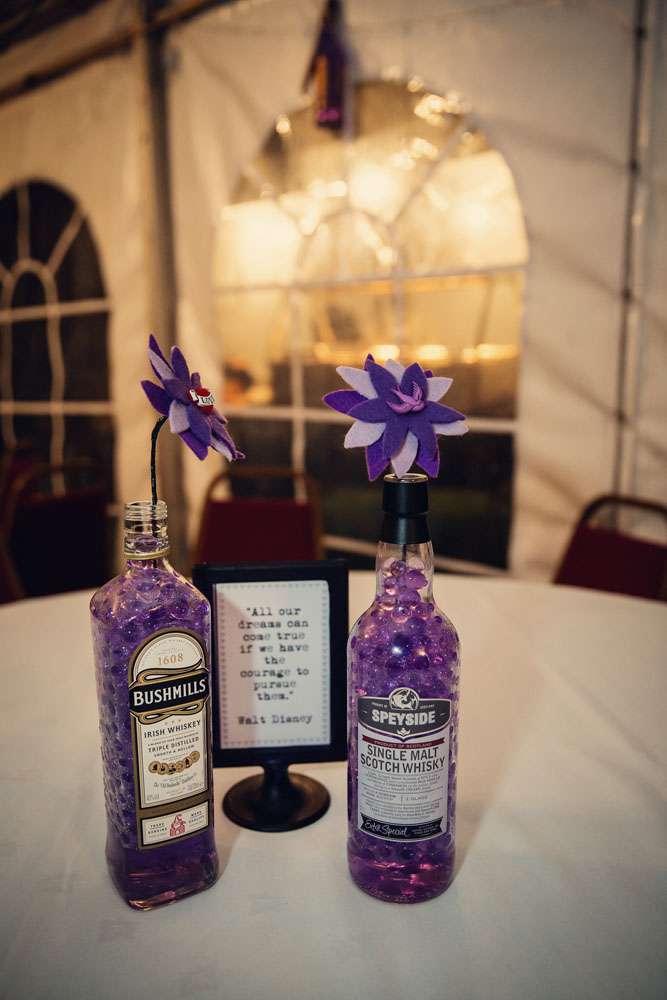 But the DIY didn't stop at the flowers! Because money was tight, literally everything for the evening reception was home made. "We became super crafters", Ange laughed, "crafting on our little projects every night for months and months leading up to the wedding. Glen worked for hours on the A&G light up letters. Our whisky bottle centrepieces with purple expanding gel beads and glow sticks were because Glen is a huge whisky fan. For months and months leading up to the wedding, Glen had the hard chore of drinking lots of whisky (!) which he took very seriously, particularly whisky in interesting bottles. We also had 'I'm Yours' light up letters covered in photos of us over the years, Welsh flag bunting, hand painted frames for the tables and a temporary tattoo station!"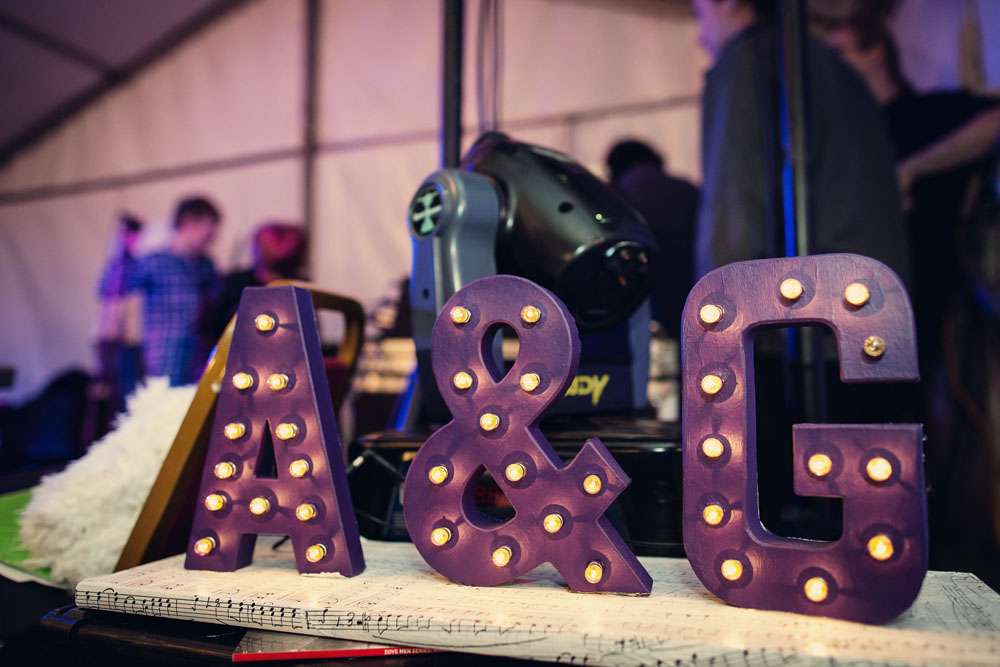 "Our wedding day was the best day of our lives and reflected us as a couple completely", Ange concluded. "We had an absolute ball, surrounded by the most important people in our lives, and without Rock n Roll bride, and the inspiration we took from it, I don't think we would have had the confidence to make it so uniquely about us. I don't think our wedding would have had the magic sparkle that it did.  We would change absolutely nothing about our wedding – everything was perfect, and everyone tells us that they had a blast, and that's all we could have asked for!"