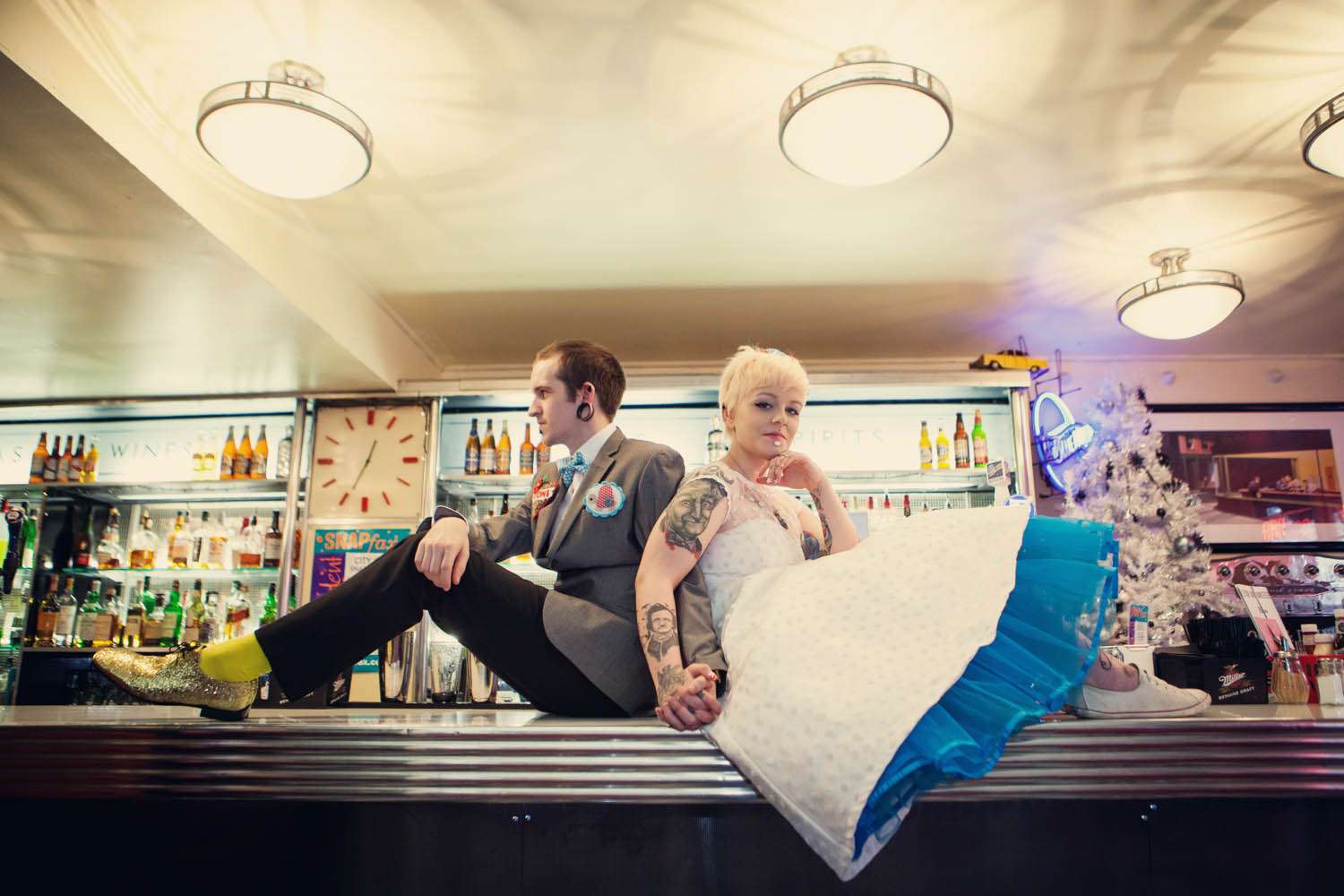 Tattoos, tears and a seriously cute couple. Toni & Colin's wedding is what my dreams are made of. These guys are THE perfect Rock n Roll couple and their wedding slays me. Plus they had Sassy of Assassynation as their wedding photographer so they instantly go way up in the cool stakes with me!
The wedding was held at The Quay, Musselburgh, on 10th November. "Colin and I met online what feels like a life time ago but wasn't all that long ago in the grand scheme of things", Toni began. "We spoke for a month or so online and then he made plans to come over from Northern Ireland to visit me in Edinburgh. 'I'll come for the weekend,' he said. Well, he arrived and he's yet to leave! We've lived together from day one and, including the night before the wedding, we are yet to spend one single night apart. It's a good job he makes me laugh as much as he does!"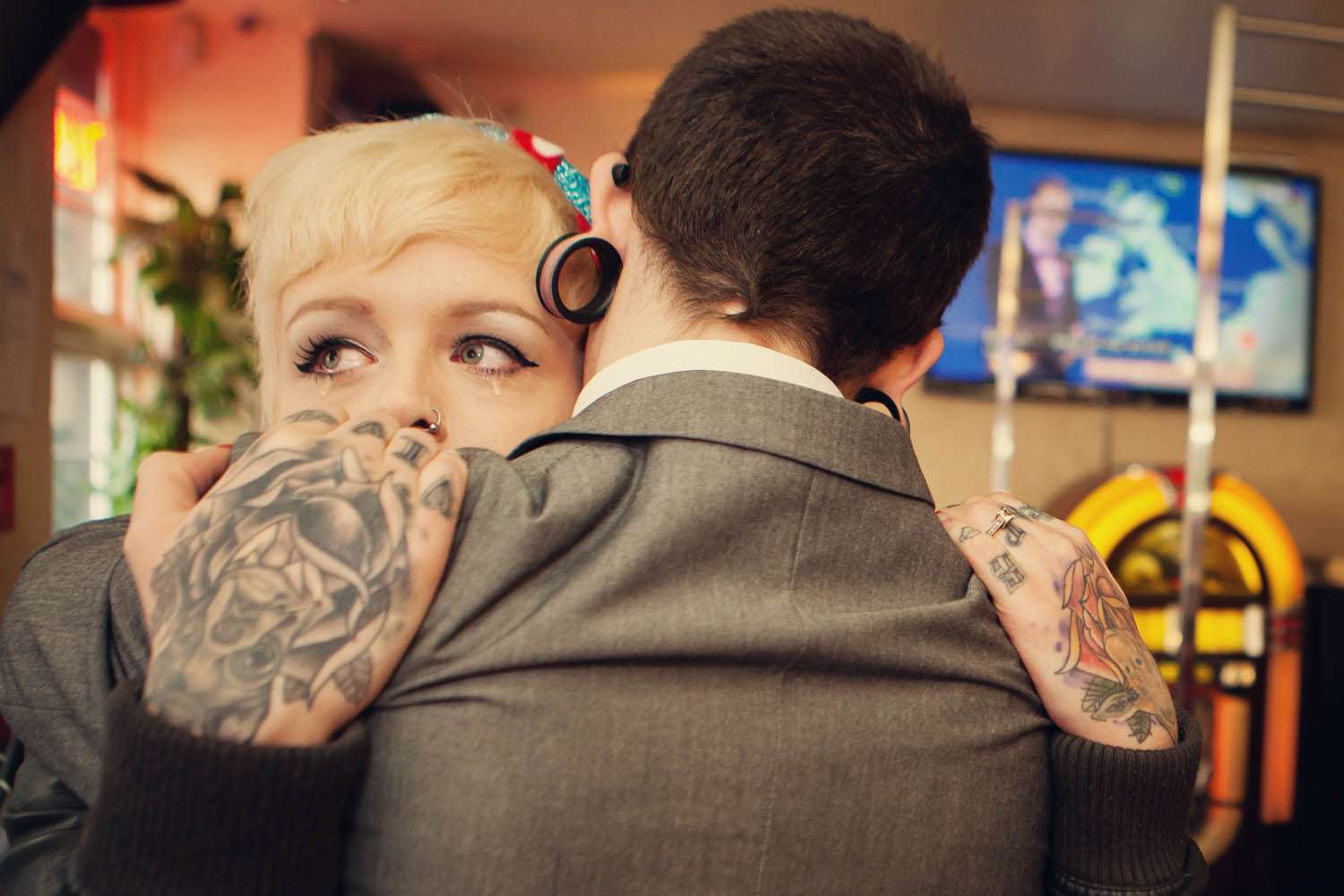 This unconventional couple decided, along with their photographer Sassy, to do a 'first look'. This is basically where the couple see each other before the ceremony. It's something that a lot of couples don't want to do, but as these photographs prove, you'll be very emotional and what an amazing way to capture that emotion! Tony & Colin went one step further though, and actually went and got tattoos done before their ceremony too! Toni got a toad stool and Colin got a pin wheel, both of which were decor items they used in their wedding.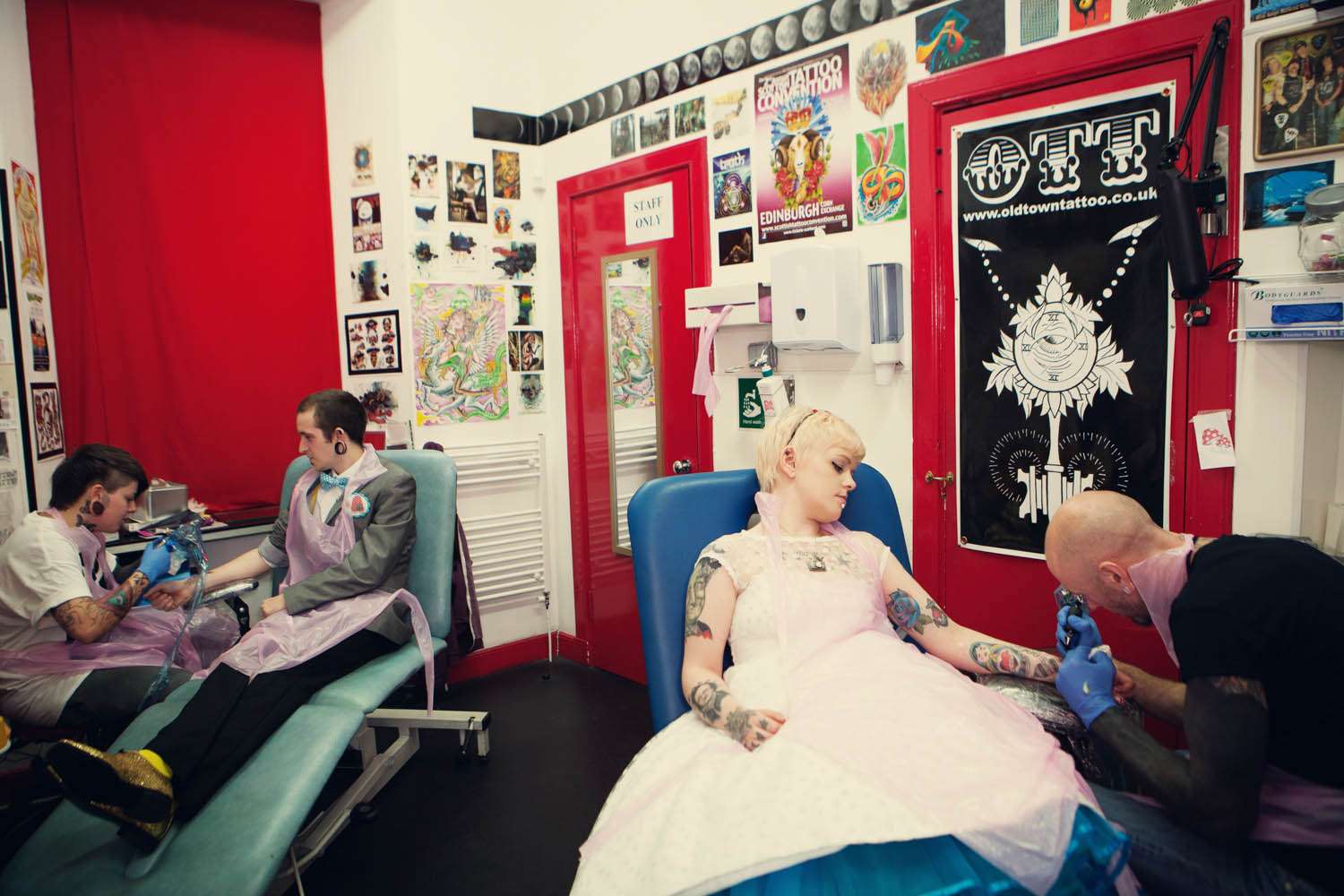 "One of our favourite parts of the day was the first look for sure", Toni explained. "We both had the most amazing time of our lives with our photographers Sassy & Katie, getting our tattoos done and prancing about the old town in my big white dress and not even caring that it was raining. My tattoos are like a keepsake box of memories I can carry around forever. When something big happens to me, it's almost instant that I think of something I can get permanently etched on my body to represent that moment in time. It was only natural that I'd want something from our wedding; everyone says one of the very few things that will last forever are your photos. Not for us. We have those AND our tattoos!"
"When it came to WHAT to get, it was quite easy for us. We wanted tattoos that would be matching but completely different. Something that isn't automatically a matching, wedding tattoo. I chose a toadstool and he chose a pin wheel; two of the main 'elements' of our wedding. It's actually my second toadstool tattoo! The first is on my ring figure which I find quite fitting!"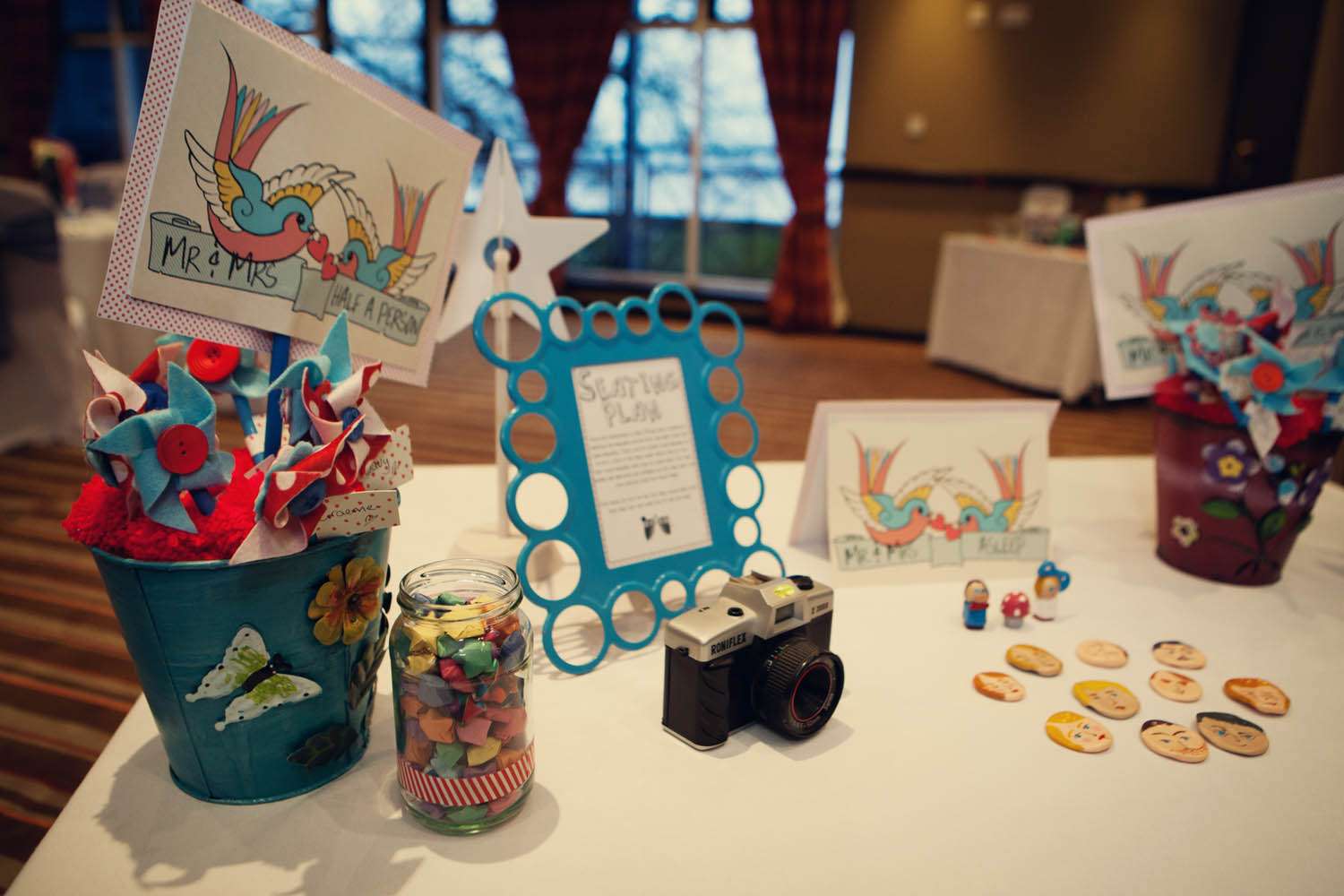 It's clear that this couple are so very in love, and before the wedding Colin showed that love in, maybe, the cutest and most touching way I've ever heard of… "Colin actually did the most amazing thing he has ever – and will ever I think! – done for me during the wedding planning", Toni explained. "Just before my Grandad, who was a HEEEEEUUUUUGEEEEE part of my life, my real best friend and my hero, passed away he expressed his biggest fear; the family name dying out. My grandparents had just one son, my Uncle, and he had just two daughters. Pre-wedding, I didn't have the family name but I'd always wanted to change it but it was just one of those things that I never got round to doing. Then Colin came home one day with an envelope and handed it to me. I had no idea what it was and when I opened it and read it, I was speechless; he had legally changed his name to my family name so, when we got married, I would finally be a White again. I was completely blown away! It's the best thing in the world."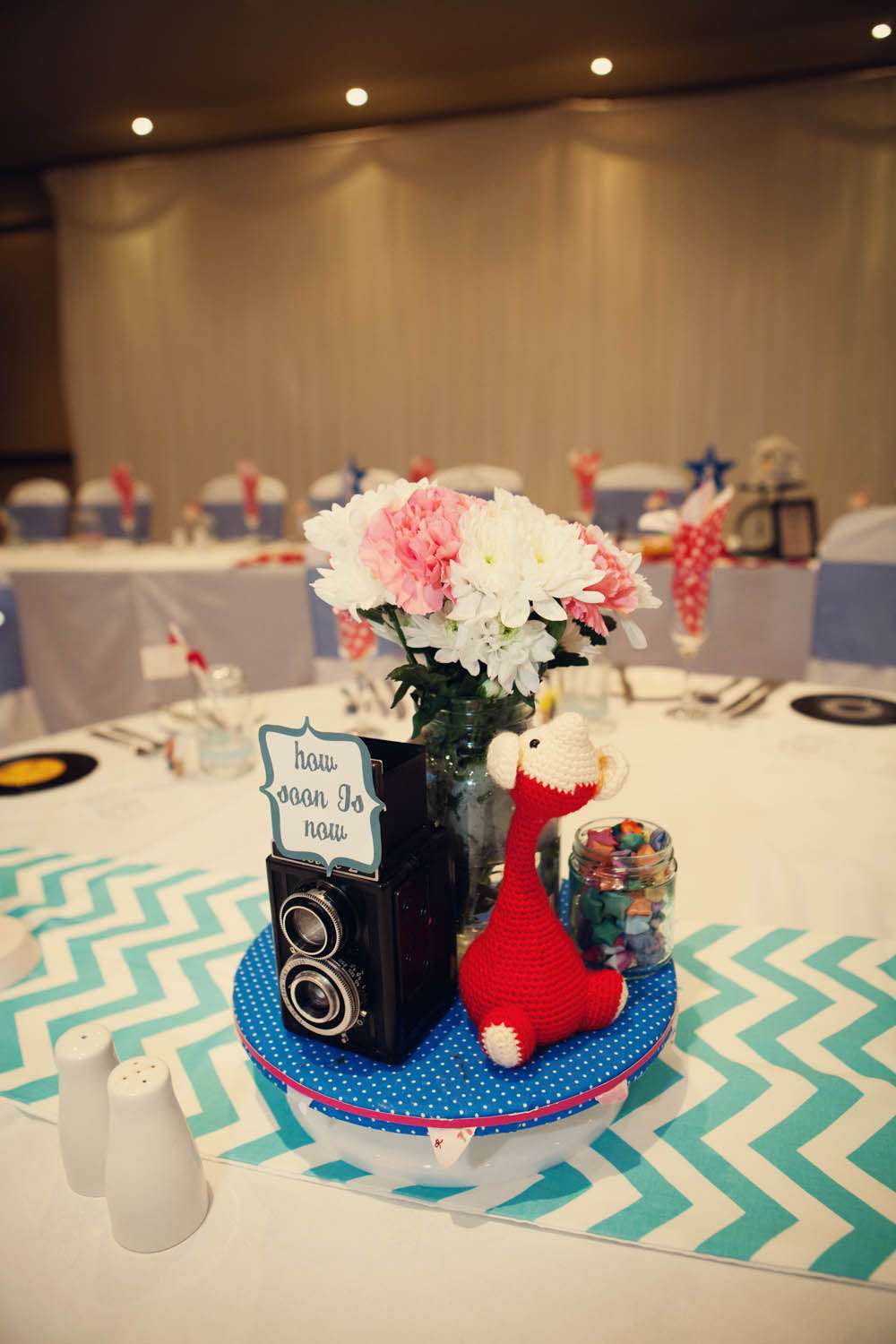 "Tradition didn't go out the window for us; it was just never here to go out the window in the first place!" Toni laughed. "Our budget was very, very limited – just £3,000 including honeymoon (and I'm happy to say we didn't spend a penny over!) so we had to be very careful with the money we had and what we done with it. Everything that could be DIYed was DIYed! The three bouquets were a real labour of love and lots of little details that a lot of people probably missed on the day had hours poured over them every night."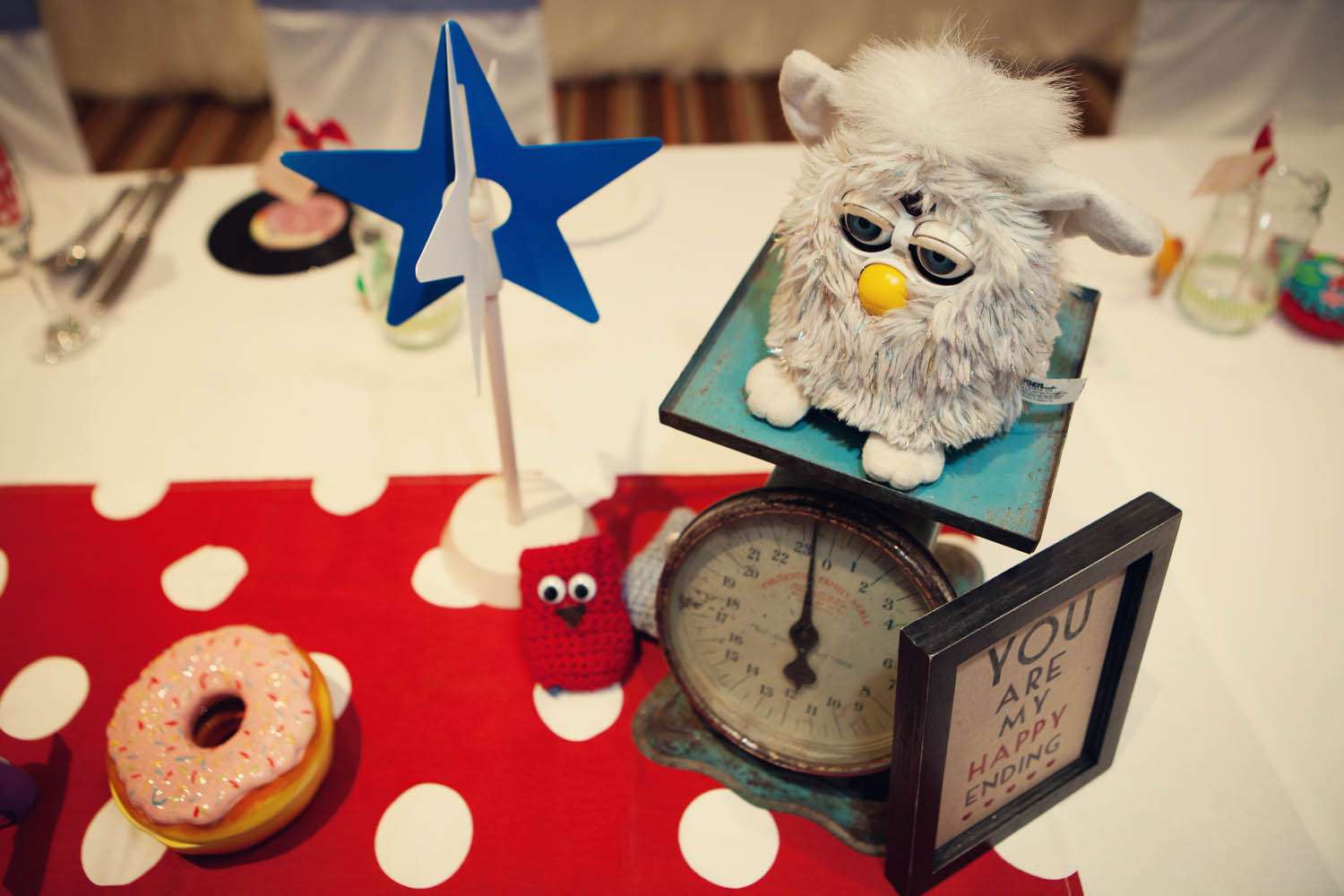 "We were inspired by the things we'd like to decorate our house with for our reception. Nothing was out of the question. We ended up with a few cameras from my collection, a random stags head we both saw about a week before the wedding and fell in love with (and spray painted!) and loads more random stuff! But if we liked it, we bought it. Nothing had a place to go until a few days before the wedding. Every single thing used will be decorating our home in one way or another and weirdly it just all really worked together."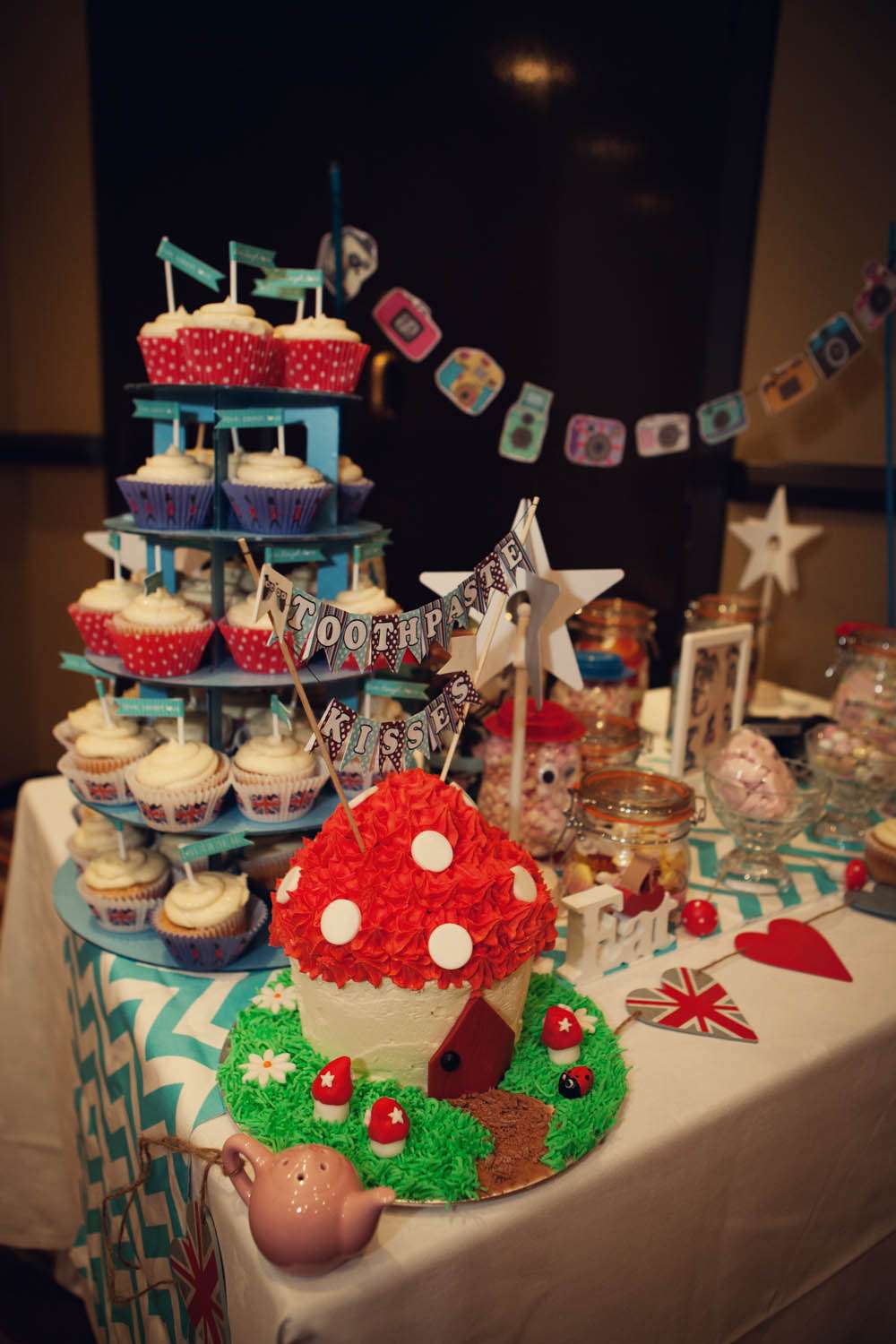 "There were two women who really made our wedding absolute perfection", Toni concluded. "The first is Sassy, our photographer – but she was so much more than that. Throughout the entire day she played friend, wedding co-ordinator, shoulder to cry on, face to scream at and a total life saver. And secondly, my mother. She is the most amazing woman on this planet. This wedding simply would not have happened if it hadn't been for her. She put as much of her heart, soul and herself into this wedding as Colin and I did and we'd need a whole other life time to pay her back for everything."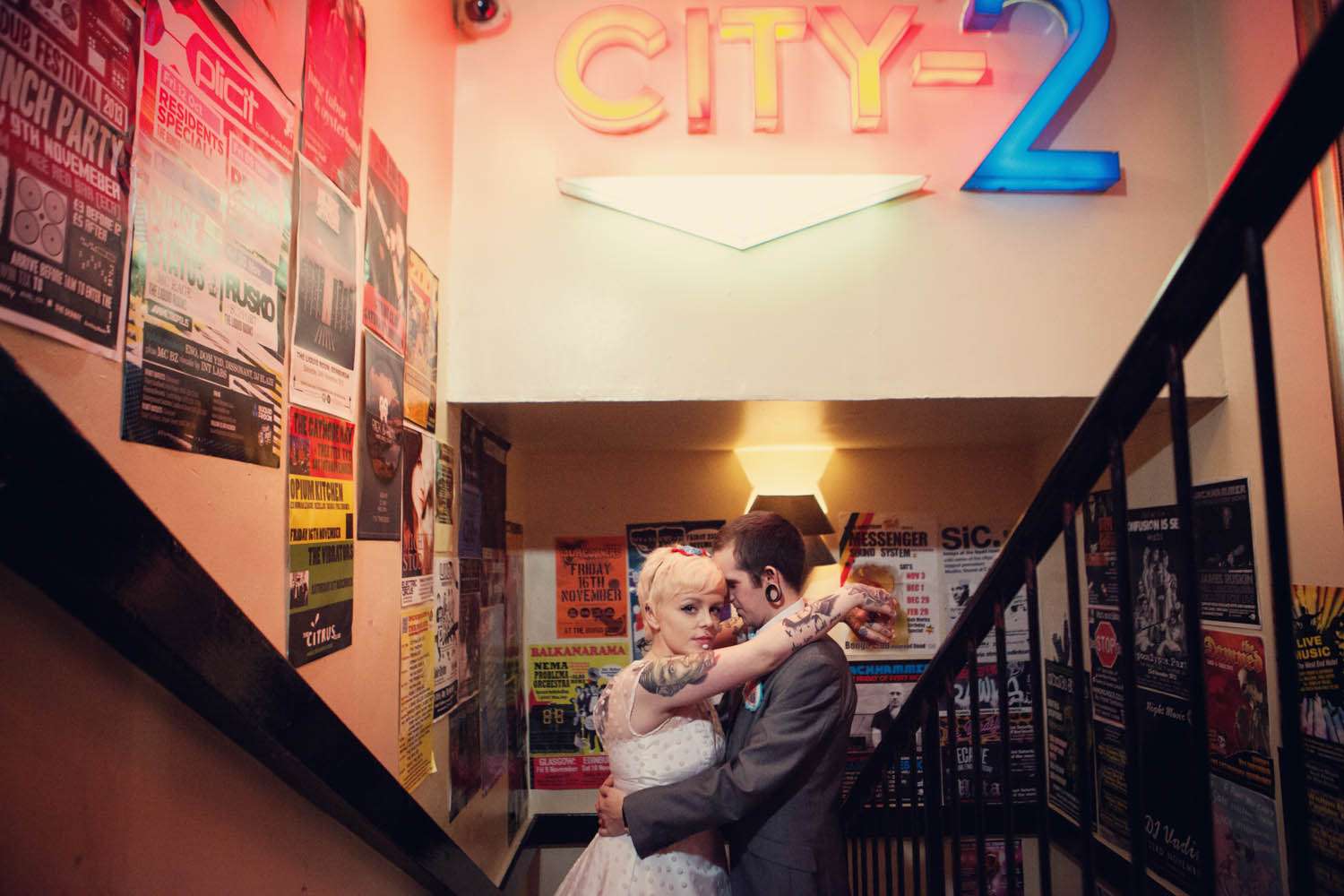 Awwww what a wedding and what an amazing couple! Thank you so much to Toni & Colin and their fantastic photographer Sassy of Assassynation for sharing with us today.
Supporting Cast
Photography Credit: Assassynation
Venue: The Quay, Musselburgh
Bride's Dress: Pixie Pocket
Bride's Headpiece: Janine Basil (customised)
Bride's Shoes: Converse & Irregular Choice
Groom's Outfit: Various inc Red Bird Makes (Bow tie), Ask The Missus at Office (shoes), The Doll City Rocker & Paper and String (buttonholes)
Bridesmaid's Dresses: Hell Bunny
Cupcakes: M&S
Toadstool Cake: Bibi's Bakery
Flowers & Bouquets: DIY
DJ: Chaplin's Disco