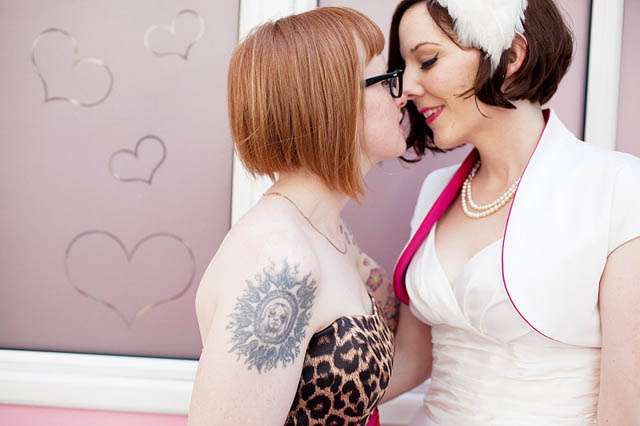 One of the things that really stood out in your survey responses was that a lot of you wanted more Rock n Roll same sex weddings. Well my dears, you ask and I deliver! I have actually been dying to feature Linsay & Amanda's wedding for a while now but with wedding season being in full flow I have been a trifle busy! Patience is a virtue though my little kittens and I think you'll realise that wait was worth it when you see these two kick ass chicks!
With people coming to their wedding from the UK and The States (Linsay is English and Amanda is from America) the couple decided on a kitsch Royal theme with red, white & blue as their colours (to reflect both flags) as well as for a bit of fun all round! "We just wanted to have fun with the theme but also sort of add a bit of camp irony to what was a fabulous lesbian wedding" Amanda told me. "I love the photo of the Fergie and Andrew choc tin! But seriously, it was a profoundly special day especially not only cause it was our wedding but because civil partnerships haven't been  legal for that long and really lesbians need to find a new narrative when it comes to weddings. No More White Suits! You can both wear dresses and both be 'the bride' and balance it off well without either one having to feel overshadowed. And now Linz and I are wives for lives! How cool is that!?"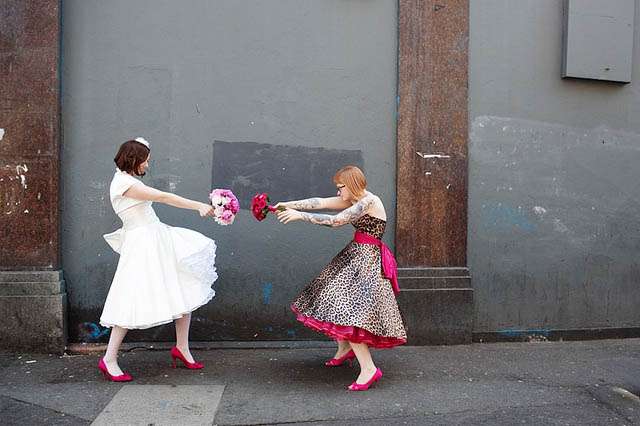 Both brides wore dresses by Candy Anthony – although it wasn't planned! They both actually picked their dresses completely seperately.
To keep costs down the couple decided to get married on a Monday. They said that most people were happy to have a bonus day off work to attend their wedding. The day started at Shoreditch Town Hall for an emotional ceremony "It is a lush building with lovely steps, stained glass windows and has a slight church feel (which is nice as Amanda is a Catholic and us gays can't do spiritual services)" Linsay explained. The reception was held at Linsay's best woman Katy's restaurant The Elk in the Woods in Islington. "We chose this as it's got so many good memories for us and the bunting and royal tat would look amazing against the deer heads (and we got booze at cost price.)  Also Camden Passage is awesome and would look amazing in photos.  All of the food and wedding cake was made by the fab chefs at the Elk.  Both Katy and I are half Danish so the food had a slight Scandinavian feel. Not the cake though, that was a big fat comedy cupcake donned with red white and blue icing.  We drank bubby and a cocktail named the Cornish Tickler (I am a Kernow lass)" Linsay continued.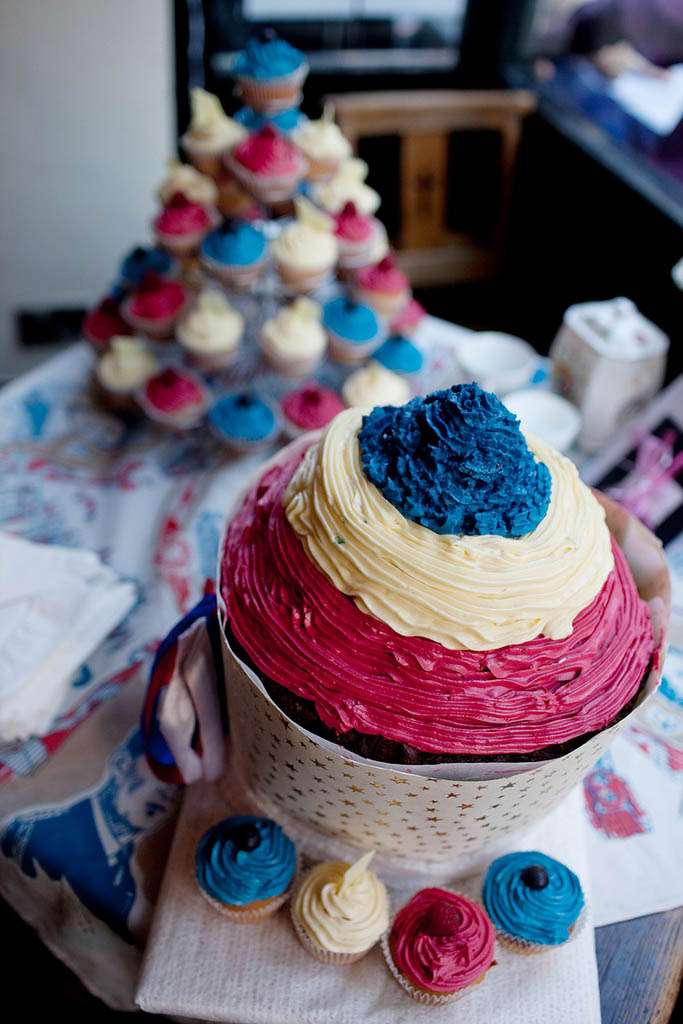 "Why are we Rock n Roll Brides?" Linsay concluded "Mainly because we did what we wanted and didn't give a damn.  It was a real "F you" to all of the ignoramuses in the world.  It was also an F you to prop 8 in California. The most Rock n Roll moment was perhaps the epic wedding cake food fight at the end of the night or me breaking my toe….And one thing we both wanted to achieve was to prove that lesbian weddings can be fun and stylish and tattooed and be completely free of bad white suits!!!"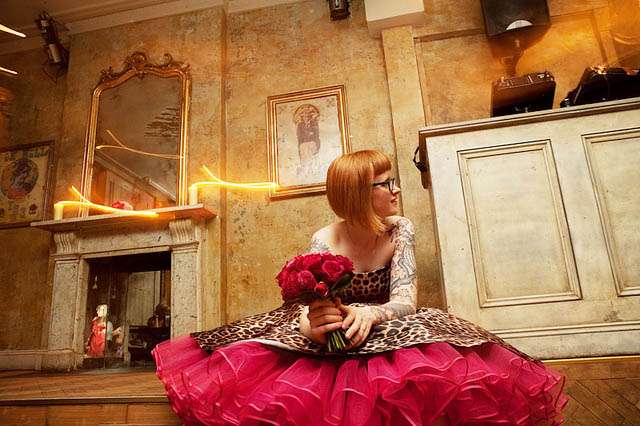 Yeah so I officially love these guys! Thanks so much to Linsay & Amanda and their fabulous photographer David for sharing this awesome wedding with us. Be sure to check out the full list of where the couple nabbed all their gorgeous wedding bits after the thumbnails. 
Credit: David McNeil Photography
Ceremony Venue: Shoreditch Town Hall
Reception Venue: The Elk in the Woods
After Party/Disco: Old Queen's Head
Brides' Dresses: Candy Anthony (Amanda wore Liz Taylor & Linsay wore the Leopard Print)
Lindsey's earrings:  Accessorize
Lindsey's necklace: her Mum's
Lindsey's Shoes: New Look
Amanda's Pearl necklace: Gift
Amanda's Shoes: Hobbs
Amanda's headpiece:  Janine Basil on Etsy
Amanda's necklace: lulu splendor on Etsy
Royal Memorabilia: various – Ebay, Camden Market
Bunting: Zig Zag Bunting
Bouquets: Gingerlily Flowers
Centrepieces: Diy
DJ: Arts Theatre Club