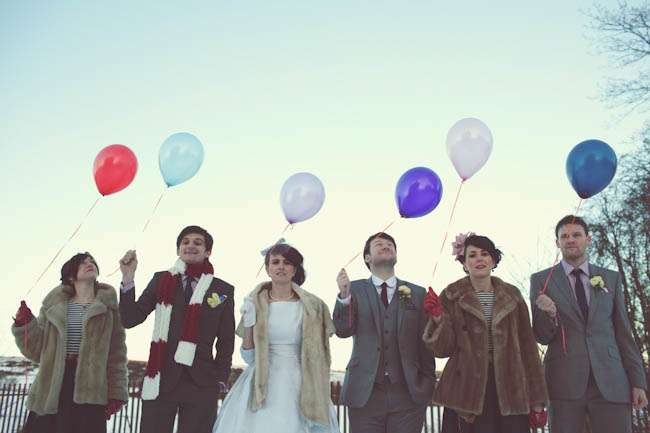 When photographer Emma Case emails me with "eeek's!" and "wooohoo's!" when talking about her latest wedding I stand by and prepare myself for greatness. I am SO EXCITED to share Debs & Richie's wedding on my blog as not only did I blog their fabulous engagement session just before Christmas, but they used Rock n Roll Bride as inspiration for their awesome vintage wedding.
"When Richie & I got engaged we did not have a clue what we wanted our wedding to be like, all we knew was that we wanted it quite small, with only close family and friends, good food, good music, and wanted it to reflect on us as a couple as much as possible.  Our budget was small and we began to panic! How are we going to manage to create a wedding on such a small budget, that's when I turned to the Internet and found a number of wedding blogs (Rock n Roll Bride was one of the first) that gave me loads of inspiration on how different weddings can be, and how much of your own personality you can add to your special day!  I became obsessed with the blogging world, I had bookmarked hundreds of images made folders upon folders and my inspiration began to expand."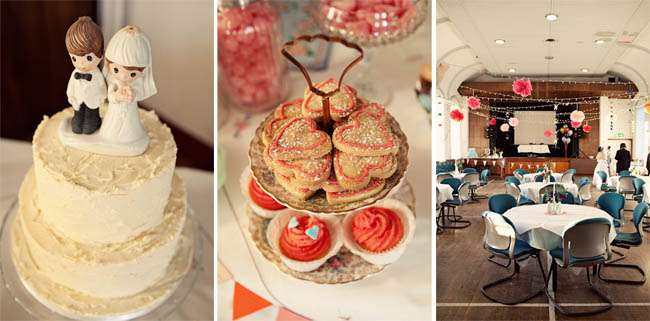 The couple's budget was small but they totally rocked it! By being creative, by DIYing everything, thrifting and visiting charity shops, they were able to craft the vintage wedding of their dreams!"Having a small budget I knew that alot of the work would have to be done by myself and with a little help from friends and family," continued the bride. "So I began my journey of crafting everyday, I would craft on the underground, in work on lunch breaks, as soon as I came home from work, my weekends off, visits to friends and family, my whole world became the wedding.  Being in a creative job there are loads of talented people, and I had people in my work making my wedding cake, the invites and arranging my wedding bouquet.  I also used my work colleagues contacts to get the flowers cheaply at the market for then me and my sister to arrange them late into the night before the wedding."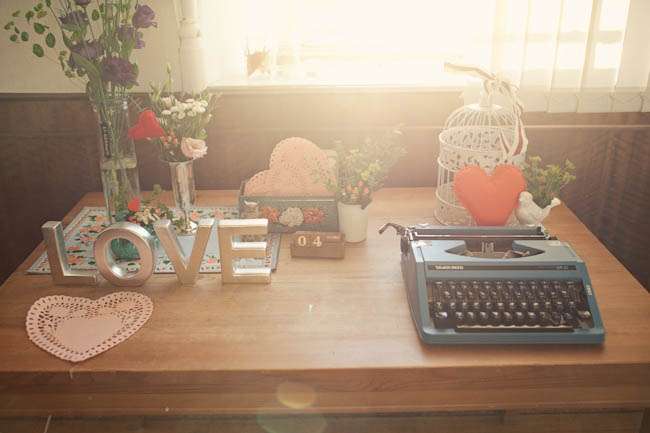 "We wanted our day to be as relaxed as possible (this isn't always easy and does not happen when you have a small adorable son though!!)" she continued. "We wanted the decorations and small touches to reflect our love for vintage, we love vintage clothes, vintage furniture, vintage accessories.  I love the beauty and history behind old items, I love that they have a story behind them.  That someone has loved these objects and that they are getting passed along to make new memories, in this case our memories for our wedding day."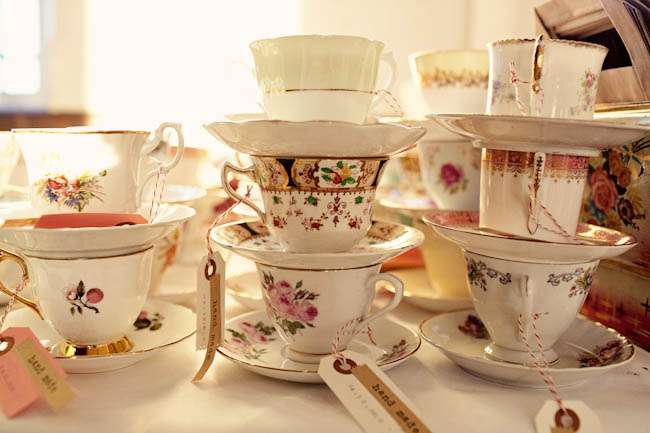 "For my degree show I studied photography for my last part of my final and photographed tea cups, I had a small collection started and I love the beauty of the china tea cup and how they were all different!  So I was on a mission to collect as many as I could, as these would be my favours by melting wax into them and making them into sweet candles for guests to take away.  Everything was hand crafted by myself from the favours, to the felt love heart badges guest wore, to the pom poms and flower garlands that hung in the hall."
Debs loved collecting all the little bits and pieces in the run up to their wedding. Her vision was an eclectic mis-matched one, with the reception tables full of items they had collected themselves.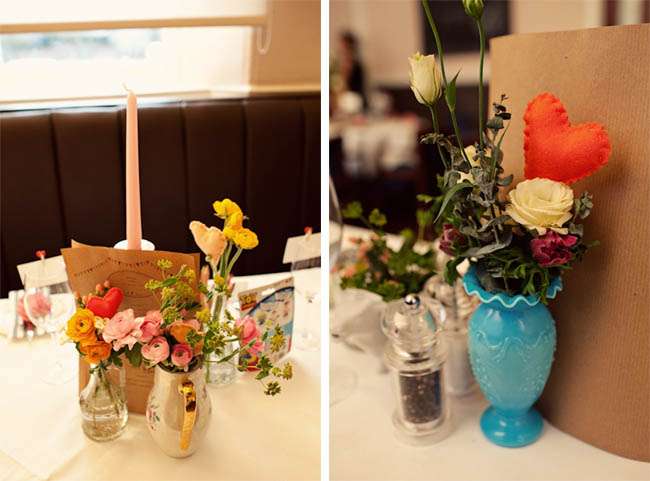 Debs wore a vintage dress which she found in a charity shop for just £15! She even got to meet the original owner of the gown and she her wedding photographs! What a magical moment that must have been!
She explained, "Having 6 months left before the big day I had still no clue what I wanted my dress to be like, all I knew was that I wanted it to be different and my favourite word again Vintage!!! Someone had told me about a small charity shop in Govan (Glasgow), which is not renowned for being lets say…. stylish, but I knew with an older generation, there would be a few treasures in the shop.  The shop was called Magpie's Nest which was a prefect name for me! I was amazed by the selection and quickly filled my bags with teacups, I got talking to the lady behind the counter and asked if she specialises in wedding dresses or knew any places as there were a few wedding dresses hanging up! We got talking and she went into the back and came out shortly holding a beautiful dress, I knew that this was the one that I was getting married in!  It was tiny and asked to try it on, in a small bathroom I squeezed it on and to my disappointment I could not get the back up, but I knew that I wanted it and thought there must be a way to get this dress to fit.  It was elegant, long shelves for the winter and was simple so I could accessorise.  My beautiful dress came to the grand total of £15 and as she packed it away in a Farmfoods bag, I skipped down the road with the biggest smile on my face, greeted by Richie saying what's in the Farmfoods bag? and I said "my wedding dress!!!"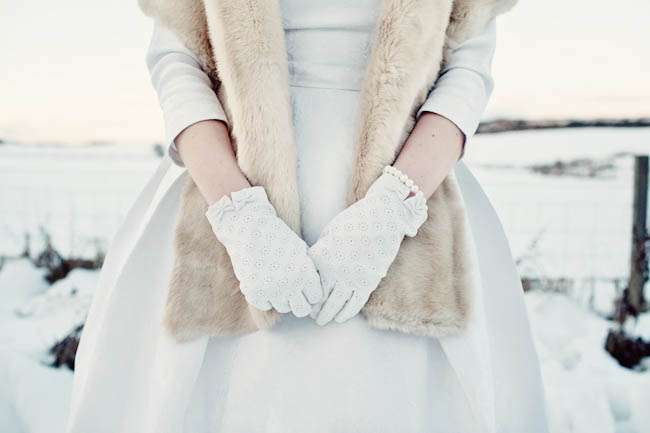 "I really would like to give a big thanks to Sarah from Magpie's Nest in Glasgow without her help, I would not have been able to get as much as what I got for the wedding. I went nearly every week to her shop and there were times when I got to go into the back of the Charity shop to the 'unseen' and rummage until my heart was content.  Sarah does a brilliant job for her charity and believes in pricing the goods that come into the shop fairly (not west-end prices), so locals can afford to buy and therefore helping to regenerate the local community.  She also knew the woman who handed in the wedding dress and arranged for me to meet up with her. She told me the story behind the dress, that she bought the dress in Watt Brothers in town for 9 Shillings!"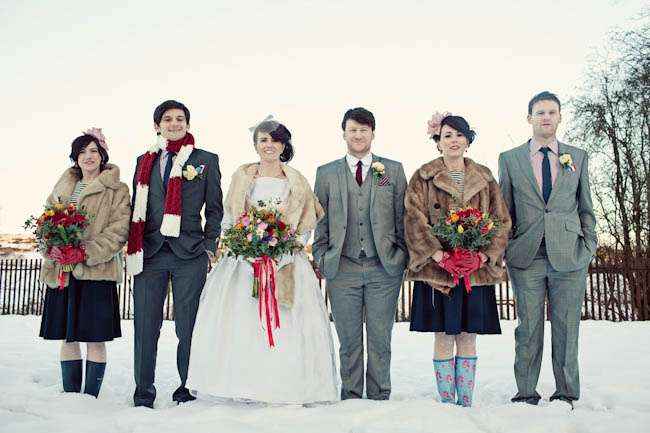 The dress was altered by Dragonfly Dress Design. She added a petticoat (for showing off the Vivienne Westwood shoes of course!) "She specialises in vintage dresses," Debs told me, "and through her whole  time in the dress business has only ever once came across a dress like mine!  It is a very rare dress from the late 1940's but with a 1950's style, as it was very simple and classic.  I also came across dragonfly through Rock n Roll Bride, again a big thank you for helping me source what is so close to home that I would never have known about."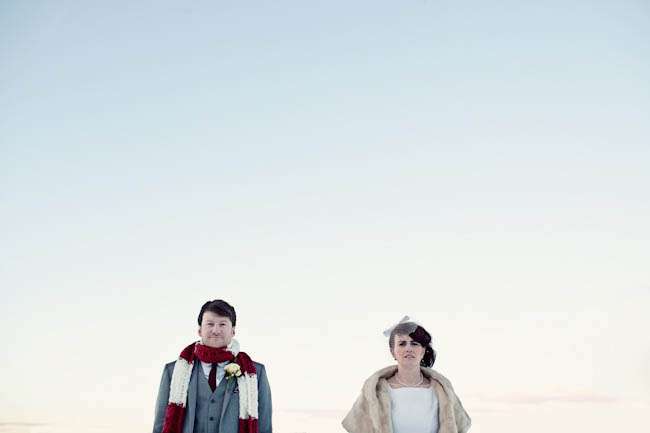 The ceremony took place at Park Circus in the West End of Glasgow, with the reception being held at Cail Bruich Restaurant in Bridge of Weir. The restaurant not only had a gorgeous scenic view, but vintage and retro touches throughout which perfectly matched their theme.
Finally, Debs & Richie found the fabulous Emma Case through her first ever feature on Rock n Roll Bride. Long time readers of the blog will remember this gorgeous 'Second Time Lucky' wedding that I posted back in October 2009 – the first time I was introduced to her work. Who could have known back then that we would become such good friends!? Aww I love blogland!
"I saw this wedding on Rock n Roll Bride whilst researching the wedding and I bookmarked it. I thought that's the style I want my wedding photographer to have relaxed, capturing a beautiful moment and everyone looking so happy and comfortable.  I bookmarked the photograph that I loved and was in awe with it, but thought nothing of it! (the one with the bride running) I went into work and my friend knew I was looking for an alternative photographer and gave me the name Emma Case to check out.  I went home and I was amazed that the photograph which I loved, was taken by the talented Emma Case, I knew I had to have her and contacted her straight away.  Emma got back and said that the date we were originally planned getting married on, was booked! Arrragh, so without speaking to Richie I took a risk and I asked what dates were available, and the 4th of December was what Emma came back with…That was the date I was going for, so I could get my prefect photographer, and can I just say she is prefect.  Richie and myself are in love with Emma and Pete, they made us feel so comfortable and relaxed…Our budget was so small, but the one thing we were willing to spend the most money on, was a photographer.  It's so important to have magical photographs that capture your special day, and capture all your hard work.  I cannot say enough nice things about Emma and her talent and how much more special she has made our wedding day and memories."
Serious love for Debs & Richie over here!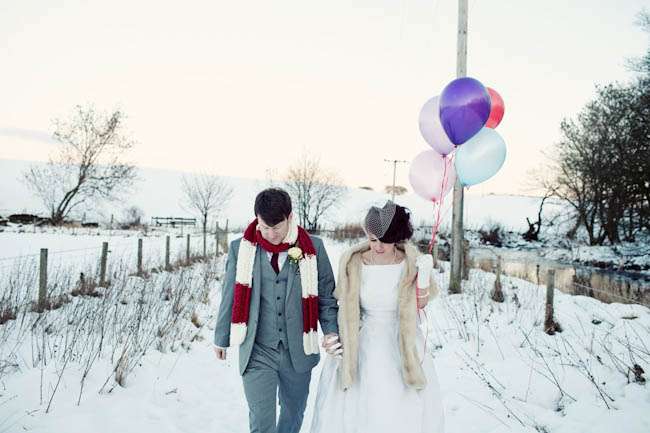 Thanks so much to the gorgeous couple for sharing their wedding details with us today, and of course the epic Emma Case for sharing her pictures. LOVE!
Photography Credit: Emma Case Photography
Ceremony Venue: Park Circus, Glasgow
Reception Venue: Cail Bruich Restaurant in Bridge of Weir
Bride's Dress: Vintage altered by Dragonfly Dress Design
Bride's Shoes: Vivienne Westwood – Lady Dragon
Reception Decor: All DIY