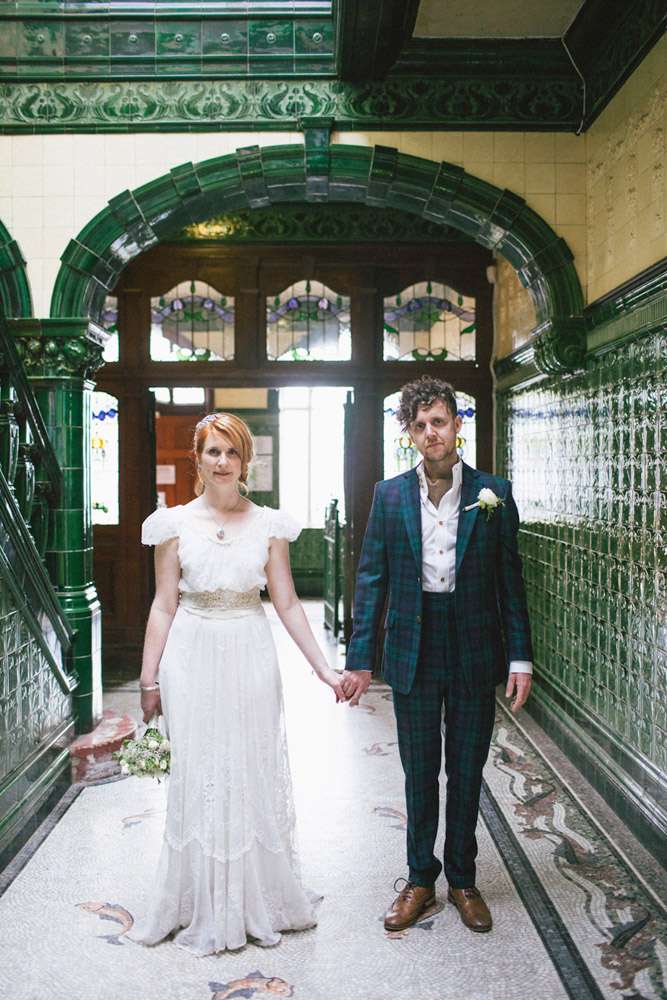 Unique wedding venues can be hard to come across in the UK, but Fiona & Jonny weren't going to take that lying down. They knew they wanted a memorable space for their union and so selected Victoria Baths in Manchester. "Victoria Baths is an Edwardian swimming baths (which is no longer used as baths, now a restoration project and arts/community venue)", wrote Fiona. "It was originally three big pools. Two of them remain and are empty – we got married in the deep end of the biggest one and had our reception on top of the other! It was boarded over with a sprung dance floor in the fifties (my granddad used to teach ballroom dancing in that room). The remaining smaller pool and the rest of building, which is pretty vast, was left for people to wander around and explore."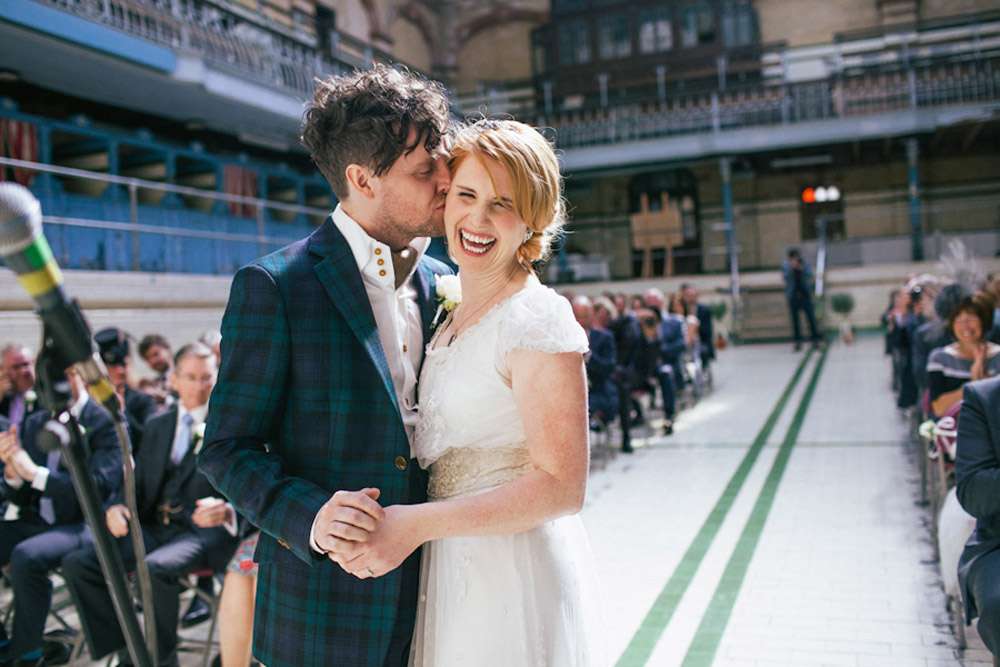 "The venue played a huge part in our thinking. We found Victoria Baths quite quickly. We knew straight away we didn't want the 'Bronze package' at a conveyor belt wedding venue so we looked at locations used for other stuff – filming, fashion, music, fairs etc – places with a bit of character or history and where we wouldn't be restricted or forced to use 'their people' for our food, bar and so on. Neither of us wanted to blow stupid money either. Lots of our friends have had wonderful, really personal and brilliantly happy DIY-style weddings so we were definitely inspired by them too."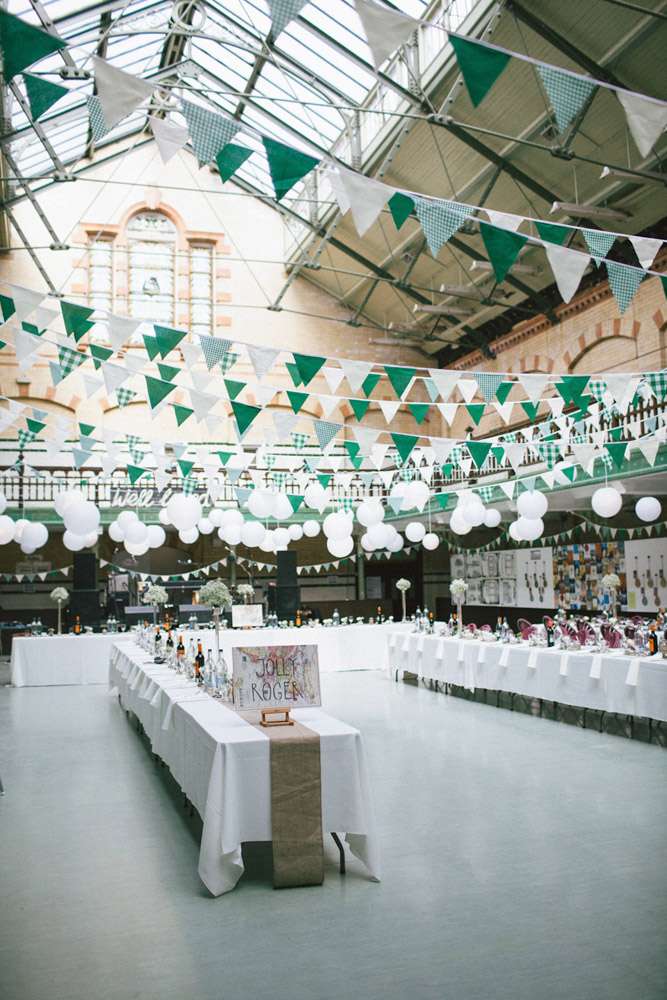 With a small budget, the couple knew they wanted to make creative choices and so chose their wedding suppliers carefully. They got stuck into the DIY wherever possible and were lucky enough to have some friends whose expertise they could call upon. The cake was made by a friend (who just happens to be the senior food stylist for Jamie Oliver – handy!) and the flowers were also provided by a friend who owns a flower shop. The hair & make up artist, bands and DJ were also all talented friends of the couple.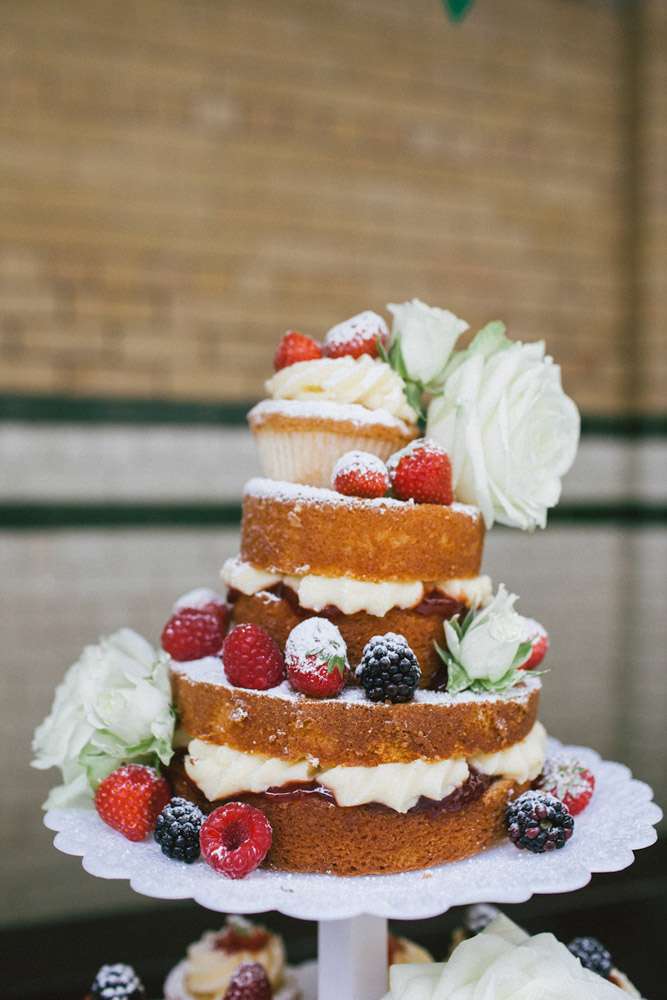 "We decorated the space ourselves", Fiona continued. "Jonny's mum handmade 1 km of bunting! Afterwards we donated it to the baths so it could be used for other weddings there. We explored loads of lighting options before deciding on a paper lantern canopy from local lighting company, Hipswing. For us, lights were massively important in making a vast room more cosy for the evening (and lowering the enormously high ceiling a bit). We had to explain we wanted the lights hung very higgledy piggledy, rather the usual uniform spacing, but – just like all the suppliers we did use – they listened and were brilliant."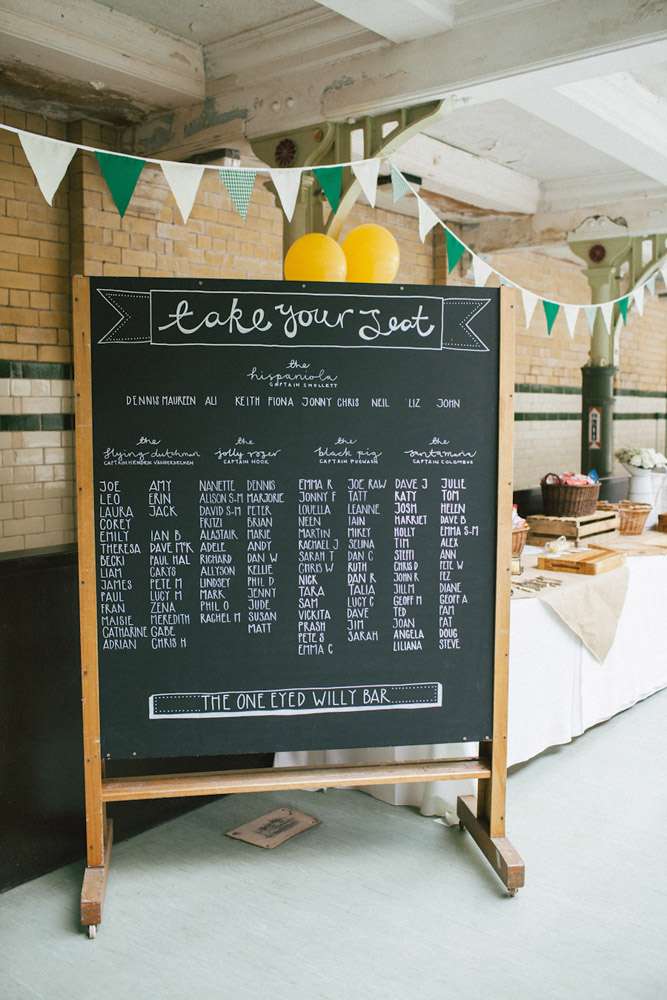 "Blackboards, old glass bottles and everything else was from car boots and salvage yards or craft shops. We had vintage linen and cake stands scavenged from our families' bottom drawers! Jonny's family saved up jam jars for a few months, which we decorated with hessian and twine and used for tea lights on the tables, in amongst vases of flowers."
"Use your friends!" Jonny advices couples planning their weddings. "Let them earn their ticket! Seriously though, we are extremely lucky to have an amazing bunch of very talented – and generous – friends.  Our cake, our decorations, our car, our DJ, our band and our bar (including it's lethal cocktail menu) were all done by our mates. Their sense of ownership meant things ran very smoothly and everything on the day had a personal touch. Free wine helps too."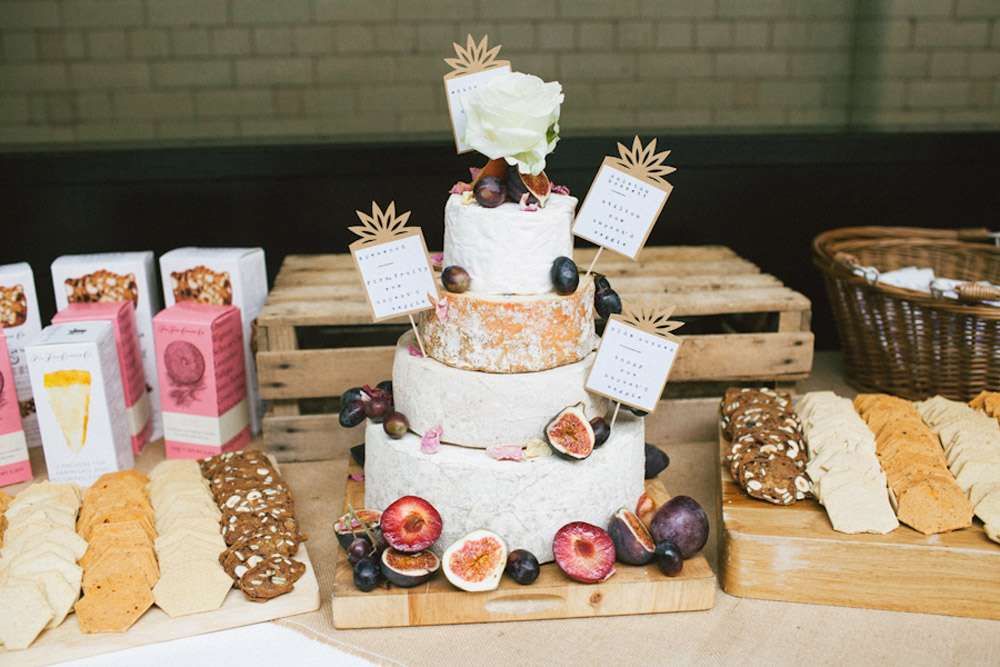 "We didn't really have a 'theme' as such, but we joked that it was 'In at the Deep End – No Heavy Petting'", he laughed. "The tables, décor and flowers had a country feel to them for Fi who grew up in a small town, is a bit of a hillbilly and loves the whole village fete stuff. We went a bit nautical with table names after old ships just for fun and the rest was just about relaxed choices – pies for food, a help yourself cake table, blackboards with the running order so people could do their own thing in between the bits we'd scheduled. We tried to keep things simple. If I had to give it a name now I'd day Country, Salvage and Beats. That's a pretty good band name isn't it?"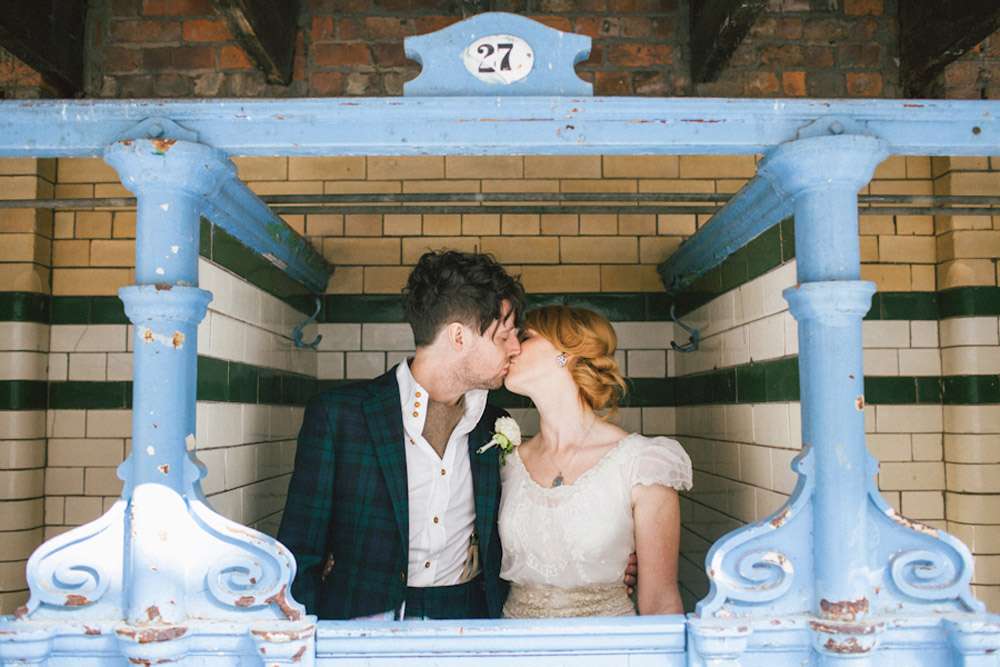 Utterly bloody stunning. Thank you so much to Fiona & Jonny and of course their kick ass awesome wedding photographer Emma Case for sharing this with us today. LOVE!