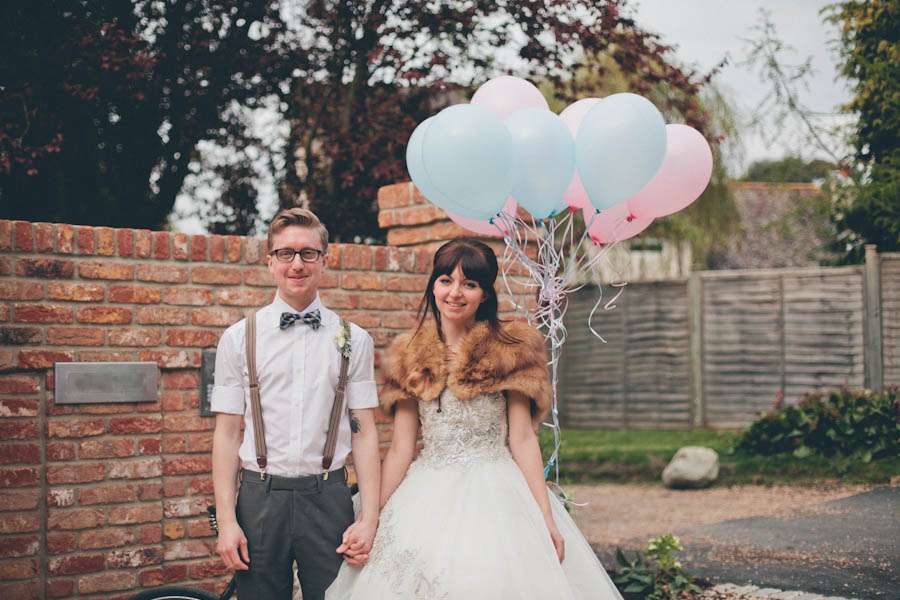 As soon as I laid eyes on Emily's incredible silver embellished 1950s inspired wedding dress I was smitten. What an utterly gorgeous bride and a completely beautiful wedding. I couldn't wait to get it on these digital pages of mine! The couple were married at Edes House, Chichester and had their reception at the groom's father's house in Bosham.
"We wanted our wedding day to completely reflect James and me", Emily told me. "This was something we kept in mind during the whole process, as I think it is easy to lose sight of what and who weddings are for, when you are surrounded by so many people in the wedding industry telling you that you absolutely need this and definitely need that. 
We both adore the 1950s and the pastel shades, and I really feel like these things were very present in the whole day. We also chose from the beginning which things would be the most important to us – these ended up being the food/drink for James and the flowers for me. We chose a catering company who were very local and produced the most delicious food. We hand picked each of the types of alcohol we chose, with Arundel Ales coming from Sussex and the cider coming from Appledram which is just around the corner from the reception."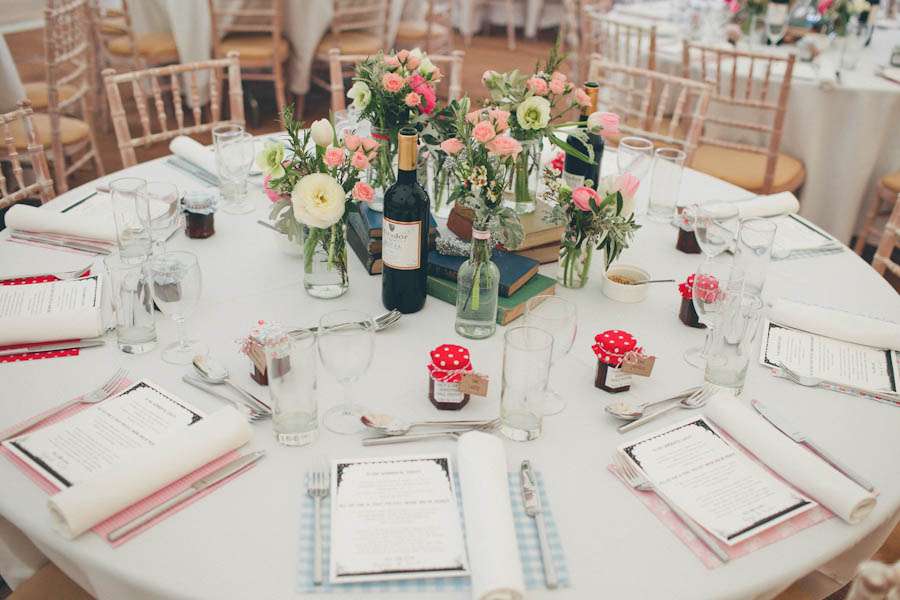 "
My biggest advice to future brides is to always keep a clear idea of what you want the overall feel of the day to be. Use Pinterest as it will really help you to channel your style of the day and keep you focused. And don't be afraid to delegate. I was terrible at this and had to really be coaxed into it by my lovely Dad, who was concerned I would end up having some sort of bridal breakdown with the amount of work I was taking on. As soon as I began to delegate the smaller jobs, I found it so much easier to relax and enjoy the bigger jobs. Lean on your family and friends who offer to help – they do genuinely want to be a part of the process!"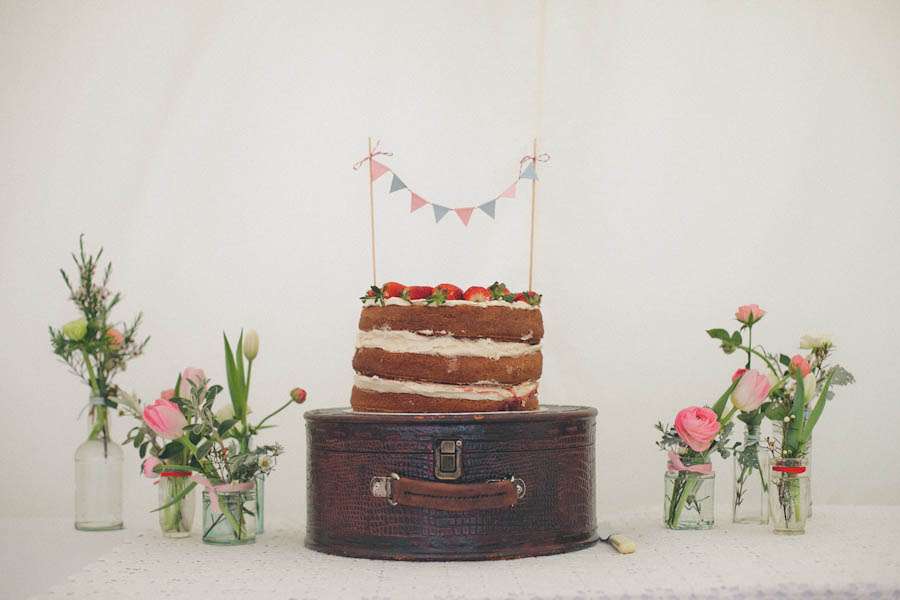 "I'm a very creative person and always have some sort of project on the go, so we always knew our wedding would be DIY heavy", Emily continued. "Little did our wedding party know just how much they would be getting involved as well! 
I had seen beautiful 'doily bunting' on a couple of blogs, which involved taking a large doily and folding it in half over a pieces of cotton tape, and repeating to create bunting. This had the quaint look I was going for, but I was eager not to have them in white as I wanted to bring as much colour as possible into the blank canvas of the marquee. So, after much looking, it seemed near impossible to find doilies in the right shades of blue and pink, and it was then that I decided we would have to make them ourselves! 
I fashioned a template which worked, and my parents got stuck in at home, with various family members, creating a production line of doily bunting. They were fantastic and I think we ended up with approx. 300 metres of it!
"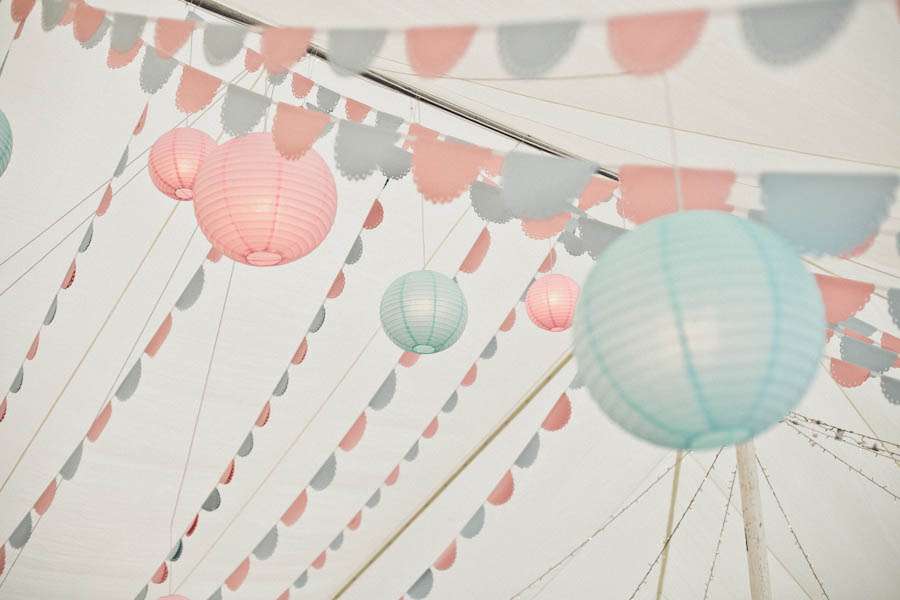 "The choice of paper lanterns came about when I hit a stumbling block with lighting. I originally wanting 'festoon lighting', conjuring up images of old fairgrounds, like the one out of The Notebook. Sadly, the ones which our marquee company had were only allowed to be used outdoors. That was when I found some stunning photos of paper lanterns inside marquees with dimly lit bulbs inside. I sourced mine through eBay and was so pleased with the outcome. One friend said 'It looks like the wedding in 500 Days of Summer' – it was the perfect compliment!"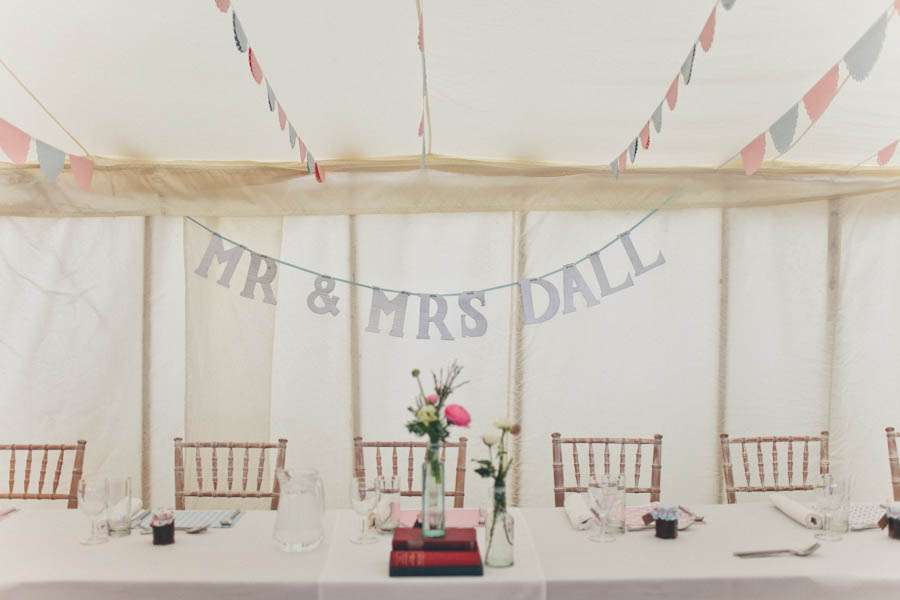 "
James and I both love all things whimsical and retro, and we're big readers. So, I chose to use old books as our table centres. These were relatively easy to source through eBay and old book stores. I loved picking out ones with quaint and quirky covers! The flowers were then dotted around them in old jam jars and bottles. I love using these around my house, as it has the lovely 'just from the garden' feel, so I knew straight away that this was how they would be displayed. With the help of some kind friends and family, we quickly gathered together around 150 jars to be used as vases and also lanterns in the evening, which were painted a light rose pink colour and gave off a beautiful, warm glow.
"
"I wanted to add some colour to the tables, so I used the same 5 patterns of fabric which we used on the chutney jars, and made 70 placemats to go in each guest's place. They were a little labour intensive as the pinning and sewing of the hems was fiddly, but I was so pleased with how they looked when we laid them out.
 The 'Mr and Mrs Dall' banner originated from my Hen Weekend. My wonderful bridesmaid, Penny, had made a lovely 'Mrs Dall' banner from card, paint and ribbon. I took it home with me after the weekend and realised how fantastic it would look with 'Mr &' added to it, and then hung behind us at the top table."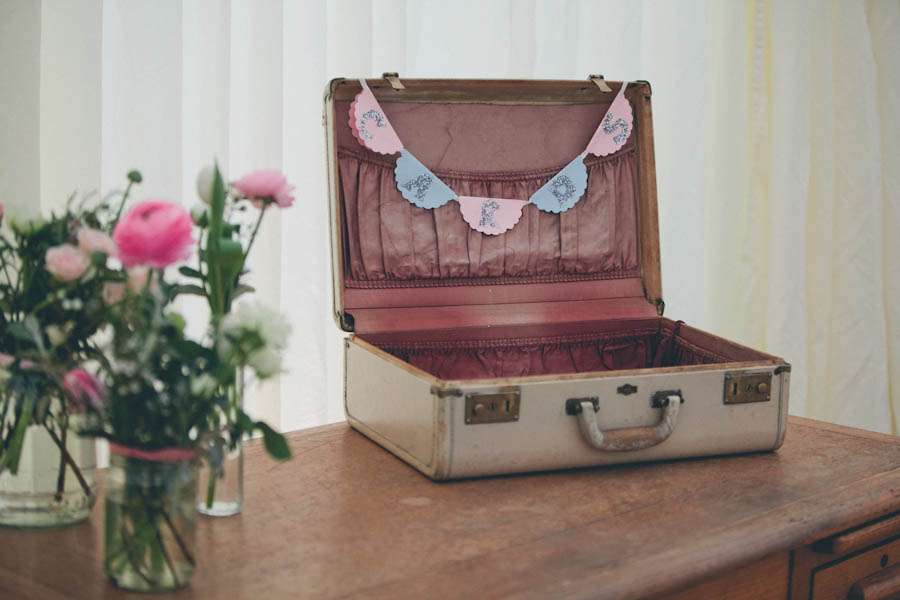 "
Working in theatre, I saw a great opportunity to go wild in the Chichester Festival Theatre props store and hire plenty of old bits of furniture and the odd trunk and suitcase to give a truly whimsical and old fashioned feel to the day. We used two suitcases and one hat box on the cake table to tier the cake levels and display them a little better. We used another suitcase for the presents and cards table. We also had a small 'lounge' area near the photobooth, where people could relax and feel like they were a little further away from the dance floor action if they wanted. For this we chose a couple of large, wing-backed armchairs, a nice big trunk as a coffee table, and a few little side tables with mismatched wooden chairs dotted around them. It gave a really lovely cafe style atmosphere and was very popular with all the guests, particularly the littlest ones who liked the big chairs!



"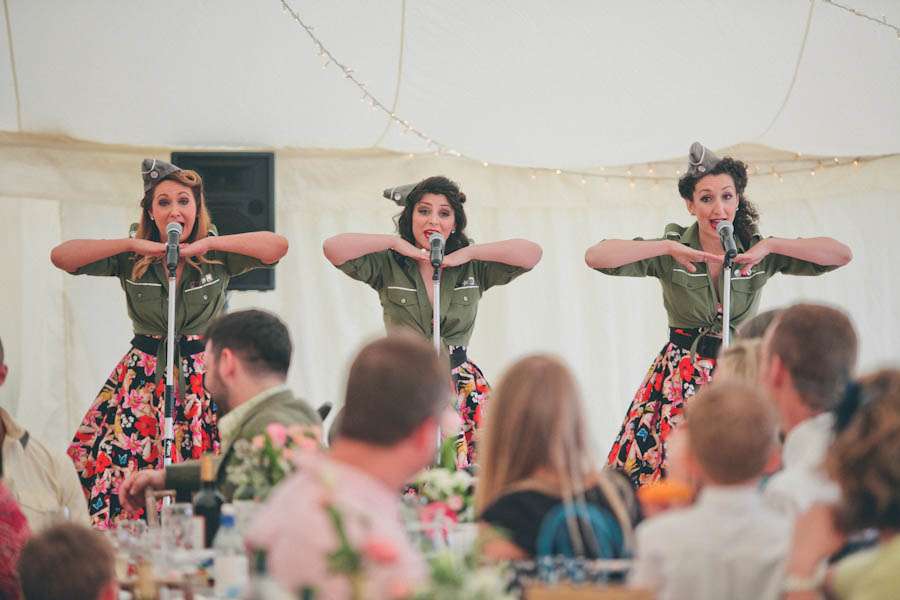 'So what about that amazing dress?' I hear you cry! "My dress was designed by Emily Garrod", the bride told me. I realised quite quickly that I would not find my wedding dress in a bridal shop. I adore vintage style dresses and have a few 1950s style prom dresses with big petticoats. I knew I needed something in this style, rather than the classic long wedding dress. 
I found Emily by chance through a friend who worked in a shop and enquired about Emily's dress which she was wearing when she wandered into the store. It turned out she had made herself. She is a wedding dress maker who is relatively fresh to the industry but absolutely fantastic and keen to fulfill your brief but also aid you with understanding what designs work with your height, shape etc. I gave her a brief of '1950s MGM musical meets ballet dancer' and I was over the moon that she managed to make a dress which looked entirely as I had imagined it would.
"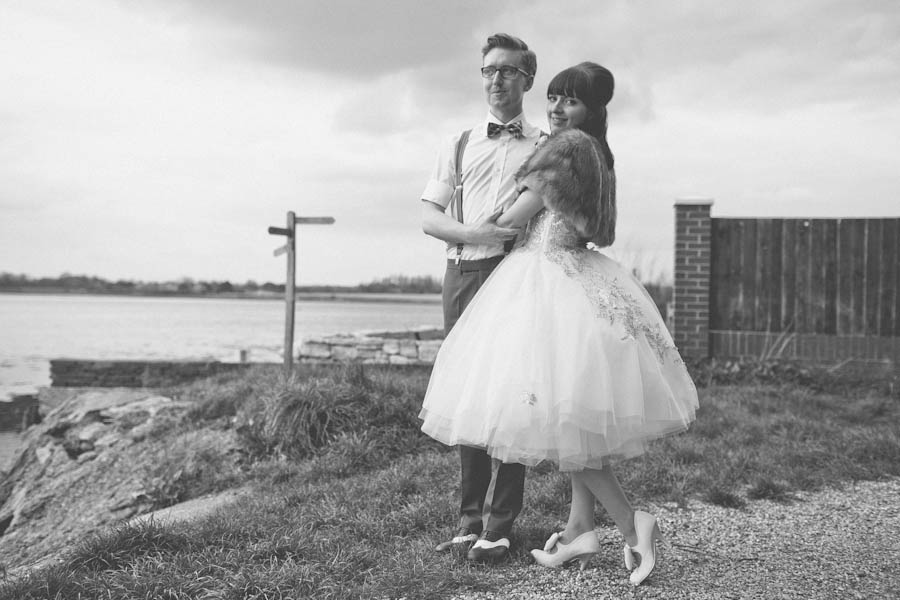 So beautiful! Thank you to Emily & James and their wedding photographers We Heart Pictures  for sharing today.
Supporting Cast:
Photography Credit: We Heart Pictures
Ceremony Venue: Edes House, Chichester
Reception Venue: Groom's father's house
Bride's Dress: Emily Garrod
Bride's Shoes: Irregular Choice 'Windsor'
Bride's Necklace: Alex Monroe from Liberty
Bridesmaid's Dresses: Various (ASOS, Monsoon & BHS)
Cake: Angel Food Bakery, Brighton and DIY
Flowers: Full Bloom Flowers, Chichester
Band: Spinettes
Transport: Vintage Citroen DS Super