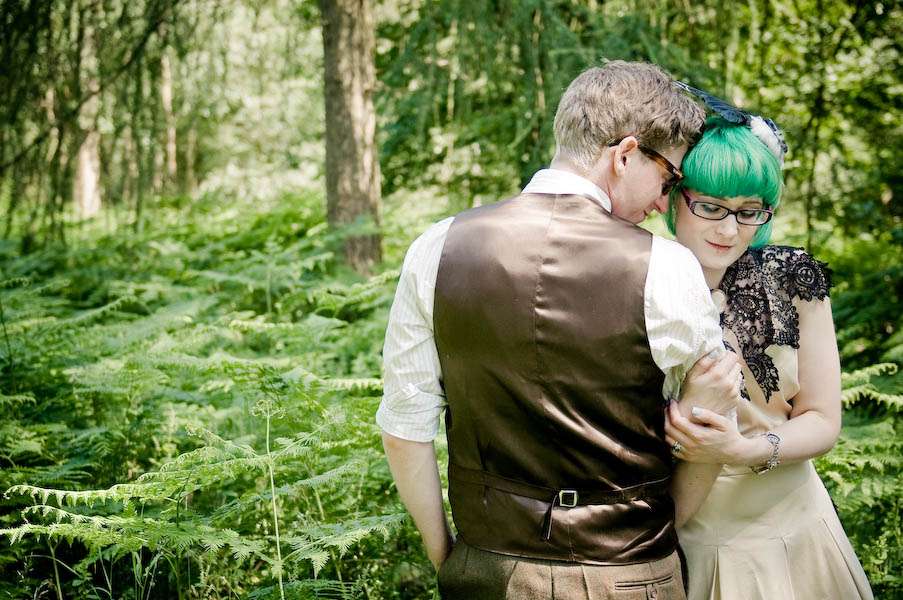 Getting engaged on the top of Toyko Tower in Japan in 2010, Emalie & Duncan's wedding was never going to be traditional. With a bride rocking mermaid green hair and a groom adding a much needed modern twist to the tweed suit, this couple wanted a wedding that screamed 'them'. A field in Cookhill, Evesham was chosen as the location and the pair were married outside, in front of a giant heart shaped wreath.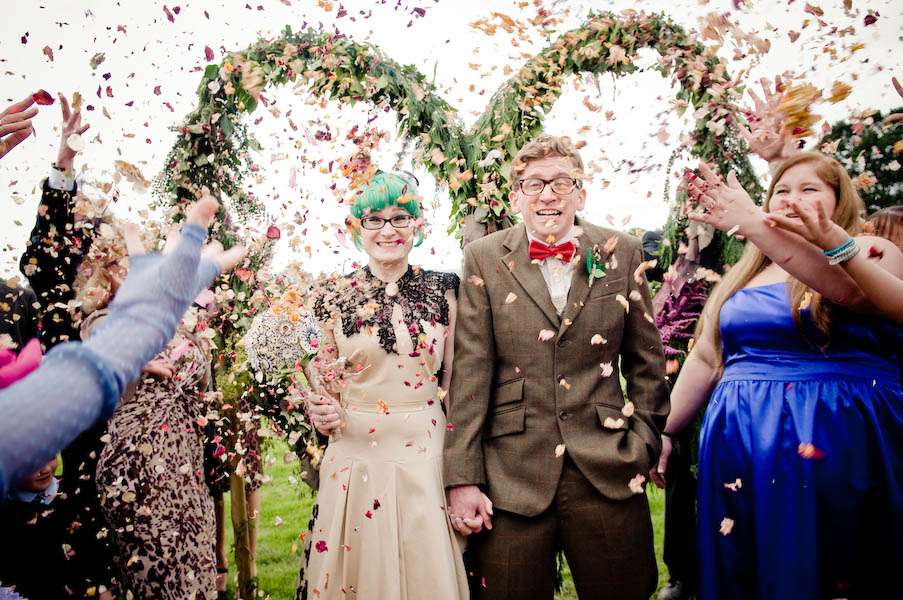 "We did exactly what we wanted, taking inspiration from our home and things we love", explained Duncan "It made the day so special knowing that it was truly what we wanted. Doing a lot of things yourself and getting friends and family involved with making things was a great way to get everyone involved and it made for a great day. Our theme was 'eclectic vintage and bric-a-brac shop'."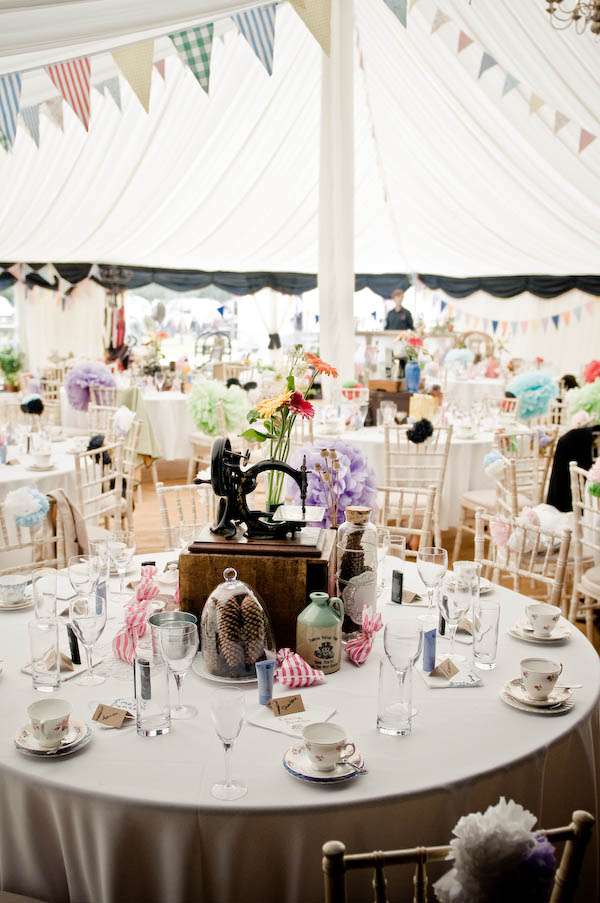 This was truly a DIY wedding with nearly everything being handcrafted by the bride, groom or their families. The cake was made by the mother of the bride, the flowers arranged by both the mother of the bride and the mother of the groom, and the stationery and all the props and reception decor were sourced by Emalie & Duncan themselves. "We both made a lot of stuff in the run up to the wedding from invites to button holes, table decorations to bunting!" the groom continued. "Emalie's mum spent 3 weeks making paper pom-poms of all different sizes for both marquee decorations and as poises for the bridesmaids. My mum made hundreds of metres of bunting which was used in both tents and all around the field. The props for the wedding were collected in the months running up the the big day and now fill our house, most of them we got from recycle centres and antique shops. It was amazing fun collecting everything and seeing the day come together."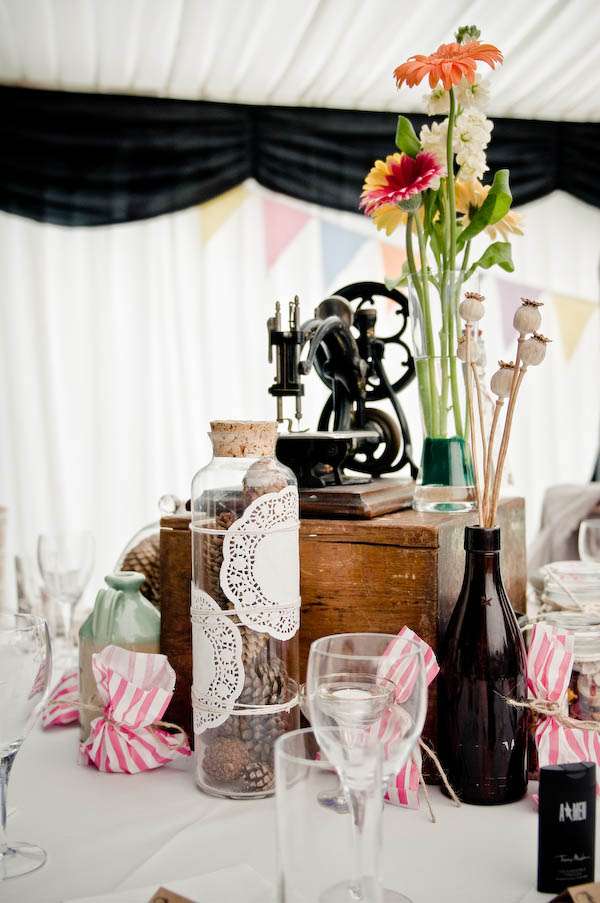 Emalie wore a dress which she designed and made herself with the help of her Mum. She also made all the jewellery for herself and her bridesmaids, the hair barrettes, all the button holes and her headpiece made from (ethically sourced) magpie wings! The bridesmaids wore dresses from eBay with handmade accessories.
"My favourite part of the wedding was that everyone really enjoyed themselves", Duncan concluded. "It was the best feeling to know that all the hard work we had put in had been totally worthwhile. We enjoyed the whole thing, even the prep and the run up to the day and just making loads of things for it. We felt really proud with what we achieved and how every thing looked. It was well worth all the stress and hard work."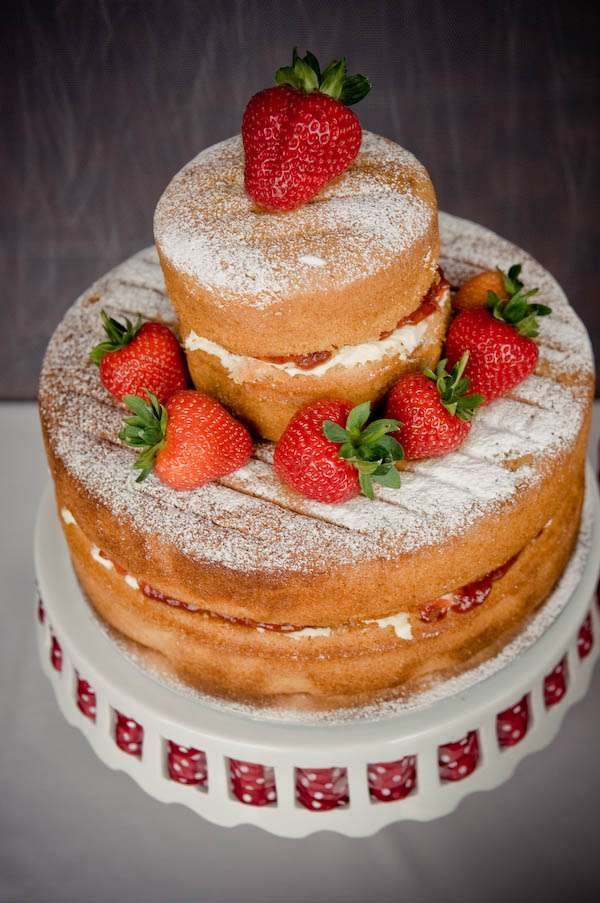 Utterly gorgeous and inspiring! Thank you to Emalie & Duncan and their fabulous wedding photographer Jennifer Peel for sharing with us today.
Supporting Cast
Photography Credit: Jennifer Peel Photography
Venue: A field in Cookhill, Evesham
Bride's Dress: DIY
Bride's Shoes: Melissa
Bride's Jewellery: Vintage & DIY
Bride's Headpiece: DIY
Groom's Outfit: Bookster Tweed bespoke suit
Bridesmaid's Dresses: eBay
Bridesmaid's Accessories: DIY
Cake: DIY
Flowers: DIY
Make Up: Jennifer Arundel
Band: The Swingcats 
Stationery: DIY
Caterers: McBaile Exclusive Bristol
Officiants: One Life Ceremonies