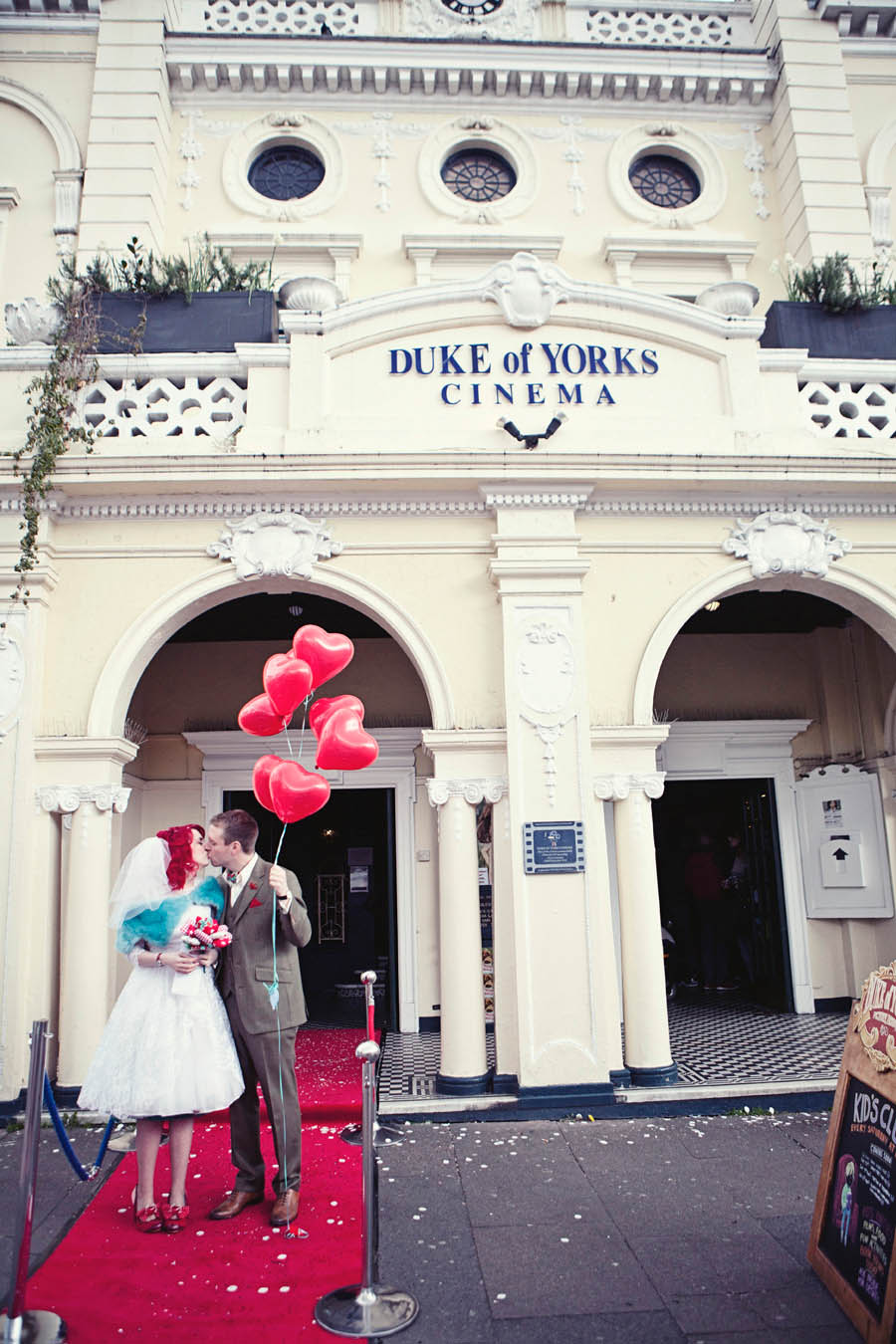 With Ted proposing to Vicky at the Duke of York Picturehouse in Brighton, the wedding theme and location were pretty much a given. They are both huge movie buffs so it suited them perfectly.
Vicky explained, "The proposal was amazing and a huge surprise. It was 25th February 2011 (the day after my birthday) and we had the day off for food and fun. I knew Ted had a surprise up his sleeve, but it wasn't unusual (we often surprise each other with treats on birthdays), so I didn't suspect a proposal. We got to the Duke of York Picturehouse at about 12.30 and Ted told me to go straight upstairs without looking at what film was showing. I assumed this was going to be a random screening of a Marilyn Monroe movie or an 80s classic. The place was dead (it was a Friday afternoon, so nothing strange about that) and when we took our balcony seats I turned to Ted and joked 'You haven't booked the place out have you?'. He smiled awkwardly and fretted about me turning my phone off."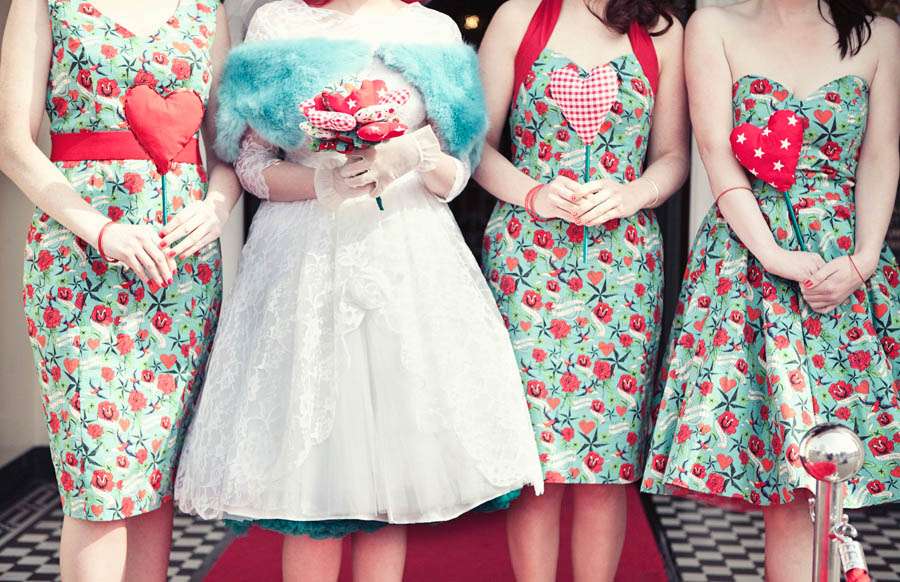 "The trailer for Shaun of the Dead started, 'Wow, cool, the original trailers… are we seeing something from 2004?' I said. I was also thinking how funny it was, as it was the trailer to one of our favourite films. Then the When Harry Met Sally trailer came on 'What are the chances!?' I thought, 'Both our favourite films as the trailers!'. Then the third trailer came… 'hold on', I said, 'that's Brighton… that's our road… that's our building…!' Ted had made a film trailer which was a camera running down the street, him doing a movie voice saying 'one man… one woman… half a decade…' and at the end a Spiderman card on our front door opens to read 'one question'. At which point Ted was down on one knee and 'our song' was playing. We came out to the bar and a bottle of champagne on ice. It was amazing, I was so surprised! The story of the engagement has made women cry, but men mostly growl 'Cheers for raising the bar, Ted!'. All in all it was a pretty fantastic and very personal proposal, which is exactly what I had hoped for."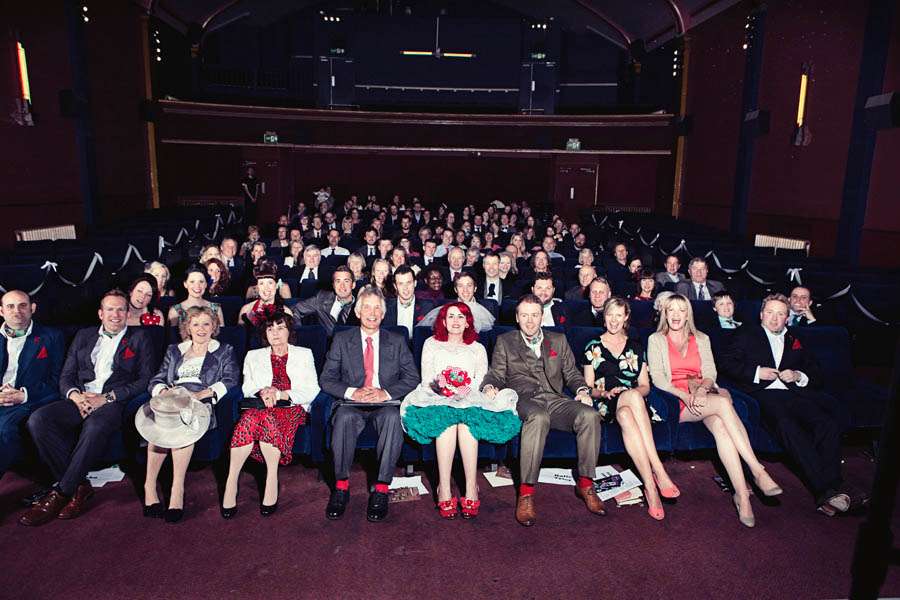 So they were engaged, and the Duke of York Picturehouse was to be the venue for their ceremony. Of course the wedding had to have a movie theme, and before Vicky walked down the aisle, they played this trailer on the cinema screen (watch it, it's brilliant!) Then, after the ceremony came the reception at The Hove Club.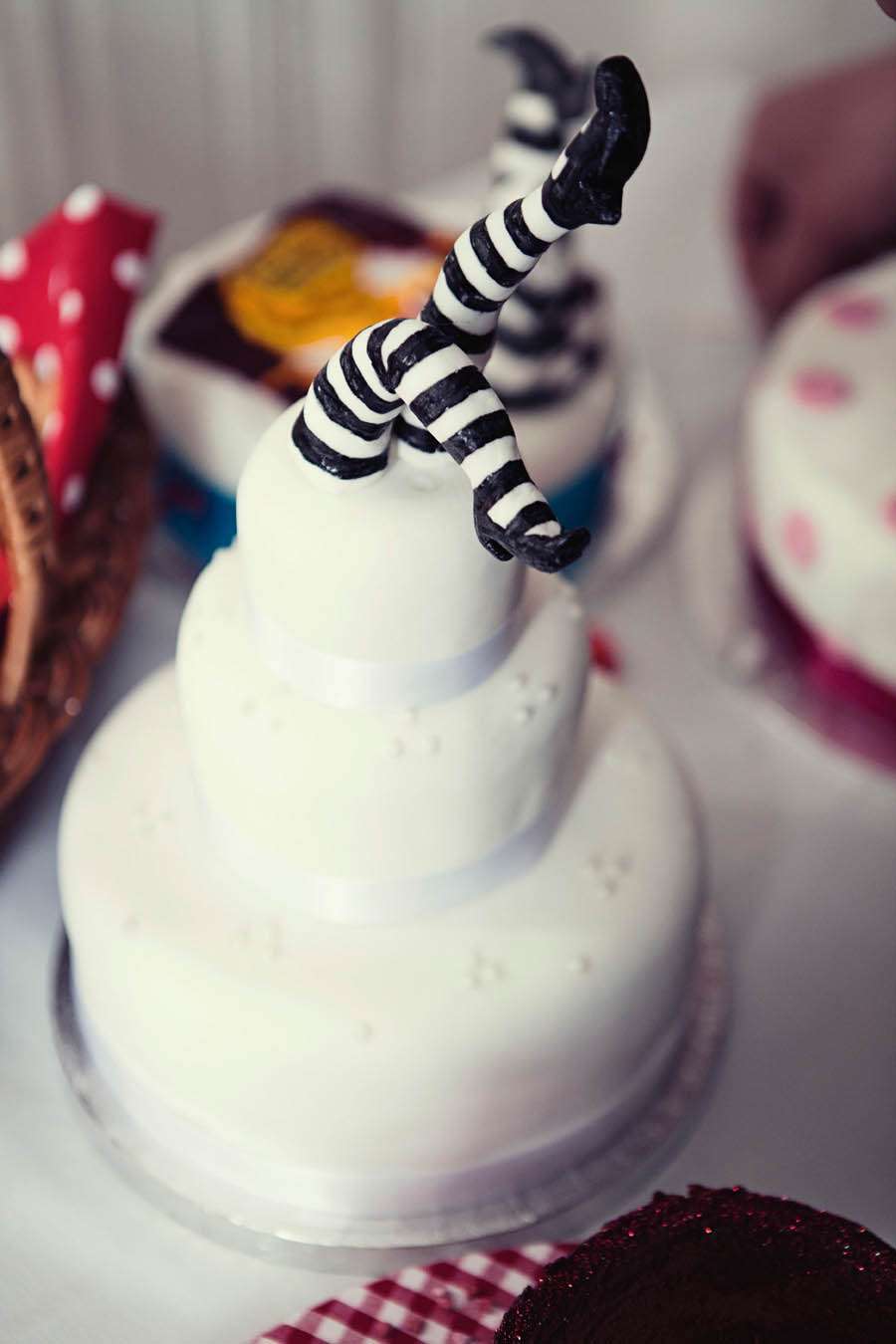 "I love a wedding, but we had been to so many where the main difference was the colour of the bow on those annoying chair covers!" Vicky continued. "Ted and I discussed the fact that we really didn't like the traditional wedding suits from Moss Bros etc. and were just not big on 'standard' wedding stuff. We had also been to a lot of weddings where the Cheeky Girls, the Macarena and various other dire tunes were gladly played out, so we were looking forward to the chance to have some good tunes for the dancefloor (don't get me wrong, Footloose is one of my favourite dancing songs. There is a fine line between cheese and mouldy cheese!) So our starting point was already all about trying to avoid those dislikes, but then I discovered wedding blogs! Oh the joy! So most of the inspiration came from blogs like Rock n Roll Bride. Just being able to see other people doing amazing weddings that were about personal touches and fun, silly stuff inspired us. I saw someone serving cola with striping straws and decided I wanted bottled drinks with stripey straws… but went for Babycham… saw the heart bouquet on Rock n Roll Bride I think and stole it, but with a twist.. picking different fabrics and coming up with the idea of large hearts on sticks for the bridesmaids."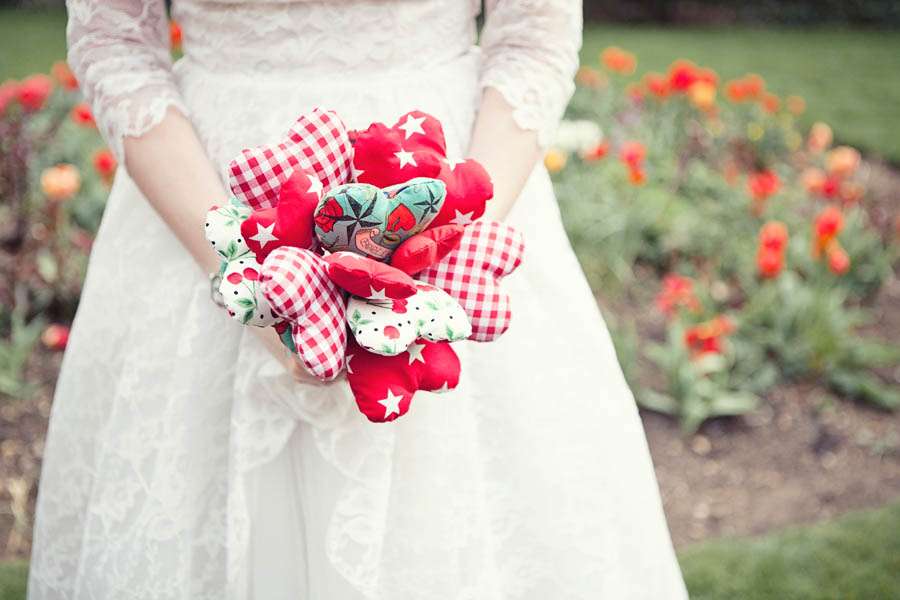 "Although we wouldn't like to think we had a 'themed wedding' it was blatantly a movie themed wedding, with a vintage edge. I love all the vintage weddings I see online (with lace, dainty things and hay bales etc), but I knew that Ted and I were definitely more… cartoon/comic book vintage than dainty vintage! So we wanted more colour and humour. When I stood outside the cinema with the bridesmaids on the red carpet, I felt so glamorous and happy, I thought we looked like we had stepped out of an Elvis film! Ted asked if I was disappointed he didn't dress up as Elvis but I wasn't! I loved his tweed suit – it really was 'him' and people said he looked like a matinee idol!"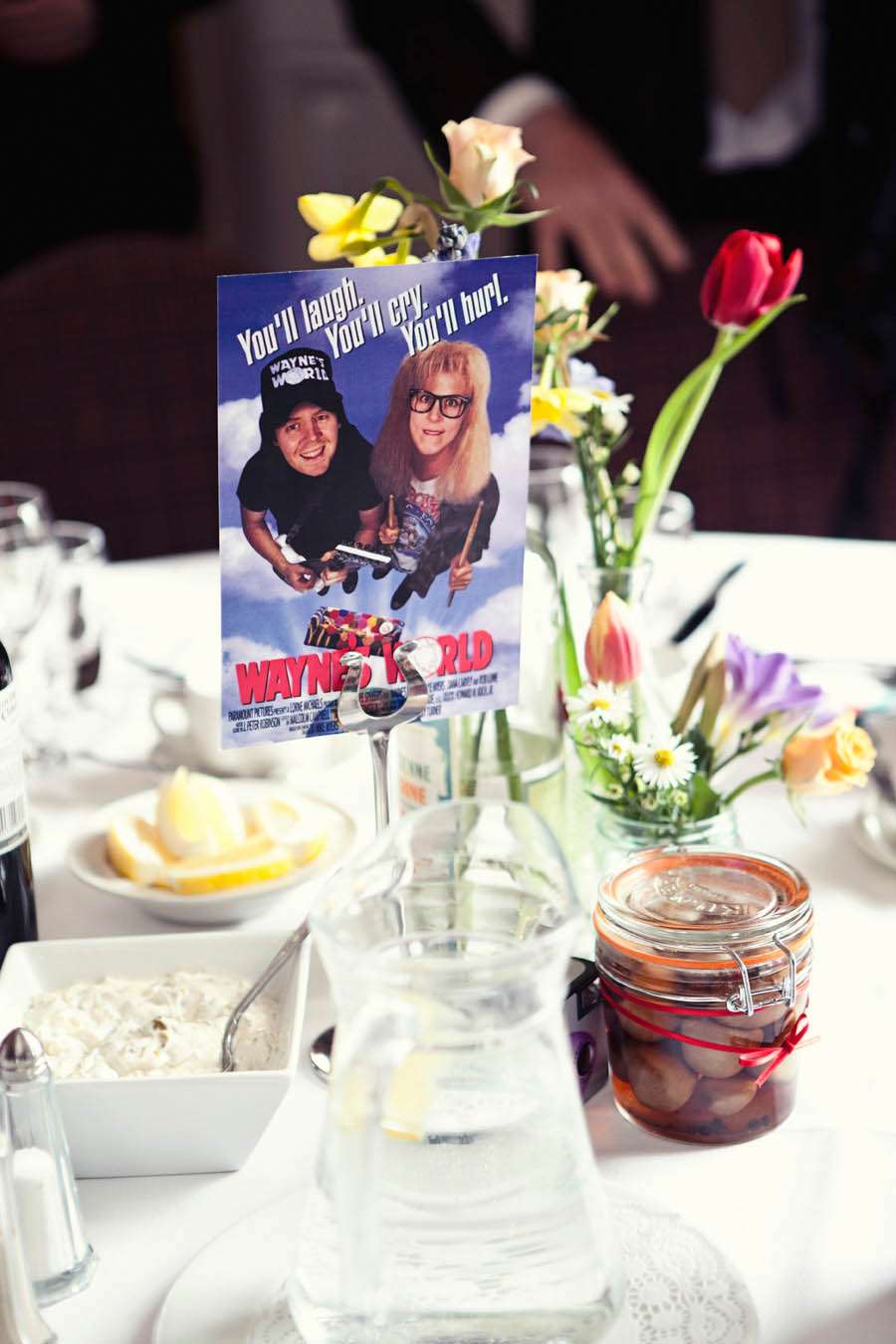 To continue the movie theme, the couple had a friend photoshop their faces onto various movie posters for all the wedding stationery. "I have work friend who often creates crazy birthday cards for people at work, photoshopping their faces onto other people and things. I found the Bride and the Beast poster online and my friend made it into our invitation. When it came to the order of service and table names he had to do a mammoth photo session with us to get all the right angles etc, and bless him he worked very hard to get those all done in time."
Just fab and fun! Thank you so much to Vicky & Ted and their photographer Emma Lucy for sharing with us today.
Supporting Cast:
Photography Credit: Emma Lucy Photography
Ceremony Venue: The Duke of York Picturehouse, Brighton
Reception Venue: The Hove Club, Hove
Bride's Dress: Vintage (found at a Frock Me! vintage fair)
Bride's Underwear: What Katie Did
Bride's Shoes: Irregular Choice
Bride's Earrings & Necklace: Tatty Devine
Groom's Outfit: Hugo Morris
Groom's Cravat: DIY
Bridesmaid's Dresses: DIY (in Michael Miller's 'Good Luck Tattoo' fabric)
Cakes: DIY (they had cake contest with all the guests)
Flowers: Scent, Brighton
Hair: Louisa Bush, Brighton
Band: BAD Ukes
DJ: Brighton Sound System
Stationery: DIY
Transport: Brighton and Hove Coaching
Favours: Awesome Merchandise