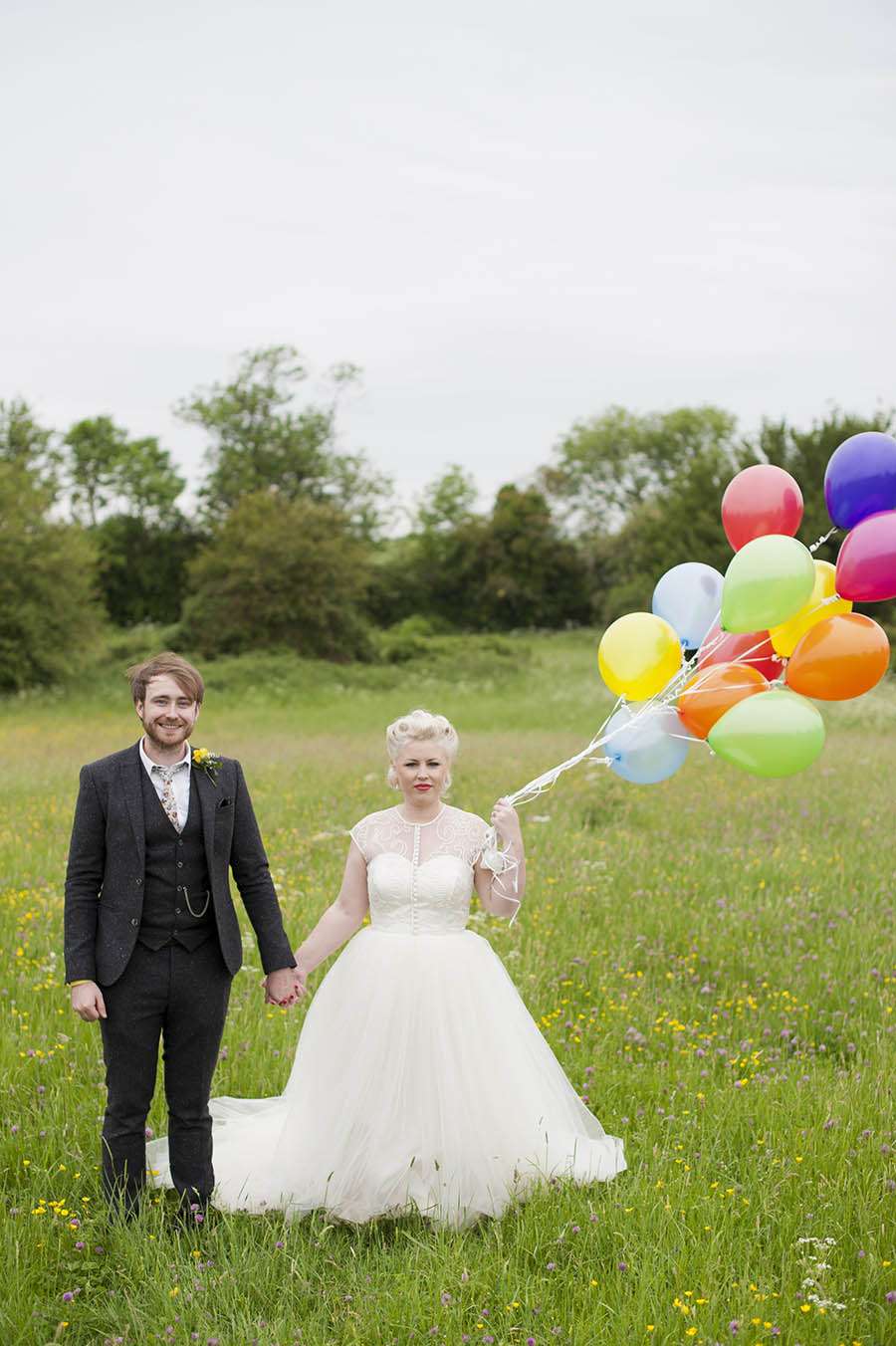 We may be well on our way towards the depths of winter (waah!) but I thought I'd just cling onto those hazy Summer days for just a little while longer by sharing Lynne & Stevie's June wedding. The quintessentially British vibe perfectly accompanied by vintage and retro touches was just too good to pass up.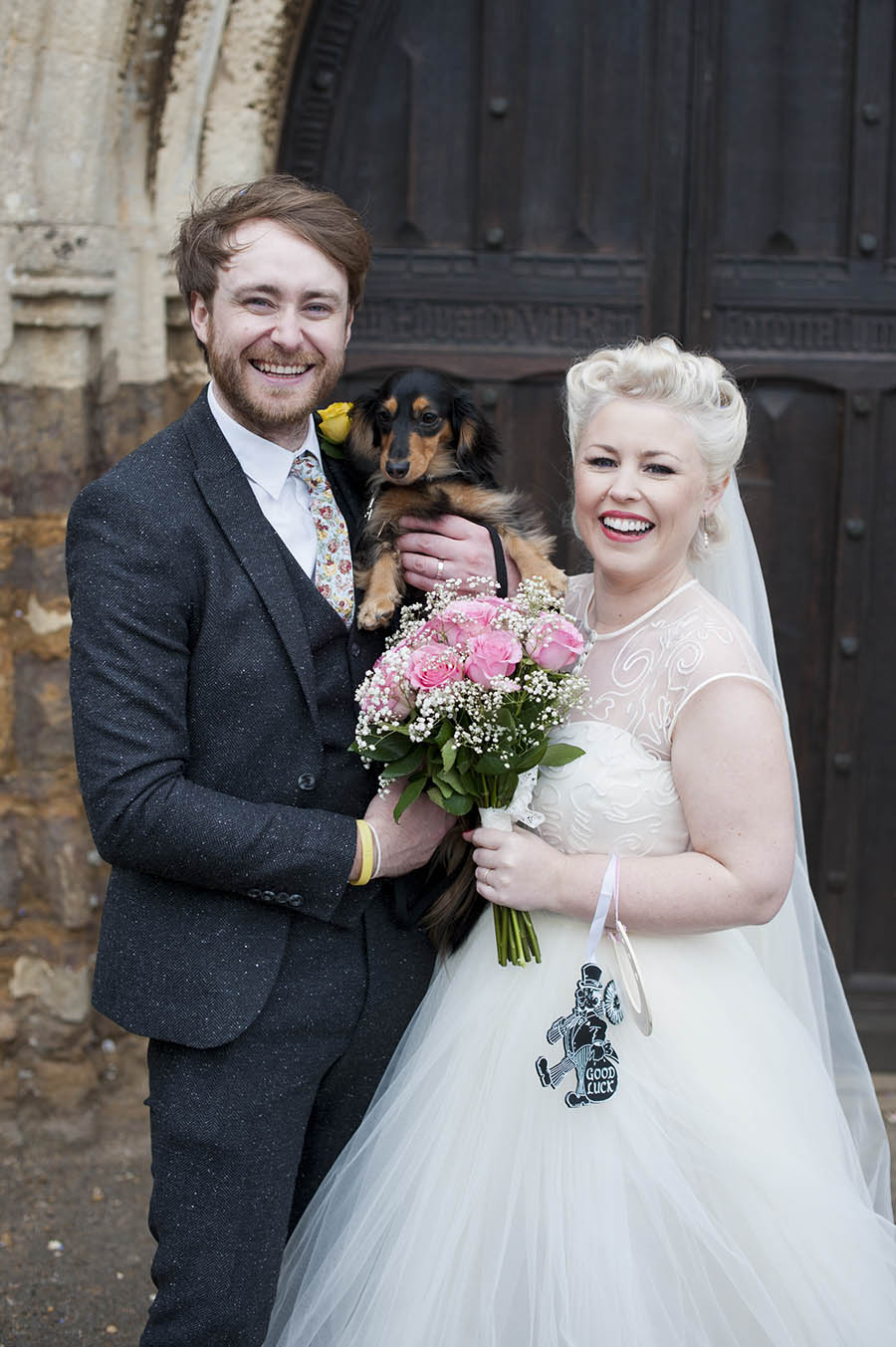 "I think the first thought we had was 'it has to be different'," wrote newlywed  Lynne. "We LOVE vintage and retro things in our day to day lives, so it had to have that sort of feel to it… it had to be very 'us'. I loved the idea of an old fashioned spring fete with an old English tea party so that's what we went with. It was important to us to make the day personal to every guest, as well as ourselves, so we put a great deal of effort into the little touches for everyone to remember. The idea of the wedding photos behind the top table was to symbolise how lucky we are to have such great role models in marriage and that we have the support of experienced couples behind us. Everyone enjoyed looking at the old photos too!"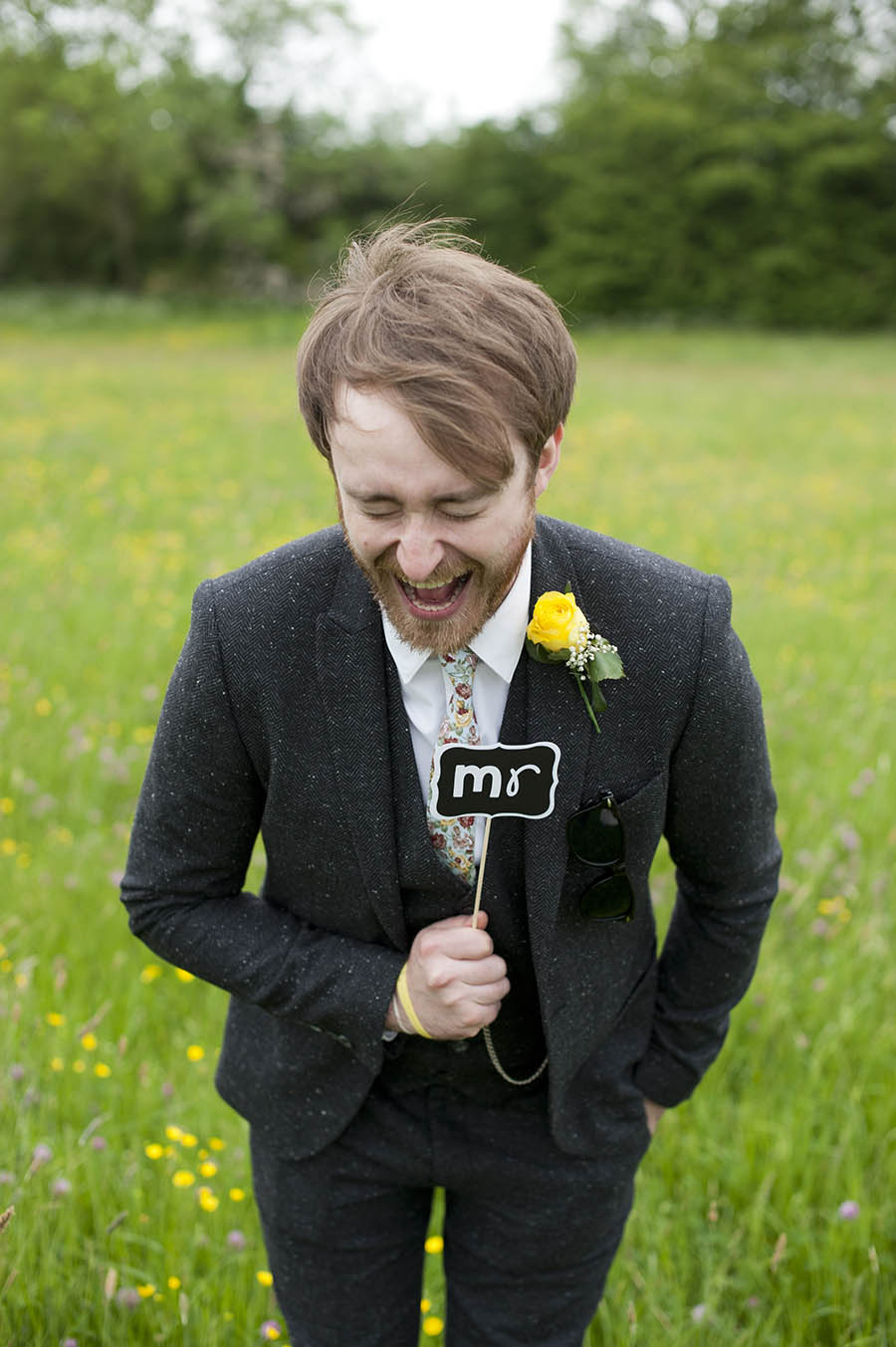 The ceremony was held at St Andrews Church, Lyddington with the reception being held in a marquee at the Old White Hart pub. Having their reception in a 'blank canvas' like this really meant they could go to town with the personal quirks and touches. "In the church I had a little basket with handkerchiefs with a sign that said 'for happy tears' and I also made my own confetti cones", Lynne continued.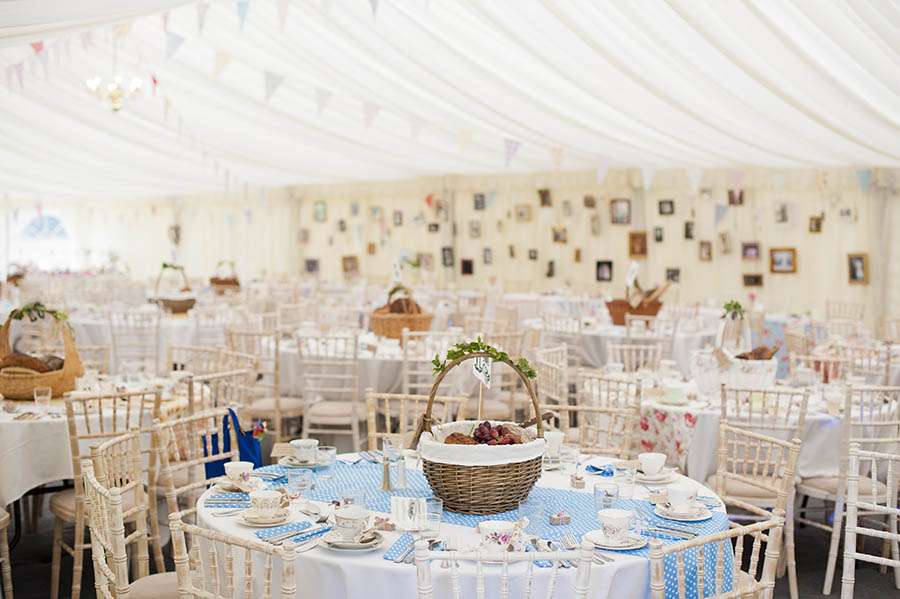 "I bought different coloured pastel paper and photocopied sheet music from our favourite songs on there, then cut them into squares and made cones out of them. They looked really effective. All the decor and props at the reception were created by myself and my helpers; all the bunting, all the table runners/napkins, lanterns, hay bale bride & groom (with the help of the local farmer!), and all teacups, saucers, teapots, photo frames, table plan and fancy dress for the guest book / video booth were bought by us. We set everything up ourselves It took two long days to do, but it was worth it!"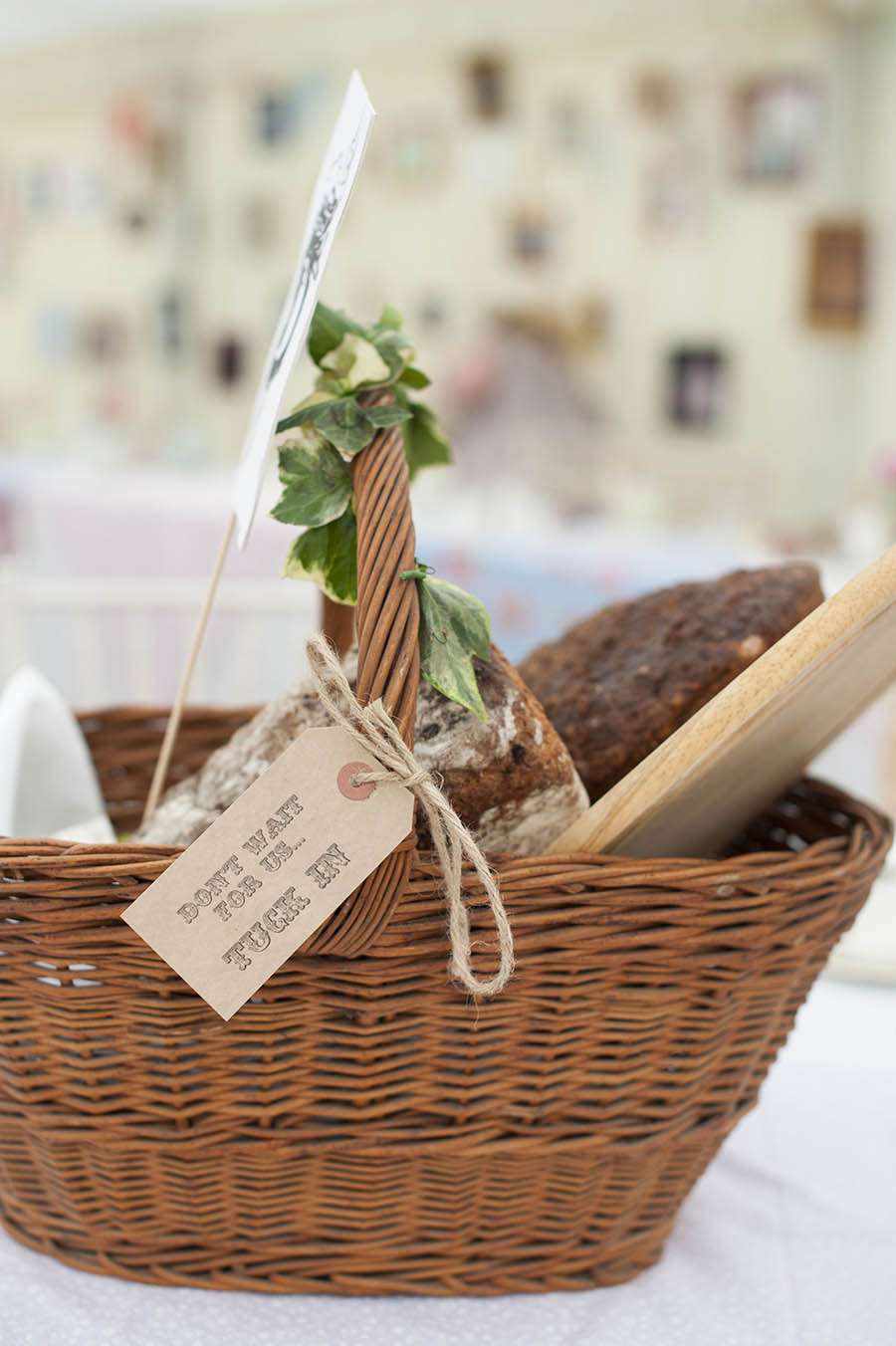 Not being able to find what she wanted in bridal boutiques, Lynne decided to get her dream dress – and shoes! – made from scratch. She wanted to be comfortable and for her bridal look to be unique. "I have always known what shape I needed for my figure, but thinking of something different and very 'me' was so hard! I knew I wanted it to be a vintage dress or at least vintage-inspired, and so I started searching the internet for inspiration. I found it when I saw the Emma Domb Collection from the 1950s."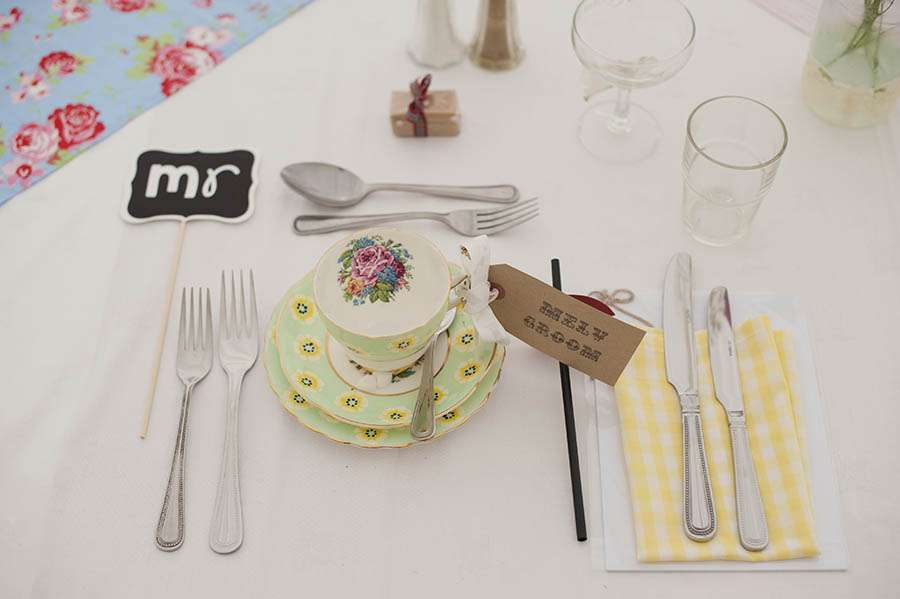 Not being able to find an original Emma Domb dress, Lynne set about recreating a homage for herself. "My lace bodice was made to order from Nick Mieczakowski and the dress itself was made by Helen Kirkwood (Tel: 01780 763443) I absolutely loved it! It was VERY touch and go for a while on whether or not I could have the lace bodice that I wanted and then I finally found Nick after days spent looking for a very specific kind of lace (or a lace maker) in the UK. Apparently the machines to make it (ribbon lace) do not exist anymore! I had to compromise slightly on the outcome (I had Cornelli embroidery, rather than the ribbon lace), but I actually think it was so much nicer than my original idea. Helen worked closely with Nick to get it just how I wanted. I was so pleased with it and I have already said we will be having a dress up evening on our first anniversary so I can wear it again!"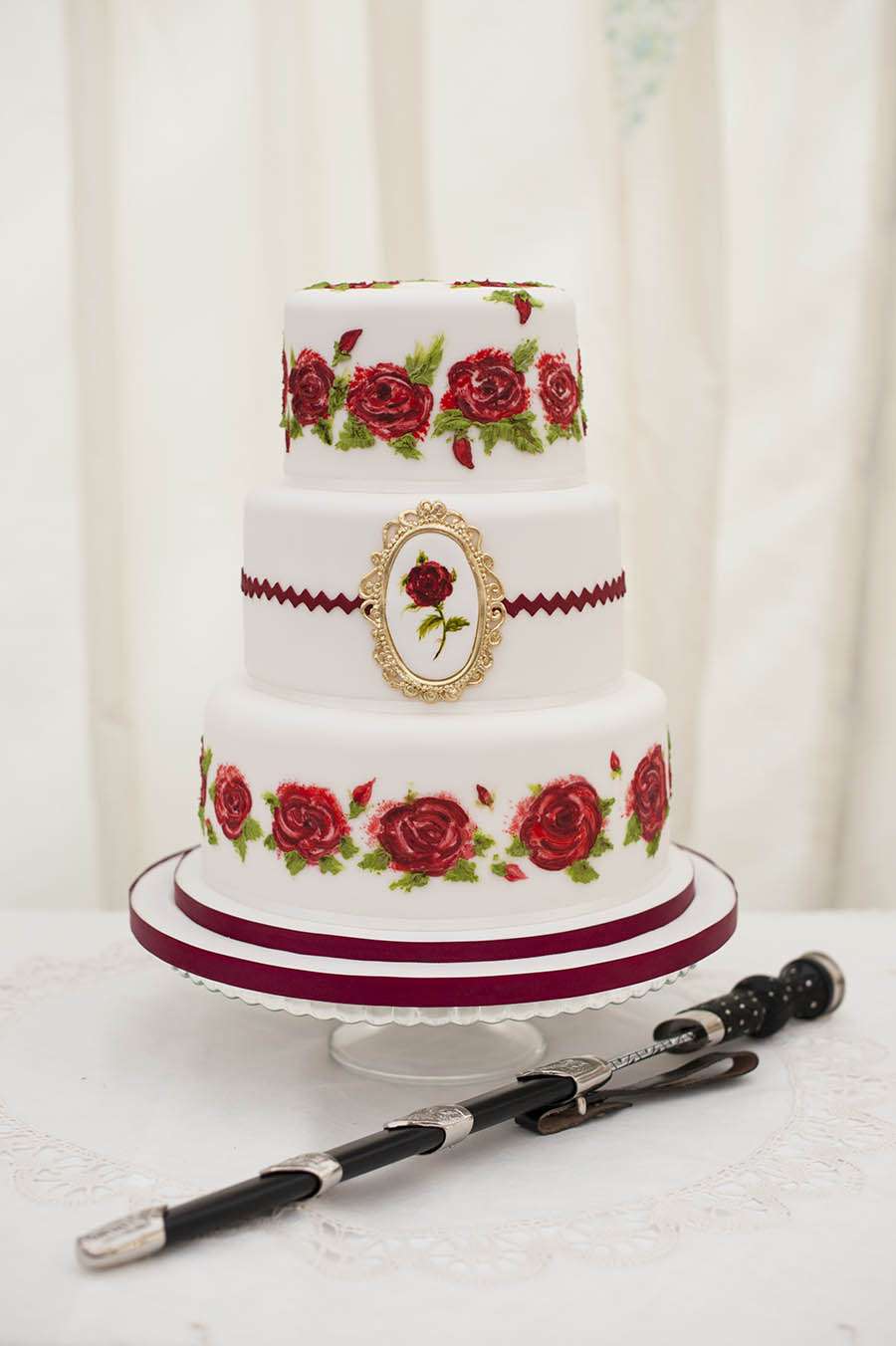 "For my shoes, I really couldn't find anything I liked, so I got a salsa dance shoe maker to make them for me and they put a leather sole on them so I could wear them outside. Then they were sent off to Nicky Rox Shoe Designs to glitter them up!"
"Honestly, I know this is corny, but I loved every part of our wedding", Lynne concluded. "Everyone put so much effort into the marquee and surrounding area decor in the days before the wedding, and I think it was perfect. We loved the ceremony (which we didn't think we would) and injected a bit of our personalities into it by by having 'if you're happy and you know it clap your hands' as a hymn! I loved my dad walking me down the aisle, I loved the speeches, I loved seeing everyone, I loved getting married… we had an amazing day!"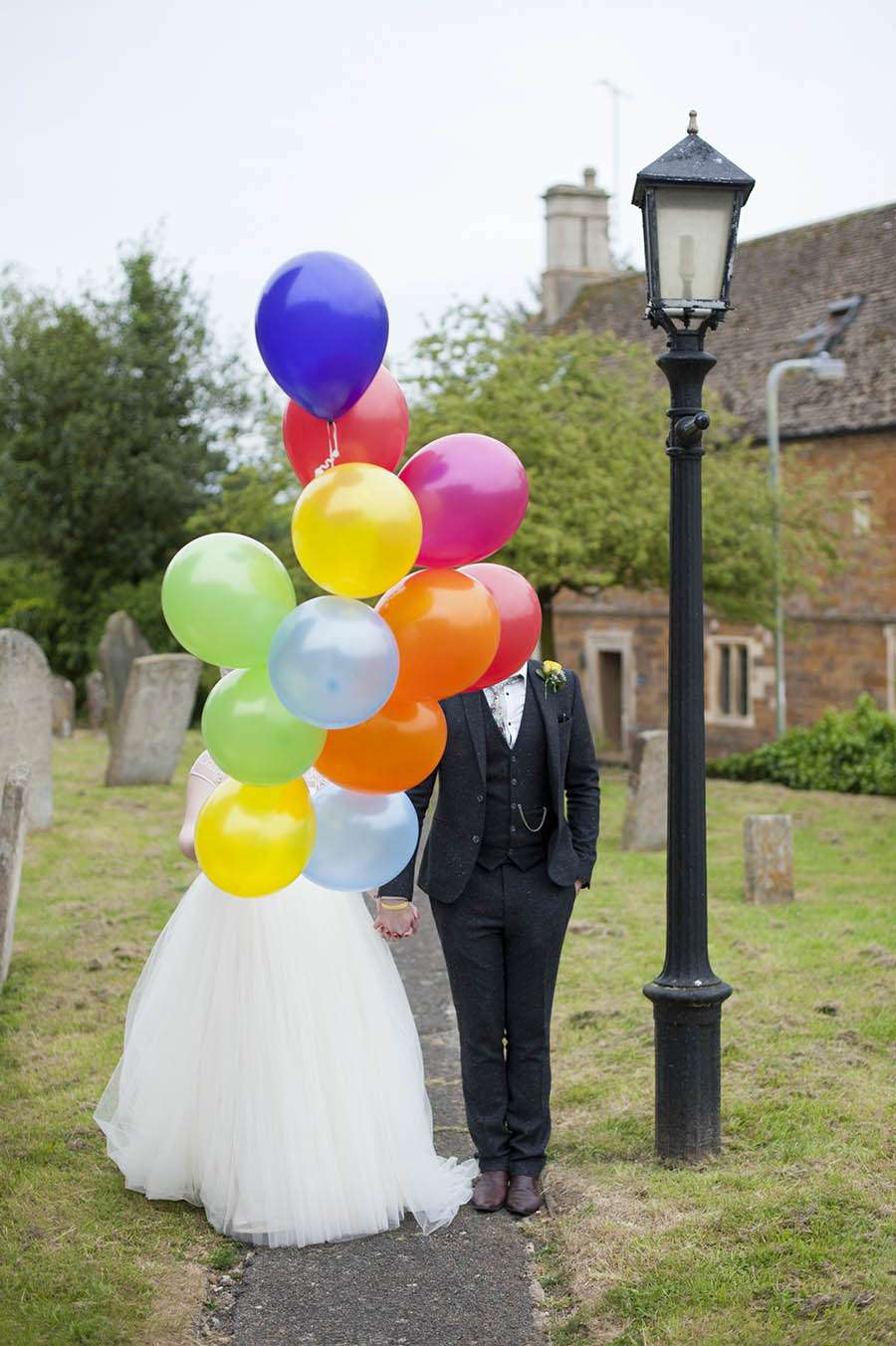 Well it certainly looks that way! Huge love and thanks to Lynne & Stevie and their awesome wedding photographer Jordan of Source Images for sharing with us today.
Supporting Cast
Photography Credit: Source Images
Ceremony Venue: St Andrews Church, Lyddington
Reception Venue: The Old White Hart pub,  Lyddington
Bride's Dress: Nick Mieczakowski & Helen Kirkwood (Tel: 01780 763443)
Bride's Shoes:  Nicky Rox Shoe Designs
Groom's Outfit: ASOS & Topman
Bridesmaid's Dresses: Helen Kirkwood (Tel: 01780 763443)
Flowers: DIY
Cake: Crazy Daisy Cakes
Hair: Aurora Loves in Northampton
Stationery: Something Kinda Cute