I loved Matt & Brandy as soon as I read their email to me last week. "We are f***ing rock n' roll because we had the balls to call off a wedding.
We originally got engaged in April 2009 and shortly thereafter set the date for April 2010. We wanted a simple affair which of course spiraled out of control. It became about every one else. We lost sight of what the day meant to us as a couple. The guest list kept getting longer…which meant more money…and more problems. In November it hit us…wtf are we doing????
We ended up calling off the wedding…and calling off our engagement. We became a bit disenchanted by the whole wedding planning and wondered if it was something we ever wanted to do. We absolutely became victims of the wedding stress monster. We never thought it would happen to us!"
See? love them?! Lucky for them (and us!) they did decide to continue down the wedding path, but only if they could do it their way! "Months passed and we still loved one another. We still planned on spending the rest of our lives together so what now?" they continued. "We couldn't imagine planning another wedding. Ugh. Well…Matt ended up winning free tickets to anywhere within the continental U.S. that had to be used before May 31st 2010. We decided on San Francisco and then we decided…hey…lets elope while we're there!"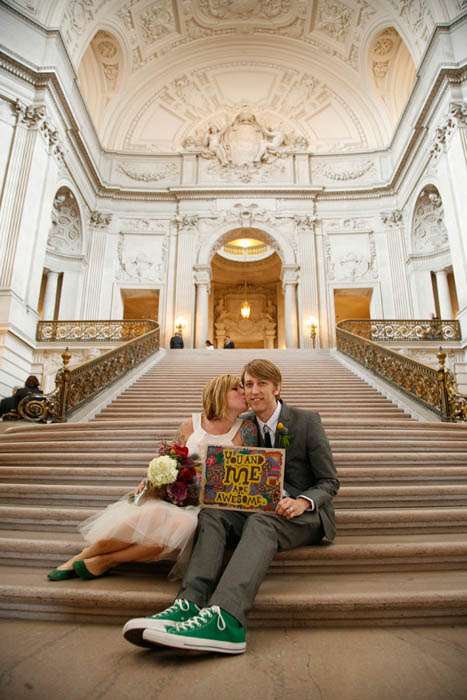 The pair had a month to plan the whole thing so they found a photographer on Craigslist, Brandy got her dress made by an Etsy seller  Spookykitten, Matt bought his suit from Zara, they made all the needed reservations at the courthouse…and didn't tell anybody about their plan! "It really added to the excitement and romance having this secret" they told me "and it really felt so special leading up to that day. All of the uniqueness we were attempting to create for the original wedding day (which ended up feeling so contrived-duh!) just felt so organic on the actual wedding day we ended up having."
As a final adorable touch, the pair both (independently) decided to surprise each other on the day. Brandy bought a cute and fun 'You and Me are Awesome' sign from Vahalla Studios that ended up in a lot of their pictures (they coloured it in together on the plane..aww!) and Matt surprised Brandy with a first dance in the courthouse, complete with an Ipod to play the music.
God I LOVE them! Enjoy these…and remember you stressed out brides-to-be…you don't have to do anything you don't want to! Do it your way!
Thanks so much to Brandy & Matt for sharing their kick ass-ness with us today. I love you guys!
Credit: Robert Hatch Photography
Dress:  Spookykitten on Etsy
Flowers: Fresh 
Her ring: Vintage from an estate sale
His ring: Etsy