I honestly don't know where to begin describing Emma & Pete's wedding to you all. From the reaction to just the sneak peek post (epic) that I put up last week, I know pretty much the whole of blog-land has been eagerly awaiting to see this wedding too and so I'm pretty flipping honoured that not only was I invited (and let into the secret that it was a surprise wedding!) but that Emma & Pete have allowed me to share it with you all. I have the best job in the world.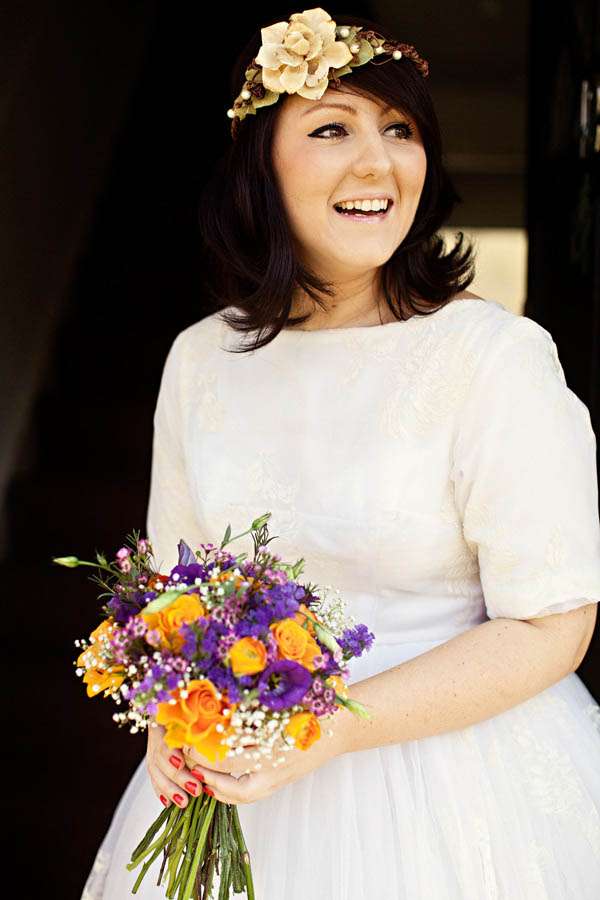 So, in January I got a call from my friend Emma Case. Emma & Pete have been engaged for like…forever…since before we even met in fact, but still hadn't made any plans for actually getting married. I guess that with Emma being a ridiculously busy and successful wedding photographer, all their weekends were always booked up with other people's weddings! Also, the fact that Emma has quickly become so well known for shooting the raddest Rock n Roll weddings out there, the couple said they almost felt a bit of pressure to make sure their wedding was as 'cool' as the weddings they shot…as well as being different. No pressure then!
Anyway as I was saying, Emma called me at the beginning of the year to discuss her 30th birthday plans. She was having a big party on the 19th March and I had had had to be there. "Of course I'm there, I wouldn't miss it for anything!" I replied. "Good," Emma said, "cos me and Pete are gonna get MARRIED…and it's gonna be a SURPRISE!"
Oh. my. God…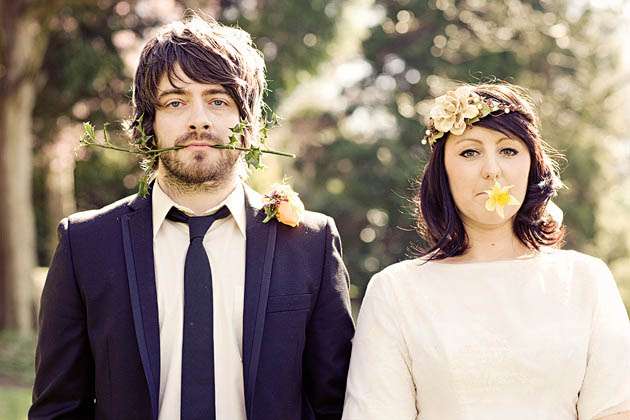 "Me and Pete had been happily engaged for about 3 years…" Emma told me this week, "but any time we talked about getting married we ended up arguing… we knew that we wanted something that reflected us but we'd start talking about who to invite, table plans etc and we were quickly getting fed up… the question 'Why are we doing it if it's such hard work?' usually stopped any further discussion. Also we were shooting amazing and creative weddings pretty much every week so all of our concentration was on other people's days… which was great but it meant that it was quite hard deciding on how 'we' wanted to do it… and without copying all of my couples who have flippin' fantastic weddings!"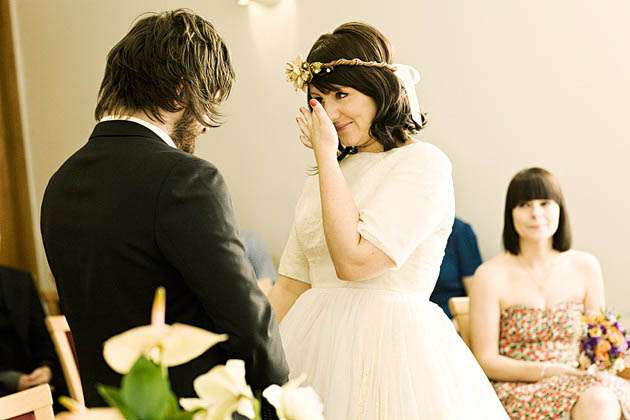 "In January a good friend of ours Anthony came round and we chatted about my 30th birthday party… Anthony joked that we could get married in the afternoon and have a party on the night… we all joked about it even mentioning a 50's prom theme based on the 'Enchantment Under the Sea Dance' from Back to the Future and then when Anthony left we started to talk about it seriously and we weren't arguing! But we wanted it to be a surprise. We get asked when we're getting married a lot and people would then say how amazing it's gonna be (because of all the gorgeous weddings we luckily get to shoot) so I started to feel a bit of pressure. I also didn't want to be going on about 'our' wedding all the time… I kind of just wanted to get on with it without the fuss… a little bit like being behind the camera I suppose…"
Emma & Pete are one of those enviably and naturally awesome couples and I have to say I wouldn't have expected anything less from them. Emma's 'birthday party' was a 50's 'enchantment under the sea dance' prom theme and guests were ask to come in their vintage finest…which we all did of course. Both Emma & I wore dresses from our favourite vintage dress shop, Fur Coat No Knickers (Em also wore a blue prom dress to keep the fact that it was a wedding secret, which she found at The Wedding Club in Birmingham.)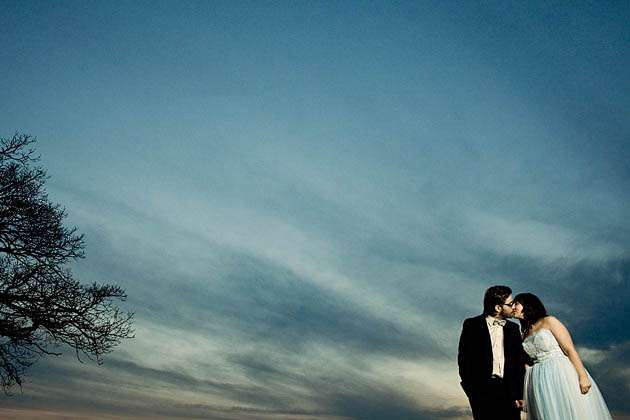 Halfway through the evening Emma disappeared and went to get changed into her wedding dress. Their friend Joe stood on the stage and asked us all to split onto either side of the room (making an 'aisle.') He then informed the confused crowd that we had all been brought to the party under false pretences. 'Hide & Seek' by Imogen Heap kicked in. Pete stepped on stage and 3 girls carrying bouquets walked down the aisle followed by a very nervous but excited looking Emma with her dad.
It was an incredible moment.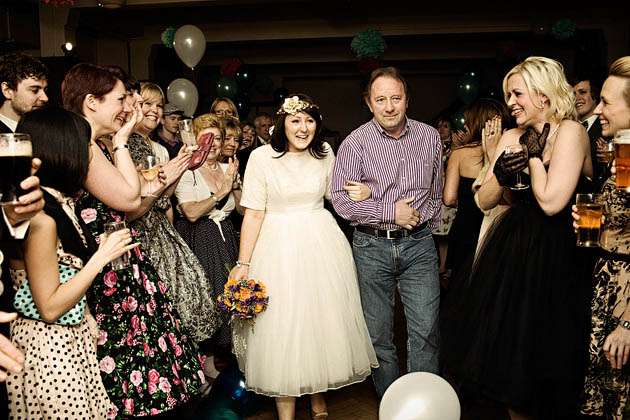 People were whooping and cheering and in front of me I could hear a gaggle of girls screaming "NO WAAAAY!" Our friend Chris turned to me and mouthed "OI! Did you know?!" and finally I was allowed to share that I'd been in on the secret the whole time!
Once the cheering had died down Joe informed us all that Emma & Pete had gone to the registry office earlier in the day and got hitched, followed by a canal boat lunch/reception with their family. They now wanted to say their vows, which they wrote themselves, in front of all of us. The short ceremony was beautiful.
Emma cried.
Pete cried.
I cried.
All my friends around me cried.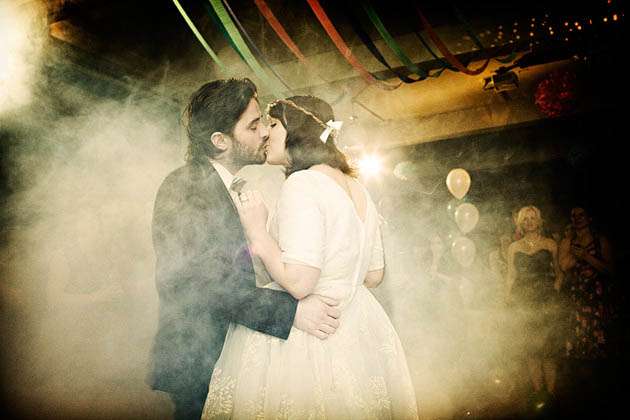 The couple danced to 'Home' by Edward Sharpe & The Magic Zeros and we all joined in. I ran to hug the couple as soon as I could (and Pete squeezed me so hard that one of my straps broke on my dress…he was THAT excited!) We danced like loons and I spent waaay too much time in the photo booth.
At 11pm taxis came to pick us up and the hardcore partiers headed to a nightclub in the city centre where we drank until 3am and sang karaoke (badly…) The night was rounded off by 6 off us in a curry house at 4am…I'm not sure who's brilliant idea that was but it was kind of the perfect way to end a totally Rock n Roll night.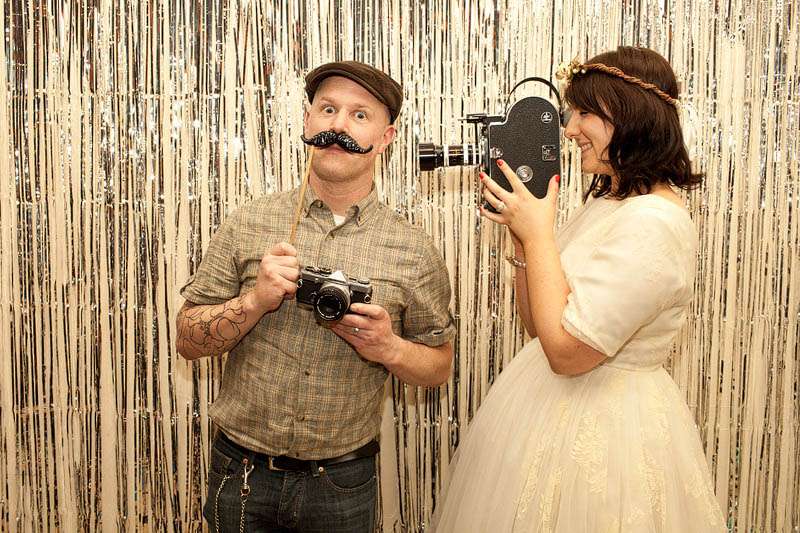 (More photo booth photos after the 'jump' – in the gallery. If you have the opportunity to do a photo booth at your own wedding that do it! It was HILARIOUS!)
Emma & Pete wanted to do their wedding their way. They didn't want the 'industry pressure' of having the coolest or most out there wedding (yes there can be pressure even if you don't want a traditional wedding!) Yet in getting married in the way they did, they inadvertently organised the coolest wedding of them all.
To Emma & Pete – seriously guys, words can't express how happy I am for you. You are perfect for each other and I love you so bloody much.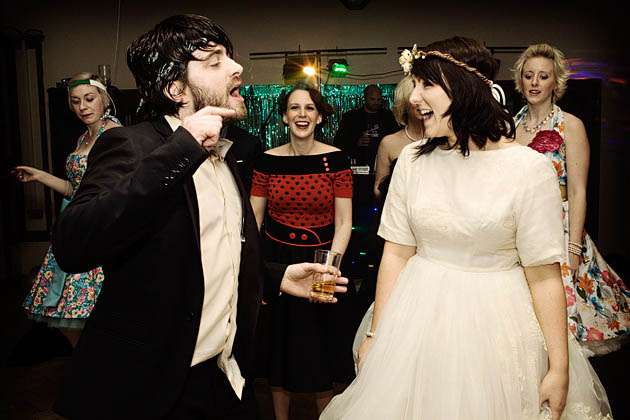 Be sure to watch this short 16mm film by Cine8 too (with sound). I've already watched it about 5 times. I love our happy dance at the end!
Thank you so much Emma & Pete for not only inviting me to be a part of your special day, but for letting me be the VERY lucky wedding blogger who gets to share you awesome wedding with the world. Big love to photographers Steve & Joanna and videographers Cine8 for sending over their beautiful images and film too.
Go check out Emma's blog post for her side of the story & some awesome polaroids. Steve's blog post & Jo's blog post have also got more photo goodness if the 186 photos in my blog post isn't enough!
(See file names of each image to see who shot what…there are so many photos which may be slow to load due to the amount of people that I know have been dying to see this wedding. I couldn't cut down any more to please bear with it!)