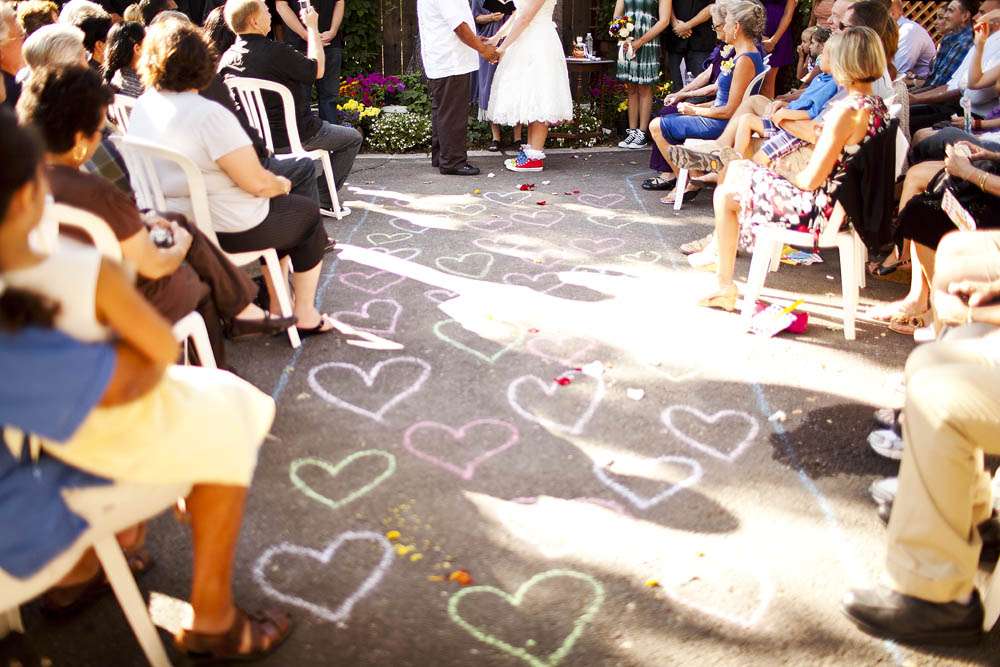 Honestly? I struggled with what to write about today. Usually on a Sunday I'll post something non-wedding related that's caught my eye or I'll share something exciting that I've done in the week. But I shared my Photography Farm retreat escapades in this week's Thursday Treats and since then I've basically been chained to my computer replying to the squillions of emails that came in whilst I was away and writing as many blog posts as physically possible. I also spent rather a lot of time on the phone to Cosmopolitan Magazine. NO BIG DEAL (more on this soon!)
And then this wedding pinged into my inbox and it all became clear.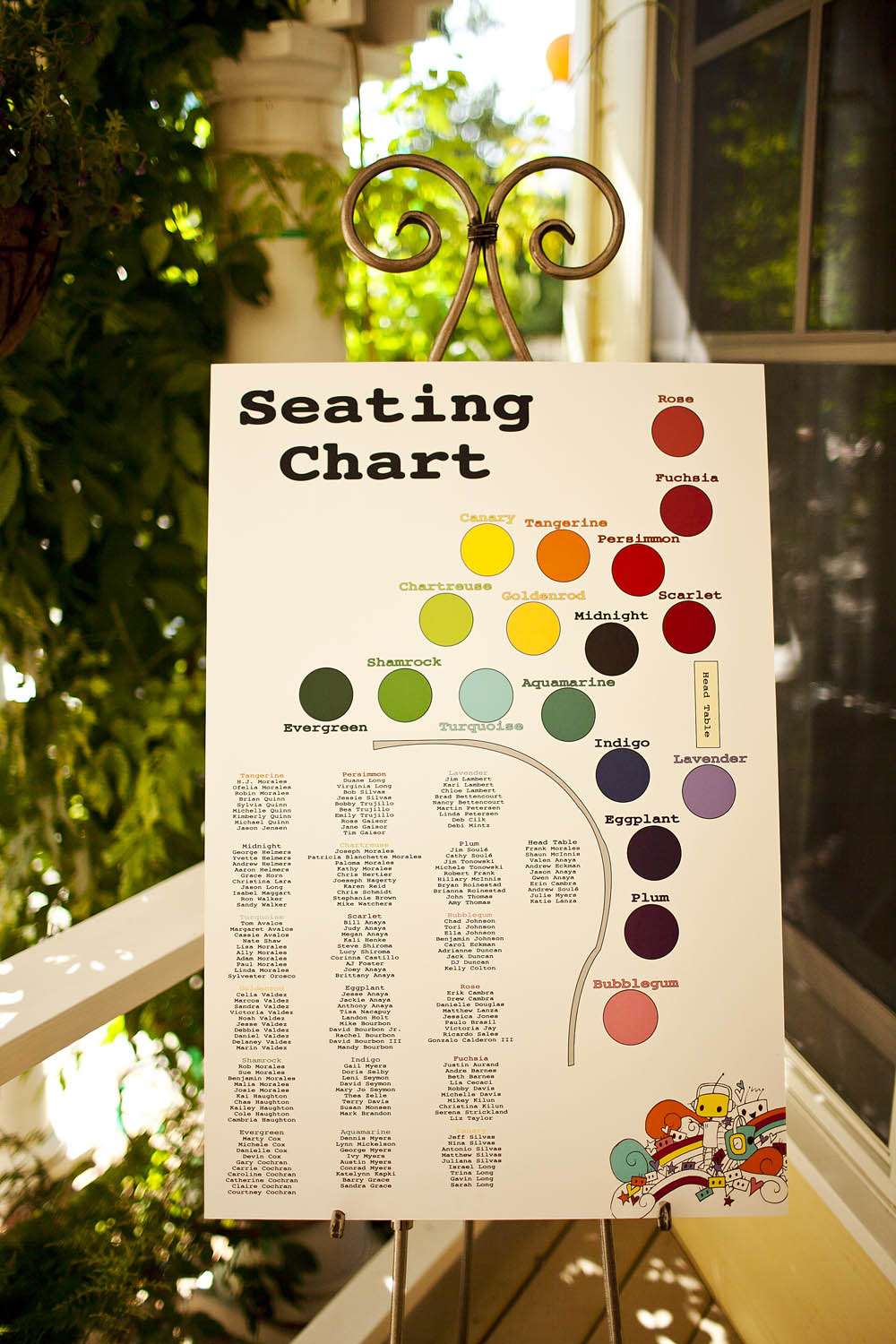 Show me a rainbow wedding and I'll show you a very happy wedding blogger. Of all the weddings I feature, I think I'll always be have an extra special place in my heart for a wedding with so much colour. Like, seriously, what's not to love?! With $12,000, Jason & Gwen planned this colourful explosion in Jason's Mum's back garden. "It isn't always cheaper to DIY," wrote the bride. "But we never could have done so much ourselves without the mega-ton of help we received from our friends and family. I am so glad we did it that way though, because we had some great times working on projects, planning, and being excited with our closest people."
"It's hard to want things different from the norm sometimes", Gwen continued. "Some people had a hard time understanding some of my ideas, but overall people were great. I really wanted the wedding to represent us and our styles, and to do what felt right to us, not what it felt like we should do to fit into everybody's idea of what a wedding is supposed to be."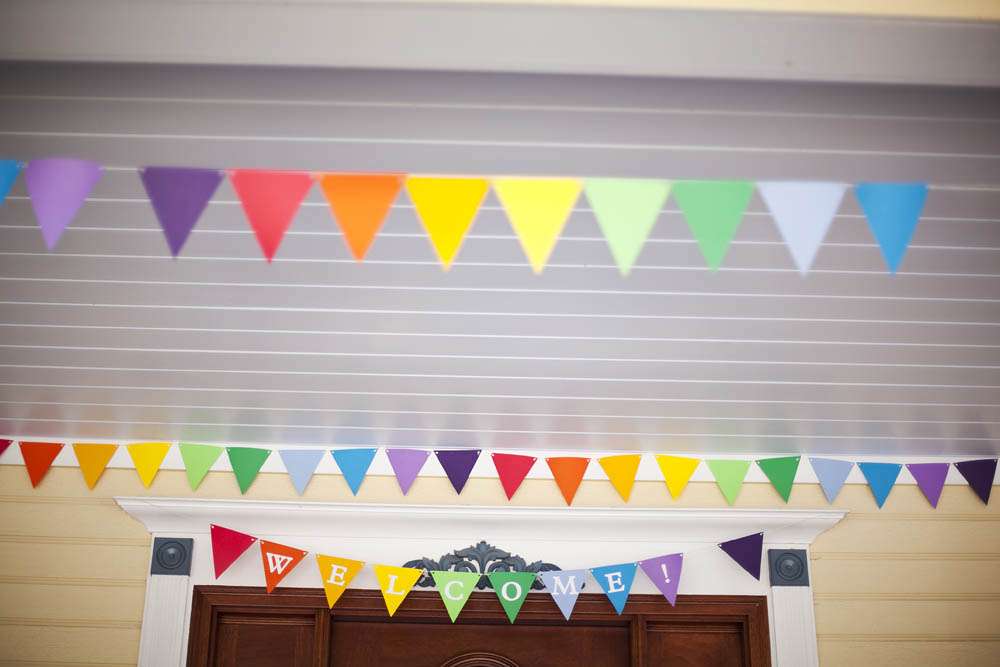 Gwen wore a Maggie Sottero wedding dress which she customised with a rainbow petticoat (my fave!) and rainbow corset loops (genius!) On her feet she wore custom multi-coloured Converse and round her neck and wrist equally brightly jewellery from Nest Pretty Things on etsy.
Their bridal party each were given a colour. The groomsmen wore black but with a brightly coloured tee-shirt and the bridesmaids wore allowed to wear any dress they liked in the colour they were given.
To decorate the garden, the couple hand cut hundreds of card triangles in various colours which they made into a bunting banner. They also bought 100 lanterns from Jade Time and hung them up all over the yard. In place of an aisle runner they drew lots and lots of hearts in different coloured chalk (sooo cute!) and had a display of photos hung on string with clothes pegs. Oh and the cake! The cake was handmade by a friend. It was plain white on the outside but with rainbow layers inside. That's got to have been too amazing to eat surely?!
Gosh darn it, this is such a cuuute wedding. I'm so thrilled to share it with you today and I hope it brightens everyone's Sunday! Have a great one everyone.