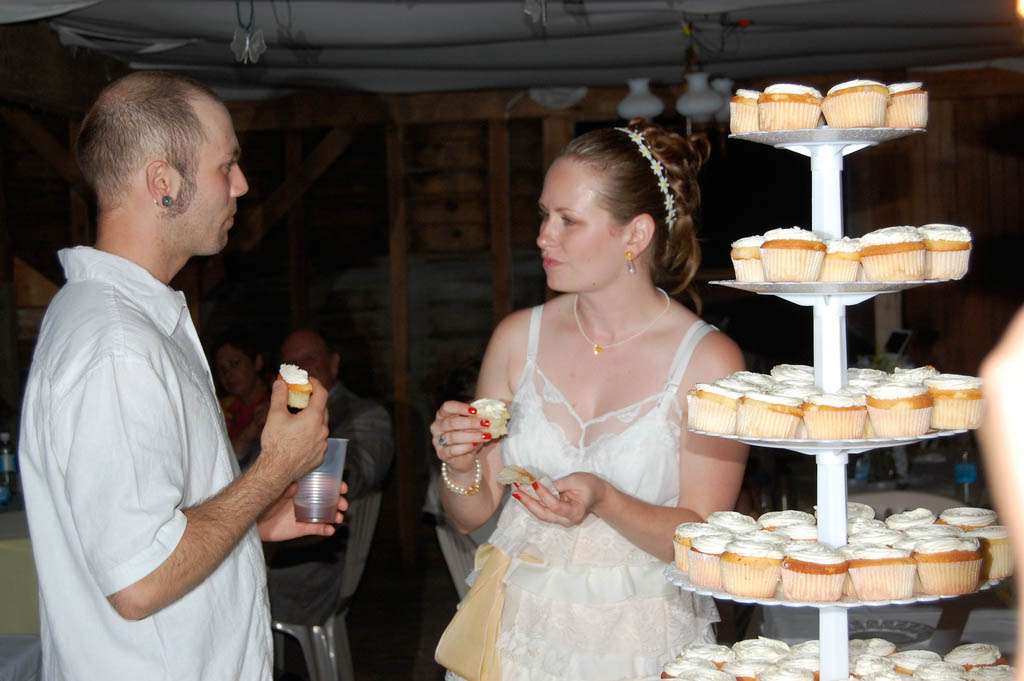 I love this sweet, personal wedding.  Katie emailed me saying she didn't think her wedding was 'offbeat enough' but I wholly disagree!  Certainly being a Rock 'n Roll Bride is not about trying to make your wedding as 'cool' as possible, it's about doing it your way – doing what you love…and they certainly did!  All these gorgeous details are what make this wedding so gorgeous.
Katie writes:  "We got married on a farm in Berkshire County, Massachusetts, USA on August 23rd.Our photographer was Ken Stabile. My favorite photos took of us where down the road at beautiful Ashintully Gardens. He used infrared film, holga & diana cameras as well as digital.
Our wedding was perfectly us in every detail. We knew we wanted a fun country wedding that was welcoming for kids as well as adults. We wanted our wedding to reflect us as much as it could as well as entertain the various age groups and personalities of our guests. As a teacher, children are very important to our lives, so we couldn't exclude them from the fun! We made sure we had plenty of toys for outside, including badminton, hula hoops, bubbles & frisbees. We had an arts & crafts table with paperdolls we made featuring us, watercolor paint sets, stickers & markers.
As a photographer myself, I HAD to have the photo booth. It was a splurge, but well worth it. For the guest book, guests decorated pages with supplies from the arts & crafts table along with strips from the photo booth.
As huge jazz fans, we had a fantastic jazz band play for everyone to boogie down to.
It was great to see the guests moving around the farm with so much to do, no one sat down!
We wanted to make the favours uniquely us. Clinton is a glass blower & made 150 blue glass roses that we placed at each place setting. I wanted a photo favor of us from me, so we got stickers printed up featuring us, because everyone wants stickers of us!
I wore my mother's wedding gown from 1976, although we did alter it some. I wore yellow flats for shoes. Clinton wore a Zoot Suit & sneakers (fancy sneakers). After dinner, we changed into more casual wear for dancing all night. My casual wedding dress was from KT Jean Design (shop online here)
Our good friends did our flowers, with daisies as the main theme.
Another friend married us. He is a Buddhist Priest & performed a beautiful ceremony that was perfect for us. I had both of my parents walk me up the hill to my feature husband.
Instead of throwing my bouquet, I threw a rubber chicken & one of my bridesmaids caught it. She got a coupon for 20 free hot wings. It was just funny to see people's reaction. Afterwards, we had a dozen or so rubber chickens to through around the farm, but a lot of them ended up on the dance floor and in the photo booth.
Oh man! Our wedding was near disaster, believe it or not. The people who ran the farm were horrendous! From screaming at us for setting up the wedding (we set up everything, because the crew wasn't there until an hour before the wedding), to screaming in the barn at each other during our vows to making obscene gestures in our photo booth. The food was all wrong, cold & missing & they ran out. Our cupcakes were flowerless, the list goes on & on….
What we did to deal with this:
Nothing! Our wedding was so beautiful & magical, and there was sooooo much positive love and energy brought in from our guests & family, it wiped all of the negativity out & we were able to ignore them & the problems & have the best day of our lives. I remember blocking out all of the bullshit & thinking, "Damn it, this is our day. Nothing is going to put me down".
Love will Conquer All
Our first dance was Sweet Thing by Van Morrison. A quarter through of the way through the song, my Dad cut in! This wasn't planned as the next song I was so pose to dance with him, not this one!
So he cut in & Clinton danced with his mom & sister & my mom & brother danced together. Then, partners were switched again & I had no one to dance with! I stood there in the middle of the dance floor for 15 seconds or so with no one. Then one of my bridesmaids jumped in & I danced with her. The next song was planned to be the family song, but since we just did that, it was just me & Clinton this time dancing to The Wind by Cat Stevens. It was perfect & dreamlike.
I thought our wedding would be perfect! We were soooo organized & well planned. Everything was in order & should have been perfect. But it was faaaar from perfect, yet it was the best day of our lives. You cannot plan the day, as much & as carefully as you plan. Unexpected things may happen. Bad things may happen. Good things that were not planned will happen. As long as you have love & support from your family & guests, it will be "perfect".
Are you all as in love with this girl as I am? Their diy decorated venue looks amazing!  I flippin' love the holda photographs too – I need to get me one of these cameras!
Credit: Flickr