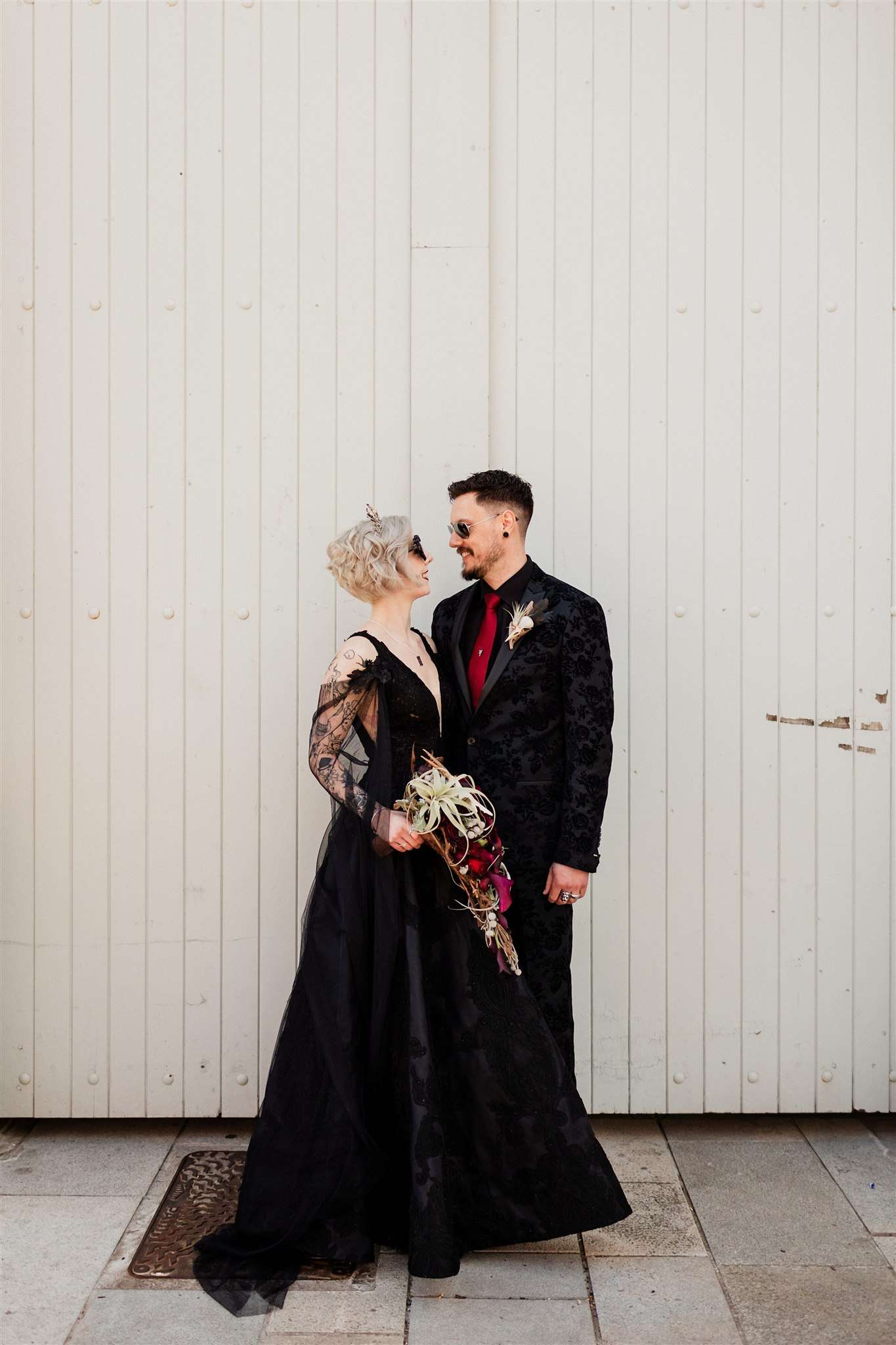 Lauren met Simon when she moved down to Southampton from Newcastle and she says it was definitely not love at first sight! Bonding over their similar tastes in music, they were friends for a long time first. They started going to gigs and festivals together and then they even flat shared together before they started dating.
They were married in April and wanted a wedding which reflected their mutual love of music, and included lot of black, rather than traditional white, elements. Lauren explains, "We were aiming for a romantic, moody, elegant gothic feel. We wanted it to feel gothic, but not to look like we'd decorated everything from the Halloween section of the shop!"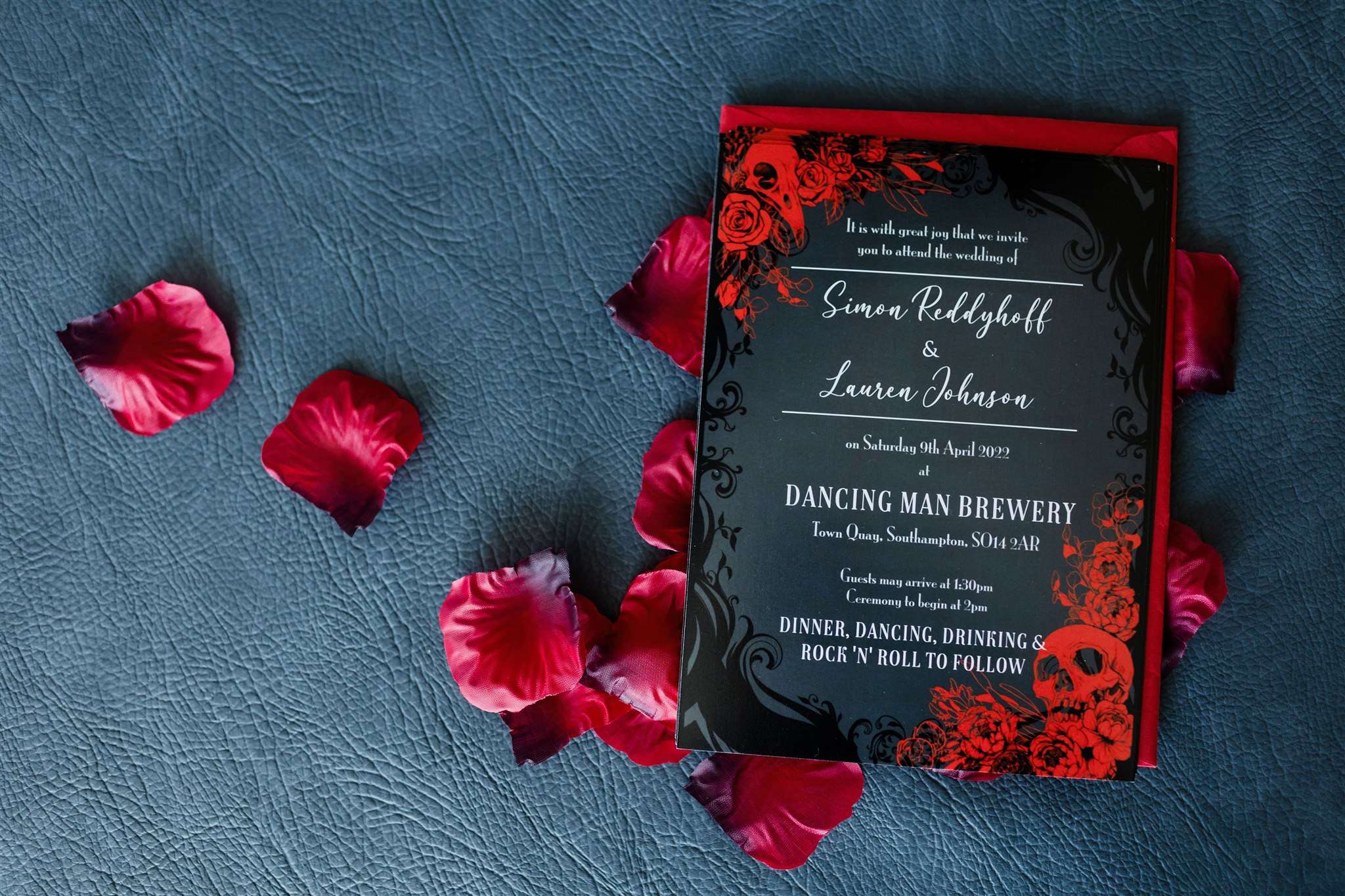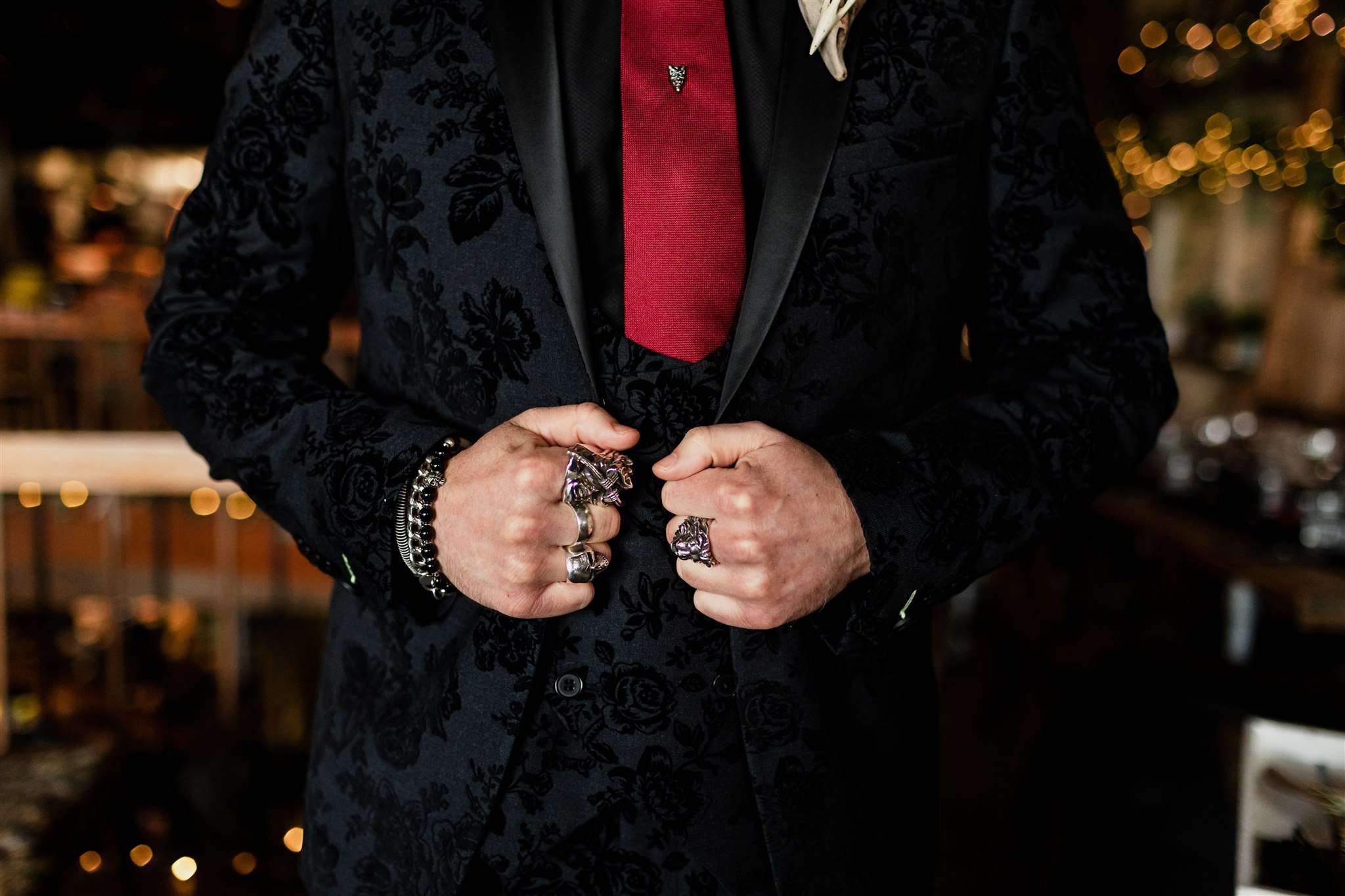 "The wedding was really just inspired by us, our interests and our style. The tables were
named after our favourite rock and metal bands. In lieu of a guestbook, we had guests sign wine bottles as we love a good bottle of red wine! Instead of a usual 'card box' we used Simon's guitar case. Our house is filled with gothic photo frames, candles and real animal skulls so we used these as the table décor."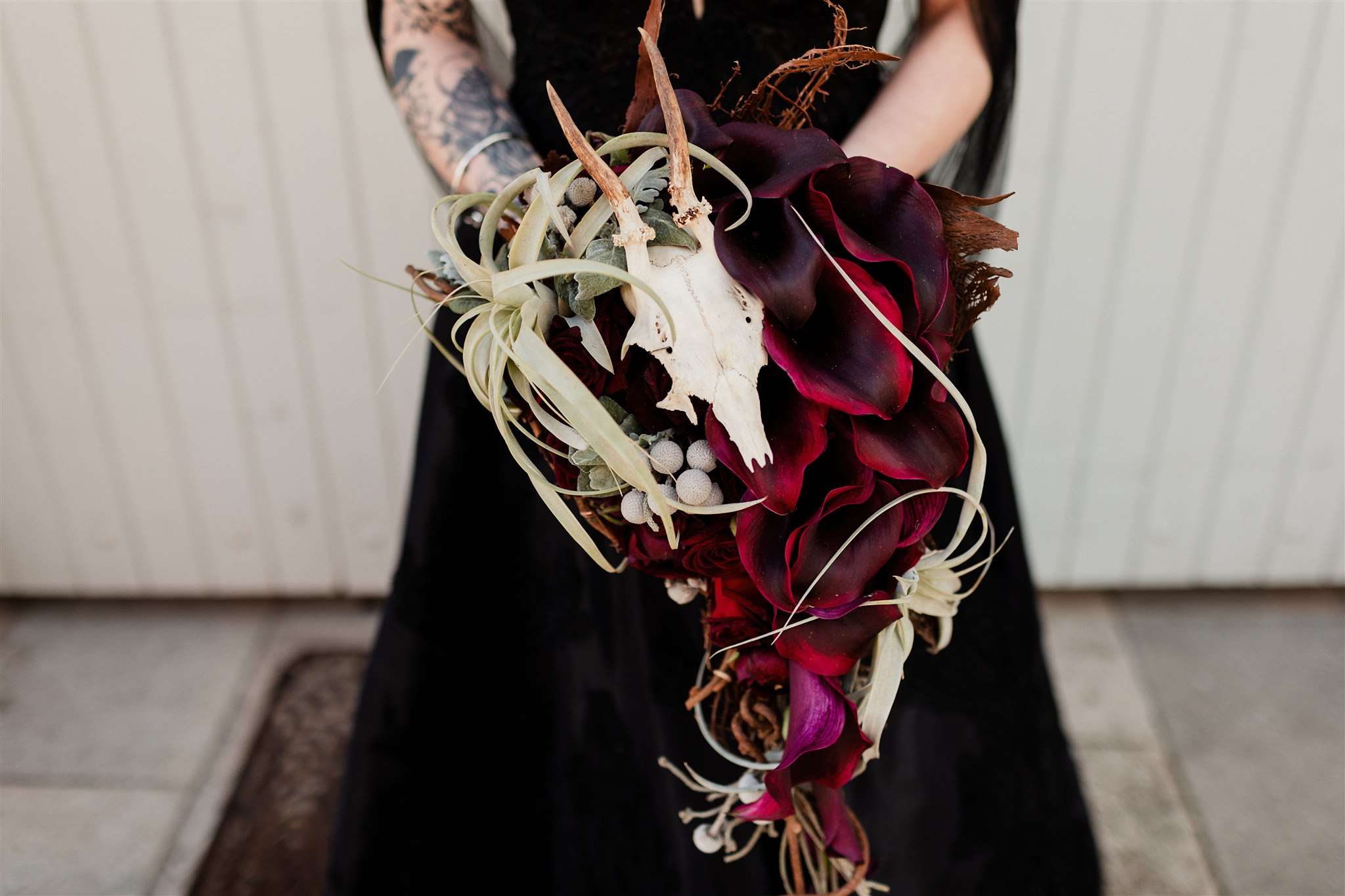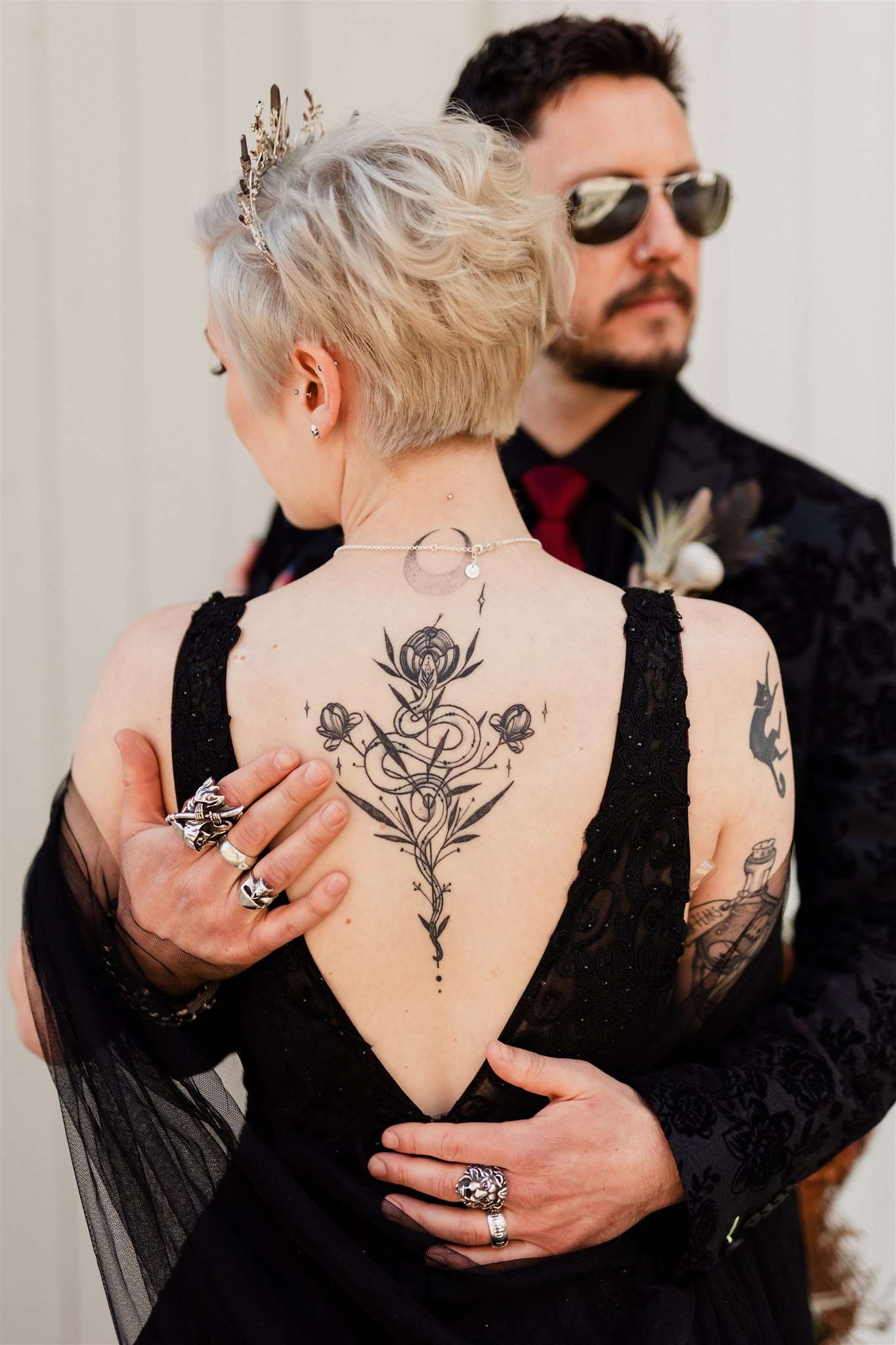 The lack of tradition continued through to what they wore. Simon helped Lauren choose her dress and her bouquet, which she didn't throw because "It was too damn beautiful, I wasn't going to throw it at people!" featured deep red calla lilies and an animal skull.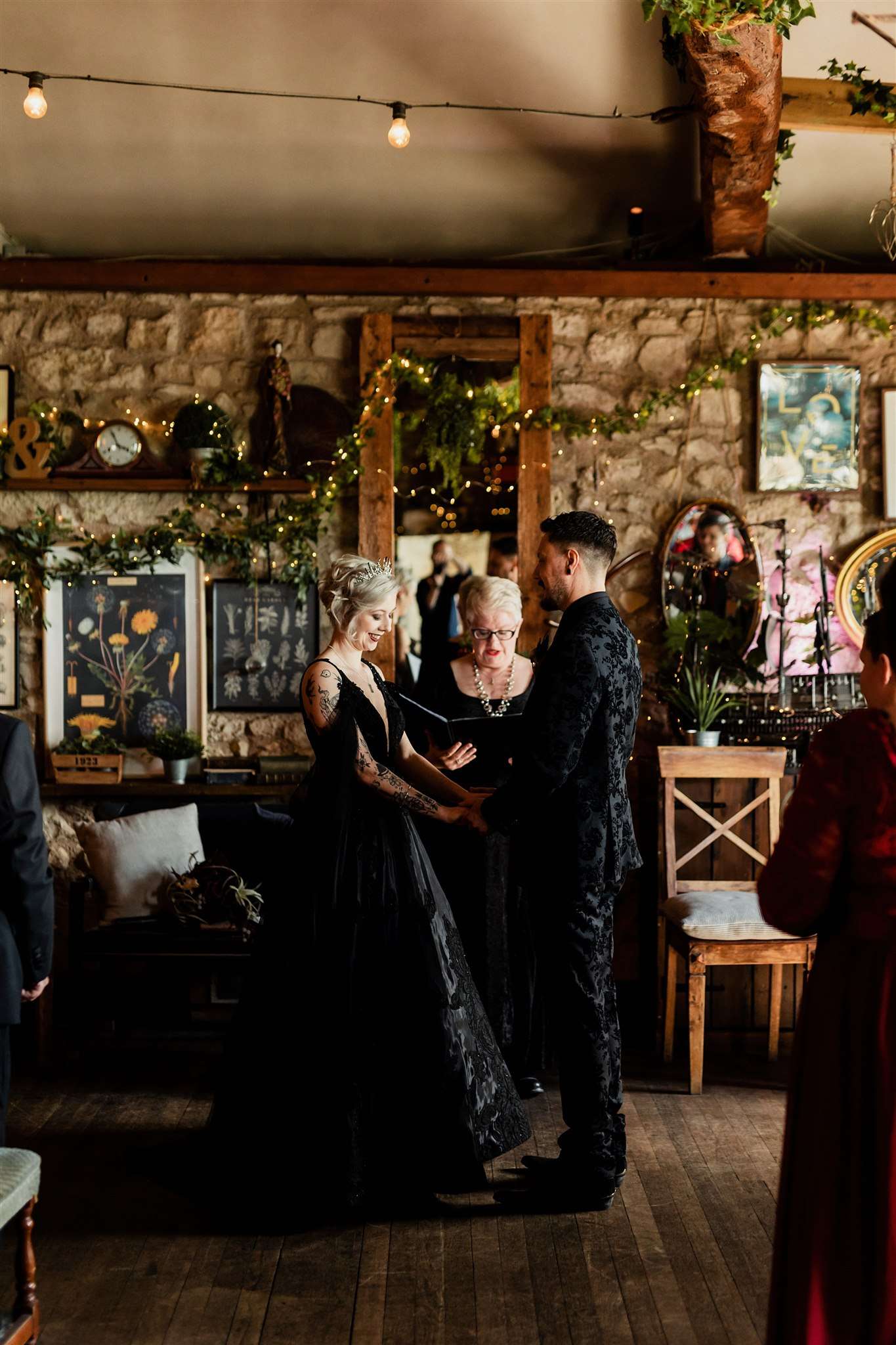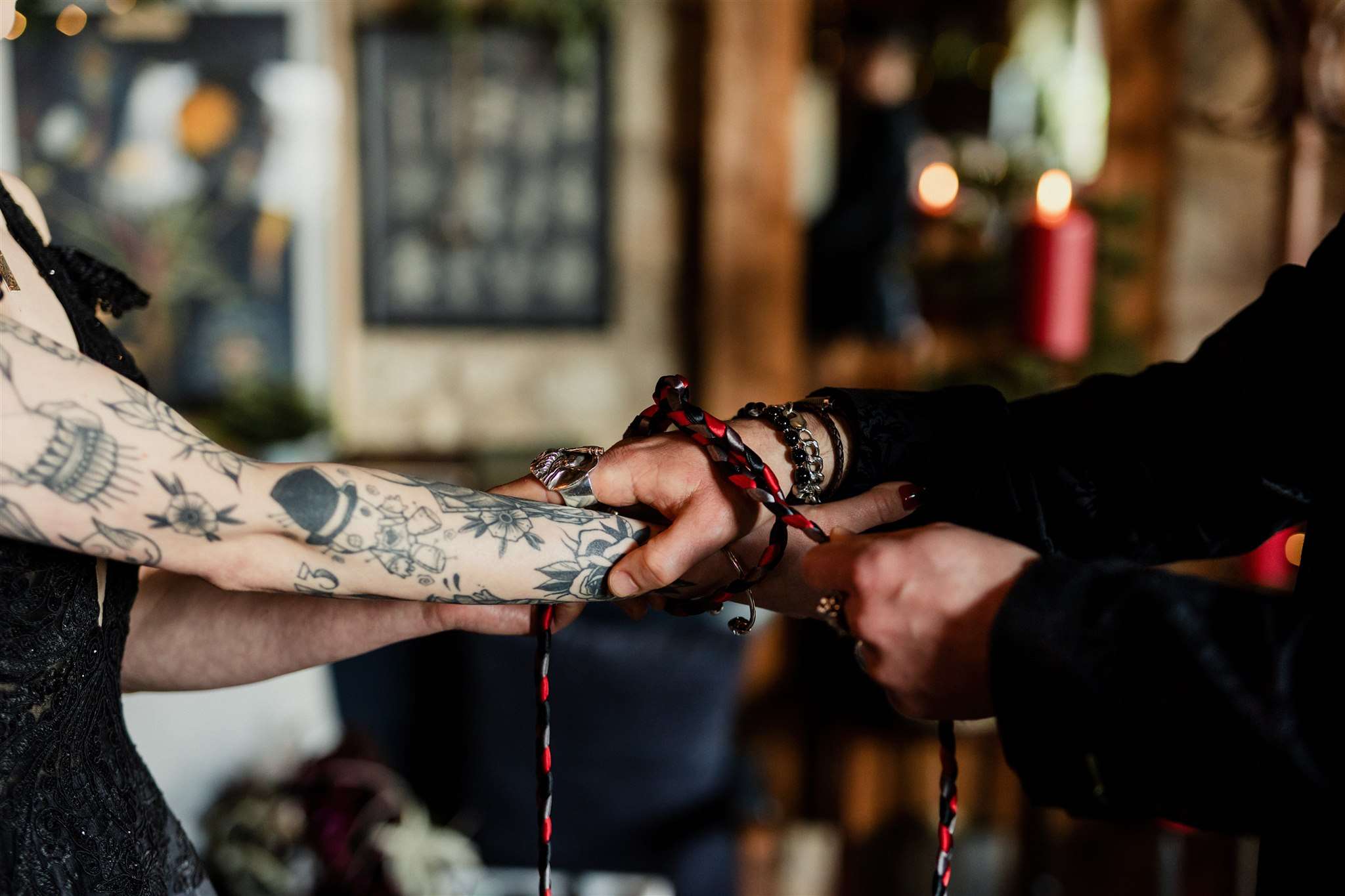 "I bought the dress during the height of lockdown.", she explained. "The restrictions at the time meant I could only go to the bridal boutiques with someone from my own household. I was so glad that Simon came with me and helped pick it though. It meant during the lead up to the wedding, I didn't worry about what he would think of it and if he would like it. I'm an incredibly indecisive person (this even got referenced in my vows!) and his opinion is always the one I want, so it made sense to have him there to help my decide. I tried on many different white wedding dresses. They were cute, but not really 'me'. Any time I tried a white dress on, my immediate thought was 'How do I make this gothic?!' The moment I tried on a black dress I just knew this is what I wanted. I felt much more comfortable, happy and 'me'."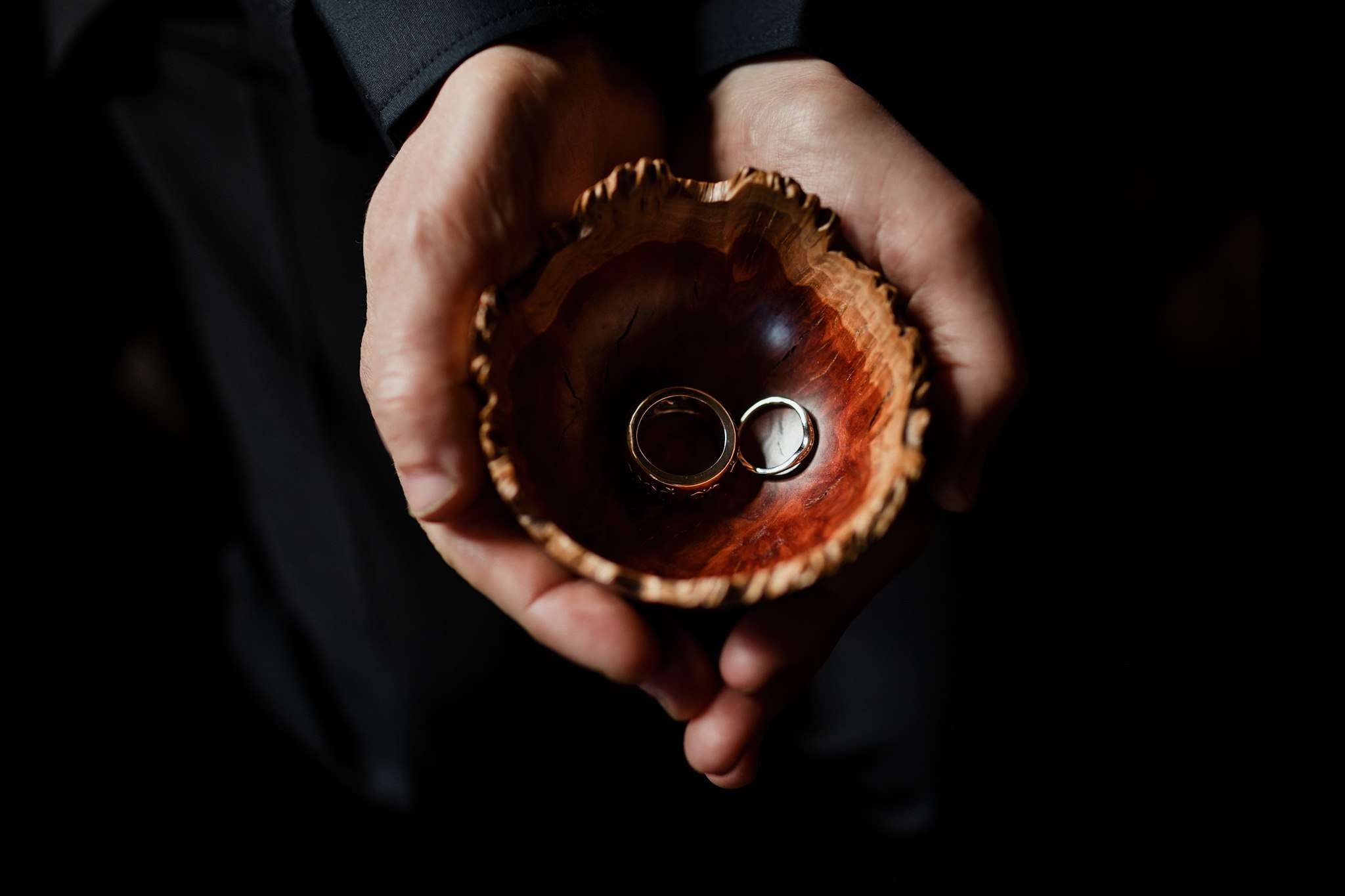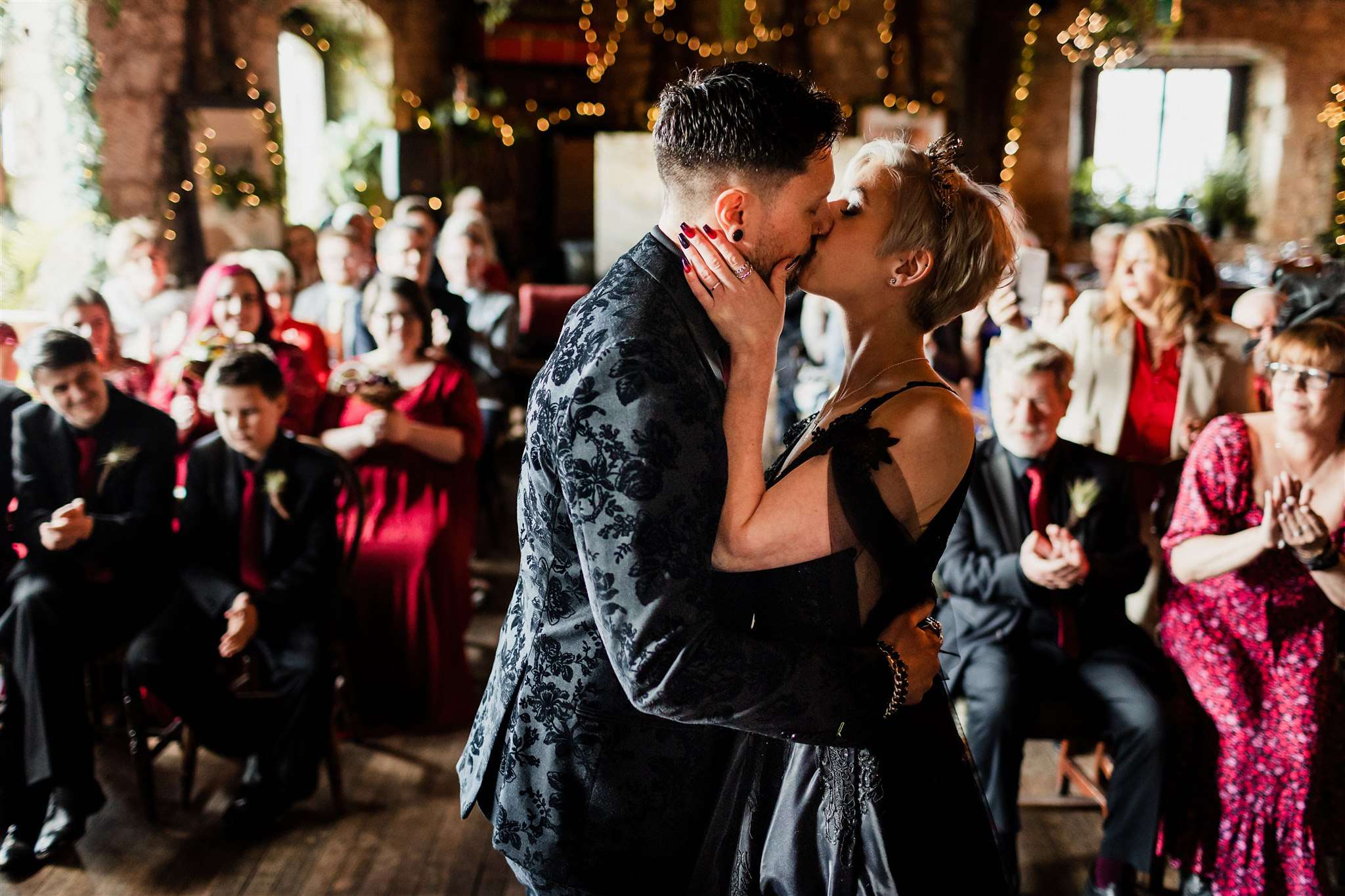 The ceremony was a pagan handfasting and again, was also anything but traditional. The bride walked down the aisle with her mum and dad to an Apocalyptica cover of Metallica's Nothing Else Matters. They also included a ring warming, where the rings were passed around their guests to bless them with good intentions before they exchanged them. Simon's son was also a part of it, he placed the handfasting cord over their hands before the celebrant spoke her blessings and tied the knots. Their exit song was Black Wedding by In This Moment.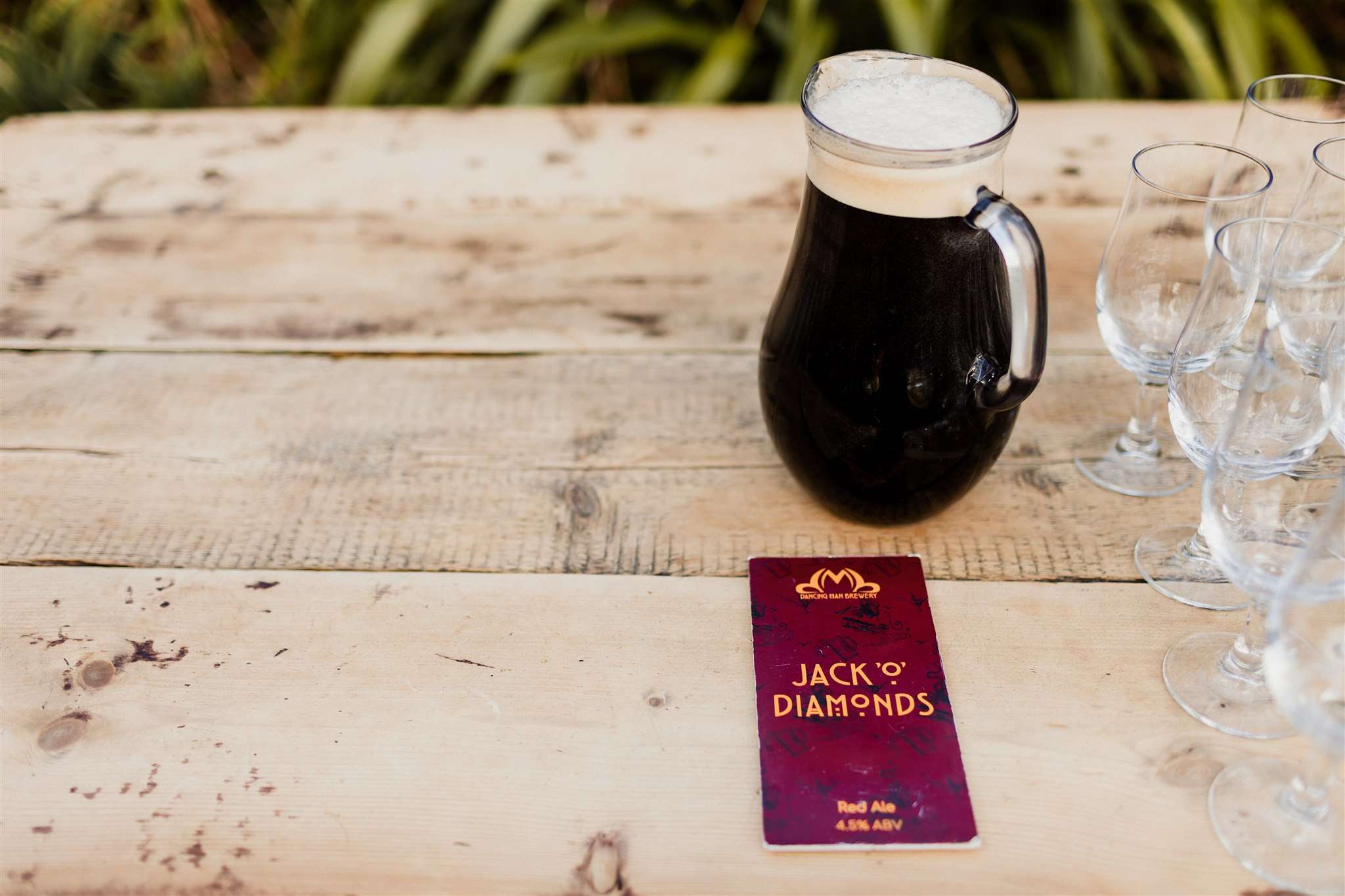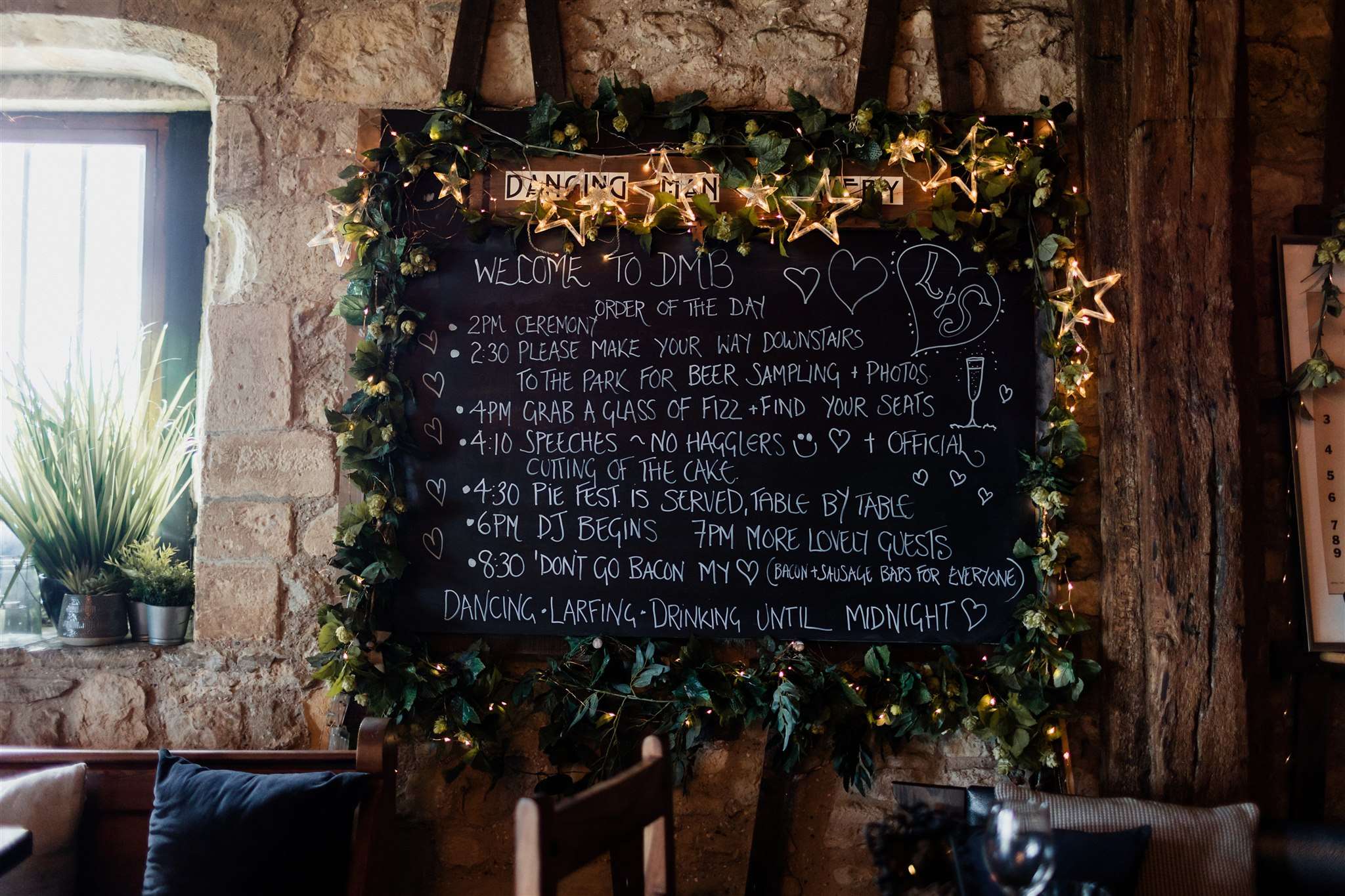 As they were getting married at a brewery, they also really wanted to take advantage of the fact they have lots of their own delicious ales and beers. "Rather than having the usual prosecco and wine during cocktail hour, we decided to do a beer tasting", Lauren said. "We picked our favourite ales and lagers and the venue served these up to the guests so they could have a sample."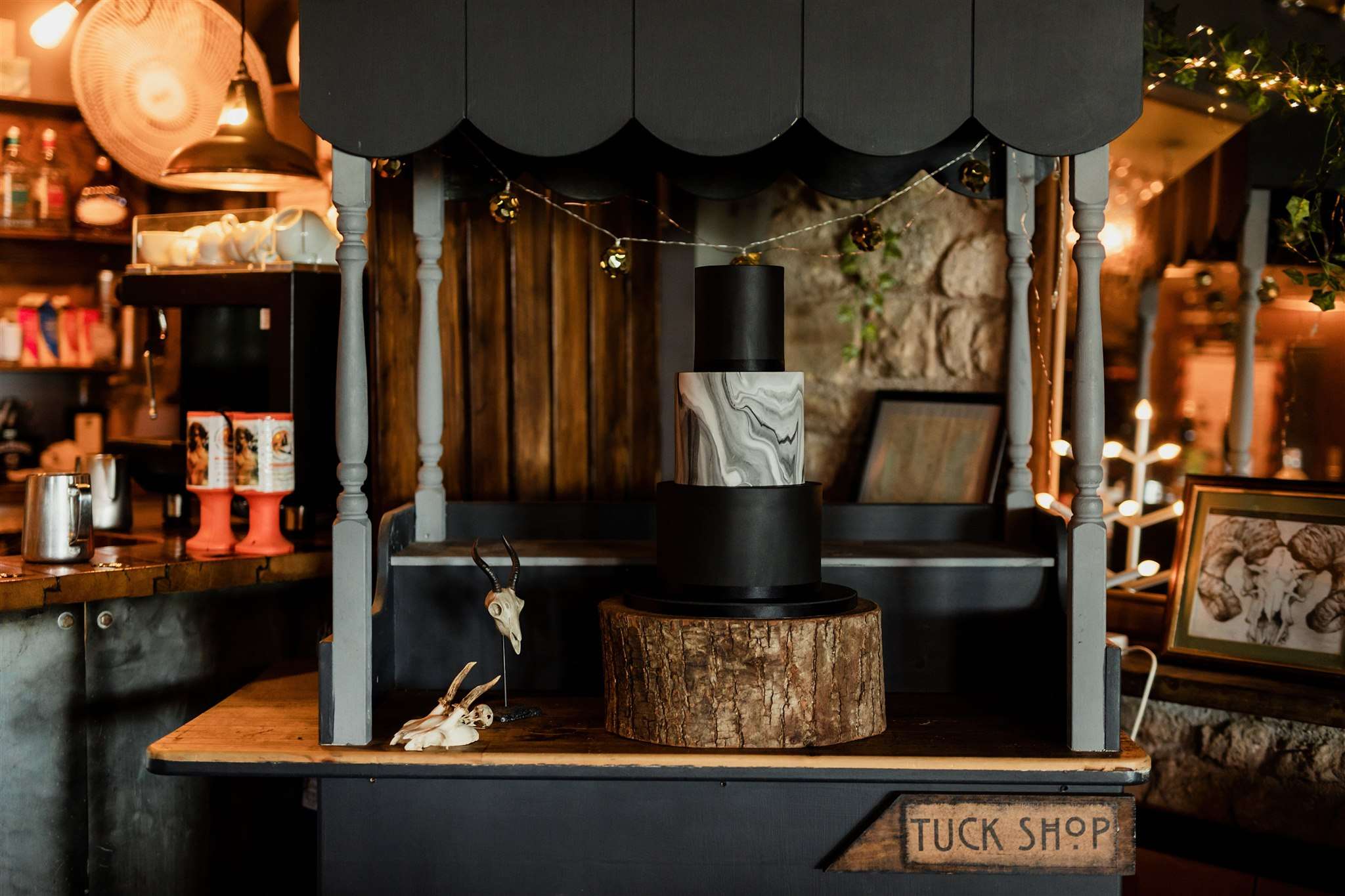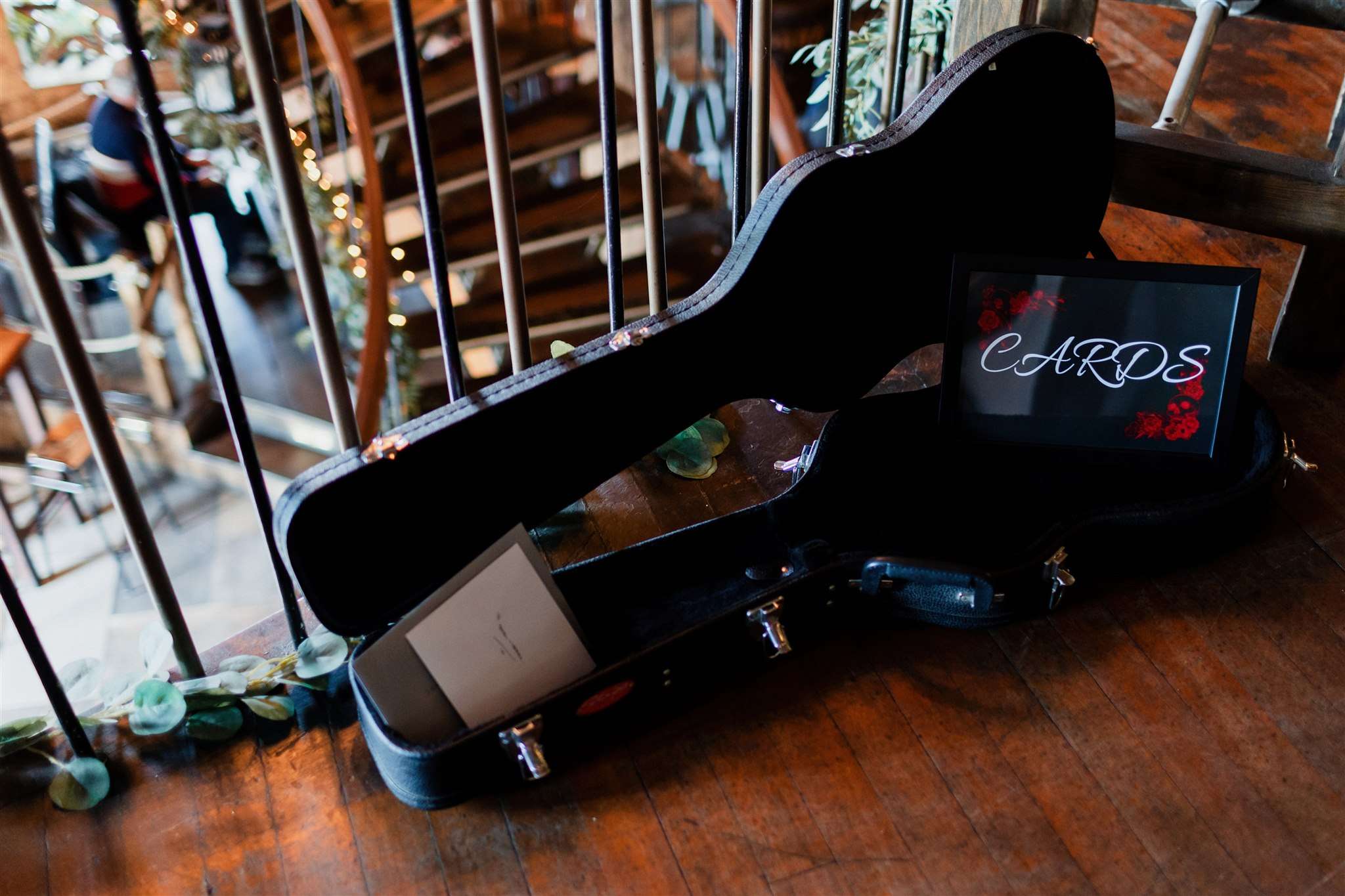 Another highlight of the day was their evening party. They saved money by doing a Spotify playlist for the drinks reception, but for the evening they hired a DJ who specialises in rock and metal music. "The evening was as loud and fun as we had planned, the dancefloor was full and the bar busy! The DJ he played a mix of hits through the years which proved popular with music from Led Zeppelin, through to Bowie, Queen, Iron Maiden and The Hollywood Vampires (our final song of the night was their version of Heroes). At one point one of the door staff said (with a smile on his face) that he thought we were all going to come through the floor at one point due to the loud clapping and foot stomping! I think having a DJ who specialises in the genre of music we love really made a big difference."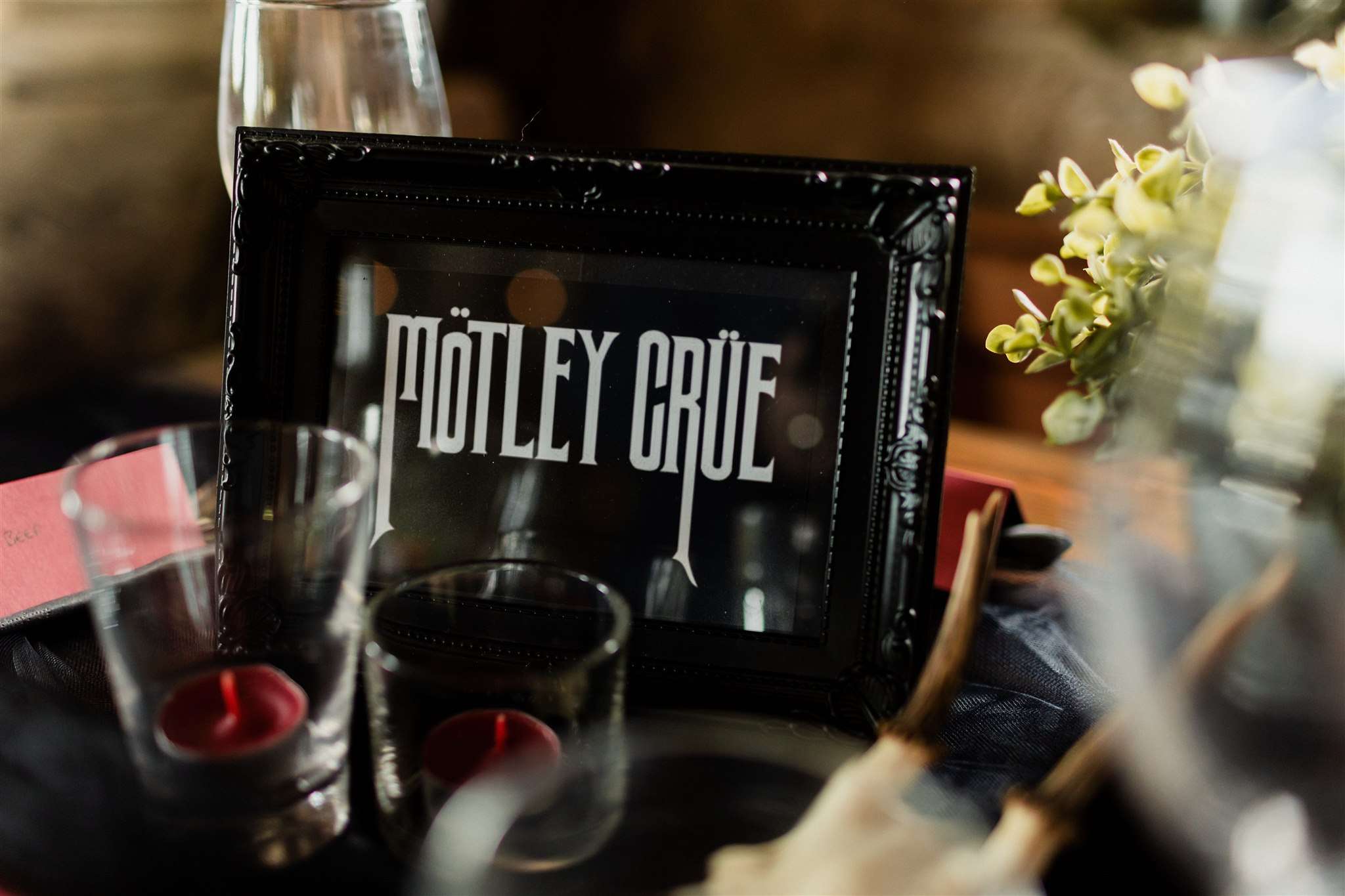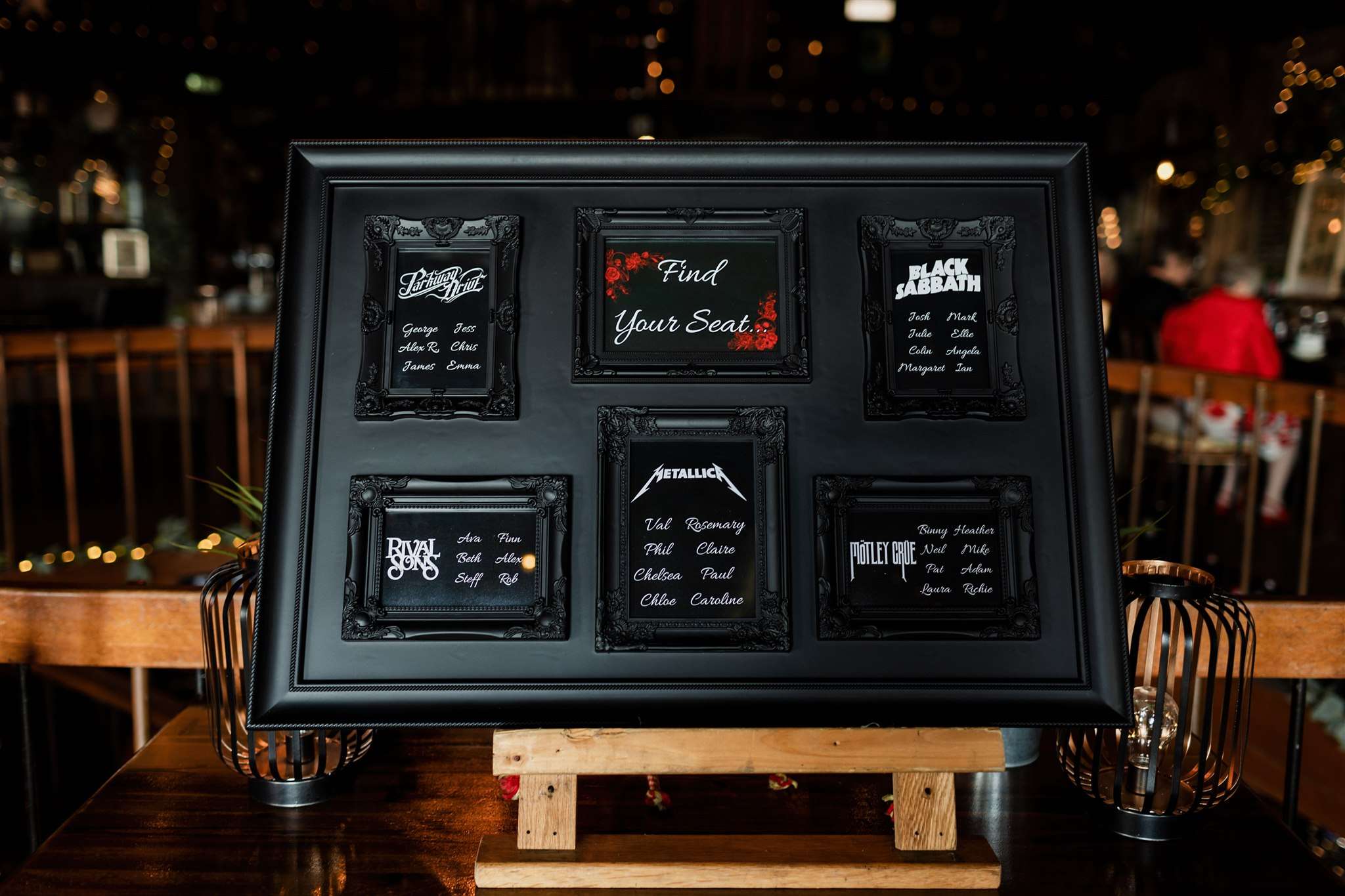 "I think even today, it is difficult to plan an alternative wedding", Lauren concluded. "I
remember having my make-up trial and the makeup artist's eyebrows shooting up in surprise when I said I wanted dark, black smoky eyes and a red lip to go with my black dress. She said so often brides want the 'standard' nude, subtle look. We ended up having to think outside the box for a lot of things. Rock n Roll Bride helped massively. I've spent hours on that Facebook page and it gave me loads of ideas and help on where to find alternative items". Our advice would be don't worry about what everyone else thinks. If you want to rock a black dress and have a skull in your bouquet, DO IT! You're the one who has to live with the memories so you may as well have the amazing day that you actually want."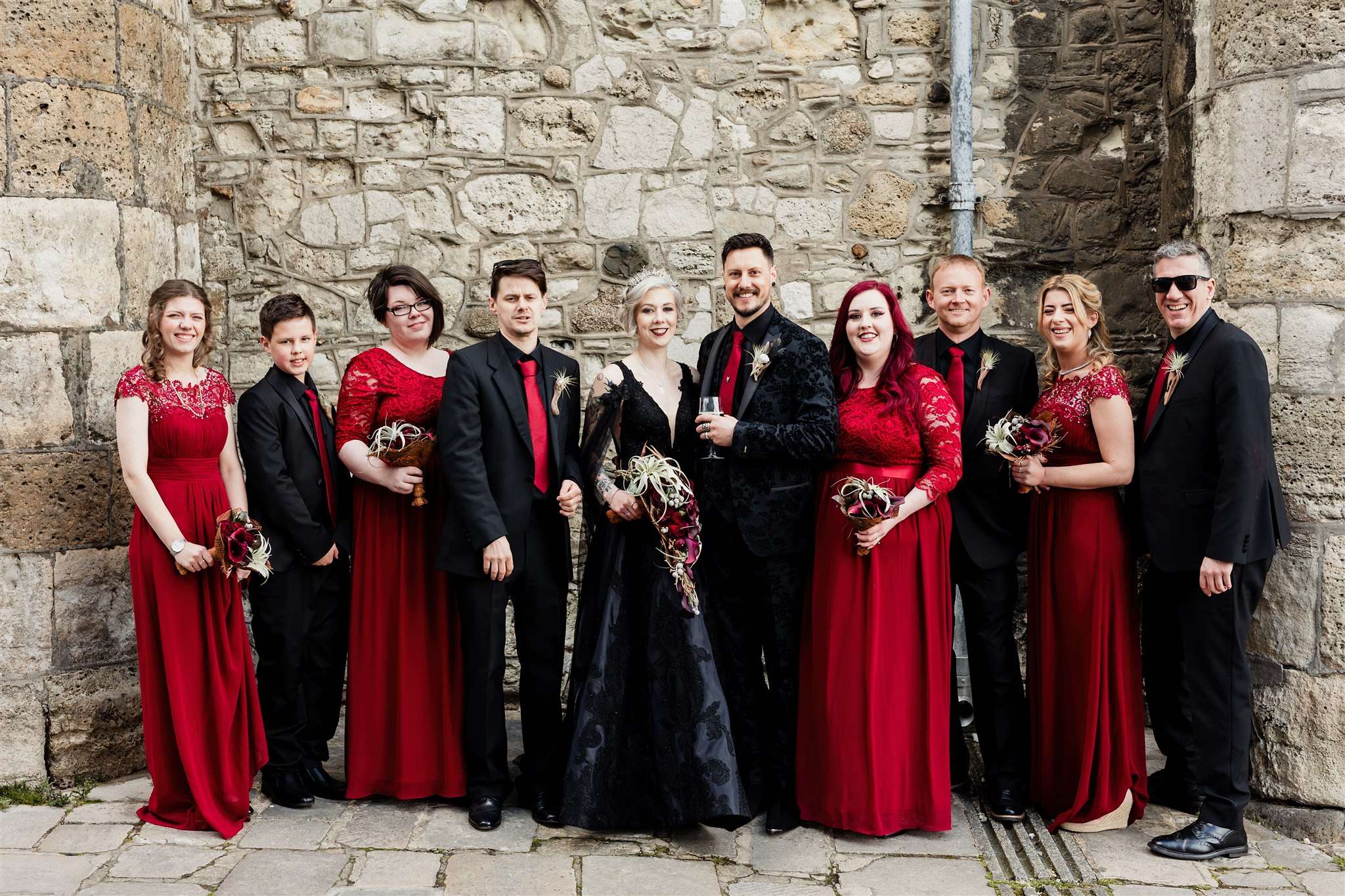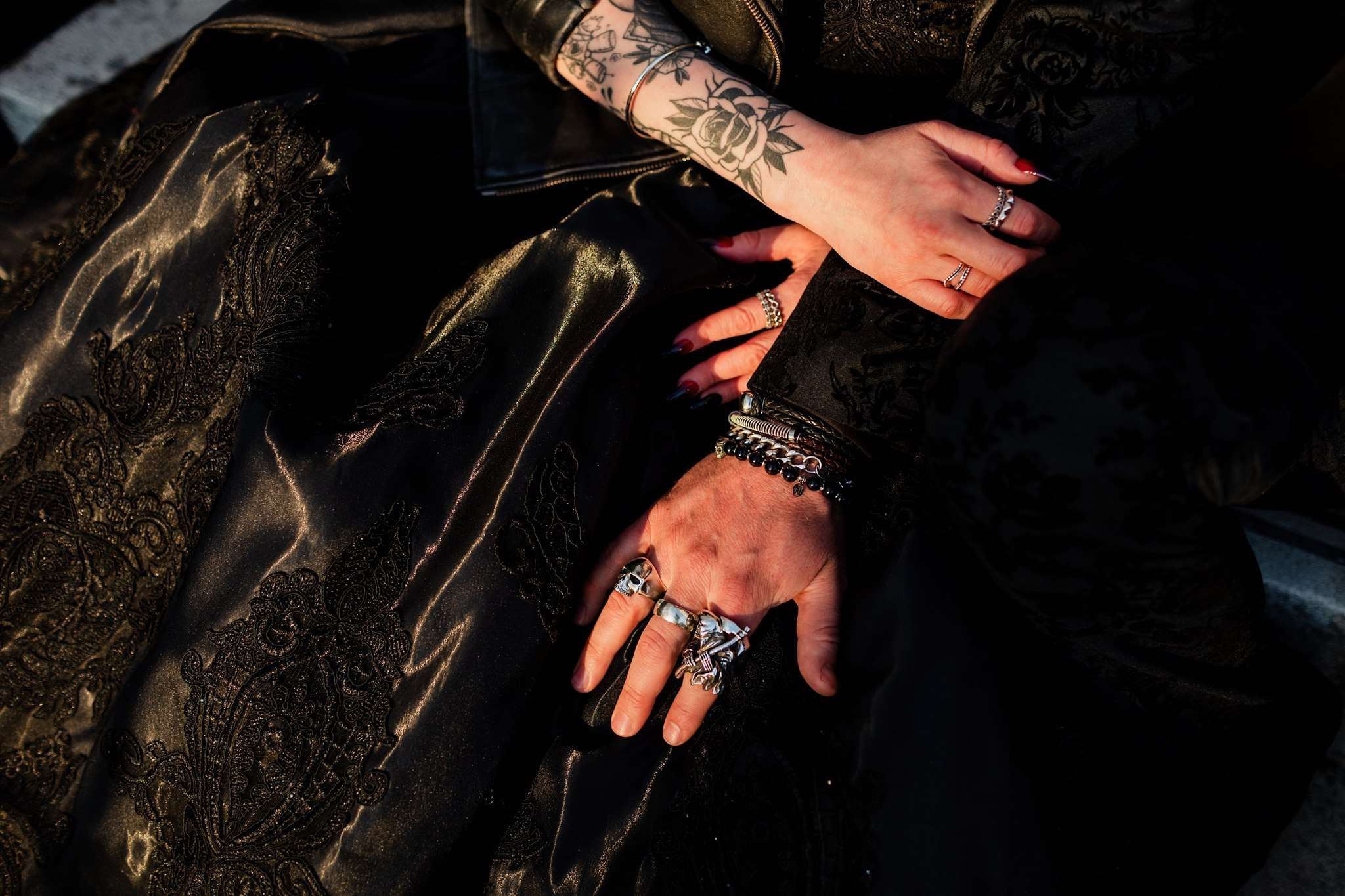 "Also have a budget down on paper (or in our case a huge excel spreadsheet) and stick to it", Simon added. "It's easy to go way over budget but think about what is important to you as a couple and spend the money on that. For us, that was having the venue that meant something to us, a DJ who specialised in the music we love, a celebrant who really 'got us', a florist who took our ideas and ran with them and a great photographer to capture it all."