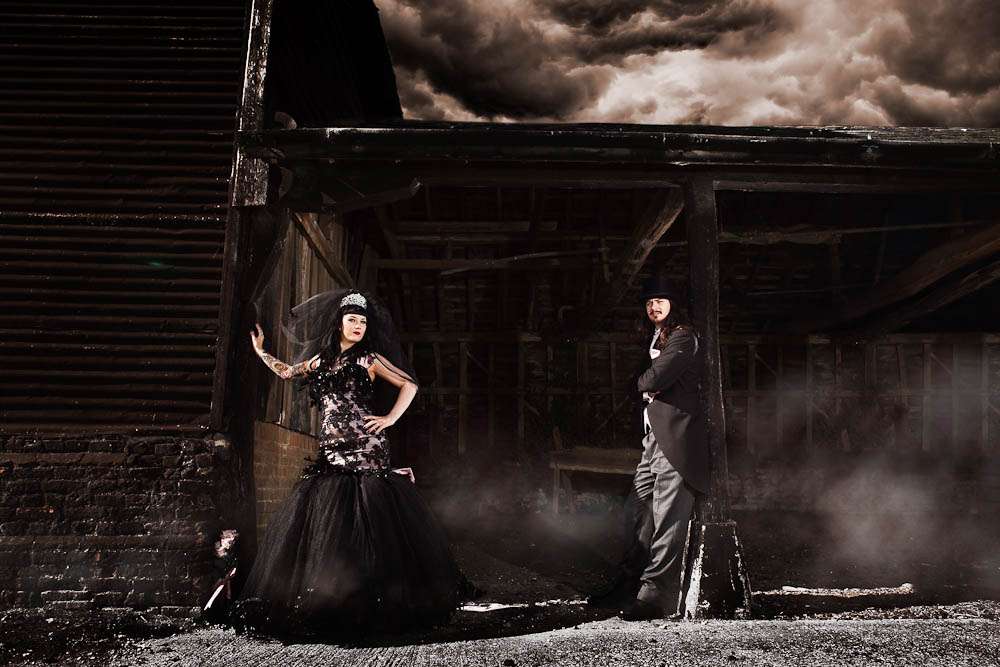 Scarlet & Craig's wedding wowed me as soon as I spied that dress. I was so excited to be able to share this incredible Goth extravaganza and luckily for you lot, so were the newlyweds. In fact Craig's reply when I emailed him back saying 'Yes yes, hell yes (ps your wife is hot)' was something along the lines of 'OMG so excited that you're going to feature us!!! Squeeee'.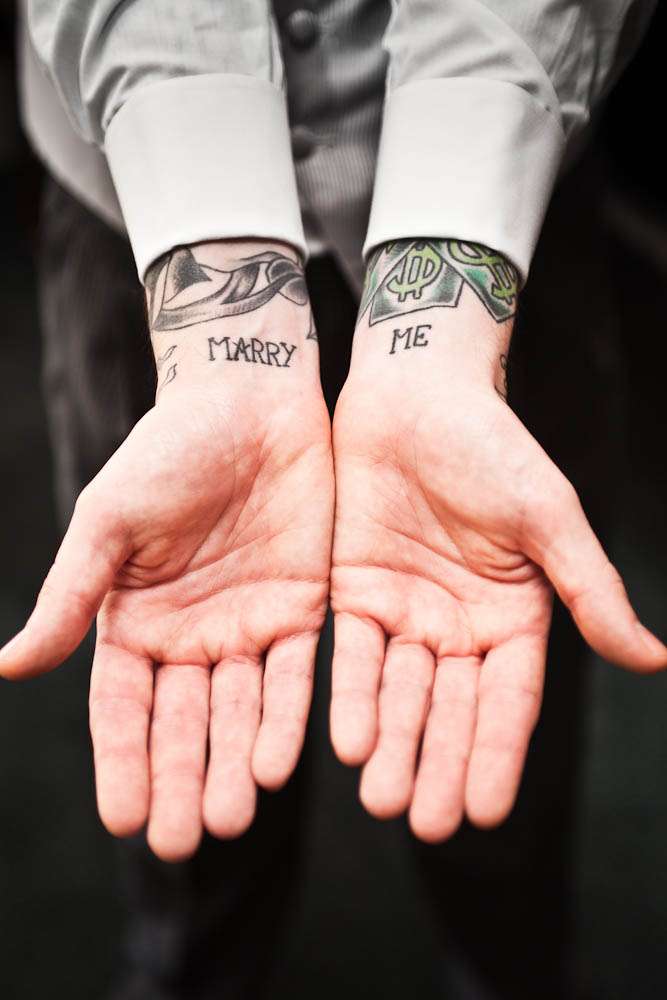 "I'd never really thought about my wedding day growing up, so when Craig proposed on a trip to Amsterdam (with a tattoo that simply said 'Marry Me' on his wrists!) I was thrown into a bit of a panic!" Scarlet explained. "But as soon as we started planning we knew we wanted to do things our own way. Luckily we found Rock n Roll Bride, which made us realise there really are no 'rules' for a wedding, and then we just went all out! We didn't start out with one, but as we went along we developed a kind of pink and black gothic fairytale theme, pink being my favourite colour, and black being Craig's!"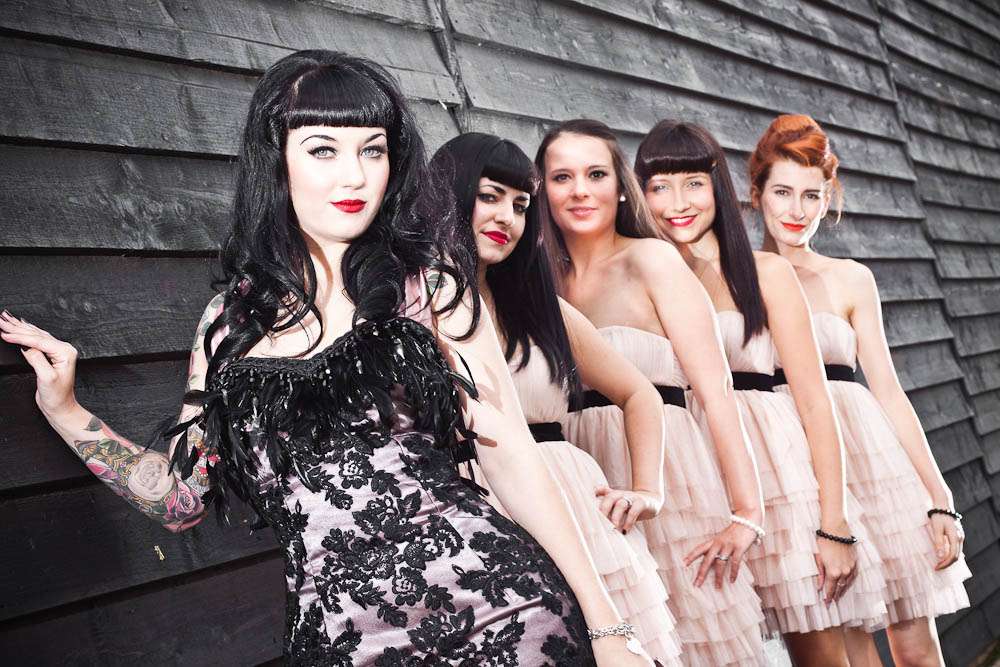 "We didn't have a huge budget, and didn't want to waste money on things that people 'expect' to have at weddings which arent really necessary (for us, flowers were one of these things!) It took some convincing my parents that the bridesmaids would look great in £35 high street dresses and Primark shoes, and that the best men didn't need buttonholes! Wherever possible we enlisted the help of friends and family, from the dress to the cake to the reception decor and catering. I'm a make up artist so I did my own hair and makeup, and I let the bridesmaids have free reign with their looks as I didn't want them to look to 'matchy'."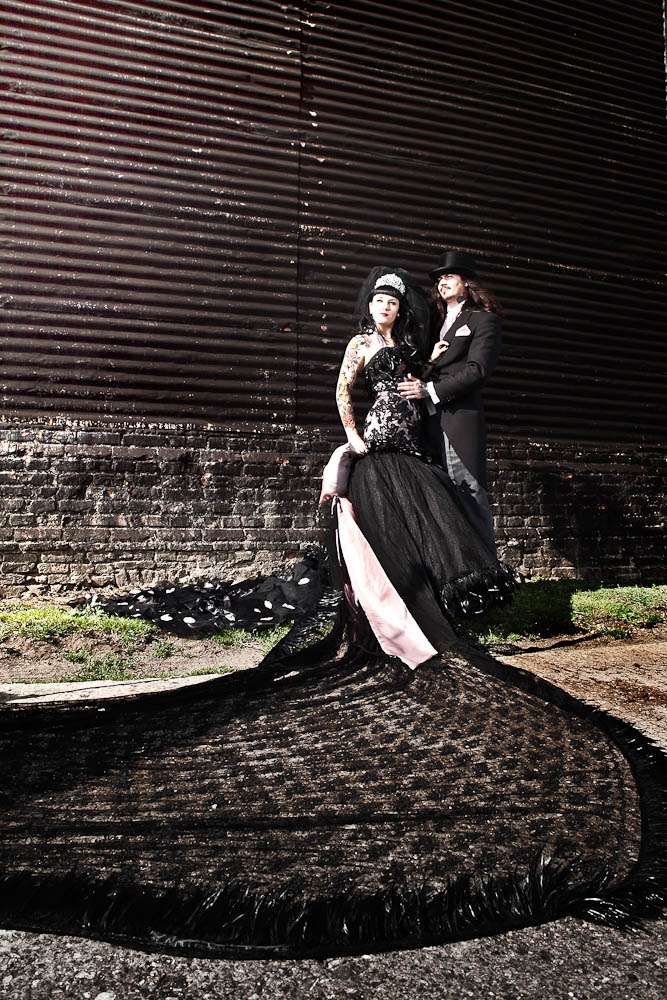 As I said above, Scarlet's dress was what really caught my attention when I first saw this wedding…and it turns out I wasn't the only one! "The theme for the wedding really revolved around my dress, which was designed and handmade by the amazingly talented Kim Denman," the bride continued. "I knew straight away that I would never find anything in a bridal dress shop, so didn't even bother looking! Kim is a family friend who is based in LA, but also has a house in Hastings. I approached her about making the dress, and after an initial brain storming session, we decided on a kind of 50's underwear themed colour scheme of dusty pink and black, with plenty of feathers, beads, and netting thrown in! Oh, and a massive stuffed pink bow on the back! I travelled to Hastings several times for fittings, but unfortunately didn't get to accompany the dress on it's trips to LA and back! Several times during the fitting process I wondered whether I'd taken it too far (my Mum was particulaly against the idea of a black dress) but in the end everyone loved it, even our most conservative guests and (suprisingly) our Vicar!"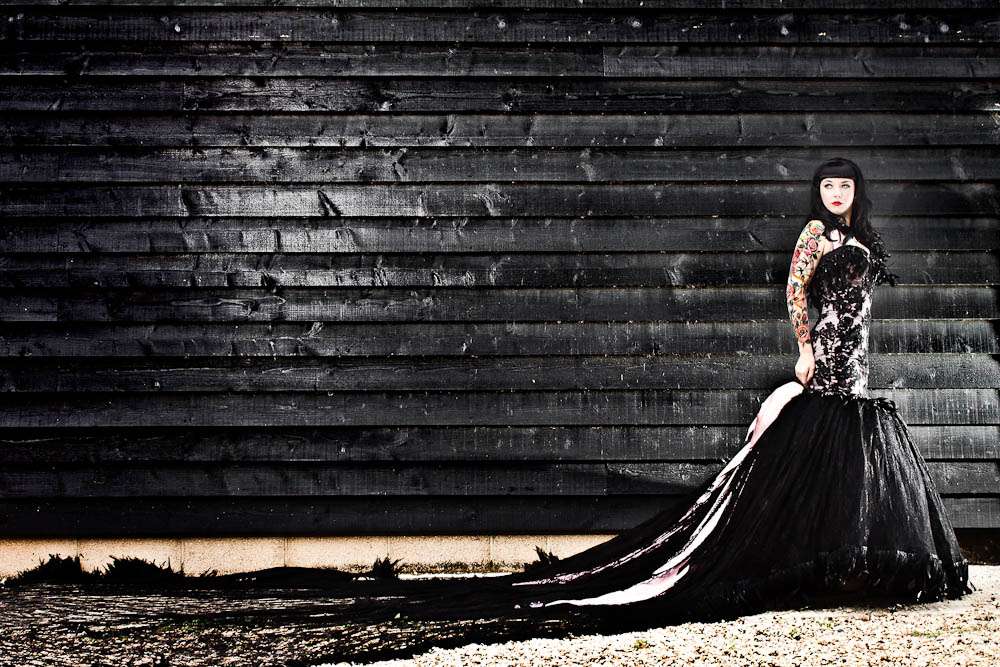 After a ceremony at St Mary's Church, the reception as held at The Suffolk Barn. "We instantly loved the idea of having the reception in a barn, and wanted a venue where we could create exactly what we wanted. Luckily we found the amazing 14th Century Suffolk Barn in Hawstead. The owner only allows a handful of events to be held there each year, and it has pretty much been left with all its original features, meaning it was a blank canvas for our ideas. My Dad is a production designer for film and TV, and without him, we could never have created anything so magical as our reception decor. From the fairy lit trees guiding the way to the entrance, to the handmade globes of foliage and pink ribbon hanging from the ceiling, to the enormous gilt frame that made our stage look absolutely surreal, he worked so hard (along with my brother and cousins) to make the venue look like something from a fairytale! The colour theme from my dress popped up everywhere: the beautiful cake made by my extremely talented cousin Maddie even had the lace design from the dress incorporated into it."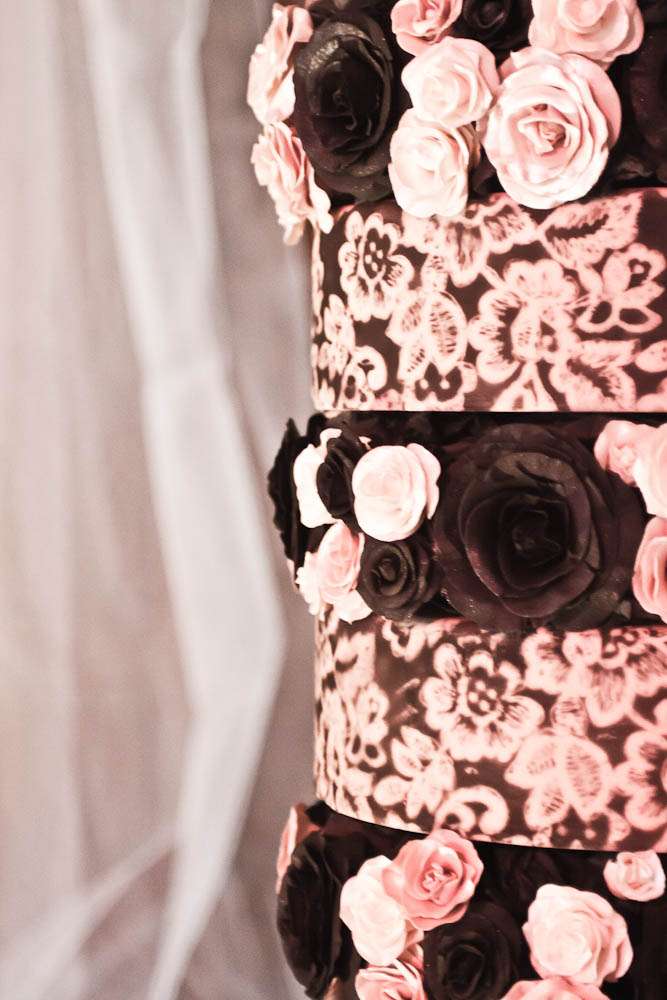 Thank you so much to Scarlet & Craig for sharing their amazing wedding with us today.
Photography Credit: Eden Exposed Photography
Ceremony Venue: St Mary's Church Bury St Edmunds, Suffolk
Reception Venue: The Suffolk Barn, Hawstead, Suffolk
Bride's Dress & Veil: Kim Denman
Bride's Shoes: Love Label
Bride's Headpiece: bought in LA
Groom's Outfit: Moss Bros
Bridesmaid's Dresses: H&M
Bridesmaid's Acessories:
Cake: Madeleine Ellis
Band: Nitro Freight Train
DJ: Jimmy the Cheese
Transport: Le Baron