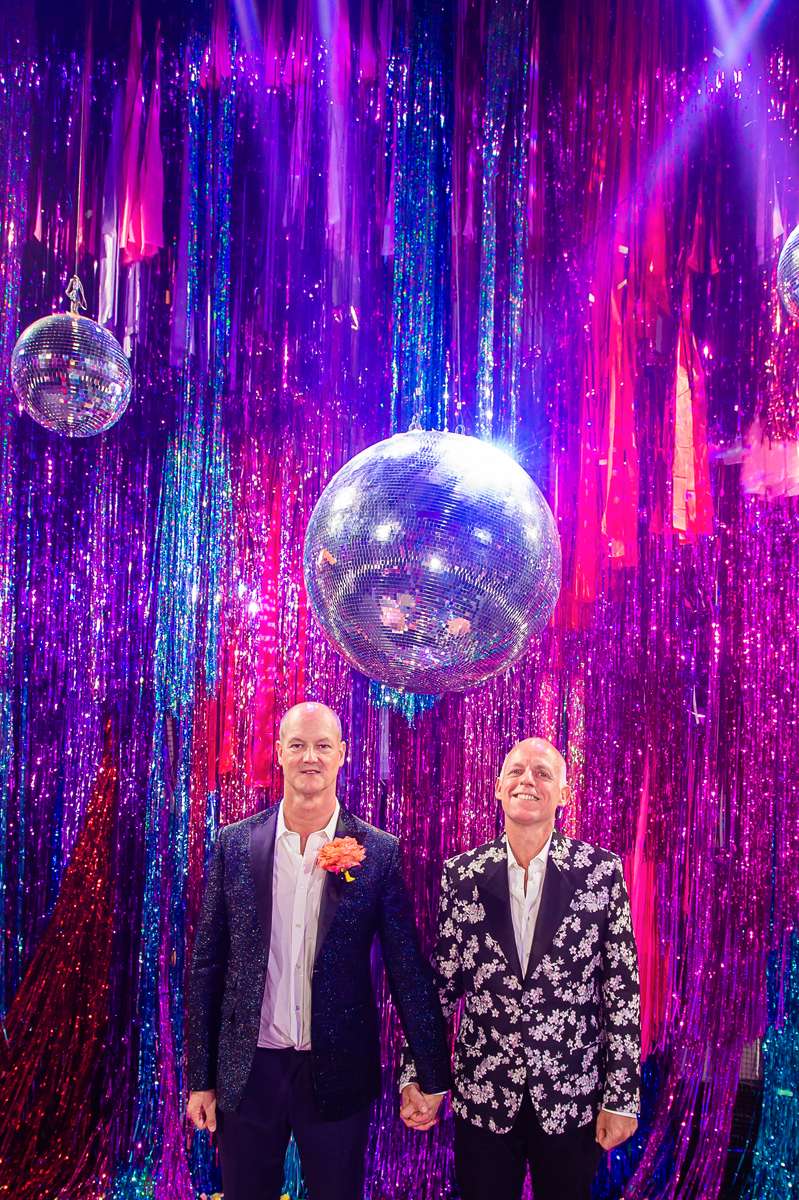 Get ready, because Sean and Matt's Sydney wedding celebration is about to blow your glittery socks off! And even better than all that – it was a surprise wedding! They invited their guests under the guise of Sean's 50s birthday but mid-way through the night, surprised everyone by telling them they were getting married! Sean only proposed two months before and most of their guests didn't even know they were engaged!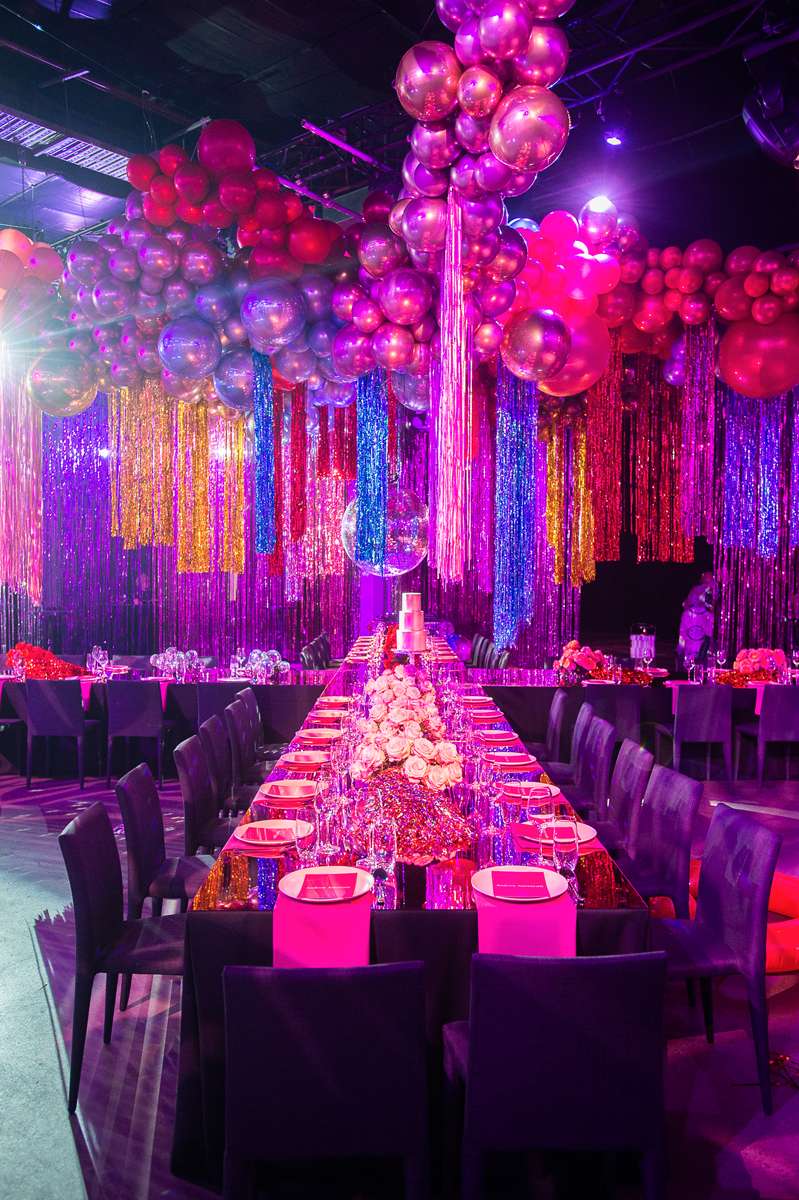 The couple first met on the dance floor 19 years ago so the theme of the party was literally perfect for them. They had disco balls, holographic screamers and amazing pink and purple lighting. They rounded off the night with drag and dance performances, DJs and a surprise lip-sync performance by one of the grooms.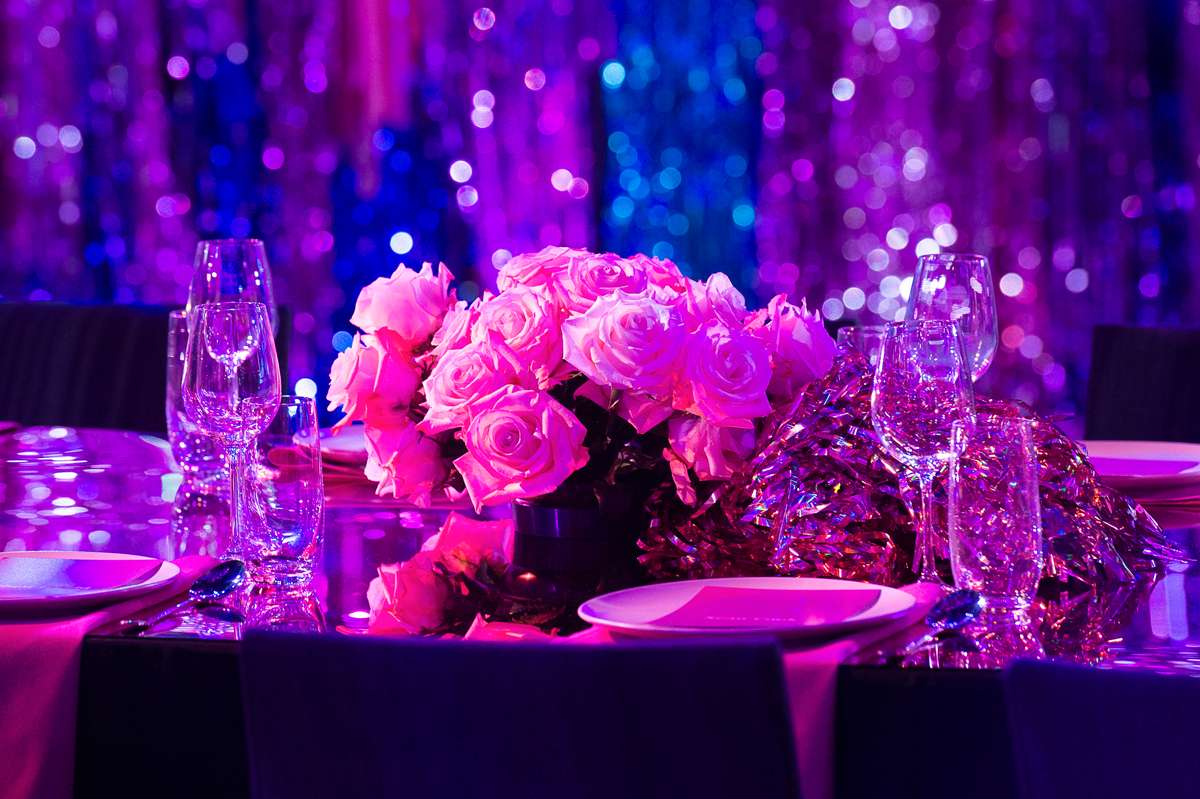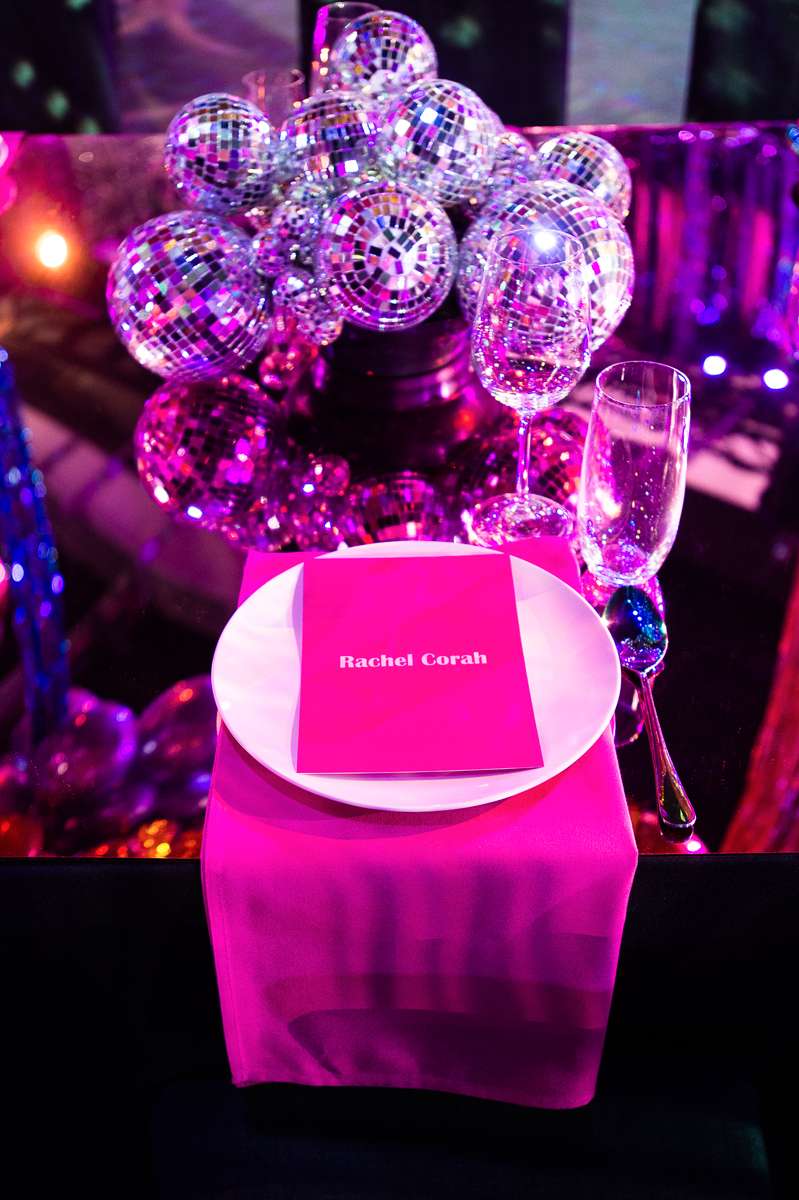 Even though Sean is a florist, they actually chose not to have many flowers instead opting for something more 'them'. Sean explained, "Its strange being a florist, but I really wanted to have minimal flowers. I wanted our wedding to look unlike any of the weddings I've worked on before and to have a colourful party vibe. Also, having legalised same sex weddings was fairly a new thing in Australia, I really wanted to really celebrate this fact. We kept calling it our Big Gay Surprise Wedding – so, lots of sparkle, glitter and Kylie!"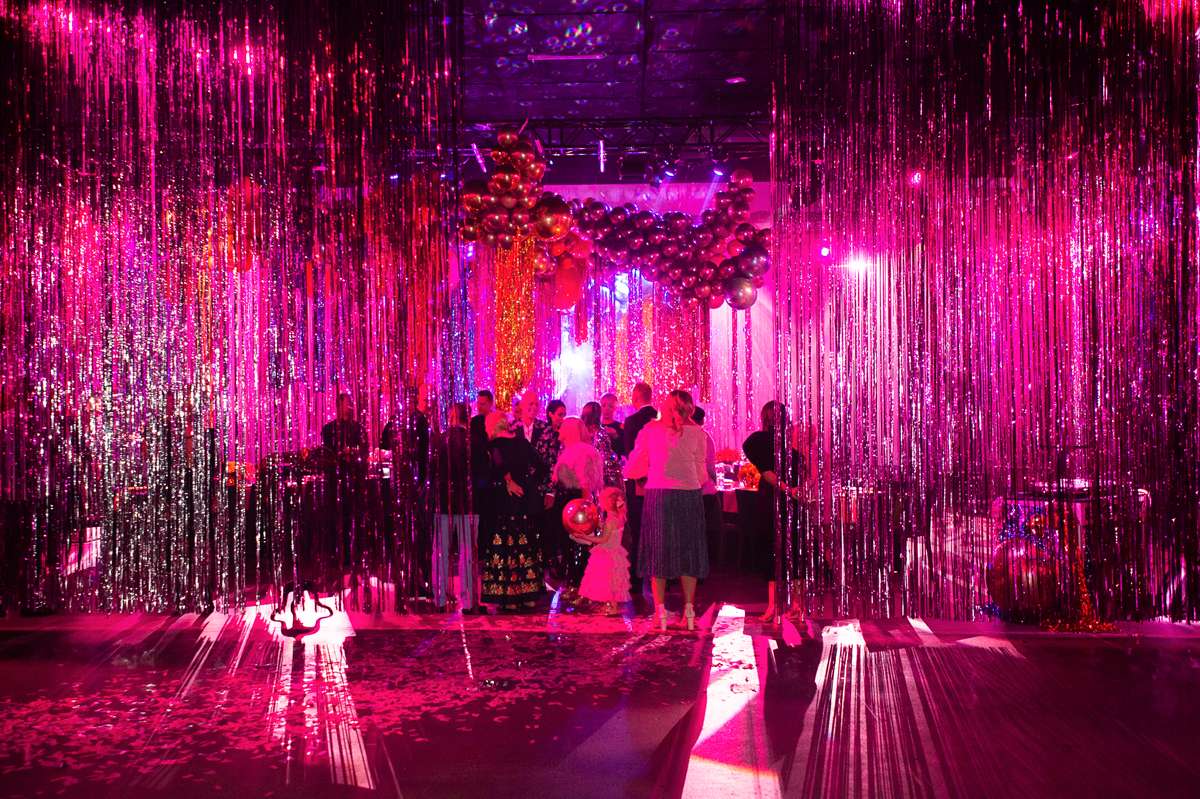 "Having made hundreds of bridal bouquets over the years I decided I needed a groom's bouquet, too. We hired my friend Lisa Cooper to put the flowers together for us. My bouquet was one of my favourite things of the day as it was a surprise. I completely left it in Lisa's hands. Stunning colourful Colombian roses with lots of sparkly trailing tinsel strands and some special trailing orchids. The table centres were masses of roses in one colour with trailing tinsel. We also incorporated some mirror balls into some of them."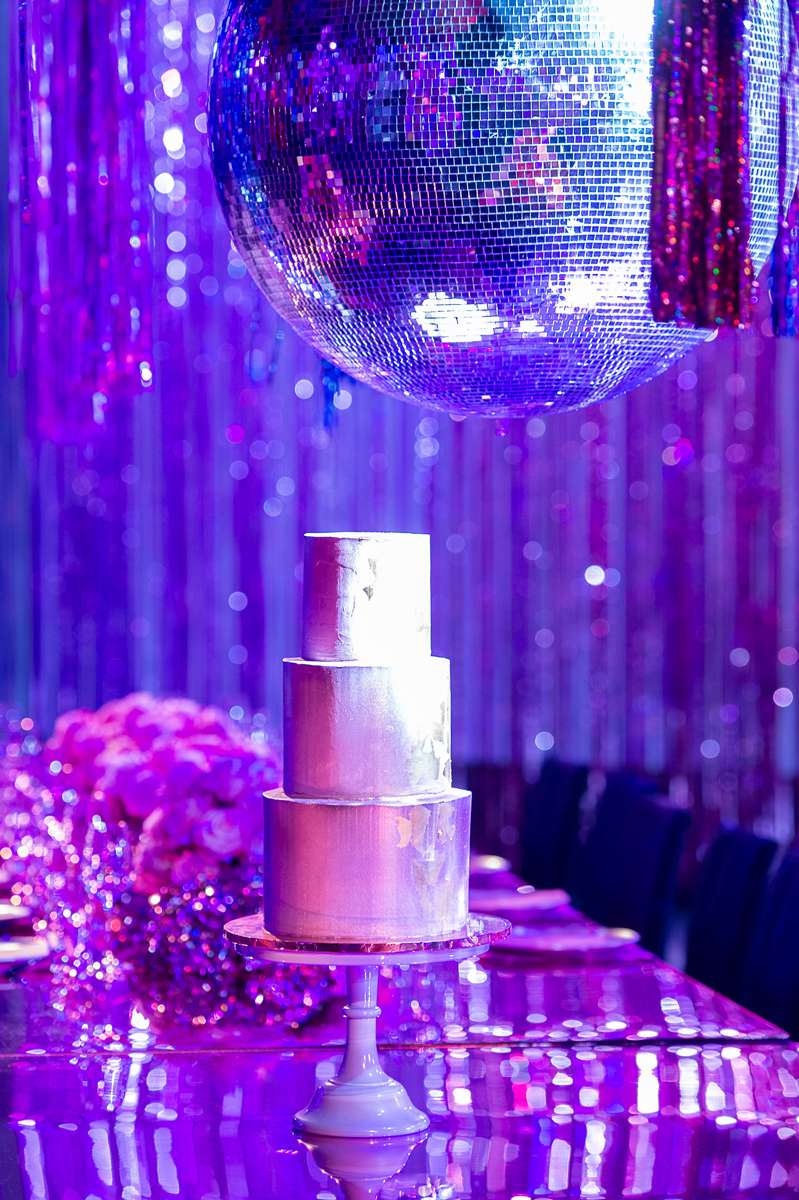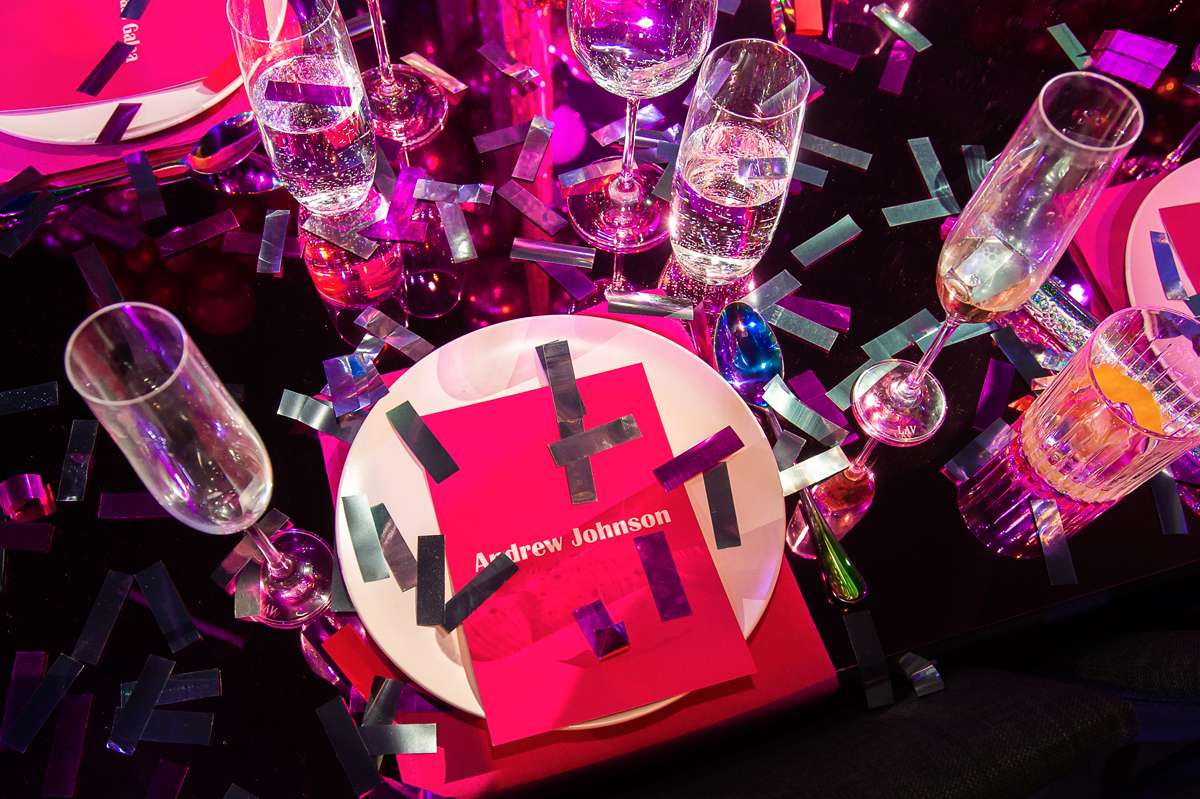 The wedding was held at The Venue in Alexandria. which is a giant empty warehouse space. Initially they thought it might be too dark for a wedding, but when they added all the lighting and installed the (what they called) 'glitter box' with the tables in the middle, it all came together perfectly.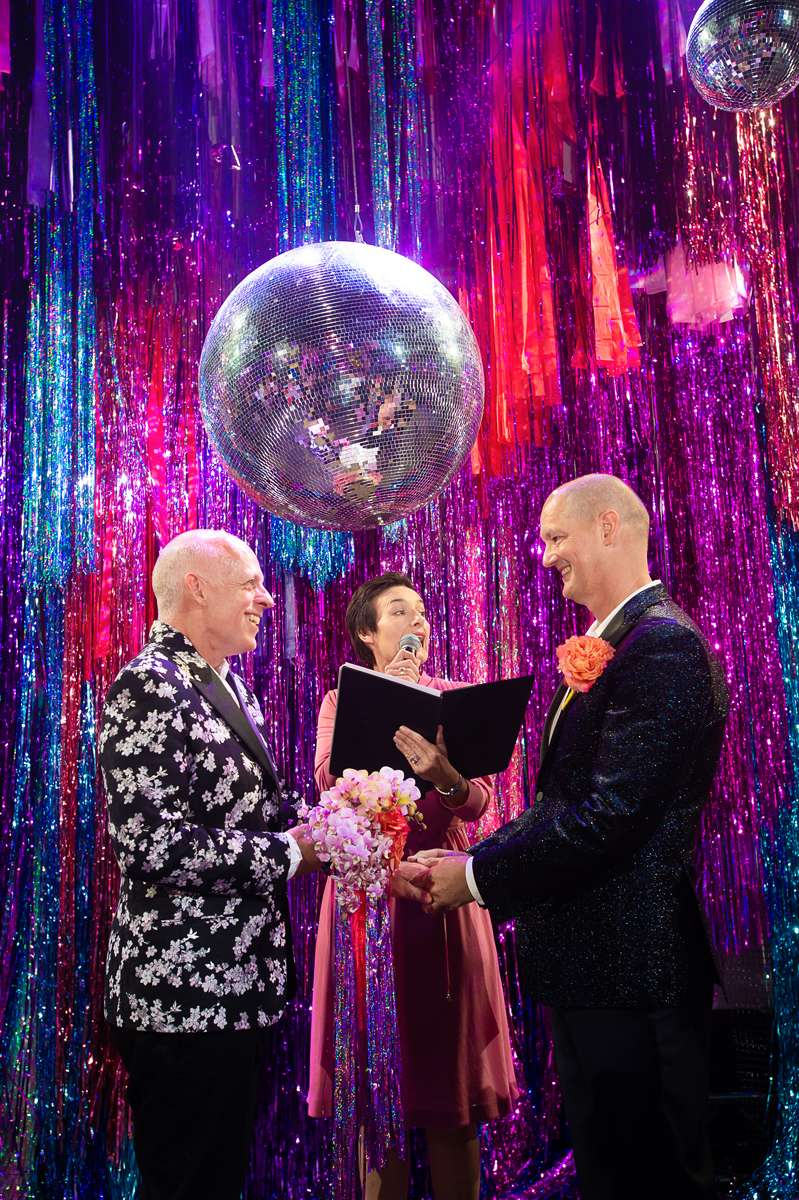 "Guests walked into the darkened cavernous room", Sean continued. "In the middle of the space we created a walled room defined by walls of 6m tinsel curtain which you could see through. In the middle of the room was our dining table which everybody could sit at in the shape of a big X which had a pink mirror top that reflected the tinsel and balloon installation above."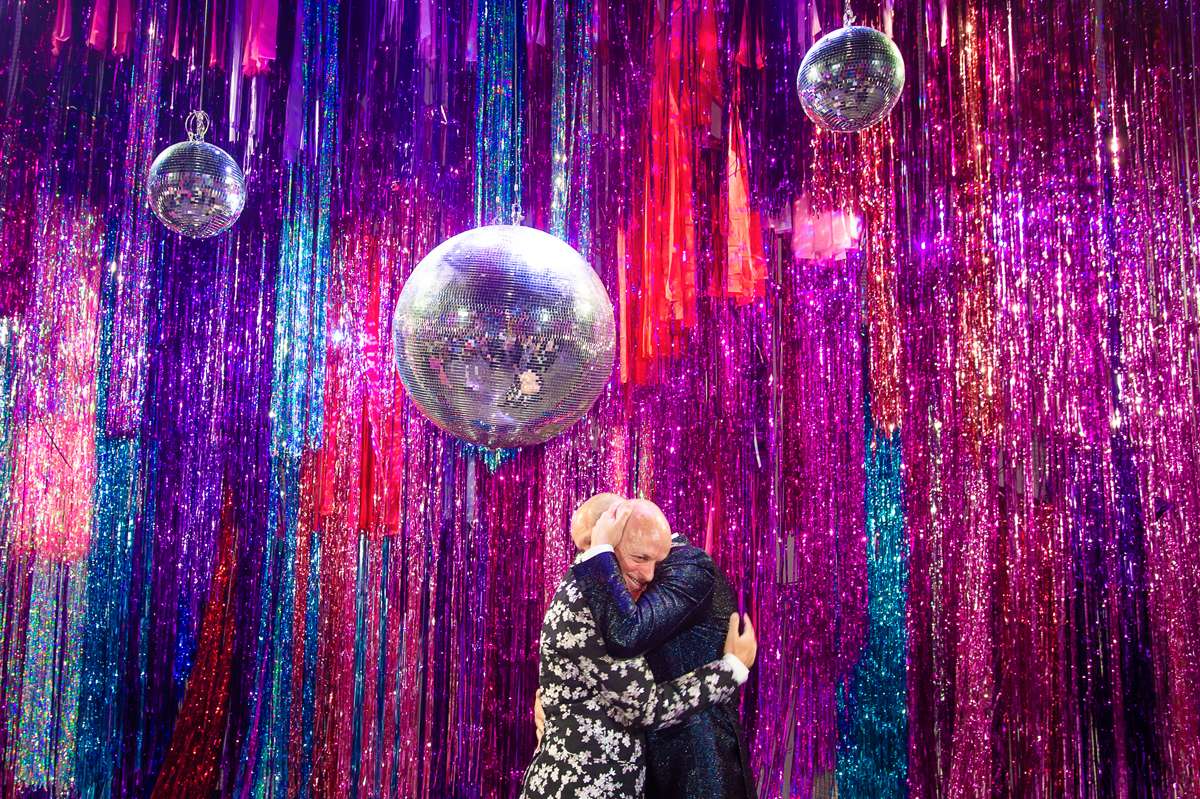 Despite all the incredible visual feast that the day provided, to Sean and Matt, the most important part was actually the ceremony. When they started to plan the day, the first person they hired was Jessie Caccillo to officiate the ceremony. They wanted a short but meaningful ceremony which also had everyone laughing. They included the poem I want to be your Personal Penguin by Sandra Boynton as a reading which moved quite a few guests to tears.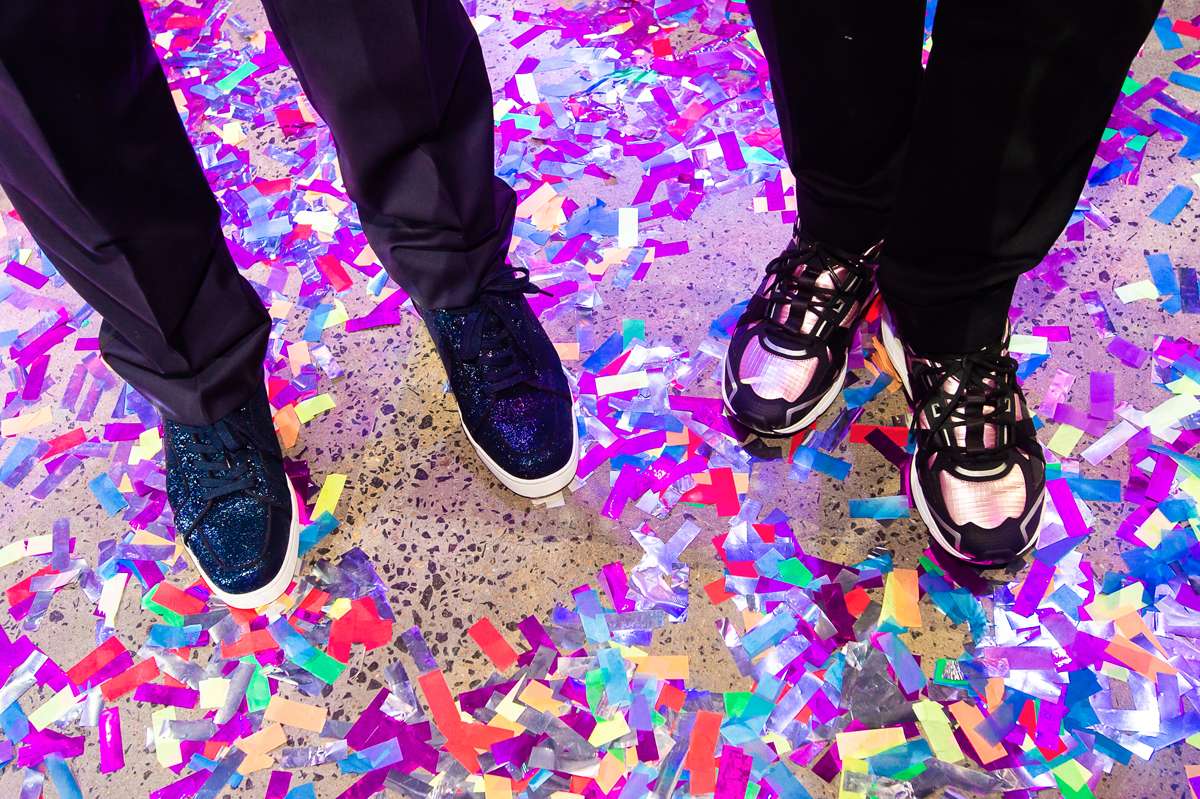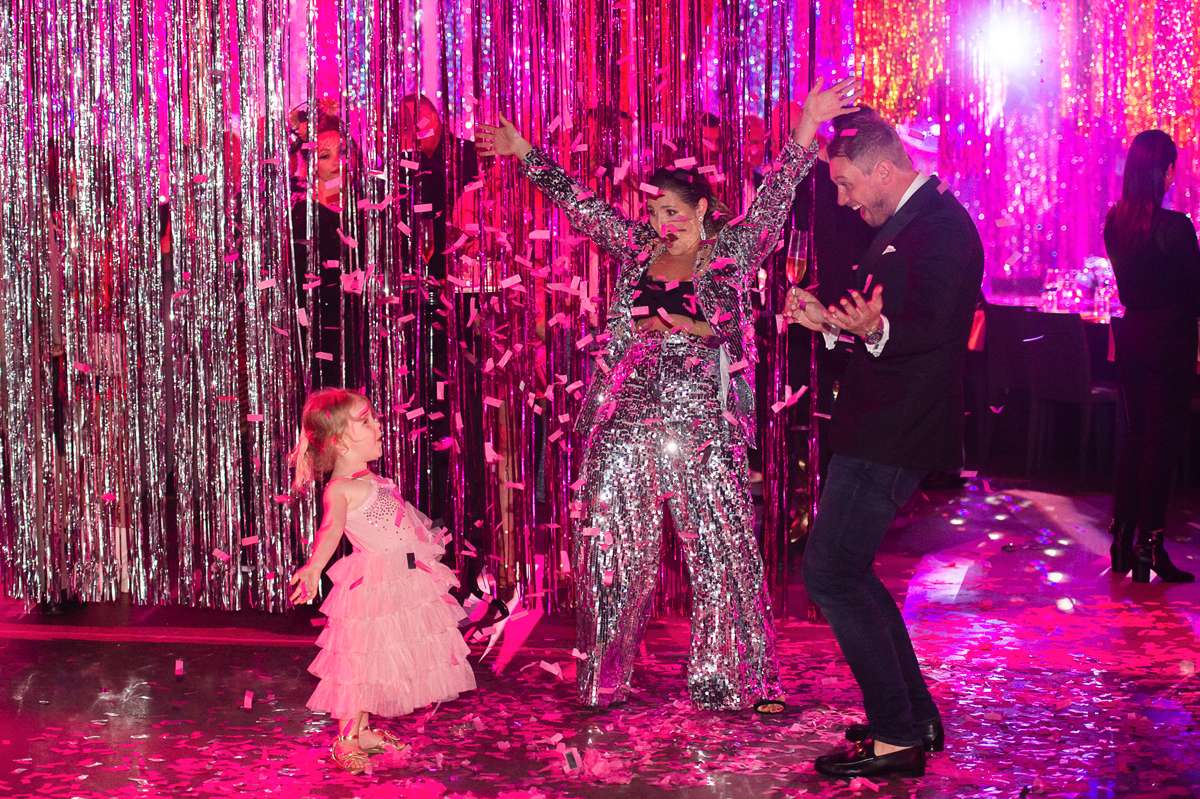 "For the glittering finale of the ceremony we played Kylie's All The Lovers while huge rainbow glitter canons exploded behind us! During the signing of the registry we had a beautiful version of Kylie's I Believe In You from the Abbey Road sessions playing."
The entertainment at the end of the night was wild and such a lot of fun! As a complete surprise to Matt, Sean and some of the guests organised a performance of I Should be so Lucky. Sean lip-synced complete with 12 back up dancers, huge inflatable hearts and glitter canons! They then had drag queen Minnie Cooper singing Singing In The Rain (live!) with her dancers in raincoats and rainbow umbrellas. Then, Decoda Secret did a performance of On A Night Like This by Kylie with lasers and fireworks!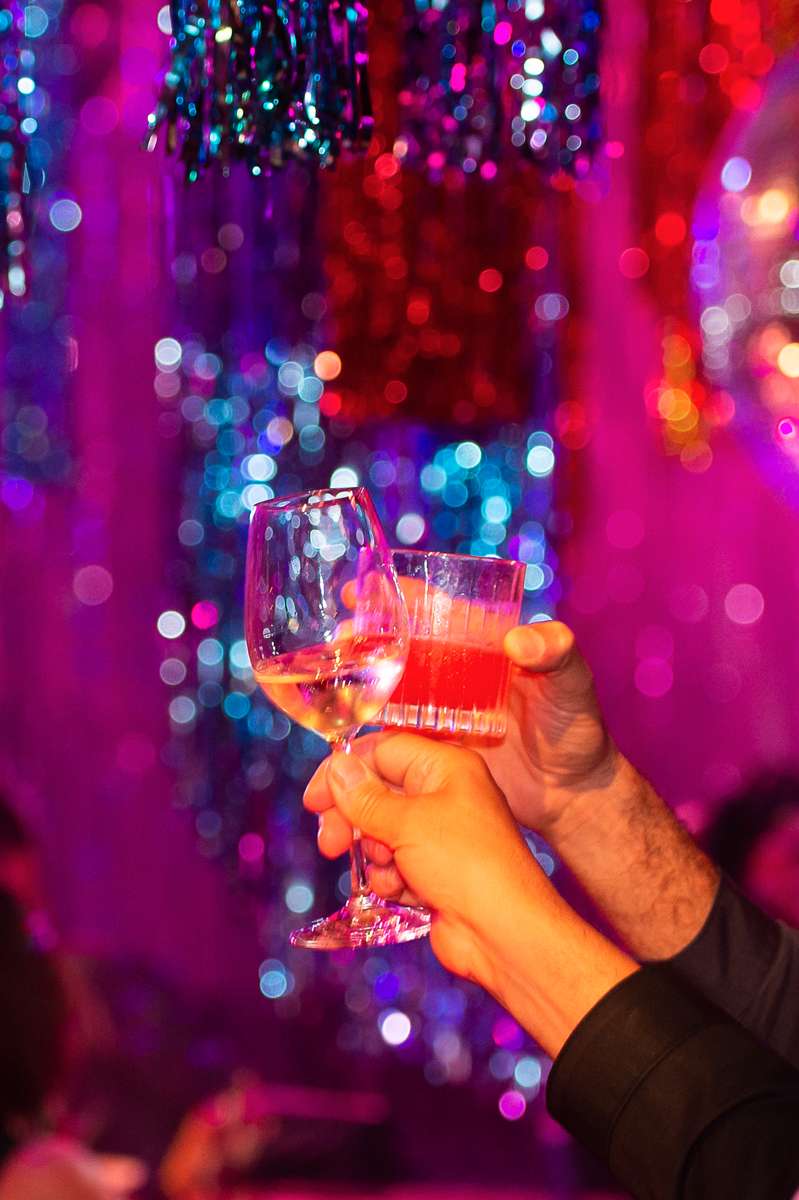 The whole night was a riot of fun and colour with a few very touching moments thrown in for good measure. "One of our favourite parts of the night was when we announced to everyone that they were here for our wedding", Sean concluded. "All the guests were enjoying cocktails and canapes. Jessie walked into the room and announced that we were here for a party but first there was to be a wedding. Everyone started screaming and yelling in surprise. Only my sister had a feeling. It was an incredibly fun moment!"