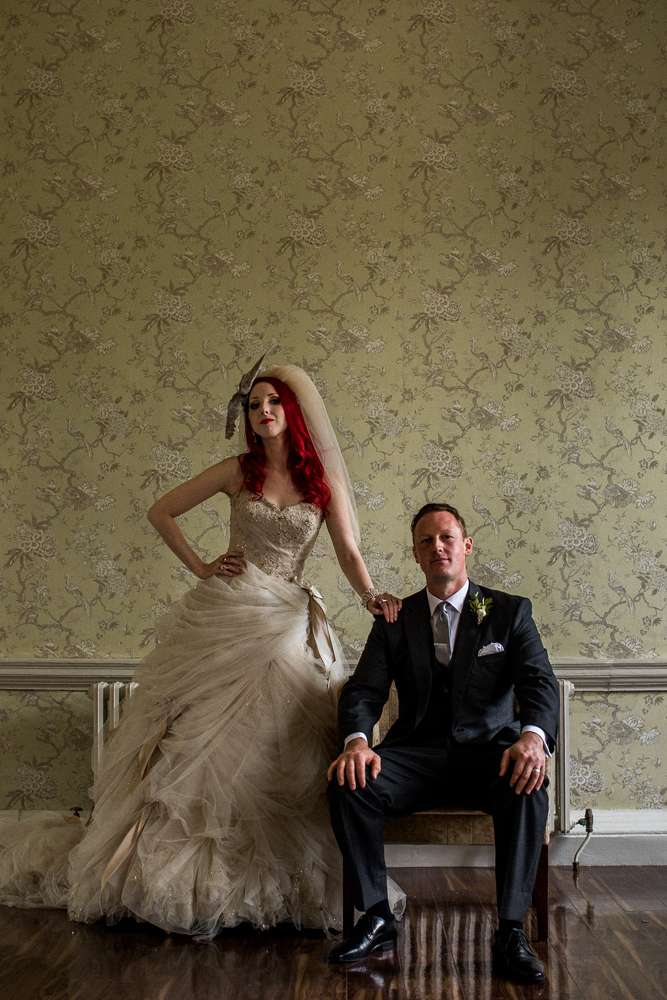 Public service announcement: If you've been trying (and failing) to convince your more conservative family members that a skulls, taxidermy and dead things wedding can totally be elegant and classy and not at all scary… then show them this wedding RIGHT NOW. As if by magic, your argument will be won. Sophie and Richard, we salute you!
They were married on the August bank holiday weekend at the beautiful Morden Hall which is set in the grounds of a National Trust park in South London. The theme of the day was influenced by the bride's love of dead things and classic glamour.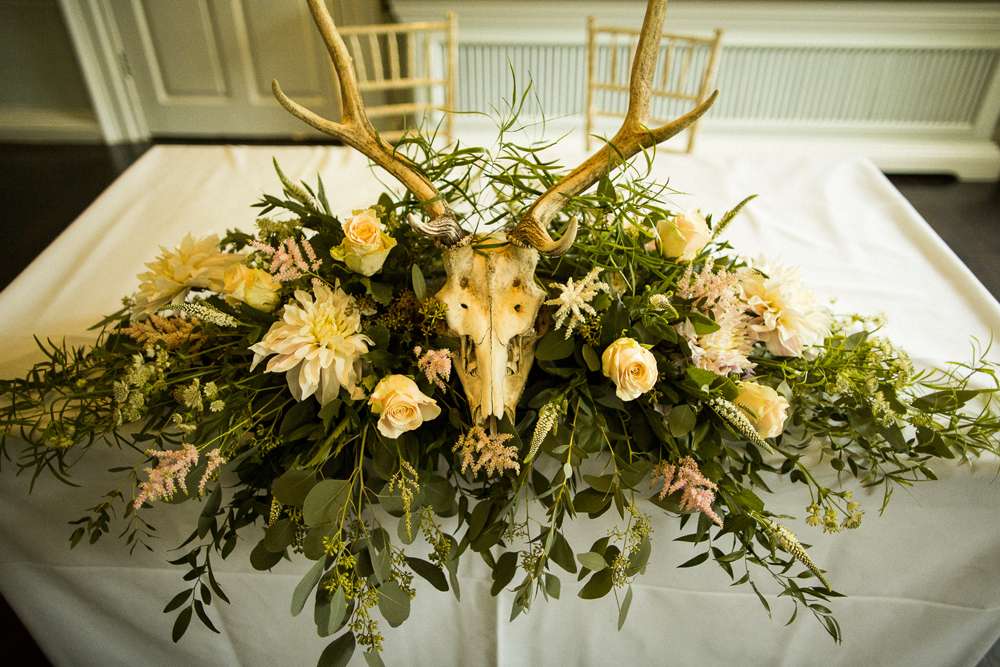 Inspired by Carrie's wedding outfit in the Sex and the City movie, Sophie wore a stunningly dramatic gown by Ian Stuart, perfectly accessorised with a taxidermy pheasant headpiece made by Flora & the Fox. "Although I'm not really a Sex and the City fan, I was inspired by Carrie's bridal look from the film. I also really love Ian Stuart's dresses, and after seeing Kat's Antoinette dress in the Rock n Revolution photo shoot I just knew I had to have it!"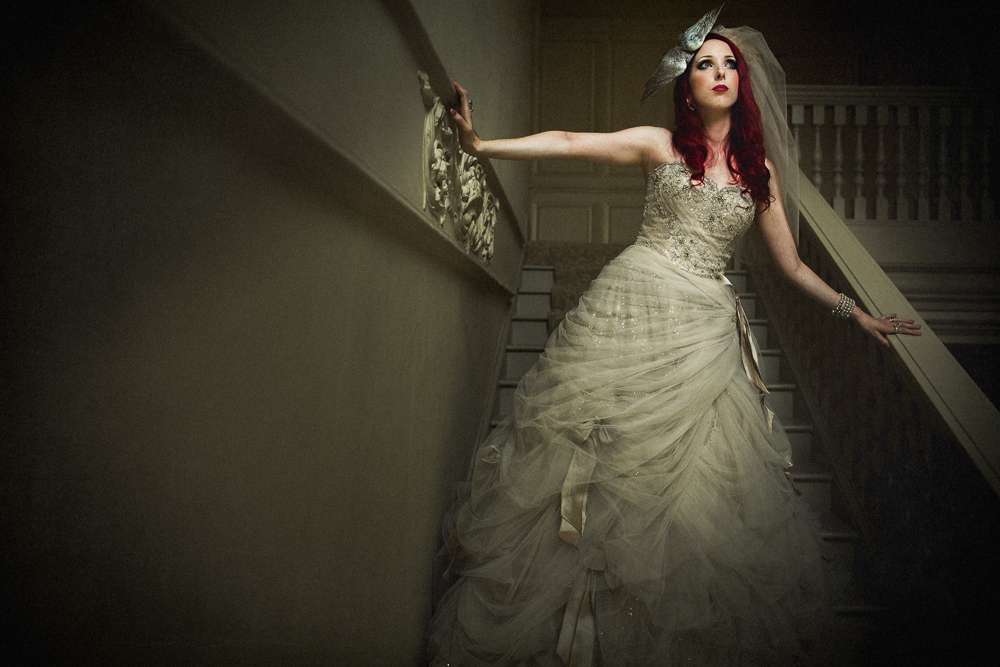 Her shoes were from from Office and she also wore a bespoke bird skull ring from Baroque Brighton, where her engagement ring and both their wedding rings were made. "Rich had the ring made and gave it to me via my maid of honour as a present on the day", she said. "I was so surprised, it was beautiful."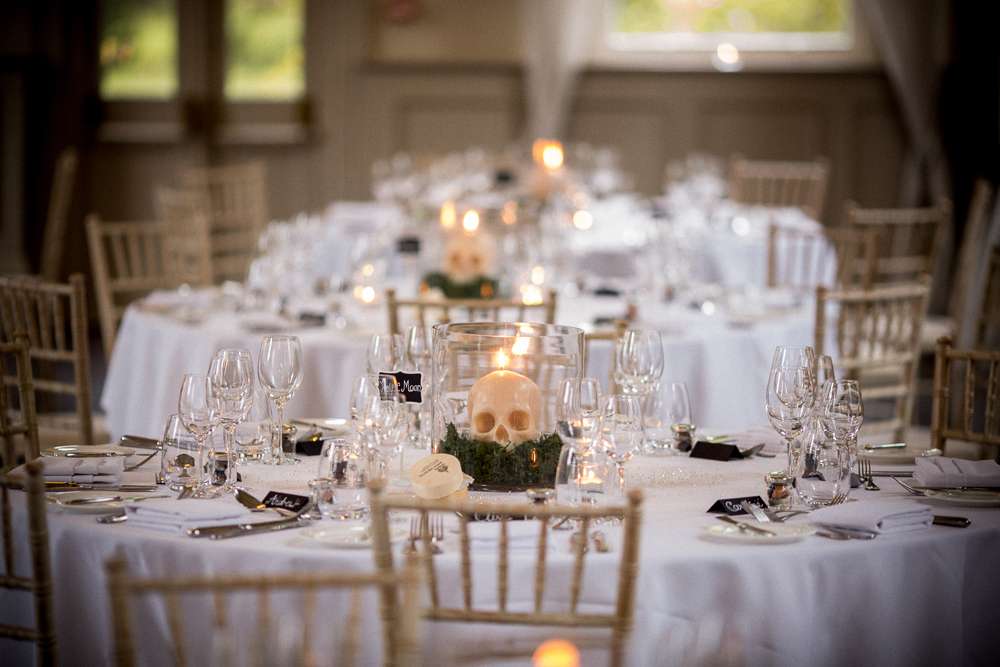 They kept the extra decor surprisingly simple for their reception space. With such a beautiful setting and florals by Rhubarb & Bramley, they didn't need lots of extras to make their theme work. "The skull candles from Etsy and various real skulls were from from eBay. The tealight candle holders and candles came from Ikea and the large deer skull was a bargain from Snooper's Paradise, an antique shop in Brighton. We bought some trees from a garden centre and put fairy lights around them too."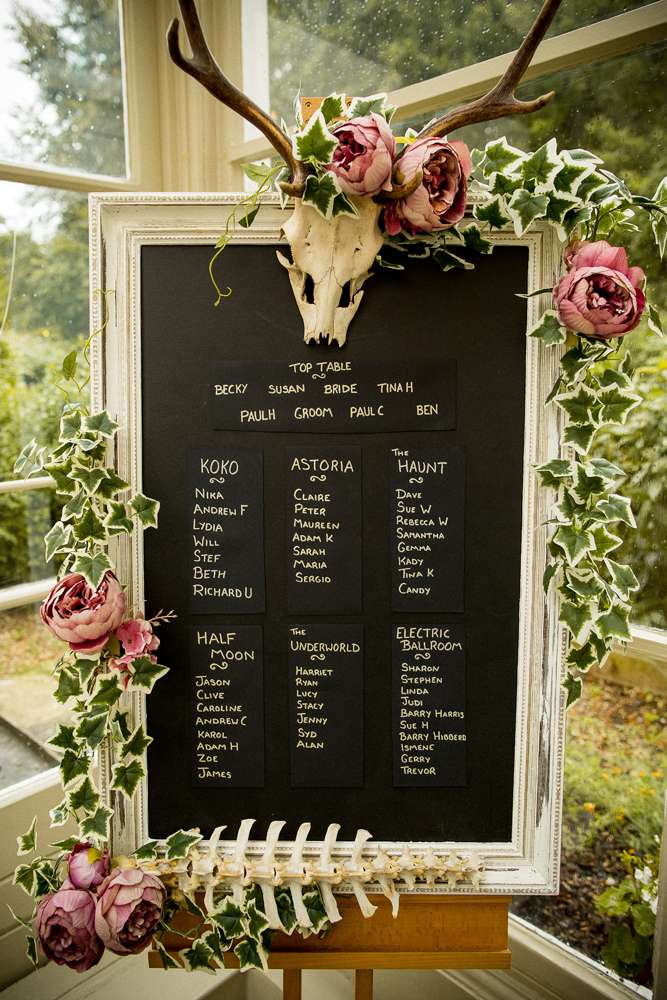 "We assembled our own centrepieces (skull candles in glass jars with moss) to save money. I bought a cheap little wooden coffin jewellery box on Etsy and glued diamante crystals on to it to create an awesome ring box. Rich made our seating plan out of a blackboard, some fake foliage, a deer's skull and a lamb's spine."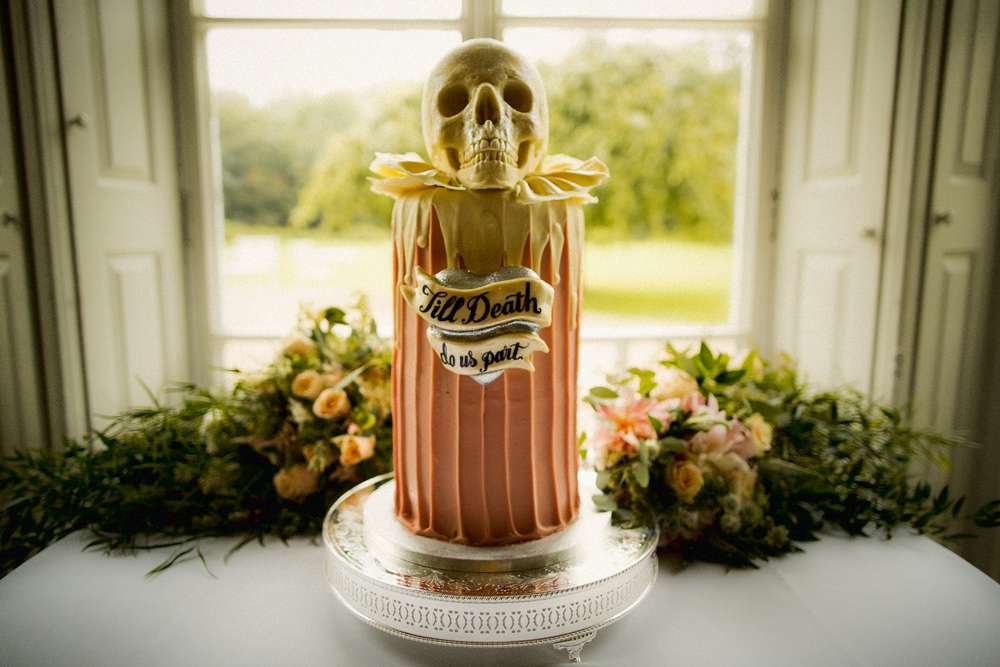 "One of the things that was most unusual about our wedding was that we decided to merge our names (Collett and Hoeller) to form a brand-new name (Hollett)", she explained. "Obviously not everyone will have such luck with name-merging, but we just thought it was the fairest way of doing things. We also had two female bridesmaids and two male bridesmaids, all friends from school. Richard is a real cigar fan, so we couldn't have had a wedding without them. I suppose my taxidermy pheasant headpiece was a bit different and unusual too!"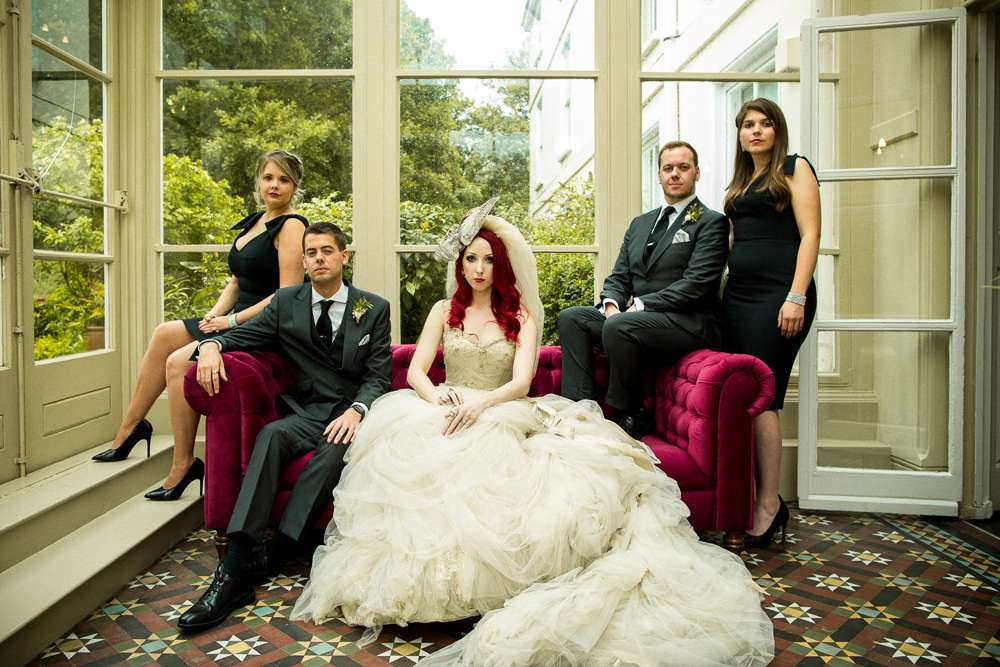 The highlight of the day for them both was finally being able to let their hair down at the party, and their couple's portrait session with their photographer, Matt Parry. "My favourite part of the wedding was in the evening when I could relax a bit, have a few drinks and a dance. I also really enjoyed having our couple's photos taken. Matt Parry is an amazing photographer and he made us feel really comfortable. Richard enjoyed having a smoke outside with his friends once the weather had cleared up a bit. Although, Richard says he favourite part was watching me coming down the stairs and walking down the aisle (which is sweet of him)."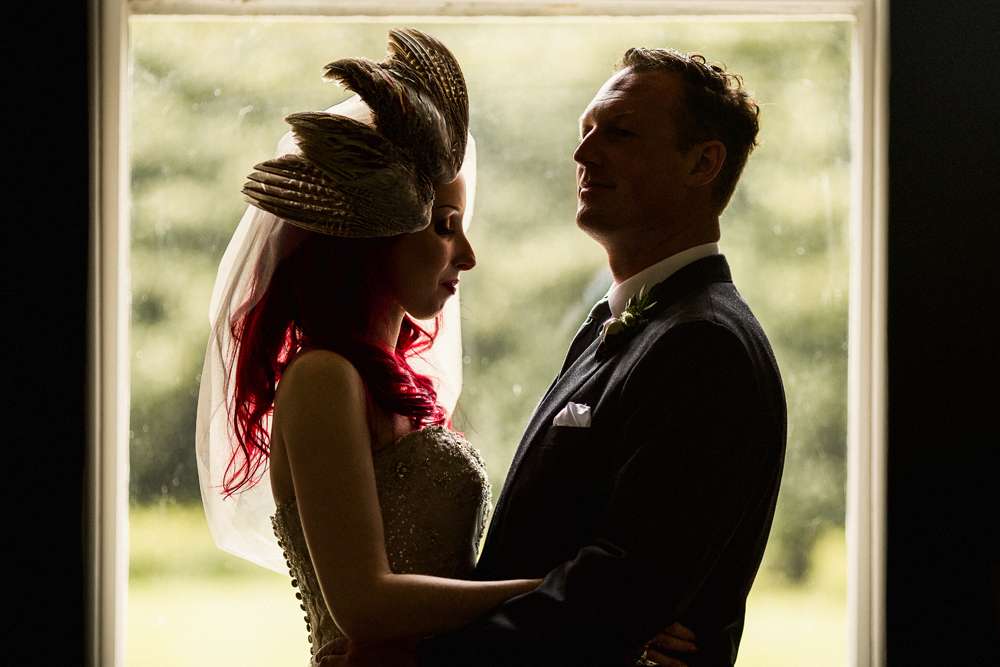 Music was also a really important element to the day for them both. They put a lot of thought into what they'd play and when to bring the right mood to the proceedings. They hired harpist Anna Quiroga (AKA Catalana). "She was great, she played a bit of classical but also some rock. Metallica sounded great on the harp! I walked down the aisle to Fascination Street by The Cure and our first dance was A Night Like This also my The Cure – I'm such a fan! We signed the register to Evil by Interpol, Time to Waste by Alkaline Trio and Bigmouth Strike Again by the Smiths. Rich is a big death metal fan so we walked out to Heartwork by Carcass. We walked into the dinner to Heaven Knows I'm Miserable Now by The Smiths." They also named their tables after some of their favourite gig venues – The Underworld, Half Moon and Electric Ballroom to name a few.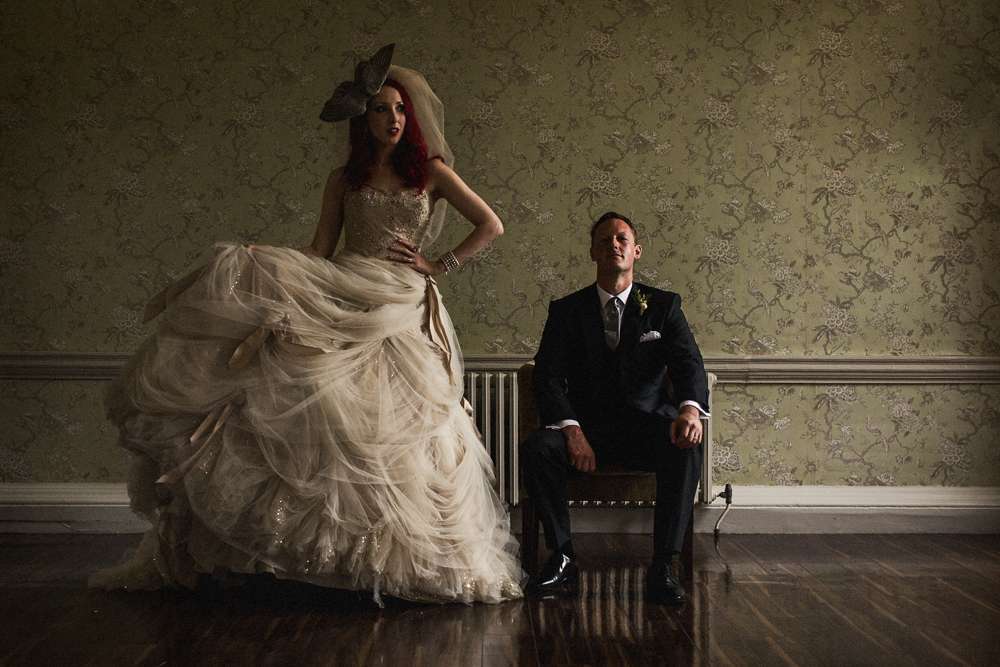 Although they had the most fantastic day, there are a few tiny things they'd change if they were to do it all over again. "We wouldn't have spent the extra money to have an August wedding because it rained all day anyway!" Sophie laughed. "Also, I wish I'd stressed less. There were so many different things to think about and organise. I was constantly thinking about what could go wrong. However, I found that a week before the wedding, all of that seemed to go away and I just though 'Oh well, if something goes wrong it goes wrong – bring it on!'"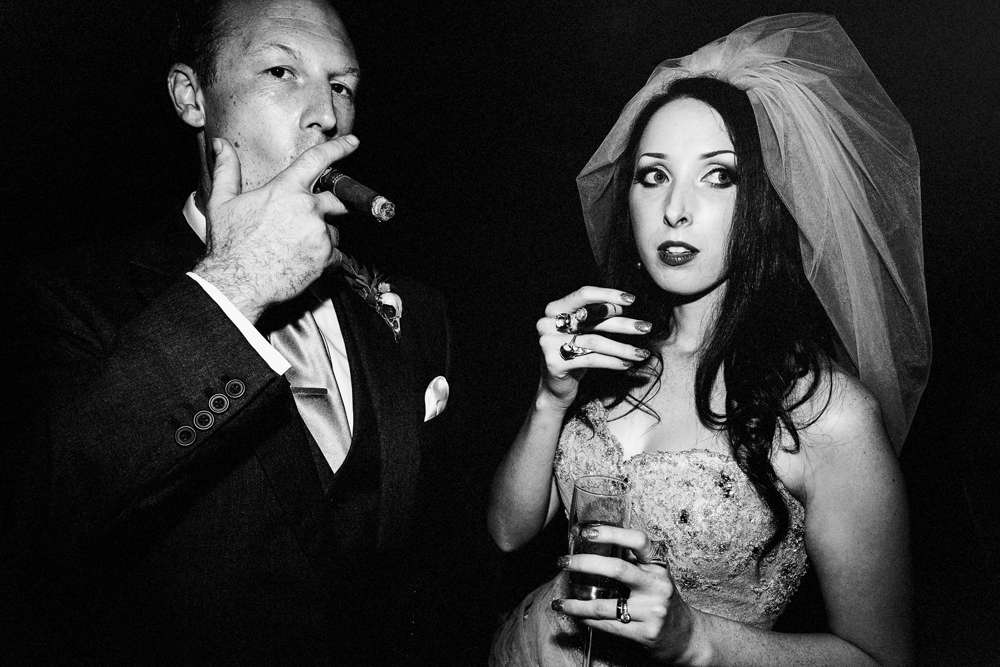 "My advice to other couples would be to be prepared for people to let you down because it's going to happen. Just don't worry too much about it, those people aren't worth your time. Also, try to relax and enjoy yourselves on the day, even if it's just for an hour! The day goes by so quickly. Finally, my mum helped us out so much, we are both very grateful to her. I was also lucky to have such a supportive maid of honour. Both my mum and my maid of honour did excellent speeches (as well as the best man!)"