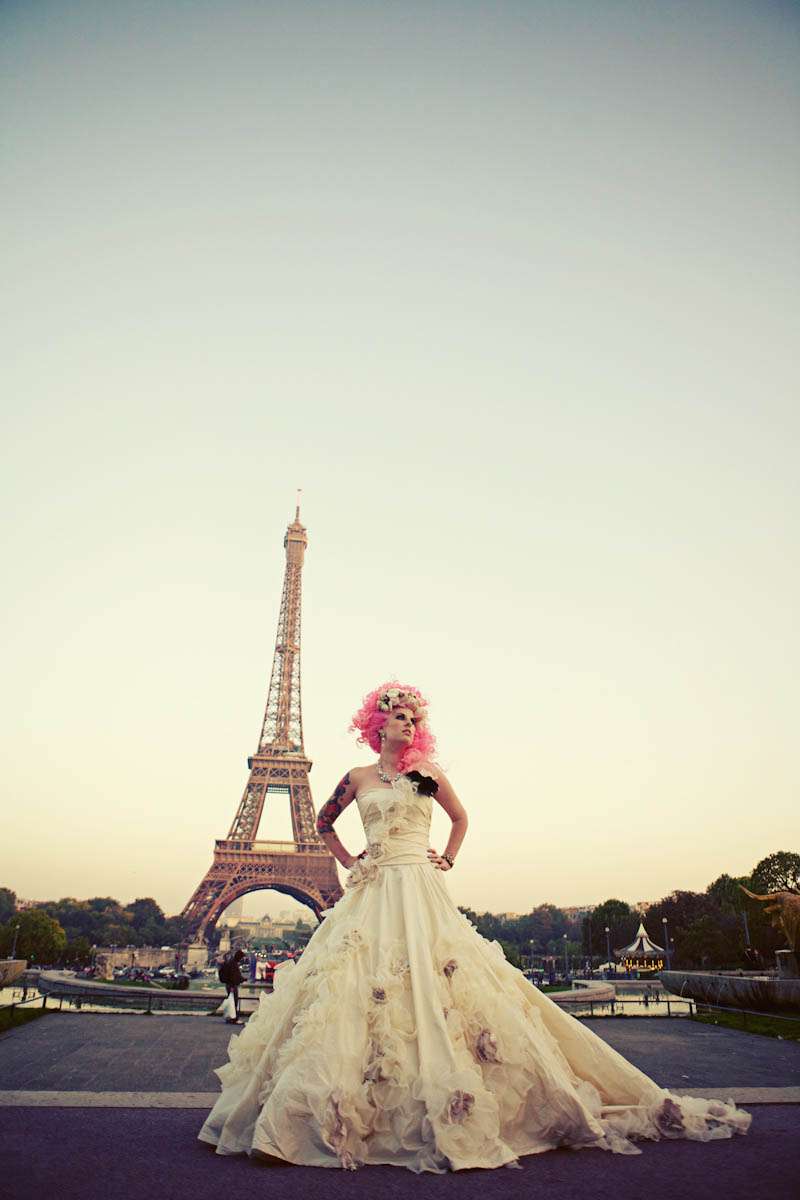 A few months ago photographer David McNeil and I were sat in a Creperie in London. He turned to be and said, "Let's do another photo shoot and let's make it the best yet… Let's go to Paris!" It's hard to believe how far we've come since that first whimsical conversation and that we actually managed to pull it off – to hop over the channel and channel my inner Marie Antoinette!
Well, if I do say so myself, we not only pulled it off but we SMASHED it! I am actually so blown away by the whole experience (and the results) that I kind of don't really know where to start..maybe the beginning would help?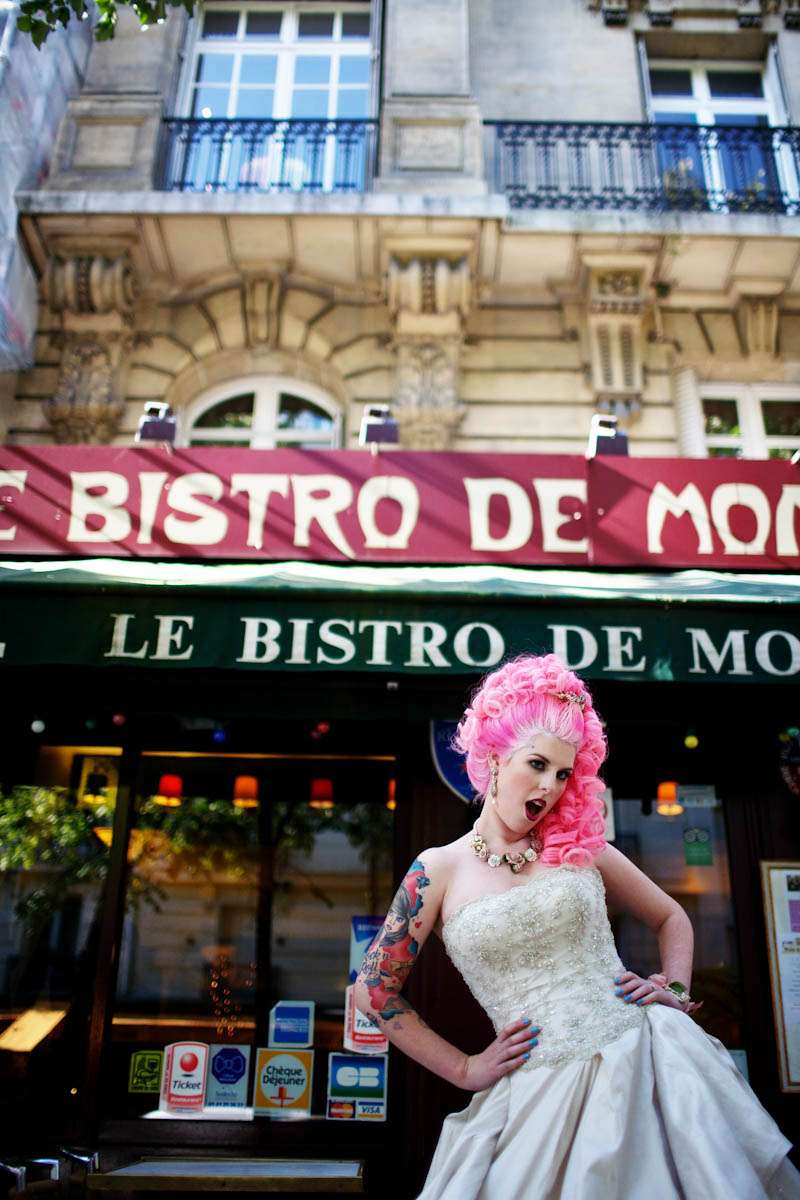 The Photographers
Myself and David McNeil have been friends for years – before either of us got into this who wedding 'thing' so needless to say we know each other pretty well. I love the fact that we started our businesses around the same time and I often refer to him as my "wedding industry husband" (and a few people have actually thought he was my husband – however Gareth is a lot more beardy!) We've worked together on shoots before; he did Gareth and my engagement shoot, my (two!) bridal shoots (here & here) and my boudoir shoot, however this was our first with proper styling, hair & make up.
Working with David is a dream. He's calm, he makes me comfortable and he's so creative it's unreal. In fact the first ever shoot we did together was my boudoir shoot which just goes to show how comfortable I am with him! David also asked our friend and Rock n Roll Bride favourite, Shell De Mar if she's like to come along too. I think it took her all of about 3 seconds to agree after we told her we were going to Paris! Shell second shot with David and also shot some behind the scenes images and video – both of which will be featured on the blog next week.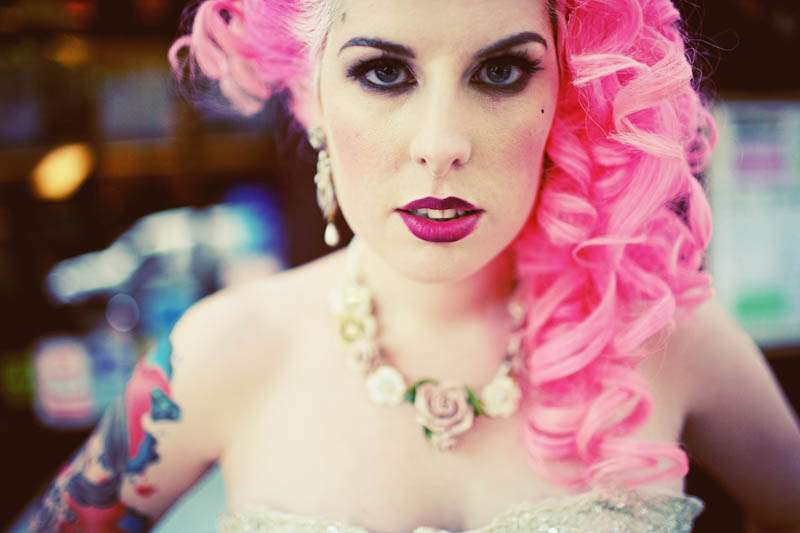 The Stylist
With such an epic idea as a Marie Antoinette themed shoot in Paris, there was really only one lady I could ask to help is style it. Penny Merricks of Tigerlily Weddings is not only one of the most well connected planners I know but her vivacious personality and unique visual flair made her perfect for this project. She managed to get some amazing people to donate props for us to use and she pulled together an utterly incredible hair & make up team. She also persuaded Ian Stuart to lend us FOUR – yes FOUR – gowns to bring with us! Gift of the gab? Yes I think so!
I don't quite know how she did it, but after she spoke to Mr Stuart himself (yes she spoke to him directly!) and told him of our plans, he immediately shipped four of his most extravagant dresses right out to us! I know. I still can't believe it either. Amazing.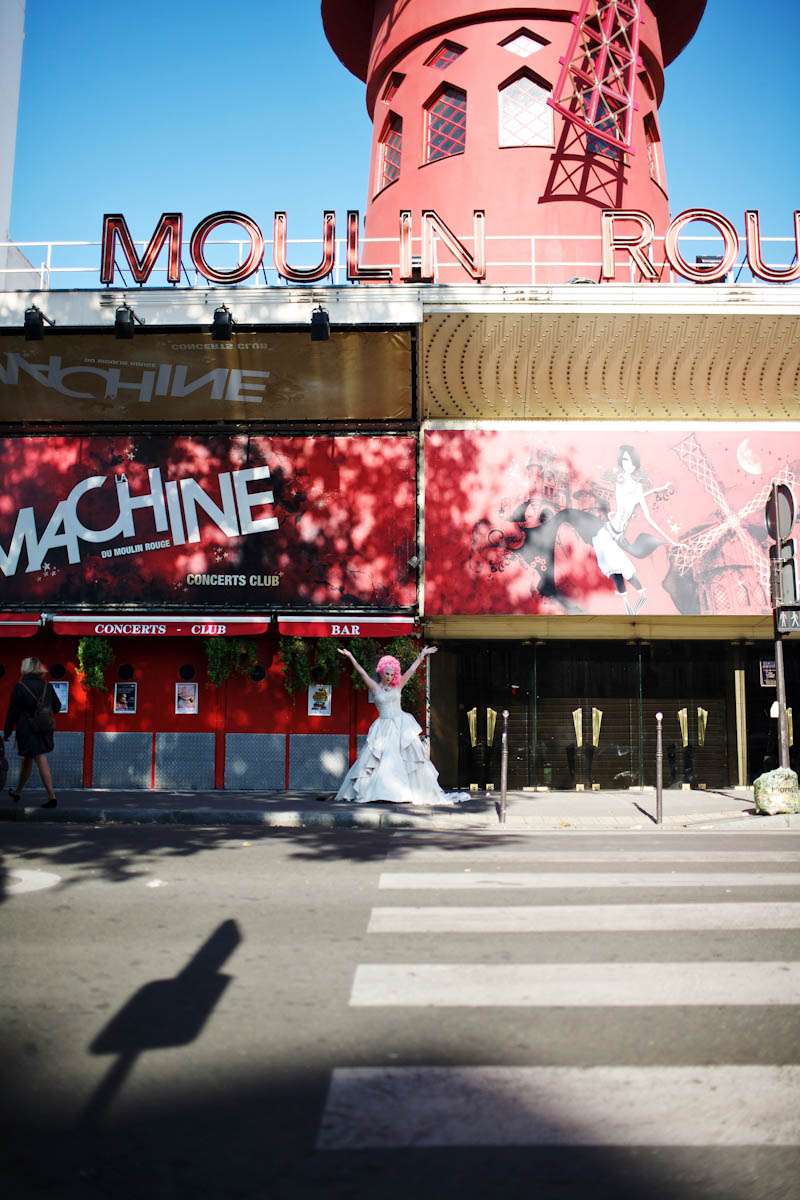 The Dresses
I am so pleased that we asked Penny to take creative control on the styling of this shoot because in all honestly I would never have chosen Ian Stuart as the dresses for the shoot if it was all up to me. Not only would I never dream that he'd agree to letting us borrow over £20,000 worth of stock to bring to Paris, but big dresses scare me a little…and these were BIG dresses! These were the kind of dresses that make an instant impact and yes, are ginormous and a little scary, but after getting my hair and make up done and rocking the look out of the streets of gay Parieee, they were, well…perfect. The lady was right!
All the gowns were from Ian Stuart's brand new Revolution Rocks! range.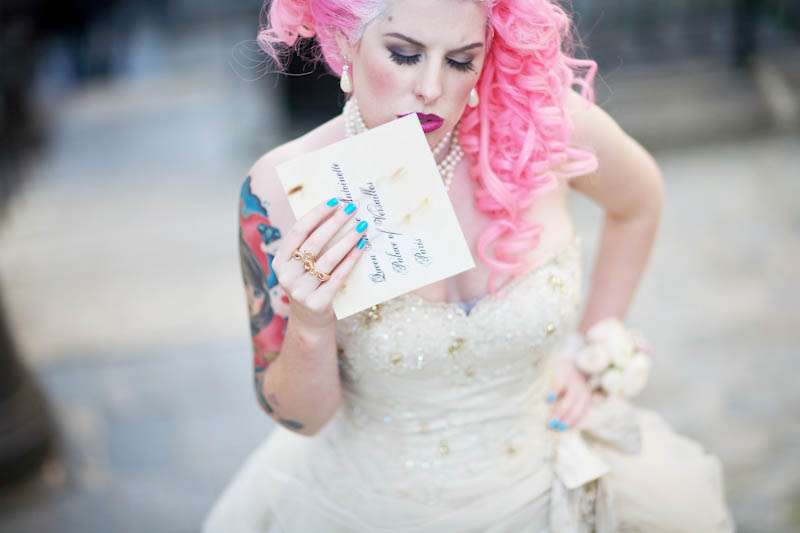 The Concept
The inital idea from David & I for this shoot was to do something really really different. That phase is thrown around a lot at the moment so we really did have to think outside the box, and even go out of our own comfort zone. DIY & quirky touches, tattoos, pink hair…are all very unique and Rock m Roll but we really wanted to make you all go WOW. We wanted to pull off a real statement of a shoot…something you'd literally never seen before and maybe wouldn't even expect me to do.
Penny was able to bring this out of us, even more so than we envisaged ourselves. David & I may have said said "Paris, Marie Antoinette" but if we'd done everything ourselves I don't think even we would have gone as far-out as we did.
I predict that over the next few years the trend of small and quirky DIY weddings might shift slightly towards couples wanting to create something a bit more opulent and 'out-there'. I think that people will still be doing things on a budget and implementing DIY elements, but that the styling will become a lot more more glam, ostentatious and extravagant.  With this shoot we wanted to show you that more dramatic styles can still be pretty damn Rock n Roll and you don't have to follow everybody else's idea of what makes a Rock n Roll Bride to be fabulous!
Want a big dress instead of a short quirky number? Go for it!
Want mini wedding cakes instead of cupcakes? Do it!
Want to wear vintage pearls and a custom made crown? ROCK IT OUT!
…And what a way to showcase this idea that by channeling one of the most glamorous and opulent women in history, Marie Antoinette!?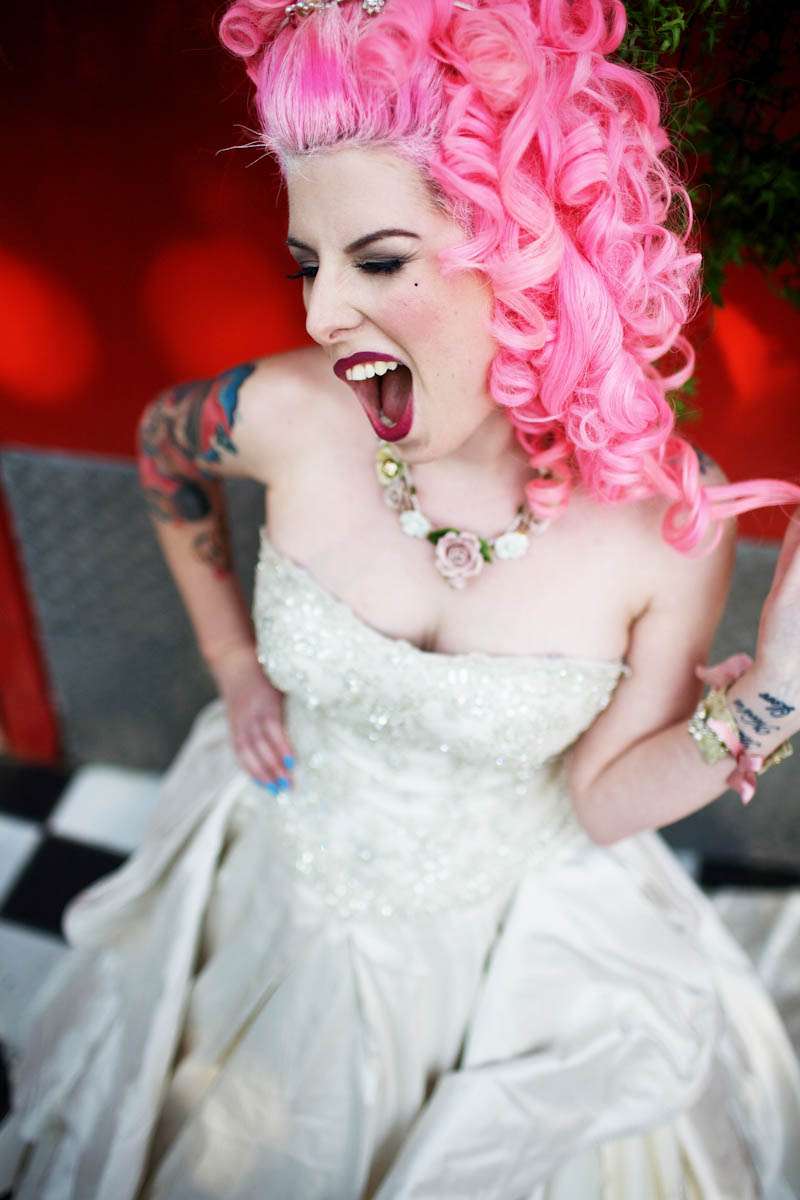 The Hair
Penny asked if I could dye my hair a more baby shade of pink to go with the style she had in mind. After a mini disaster with the dye not being delivered on time (eek!) I was able to locate some dye at the last minute and rock the baby pink look like no other. I used Baby Pink by Stargazer and hair stylist Cassandra Rizzuto dyed some blonde extensions with the same dye to match perfectly. She then curled them and went to work on pinning them to my head. My real hair was put up into a massive beehive over a sponge and the extensions were positioned around it. Cassandra also sprayed my roots with Bastiste dry shampoo for that authentic "white powder" look that was popular in the 18th Century. We went for 3 different looks with both hair and make up which we matched with our 3 favourite dresses. Full list of everything used below.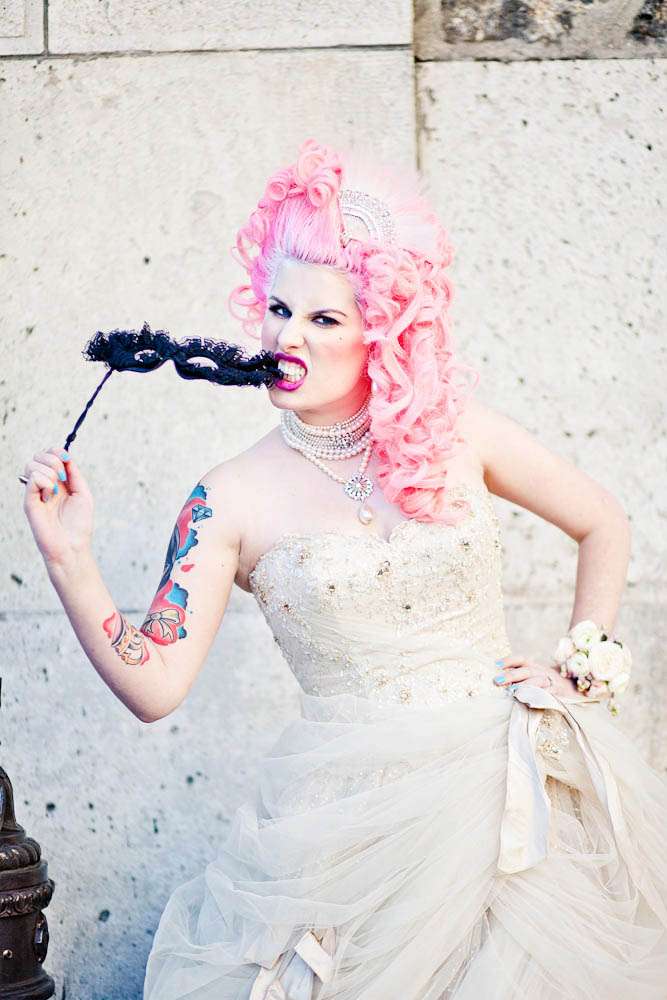 My Make Up
Alison Cameron came along to do my make up. I simply love love love getting pro make up done and if I could have one wish it would be to have a professional make up artist to prep me every day! Alison's handiwork even lasted until I got home at 1am that night (seriously!) For the first look we started with a subtle smokey eye, a beauty spot and deep red lips. For the second look we went for a much brighter pink lip and for the third, my favourite and a much more dramatic look, we piled the black and pink onto my eyes and paled out my lips using a gorgeous pale pink lipstick.
Look 1 – All by MAC Cosmetics
Lips: Nightmoth lip pencil & Rebel lipstick
Eyes: Satin Taupe & Kid eyeshadowwith vanilla pigment to highlight
Eye liner: Feline for underneath and Boot Black Liquid on top and
Lashes: Number 35
Blush: A Mixture of Shy Girl and Hand Finish
Nail Varnish: Barry M in 306 Blueberry
look 2 – All by MAC Cosmetics
As before but with Pink Nouveau lipstick
Look 3 – All by MAC Cosmetics
Lips: In Synch lip pencil (Limited Edition – no longer available) with Myth lipstick
Eyes: As before but darkened with Carbon eyeshadow and emphasised with the Sushi Flower pink eyeshadow and Reflects Gold pigment (Limited Edition – no longer available)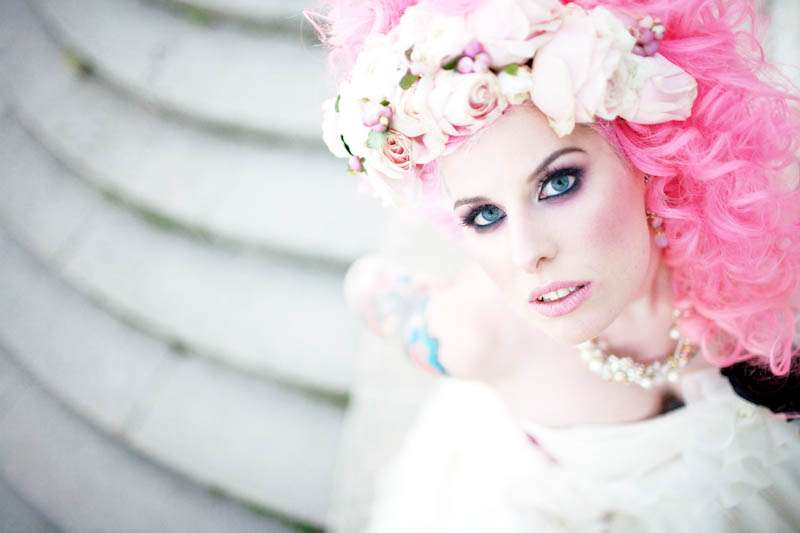 We were lucky enough to be lent props and accessories by some of the best in the business. The people that were so generous to donate their time and products are all listed below:
Look 1
Dress: Ian Stuart, Lilibet
Necklace: Magpie Vintage, Secret garden
Drop antique earrings: Basia Zarzycka
Tiara: Magpie Vintage, Secret garden
Black lace eye mask: Stylist own
Antique fabric embroidered Cuff: Magpie Vintage
Bible: Stylist own
Rosary: Basia Zarzycka

Look 2
Dress: Ian Stuart, Antoinette
Feather fan: Stylist own with flower adornment by Wild About
Flower adorned cuff: Wild About
Fan hair comb: Emmy
Long Pearl necklace: Flo & Percy
Choker pearl necklace Basia Zarzycka
Love letter: Sugalily
Pearl earrings: Flo & Percy
Crown: Custom made by Flo & Percy

Look 3
Dress: Ian Stuart, Giverny
Black corsage: stylist own
Shoes: Freya Rose, Della Blossom Pink
Earrings Basia Zarzycka, Marie Antoinette
Flower tiara by Wild About
Bespoke vintage Necklace by Magpie Vintage
Pink Skull Ring: Kat's own, Butler & Wilson
Bespoke vintage cuff Basia Zarzycka
Mini Wedding Cakes: The Abigail Bloom Cake Company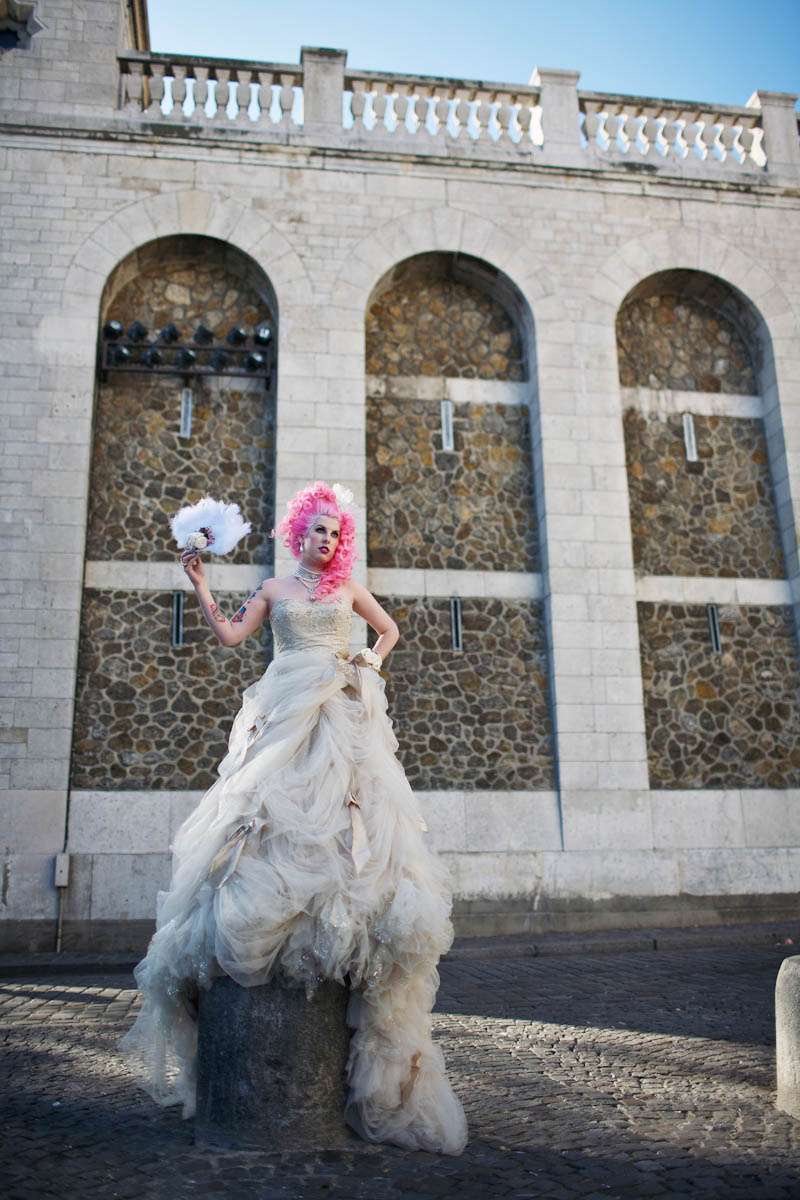 The Shoot
For the first look myself and David headed out of our hotel and attempted to go into Montmartre Cemetery to do some shots. It is an amazing place and it would have been so cool to shoot there but the French security guards were having none of it! So instead we did what we do best and wondered the streets looking for some cool locations. We found some amazing Parisian streets and The Moulin Rouge! These may be some of favourite shots of the day actually. I love to contrast of the deep red of the theatre against my baby pink hair. Very dramatic. Whilst I was posing here a guy with a video camera and an entourage came up to me and asked in broken english if I would like to be in a French music video! The R'nB artist (I can't remember her name but she was there and very sweet!) was just about to release her first single in France called 'Boom Boom' and they wanted to take some shots of me for the video. "Why not?" David said. So if you ever happen to go to France and see that video, I'd love to know so I can look it up and see it myself! In the bizarreness that was that conversation I completely forgot to get a business card from them.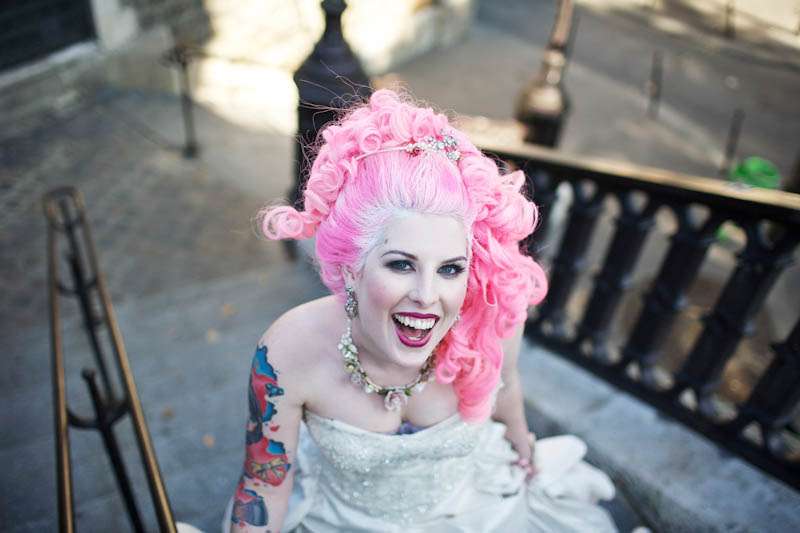 The second look and location was probably the most dramatic in terms of what happened! Our plan was to head up to Sacré Cœur and get some shots in front of the church and on some gorgeous steps we'd seen. When we arrived in the cab, I'm not exaggerating there were literally 400/500 people sat in front of the church over looking the view of the city. Talk about baptism of fire!
I held my nerve and got out of the cab in all my finery. My plan was to just act like a rockstar and hopefully get away with it. "Right", David said "Get up on that bollard would you?" Eeeeek! (Shell took some behind the scenes footage of this which I'll be sharing with you next week.)
The crowds gathered and all the tourists excitedly took my photograph with their camera phones or massive SLRs. They were all stood in a semi circle behind David and asking Penny, Cassandra & Alison who I was. People were even stopping us to ask if they could have a photo with me. This is weird to say, but I literally did feel like Lady Gaga or something. It was incredible!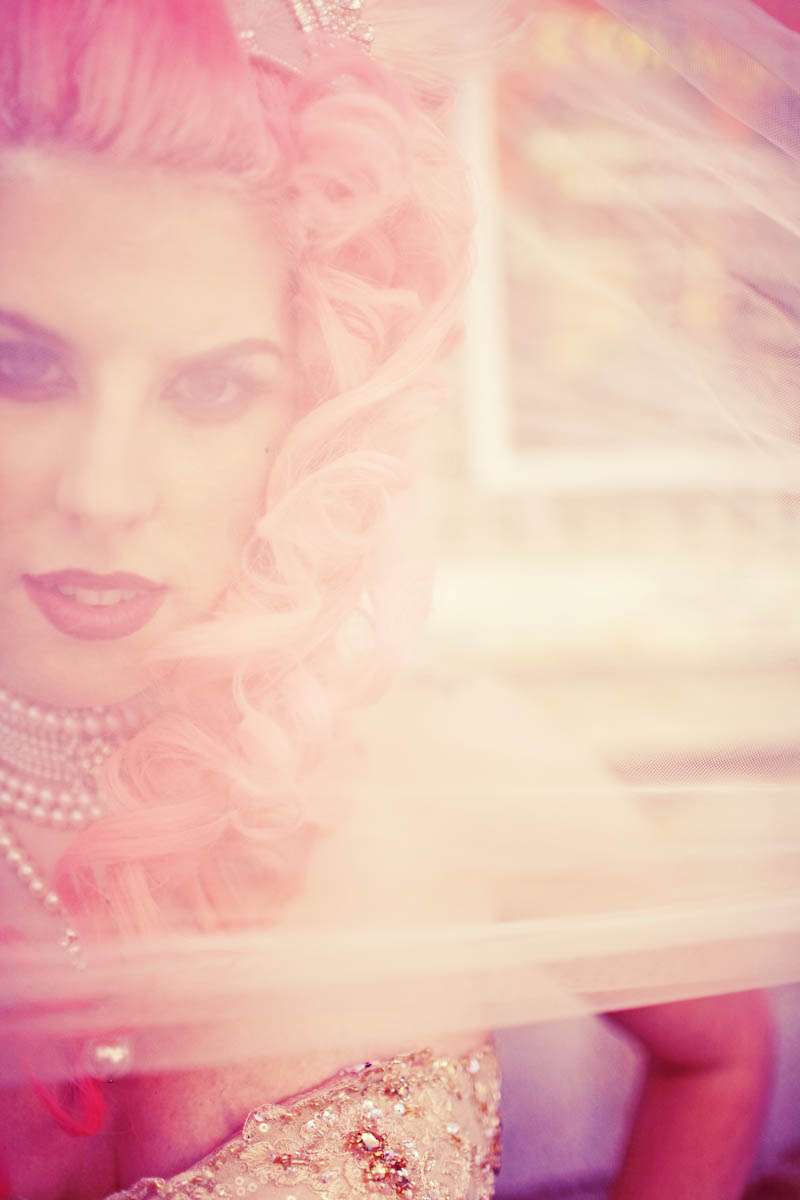 For the final and most dramatic look, we headed to the Eiffel Tower- mainly because I said I HAD to go and see it while I was there (it was my first time in Paris.) Unfortunately we only got about 10 minutes of shooting because the light was fading and we had to check out of our hotel but it was so worth it. I even did a Carrie Bradshaw as I saw the tower and actually squealed with excitement.
The crowds gathered here too. I posed in front of the tower, threw some cakes, took a few photographs with more tourists and then jumped straight back into the cab to rush to catch the Eurostar back to London. There were some gorgeous carousels there and some really amazing steps and backdrops which we would have loved to have got some shots with but we literally didn't have any time.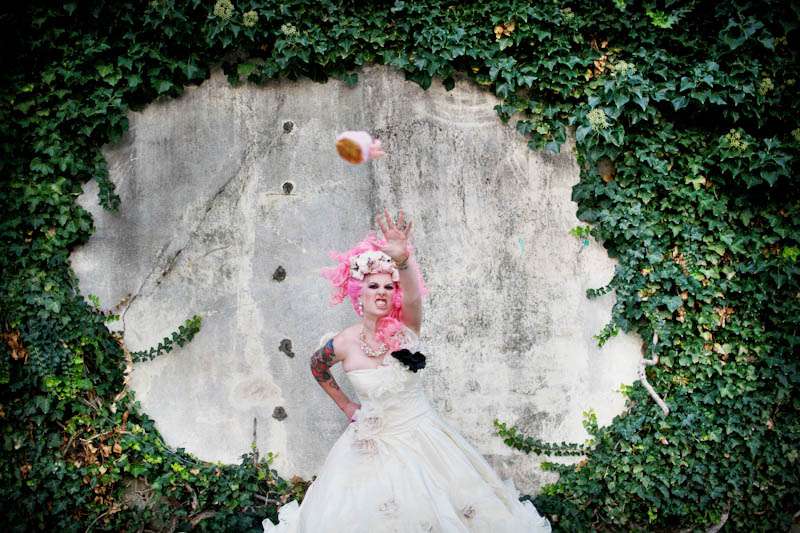 The whole experience was amazing. Just amazing. I can't wait to go back to Paris with my real (as opposed to work) husband to have the full Parisian experience. My only worry is now, how am I going to beat this with my next shoot!? I'm thinking maybe Viva Las Vegas!
Special Thanks…
Extra special thanks must go to all the staff at The Ibis Hotel Montmartre. The hotel literally bent over backwards to help us, allowing us to keep our room until 7.30 pm (we should have checked out at 12!) as well as giving us a free room to hang all the dresses in. They really did go above and beyond and for only around 100 euros a night. I was actually amazed at how accommodating they were and I have a sneaking suspicion that a swanky 5* hotel might have been a bit more snobby and less helpful.
When I go back I wouldn't hesitate to stay at The Ibis Hotel Montmartre again. The hotel was only a 10 minute cab drive from the station, 2 minutes walk from the Moulin Rouge and 15 minutes from the Eiffel Tower. They really were fantastic.
We gave them the left over mini wedding cakes as a thank you (we also gave some to the taxi drivers to ferried us around the city all day – however they didn't really speak english and we were rubbish at french so I think they may have been a bit bewildered as to why this strange pink haired bride was giving them cake!)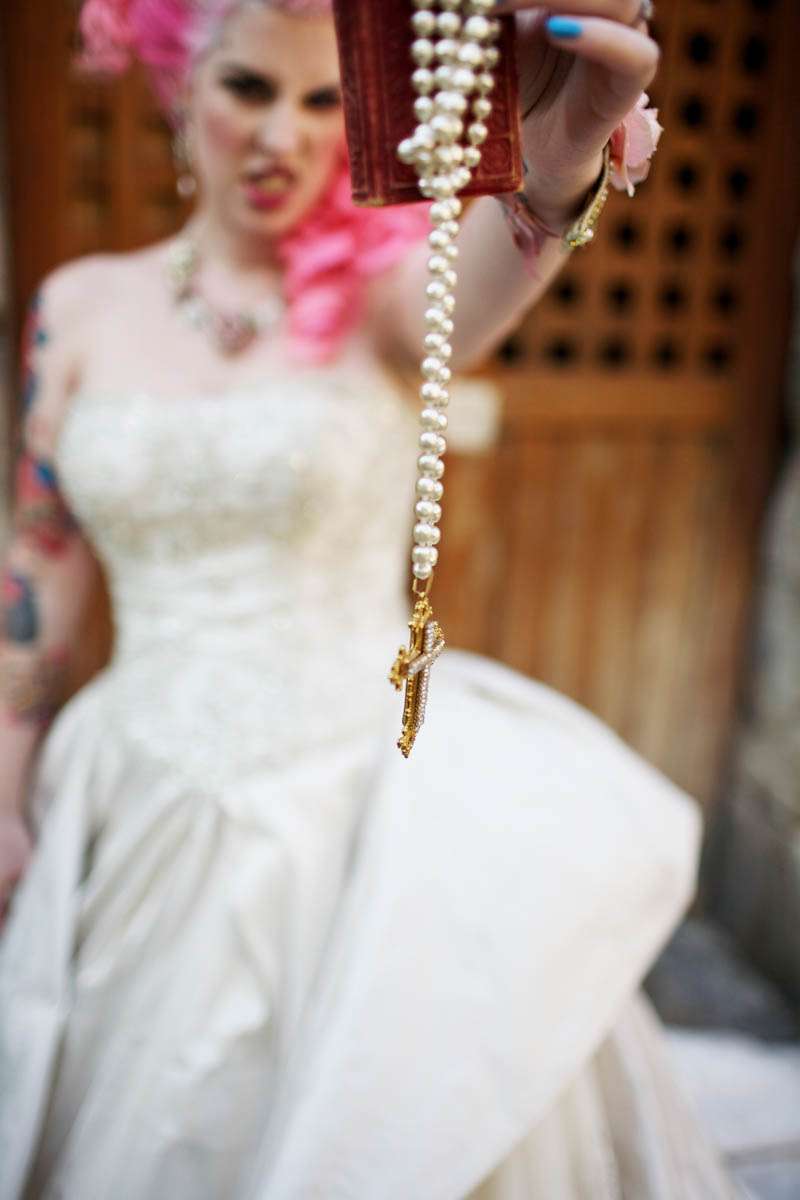 Special Reader Offers
David McNeil is now fully booked for 2011 but taking bookings for 2012 all over the uk and internationally.  He is having a well earned break in Miami for the next four weeks and, as a big thank you to Rock n Roll Bride readers (most of his bookings this year were from you lot!) he is offering a free couples shoot in Miami (travel not included!)  Just email David at photography@davidmcneil.co.uk if you will be in Miami between the 21st October and 14th November, and one lucky reader will be chosen at random for the shoot.
Shell De Mar would also like to offer you guys something extra special as a big thank you for being so awesome. She would like to offer all Rock n Roll Bride readers the chance to do a photo shoot (or have her shoot your wedding) in Paris for her regular UK prices, free of additional travel costs! Shoots/weddings must be before 30/06/2011. Email her for details and please quote "RocknRollParis" when you enquire.
Photography Credit: David McNeil &  Shell De Mar
Style Direction: Penny Merricks of Tigerlily Weddings
Hair: Cassandra Rizzuto
Make Up: Alison Cameron