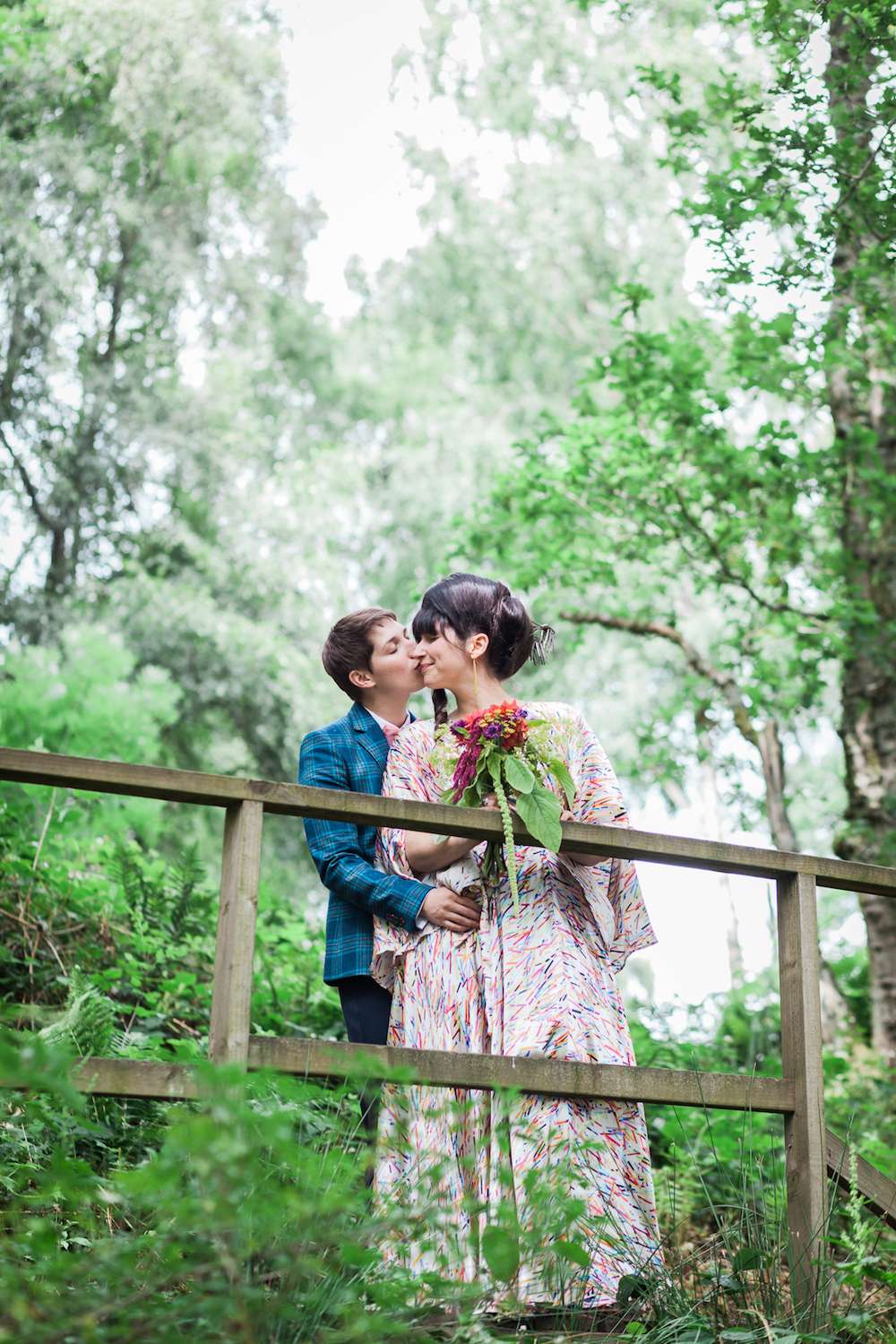 Rea and Rhi's colourful woodland wedding is not only beautiful to look at, it's a totally feelgood day too. Their inspiration for the day was about community, with everyone coming together to support them and celebrate their connection. There's a beautiful communal spirit that oozes out of these photos. And with a colour scheme that extended to 'hot pink, yolk yellow, orange, salmon and purple', it was also all things bright and beautiful!
Their starting point was finding an outside venue where they could get married "beneath a canopy of silver birch trees, and party all night long without being told to go to bed!" They found the perfect venue in Comrie Croft, Crieff, which meant they could host it as a sleepover wedding too! They decorated the ceremony area and barn-come-ballroom with origami lanterns, metres and metres of bunting and fairy lights wrapped around the trees.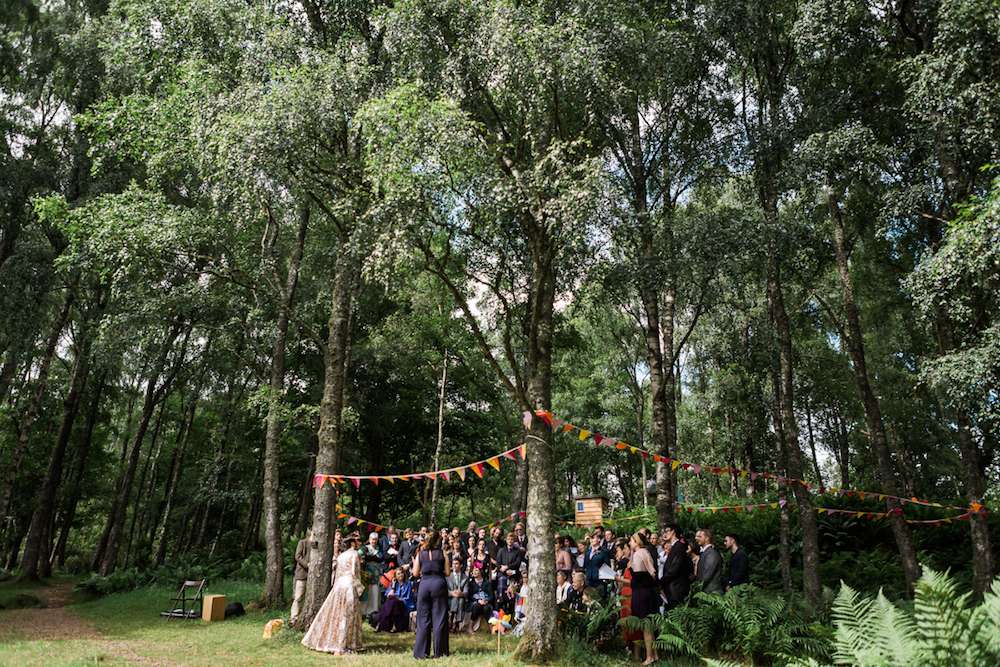 "Our wedding theme was 'Party of the Year' – a chilled party where we could strip away the stiff ceremonial timeline where people have to wait for permission to have fun," they explain. The decorations were DIYed by a group of friends who Rea and Rhi affectionately call the 'party pixie pals' (peep the blue t-shirt). "One weekend, our friends got together to turn our friend's living room into a bunting-making factory, with coloured fabric everywhere! Our friend Robert also masterminded the designs for origami lanterns made from coloured card with no instructions – he came up with everything himself!"
As well as helping decorate the wedding, friends and family played a major part in the other parts of the day too. "The community theme was evident in the fact many of our friends and family contributed directly to important aspects, such as being a celebrant and making the three-tiered cocktail cake (pina colada, strawberry daiquiri, and margarita flavour!)".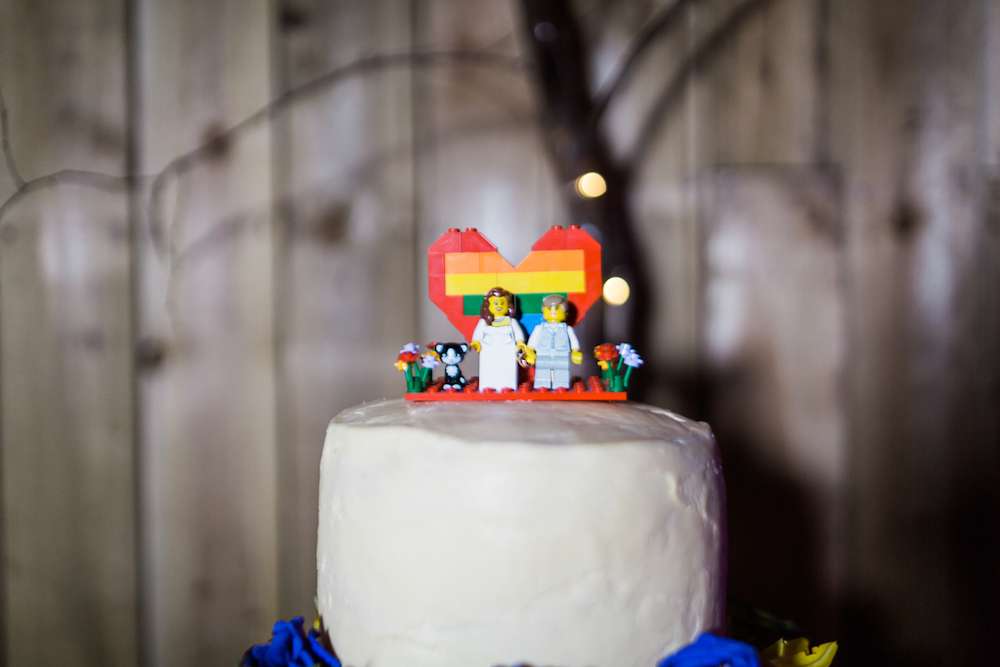 Rea and Rhi walked down the aisle together to their guests singing Daft Punk's Digital Love, with their friends playing it on a ukelele, cajon, and a keyboard they'd borrowed from a high school music class, and never returned.
"I've been to a lot of weddings and it's always about the couple – particularly the bride – but sometimes neglecting to acknowledge all the people who made the individuals who they are," Rea says. "We wanted to acknowledge that we weren't some self-contained island, sprung up fully-formed out of the blue, but that we were the product of the love, insights, challenges, values and richness of our community. As a queer couple, we also wanted to pay tribute to the privilege we had of being able to marry legally and openly, and think of all those around the world who have far fewer freedoms. Before we said our 'I dos', we got everyone to vow to look after us and continue to be part of our lives – we got a resounding 'We do!'"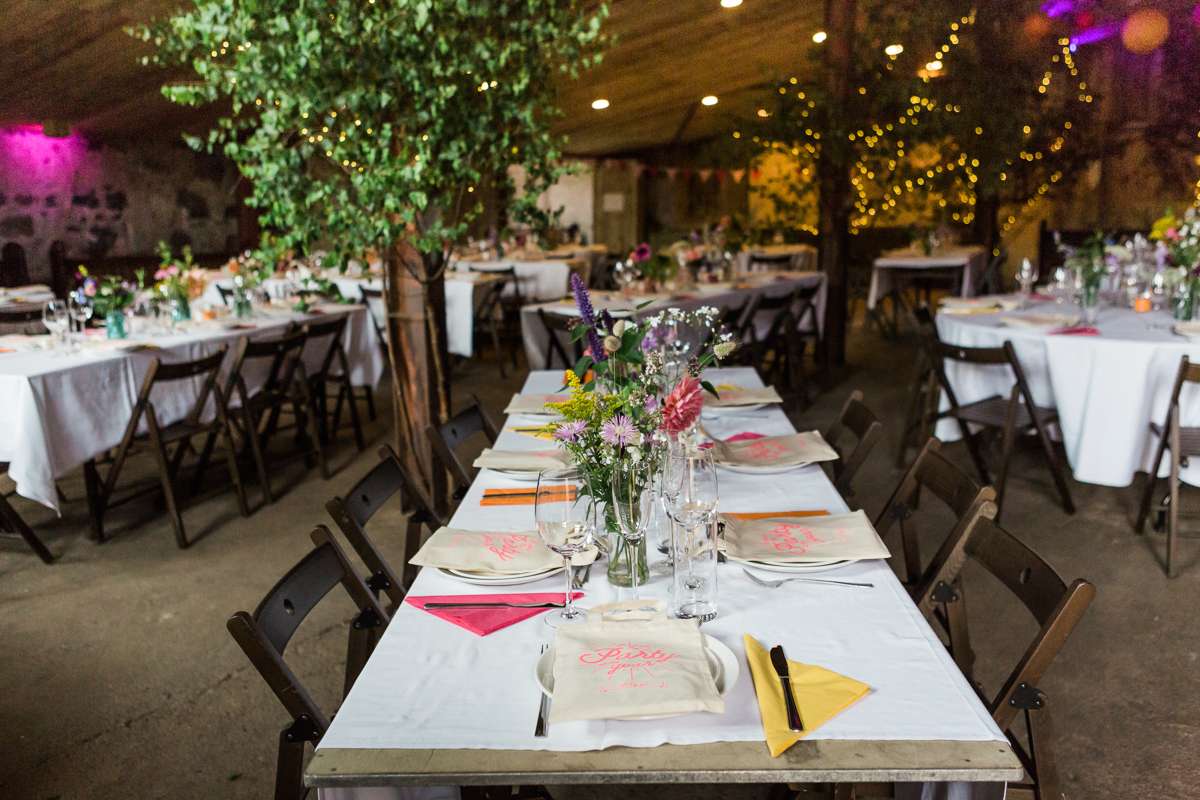 "It was also a priority to us to be environmentally friendly and socially conscious," Rea continued, "so everything was either sourced from independent and/or local sellers." This included a specially commissioned portrait from Tyler Feder that their Party Pixie Pals surprised them with after everyone had finished setting up. "Feder is an artist who specialises in feminist body positivity and pop culture. After the US presidential campaign, she started drawing as many portraits of marginalised people as she could, who she calls bright lights, because they let their light shine in the face of great obstacles. They had also made wee stickers of the portrait, which all the guests got in their reusable tote goody bags. People wore them during the wedding but since then, even after all these months, we keep finding them everywhere!"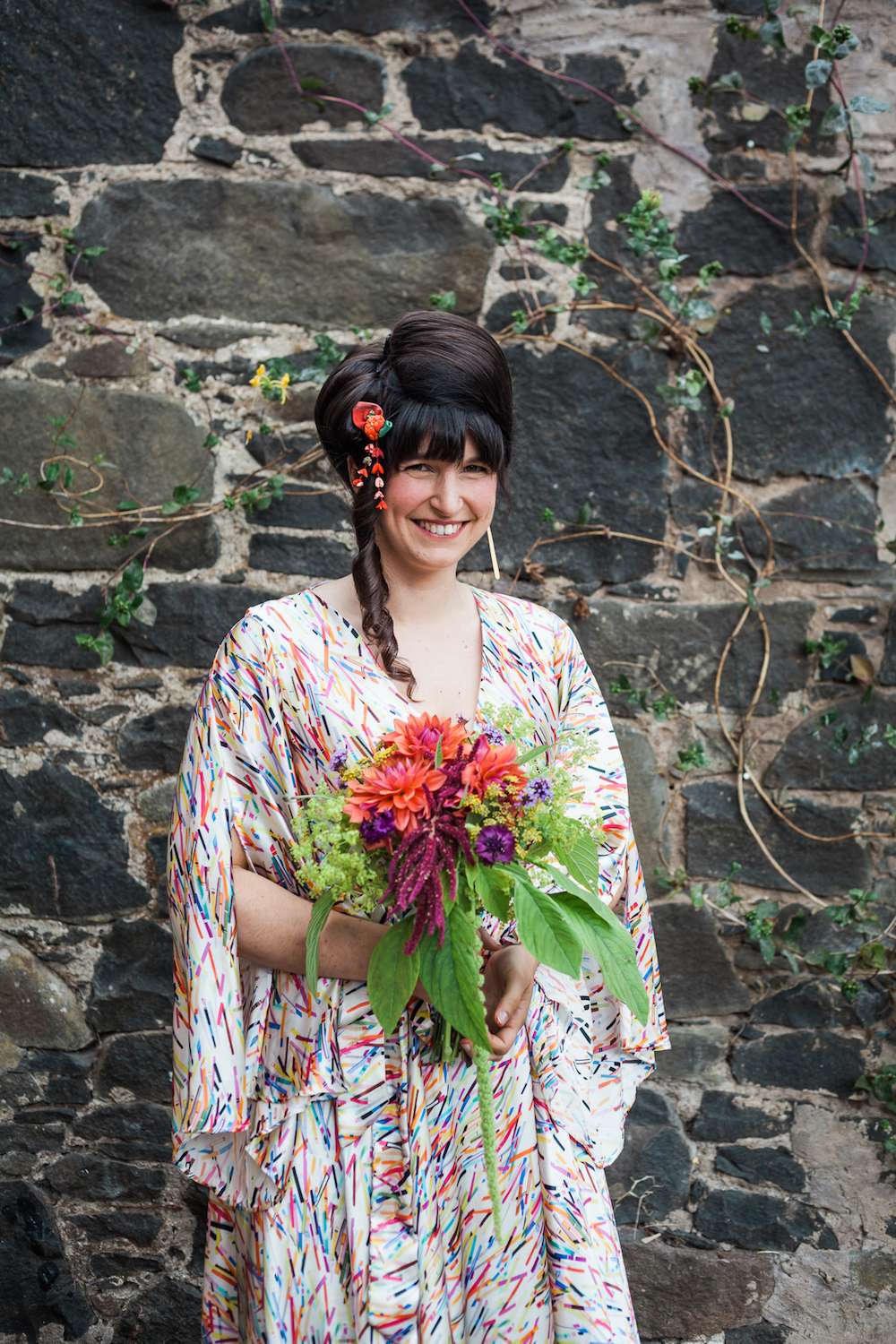 Rea's beautiful rainbow dress was made by her friend Geraldine with fabric bought in Paris, and her shoes were designed and made by her best friend, who co-runs K and Elphy, whilst Rhi's tailored jacket and waistcoat were from Walker Slater with a Mrs Bow Tie bow tie.
Their reception was complete with a silent disco, incredible performance by drag queen Michele Ma Belle, and a campfire.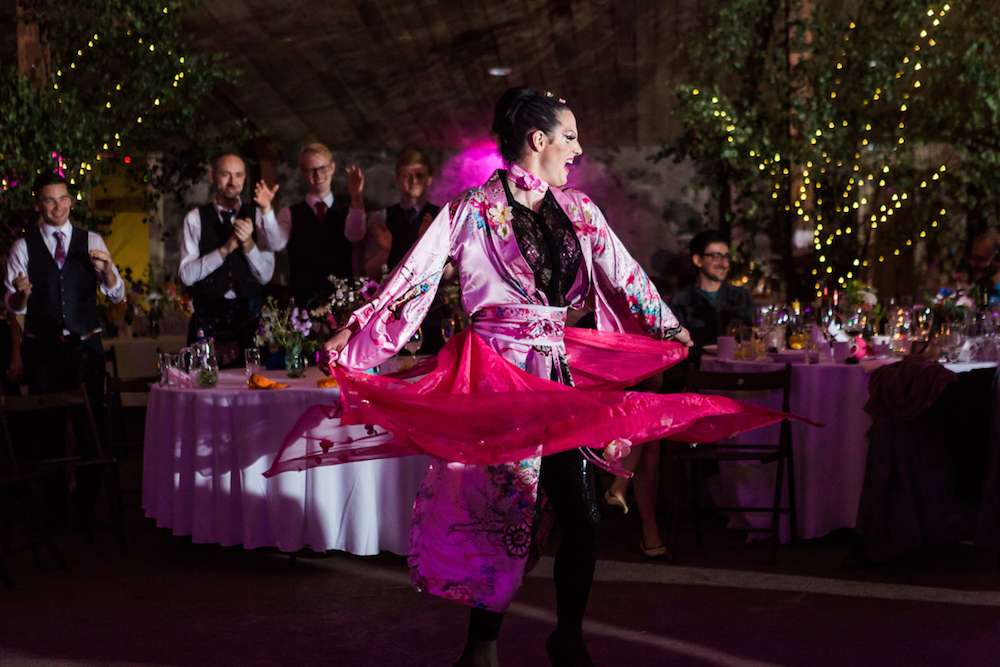 So, what do the couple behind the Party Of the Year say to people planning their wedding now? "Truly be mindful and savour each moment, because the memories will be all the richer for it (also cause you'll want to keep reminiscing about long after everyone else has moved on!) And try to make decisions together wherever possible. You're not going to please everyone, so just do what's true to you. Also in the words of RuPaul 'UInless they paying your bills, pay those bitches no mind'. Amen.