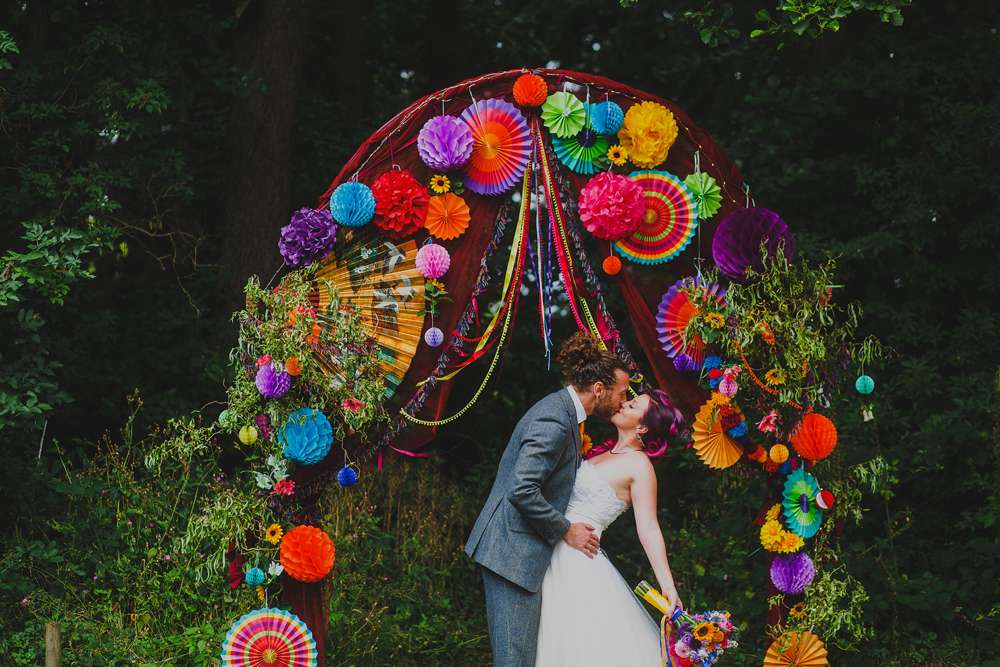 I don't usually like to make assumptions about which weddings might be the most popular ones that we publish, but I'm pretty confident to state that I think you are all going to lose your collective shit when you see Lisa and Tom's wedding. Why? Well would you get a load of her DRESS!!! Before we move onto discussing anything else about this one, we need to talk about that immediately!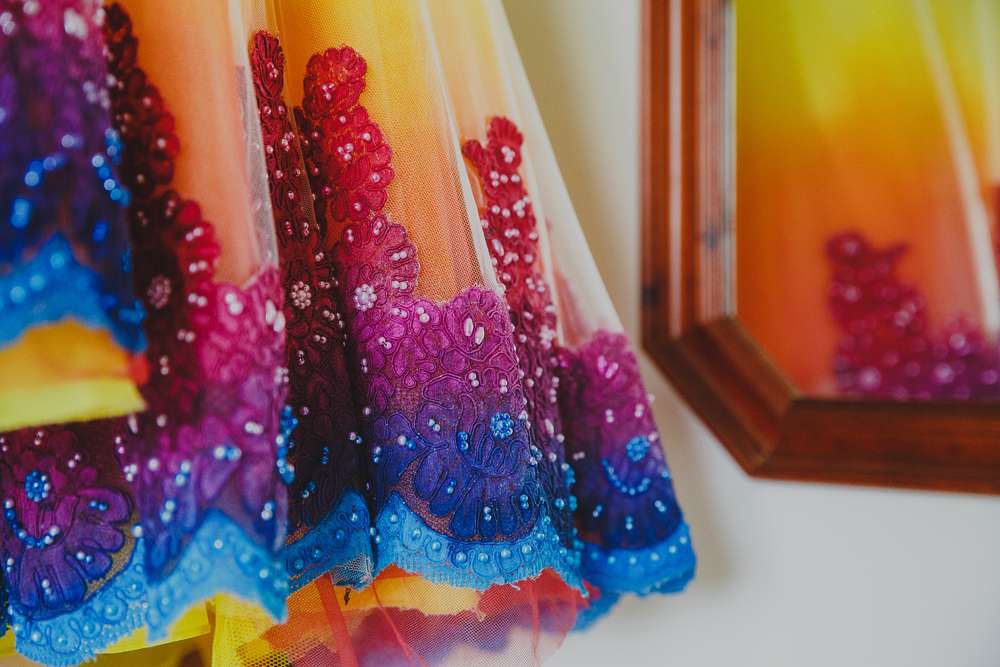 Unbelievably, the dress was actually upcycled from an inexpensive secondhand gown by one of the bridesmaids! Lisa explained, "My dress, shoes, decorations were all down to my most incredible bridesmaids and mum, with a huge shout out to the most bad ass bridesmaid, Katy. She doubled up as my dressmaker/ graphic designer/ sign maker/ temporary tattooist! I'd been spamming the bessies from half way across the world with colour schemes and dress ideas. Katy then surprised me on my birthday by sending me a photo of the most incredible 'prototype dress' that she had lovingly adopted from a charity shop and painstakingly painted and sewn back together."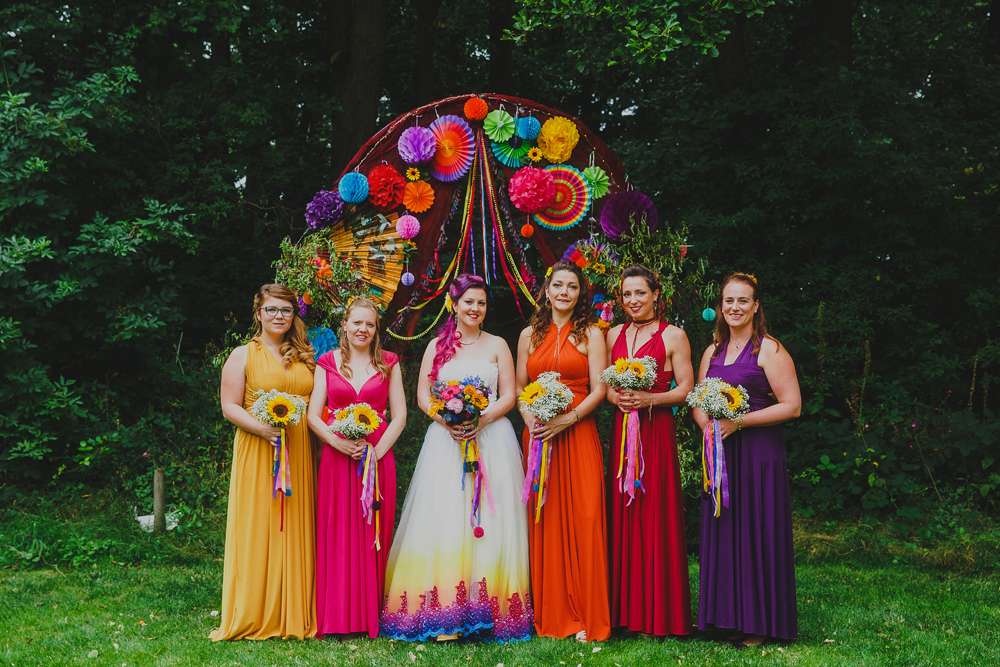 "Fast forward a few months when I'm back in the UK with a couple of months to go before the wedding, I try on the prototype and it was a near perfect fit. I'm usually firm believer that we make our own destiny, but that really did feel like fate. I didn't try any other dresses on! Katy and I had so much fun with the dress that we've now decided to set up an upclycling business which we're calling Feral Bride. We don't have a website yet but people can email us at dressonthewildside@feralbride.com! She also managed to upcycle me some amazing shoes to match with ribbons pom poms and of course."
Can I get a big WOW?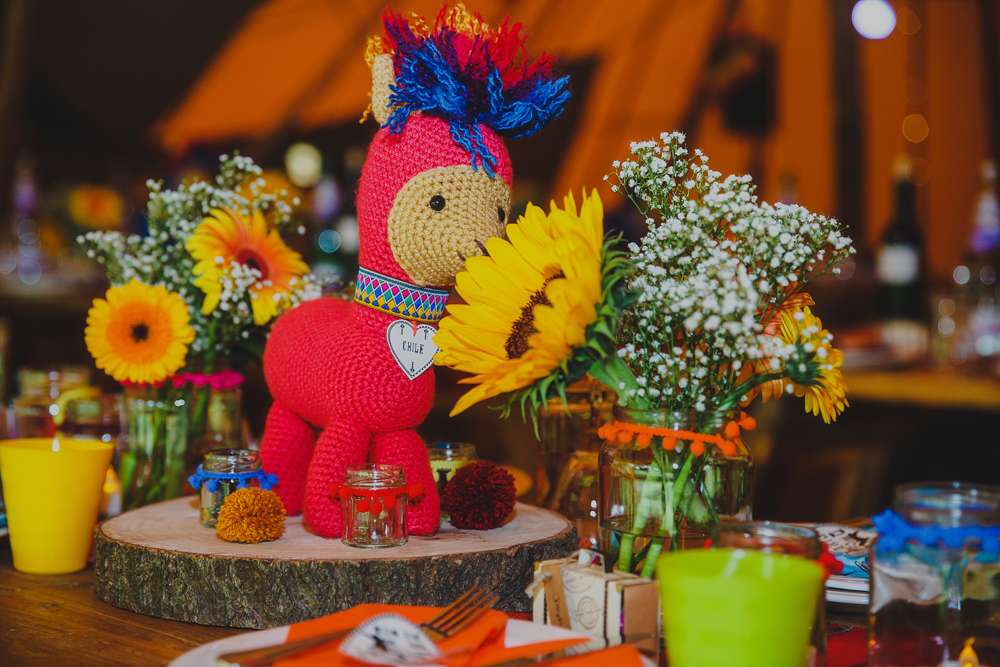 The day was held at Hush Venues in Norfolk. "Our wedding theme was bohemian-rockabilly-forest-meets South American sunset, complete with poms poms, piñatas and llamas!" continued Lisa.  "We were inspired by our pre-wedding round the world trip, bohemian ideals, and insistence on doing things our way."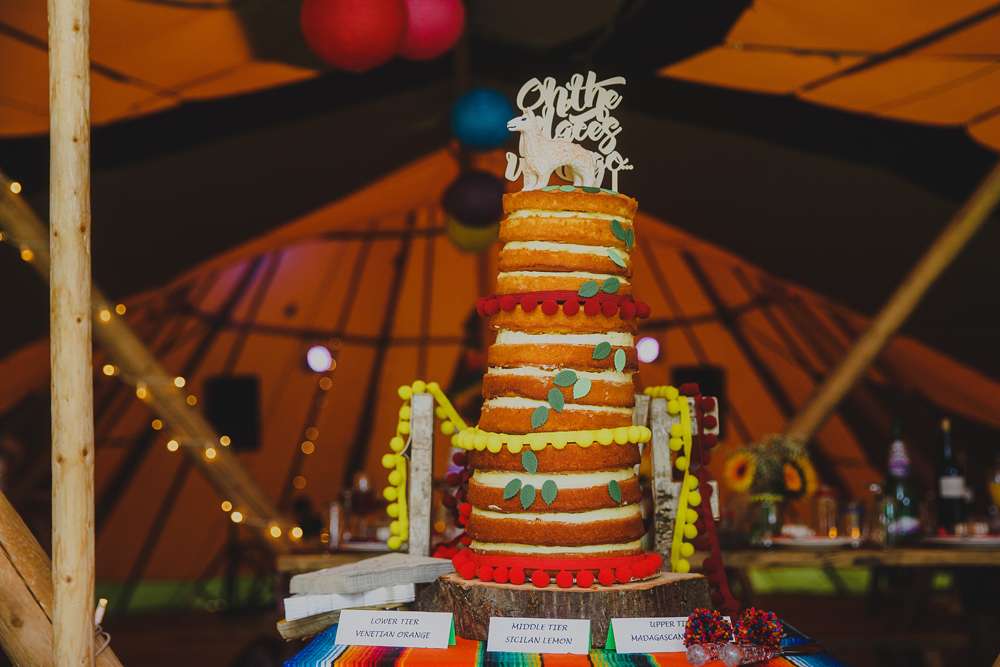 "We were lucky enough to spend the year before our wedding travelling the world together in the most incredible pre-wedding honeymoon anyone could have asked for. We travelled to Thailand, Singapore, South Korea, Japan, California, Costa Rica, before scaling the majority of South America. That trip heavily influenced our wedding aesthetic!"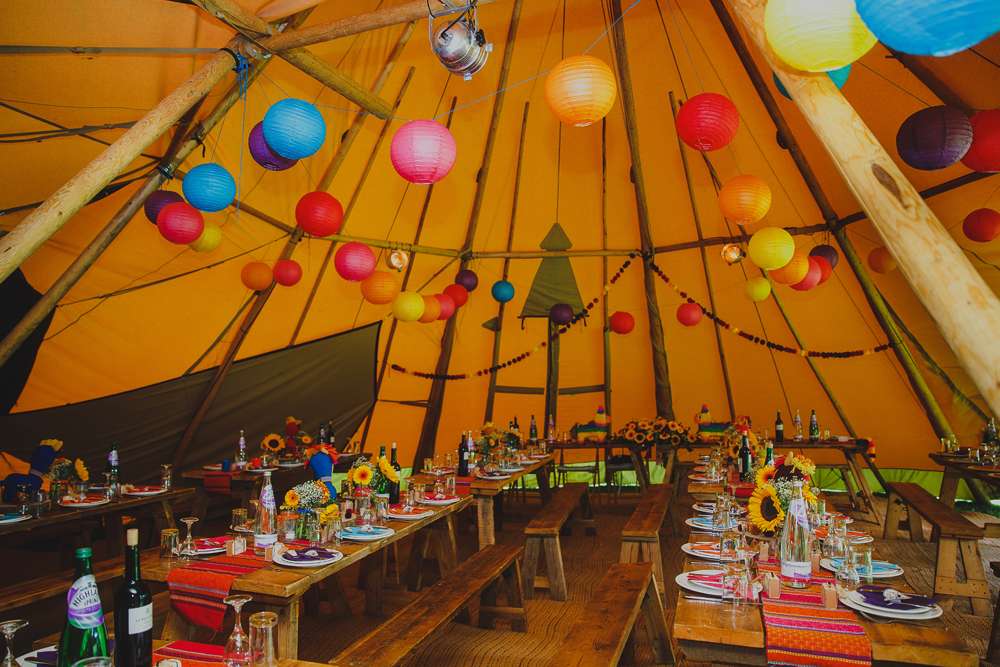 "Our colour scheme was sunset, and everything else was travel, with a massive emphasis on South America. Our tables all had a crocheted llama guarding them, each named after a different South American country we'd been to. Our guest book was a globe, and our wedding favours were suitcases filled with sugar, alongside temporary tattoos with our own wedding logo. By the end of the night our wedding logo could be seen on guests faces, necks, foreheads and the rest I'll leave up to your imagination (!)"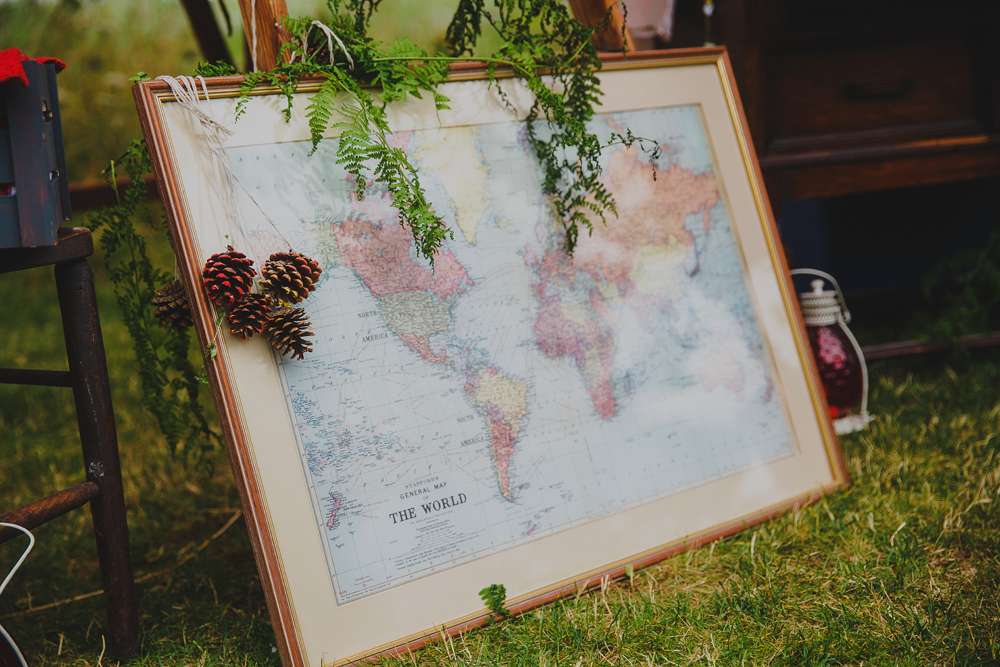 Of course the wedding had a hell of a lot of colourful elements, many of which were homemade. "I hand-crocheted 10 llamas for each of our centrepieces, and asked everyone I could get involved to make pom poms which featured pretty much everywhere! My mum must have made at least 1000! We had pom pom rain hanging in the forest, pom pom shoes, pom pom garlands decorating the trees and the tipis. The bridesmaids made an incredible archway out of flower garlands, paper fans and ribbons."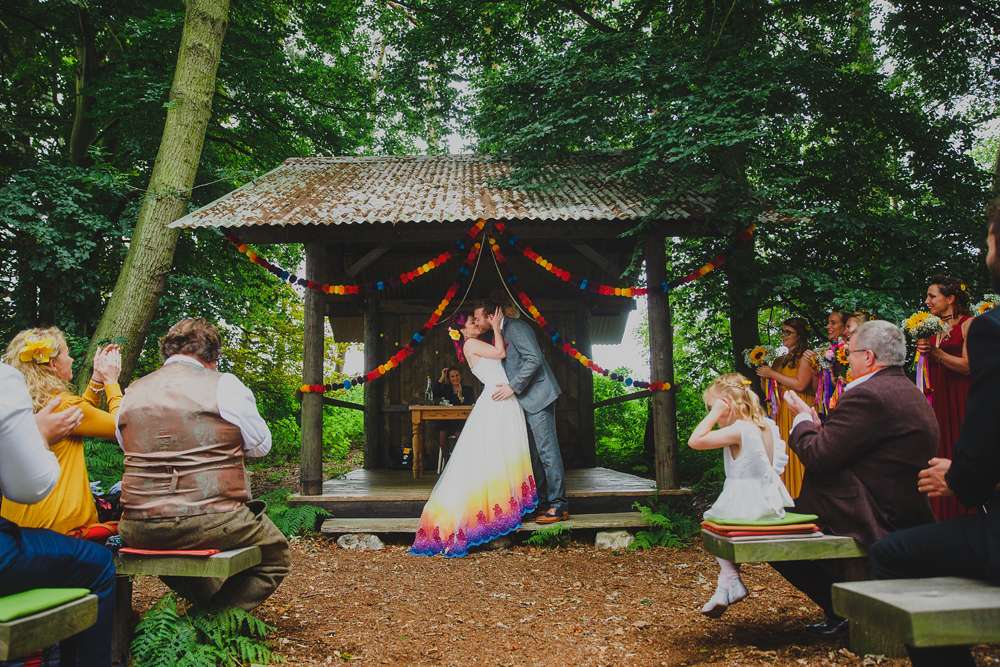 Their informal ceremony happened outside under a canopy of trees, decorated with pom poms and piñatas. "We wrote our own vows, inspired by some of the volcanoes we'd seen on our trip", she explained, "and we were given some words of wisdom from Dr Suess (paraphrased by the mother of the groom)."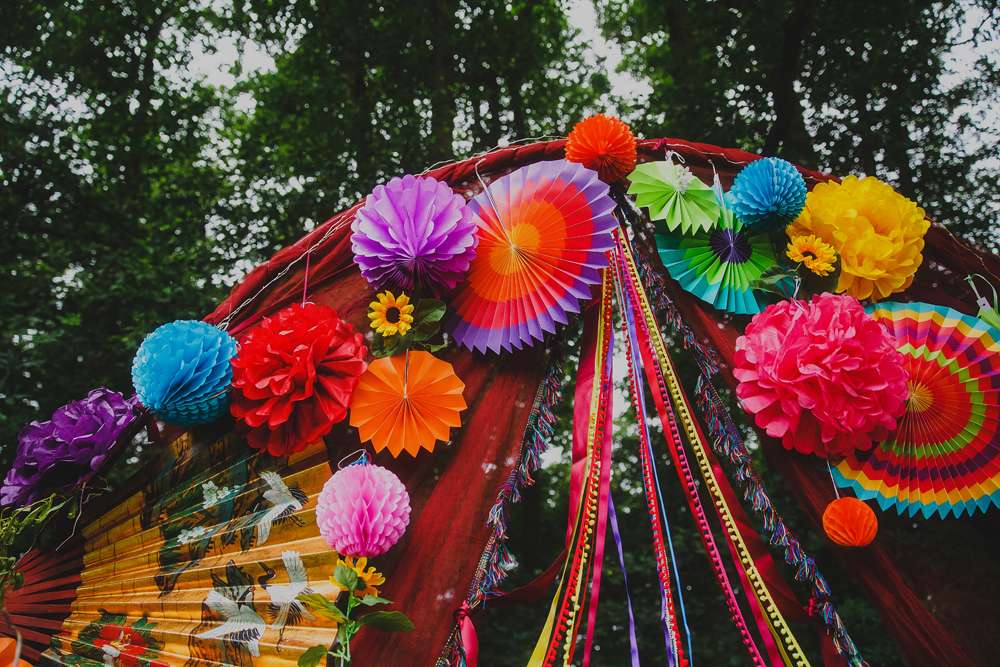 "The best part of our wedding was witnessing the mind blowing effort our friends and family were putting in to help us create such an incredible day", she concluded. "The only worst bit was when it was over!"