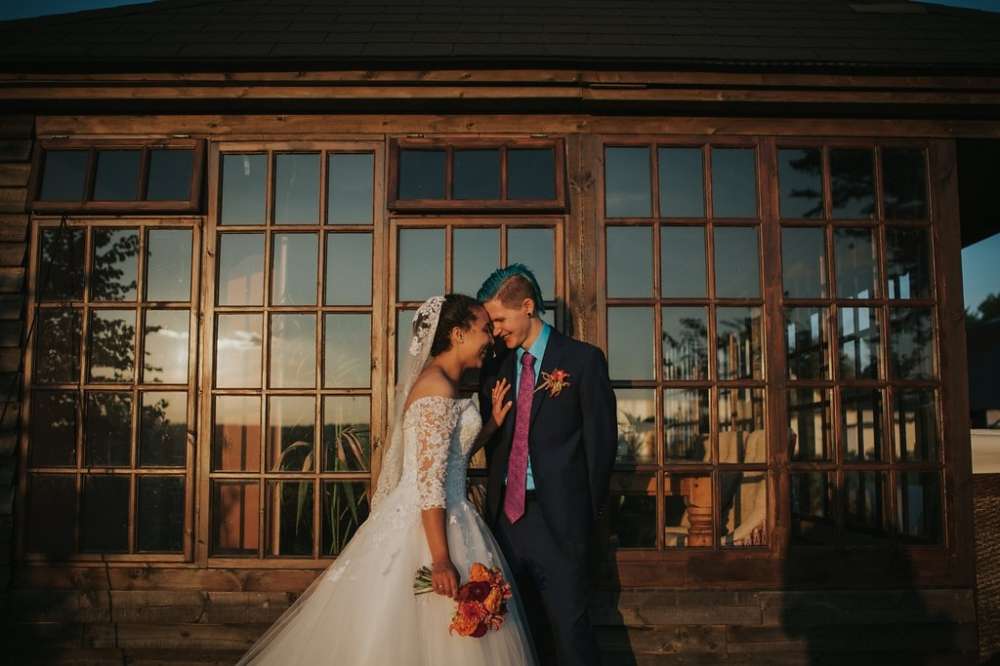 Natasha and Paul had a relaxed summer church wedding, followed by their colourful reception in a beautiful rustic barn. DIY played a huge part, and between themselves and their family they handled the invitations, cake, flowers, decorations, wedding favours, hair and make-up, setting up the venue, and cleaning it the next day. The groom and the usher even catered the event!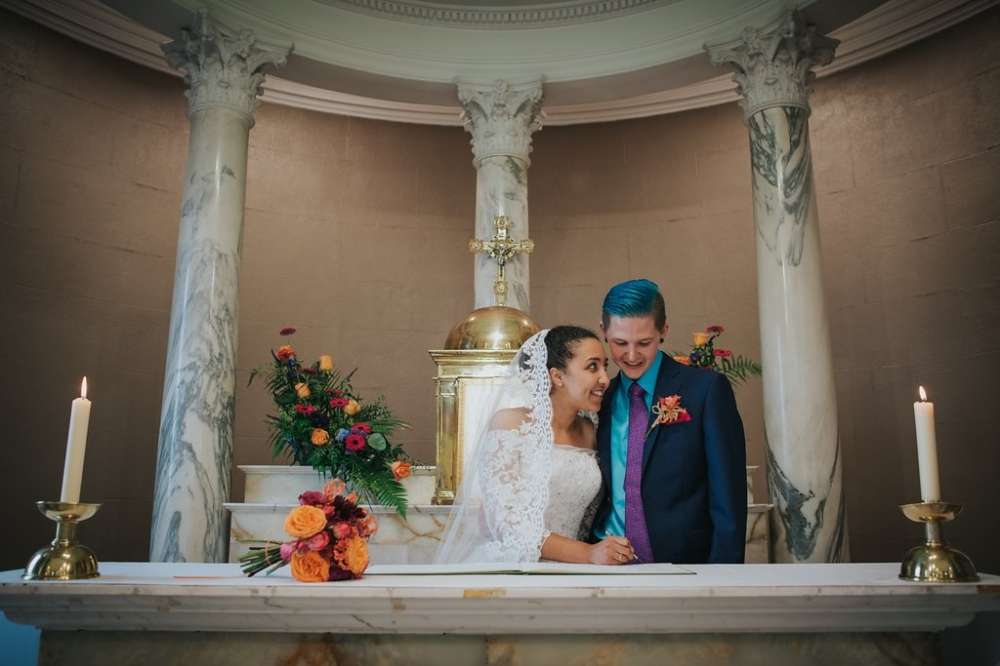 The couple knew exactly how they wanted things to go down regarding styling. Paul said, "As we both come from a hospitality background, we were sure that we didn't want a typical hotel style wedding, which we felt was too impersonal. We wanted to create a relaxed atmosphere and simply enjoy the day. We both love bright colours and knew we wanted to stay away from pastels and black!"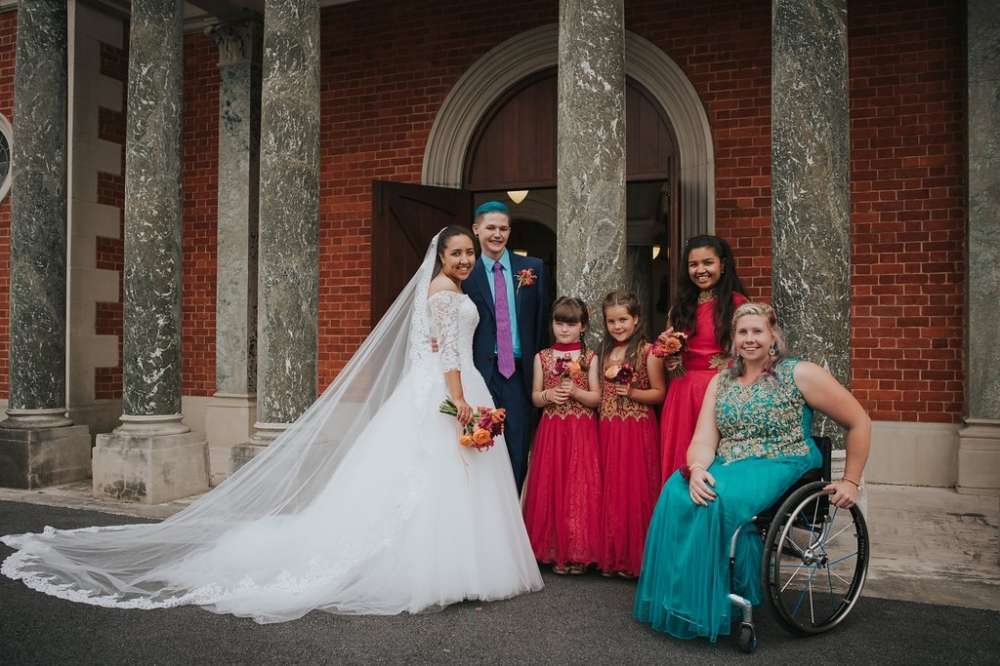 There's obviously a lot to do when you're getting married, and if help from friends and family is offered, take it! Paul said, "The night before the wedding, we had our rehearsal at the church followed by a large meal at a local restaurant. After letting slip that we still had a fair bit of running around to do to get everything ready for the next day, a large group of the wedding party came back to the venue to help us lay tables, put up decorations, chop vegetables for salads, and anything else they could think of to make our day perfect. At about 2am, we were pretty much set. Knowing we would still have to do a little running around in the morning, I chose this as a perfect opportunity to have a few whiskies with my best man and write my speech for the big day!"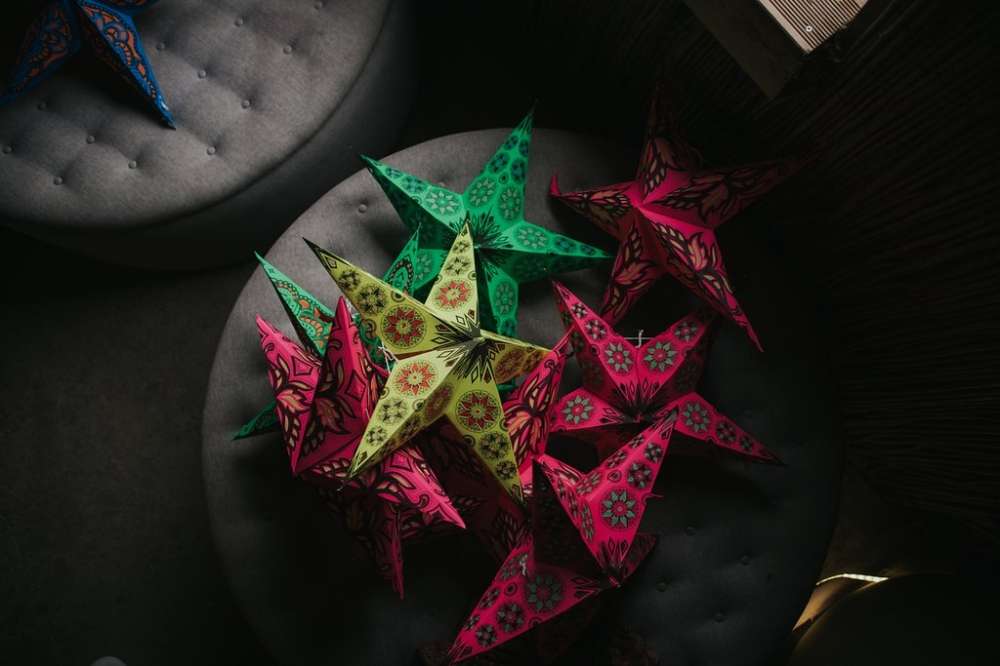 The morning of the wedding was a little chaotic and Paul said, "Getting ready in a shared house with your bride is a logistical nightmare, especially when you're trying to finish off the venue. I had to send scouting parties ahead to make sure rooms were clear, and I even caught my soon-to-be father-in-law being blinkered like a race horse by his other half so he didn't catch a glimpse of the bride too soon. With all this commotion, we both ended up late to our own wedding!"
The ceremony was held in Paul's local church in Exeter, Blessed Sacrament Catholic Church, which they said was very special as it was also where his parents got married and where he attended church growing up. "It's a beautiful place with lots of light. The service was very personal and we had readings from close family and friends. We got to know our priest, Father Jonathan, very well in the lead up to our wedding, and he gave a very intimate service that made us feel like we were the only ones in the room."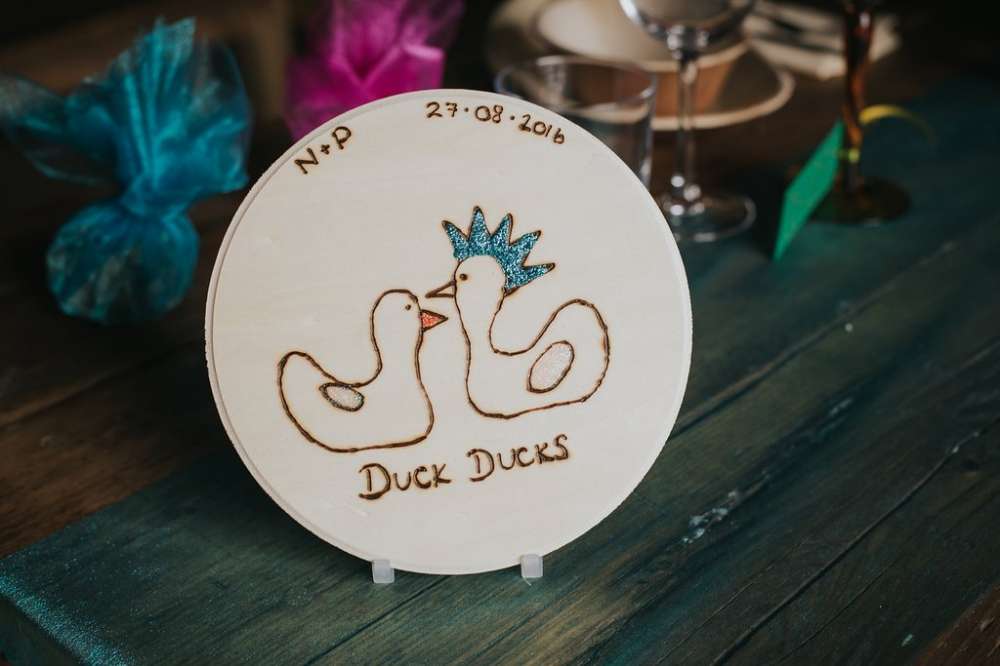 Natasha's dress and veil were from Oriental Pearl in Kent, which she wore with Kate Spade New York shoes. Her mum and sister did her make-up and also her hair, festooning it with flowers.
Paul wore an Austin Reed suit with his Barker Shoes. His striking turquoise shirt came all the way from a small independent shop in Paris as they couldn't find one anywhere in the UK! His tie and socks were from Charles Tyrwhitt, and Natasha's mother made his pocket square from an off trim of the bridesmaid dresses, which were bought from varying stalls in the Indian markets in Southall west London, tying the looks together.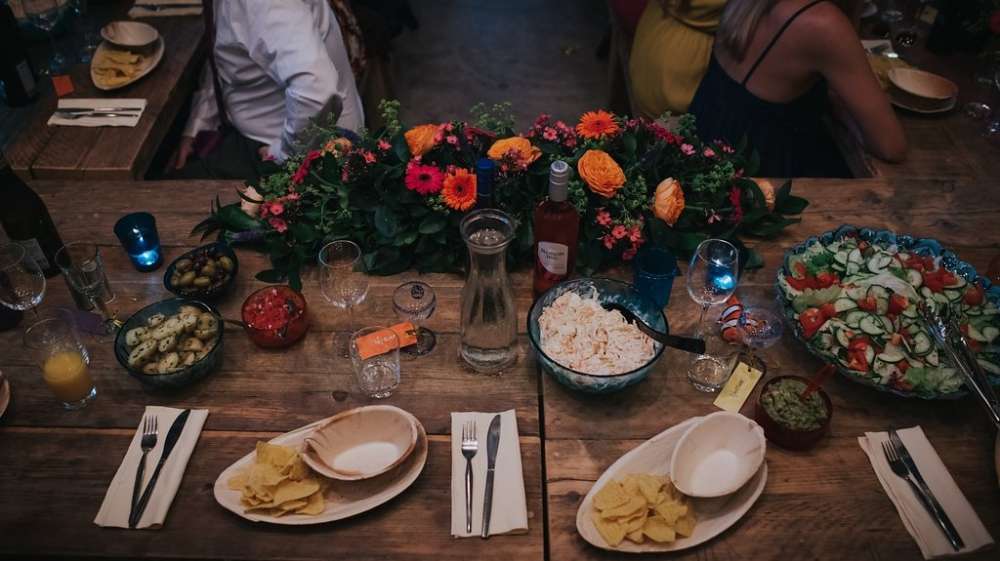 The bouquets and buttonholes were from Earth Gallery Flowers, while the church flowers were arranged by Paul's sister Kathryn, and bride Natasha arranged the flowers at the reception.
They travelled in style in between venues, their ride being the bride's godfather's Jaguar, which had a little mini bar of treats, including a small bottle of champagne!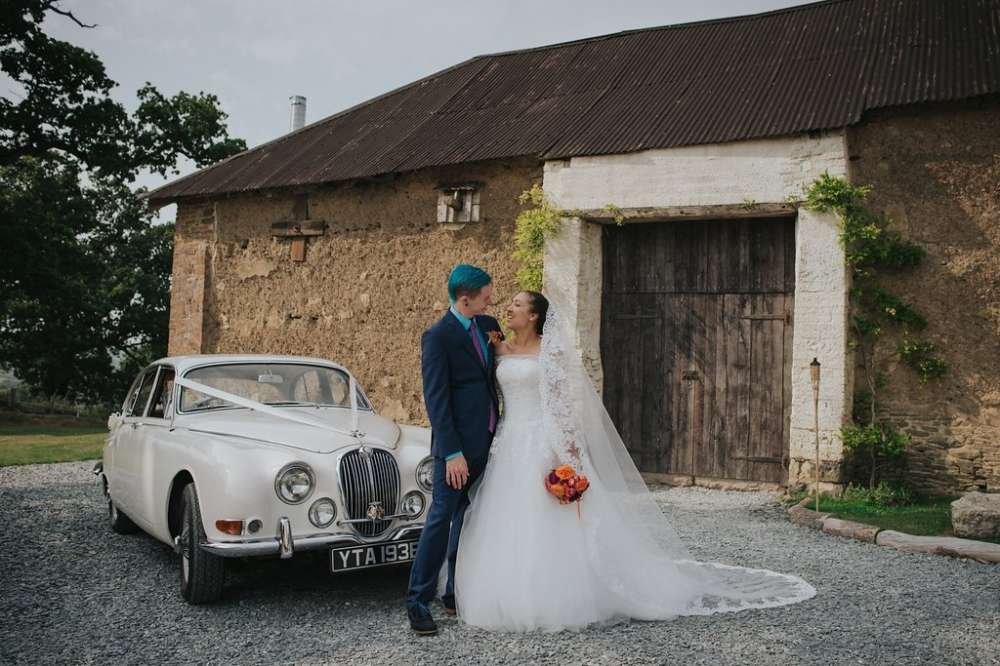 The reception was held at Higher Eggbeer in Cheriton Bishop. Paul said, "This was the first (and only!) place we saw. We fell in love straight away, cancelled all other appointments, and put down a deposit. Ali the owner was incredibly helpful and the biggest benefit is you rent the property from Friday through until Monday, and it includes a large barn for your party, a 7-bedroom cottage and a heated outdoor swimming pool. The property is also completely secluded down a long country track with stunning views across Dartmoor." It was the biggest expense in their £12,000 budget, but totally worth it.
They decorated the barn with balloons from Not on the High Street, paper stars from Camden Market, and twinkly fairy lights bought in the post-Christmas sales. Table plaques were made by Natasha's sister (also one of the bridesmaids). The colourful serving bowls were sourced from TK Maxx and charity shops. Motion Pitchers of Exeter provided the DJ and the evening bar, and guests enjoyed playing with Paul's collection of circus toys!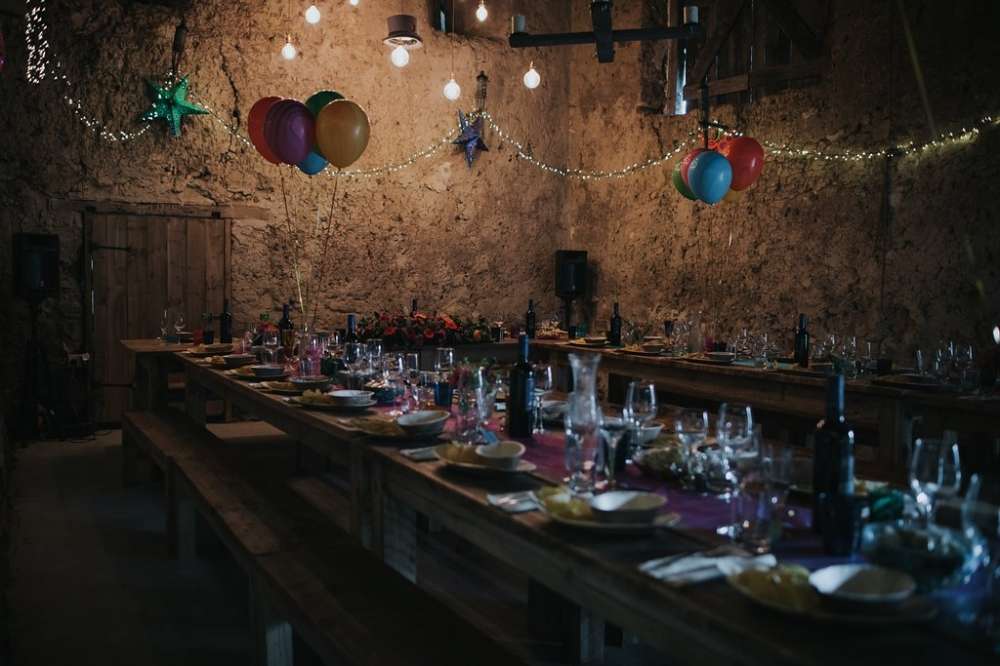 Paul is a private chef, and so to save money he decided to put his professional skills to use and handle the catering. "We had originally planned to just do the desserts ourselves, but after meeting with several caterers, and even putting down a deposit with one, we realised we weren't actually getting what we wanted. After receiving a breakdown of our caterer's quote, we realised that we were being charged so much for things we could really do ourselves. We worked out the costs and decided to bite the bullet and go completely self-catered."
"It was incredibly hard work, but also a lot of fun. I would still not recommend this approach to most people. It is very difficult, even when you cook for a career; a lot of pressure comes with cooking for your own wedding. In retrospect, we would have hired a professional waiting staff for the whole day, and that way we could've still catered everything ourselves, but we would have had a team we could trust to keep the day running smoothly, serving food, drinks and doing a full clean down." The food Paul used was all locally sourced, while the wine and champagne involved a fun jaunt to The Calais Wine Superstore with Natasha's father.
Paul also made the wedding cake, with each tier being different so there was something for everyone whether they like chocolate, vanilla, or fruit cake, and there was even a gluten free tier. Natasha decorated it with fresh flowers, so it was a real team effort.
Natasha said the best thing about planning the wedding was "Buying all the colourful serving plates and cake stands. It was great because we got to keep them all afterwards! And raiding all the charity shops to build up a collection of 100 individual champagne flutes to give out as wedding favours." For Paul, it was "Shoe shopping, mainly because I thought it was going to be a hard thing to do, but I absolutely fell in love with my shoes when I saw them in the shop window!"
The worst thing about planning the wedding was, said Paul, "The paperwork side of things and waiting for the day to actually arrive." He also wished he'd known how hard it is to stay in budget!
"All in all, apart from hiring a waiting staff, we would not have changed anything about our wedding. We got the relaxed feeling we wanted, where everyone chatted and just had fun. We also had amazing family around us that fully supported us in pulling the whole day off, even if they thought we were mad for doing it all ourselves!"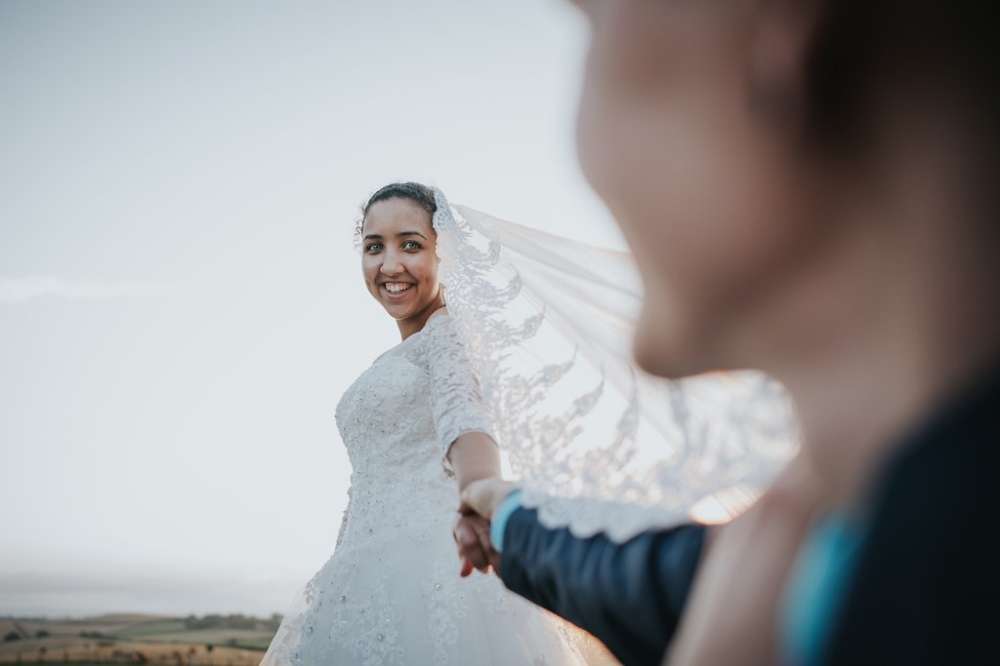 The best bit of their day, said the couple, was the ceremony. "Our priest Father Jonathan made the whole thing super personal, making it feel like it was just the two of us in the church."
Their advice for future brides and grooms is to have confidence in your plans. "Don't let anyone else's opinion alter your own. A lot of people will have advice and suggestions for you about your wedding, and by no means ignore them as they can be helpful and sometimes crucial, just don't let them change the idea that you and your partner have for the day. It's your day. And anything is possible when you have a great family around you."