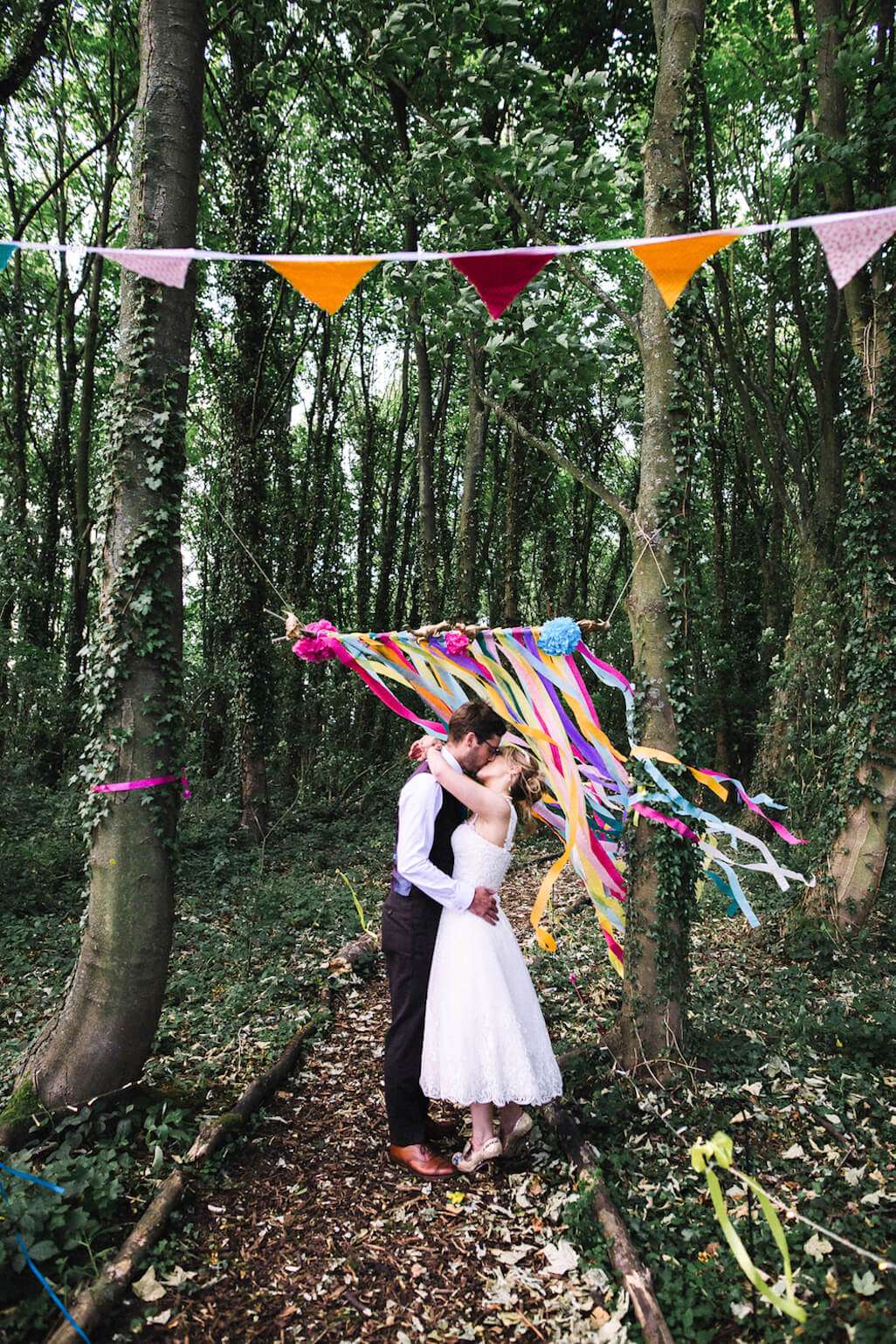 Anna and Ben's woodland wedding was captivating (geddit?) and enraptor-ing (double geddit!?) All puns aside, their beautiful dinosaur-themed wedding day was a riot of colour and fun, featuring loads of handmade games and outdoor decor to make you properly swoon. Plus, peep the seriously cute bridesmaids' outfits!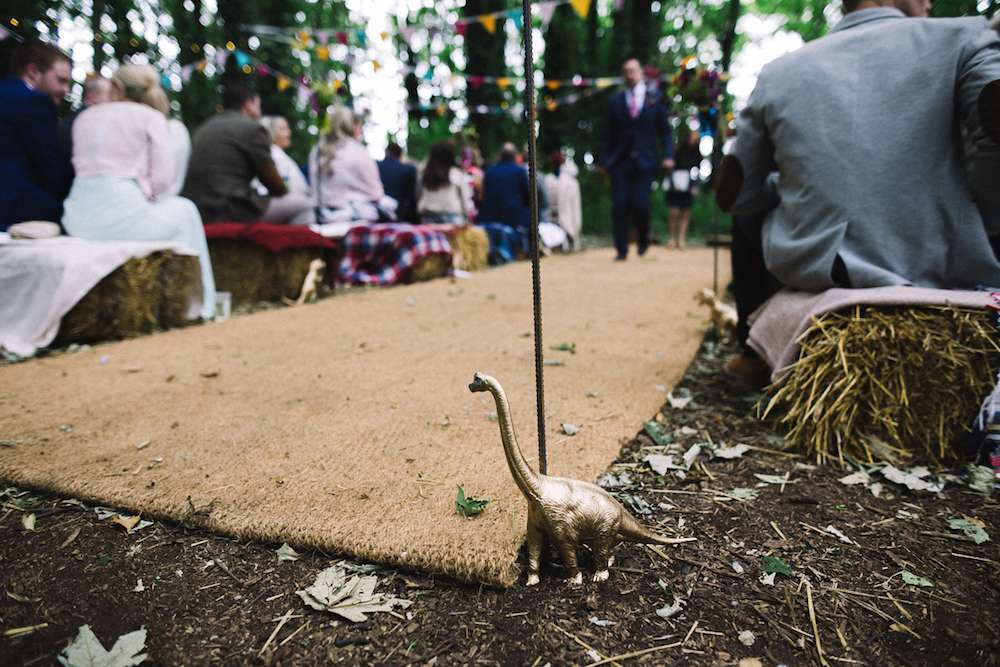 They had their wedding at Applewood and Blossom Barn Weddings in Leeds. "None of the venues we'd looked at had really jumped out as being somewhere we would feel ourselves celebrating our wedding – until we found Applewood," the bride explained. "The dinosaur theme came into play pretty early on – I'd been looking for ideas for name cards on Pinterest and saw someone had used little gold dinosaurs. I knew that having dinosaurs as a theme in the woodland and would help the idea of a fun wedding."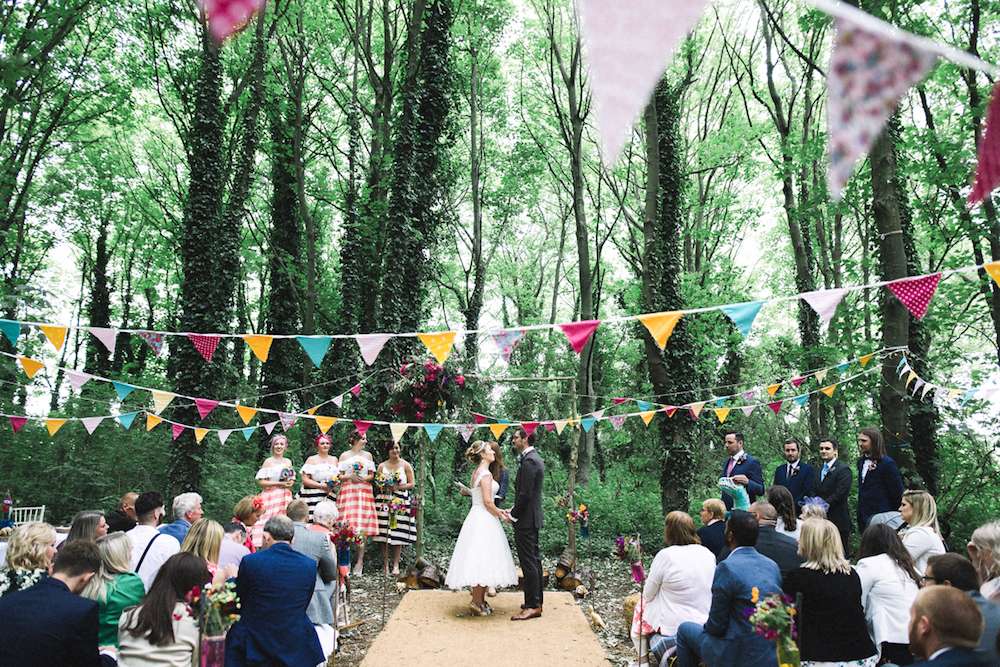 Anna and Ben's ceremony was outside, with hay bales for seating, an arch for the altar and a bright ribbon backdrop. "My dad had passed away so I walked through the woods and down the aisle with my brother, to Jurassic Park's theme by John Williams," Anna says. "Our ceremony was delivered by Jan Shillito, and we loved how she incorporated the things we had spoken about and what was important to us, including a Harry Baker poem called 'Dinosaur Love'. We also wanted something different in the ceremony to symbolise our marriage and we included a handfasting, which was done by our mums." And, of course, there were dinosaurs…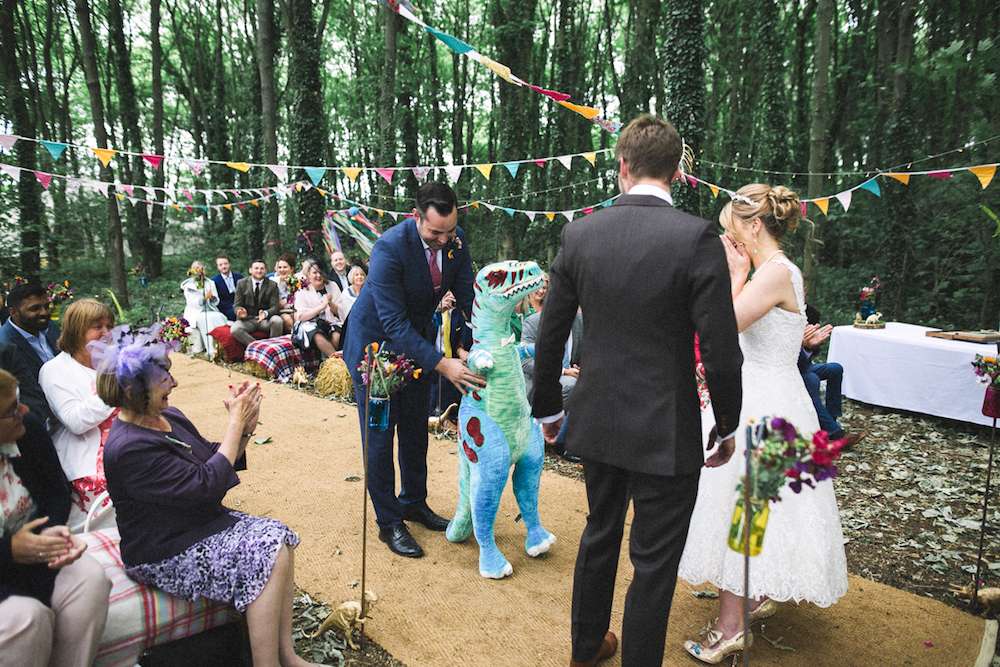 "Ben's brother and Best Man were supposed to have the rings, thought just at the time they were needed, he began checking all his pockets and started to look frantic. He got more and more nervous and frantic, eventually walking back down the aisle and behind a tree. He then reappeared from the tree with a 'ring bearer' – a 5ft soft toy T-Rex, adorned with our wedding rings one per forearm. We could not stop laughing!"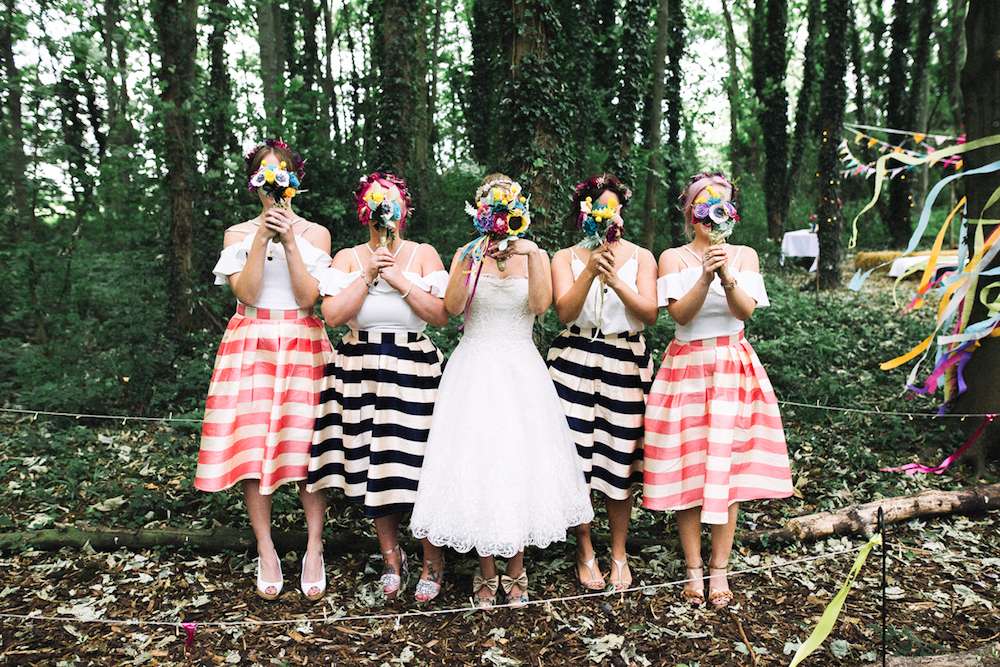 Anna and Ben handmade a load of garden games for in between the ceremony and the reception, including 'Hoop the Dino', a 'Feed the dinosaur' game, and hand-painted bride and groom skittles.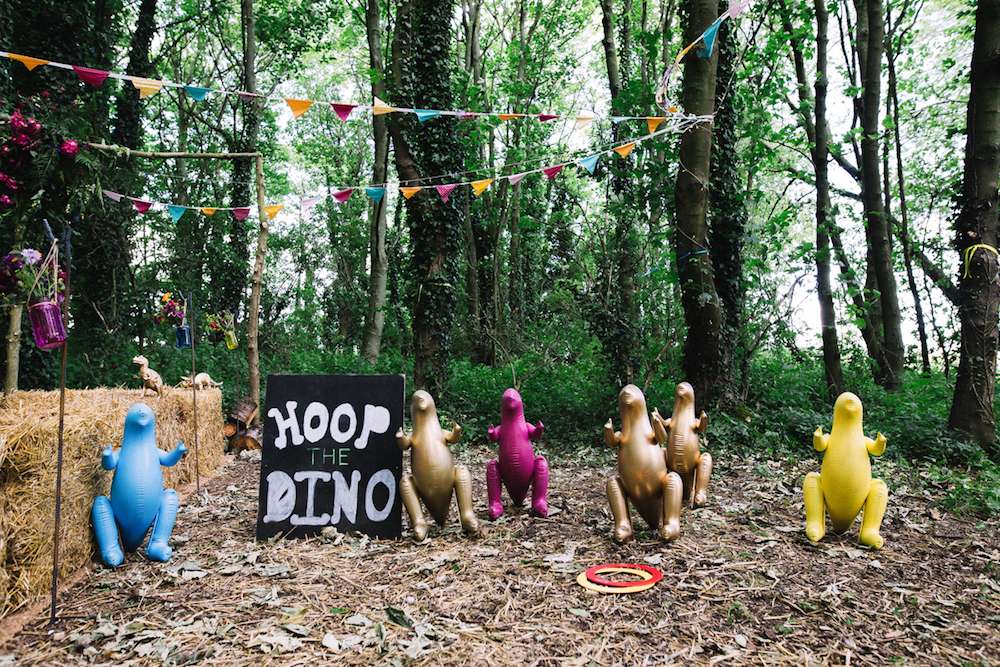 They also DIYed a load of the decorations, ranging from spray-painted gold dinosaurs (which were literally everywhere) to bunting hung in the ornate yurt from Yorkshire Yurts. The felt bouquets for Anna and her bridesmaids were also handmade: "These were so fiddly!" Anna said, "but with the gold dinosaurs and glitter, they made a great impact. Crafting was definitely a lot of fun, with friends and family helping. It was also fun to see how idea evolved and changed, if the first one did not quite work out!"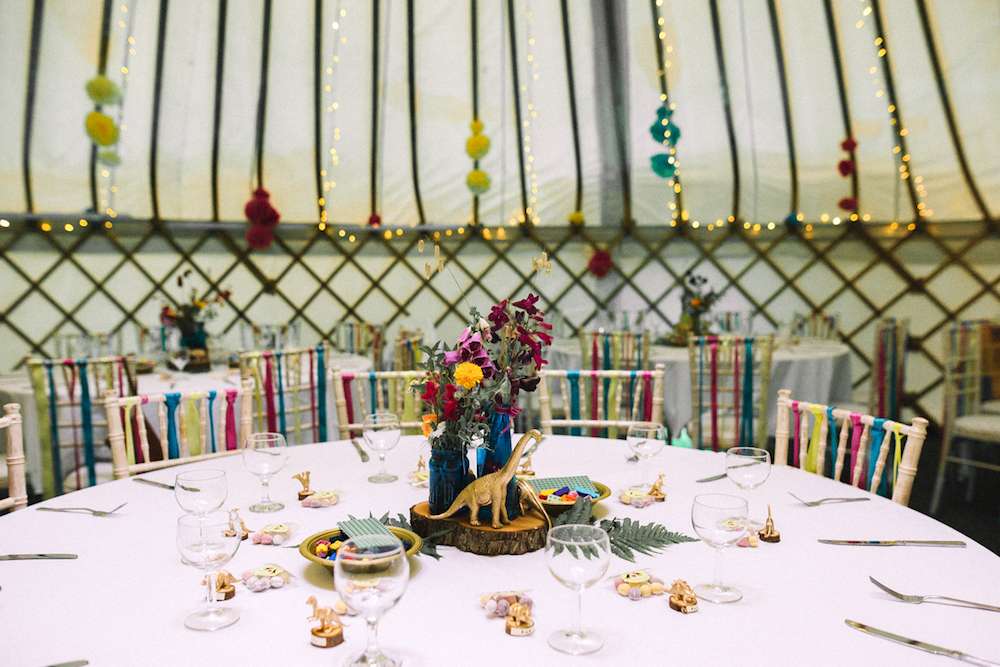 In the run-up, Anna and Ben started to get really nervous about the day and trying to manage people's expectations. During the day, it became clear very clear that the day was about them just being happy! "For our first dance, we had picked out  Phil Collins's Sussudio, but knew we needed some help to choreograph. We had two lessons with Mel, a dance teacher and felt we had conquered it. On the day, we snuck out of the woodland to practice and realised how many beers we'd both had!"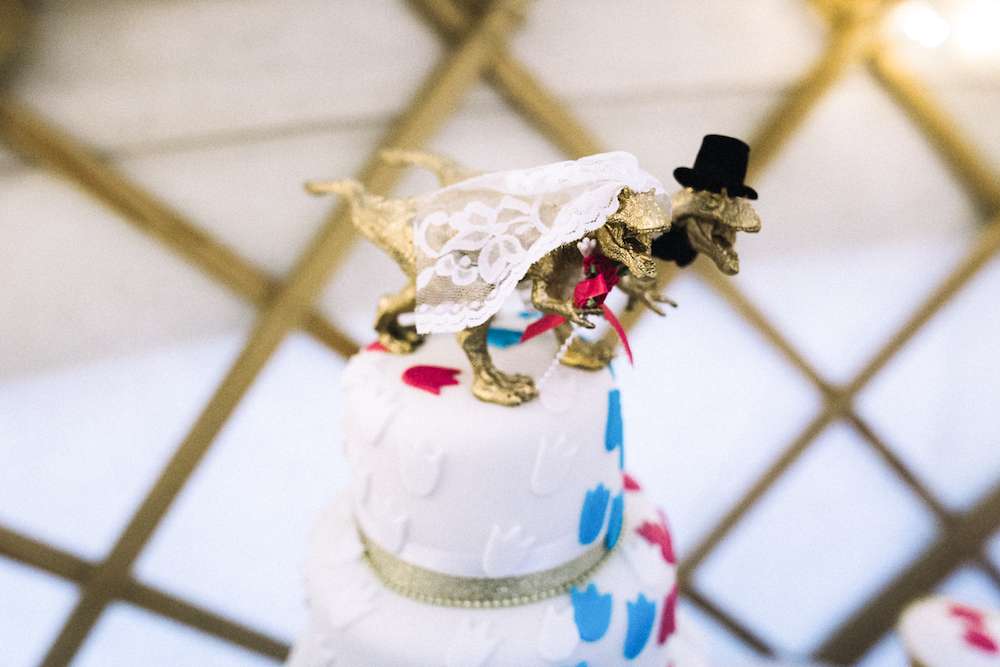 "However, after cutting the cake (which they did with a machete, because there was no cake knife), the intro started and we just looked at each other and knew it was now or never. It was fab! Not perfect, but we loved every second of it, as did the guests. It was fun, light-hearted and a great way to get the party started."
Fun, light-hearted and great seems to sum up their wedding day perfectly; if you chuck in jurassic, colourful and summery too. Love, uh, finds a way…