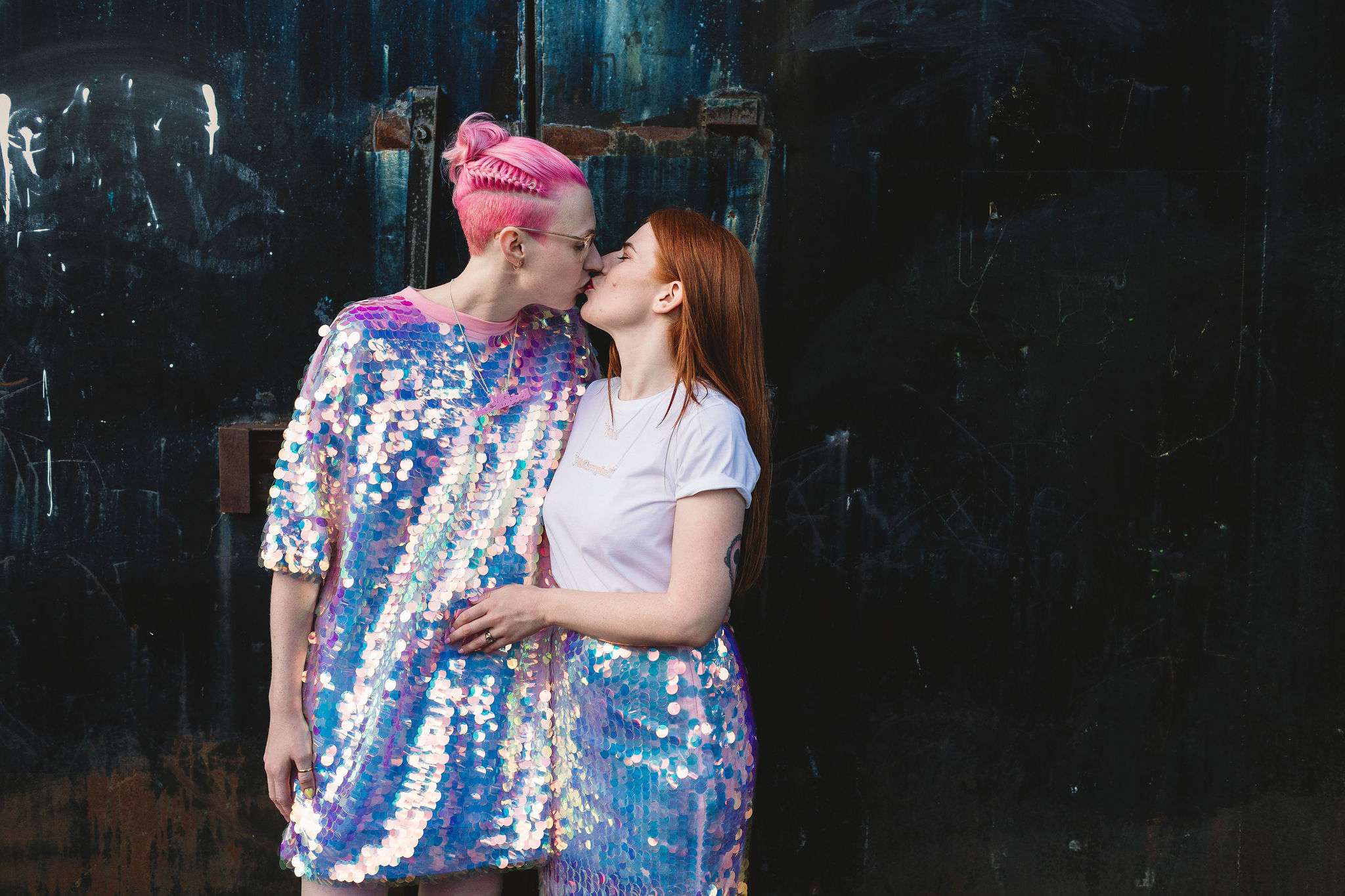 OH MY GOD, oh my god, oh my god. Let me COUNT THE WAYS in which I absolutely adore this wedding. Lusea and Nancy's incredible wedding style just radiates on pure JOY and their day perfectly bridges the gap between tongue-in-cheek and hand-in-heart. Plus, they had McDonalds as their wedding meal. RELATABLE ICONS.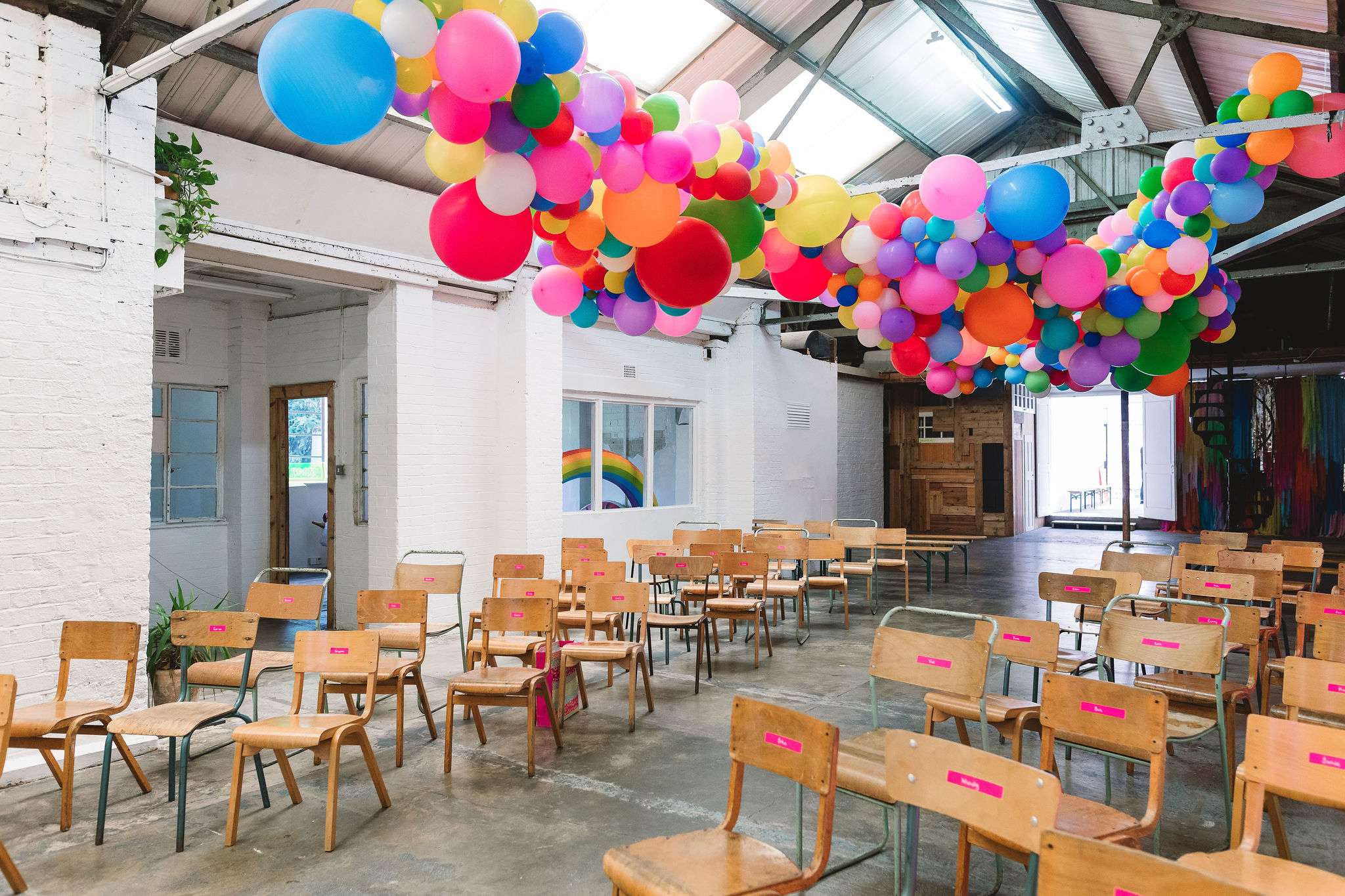 "We didn't have a set mind of what kind of wedding we wanted," Lusea and Nancy say, "we knew more of what we didn't want. We didn't care for wedding favours, fancy cars or flowers, so we didn't have any. The things that were important to us both were our dads walking us down the aisle, and having a space where all 22 kids could run riot."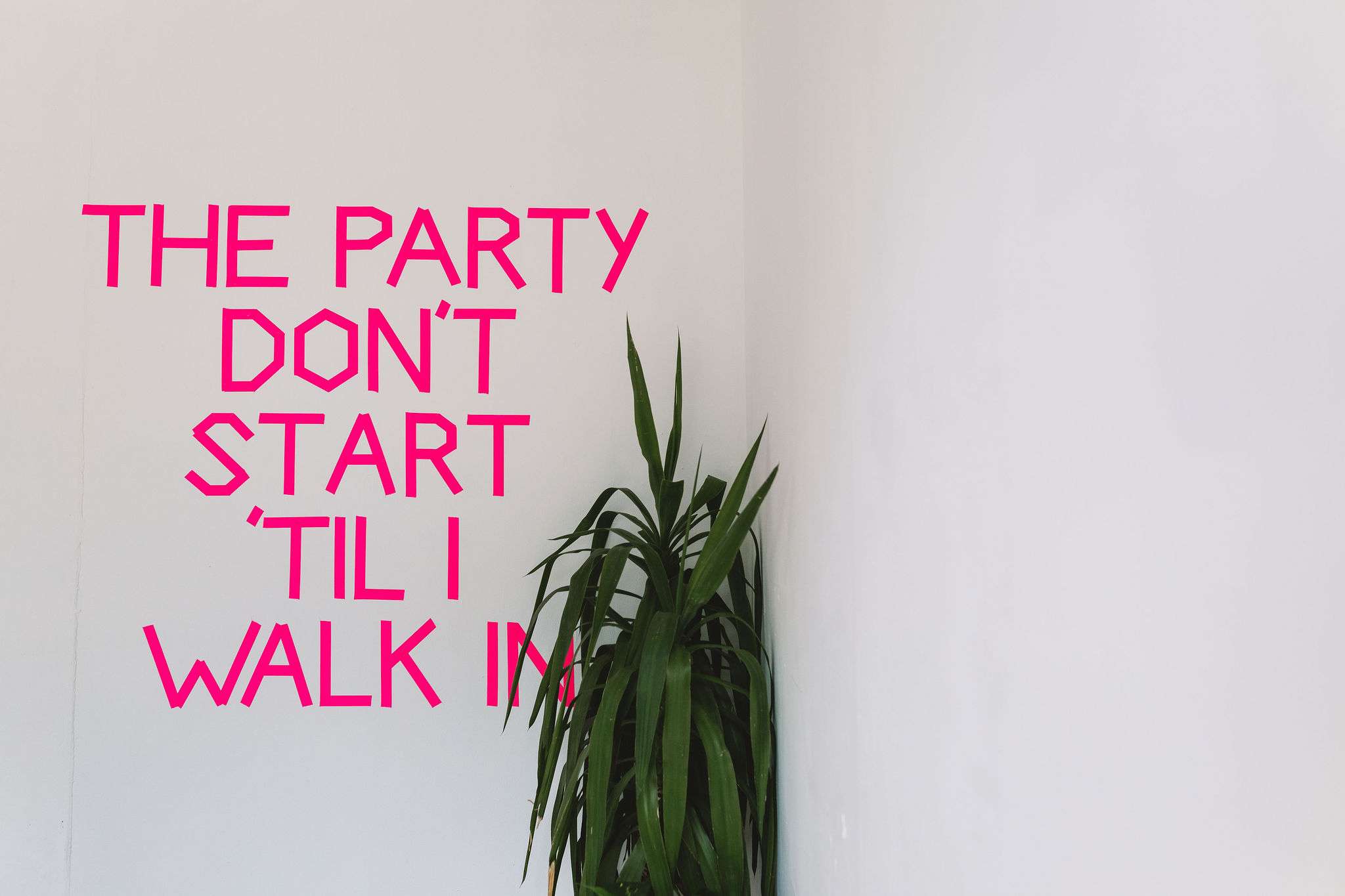 They were even open about where in the world to get married. "After looking at a few in Cornwall, Kent and London, and even considering eloping in Las Vegas we came across The Old Dairy in Hackney. We said yes to our venue after the first visit, even though it was really hard to see what we were working with as they had a set built in it at the time. It just had the right vibe for us. We loved how raw and stripped back it was, and knew it could handle how much colour we wanted to inject into it without it feeling too much."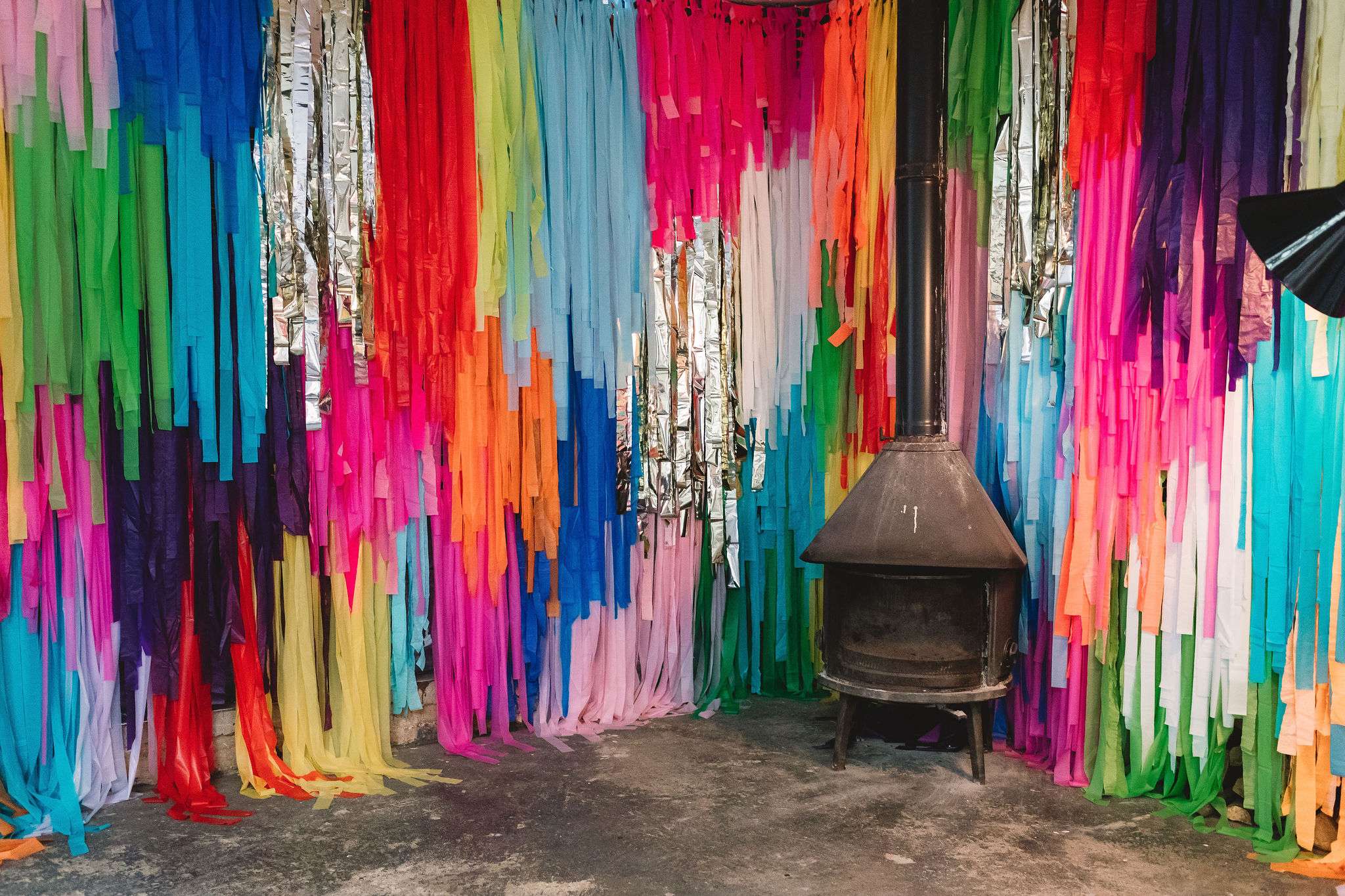 And colourful it was! Both the brides LOVE colour so it was really important to be able to bring the right tones of colour in without it looking like a rainbow spectrum wedding." Their main decor focal point was a giant colourful balloon installation suspended from the ceiling, a project they'd always wanted an excuse for! As they're both creatives – they both met whilst working at Tatty Devine, and wore matching Tatty Devine necklaces saying their new last name for the evening do – they also handmade a lot of decor elements, using materials and objects they already had and use in their own art work.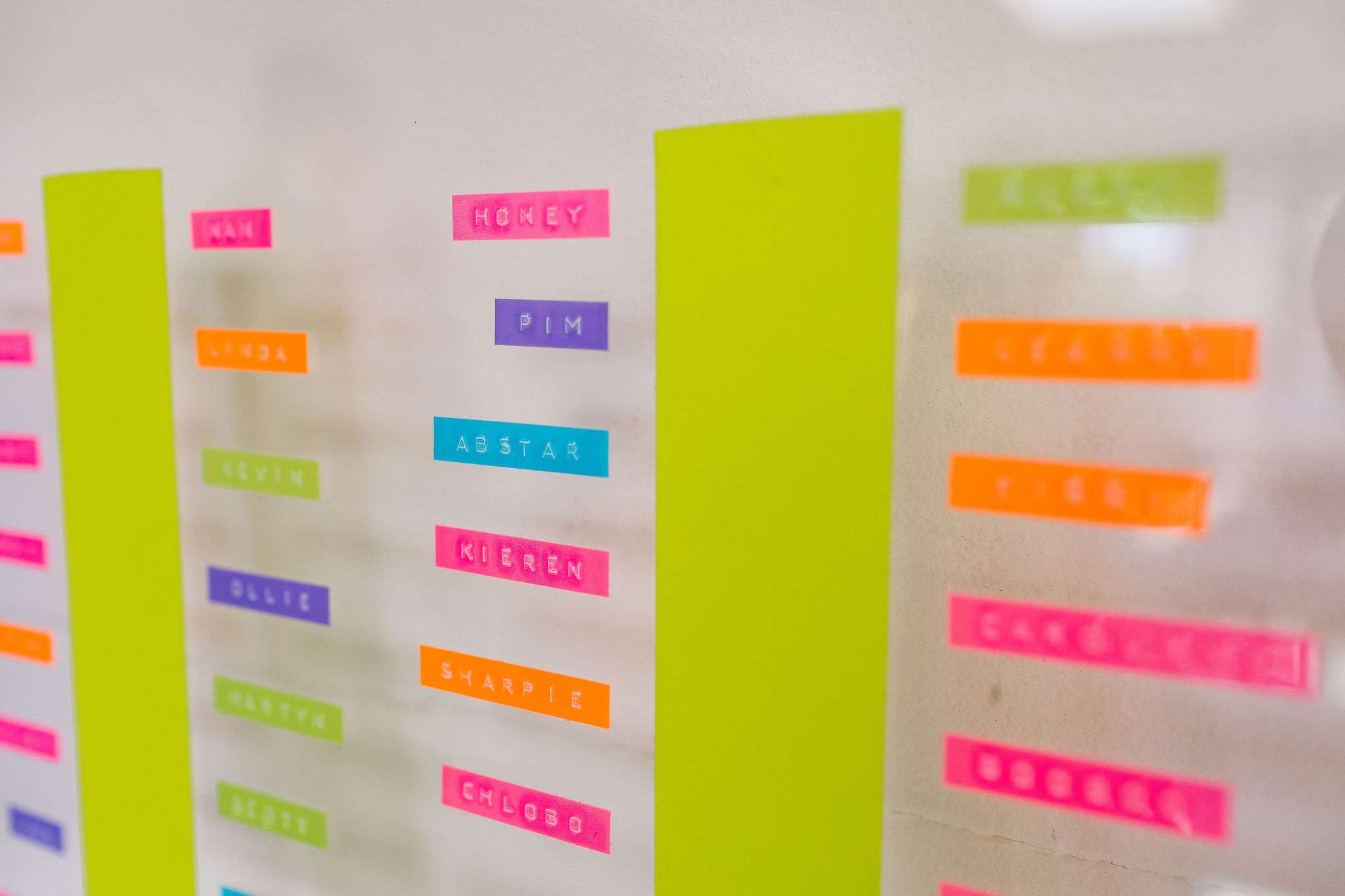 Some of the materials were really simple, too: they used sticky tape to write on the wall, including 'The Party Don't Start 'Til I Walk In' in the entrance and 'Cheers, Sweetie' above their drinks table as a nod to Nancy's all-time favourite show, AbFab. They also used scrap acrylic Nancy had left over from her degree years ago for their order of the day and table plan, and made a heart shaped piñata box for all of their cards. Together, they also made a giant tassel wall to cover a darker area of the venue, in the process also making the best insta backdrop for their guests. Speaking of beautiful instagram fodder, they got a 'You're My Fave neon light from Bag & Bones as a wedding gift so they hung up on the day.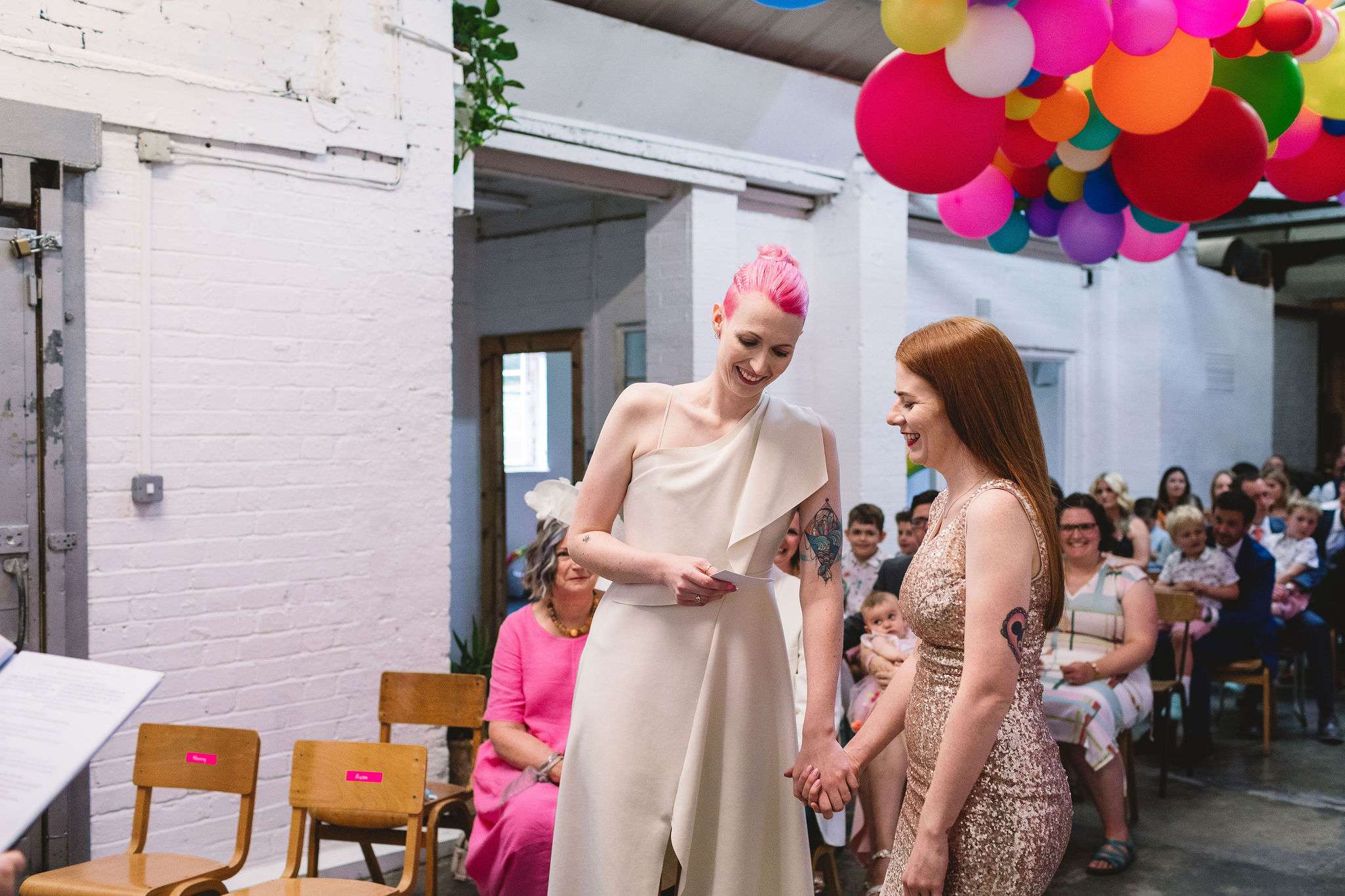 The DIY deliciousness didn't stop there, either. Lusea and Nancy marbled the placemats and designed them with their new last name, McCampbell, writing the guests' names on a bit of pink masking tape – and that wasn't even the most incredible bit of the wedding meal. That was, in fact, the food itself – which they got from McDonald's on Uber Eats! "It was something we'd always joked we'd do," they explained. "We really saved money on catering by buying bags of old-school crisps instead of canapés, serving McDonald's for the Wedding breakfast and Pizza Hut for the evening buffet."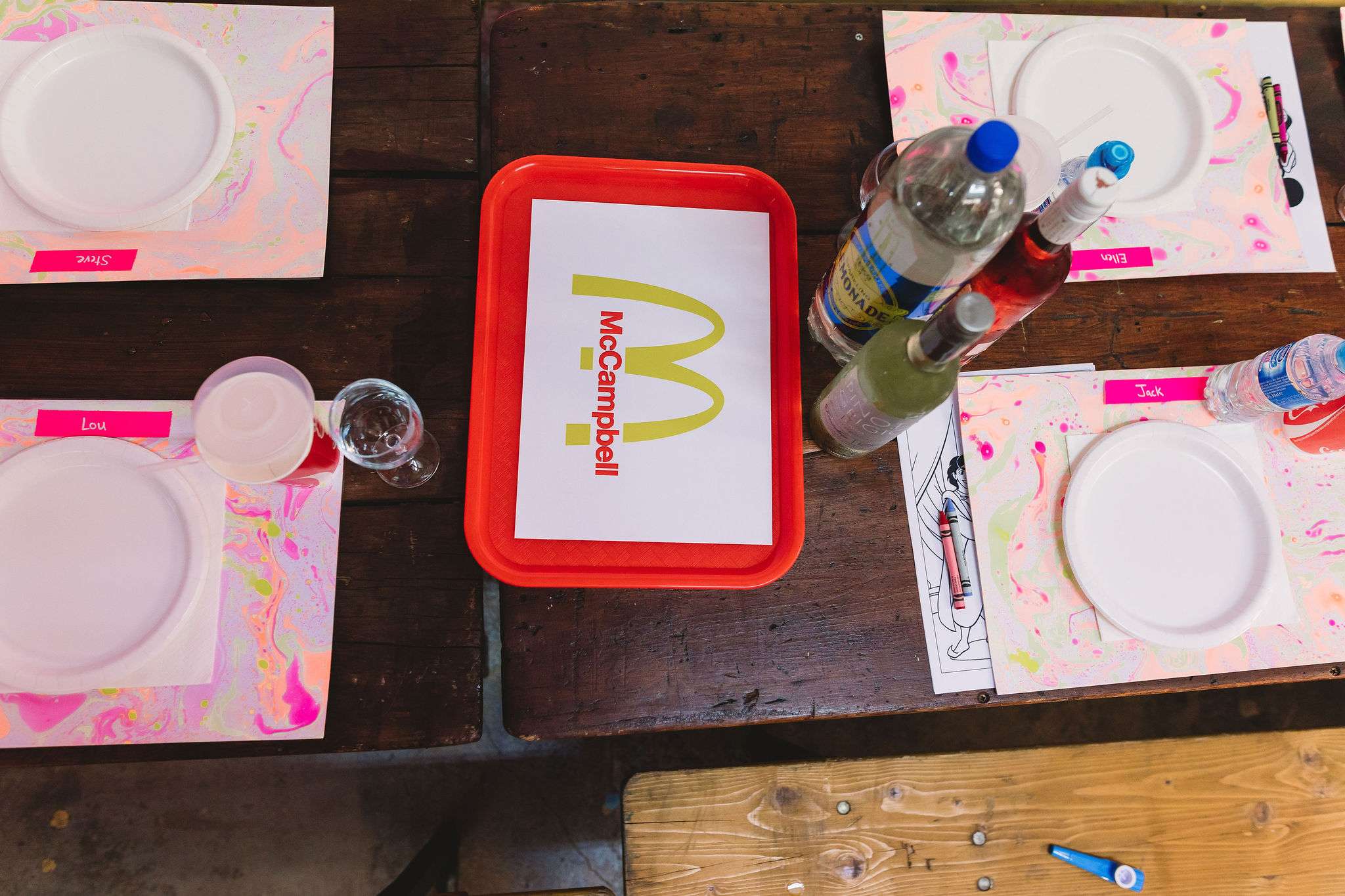 Cakes were made by Lusea's sister, and Lusea also managed to track down a very special guest appearance for their dessert. "I managed to track down the ice cream van man, Ilhan, from the village where I grew up, to treat all of our guests with ice creams and slushies. Ilhan had also gotten a new van a few weeks prior and because he knew how much we loved Disney, he surprised us by painting Mickey & Minnie kissing on the side! How cute is that?! This was such a fun part of the day, the excited faces of the kids when they found out they could choose a three scoop ice cream cone, was priceless!"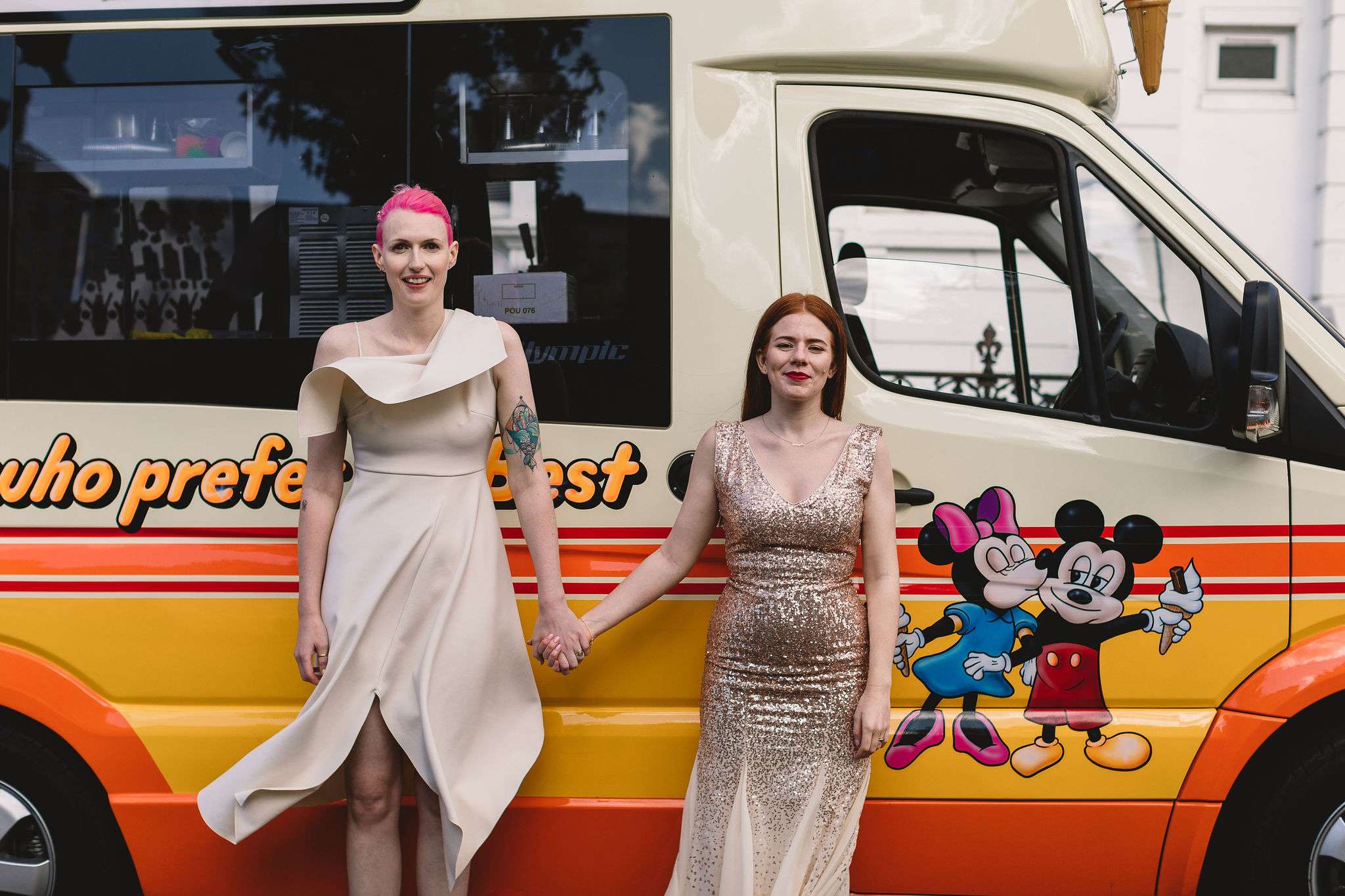 Lusea and Nancy made sure the younger guests were well looked after on the day. Not only did Lusea's dad, Graeme, perform a magic and puppet show for them (which went down a treat with guests of all ages!) but they also had a whole designated 'kids room'. "We didn't put much in there for them to do (as we obviously wanted them to be part of the big party) just some colouring and a bunch of inflatables to jump around on. It worked an absolute treat, it was a space they could go nuts, hang out and do what ever they wanted. All the parents commented on how well catered for they were and that it was the best wedding they had been to because they didn't have to worry about the kids or tell them to behave or not to touch anything!"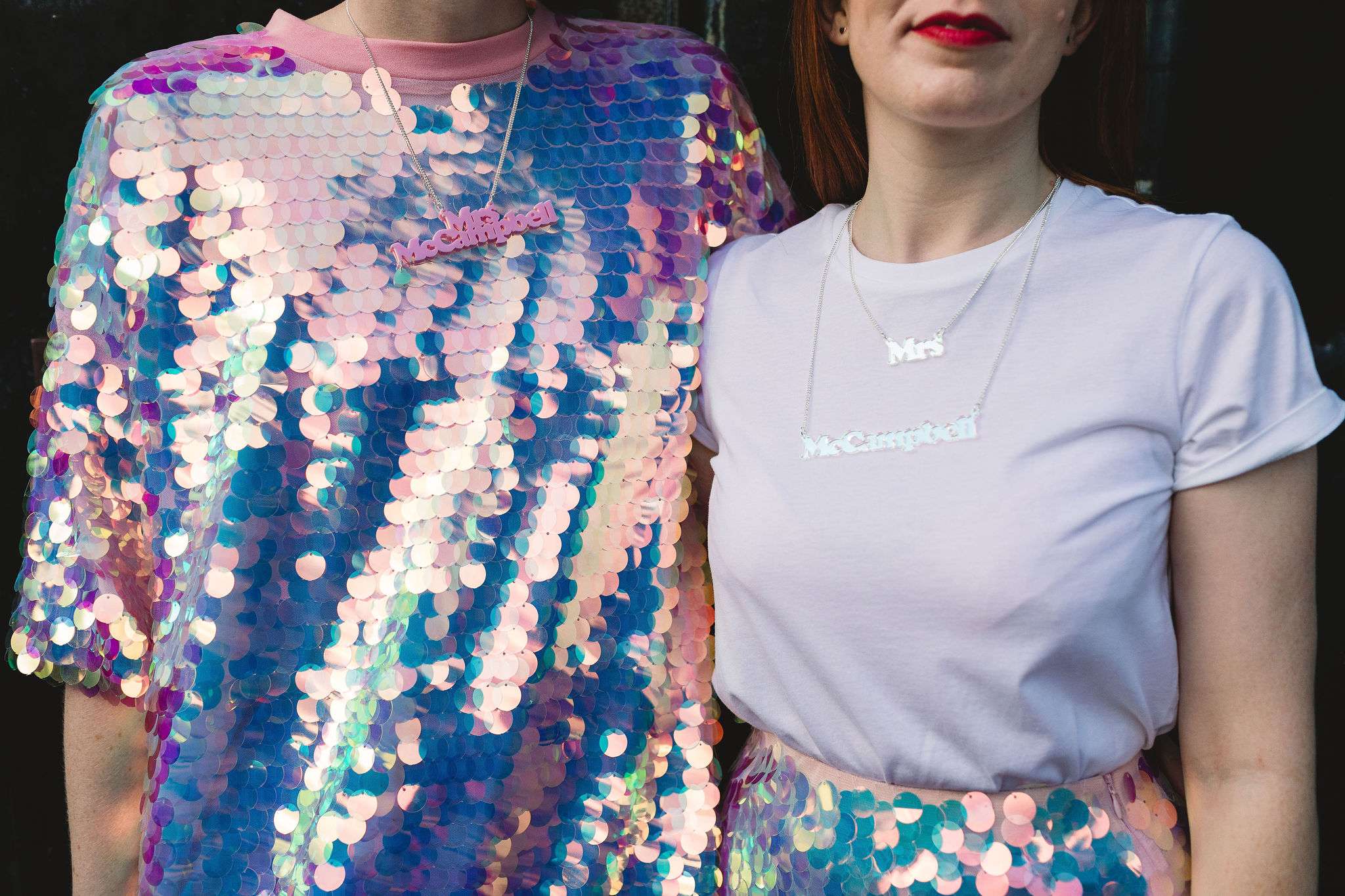 Lusea wore a Topshop dress for the daytime, with Nancy in a gold sequinned dress from Goddiva – which they describe as "Two very lucky accidental frugal finds". They both did their own make up, and Nancy did her own hair whilst Lusea had her candy pink hair styled by Beebee (with a heart shape shaved in – LOVE!) Their engagement rings were made by Seb Brown, who's based in Australia, and their wedding rings were made by Niza Huang – fittingly, they're called 'Female Crush'.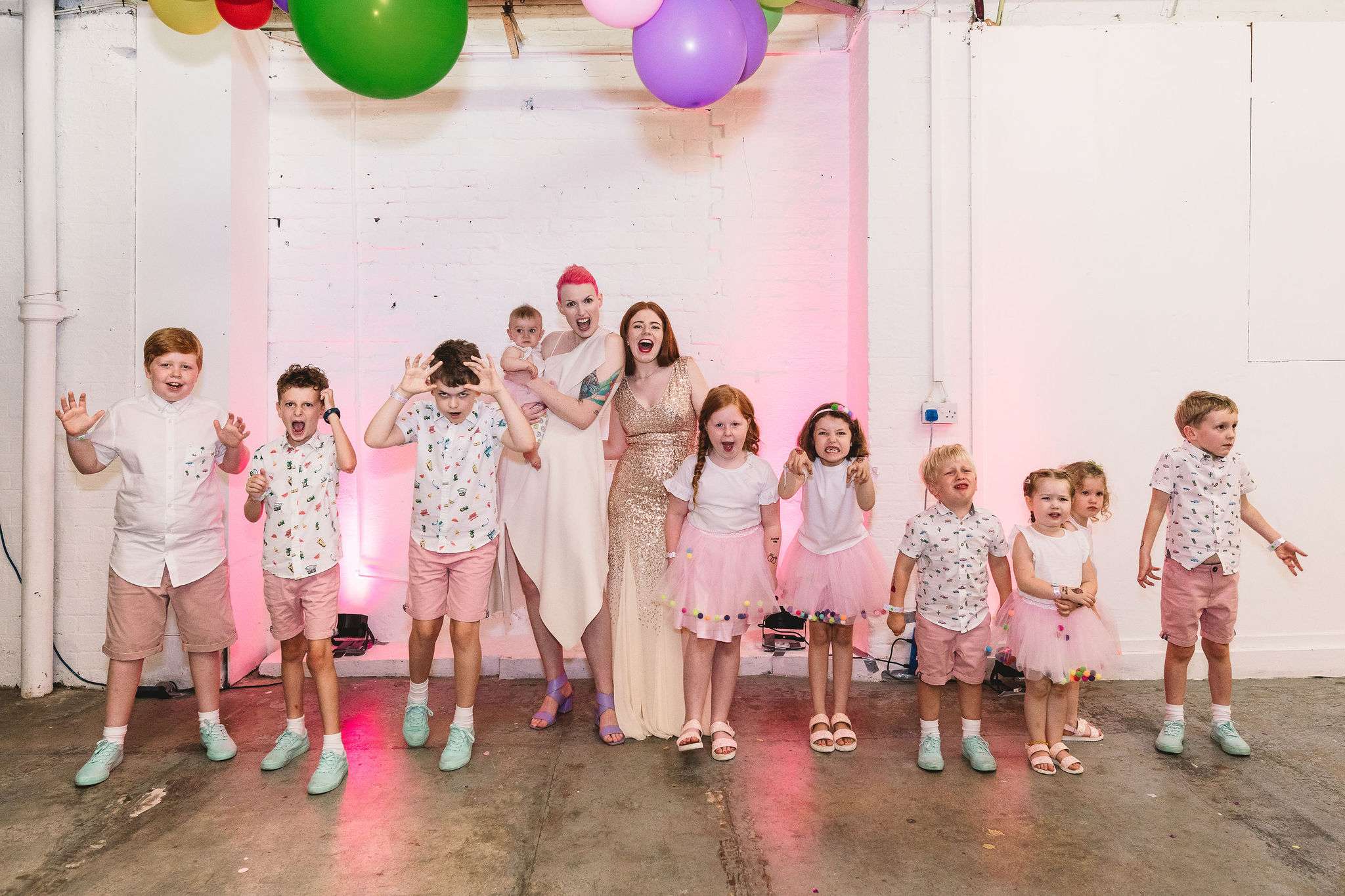 Their six bridesmaids all wore the same pink and yellow skirt from ASOS with their own choice of white top, and their six ushers wore the same tie in different colours with their own suits. Deciding against flowergirls and pageboys, Lusea and Nancy instead had 'Glitter Girls' in pom pom skirts and 'Balloon Boys' in LA-motifed shirts (petition to change this to their official name, please?)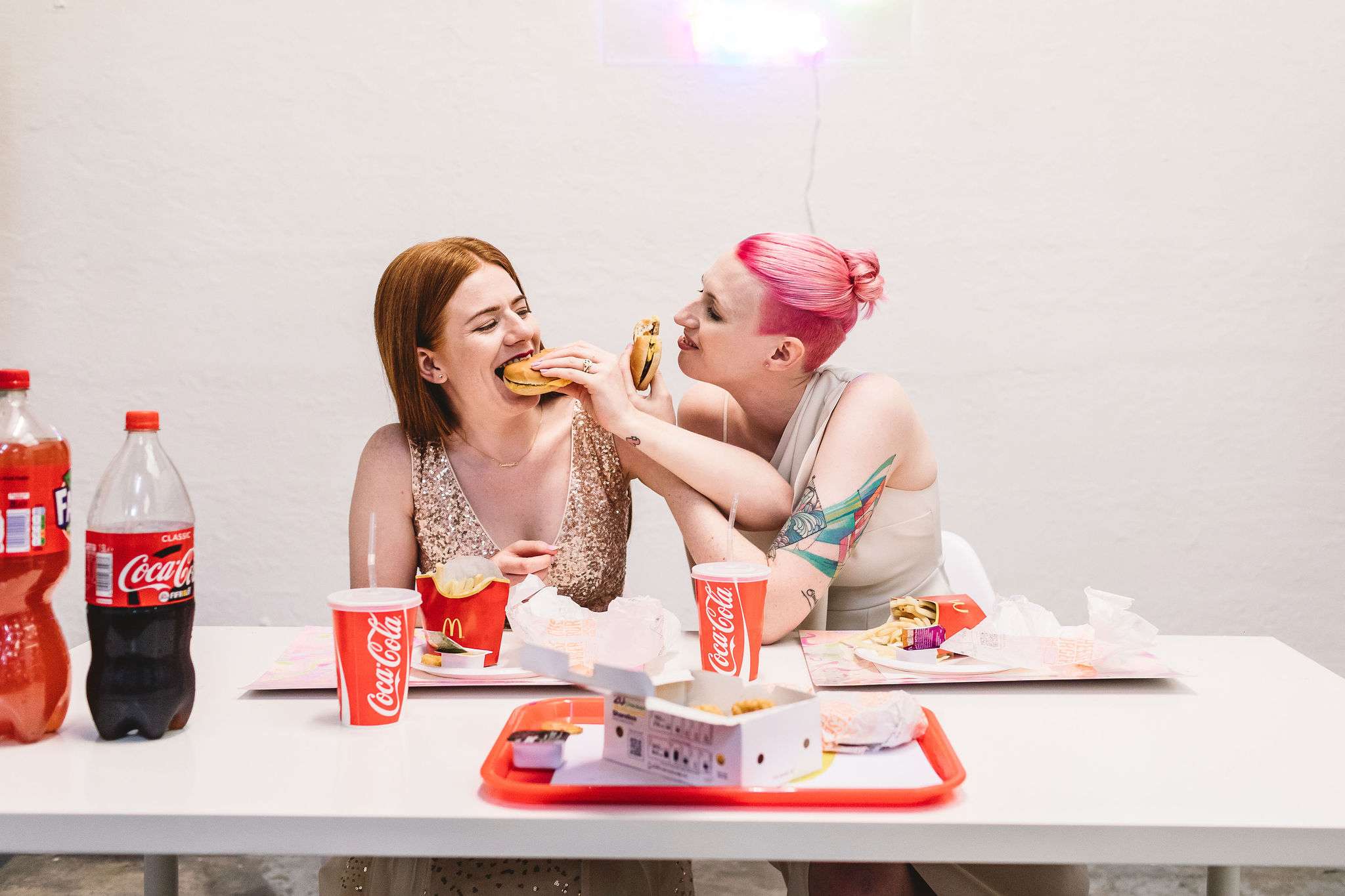 They chose not to have evening guests, as they wanted to keep it as intimate as possible."The evening party was so great, we had gotten changed in to our matching sequin outfits and our ushers gave out flashing light batons to our guests as they walked into the party and it just got everyone up on the dance and ready to party their socks off! We had Whitney Houston's How Will I Know as our first dance, we had the Ushers hold up big 'SHE' signs to replace the 'he' lyrics which made everyone sing along."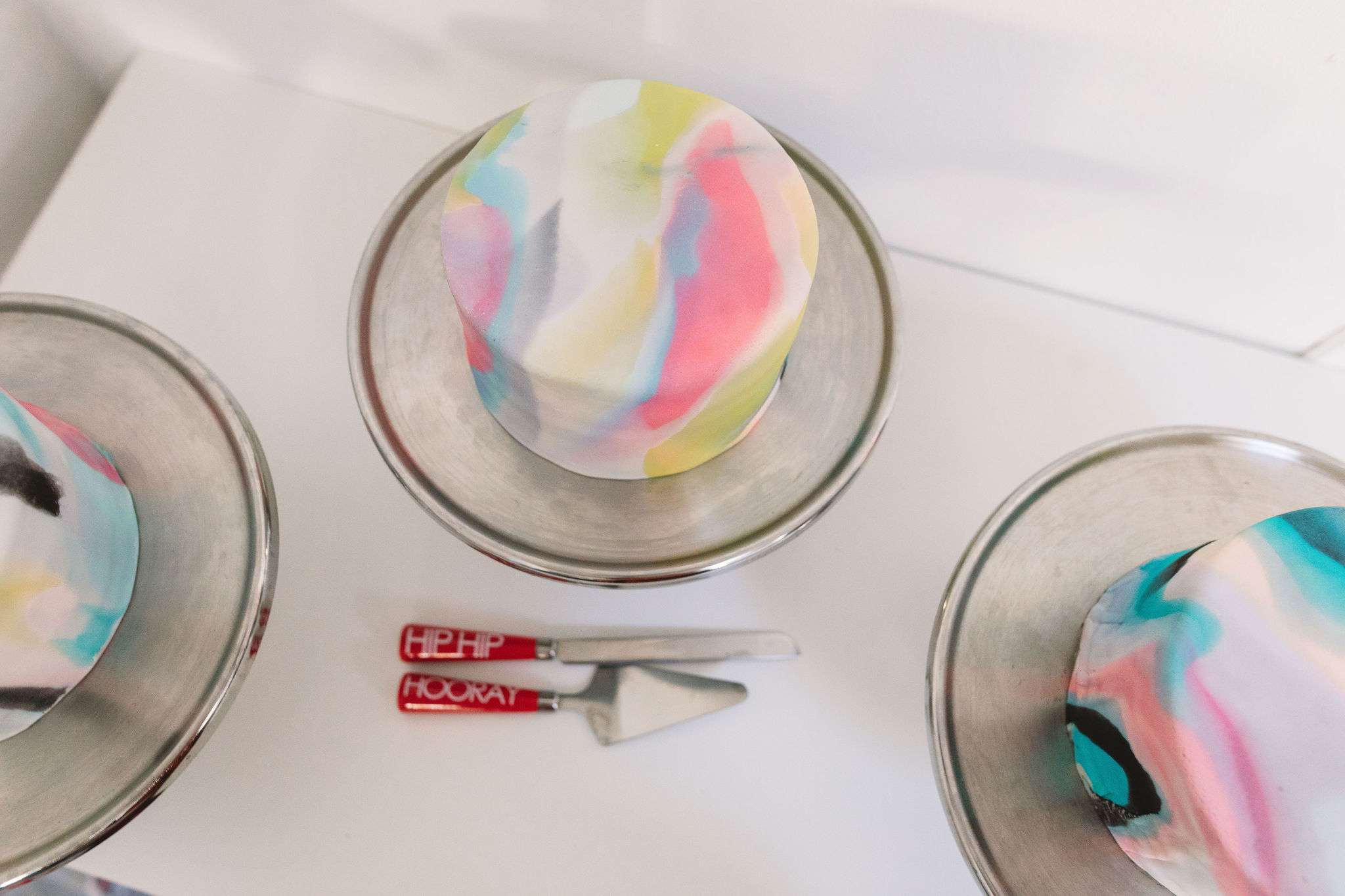 I did try and warn you that this was the best wedding you've ever seen, but there's just some things you can't prepare for – like this full on wedding magic. Ooft!