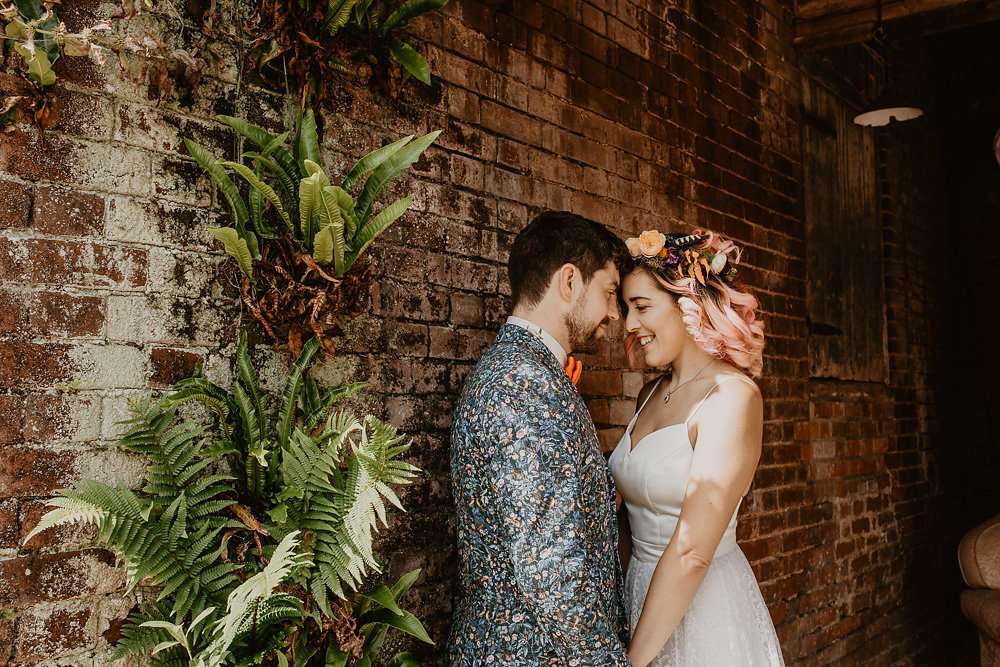 Becci and Josh's colourful DIY bird-themed wedding was an absolute DREAM, and you're going to adore the photos, I just know it. These two lovebirds (geddit!?) did loads of their day themselves, and produced a super creative wedding choc-full of alternative wedding inspiration.
Their bird theme came from them both loving the outdoors, nature and festivals, and Becci's dad getting her hooked on watching birds at a young age. They incorporated the theme into essentially every element of the day, including an actual birds of prey flying display as part of the entertainment for guests.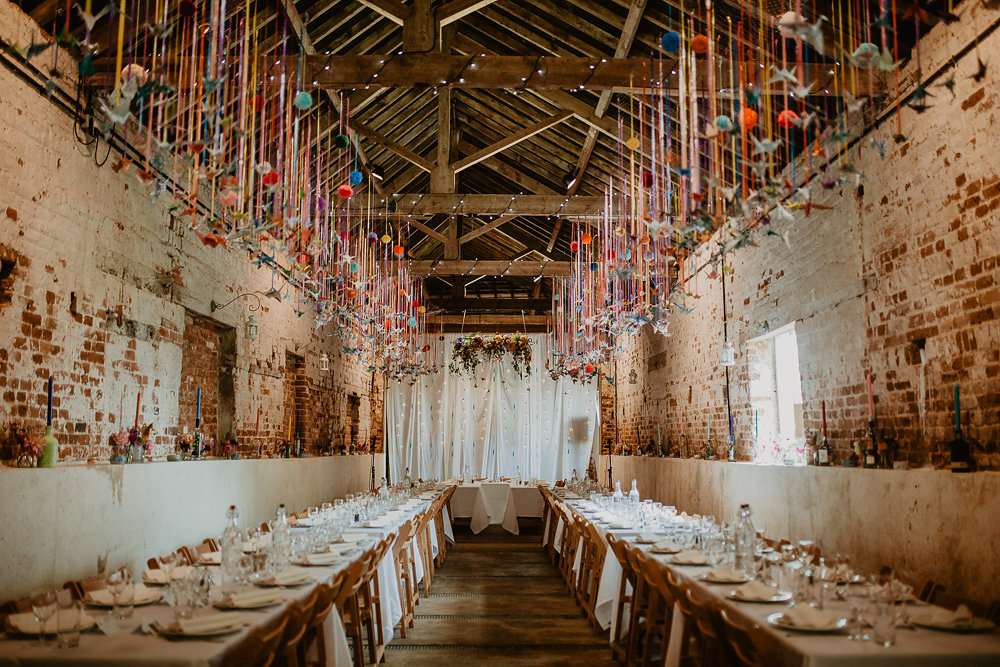 "We're both really creative people and decided really early on in the planning process that we wanted to make the wedding our own," Becci explains. "To do this, we basically made everything ourselves!" Over the course of a year, Becci and Josh made 100s of woollen pomp oms and over 1,400 origami cranes to suspend from the barn with coloured ribbon. The paper cranes featured on their incredible DIY wedding backdrop for their lawn ceremony too, which Josh made from wood and ribbon.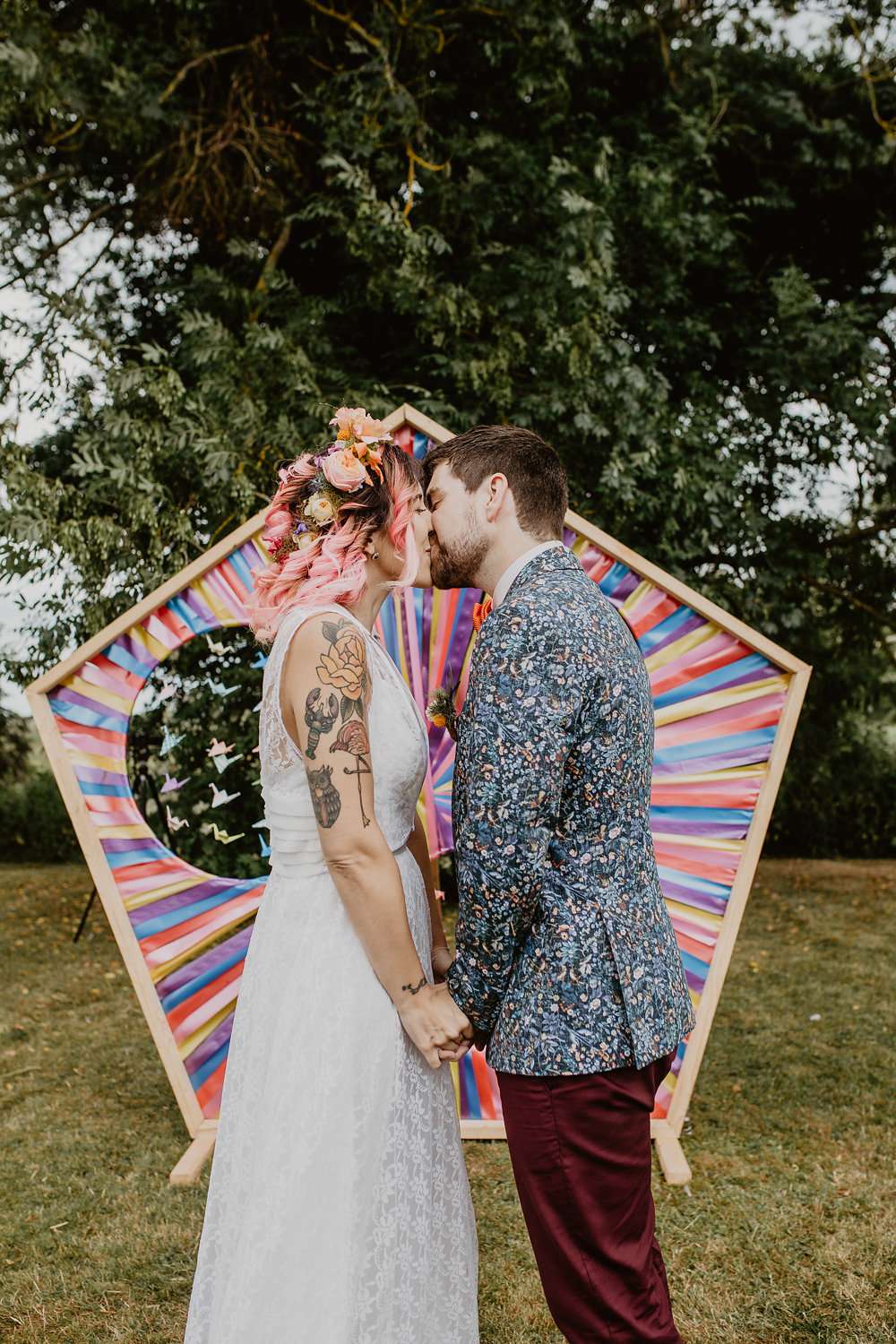 Becci's sister Katie also handmade the Arctic Monkeys backdrop for the band to play in front of, and the photo booth backdrop was handmade from pallets decorated with plastic vines, paper pinwheels and model parrots. They DIYed the whole thing by buying some cheap props, and the photos were taken on a Fujifilm Instax photo printer.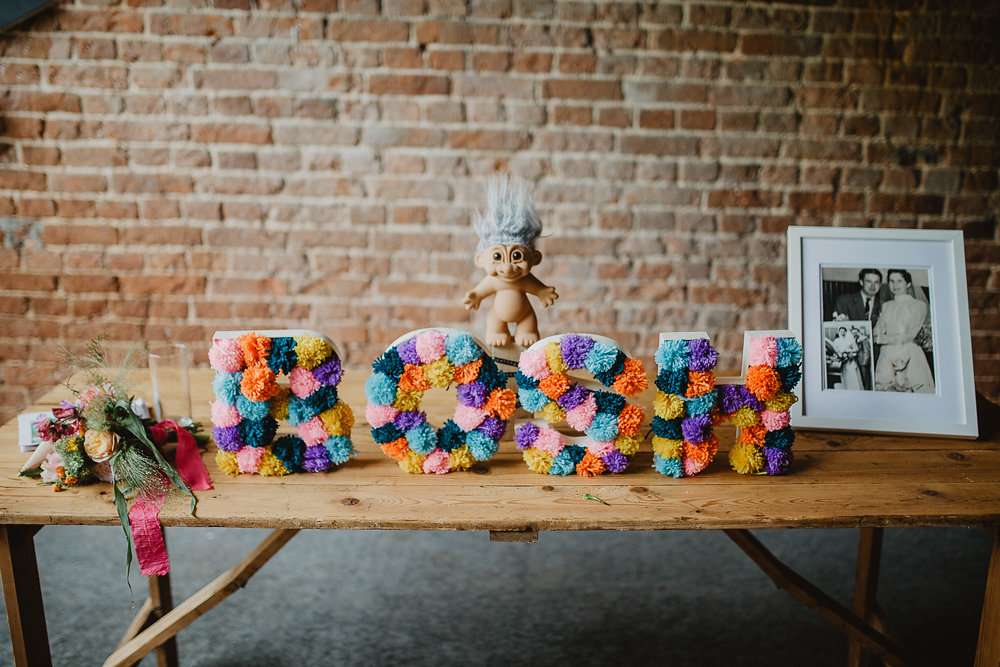 I love Josh's groom style: he wore a floral and bird print jacket from Simon Carter with a bird print shirt and an orange bow tie to match. Becci wore her grandma's wedding dress, which one of her bridesmaids modernised (by turning it back to front!) She wore it with a flower crown, "I was more excited by this than anything else in the lead up to the day!" she says. In fact, "I think I loved all of our flowers more than anything else – we'd given Katy from Bracken & Twine the brief of 'as much colour as possible' and wild, meadow flowers, and she nailed it." As a surprise for everyone, Becci also dyed her hair pink on the wedding morning!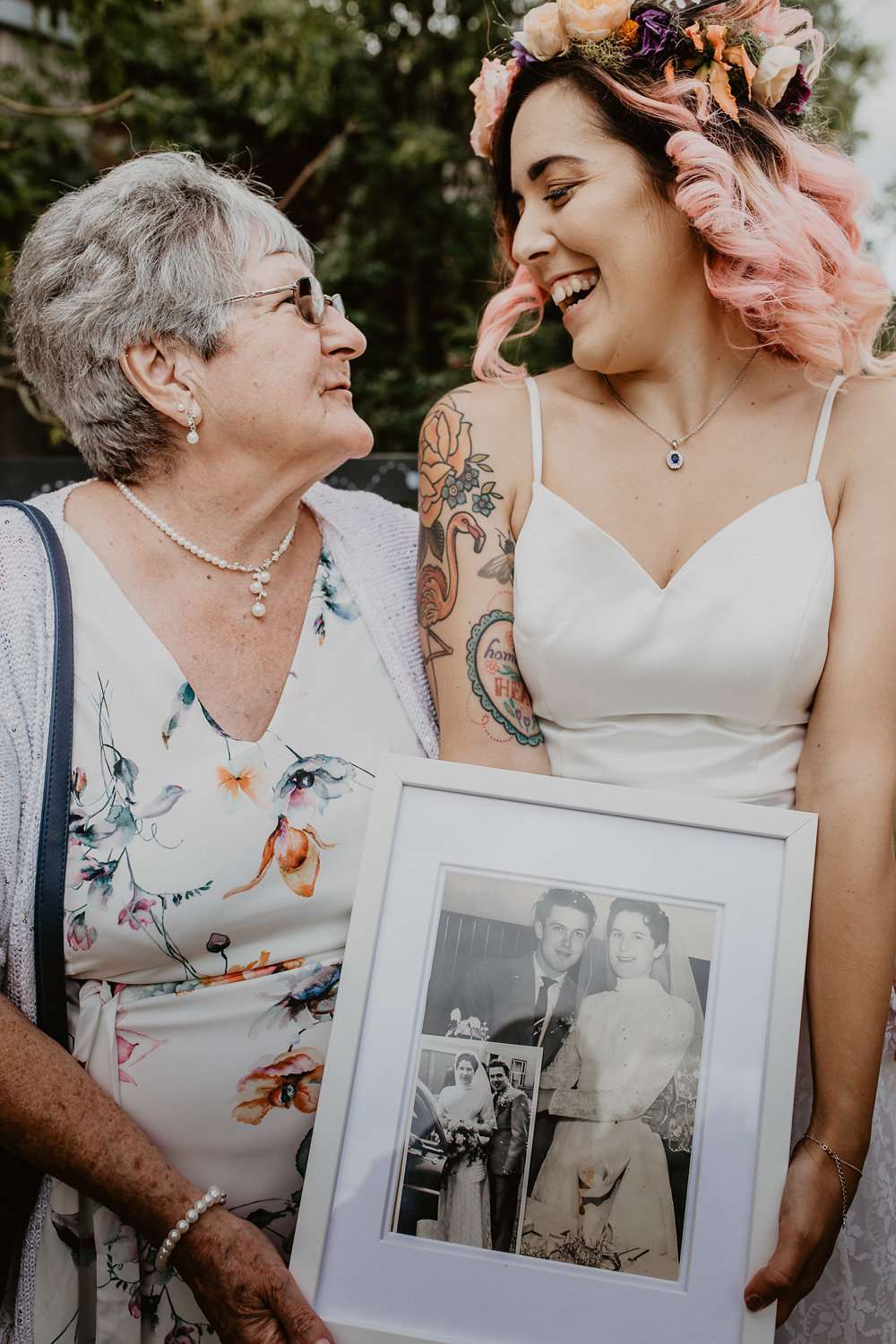 Her make up was done by Holly from Beauty and Blush, who is her cousin's wife. "We really liked the idea of surrounding ourselves with friends and family and helping to support small local businesses." Becci explains. Becci's bridesmaids also looked gorgeous in flamingo-patterned wrap dresses from ASOS.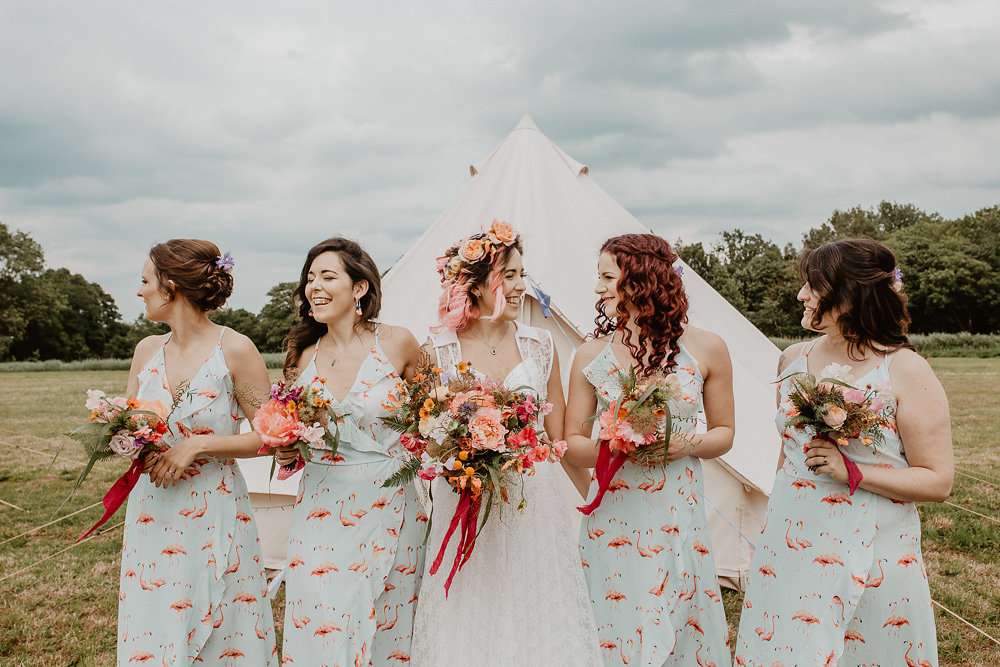 To add to the festival wedding vibe, they had giant garden games and a temporary tattoo station as well as a taco bar after their main vegan wedding meal from The Flying Cockerel. Best men vs bridesmaids beer pong was played on the lawn, which was one of Josh's favourite parts (despite his losing). As they were staying at Fishley Hall for the whole weekend, they also hired eight bell tents for friends and family to stay in.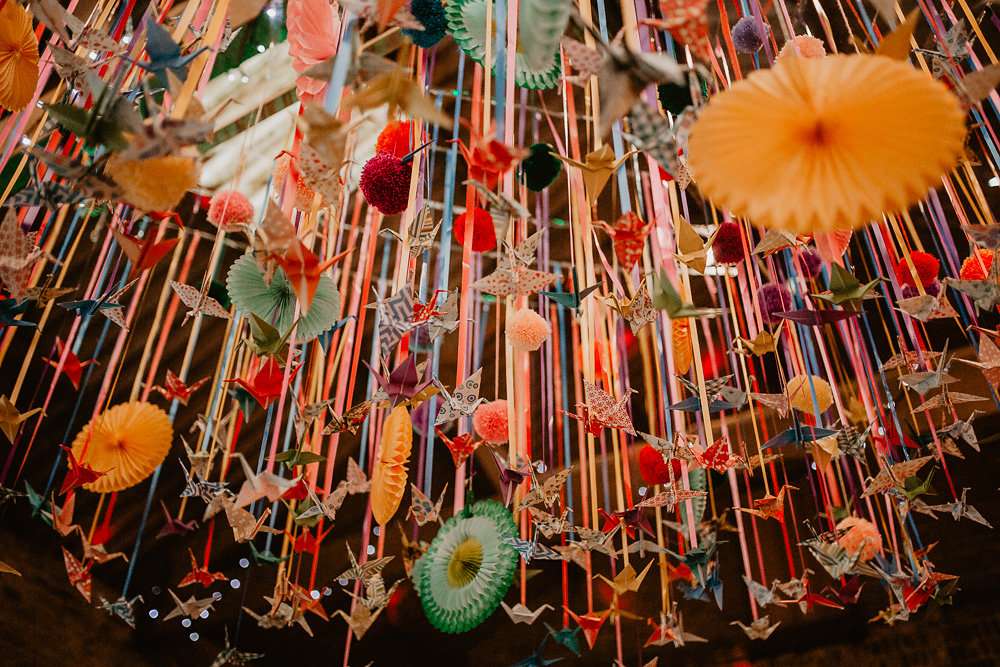 It's really clear that this wedding was 100% Becci and Josh – I feel like I know them so well and I've never even met them! When asked for the secret to the magic, they say: "We were both equally involved in every decision and it made the whole experience more enjoyable, doing it together. We booked time in our diaries for wedding planning which helped a lot and don't forget give yourself a weekend off every now and again."