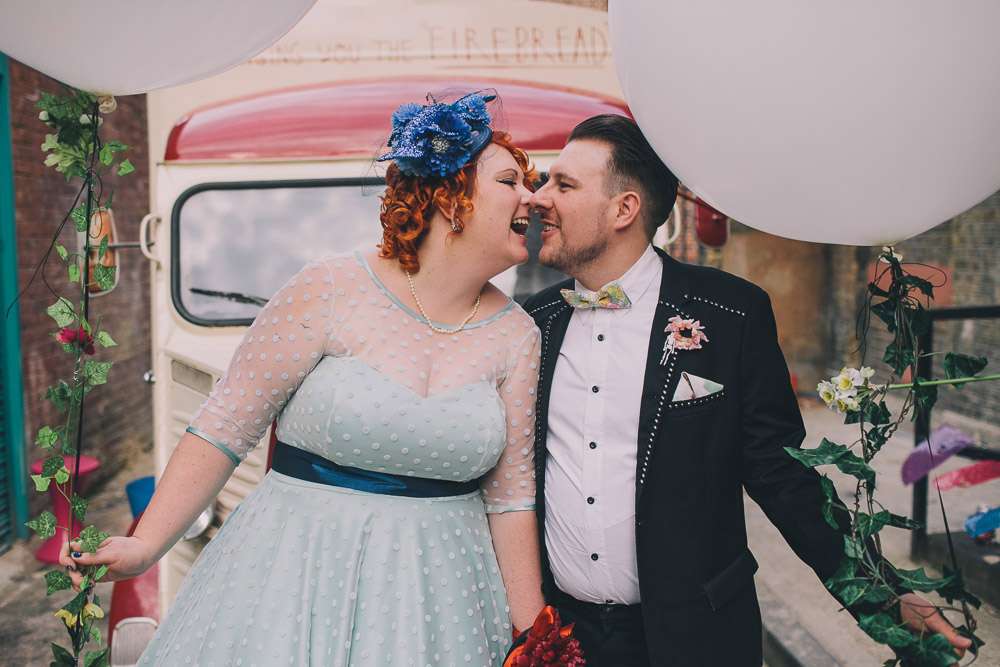 When Kirsty and Steve planned to marry they knew they wanted tradition to play no part in it. This started with their surname. Instead of keeping their own names or one of them taking the other's they decided to merge their two names to create a brand new one. So Kirsty Foster and Steve Pate became Mr & Mrs Fate!
When it came to capturing their wedding day they wanted photos that were bright, romantic, playful, with a little kooky edge. They found We Heart Pictures through Rock n Roll Bride and couldn't have been happier with their choice! They wedding took place on June 7th at Hoxton Hall, London.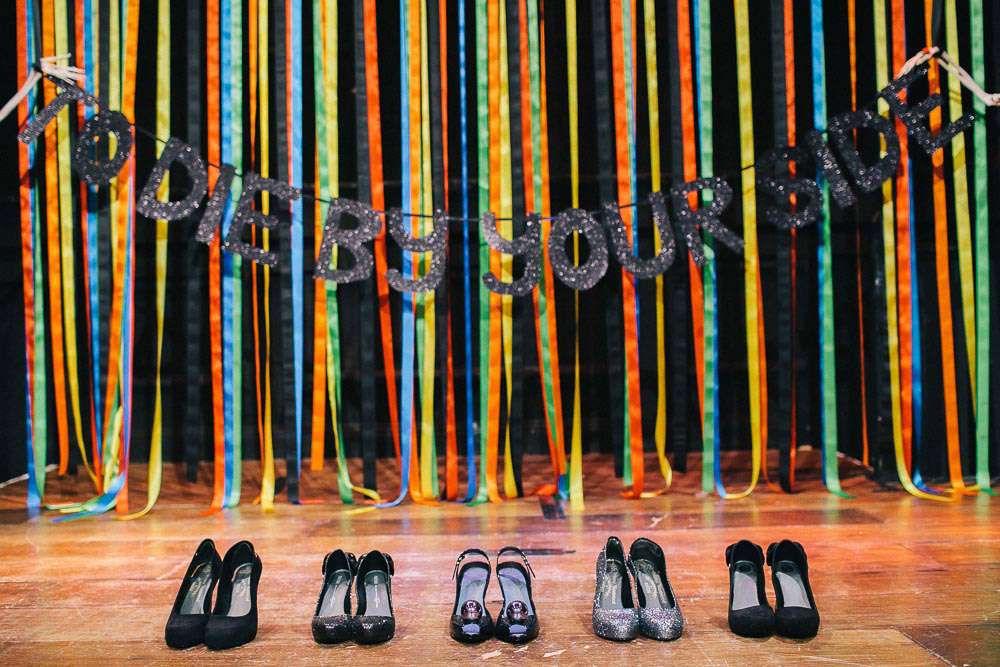 "It meant a lot to us to do everything ourselves so we could add the personal touches and details that had meaning for us", began the bride. "We lived and breathed the wedding for months leading up to it and became entirely consumed by rainbow ribbons, bottle gardens, lobsters, life size skeletons and balloon garlands – and so did our friends! I couldn't tell you how many hours of wedding planning was spent in front of our TV watching Murder She Wrote."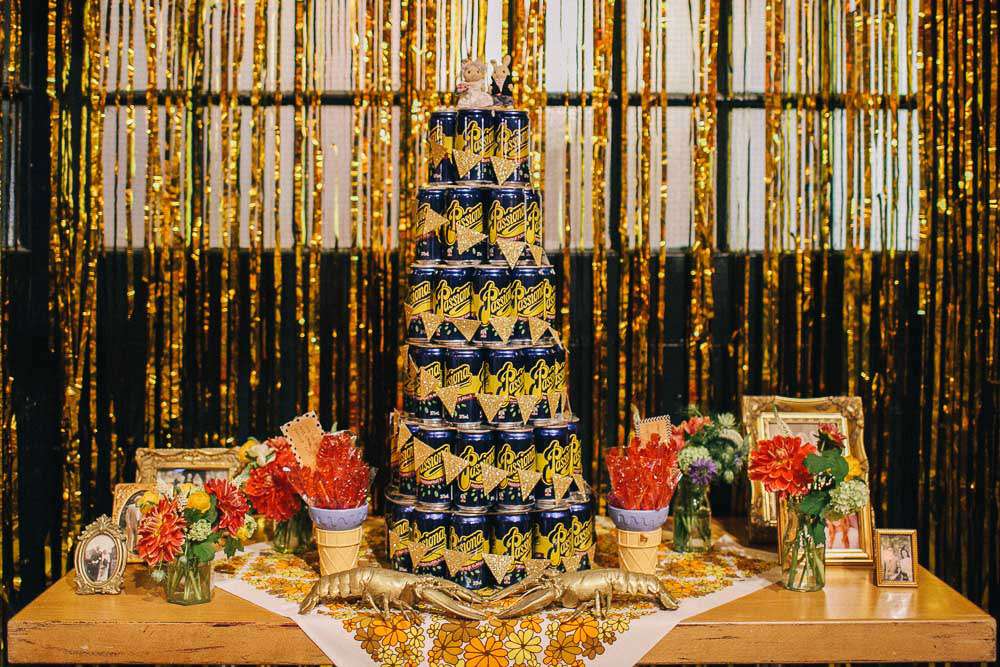 Kirsty wore a blue wedding dress from Candy Anthony. Continuing her adamance that they buck traditions, she knew from the very beginning that she didn't want to wear white. "There is no way in hell I wanted to wear white and I ended up opting for a minty jade colour with polka dots and a petticoat of your dreams!" she explained. "I really wanted a dress I could wear again. I bought the first dress I tried on at the only shop I went to. In the beginning I played with the idea of making my own dress and had visions of a rainbow dress and trying to hand dye it in my bathtub – but I think Steve and my friends were very quick to talk me out of this one!"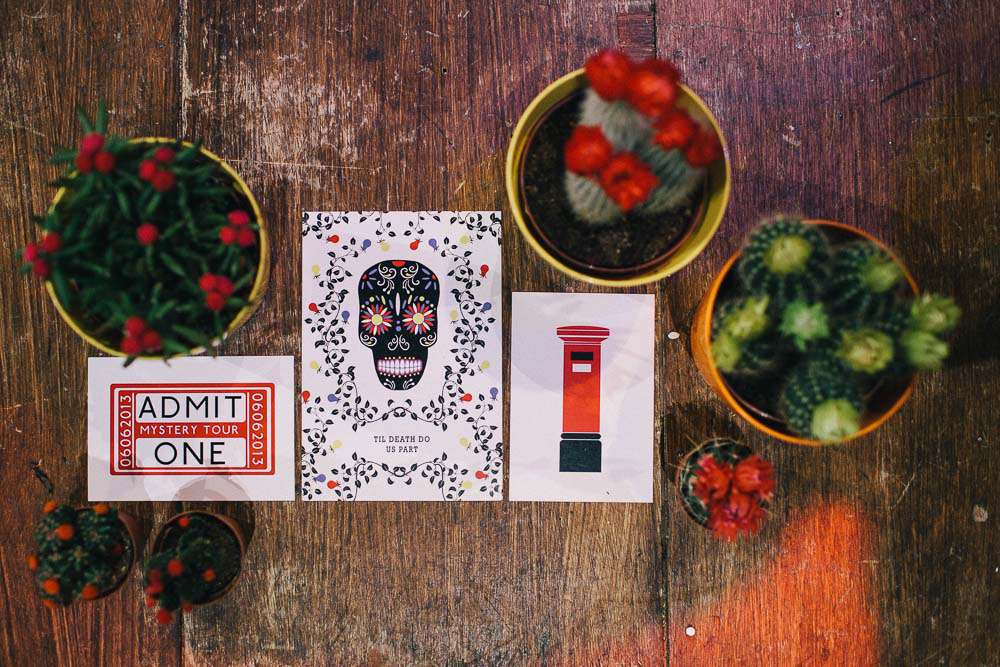 "My wedding ideas were known for causing a lot of hilarity with my friends as sometimes I didn't know my boundaries and the line between crazy and genius is often blurred for me – actually this is me in a nutshell! I was very unconventional and took Steve to my first dress fitting to help choose a dress. I wanted him there as before I spent an obscene amount of money on a dress, I wanted to know he thought I looked hot in it! We didn't suffer old wives tales about wedding luck as what matters is doing what makes you as a couple happy."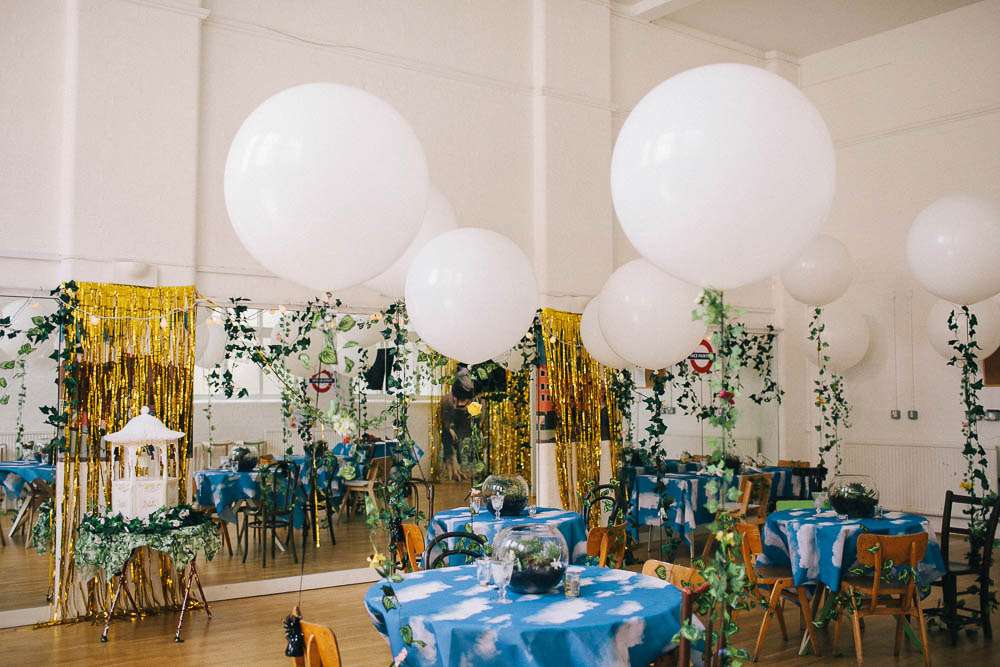 With her perfect jade dress she wore a homemade blue lobster headpiece – oh yes! In fact lobsters were a recurring theme throughout the wedding. "My headpiece was own creation. I work full time but also have my own accessories label, Luna on the Moon, and I knew before I had even thought about my outfit that my headpiece would be a lobster. I spent two weeks sourcing the perfect plastic lobster and became obsessed with finding one that was the perfect shape and light enough to sit on my head! It had glitter, Swarovski crystals and was sitting on a bed of vintage flowers from eBay and vintage French netting from etsy. I love the idea of blue lobsters and matched my accessories and shoes around this. Lobsters are kind of our thing. I had a lobster engagement ring and we are known for our love of lobsters. We love them for their connection to surrealism art and they are such fascinating creatures. Did you know that 1 in 5000 lobsters are born blue and that there is no way of telling a lobsters age as they don't degenerate?!?! Amazing! Also they are very tasty!"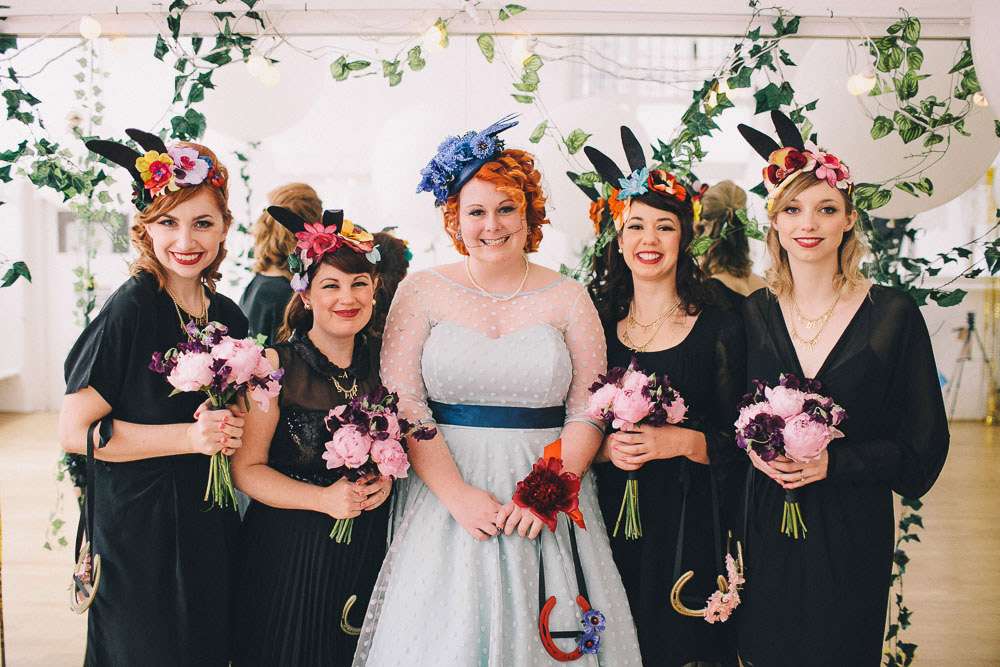 But it wasn't just the bride's outfit that is worthy of note. Her bridesmaids were dressed as rabbits (yes, really!) and the couple's rabbit Luna was an honorary maid too. God, don't you just love these guys?! "My bridesmaids (4 girls and 1 boy) were my 'Lunaettes' as I wanted them to look like our adorable rabbit Luna. It was always a given to us that Luna would be part of our wedding. She was our ring bearer and I carried her down the aisle instead of a bouquet. She wore our rings tied to her back with a handmade harness I had decorated in flowers and Swarovski crystals and she sat on our stage for the whole of our ceremony. So to help my bridesmaids match Luna, they all wore black and the girls wore glitter rabbit headbands with vintage flower petals that I had made. Three of my bridesmaids live in Australia so I was happy for them to choose their own dresses. That way they could choose something that they liked and suited them. My male bridesmaid matched the Groomsmen except for his bowtie which was pink and I made from a vintage curtain."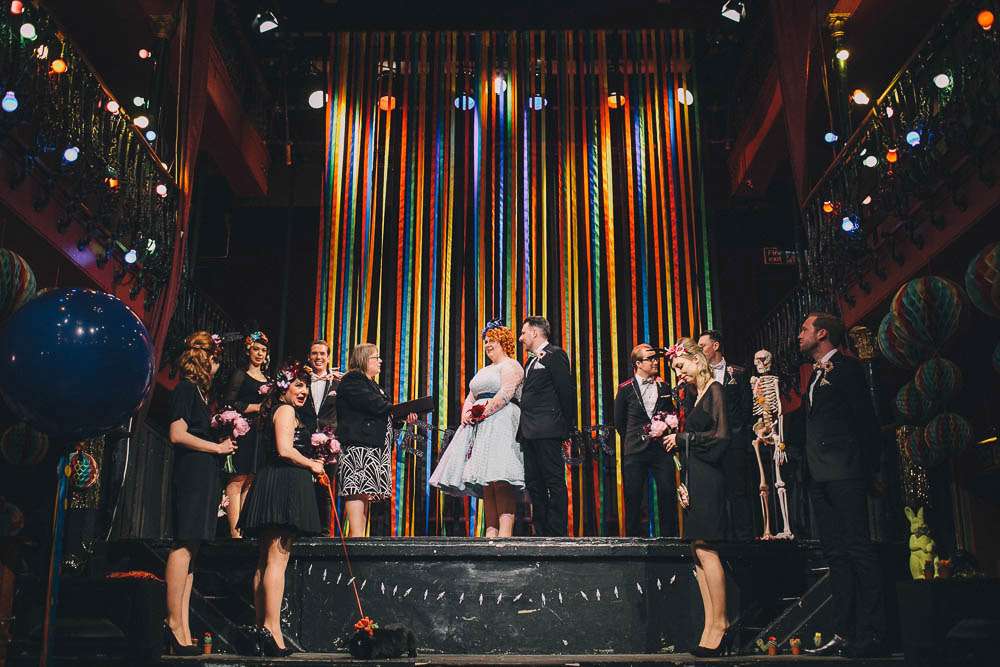 "For their gifts I bought them custom necklaces from etsy saying 'till death do us part'. They also carried horseshoes with their bouquets which we had decorated and came from my childhood horses in Australia. I also carried a horseshoe which felt really special as not only did it come from my favourite horse, but in everyone of our family wedding photos on each side of both of our families, all the brides carried a horseshoe. The bridesmaid's shoes were all different versions of Melissa shoes in the same vibe to match mine. You have to love shoes that smell like My Little Ponies! They also all had matching Ted Baker jelly flats for dancing shoes."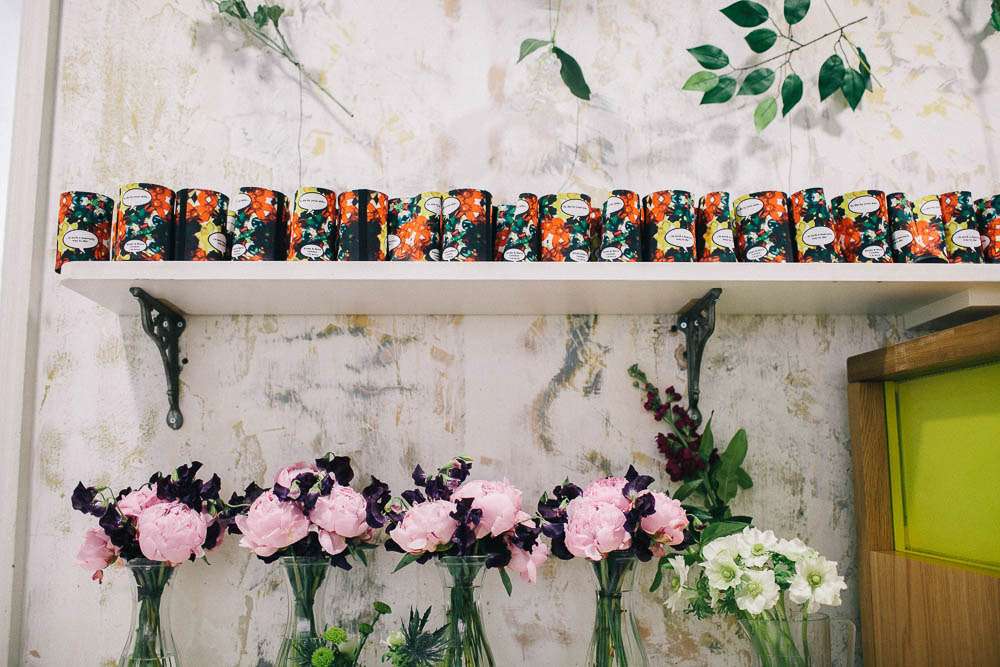 Phew, if that wasn't enough awesome for you, just you wait til you hear what they did with the decor! "For a bit of fun we opted for something a bit different and had a tower of cans of my favourite Australian soft drink Passiona instead of a cake (I'm Australian)," Kirsty continued. "We created tiers with the cans, wrapped them with handmade mini gold bunting and topped it with some Sylvanian family rabbits as our cake topper. When we came to 'cut the cake' we opened a can of soft drink instead!"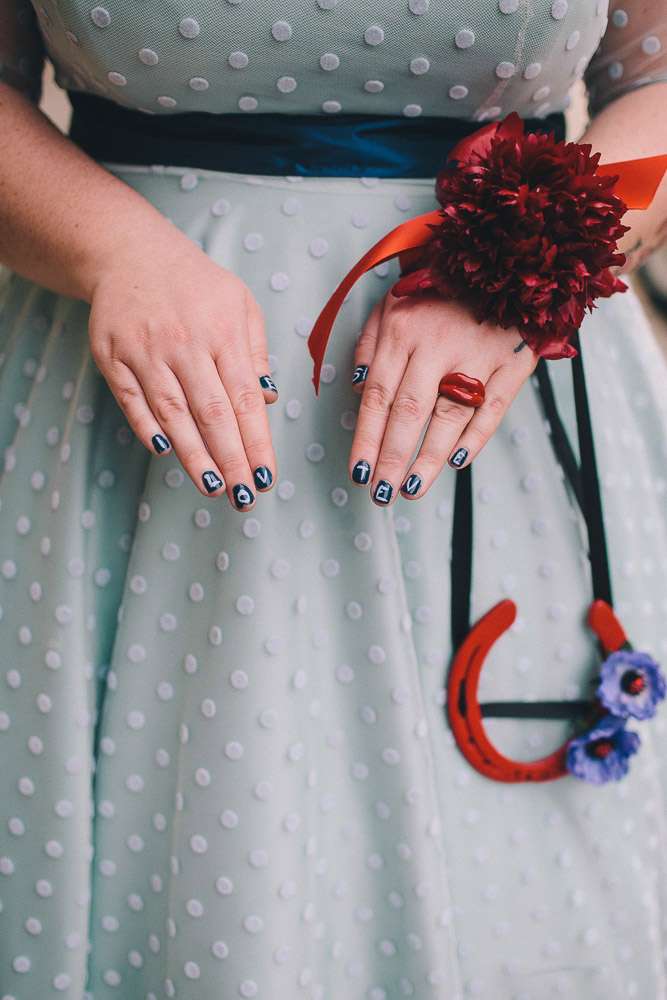 "We are both very visual people and have a very colourful and playful aesthetic that we wanted incorporated into our wedding day. Luna on the Moon is something we do together. I cover things in glitter while Steve keeps the spreadsheets and in a way this was the beginning of our wedding style. I am obsessive compulsive about detail and planning a wedding definitely only made me worse! We got married on a stage with a huge rainbow ribbon curtain (cutting all that ribbon out was a nightmare!) where two life-size atomically correct skeletons covered in flowers stood either side of the curtain holding glitter letter bunting saying 'To Die By Your Side' from our favourite Smiths song 'There is a Light'. In the theatre we also had a sea of giant three foot helium balloons with gold garlands, fairy lights and spot garlands hanging from them, super shiny gold skulls as table centres, vibrant fresh flowers in jam jars, vintage skeleton garlands, gold painted lobsters, tattoo printed table clothes, rainbow festoon lighting, mini cacti plants, gold tassel garlands and family wedding photos!"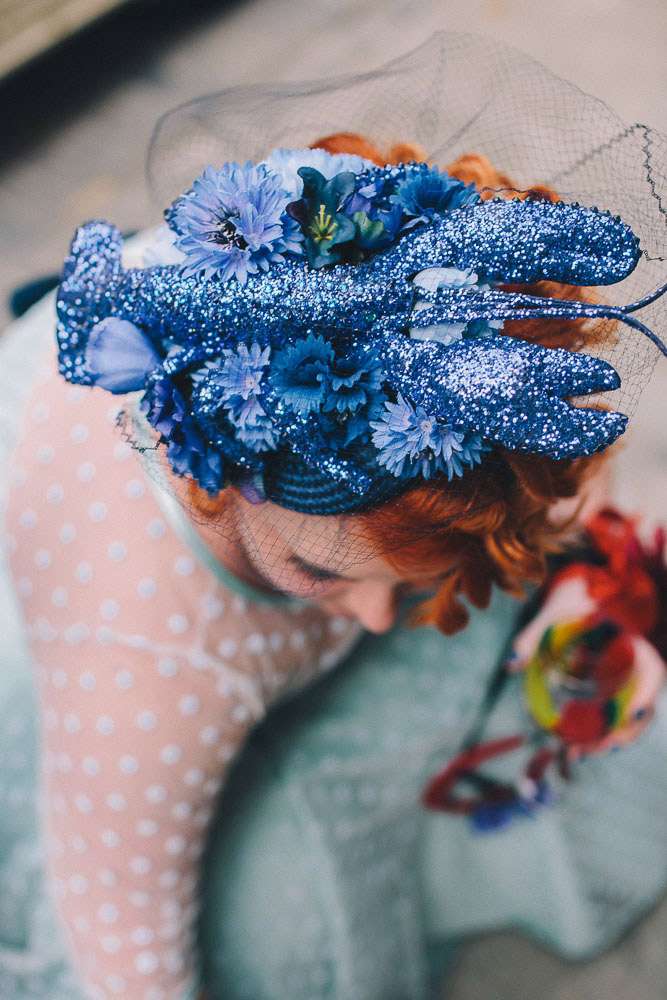 "In the bar and other chill-out room we had more fresh flowers in jam jars with silk flower garlands, fake ivy chains dripping from backs of chairs, sides of walls and hanging from more white three foot helium balloons, white festoon lights, cloud print table clothes, white lobsters, more gold garlands and white Mexican wedding bunting with white rabbit lights and life size cut-outs of Luna scattered about. We even had bottle gardens as table centres with little mini dinosaurs in them. We spent months sourcing and hand making everything and a couple of our closest friends help us create our vision! We have many a 'parties' where we cut out confetti, strung garlands, made bottle garlands, painted wine glasses and painted lobsters!"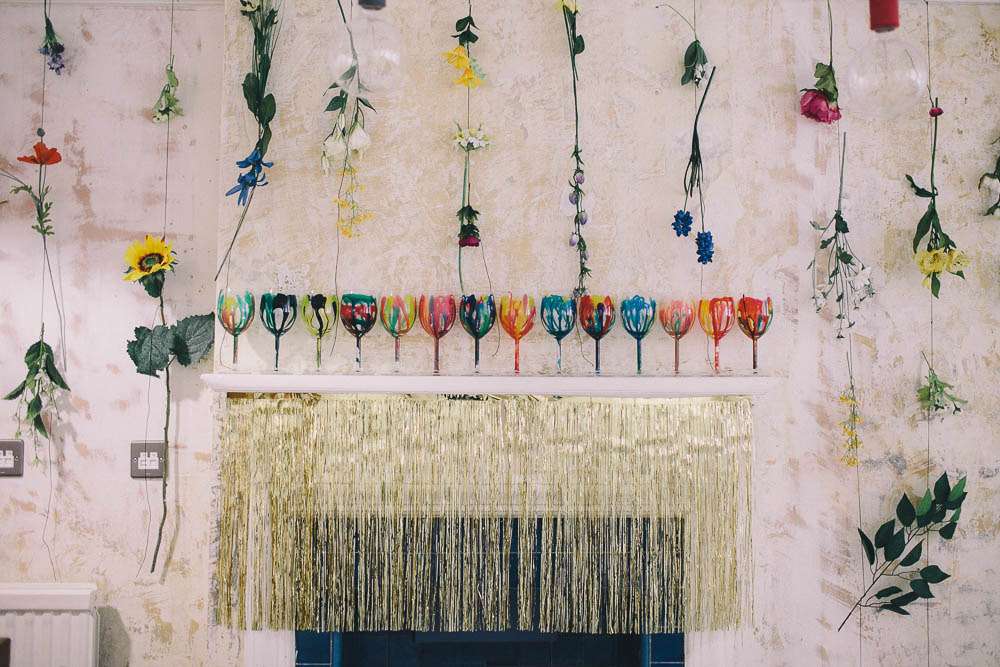 "I think really we just did what we wanted and what felt right for us", Kirsty concluded. "We didn't really pay attention to convention or worry about expectations from everyone else. At the end of the day our family and friends know us and would never have described us as conventional! The whole day was a celebration of our relationship so it was important it reflected us, and well, lobsters and skulls do this for us. Our first dance was to 'People Are Strange' and we like strange!