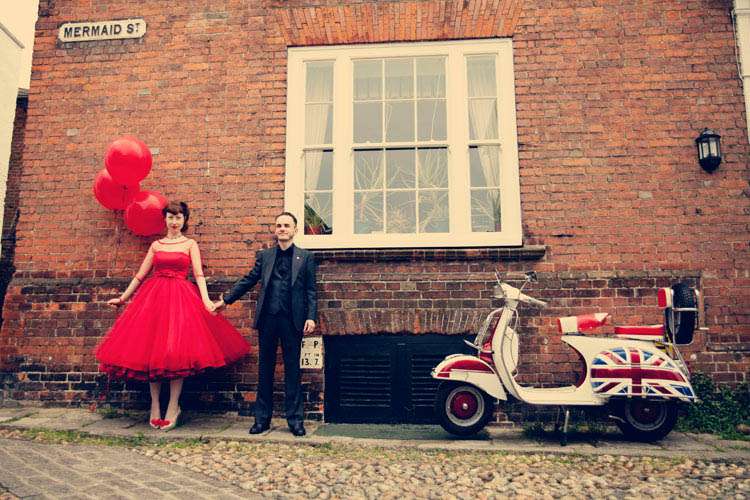 Regula & Bruno rock my world"…that's how photographer Assassynation introduced me to this bad ass couple when she sent me their wedding. The pair are from Belgium but wanted to be married in England. Their ceremony day was followed by a tea party reception and spooky photo shoot in an abandoned fairground (!) in their home country a few weeks later. Luckily for us all, this second part took place just last weekend and believe me, I'm going to be featuring it just as soon as the photos are ready!
But for now, it's all about the ceremony…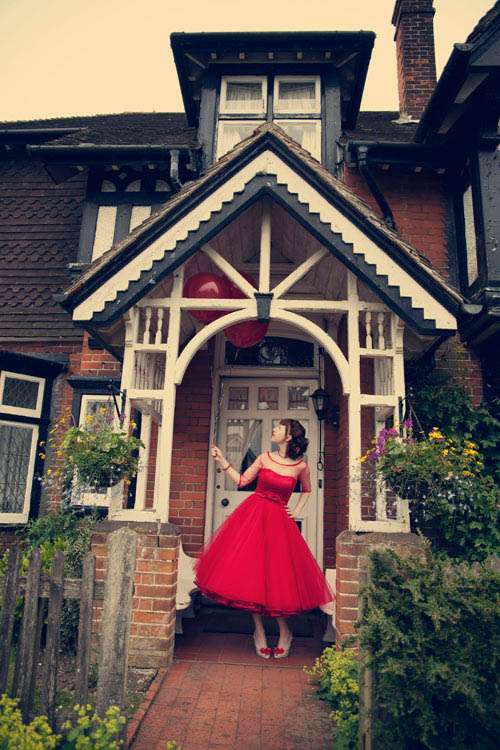 "Bruno and I met in the most romantic way… he drew me a portrait and left it for me to find," Regula wrote, introducing their story to me. "I still don't know what it was but the drawing just captured me, it moved me deeply. A few months later we met for the first time and the rest is history."
"We always said if we got married it would be for us and not for something or someone else. We wanted it to be totally us and real, not something you pick out of a catalogue. Eloping was always our dream. We were together for 5 years when Bruno popped the question on a dramatic cliff in Cornwall June 2010. It was perfect."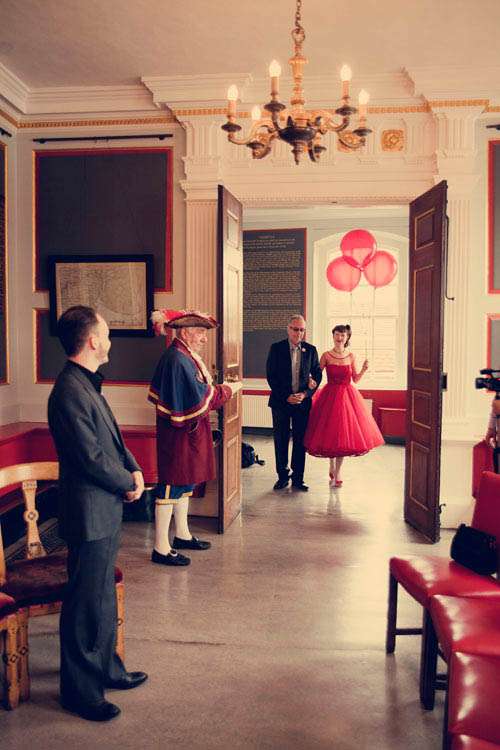 "We chose to get married in England and not Belgium," the bride continued. "I've been on countless family holidays to England when I was a child and absolutely loved it. In fact, when I was a toddler I had one wish 'to go to England'. We have a nursery rhyme in Belgium that tells the story of black and white swans protecting England, England being a small Island surrounded by a great wall with a door with a big padlock. But no one could enter because the key of the padlock was broken …Years later I found out that the song was about heaven and not England! But nevertheless I was captivated by it for many, many years!"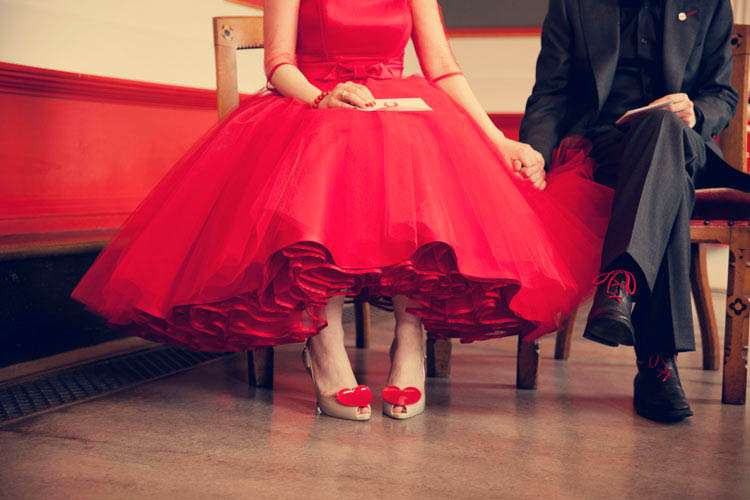 "When Bruno and I first went to visit the UK together I was excited to say the least to find out he actually loved it too! We found our home away from home in Rye, East Sussex. So when Bruno mentioned us marrying in Rye I was completely over the moon! It felt so right, so us. We tailored the ceremony completely to our needs and were allowed to bring in as much personal touches as we wanted. This would have been impossible in Belgium. Our wedding rings were held by a silver apple Bruno gave to me when we were together for a month, apples have special meaning to us, apart from being my favourite fruit. When we were together for a week I got a real red apple, after a month I got a silver one. Mind you, I'm still waiting for the gold one! The ceremony was intimate and emotional. We only had a few people there that day."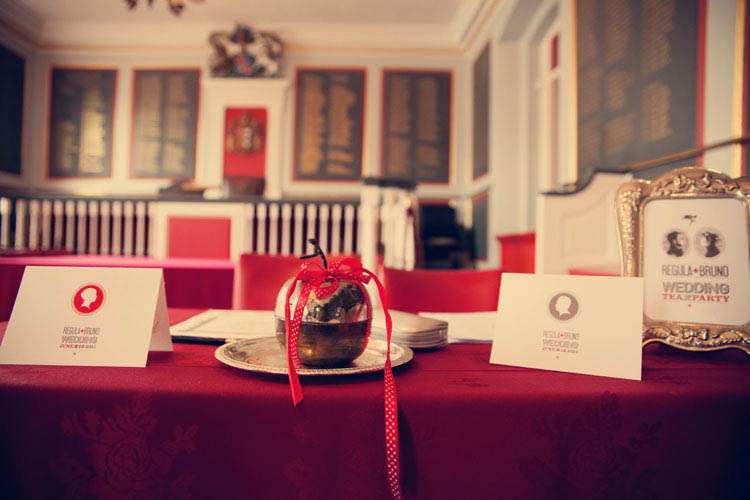 "Many people have found us strange, always wearing black, collecting strange antiques, comics and constantly working on stuff together. We both are creative people, being graphic designers by profession and Bruno being an illustrator in the evenings. I'm a food blogger in the evening, that is when I'm not being Bruno's muse. Being creative is the most important thing in our lives, we both enjoy creating things. Every year for Christmas we make a special Christmas card, this takes weeks of brainstorming and hours to make and we love it. Designing our wedding invitation therefore was the biggest challenge of all time. We had fun with it, putting all that we are in it. Some things were clear to most and some things were hidden and for us to know.  We've spent months making and designing everything, constantly challenging each other with new ideas."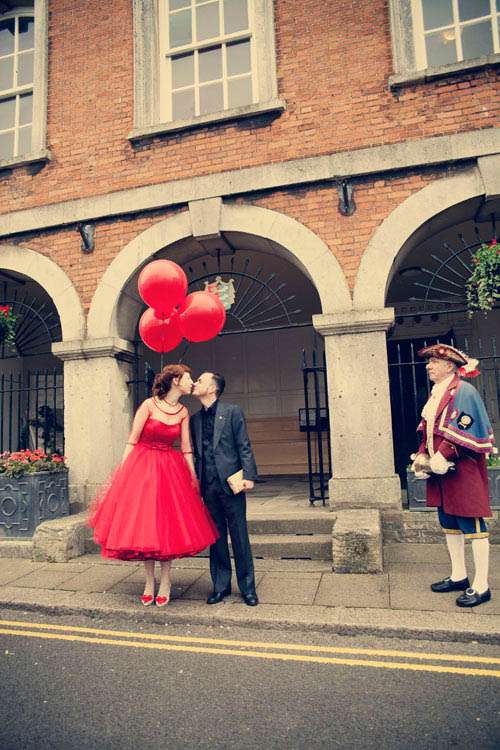 "We wanted to customize all of our wedding, Bruno's suit was bespoke and I secretly had them add the red stitching on his buttonhole to match my red dress. I had two dresses in the end. I had a lace off-white vintage 50's dress because I had a doll's dress just like it when was a child and always wanted a dress just like it to get married in. So I searched all over the internet and the vintage shops of London for it.  I found it but it didn't get altered in time so I had to have a back up. If I had to choose a new dress I didn't want it to be white and I chose red, being my favourite colour. I made a drawing of how I wanted the dress to look and decided to go with Candy Anthony. I added the tulle overlay and had them alter it to match the drawing I made. The quality of their work and finish is outstanding. Being a perfectionist this was very important to me! But in the end I had two dresses, so I wore the vintage one for our wedding dinner that night.  Our wedding rings were made by Edward Williams, a real pirate and the most friendly guy in Cornwall. I can't believe how many lovely people we met in the UK, organizing our wedding."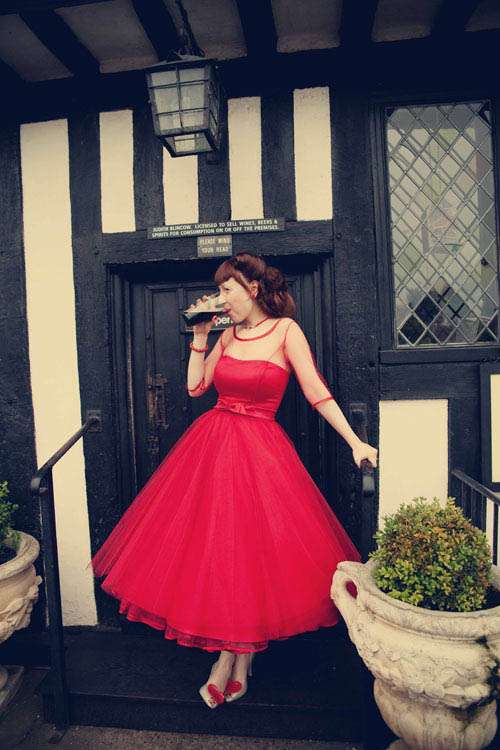 "After the wedding ceremony we went to the pub for a pint, just what we wanted after our wedding. The town crier made sure we got there in one piece although I'm sure we knew the way better than he did after we saw him secretly drinking his pocket flask. He was such a nice fellow, when we past the old church he stopped and told us that he and his wife got married there over 60 years ago and are still happily so. You could see he loved weddings!"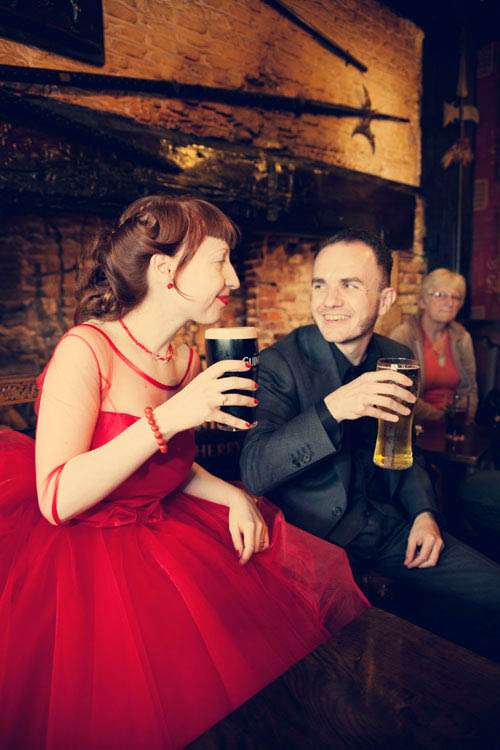 "When we finished our pint, we went off to do some pictures with my lovely friend Sassy from Assassynation and Frank from Sassy 'n' Frank was doing our video. We had such good fun, the weather wasn't very pleasant at times but they made us forget all about that. It started to rain heavily when it was time for a cream tea, a perfect way to end the day. With a scone in your piehole and a tea in your hand.The next day we left for our Honeymoon to lovely Cornwall."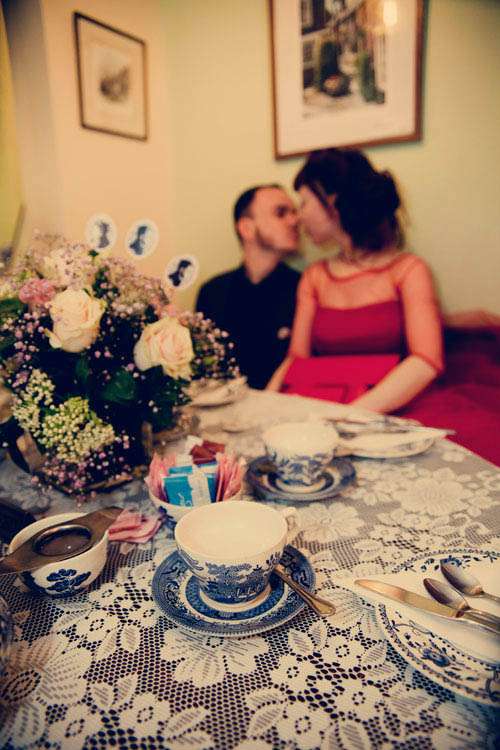 Don't Regula's words just transport you there with them? Just you wait until you see the rest of the photos and of course the AAAAMAZING video from Sassy 'n' Frank. Spooky and wonderful – the perfect way to showcase this epic wedding. Have you ever seen anything so cool?
…Oh and hello? can we all just die a little bit over the fact that Regula carried red balloons instead of a floral bouquet!? Love this!

Thank you SO MUCH to Regula & Bruno for sharing their wonderful English ceremony with us…and of course to Assassynation and Sassy 'n' Frank for sharing the film and images.
Keep your eyes peeled to the blog over the next few weeks, because I'll be blogging part two of this awesome wedding –  the Belgium portion (tea party reception and photo shoot at an abandoned fairground – oh YES!) as soon as I have the images in my hands!
Photography Credit: Assassynation
Videography Credit: Sassy 'n' Frank
Ceremony Venue: Town Hall, Rye
Reception Venue: The Cobbles tea room, Rye
Bride's Dress: Candy Anthony
Bride's Shoes: Vivienne Westwood
Bride's Hairpin: Victorian Swallow brooch from eBay
Bride's Swallow Necklace: DIY
Bride's Handbag: Alex Schrijvers
Groom's Outfit: Café Costume
Groom's Skull Boutonniere: DIY
Wedding rings: Edward Williams
Flowers: Café des Fleurs, Rye
Bunting: Little Bundles Bunting
Graphic Design: Bruno & Regula- www.thetinyredfactory.com – www.brunovergauwen.be