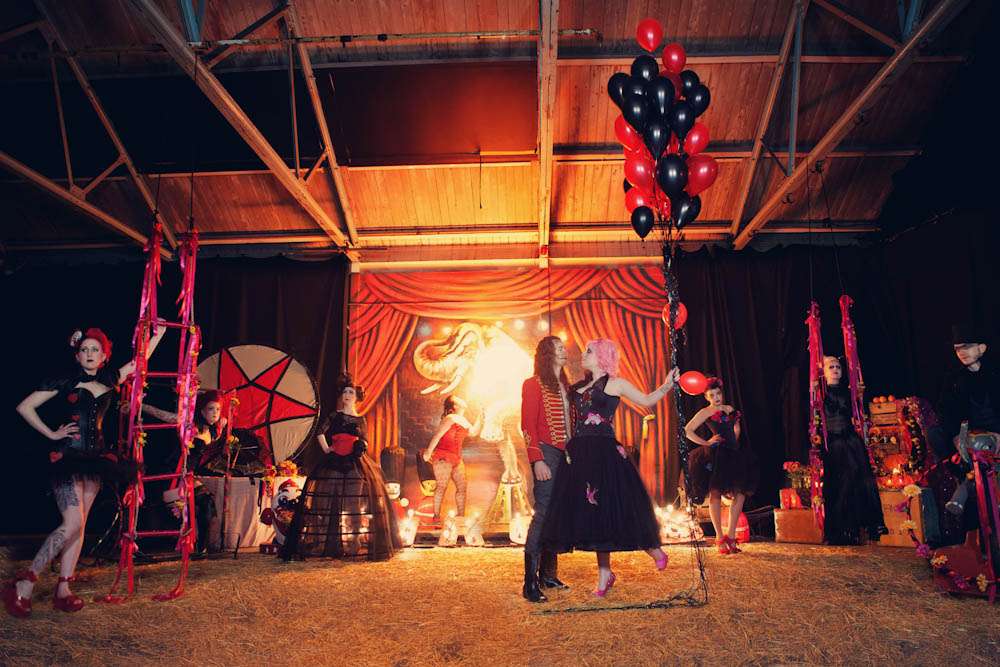 Mwah haaa haaa…are you ready for The Wedding Circus? A creepy fright-fest where the alternative wedding elite came together to create something truly magical? Well that's exactly what happened on a freezing February morn in a Birmingham Warehouse.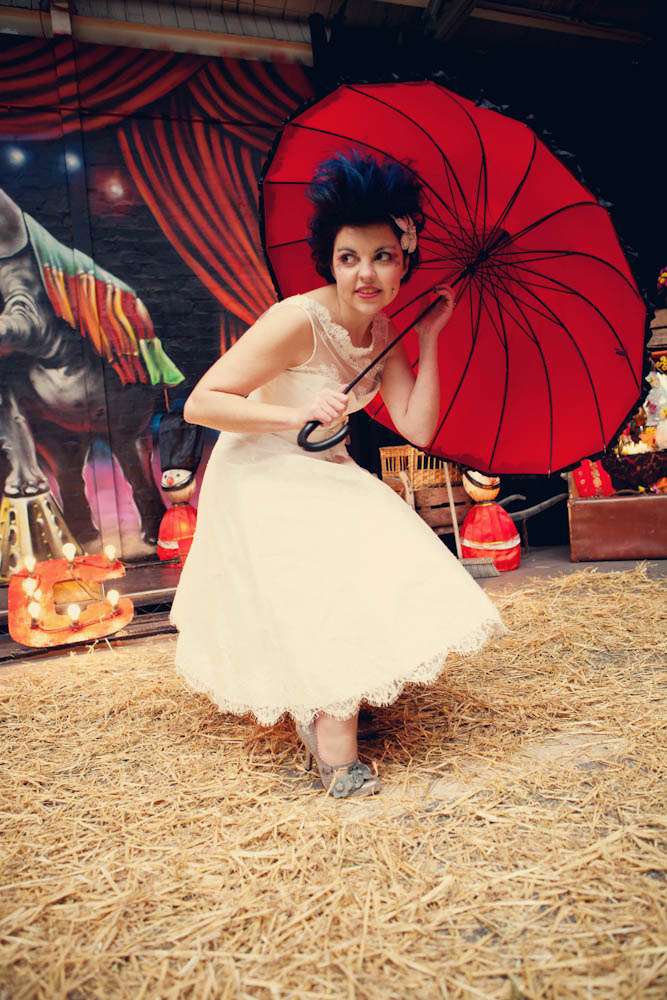 I recieved a phone call from photographer Sassy of Assassynation telling me all about her latest and greatest photo shoot idea – a 'Wedding Circus' filled with some of the freaks most alternative wedding suppliers in the UK. Of course Gareth & I were thrilled to be asked and so bright (OK not so bright) and early one morning we dragged ourselves out of bed and battled the snow to drive up to Birmingham for our 9am call time.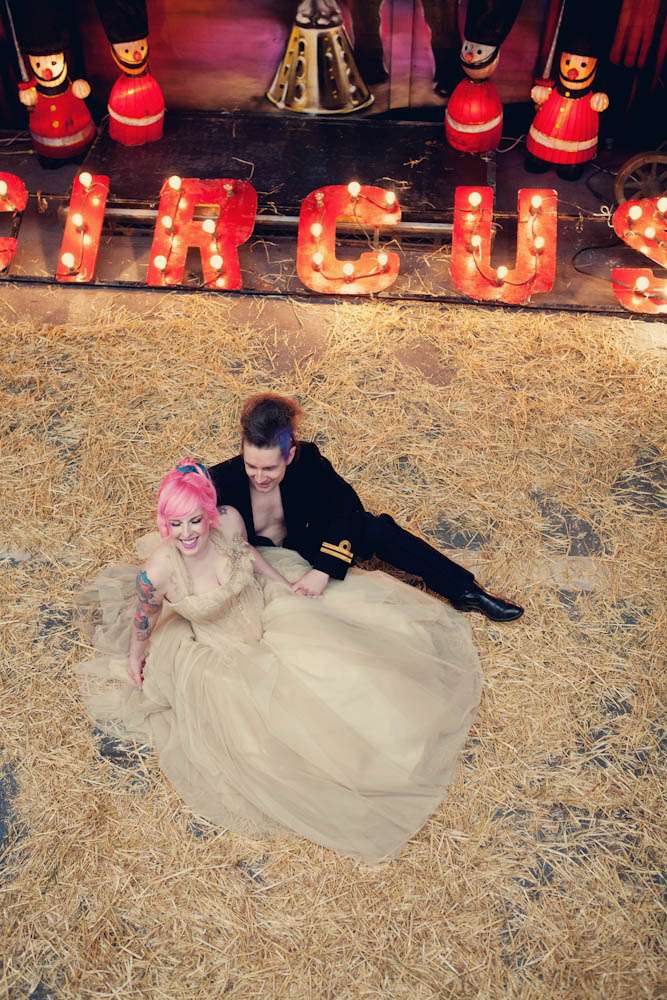 With nine models all with very distinctive looks (and hair colours – I've never felt like the one with the boring hair before!) a team of 7 hair stylists and make up artists worked their socks off to transform us into circus acts.
The shoot was pulled together by photographer Sassy of Assassynation and Jo of The Couture Company & Rawhide Corsets. "We were actually brought together by Rock and Roll Bride, where I had long admired Sassy's work," Jo explained. "I commented on one of Sassy's amazing weddings, Sassy dropped me an email saying thank you for my comment and then asked if I fancied collaborating! Of course I said HELL YES!"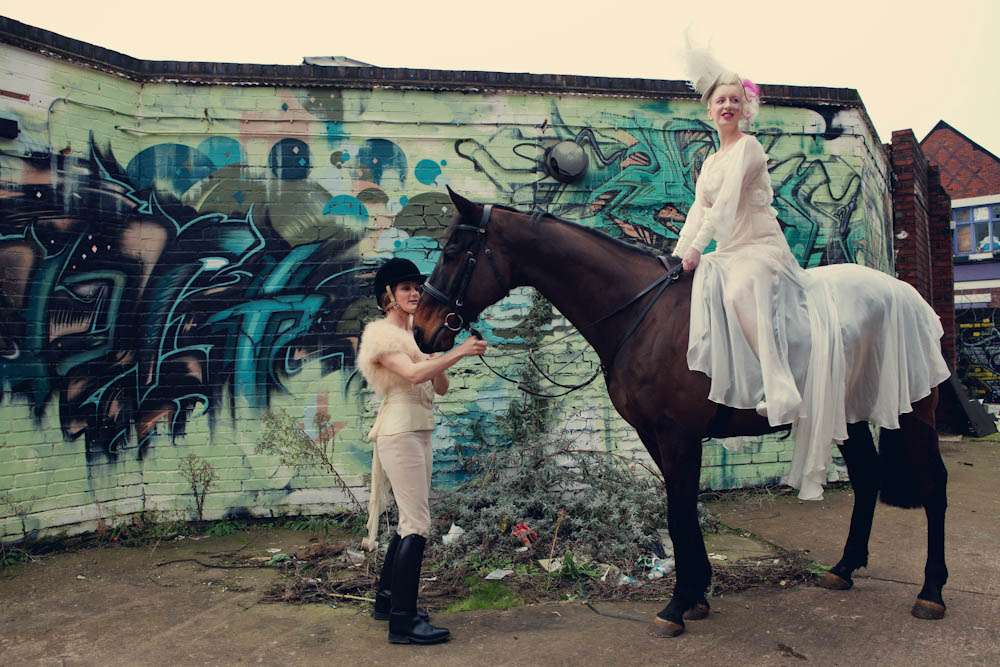 "Sassy's idea was to get a warehouse in the urban metropolis of Birmingham, with access for a big truck. When I asked why she said "Well…don't think I am crazy but I like the idea of a horse in a warehouse!"
"My original idea for this shoot was just to pop up to Birmingham and take a couple of nice piccies of gorgeous dresses," Sassy took over, "but it didn't quite work out like that. My mental brain took over and the horse in a warehouse idea grew a life of it's own. I love the circus and thought wouldn't it be fun to do a dark circus theme. I wanted the crème de la crème of alternative wedding providers on our project so I set about speaking to the best people I could think of to see if they would represent their area of weddingness…they all said yes thankfully!"
"It was freezing on the day and everyone was so incredible, I don't think we would have had that level of professionalism from paid models and creative…everyone just got on it and for that I am eternally grateful! There were 29 people and a horse there on the day…this was a huge shoot! All the behind the scenes team need a huge amount of praise as they were amazing and brought my idea to life."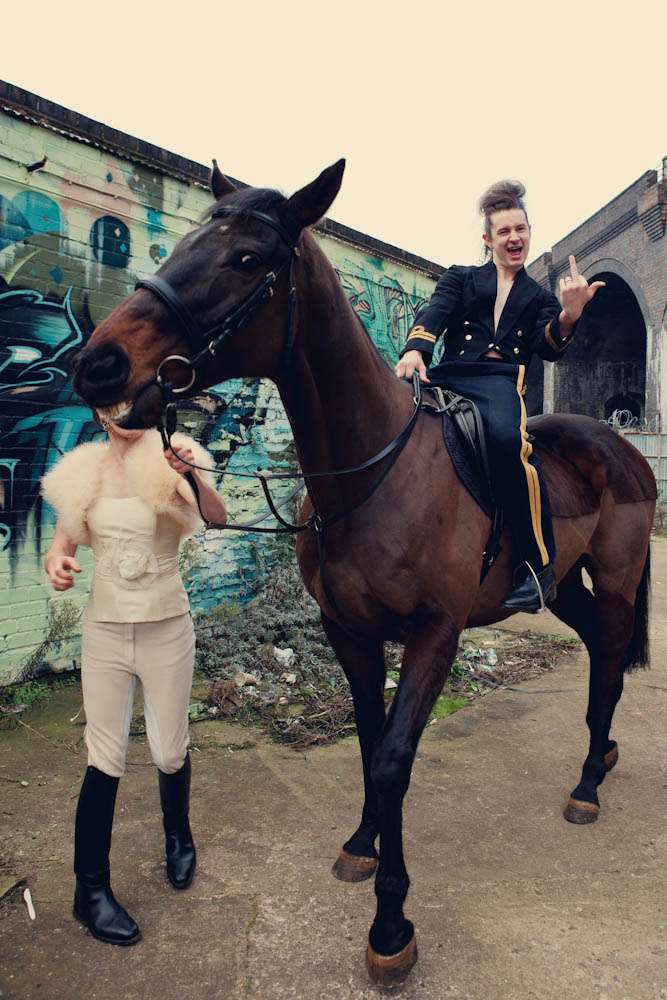 The first look was the more subdued and 'classic bridal' of the two – we all wore white dresses and corsets from The Couture Company & Rawhide Corsets and the boys looked incredibly dapper in their smart vintage military-inspired outfits. After a few shots in the remarkable circus set (complete with graffiti elephant on the wall and actual circus props from Russell's International Circus) inside the warehouse it was time for the biggest surprise of the day…that there was a horse waiting outside for us to pose with!
Now I'm not normally scared of horses but jeez this horse was ginormous! He was beautiful as very well behaved but I certainly wasn't brave enough to get on him! Well done to Charlotte for being the first to do so and to Gareth for keeping on brand with his hand gestures!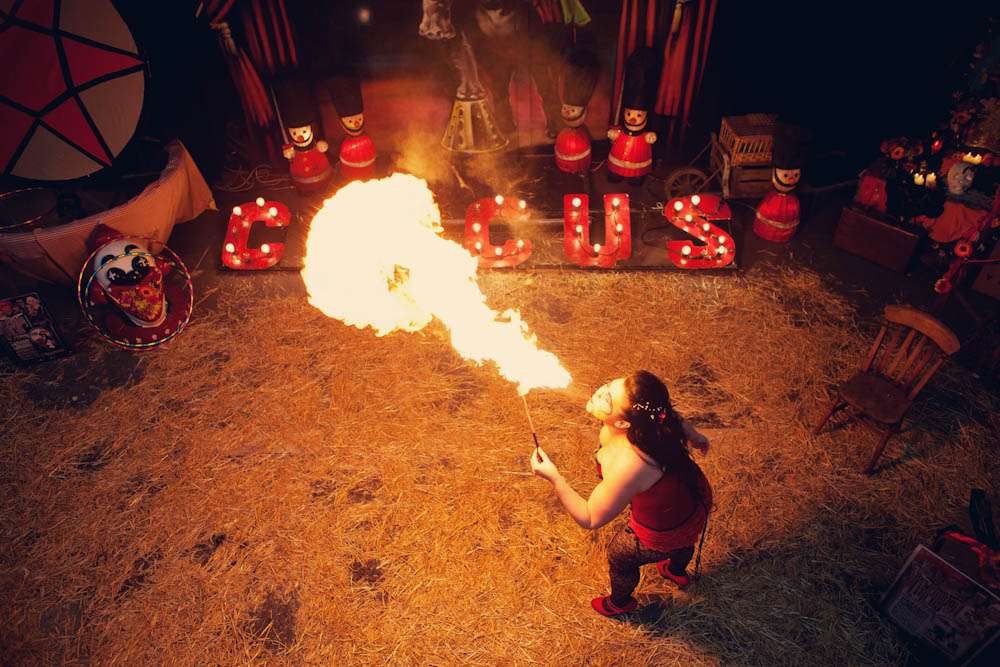 The second look was the all-out freaky, creepy circus look…complete with fire-breather! The make up was piled on heavy – eyes darkened, lines painted and hair made even bigger! Gareth was even made up in Crow-inspired make up which although was kinda weird to begin with seriously started to grow on me near the end of the day (Brandon Lee? yes please!) The outfits got a little more risqué too thanks to Jo at The Couture Company. We could tell she was in her element when creating these weird and wonderful ensembles!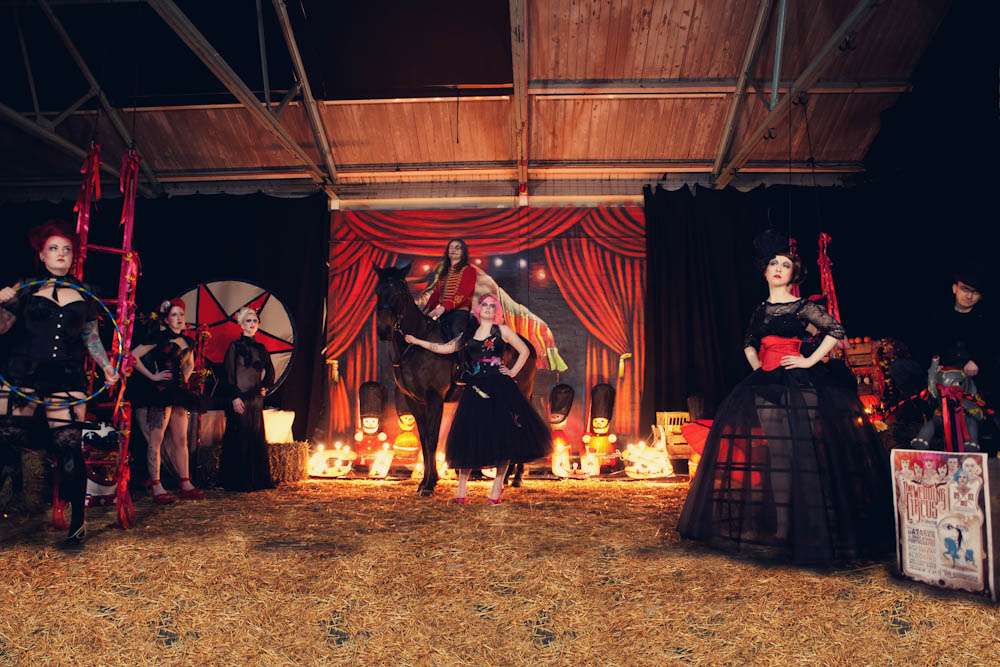 Can I also please publicly announce that I need one of Jo's corsets in my life permanently! They literally took me down a couple of dress sizes…my waist has never looked so tiny (believe me, it ain't nothing like that in 'real life'). In this second look I'm wearing a black version of one of Jo's tattooed wedding dresses. I loved it so much!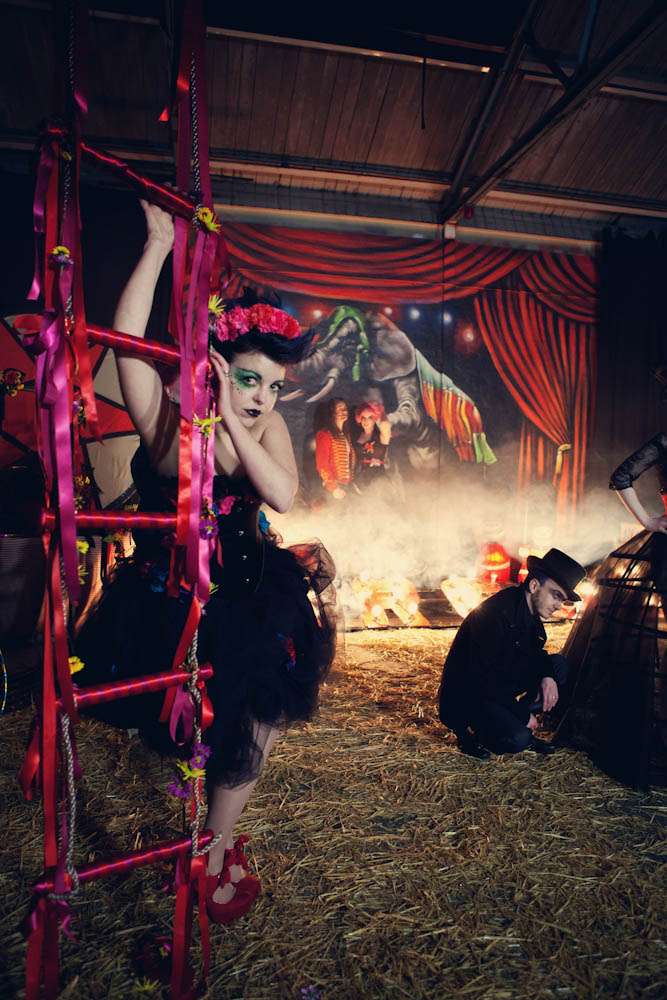 The day was hard work, freezing, but a serious amount of fun! I'm so excited to have been involved in this shoot and to be working with such an amazingly talent group of people. I hope you enjoy the results as much as we did making them. Could a spooky circus wedding theme be the next big thing?!
Show the team some love in the commnets won't ya?!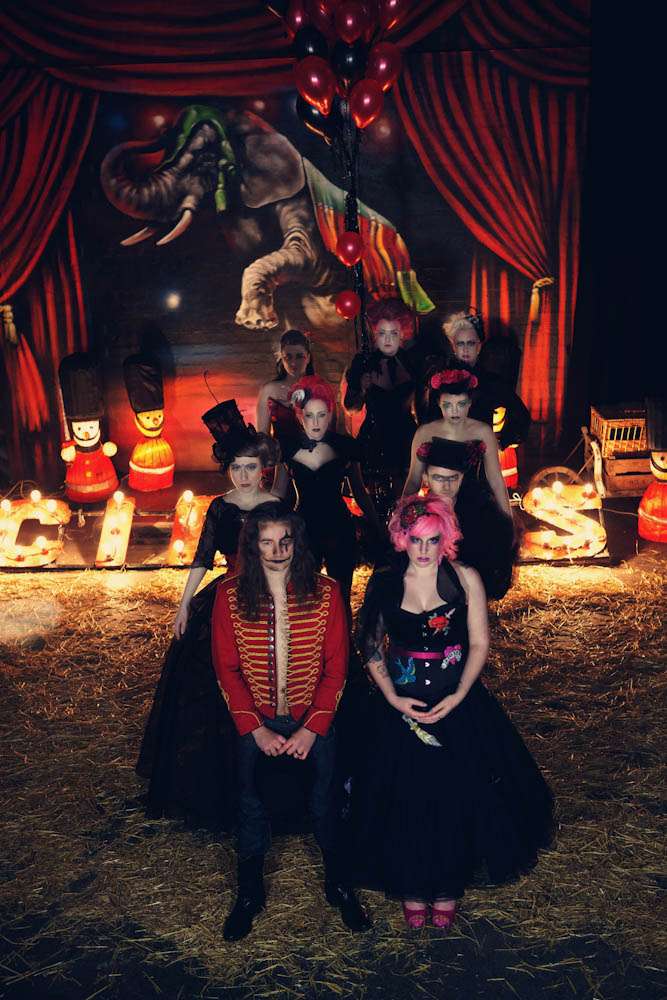 Oh and a spooky shoot needs a spooky video does it? The fabulous Frank of Sassy n Frank was there to capture exactly what went on that day. Click through to watch the full video…
Mwah ha ha. More images in the gallery below…
Supporting Cast:
Photography Credit: Assassynation
Video Credit: Sassy n Frank
Dresses, Accessories & Styling: The Couture Company & Rawhide Corsets
Shoes: Irregular Choice & some model's own (my pink, sparkly ones are from Benjamin Adams via Miss Bush Bridal)
Models: Kat & Gareth of Rock n Roll Bride, Charlotte of Restoration Cake, Lisa Jane of Lisa Jane Photography, Elbie Van Eeden, Regula & Bruno from The Tiny Red Factory, Hannah from The Couture Company, Simonne (the fire breather @feeneyfoofoo)
Horse: Spike (the horse) Anya (the horse handler) from Hornton Grounds Farm
Stationery/Posters: The Tiny Red Factory
Flowers: Amy, Little 'A'
Circus Props: Russell's International Circus
Set Styling: Assassynation & The Couture Company
Hair & Make Up: Elbie Van Eeden, Ellie Kerans, Zarla , Kat (through Zarla), Kizzy, Jo, Sarah
Hats: Sharper Milliner
Flower skull and leaf hat: Bloomingayles
Clay Signs: Cherrypie Lane
Location: The Custard Factory, Birmingham
Graffiti: GraffitibyTitle.com
Shoot Assistants: Sally, Rosie, Queenie, Alicja, Becky, Rebecca, Chris, Ryan