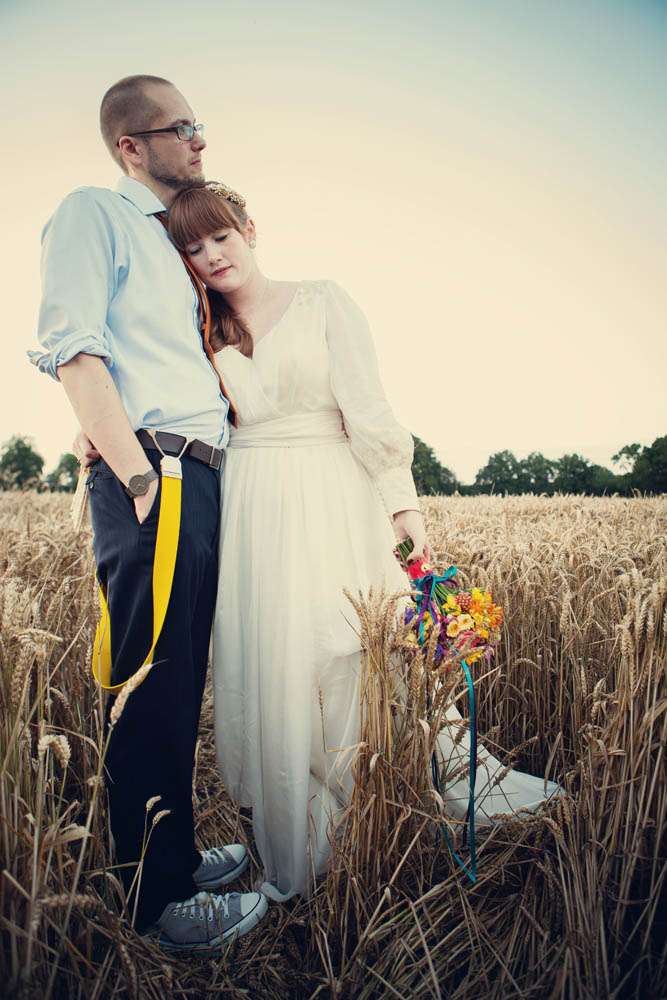 A village hall reception venue, a bride who designed her own dress and a groom who found his entire outfit in charity shops – oh I am so excited about Laura & Mike's amazing wedding! Is it just me or are the low key, budget friendly and full of love weddings winning over the high-maintenance, super detail heavy weddings right now?
"I am a huge geek and one of the things I am most geeky about is design, craft and making things", wrote newlywed Laura. " So when Mike proposed at a picnic in Kensington Gardens just after our 6 year anniversary, the mother of all craft projects was born! We hadn't really been to many weddings before which I think actually helped as we had very few pre-conceived ideas of what a wedding 'should' be. Don't get me wrong, our wedding wasn't hugely wacky – there was still a ceremony, some food and some dancing – but hopefully a few bits and pieces on the way made it 'our' day."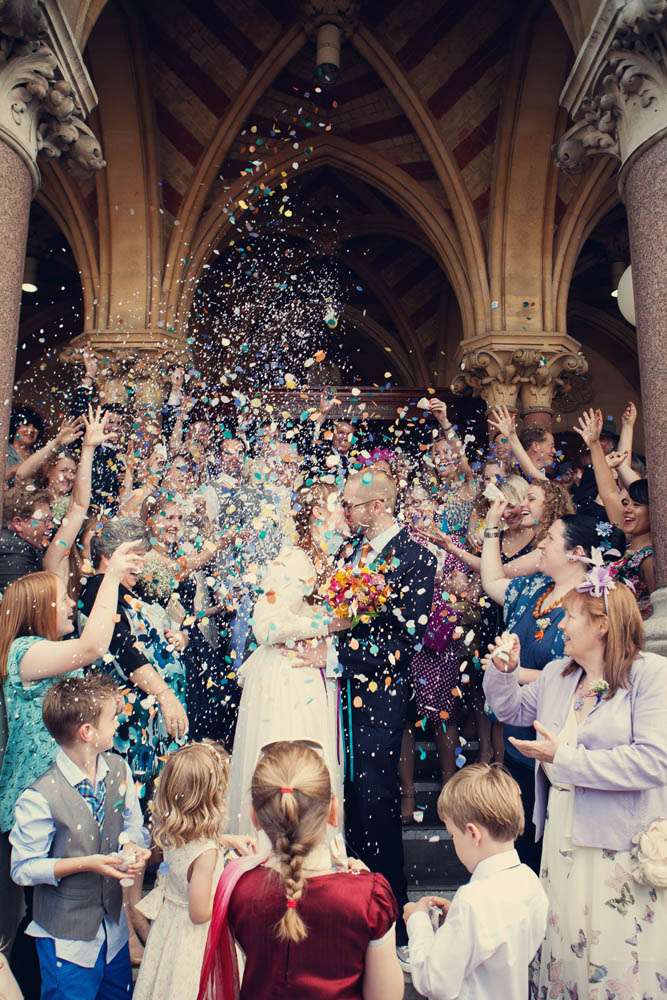 "I knew I wanted to do a lot myself, because making things is what I do", she continued, "and after some pretty soul destroying wedding venue searching, we came across Rotherwick Village Hall who hire out the venue from 1pm on a Friday until 11am on a Sunday for a bargain price – perfect! Once this was locked down, we looked for the ceremony venue."
Not being able to find what she wanted in a dress for a price she could afford, Laura decided to design her own wedding dress with the help of dressmaker, Rosemary Pitkin. "Rosemary made my drawing a reality. I then embroidered the back and sleeves of the dress. I made my headpiece out of vintage brooches and earrings – it was my something old, and Mike's suit was £15 from a charity shop!"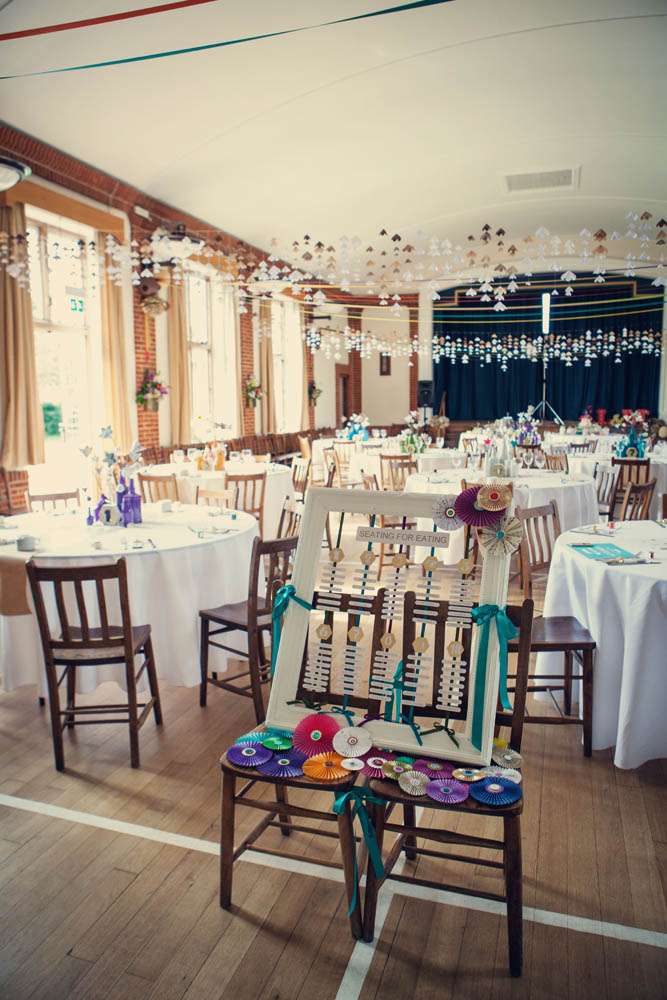 The DIYing continued throughout the reception. "Some of the keys bits I made included the paper flowers on the tables & strung around the room from old books (music and Haynes manual etc) Mike's buttonhole, the invites, the table numbers, the fairground letters and the cake toppers. My mum made the bridesmaids dresses, and the bunting & cushions for the reception. Mike's mum did the flowers and guests baked us cakes for our village fete style buffet. My dad made some interesting salads that went with the hog roast and my sister made the fimo photo booth props. I enjoyed making things for our wedding so much that I am hoping that I might be able to start a sideline thing making bits and pieces for other brides – make way for a shameless plug… www.thingsbylaura.co.uk!"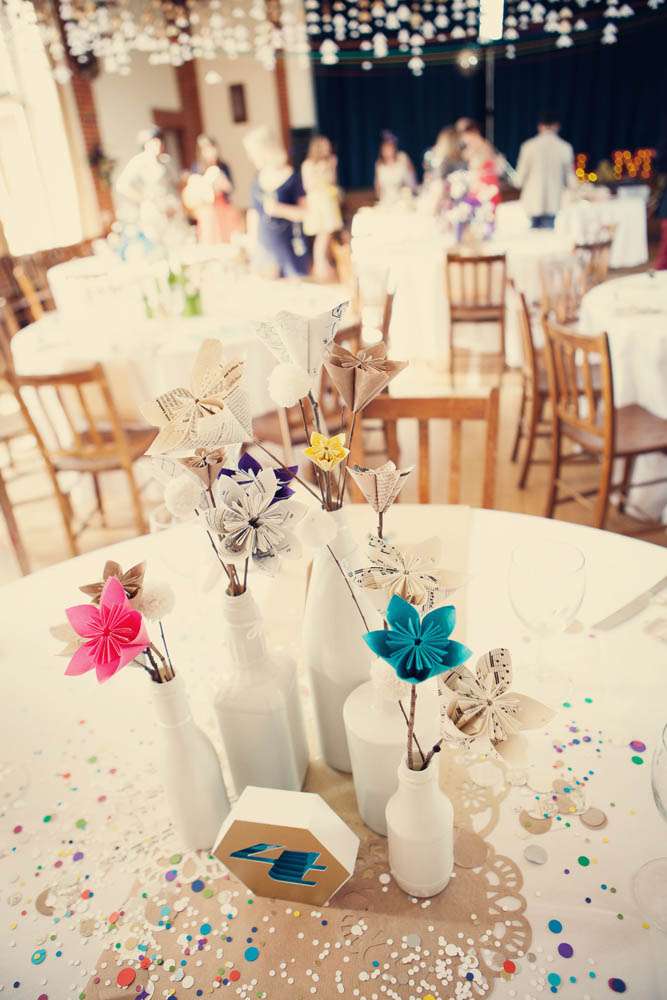 "We wanted a fun relaxed day, it was very important to us that no one got bored", Laura concluded. "So we jumped on the lawn game and photo booth bandwagon and they both went down a storm. We are big barn dancers so we had a pre-party barn dance on the lawn in the sunshine! I made colouring books for the kids with illustrations of us and other things to do with the day. Mike spent the months leading up to the wedding compiling and mixing two playlists, one that was on during food and the other for the party! We didn't really have a budget but we knew it needed to be cheap. But rather than stressing about it too much we started early and bought things month by month, when we could afford them."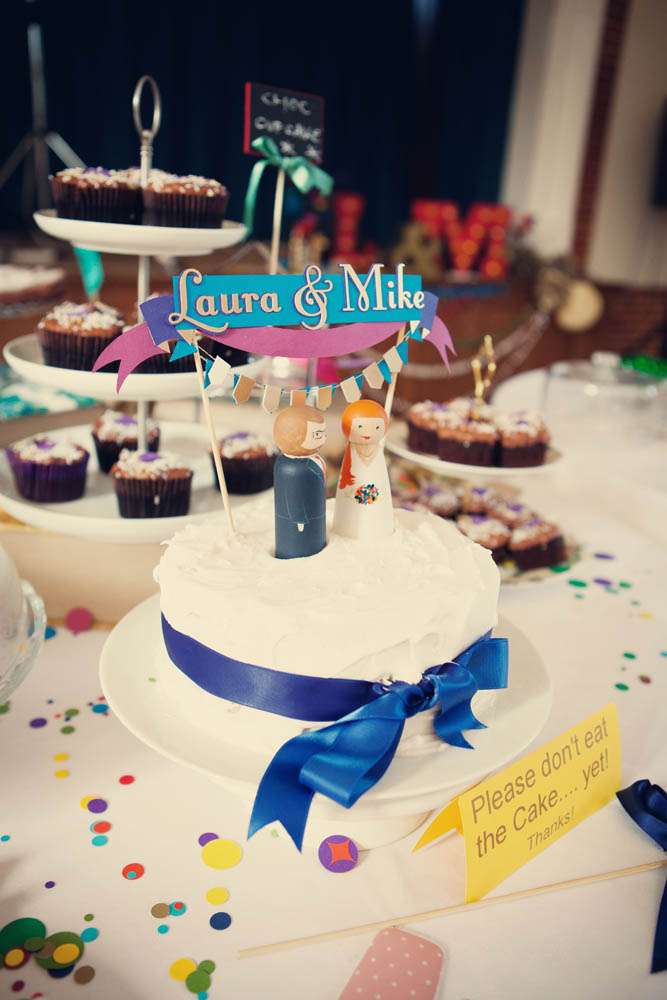 "I got a lot of inspiration from wedding blogs and found Assassynation through my daily dose of Rock n Roll Bride", Laura concluded. "Sassy was truly amazing, I had read the reviews that said it and she most definitely lived up to her reputation! We thought we must have done OK when Mike's uncle Bob (Bob is quite literally your uncle!!) told us it was the best wedding he had ever been to, well apart from his own…"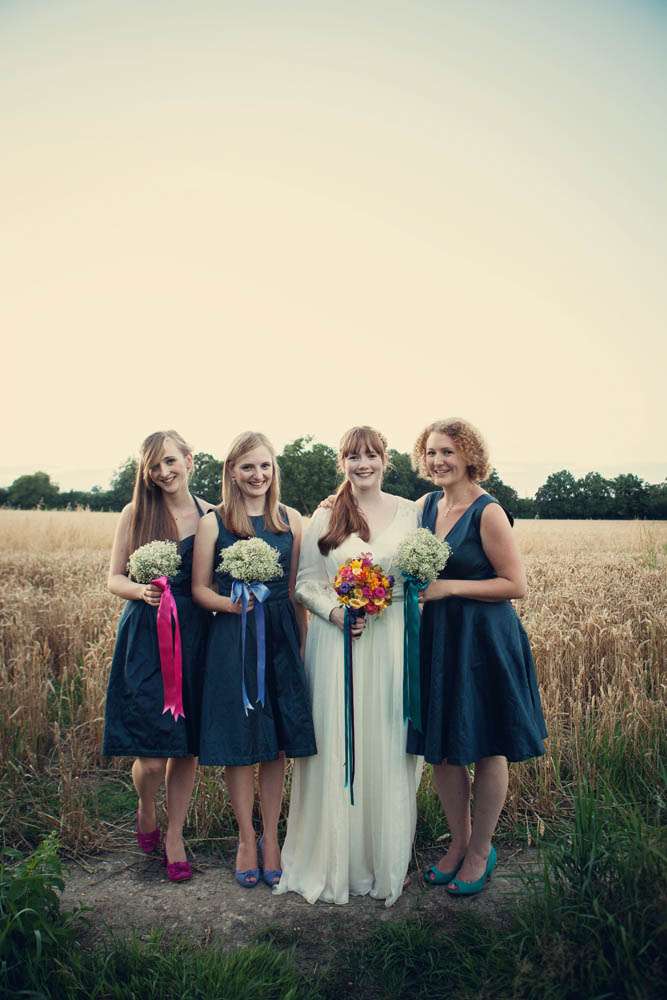 Haha awesome! I love it. Thank you to Laura & Mike and the epic Sassy of Assassynation for sharing with us today.
Supporting Cast:
Photography Credit: Assassynation Photography
Ceremony Venue: Winchester Guildhall
Reception Venue: Rotherwick Village Hall
Bride's Dress: DIY &  Rosemary Pitkin
Bride's Headpiece & Jewellery: DIY
Groom's Outfit: Charity Shop
Bridesmaid's Dresses: DIY
Flowers: DIY
Cakes: DIY
Stationery: DIY
Transport: 1949 Bedford from Mervyn's Coaches