Here it comes, my round-up of the second half of the year. Looking back at everything that's happened in 2011 makes me feel totally exhausted but incredibly proud all at the same time. I literally have no words to describe how thankful I am to every single one of you for your support. Without you NONE OF THIS would have been possible. I am forever in your debt.
July
I met and worked with the incredible Jasmine Star in her first London workshop. This was a huge deal for me. I am unashamedly a Jasmine Star superfan and the whole experience was a total whirlwind. Meeting her was definitely one of my highlights of the year.
I was also featured in Marie Claire Magazine here in the UK in their article on 'super-bloggers'. Since then, the piece has also been published in the Greek, Indian and Australian editions of the magazine!
I chose (with your help) the new Rock n Roll Bride intern, Roo!
Gareth & I were interviewed on BBC Radio Berkshire (listen here)
Wedding of the Month – Regula & Bruno's Creative, Spooky & Wonderful Wedding
Photography Credit: Assassynation
Other notable Blog Posts:
July press round-up
How to…Dress as a Wedding Guest
Jachen & Monica's Travel Themed, Whimsical Woodland-Inspired Wedding 
Being Happy
How to…Dress as a Wedding Photographer
Wedding Fashion for Plus Sized Brides 
August
Gareth and I headed stateside as I was invited by one of my internet idols, Princess Lasertron to walk the catwalk for her at Omaha Fashion Week. We also did an awesome promotion shoot for the Rock n Roll Bride dress which she designed (you can purchase it here), hung out with Mondo Guerra of Project Runway fame and we appeared on Breakfast television! Phew. We made some friends for life in Omaha and we miss them and their big-small town everyday.
After all that excitement Gareth and I hopped over to LA for a holiday. During our trip we also got to met many more of my internet stalkees including Bowie Bride, Broke Ass Bride, Miss Dee Ahoy, Erica Adams Photography, the ladies of AriaDress, Holly Steen of Cakes & Kisses Photography, Jasmine Star (again! See, once you become real life friends with me I stalk you for life…), Tinywater Photography and Gala Darling! Meeting Gala was a particularly massive highlight for me. Again, I am an unashamed uber fan and I so I was both nervous and ridiculously excited when we arranged to meet for dinner. I'm pleased to report that she's just as wonderful in real life as she is online and if possible, even more beautiful.
I was even recognised a few times in LA (including once at the airport when I had a monster hangover, brilliant!) All in all though, it seemed America loved the pink one and I can't wait to go back. I have plans for at least two trips next year.
I paid a visit to Candy Anthony, one of the favourite wedding dress designers of you Rock n Roll Brides. I even got to try them all on!
I designed my own shoes with Upper Street (watch this space, because they've just launched their ballet flats range, and I got to design some of those too!)
Wedding of the Month – A CMYK Themed Wedding: Rebekah & David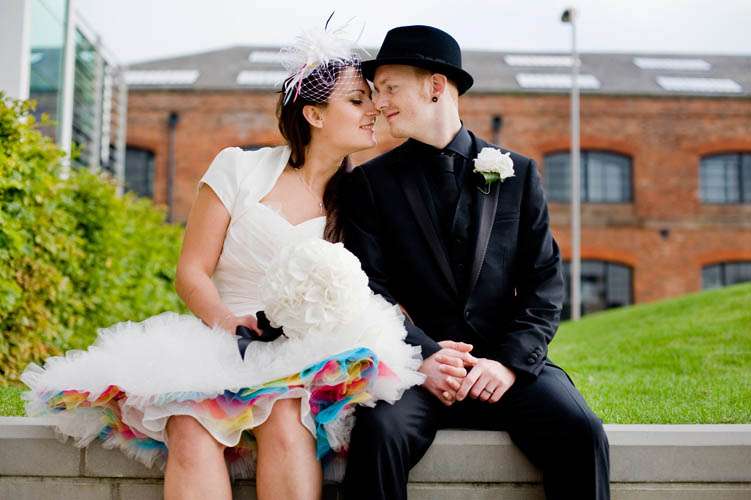 Photography Credit: Depict Photography
Other notable Blog Posts:
August press round-up
The Barbie & Ken wedding was SO POPULAR it crashed the website a number of times and the blog had over SEVEN times the usual daily traffic for three days straight…
A Weekend-Long Family Festival Wedding: Emily & Stef
Candy Coloured Cuteness: Lucy & Michael
A Beer-Swilling, Handfasting, Freak Show Wedding: Heather & Tyler
A Zombie Attack Engagement Shoot
September
Within just two days of returning from the US I was attending the Feather Love Artist's Workshop in London which I'd helped to organise with Emma Case. Roo even modeled for the photo shoot portion if the day (full shoot here).
My third photography workshop of the year was The Photography Farm, a three day epic organised by Lisa Devlin. I dressed up as Dorothy for the styled shoot and spoke to the students about how to get featured on wedding blogs.
Gareth & I partied on the pier with Choccywoccydoodah.
Wedding of the Month – A Wedding in the Woods & A Bride Wearing Antlers: Ian & Jo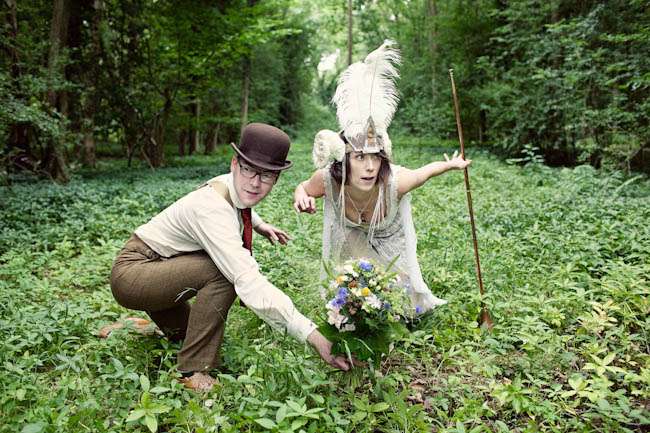 Photography Credit: Emma Case Photography

Other notable Blog Posts:
September press round-up
Acceptable in the 80′s
A Darkly Dramatic Gothic Wedding: Alix & Zach
Cecilia's Fairytale Portrait Session….with Baby Bunnies! 
October
I headed back to Birmingham for the second Designer Vintage Bridal show, bringing Gareth along for the ride this time. We also launched the first Rock n Roll Bride magazine and we were totally blown away with how popular it was. Issue One sold out within two days! And before you ask, yes the second issue is in the works. Watch out for an even bigger and better magazine it in early 2012!
I also attended the first Luxury Wedding Show with some other wedding bloggers. We had much fun gawping at all the designer dress candy sauntering down the catwalk.
Oh and possibly THE highlight of 2011 was that I won the Cosmopolitan Magazine Wedding Blog of the Year Award. I still can't believe it actually happened…
Wedding of the Month – "Punk Rock is in Your Soul" – A DIY City Hall Wedding….and a Bride in PINK: Lenore & Ryan
Photography Credit: Rachael McCall
Other notable Blog Posts:
October press round-up
Supporting Independent Designers & Saying No
Professional Make Up Tips for DIY Brides 
How I manage my email 
A Rustic & DIY Wedding on a Farm: Ashley & Justin 
A Rooftop Bride Shoot with a Blue Haired Bride 
November
I hosted my first bloggers workshop which I affectionately dubbed School of Rock (n Roll Bride). Good God I was so nervous but it all went swimmingly. So well in fact that Gareth & I decided to take the workshop on tour around the UK. Watch out for more dates and info soon!
Gareth & I modeled for Ashton Jean-Pierre who was being simultaneously filmed for the BBC programme See Hear. The show was broadcast on BBC 2 near the end of the month.
I launched some Rock n Roll Bride Christmas cards with Sugalily.
Wedding of the Month – A Black Wedding Dress, A Traditional Church Wedding & A Burlesque Themed Reception: Scarlet & Craig
Photography Credit: Eden Exposed Photography
Other notable Blog Posts:
November press round-up
DIY Tutorial: Multi-Layered Tulle Petticoat (Make Your Own Rainbow Petticoat!)
Why I Don't Feature That Many Engagement Shoots 
Getting to Know You 
Getting Organised 
An Anniversary Shoot in the 'Up' House: Lisa & Geoff
Walk, Don't Run 
Just How Much is This Wedding Going to Cost Us?
December
December has been a relatively quiet month for us. I attended a number of Christmas parties (standard) and Gareth and I plotted our plans for the blog next year. Oh we have some good things to come I promise! The first of which will be launched on the blog on January 3rd, be sure to come back to see what we've been up to…
Wedding of the Month – A Blue Burlesque Wedding with a £900 Budget: Sally & Mark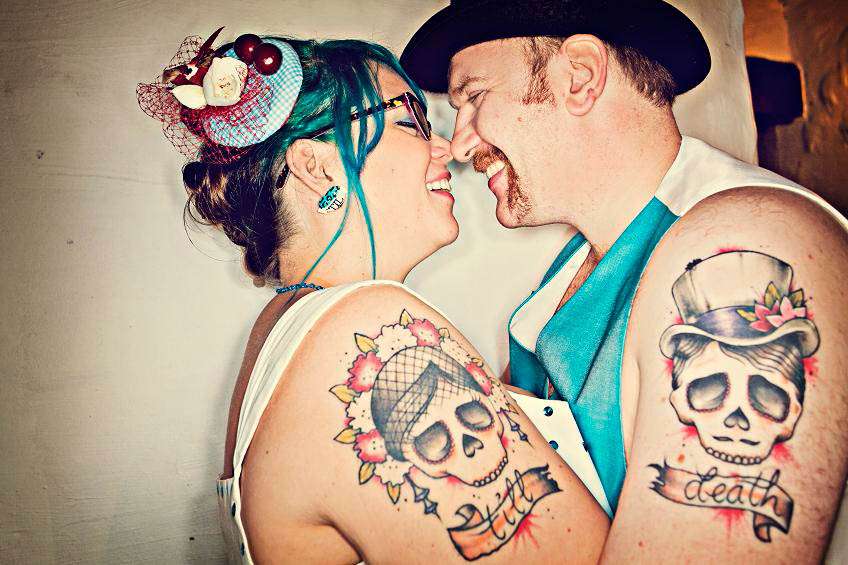 Photography Credit: GASP Photography
Other notable Blog Posts:
Evolving Your Business and Staying Ahead of the Competition
How to Save Money on Your Wedding Dress 
Positive Influence 
Staying Inspired, Coming Up with New Ideas & Blogging Regularly
Discounts & Savings From Some of My Favourite Wedding Suppliers…Happy Christmas!
I hope you've enjoyed this little round up and maybe seen a few things you missed. Again, I must say, WOW what an incredible year it's been and that I couldn't have done any of this without you, my readers. So thank you thank you thank you thank you thank you thank you thank you thank you.
Thank you from the bottom of my little pink heart for reading, being so loyal and supporting me. I don't have enough words of thanks and love for you guys. Truly.