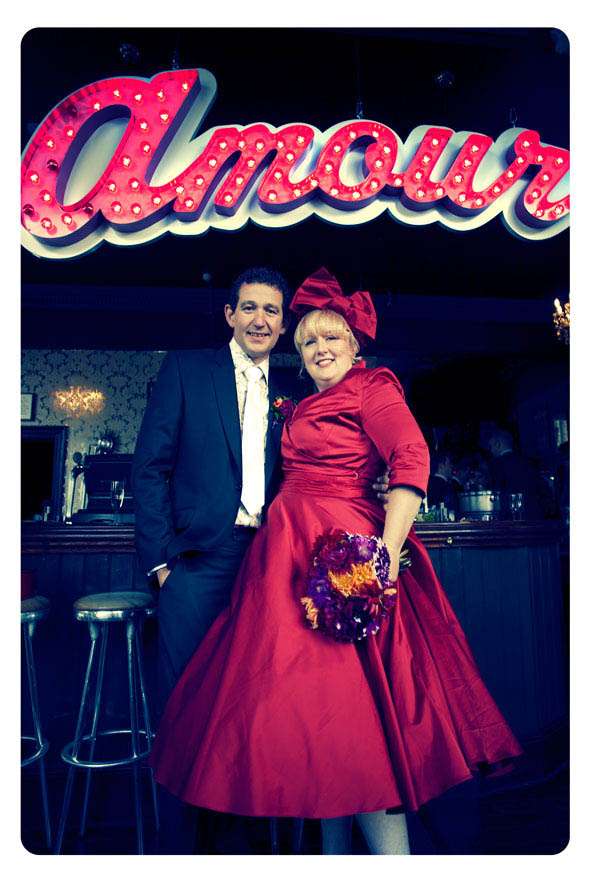 I am totally thrilled, excited, over the moon, honoured that my editor at WEDDING Magazine asked if I wanted to feature her Rock n Roll wedding. As the editor of a national wedding magazine, you might expect her wedding to be the super traditional kind but not this chick! By working in the industry for so long, Catherine knew exactly what she did (and didn't!) want for her big day and the result was a fabulous and eclectic one.
She spoke to me this week about her Rock n Roll wedding ideas, "I was never going to be a traditional tiara and train bride. I needed something that screamed 'look at me' for all the right reasons and Candy Anthony realised this dream for me. My scarlet prom dress with matching headpiece was the exact statement I wanted to make, and drew crowds outside Chelsea register office when we stood at the top of those infamous steps. I didn't want my wedding to be too colour co-ordinated, and chose an OTT venue complete with Jimi Hendrix posters, stuffed crocodiles and a view of Battersea Power Station to add to the mix. I clashed funky Ikea prints with recycled tins and bottles, chose non-bridal vibrant dahlias and had my tattooist brother design my wedding cake. I also wanted to ditch formality, so there was no table plan, guests just grabbed a seat in either the decked garden or in the bar to enjoy their surf n turf barbecue while being entertained by deceptionist Sav and pianist Danny Mills doing his own versions of Black Sabbath, Led Zeppelin and AC/DC songs. Rock music was vitally important to me on my big day, no cheesy Take That love songs here! And as my ace DJs Wedding Smashers played Guns n Roses (my favourite group)  and I danced with my friends and family, I knew I'd created my ideal Rock n Roll wedding."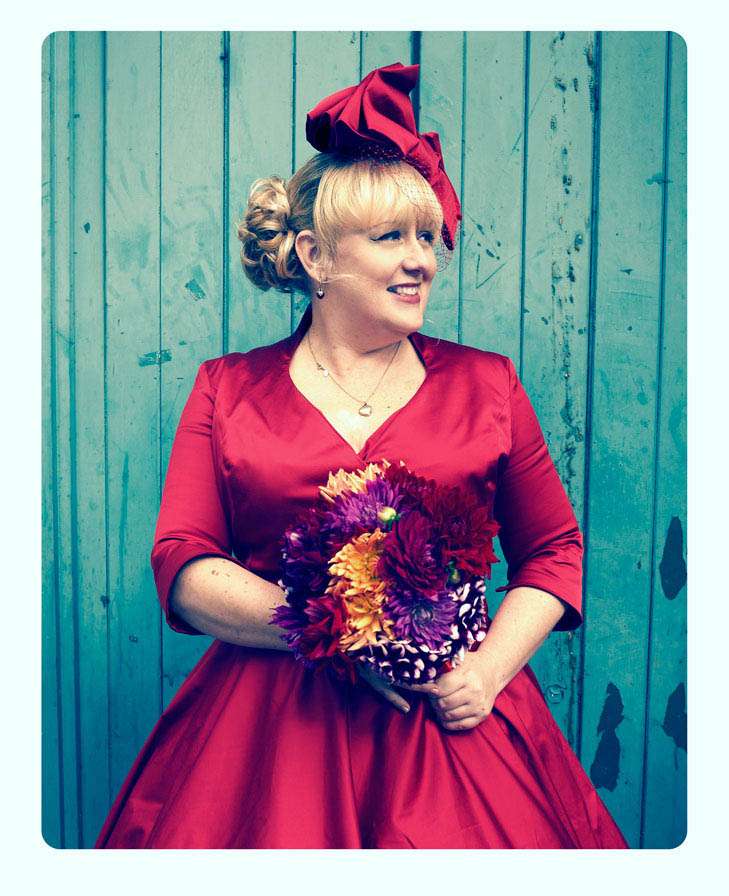 Catherine married Sergio in the suitably Rock n Roll environment of The Duchess Pub, Battersea. "I wanted my big day to be relaxed and without any of the formality of a traditional English wedding," explained the bride, who looked radiant in her bright red Candy Anthony gown. "I wanted the day to have an urban party feel, so I chosen my pub venue for it's laidback, eclectic vibe and décor as well as the stunning view of Battersea Power Station."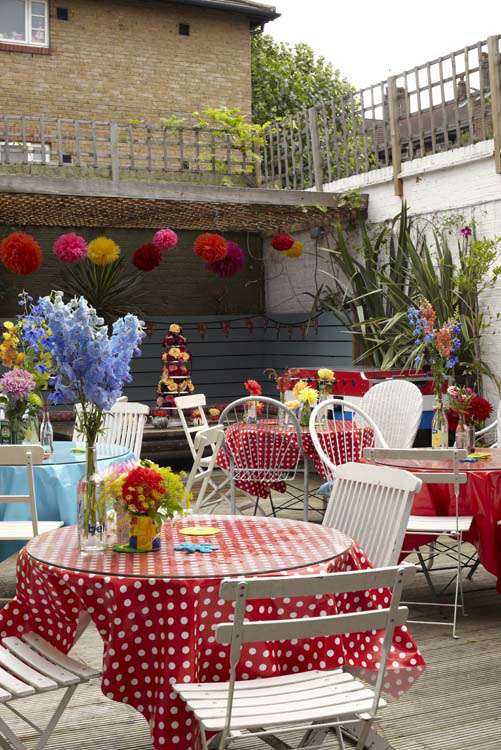 The styling of the reception was also anything but traditional. Catherine had florist Rebel Rebel fill the room with flowers, "I had my heart set on Rebel Rebel's signature flower-filled retro handbags, and also loved its original cake stands packed with roses. The eclectic mix of bottles, tins and jars used to display the vibrant table displays of dahlias, roses and stocks completed the colourful look to absolute perfection."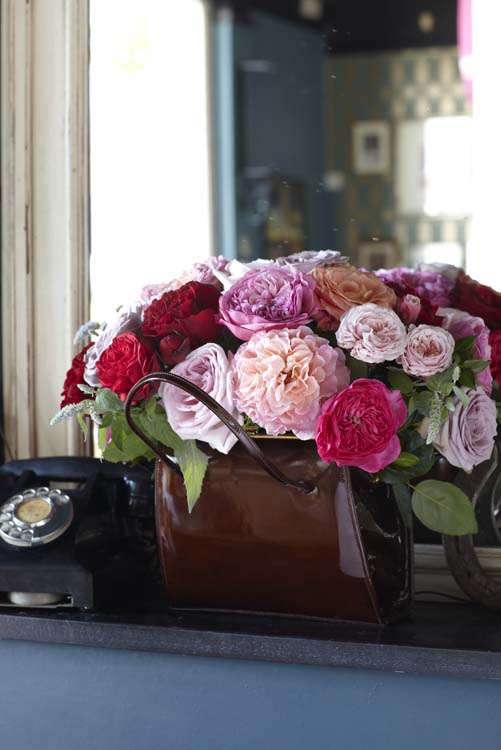 The bride's Mum and Dad hand decorated the photo frames which the couple gave out as favours and Fancy Nancy created a completely show stopping cake for the occasion. The rest of the reception décor – the bunting, the cushions etc were also all DIY'ed by Catherine and her Mum.
What a seriously fabulous wedding – I wouldn't expect anything less than the editor of the wedding magazine that lets me and MY bonkers ideas on to it's pages every issue!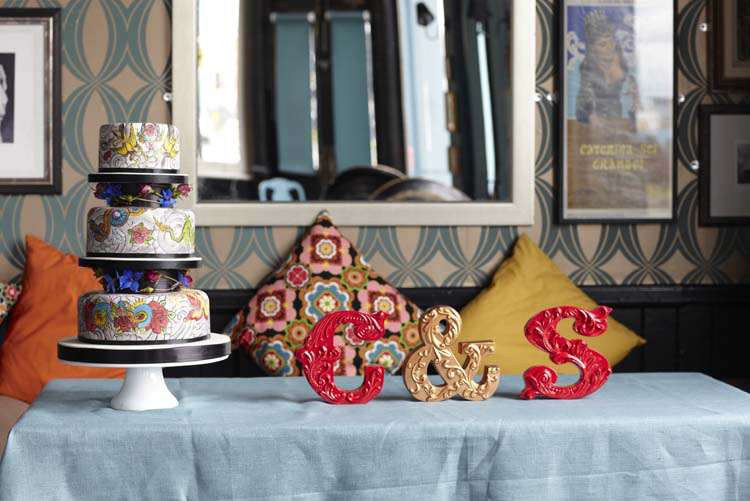 Catherine & Sergio's wedding can be seen in this month's WEDDING Magazine (alongside my latest 'trends' article) out in shops NOW!
HUGE thanks and love to Catherine for sharing her awesome wedding today!
Photography Credit: Paul Cahill, Holly Jolliffe & Jane Paskiewicz
Ceremony Venue: Chelsea register office
Reception Venue: The Duchess Pub, Battersea
Bride's Dress: Candy Anthony
Bride's Shoes: Emmy
Bride's Headdress: Candy Anthony
Groom's Outfit: Marc Wallace
Stationary: Hello! Lucky
Flowers: Rebel Rebel
Cake: Fancy Nancy
Cake Stand & Floral Cake Toppers: Talking Tables
Wedding Car: Karma Kabs
Wedding Bus: Imperial Bus
Magician: Deceptionist Sav
Pianist: Danny Mills
DJ: Wedding Smashers
Pom Poms: Paper Pom Pom