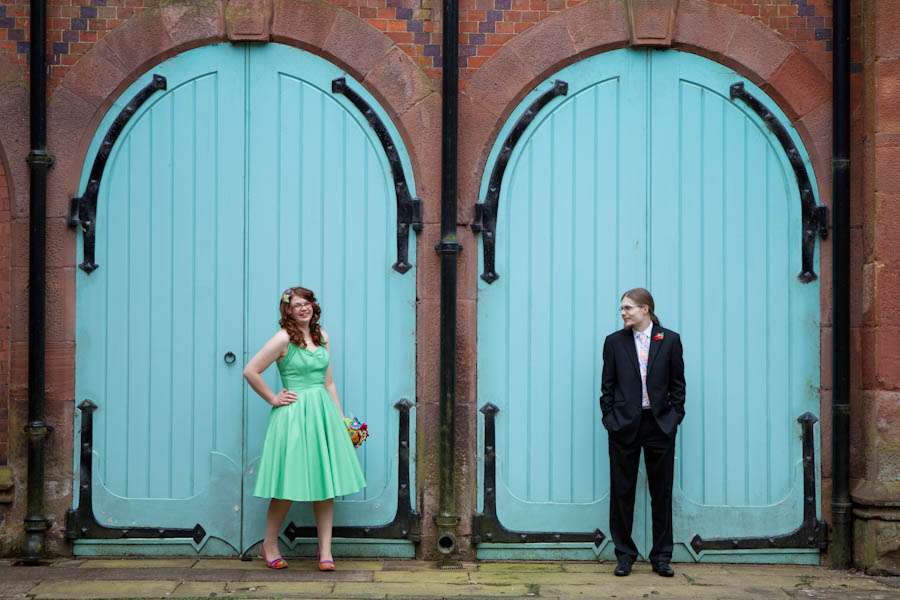 I think green is a totally underrated bridal colour. We see brides in white, red, even black, quite often, but rarely in green – and doesn't Ruth show us how wrong this is? She looks incredible! "I remember looking at photos of my Gran in her wedding dress from 1960 which was blue with a pink petticoat and telling myself that I was going to wear my favourite colour when I got married too", Ruth began, "and so the green dress was born. My something old was my Gran's actual pink underskirt from her wedding dress."
"Finding a green dress was hard work though. At first I tried on bridesmaid dresses but I never really felt myself or special enough. I was also being pushed into trying on white dresses by everyone but I didn't recognise myself. I'm a total tomboy at heart and the concept of being feminine for the day felt alien to me. I still don't understand the concept of feeling like a princess on your wedding day. The most important thing was to feel like me. I found Vivien of Holloway online after looking at the adverts on Rock n Roll Bride. After three trips trying on various Vivien of Holloway dresses, I ended up ordering from a limited run of only 4 (!) plain green circle dresses. I love the fact that I can and will be able to wear my dress again and that I'm only one of 4 people to have bought it!"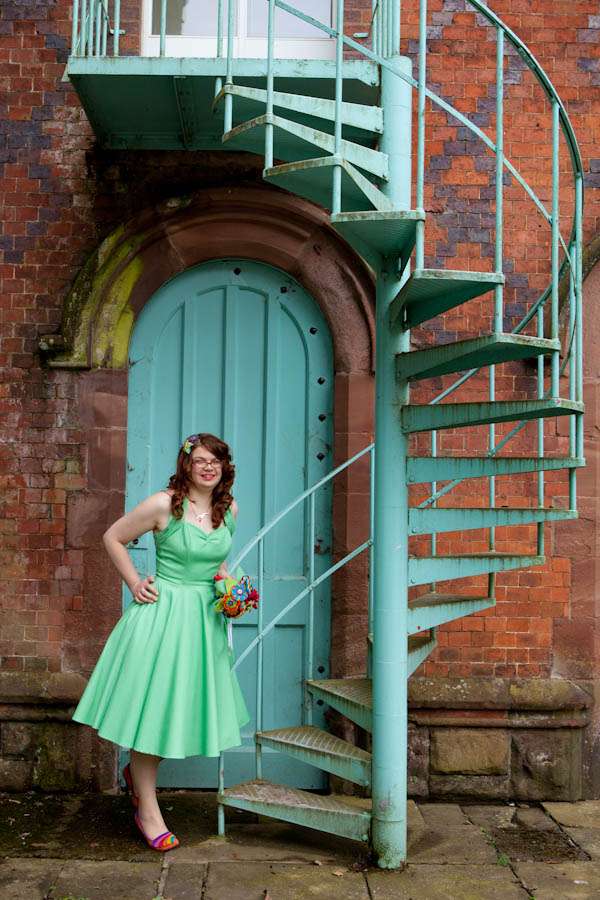 Oh but the colour doesn't stop there, even the boys got in on the action – I'm totally dying over those rainbow ties from Me and Matilda on etsy. I guess you can see where this is going… Ruth & Alex had a rainbow wedding – woohoo my favourite!
The wedding was held at Keele University, where the couple both studied and met. "We met each other whilst at Uni," Ruth explained. "It turned out that we were at the same socials as freshers without meeting each other but we had a mutual friend. The year after we both applied for private halls (back in the day everyone lived on campus in their 1st and 3rd years) and were put together in the same flat as we shared an interest Guiding and Scouting. It seemed only right that we would start our married life back at Keele just as we had started our adult lives back there too."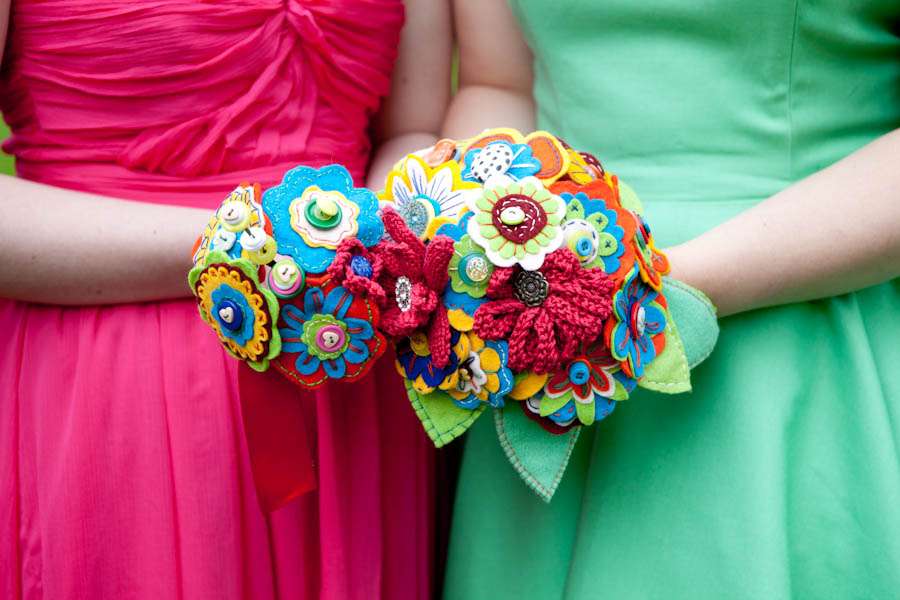 This nontraditional couple started as they meant to go on when Ruth proposed to Alex while walking home from the pub one day. "I had a million ideas how to propose that would have been amazeballs", said Ruth, "but then I remembered a talk I was given in secondary school about how a music teacher planned to propose to his now wife. The story went that he had everything ready, champagne, fancy meal etc but changed his mind because the moment was too perfect and he didn't feel that it was true to married life. Instead he proposed when everything wasn't perfect. Walking home from the pub seemed far more true to our life. Alex's Mum had proposed to his Dad too so we kept that family tradition going. I guess we have a tradition of being untraditional in our family!"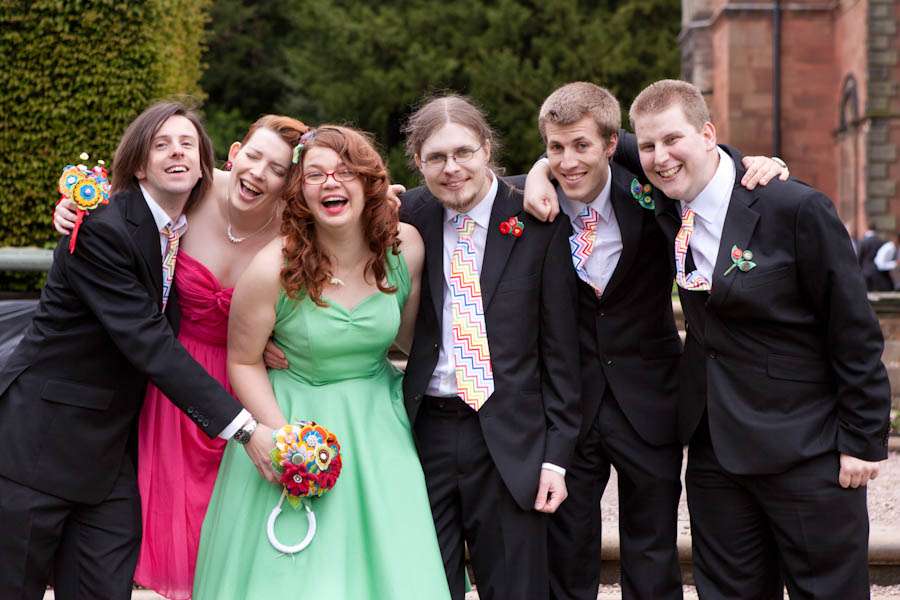 "We wanted our wedding to feel a bit like walking into our living room," Ruth continued. "We wanted every guest to feel like we'd invited them around for a party… and we're not big party couple, we just like to invite friends around for Mario Kart, real ale and music. It was daunting to think we had to provide entertainment for 70 people on a huge scale. So we started with the basic idea to keep it simple."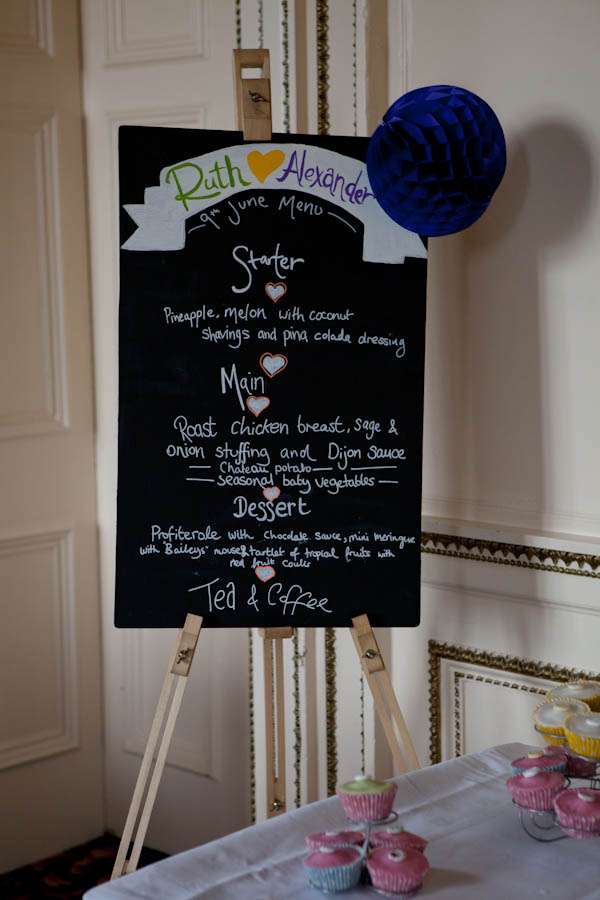 "It started with having the ceremony arranged in a horseshoe (another Guide/Scout reference) where there was no bride or groom side. Everyone sat together. I fondly remember seeing my sister, niece and nephew sat behind Alex's parents. We really wanted everyone to feel together rather than being on one 'side'. We carried that idea through into the wedding breakfast, much to the venue's horror we didn't have a set table plan. Guests sat where they wanted, which ended in my nephew taking Alex's baby cousin (who had just started walking) toddling around the venue. Everyone thanked us for making the wedding feel so personal."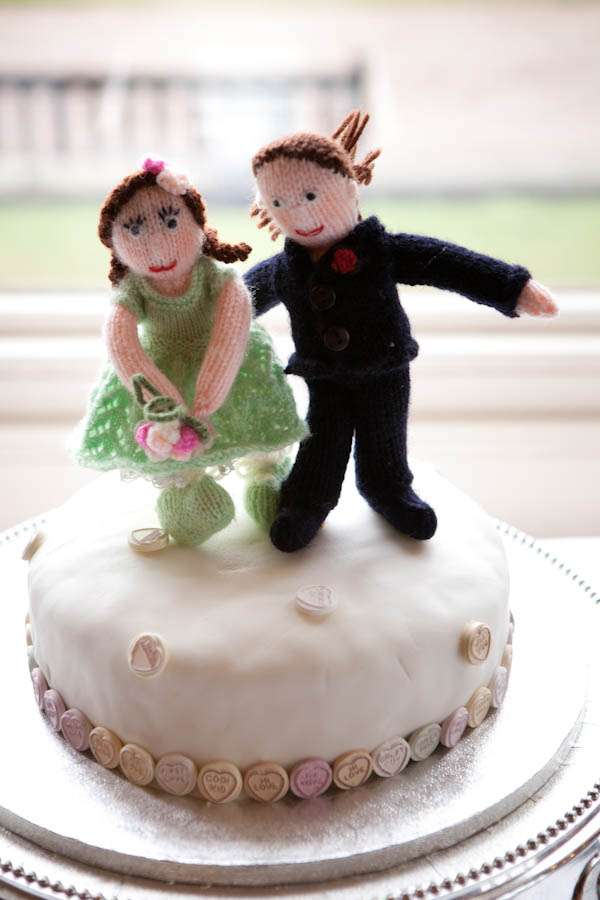 'But what about the rainbow-awesomeness?!' I hear you cry, well… "Taking the living room idea one step further – our colour scheme was inspired by our own living room curtains!" Ruth laughed. "Neither of us could choose just one colour so we choose all the colours! The polka dot bunting was put up all over the ceremony room so everyone was surrounded by our curtains."
Ruth also didn't have bridesmaids… she had a maid of honour and bridesdudes! "I simply had to have my bridesdudes. We had grown up together and have been friends through so much that they were just as important as my one bridesmaid. All four of us have been friends since before primary school. Both bridesdudes did everything the same as bridesmaids might. They helped set up the venue, went to the hen do and stayed whilst we were getting ready. It did raise a few eyebrows to start with but once everyone understood how close we all are to each other it all melted away."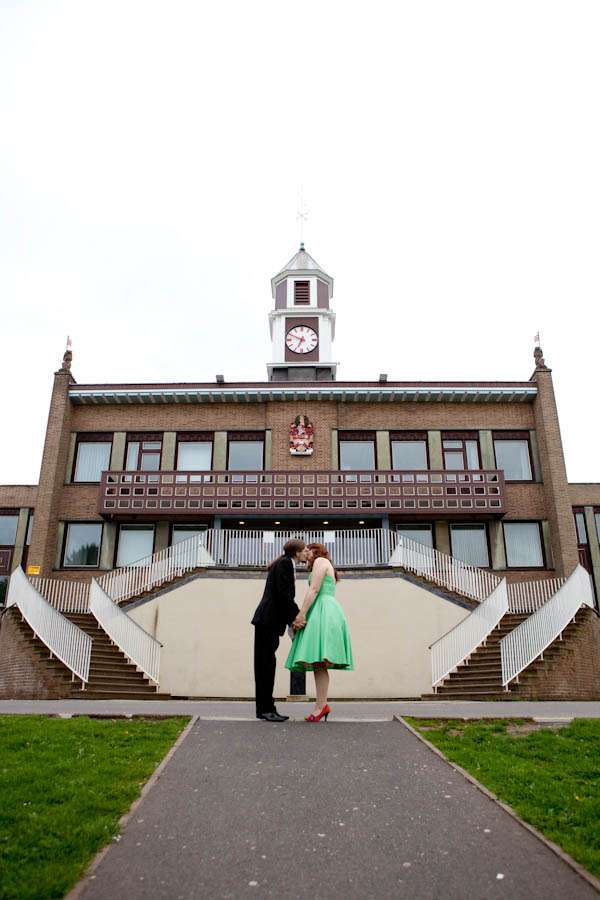 Finally the couple DIY'ed as much as they could, not really to save money but to make it personal. However there was one special supplier that Ruth knew she really wanted to have as a part of their wedding, "When we first started to plan our wedding I went down to part time at work and I thought I'd never be able to get my dream Princess Lasertron flowers. Luckily by the time of my hen do I could just afford for Meg to make rosettes for the bridal party. It was wonderful being able to work with a dream supplier that I had previously thought we never had the budget for."
I'm so in love with these guys and their wedding! Thank you Ruth & Alex for sharing your story, and to wedding photographer Ali Lovegrove for sharing her images.
Reader Offer
Ali has launched her new look website this week, and to celebrate she'd like to offer Rock n Roll Bride readers 10% off any wedding package booked before December 31st 2012. Simple quite 'rocknrollbride' when you enquire. Offer valid for weddings taking place before 31st December 2013.
Supporting Cast:
Photography Credit: Ali Lovegrove Photography
Venue: Keele Hall, Keele University
Bride's Dress: Vivien of Holloway
Bride's Shoes: Irregular Choice & Converse
Bride's Bouquet & Headpiece: DIY
Bride's Jewellery: Tatty Devine
Groom's Outfit: Moss, Me and Matilda on etsy
Bridesmaid's Dress: H&M
Bridesdude's Ties: Me and Matilda on etsy, Buttonholes by Princess Lasertron
Cake: DIY
Flowers: DIY
Hair & Make-up: The Vintage Salon at Le Keux Events & Hannah Arnold
Band: The Firebirds
Stationery: Golden Apple Designs