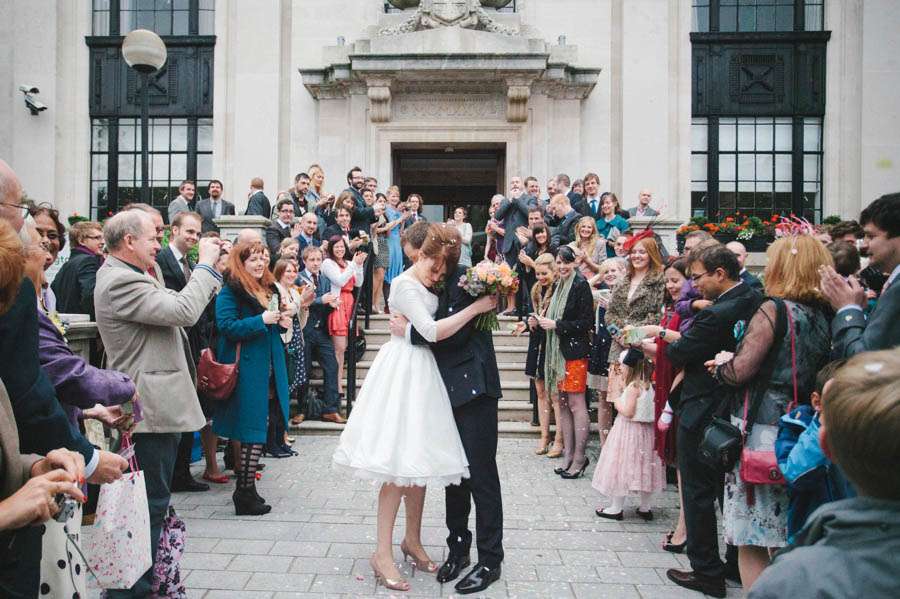 Ian & Chrissie were married in October in London. Their ceremony was held at Islington Town Hall and their reception took place at The Britannia pub in Victoria Park, Hackney. The two venues helped to set the tone for their quirky, quintessentially 'London' and vintage-inspired day.
"We knew we wanted to have our wedding in London where we live and met and the town hall was perfect", began the bride. "The room we chose for our ceremony was circular which made it feel really inclusive. We have since found out the room in which we got hitched was used as the court room in the video for Culture Club 'Do you really want to hurt me' – which in our minds only adds to his awesomeness! Having a good old knees up in a pub was what we really wanted for our reception. The Britannia ticked all our boxes of being a lovely old victorian building with a lot of quirky details and also doing fab food. The landlord Andrew was very flexible in terms of how we decorated the pub which was music to my ears."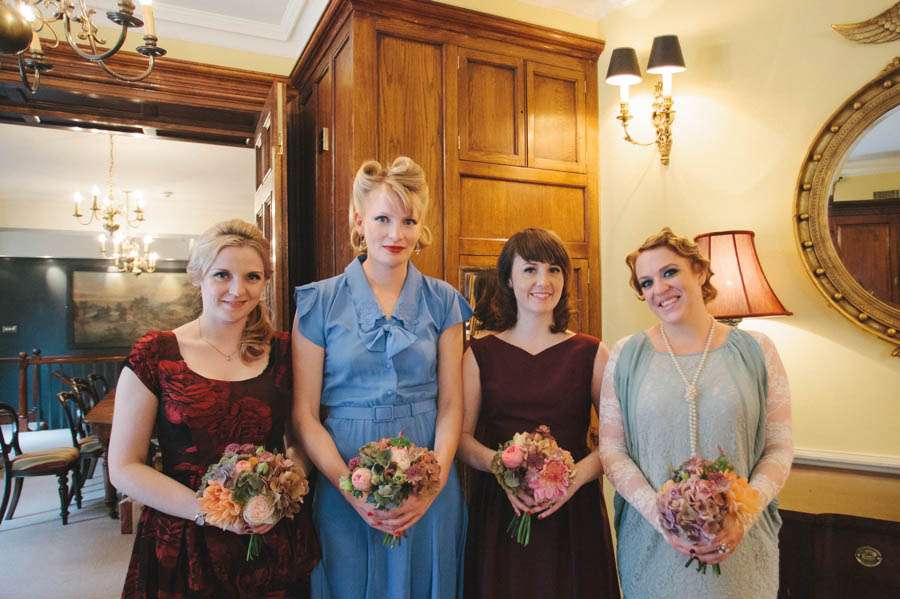 Chrissie wore a 1950s vintage inspired dress from Dolly Couture with Rachel Simpson shoes and a hair comb which was made from a 1960s blue rhinestone brooch. "I would describe myself as a fully card carrying vintage dress enthusiast!" Chrissie explained. "I knew I definitely wanted to go down the 1950s route for my bridal style. My dress was the first one that I tried on and I fell completely in love with it. I had my dress customised from the original design by a seamstress, adding longer sleeves, a more open neckline with a lower V back with covered buttons. I also wore a short petticoat to add more of that all important 1950s swing. I wore a gorgeous vintage fur cape to add some old school glamour to my dress. I found the cape at a vintage fair, and I think it wins the prize for my best bargain find for the wedding at £35!"
Her bridesmaids' looks were also vintage-inspired with each girl being styled to suit a different era. "I knew I wanted my bridesmaids to have vintage frocks but I didn't have a set idea of what style of dress, which is half the fun of vintage shopping! The idea then evolved in to them all having dresses and hair and make up with a nod to different eras – 20s, 40s & 60s. All the bridesmaids dresses were bought from retro stores and vintage fairs with the exception of the light green fringed flapper style dress worn by my bridesmaid Ursula which was from Traffic People."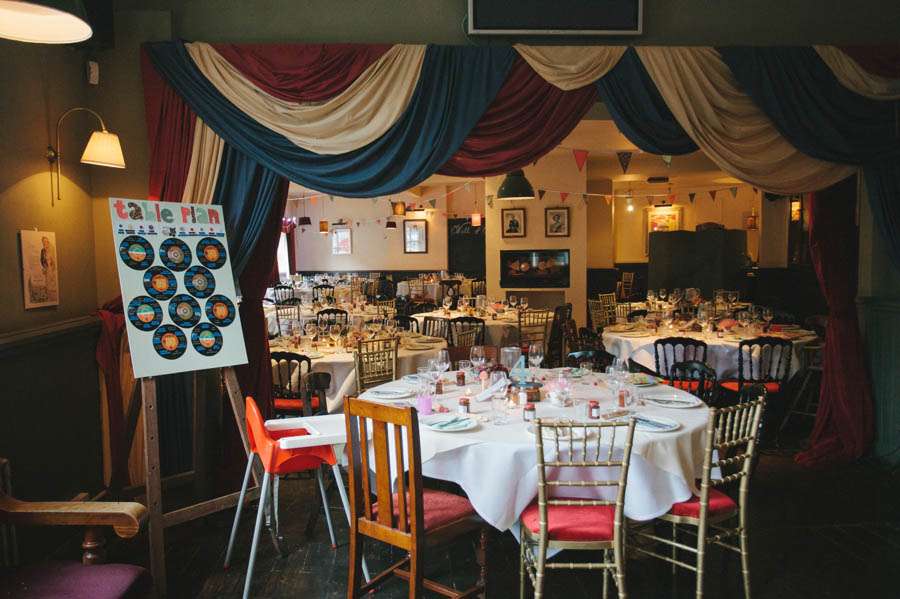 As mentioned previously, the couple were able to decorate their reception space as they liked, and they went for an overall vintage theme. "The idea of having a colour scheme brings me out in a cold sweat!" Chrissie laughed. "I really don't like the idea of things being too uniform or matching and my love of mismatching and junk shop finds definitely inspired the whole look and feel of our wedding. My idea for the decoration of the pub was for it to look part Granny's sideboard and part curio shop. We picked the odd wedding tradition that we wanted to follow but put our own spin on it and I think these personal touches really made the day."
"For dessert we had afternoon tea style cakes served on 3 tier cake stands. Ian made all the cake stands using vintage plates which I had picked up from charity shops, car boot sales and eBay. We bought the art deco style gold fittings from eBay and Ian set to work drilling the plates using a ceramic tile drill bit. I made the guest place names using retro wooden scrabble tile holders and scrabble tiles all bought from eBay. Our guests really loved them and most people took them home, which was really fab. I made little pots of chutney for our wedding favours. The cute hexagonal jars with polka dot lids were bought from the jam jar shop."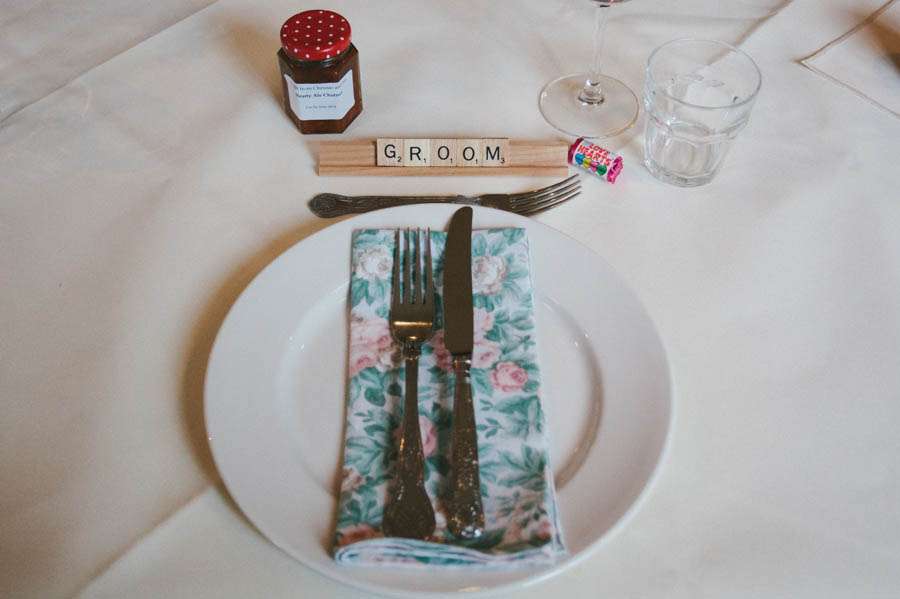 "We designed our own stationery, our invitations were our pet cats dressed as a bride and groom. I thought this was kind of obvious idea due to having a white cat and a black and white cat – who looks like he is wearing a tuxedo anyhow… Ian took some persuading that this would be a good idea initially thinking that I was a wee bit nuts. Our friend Sian photoshopped them to look like they were inside a wedding chapel. We had them printed to look like old fashioned postcards and they made our guests laugh as we hoped they would! We also designed our own menus and order of ceremony sheets."
"I collect postcards and so instead of a guest book we had a table with a selection of postcards – retro Ladybird book covers and 1920s vanity fair covers for people to write us messages on. I bought old magazine and newspaper adverts from 1950s featuring brides & grooms or weddings from eBay and framed them to decorate the pub. Not only did the ads look great, but the wording is so 'of its time' that it is kind of hilarious to read. Lots of highly questionable advice for gals wanting to get married to drink diet drinks in order to stay slim and bag themselves a groom! I also bought some gorgeous fabrics in autumnal colours and my Mum and bridesmaid Alix did a grand job of making reams of bunting to decorate the Britannia – no mean feat as the pub is huge!"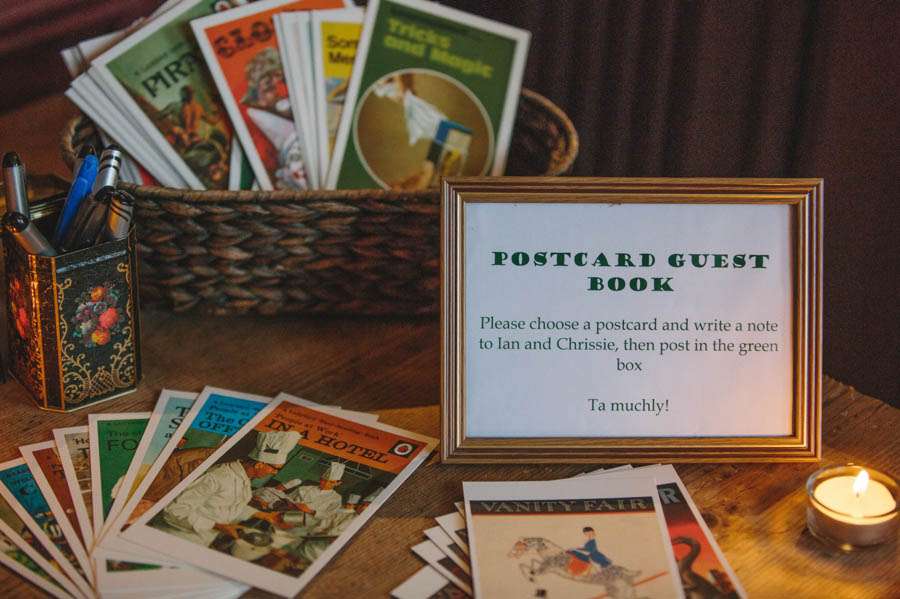 With all the handmade attention to detail that went into their wedding, picking the right photographers to capture it was was super important. They went for Rock n Roll Bride favourites, Mckinley Rodgers Photography. "The best and most important investment we made was in our photographers", Chrissie concluded. "I had looked at lots of portfolios on our search for the perfect photographer, as soon as we saw Mckinley-Rodgers' work we knew that their gorgeous natural and honest style of photography would perfectly match our day. This was also helped by them listing on their website amongst their favourite things vintage VWs and The Clash – definitely our kind of people! As soon as we met Pen & Cam for our engagement shoot we were even more sure that we had made the perfect choice. Not only are they both incredibly talented people but they are so lovely and fun to be around, perfectly putting us both at ease in front of the camera. In fact they are so darn lovely and friendly that lots of our guests thought they were our friends! The images that they captured of our day tell the story perfectly."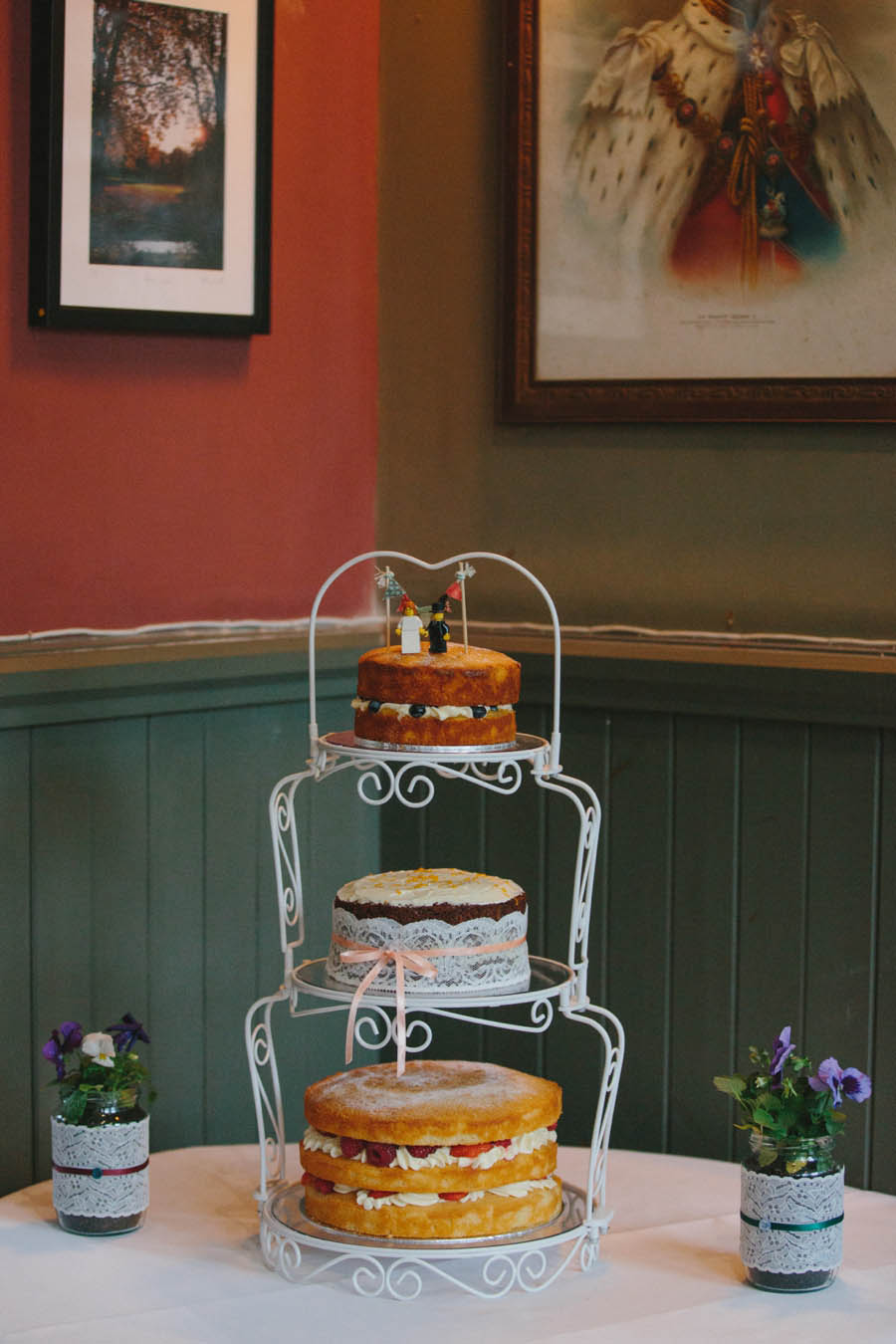 Mckinley Rodgers have incidentally have just started to offer a film package alongside their standard photographer coverage. With this added extra they will video your wedding as well as photograph it, and create you a short film made up of stills and moving footage afterwards. Ian & Chrissie went for this option and isn't the result just awesome?
Thank you to Ian & Chrissie and their photographers Pen & Cam of Mckinley Rodgers Photography for sharing with us today.