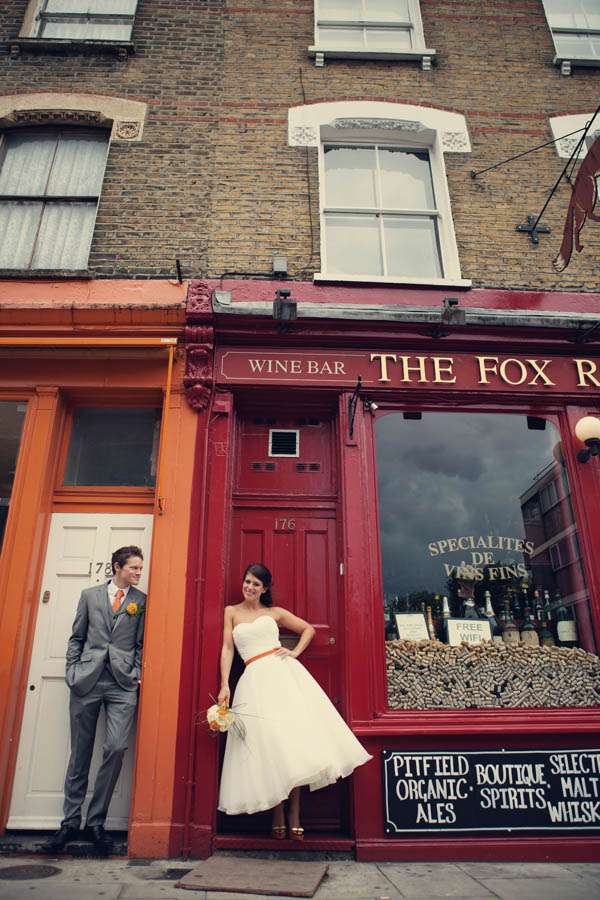 Orange isn't a colour you see enough at weddings… but we should –  Laura & Hanno's Hackney wedding proves how amazing it can look! The couple were married at Stoke Newington Town Hall, just half a mile from their flat, with their reception taking place at The Londesborough pub.
From the bride's gorgeous 50s inspired dress, to the bridesmaid's burnt orange numbers, the theme just really works. "Ever since we started planning the wedding I knew I wanted my bridesmaids to look HOT," explained Laura. "Not pretty, not sweet, not floral, not vintage – just HOT! So, when I came across the totally original orange dresses in the Spoiled Youth collection by Aqua, I knew I'd found my weapons, and our wedding colour! I did hear on a couple of occasions that 'I shouldn't make my bridesmaids look too good, to make sure I look better'…What a load of crap!"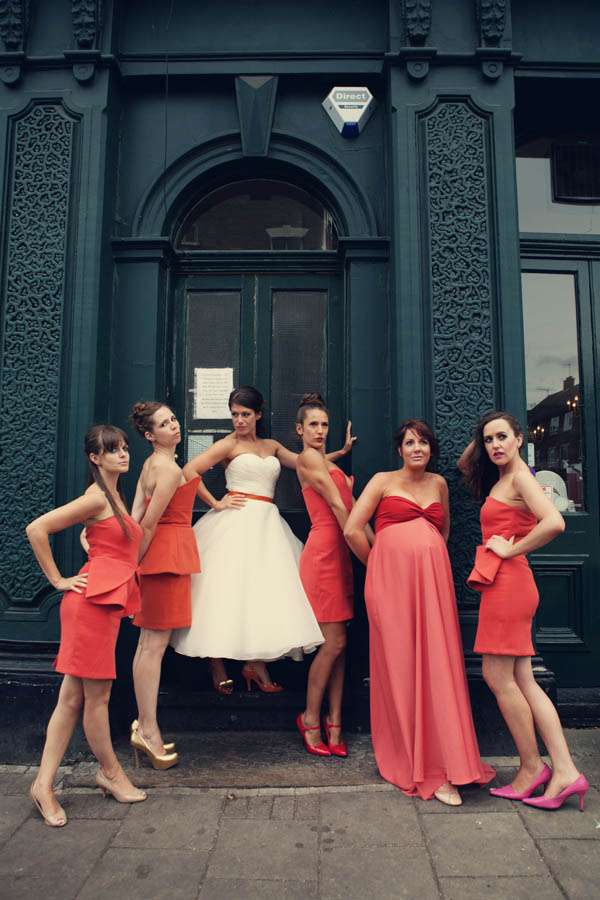 " As soon as I'd heard that, I went all out – they are my best friends, and all happen to be totally gorgeous, so I wanted to absolutely maximise their minxing potential!  They all ended up choosing which dress they preferred from the collection – with a bit of faffing around we got them all sorted, even the lovely Celeste, who made me so proud by sticking with it all despite being almost 8 months pregnant on the day! The pièces de resistance though were definitely their amazing hair and make up, all done by the super cool Elbie Van Eeden. The girls chose their own hairstyles, but they all had a plait somewhere to keep a running theme throughout."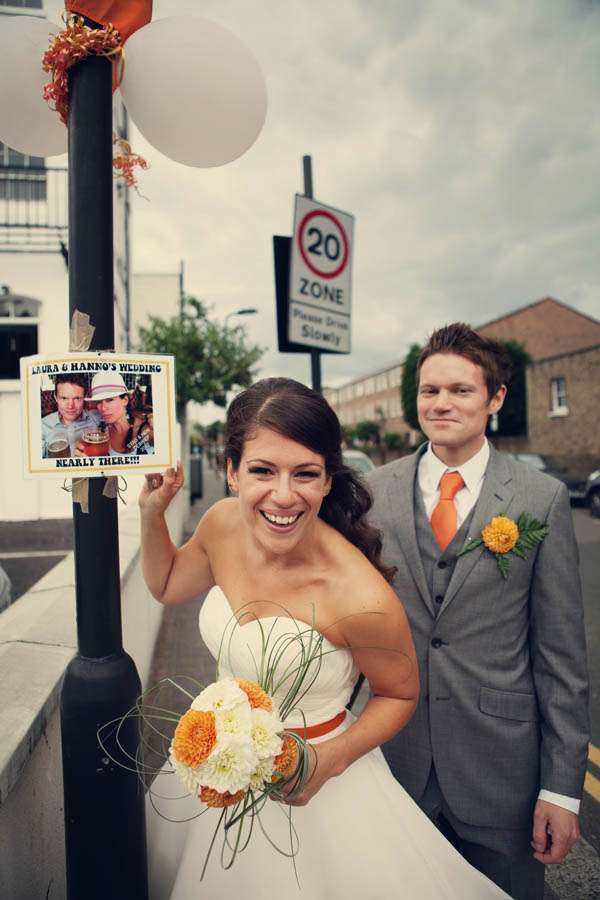 After the ceremony, everybody walked to the pub for the reception. The bridesmaids had decorated the route with ribbons, chalk and photos of the couple so everyone could follow them to find their way there. I love this idea!
"We are lucky to have some seriously lovely creative people around us who all contributed something on the day", Laura continued when I asked about their reception decor. "Our invites were made by Deborah, Hanno's mum, who is a talented artist and poet (my sister read a poem she wrote for us at the ceremony)."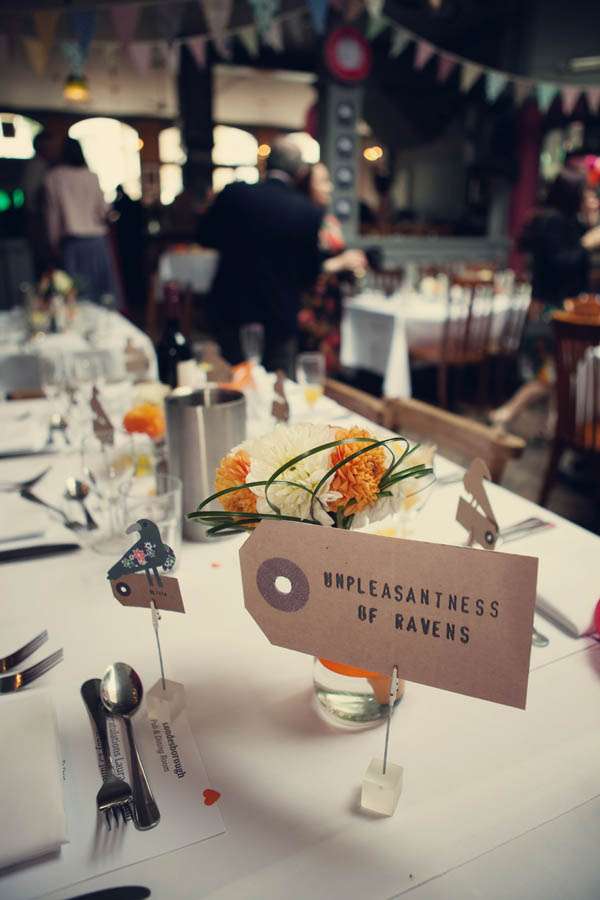 "A very special nod goes to our bridesmaid Emily – one half of the crafty duo Staggered Ink, who produce charming hand-made stationery – who made our beautiful table plan and all the gorgeous little animal place name settings. They totally ran with our unusual commission – Hanno suggested we named the tables after the collective nouns for animals, something we'd always found amusing!  The end result was just so stylish and fun – I can't recommend them highly enough to anyone else looking for something as creative as this for their big day.  We also had an absolutely awesome 'Mr & Mrs Trayhurn' sign which shone brightly behind the head table!"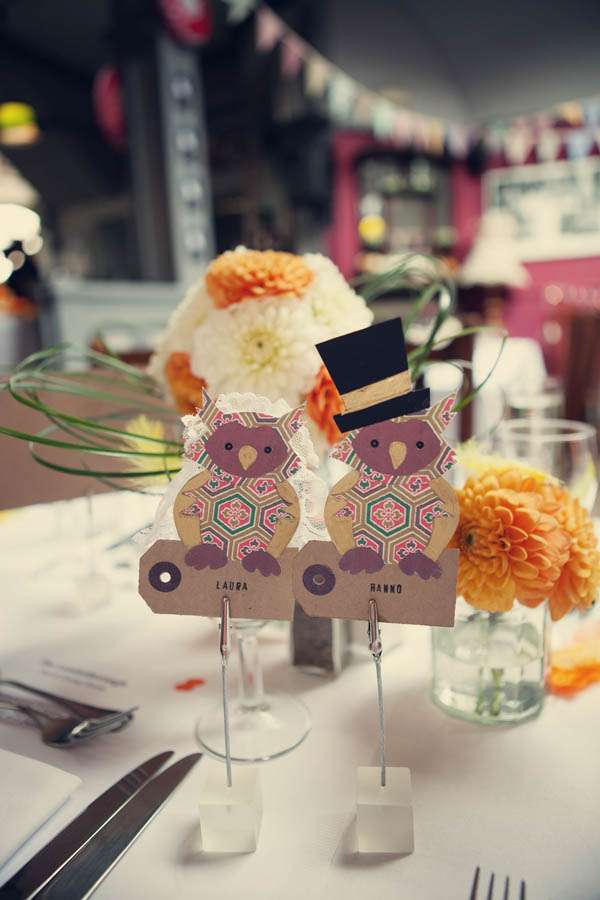 "Hanno and I met just after we'd both moved to London in our first posts in the Civil Service", Laura concluded. "The office fling very quickly turned serious and we were living together after about 3 months! We agreed early on that we were living in our heyday, with an awesome group of mates, so we should do everything to totally max it out before we got old… So, despite the financially and physically ruinous nature of this attitude, we've pursued life saying yes to pretty much everything, and have had so much fun together in the process. We got engaged just after our third Glastonbury last year (Hanno claims this was due to being aggressively told that if he liked it he should 'put a ring on it' by Beyoncé) and agreed immediately that the priority for our big day was a massive, balls-out, uproarious party in London, with all our friends and family, right next to our flat in Hackney. Easy."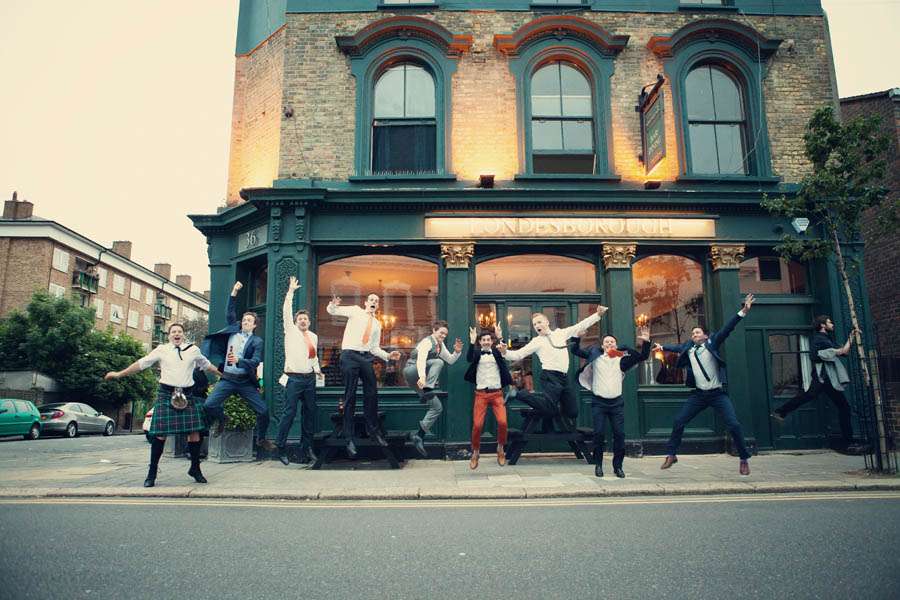 How awesome are these guys?! This is a wedding I wish I'd been invited to! Thank you to Laura & Hanno and their fabulous photographer Sassy of Assassynation for sharing today.
Supporting Cast:
Photography Credit: Assassynation
Ceremony Venue: Stoke Newington Town Hall, London
Reception Venue: The Londesborough , Hackney, London
Bride's Dress: Cutting Edge Brides, Bexley
Bride's Shoes: Vivienne Westwood/Melissa
Groom's Outfit: TM Lewin
Bridesmaid's Dresses: Spoiled Youth collection by Aqua
Flowers: DIY
Cake: DIY
Stationery: Staggered Ink
Hair & Make Up: Elbie Van Eeden